These Caramel Heavenlies use a graham cracker base topped with marshmallows, caramel sauce, almonds and coconut.  They are easy to make and addicting to EVERYONE who tried them!
This post contains affiliate links.  If you click on an affiliate link and make a purchase, I will make a small percentage on your purchase, which helps keep this website running! Thank you!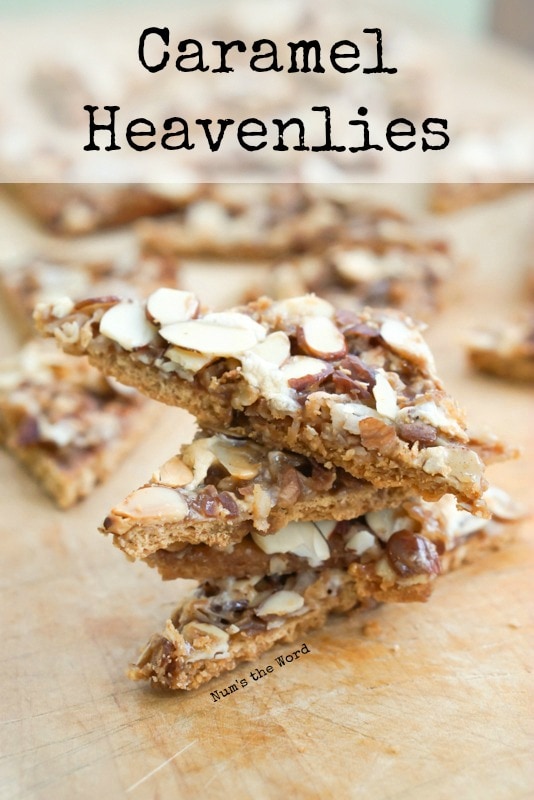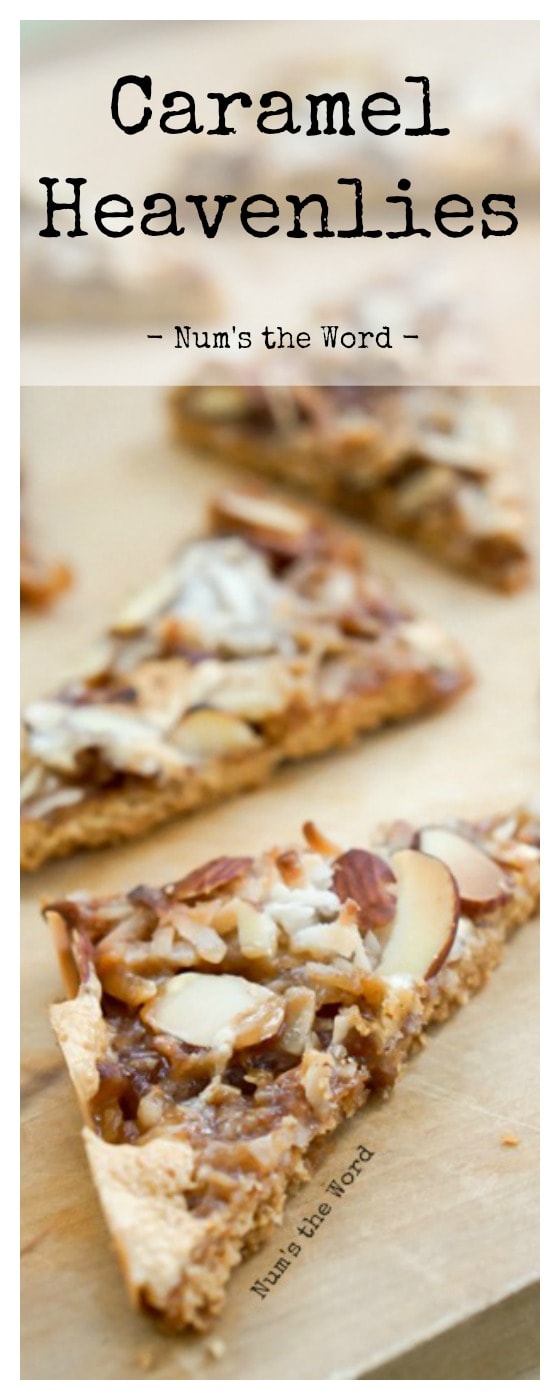 My talented Mother-In-Law Liz brings these Caramel Heavenlies to you!
If you've been following Num's at all over these last three years, you should be decently familiar with Liz.
Many of the recipes on here are hers or were introduced to me by her, like these Caramel Heavenlies.
Liz is an excellent cook and can whip up a meal in no time flat.
She's also one of women I respect most in my life.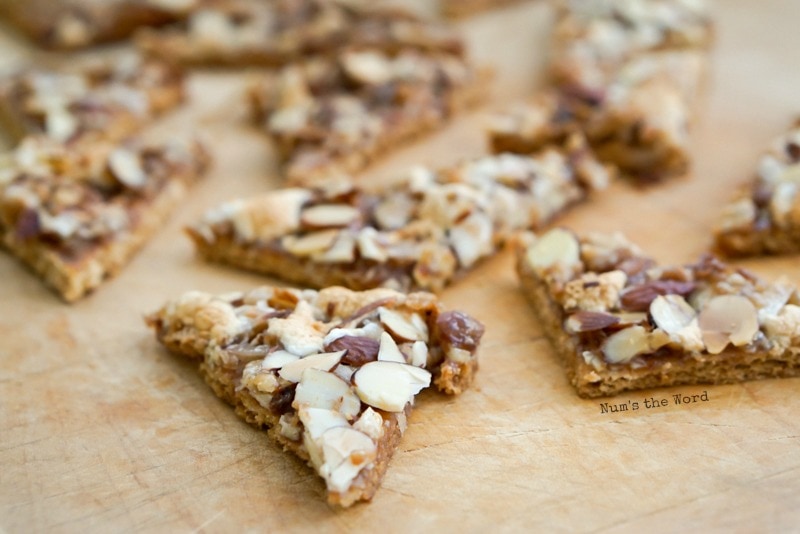 I know it sounds strange that I actually like my Mother-In-Law but it's true.
If you ever ask me about her you're guaranteed to hear the term "I won the jackpot" come out of my mouth at least once in describing her.
She's unlike any Mother-In-Law I've heard of and I am so blessed to have her in my life.
Up until almost 3 years ago, I didn't really know Liz very well.
We lived in another state and I only saw her for approximately 1 week a year, when she and my Father-In-Law Dick would come visit us.
And as we all know, everyone is on their best behavior when they only have to spend a week a year around each other.
So you really don't know what someone is truly like when you don't spend a lot of time with them.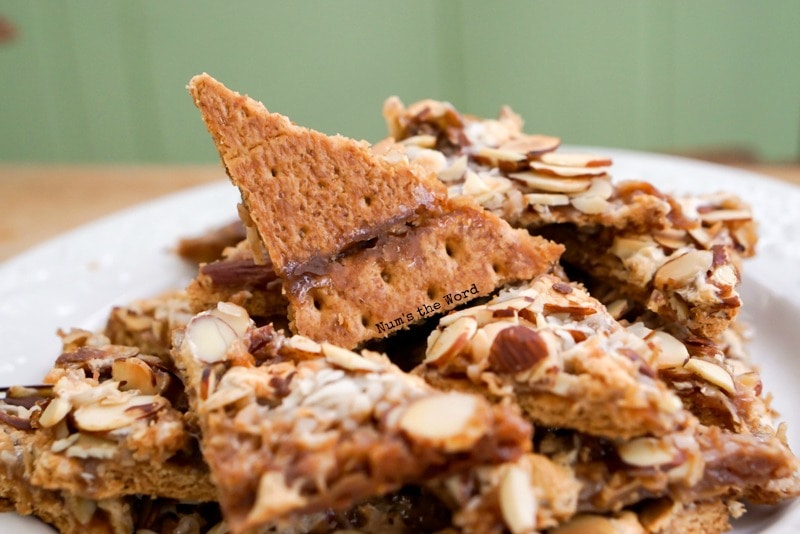 However about 3 years ago, my husband and I made a crazy decision to move to the middle of Minnesota to live by them.
Our kids are young, and they are aging and we really wanted our kids to have a relationship and memories of them before anything happened.
And despite being a city person and someone who despises the cold weather, we moved to what I consider small town Minnesota.
The decision was terrifying and exciting.  We first moved in with them as we looked for a house to buy.
And for 6 months lived with them.
Could you live with your in-laws for 6 months?
Very few people can.
I can.
Liz ended up being 10x better than I could have ever imagined.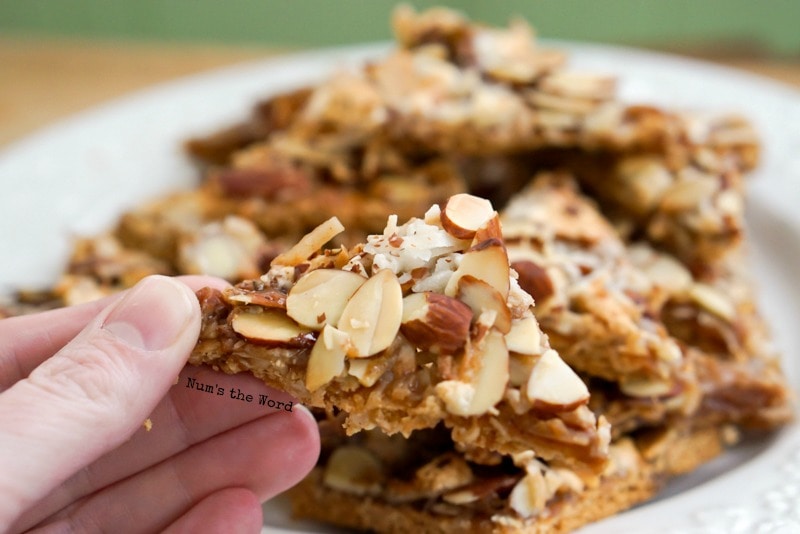 Her perfect home was quickly ransacked by my kids, cushions were NEVER on the furniture and piles of junk were soon to be found around every corner.
And it never seemed to bother her.
If an item would break she didn't seem to care.
It was an object, nothing of consequence and nothing that can't be glued back together.
She was caring, loving, listened and never once judged us for our parenting style or crazy schedules.
She quickly became one of the most amazing women I knew and someone whom I now consider a close friend.
I tell her everything – usually more than once and she's always going out of her way to do special things for us.
She has a huge heart and despite not loving our city or state, it was worth moving here to be close to them.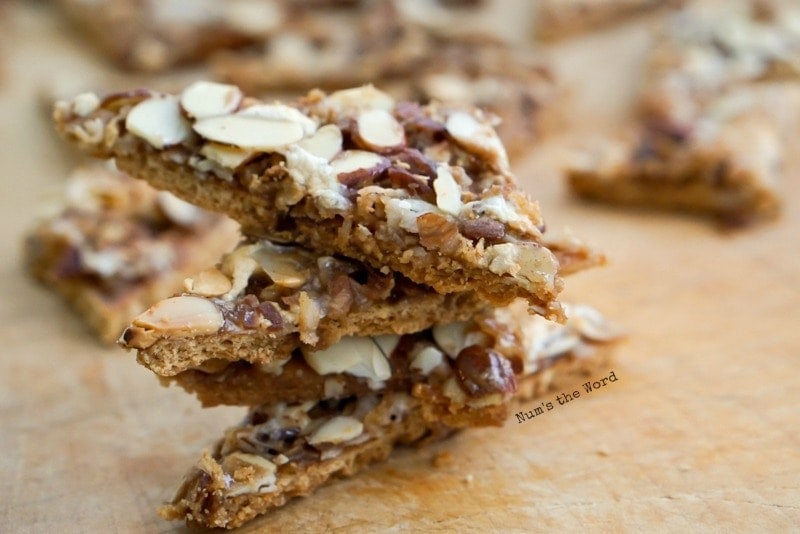 My Mother-In-Law Liz, is hands down better than yours.
She's amazing and I am a better person for knowing her and for the positive influence she has on my kids.
And as I said earlier, she's the amazing person behind this recipe.  She found it in a cook book first and tried it.
She immediately brought a bag over and told me I had to try it.
And right then I fell in love.
Holy cow are these Caramel Heavenlies are good.
Chewy, sweet, crunchy and down right addicting.
They are also incredibly easy to make.
She now makes them for just about every family gathering as they make the perfect game night munchy and don't create a mess.
If you love chewy caramel treats, then give these simple Carramel Heavenlies a try.  I'm certainly glad she did, because they are now one of our favorites!
Ingredients
12 full graham crackers
2 cups mini marshmallows
3/4 cup butter
3/4 cup brown sugar (packed)
1 teaspoon cinnamon
1 teaspoon vanilla extract
1 cup sliced almonds
1 cup shredded coconut (I use sweetened but natural works too)
Instructions
Preheat oven to 350*F
Line a jelly roll baking sheet with non-stick foil.
Lay graham crackers on sheet, end to end.
Sprinkle marshmallows on top of graham crackers. Set aside.
In a saucepan, over medium heat, combine butter, brown sugar and cinnamon for 3 - 5 minutes until butter is melted and sugar is dissolved.
Add vanilla and spoon mixture over marshmallows.
Sprinkle with almonds and coconut.
Bake in over for 14 minutes or until lightly toasted.
Cool completely and then slice into squares or triangles.
Attempt to not devour the entire pan by yourself!
https://numstheword.com/caramel-heavenlies/
Recipe from: Taste of Home
Other Finger Treats You'll Love….