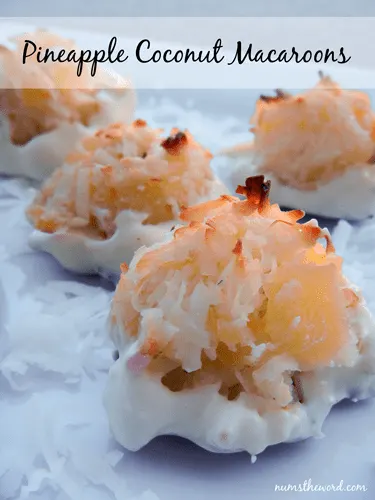 Have you ever gone to Sunday School class and discovered that your teacher brought treats?
And not some store bought cookie junk, but homemade treats sprinkled with love?
Don't you feel like you suddenly won the jack pot?
I know I do!
Which is why when I teach, I always bring treats.
I am THAT teacher.
So this past Sunday was one of my very last lessons I was to teach before moving.
And I decided to make a treat that all my gluten free students could enjoy.
I decided to make Pineapple Coconut Macaroons or as my husband calls them "Pina Colada Macaroons."
I wasn't going to post the recipe right away, but then someone asked for the recipe so they could make them for an upcoming event and who am I to deny them the ability to wow people with such a great treat?!
The original recipe turned out to be somewhat of a joke.
So with each batch I kept tweaking the recipe until I finally got the results I wanted.
You may have to do the same but I'm hoping that this recipe is the perfect recipe for you.
Soft, chewy, perfect amount of coconut and pineapple and gluten free – what more could you ask for?
Yield: 30-40 Macaroons
Pineapple Coconut Macaroons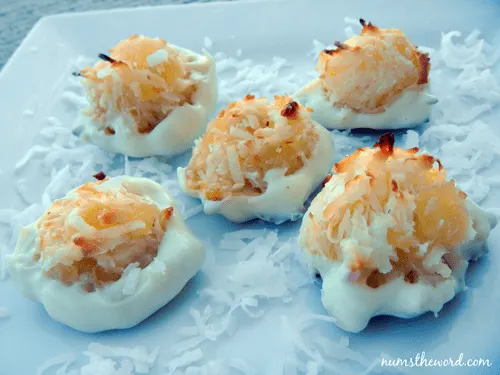 Soft, chewy, perfect amount of coconut and pineapple and gluten free – what more could you ask for?
Ingredients
1 - 20 ounce can of crushed pineapple, packed in it's own juices
1 cup of sugar
5 cups of sweetened, shredded coconut
4 egg whites
1/2 teaspoon vanilla extract
White Chocolate (optional - I used Ghiradelli White Melting Chocolate)
Instructions
Preheat Oven to 325ºF
Drain pineapple
Place pineapple and sugar in a skillet and cook on medium high heat stirring regularly until the sugar has dissolved and the liquids have evaporated and pineapple begins to carmalize. It is VERY important that the liquids have evaporated and you are left with sticky syrupy pineapple. How much juice the pineapple retains will determine how long to cook it. This may take up to 20 minutes. Stir regularly so that the pineapple doesn't stick or burn to the bottom of the pan.
Transfer to mixing bowl and add coconut. Mix to incorporate.
Let cool for 5 minutes, then add egg whites & vanilla, mixing to thoroughly incorporate.
Line baking sheet with parchment paper or non-stick foil.
Spray parchment paper or non-stick foil with Pam - VERY IMPORTANT. These DO STICK if not sprayed.
Using a small cookie scoop, scoop macaroon mixture onto baking sheet. Mixture may be slightly loose and that is ok. If mixture is too crumbly and not holding together at all, then add an additional egg, however you shouldn't need to.
Place cookie sheet into oven and bake for 16 minutes, turning half way through or until bottoms are golden.
Remove from oven. Allow cookies to cool on sheet for 5 minutes.
GENTLY scoop cookies onto a plate and put into fridge. The cookies will be very fragile as they are still warm and have not fully firmed up. Chill cookies for 10 minutes allowing them to firm up.
While cookies are in the fridge, melt chocolate according to package directions.
Remove cookies from fridge, hand dip each one into chocolate (optional) and place upside down on parchment paper and allow to cool or back into fridge for 5 minutes to quickly harden chocolate.
Store in a container for up to 3 days.
Nutrition Information:
Yield:
35
Serving Size:
1
Amount Per Serving:
Calories:

106
Total Fat:

4g
Saturated Fat:

4g
Trans Fat:

0g
Unsaturated Fat:

0g
Cholesterol:

1mg
Sodium:

47mg
Carbohydrates:

17g
Fiber:

1g
Sugar:

15g
Protein:

1g
Recipe adapted from: Pastry Studio