Krispy Coconut Oatmeal Cookies have the consistency of a shortbread cookie – crispy but chewy – and taste fantastic! You can make them with or without chocolate chips!
This post contains affiliate links.  If you click on an affiliate link and make a purchase, I will make a small percentage on your purchase. This helps keep this website running! Thank you!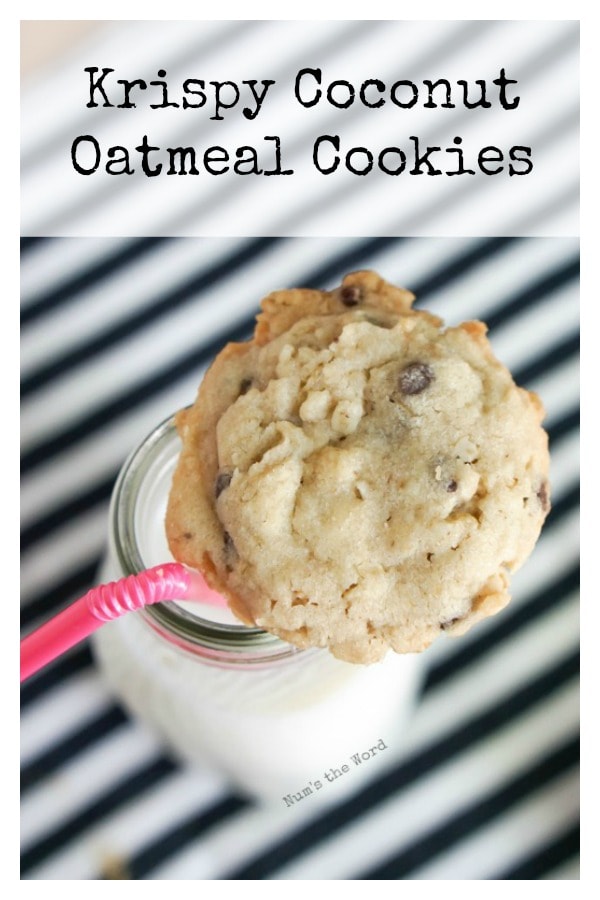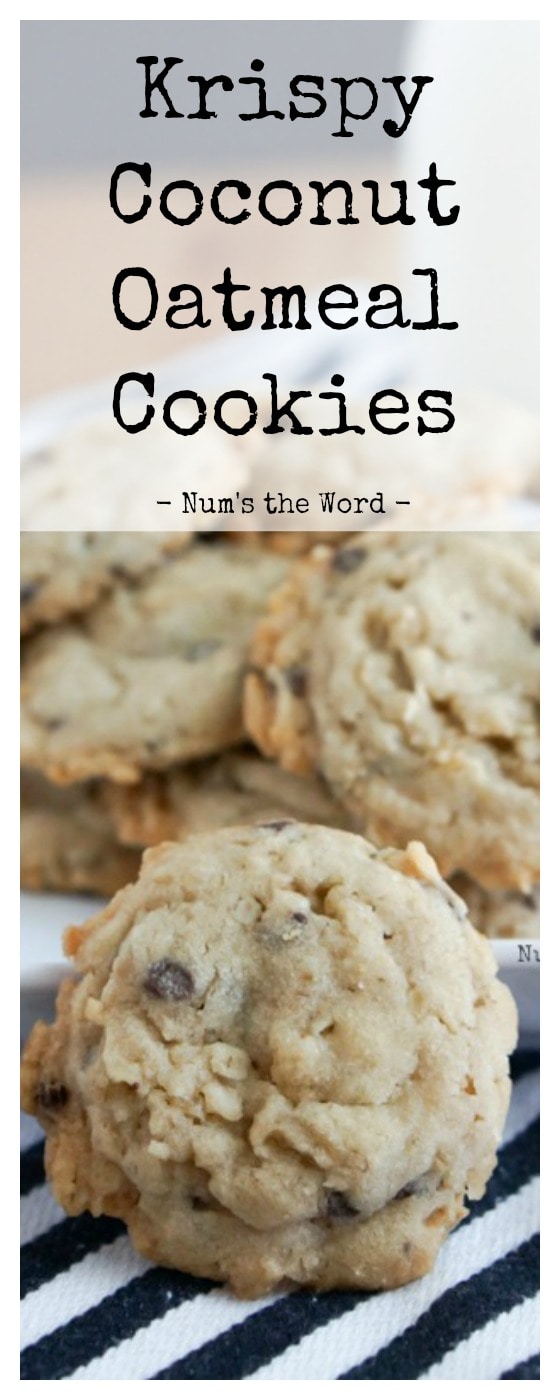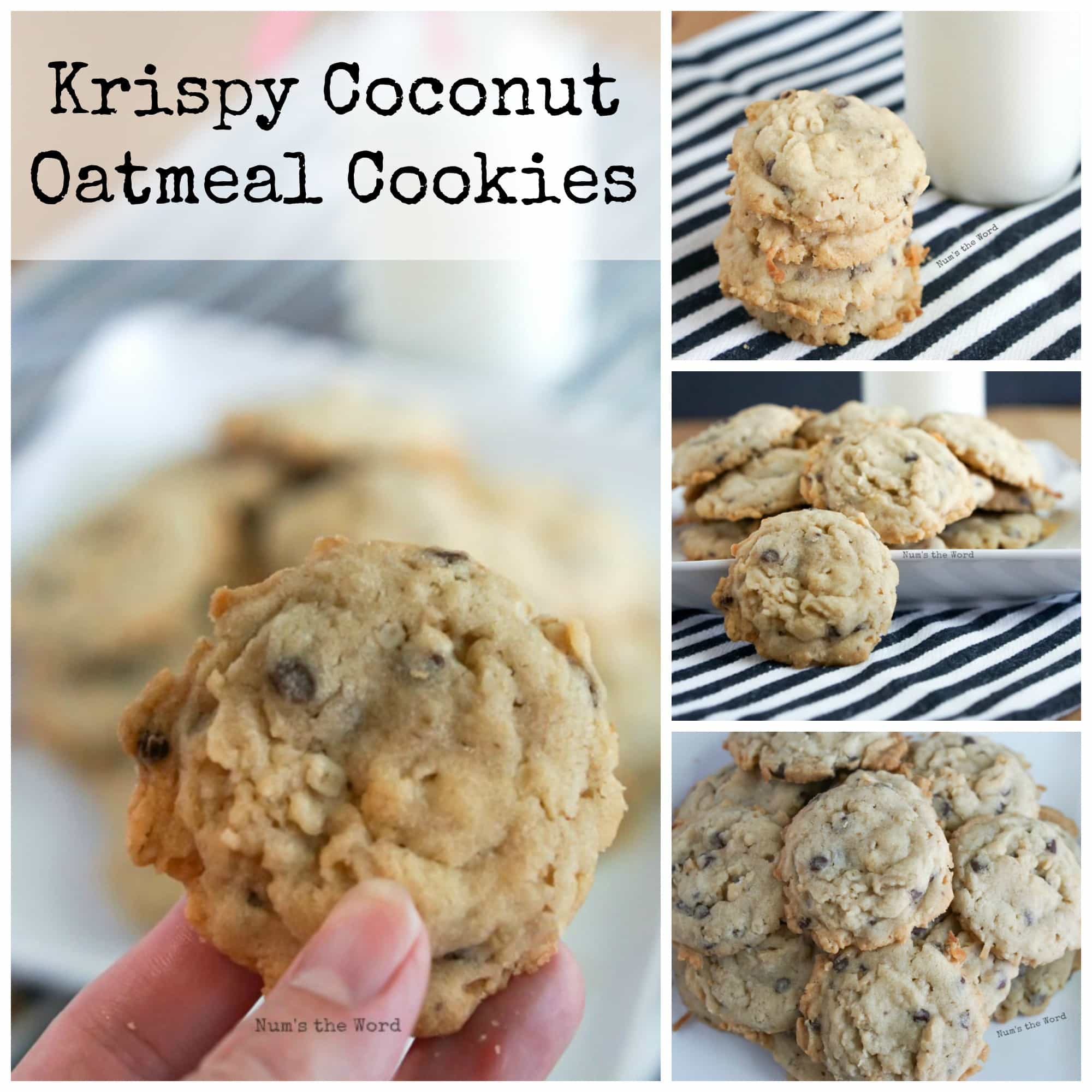 Have you ever played around with a recipe and received results that you weren't expecting?
Well, that's what happened to me with these Krispy Coconut Oatmeal Cookies.
In a good way of course!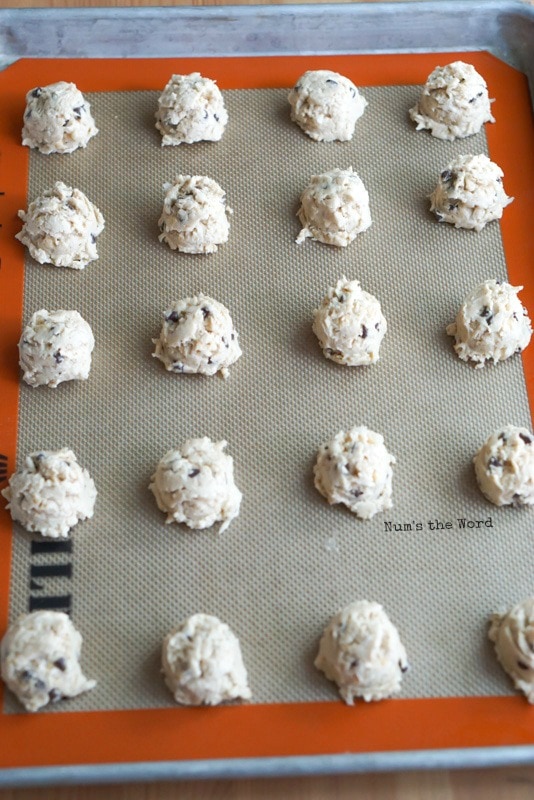 I found this recipe in a cookbook I picked up from Good Will.
One of my great loves is finding old cookbooks at thrift stores or estate sales.
I get a ton of inspiration and ideas and in return, give each cook book at least one horrified stare as I read a recipe about meat in some form of gelatin.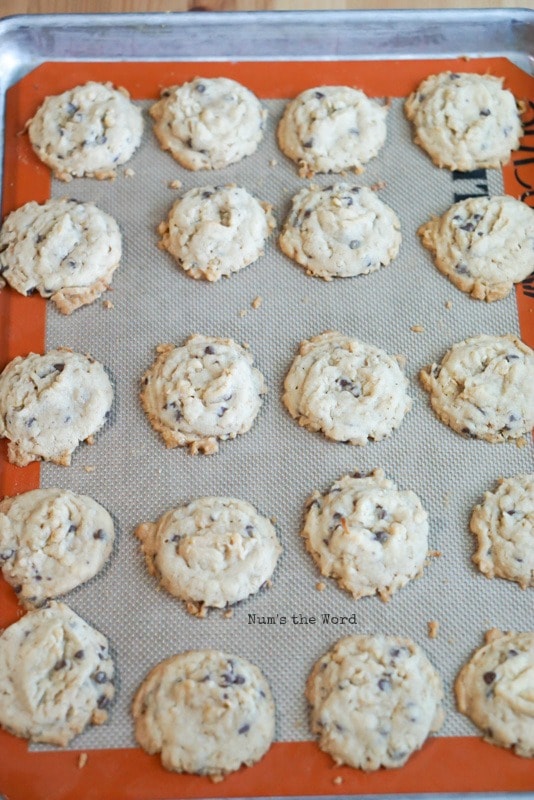 Good grief there are so many recipes with random items in jello that I'm half curious, and half disgusted at the idea.
And EVERY cook book has one.
If it's a community cookbook of some sort, there is always that odd recipe that grandma submits from back in the day that is a "family favorite."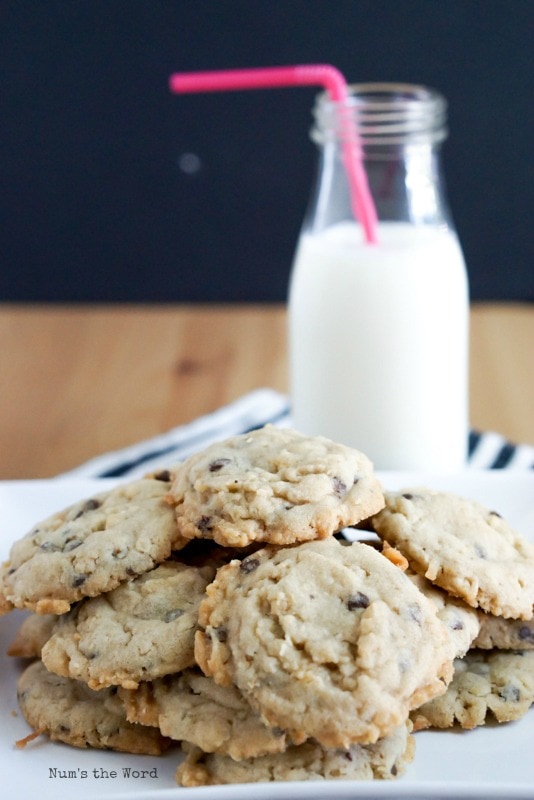 Those are the recipes that I read to my husband, who agrees they do not sound edible.
I wasn't sure what to expect, but what I got wasn't quite what I had in mind.
However, this cookbook titled Recipes Community Christian School here in Minnesota, has a lot of recipes that sound pretty tasty.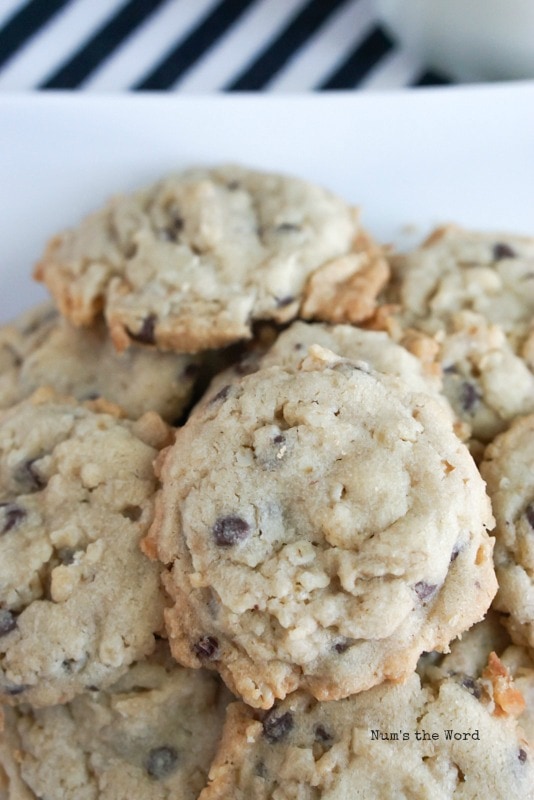 This is one of the recipes that sounded really tasty.
The cookies have a shortbread cookie consistency.  Crispy, but chewy.
They aren't overly sweet, again like a shortbread, and the mild flavor lingers in your mouth after each bite.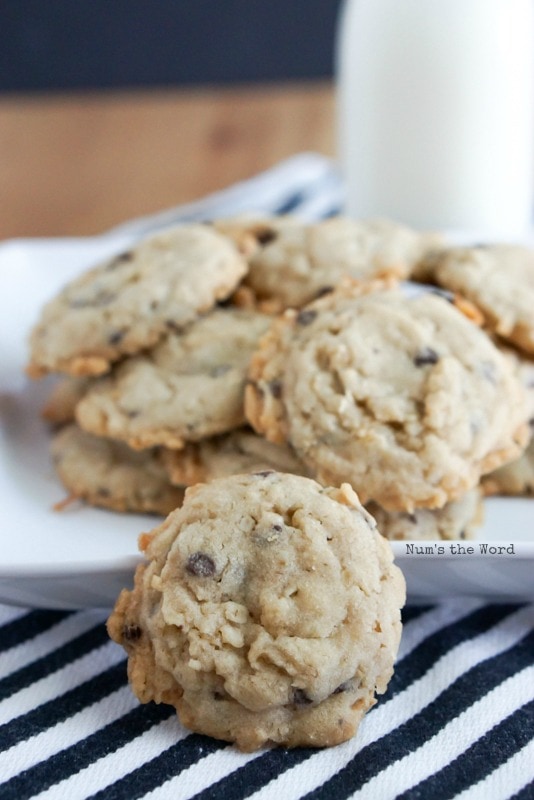 I whipped these up for a baptism at church and a lot of the people kept telling me they really liked the cookies.
Me, being the person who likes an extra cup of sugar (or two) in everything, thought they weren't quite sweet enough.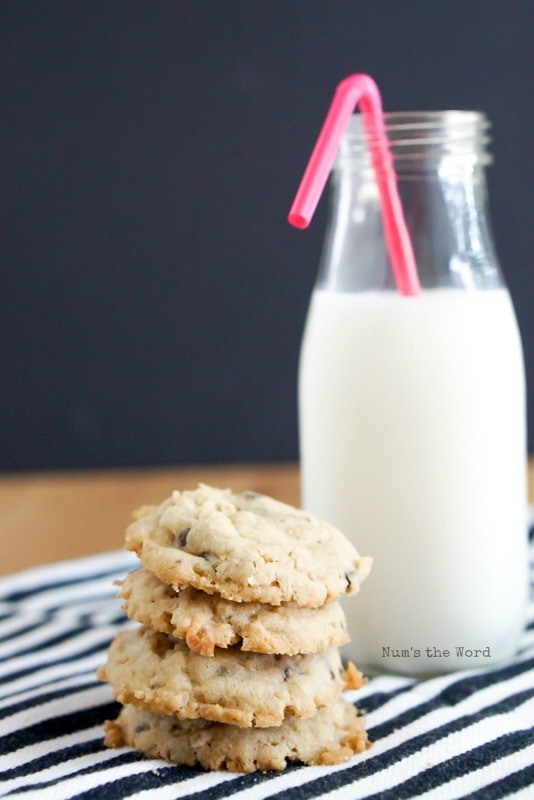 Everyone disagreed that they were perfect just as they were.
However they never tried the chocolate chip version!
I added in some mini chocolate chips I had sitting around and that little extra addition made them the perfect cookie for me.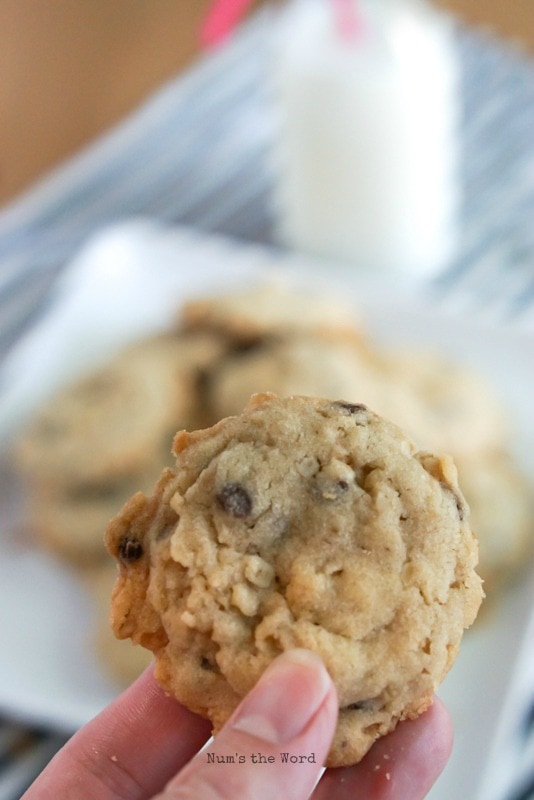 So good I couldn't stop eating them!
If you love shortbread style cookies, these Krispy Coconut Oatmeal Cookies are perfect for you!
Add chocolate chips or don't, they are a hit and perfect for any occasion!
Yield: 2 dozen cookies depending on size
Krispy Coconut Oatmeal Cookies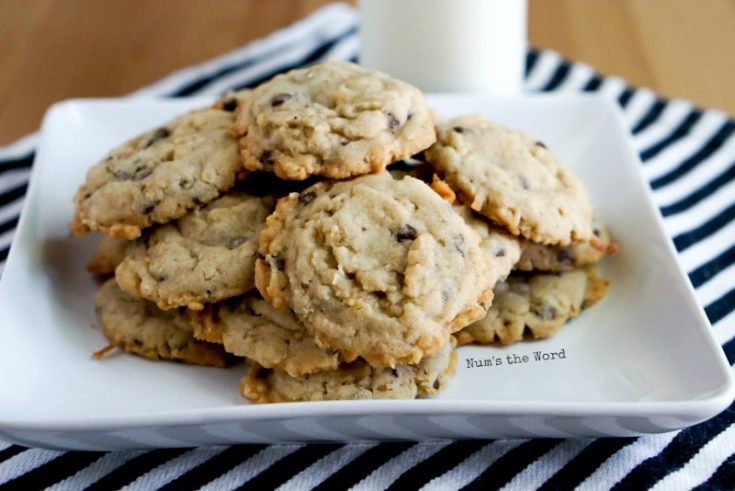 Ingredients
1 cup salted butter
1 cup white sugar
1 cup brown sugar
1 cup vegetable oil
1 egg
2 teaspoons vanilla
1 teaspoon cream of tartar
1 teaspoon baking soda
3 1/2 cups all purpose flour
1 cup Rice Krispies
1 cup quick oats
1 cup sweetened coconut
1 cup of mini chocolate chips (optional)
1/2 cup walnuts (optional)
Instructions
Preheat oven to 350*F
Blend together butter, white sugar and brown sugar.
Add vegetable oil, egg and vanilla. Blend well, scraping down sides of bowl as needed.
Add cream of tartar, baking soda and flour (1/2 cup at a time) and blend well.
Add rice krispies and mix well, scraping sides of bowl as needed.
Add quick oats and coconut and mix well, scraping sides of bowl as needed.
Add chocolate chips (optional)
Add walnuts (optional)
Scoop onto cookie sheets and bake for 12 - 15 minutes or until edges begin to turn golden.
Let cool and devour!
Originally Posted: August 11, 2016
Text & Photos Updated: July 20, 2018
Other Cookies You'll Love...