Bubbly, sweet, and citrusy, it doesn't get much better than this non alcoholic mimosa drink! The perfect drink for brunches, parties, baby showers, and more that all your family, friends, and guests of all ages can enjoy.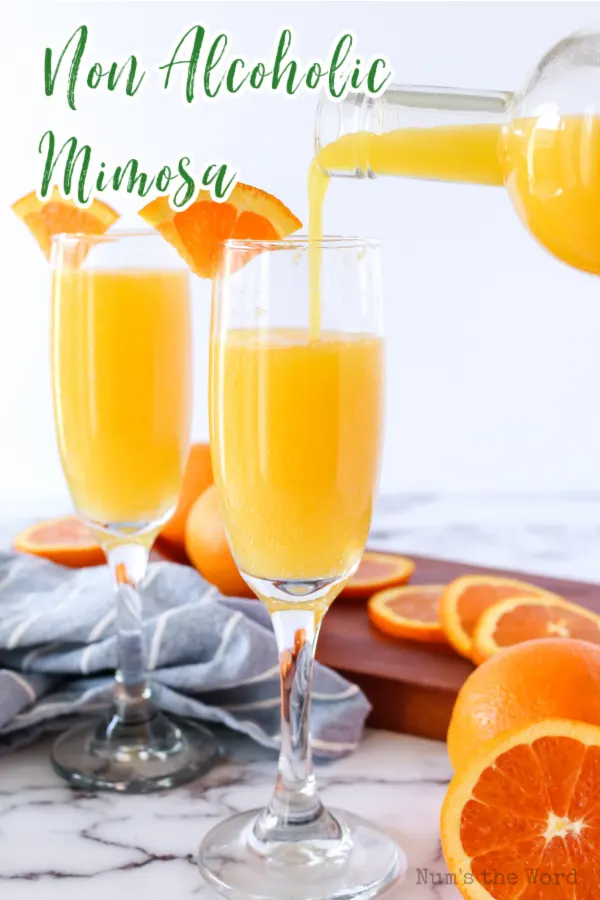 I love how simple and quick it is to assemble these drinks. It's a fun and inclusive twist on traditional mimosas and is sure to be a hit at your next gathering. I've been making and enjoying these delicious mock mimosas for over a decade now!
Whether you're looking for a non alcoholic drink for a party or get-together or you love mimosas but can't always justify enjoying champagne every morning, this is the recipe for you. I especially love to serve these at baby showers because EVERYONE can drink them, including the mom-to-be!
What is a mimosa?
A mimosa is an alcoholic beverage consisting of champagne (or other sparkling wines) and citrus juice – usually orange juice unless otherwise stated. You'll usually find this drink served in a tall champagne flute, and it's a favorite for brunches and wedding breakfasts.
This version of mimosa is non alcoholic mimosa with ginger ale, or a mock mimosa. It's the same basic concept, but with ginger ale or another carbonated drink in place of the champagne.
The lack of alcohol makes this the perfect mock mimosa for baby shower celebrations – even the mother-to-be can enjoy!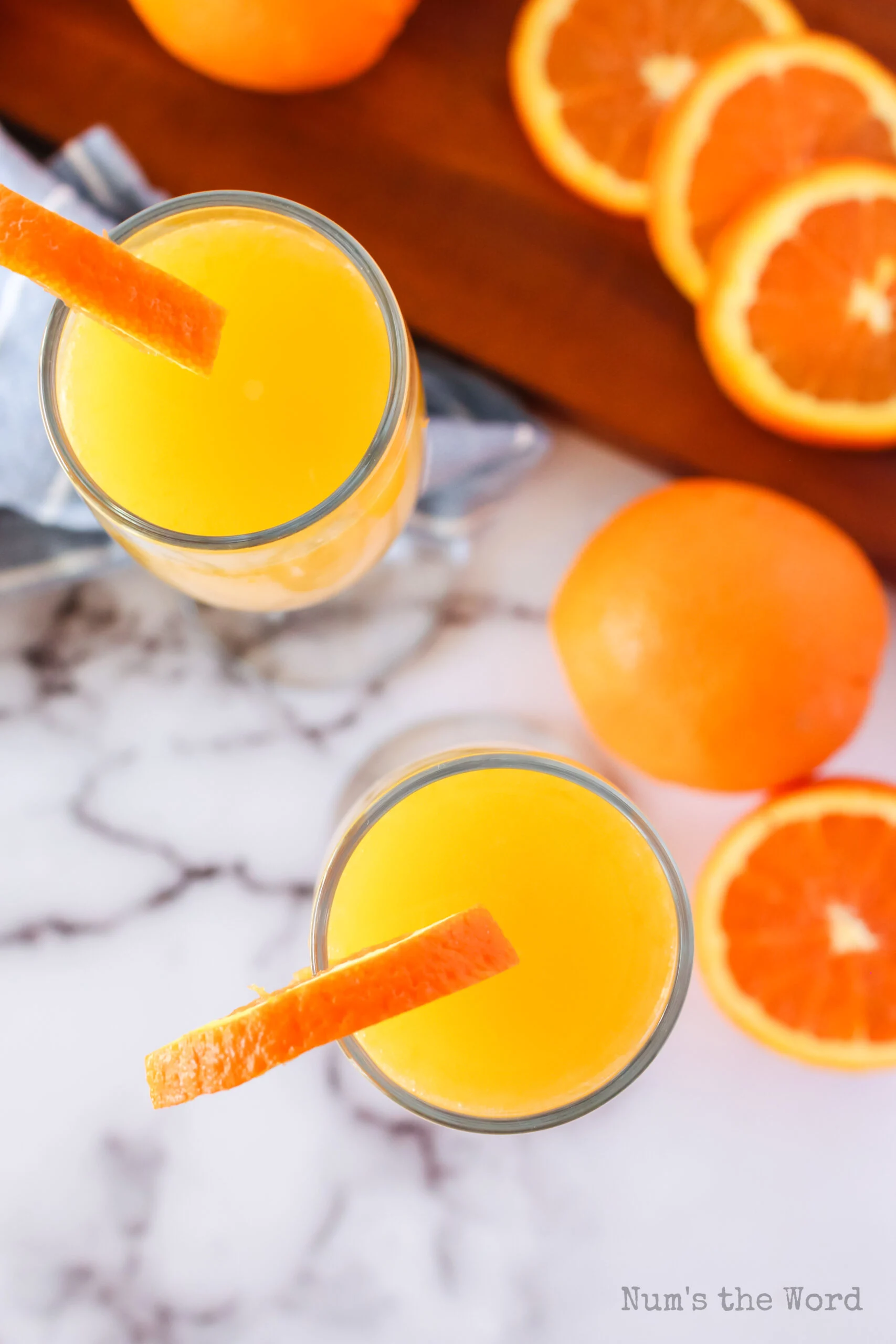 What does mimosa mean?
Mimosa is actually a genus of plants. Supposedly there is a variety of mimosa found in Australia that has yellow flowers that resemble the color of the mimosa drink, though it's unclear whether this had any bearing on the name of the drink.
Like most food and drink, there are contradicting theories on the origins of the mimosa. Some believe it was created by a bartender in Paris, while others say Alfred Hitchcock invented them.
What's in a non alcoholic mimosa?
A non alcoholic mimosa is just like a regular mimosa – minus the alcohol! I typically use ginger ale in place of the champagne, but there are a variety of other sparkling drinks you can use. Sparkling white grape juice, lemon-lime soda, and sparkling cider are all great options.
In college, my friends and I enjoyed Mountain Dew and orange juice mimosas during our finals week breakfasts – we needed that extra caffeine boost!
This recipe is a breeze – only two ingredients:
Ginger Ale

– or your favorite sparkling soda or juice (such as sparkling cider, grape juice, or lemon lime soda). This is the "mock" of your mock mimosa drink.

Orange juice

– I love the bright, invigorating flavor of orange juice. Combined with the soda, this becomes the perfect drink for brunches, holiday parties, and more!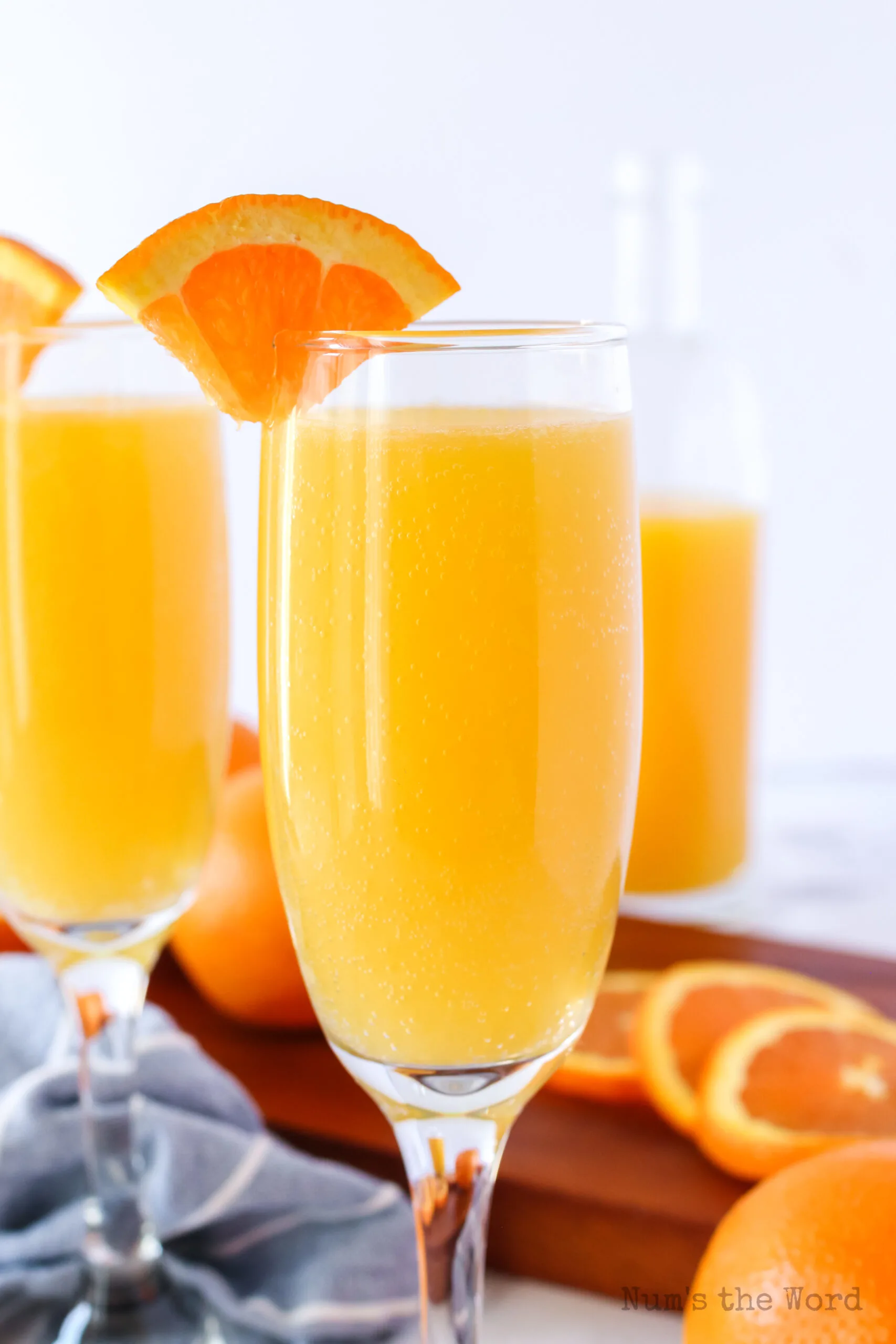 How do you make a non alcoholic mimosa?
There is quite a bit of debate over the ratio of champagne to orange juice for regular mimosas, and I've found the same to be true with this non alcoholic mimosa recipe. Recommended ratios range from 1:1 all the way to 1:4.
From what I've gathered, a TRUE mimosa ratio is 3 parts champagne to 1 part orange juice. I follow that rule for this recipe, but my personal preferences are much closer to 1:1.
If you're not sure where on the range of ratios your preference will be, start with 1:1 and adjust until you have your perfect non alcoholic mimosa punch! The BEST mock mimosa is the version you love most!
Now here comes the fun part: assembling the drinks! These are stirred, not shaken (sorry James Bond), so you don't need anything fancy to put this drink together. Though I do recommend serving this mock mimosa recipe in fluted champagne glasses for the full "fancy" effect.
Pour

orange juice into glass.

Pour

soda into glass.

Serve

immediately!
When to drink a non alcoholic mimosa?
The great thing about this drink is that you can literally drink it anytime – there's no alcohol, so it's never too early, too late, too much – you get the idea. Mimosas are typically a brunch drink, but these are also great for holiday parties, bridal showers, treat yourself mornings, and especially baby showers.
Mock mimosa for baby shower means the mama-to-be doesn't have to feel left out when it comes to fun drinks. With no alcohol, these are safe for pregnant women!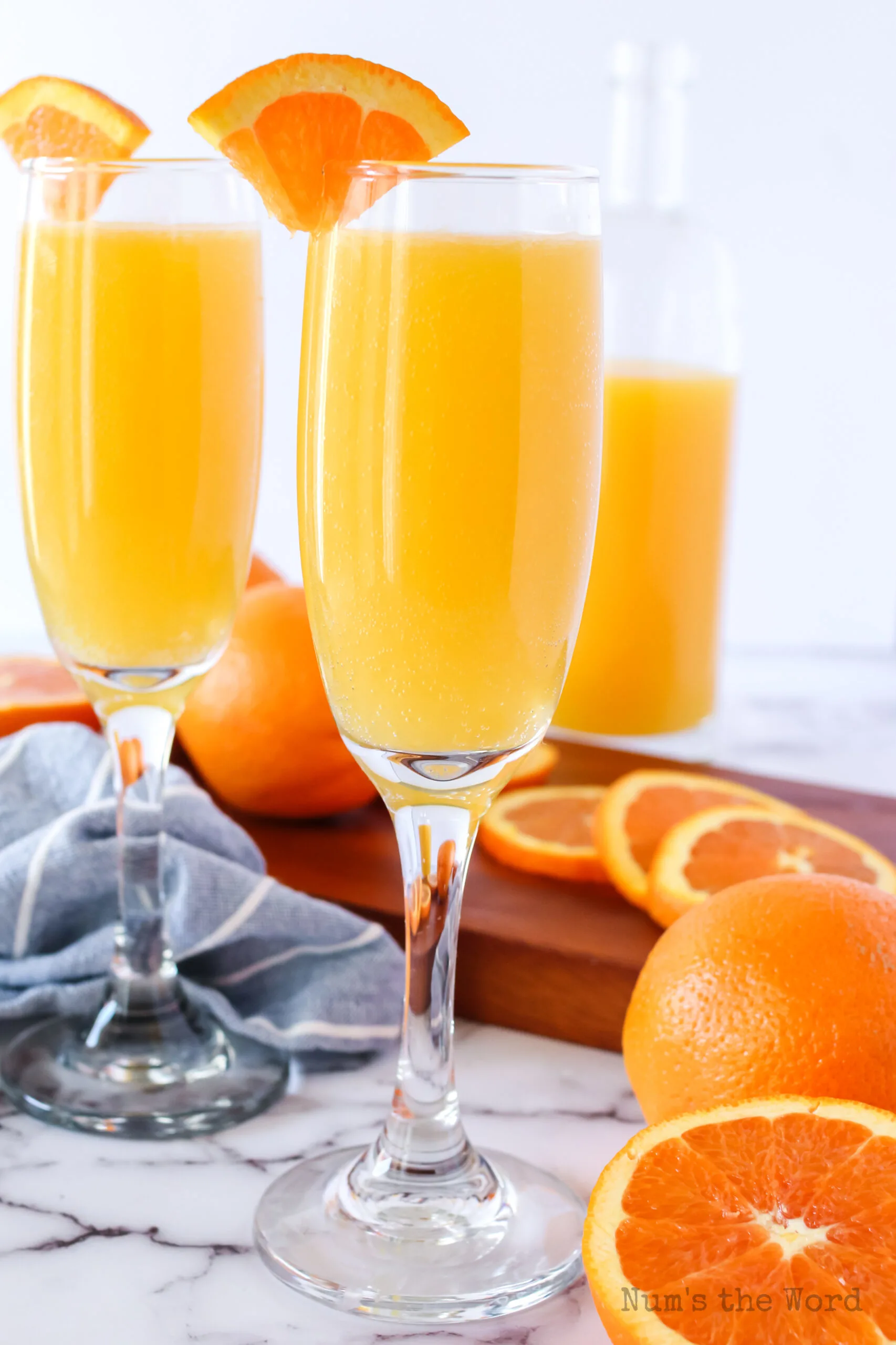 What to serve with mimosas?
The tart, sweet, and bubbly combination you find in these mock mimosas pair perfectly with both sweet and savory brunch and breakfast foods. Think bacon and sausages, quiche, parfaits, crepes, and more!
Can I have a mimosa while pregnant?
According to the CDC, there is no safe time for alcohol use during pregnancy. So if this were a recipe for a traditional mimosa, mamas-to-be would definitely be strongly encouraged not to drink any.
Luckily, this is a recipe for MOCK MIMOSAS, which are non alcoholic and safe for most expecting mothers. Keep in mind that while there is no alcohol, there is a lot of sugar, so if your doctor has told you that you have gestational diabetes, this probably isn't the drink for you either.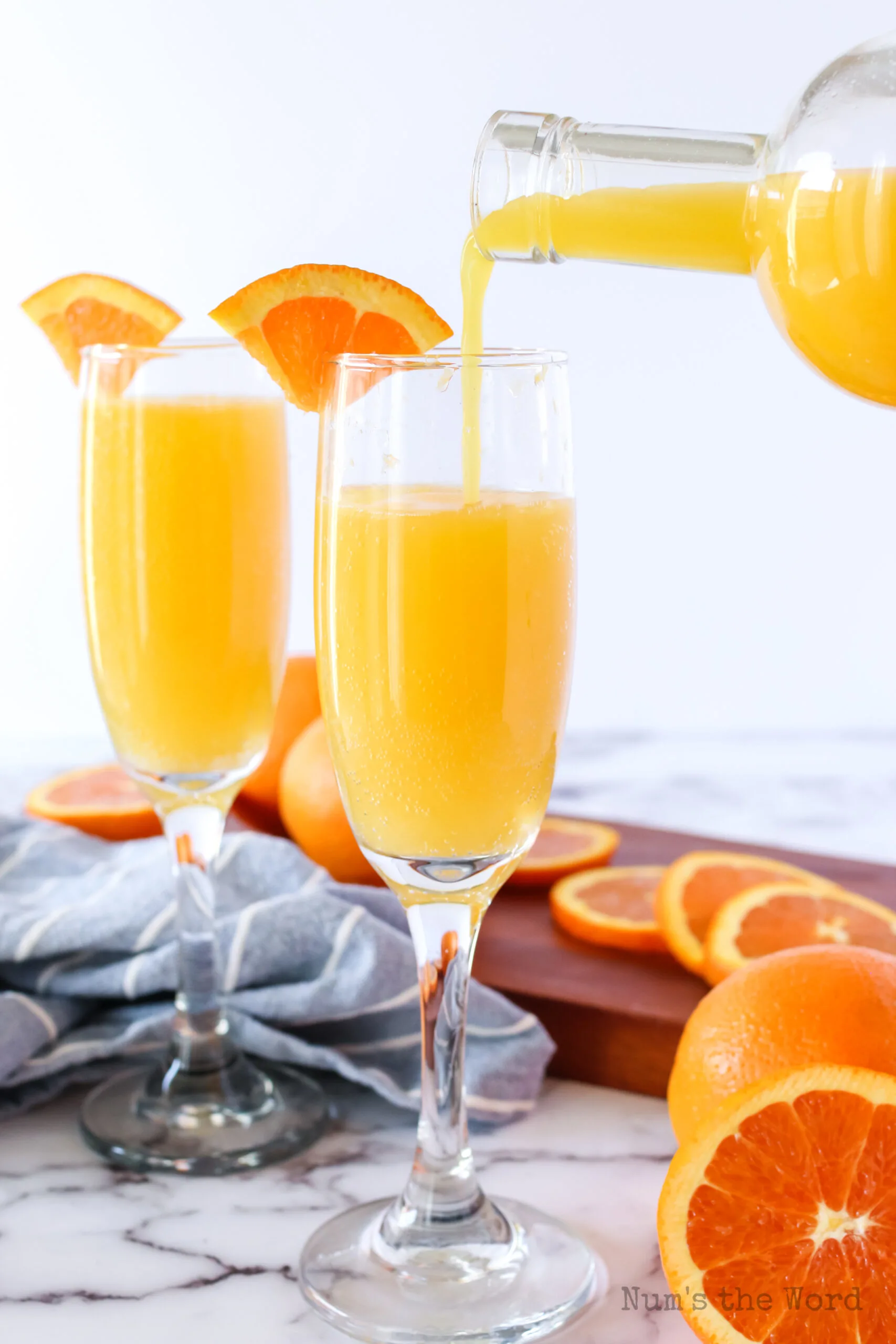 If you're looking for additional mocktail ideas, check out some of these other recipes from Num's the Word!
I'm sure your friends and family will love this non alcoholic mimosa recipe. These mock mimosas are the perfect drink for girl's nights, brunches, baby and bridal showers, holiday parties, and more! And the best part is you can easily customize the ratios to your preferences. Enjoy!
Yield: 4 glasses
Non Alcoholic Mimosa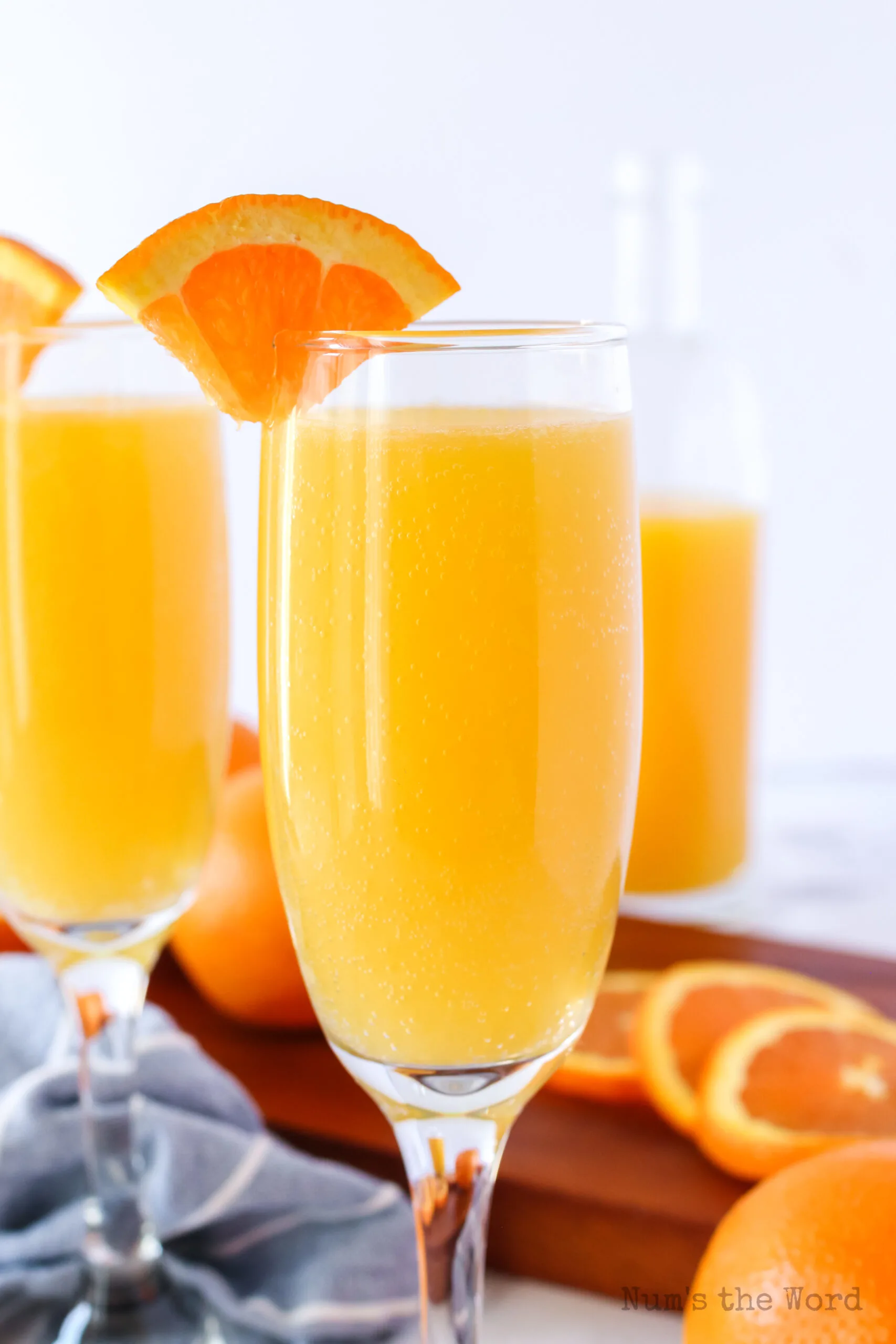 Bubbly, sweet, and citrusy, it doesn't get much better than this non alcoholic mimosa drink. The perfect drink for baby showers and brunches!
Ingredients
3 Cups Ginger Ale, chilled
1 Cup Orange Juice, chilled
Instructions
Pour 1/4 cup of orange juice into each cup.
Next, pour 3/4 cup of Ginger Ale into each glass.
Serve immediately.
Notes
A true Mimosa is a 3:1 ration. 3 parts Champaign and 1 part orange juice.
I however find that to be lacking in the orange juice flavor department and generally make mine 1:1 ratio. 1/2 cup Sprite or Ginger Ale and 1/2 cup Orange juice.
Play with it before your party to see which you prefer. Enjoy!
Nutrition Information:
Yield:
2
Serving Size:
1
Amount Per Serving:
Calories:

180
Total Fat:

0g
Saturated Fat:

0g
Trans Fat:

0g
Unsaturated Fat:

0g
Cholesterol:

0mg
Sodium:

27mg
Carbohydrates:

45g
Fiber:

0g
Sugar:

43g
Protein:

1g
Originally Posted: July 10, 2014