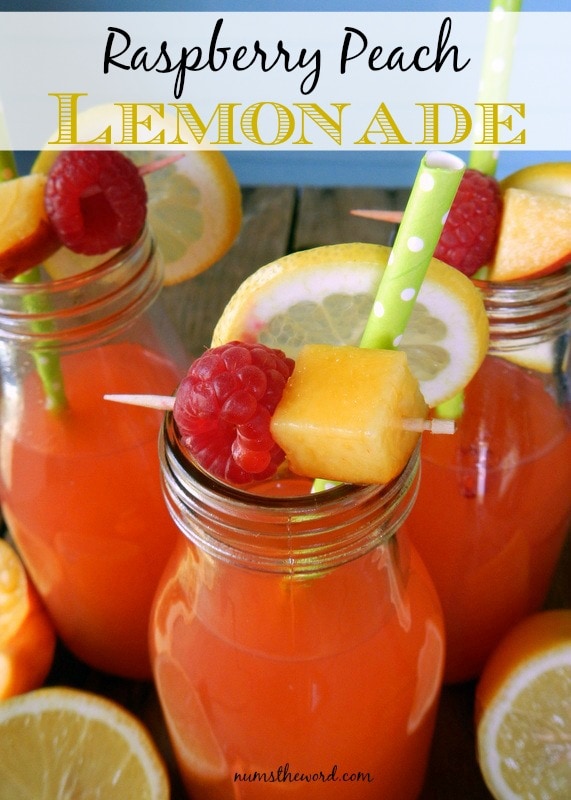 Every Wednesday night during the summer, my 4 year old and I do a cupcake and lemonade stand. We set up a stand in our front yard and sell fresh squeezed Simple Homemade Lemonade and a gourmet flavor of the week cupcake.
All money earned goes to her future college fund and so far she's doing quite well for herself.
It's because of our weekly lemonade stand, that we always have fresh lemons on hand.
However, after 5 weeks of delicious lemonade, I decided that I wanted to try a new recipe. I had peaches and raspberries on hand and decided to whip up a raspberry peach lemonade syrup.
Just like our Simple Homemade Lemonade, which makes a syrup that you add water to, this raspberry peach lemonade recipe also makes a syrup in which will keep well in the fridge for up to 3 days until you are ready to use it.
I tried a few versions of this, all of which were WAAAAAY too sweet. Once I realized that it needed very little sugar because the fruit added almost all the natural sugar it needed.
This raspberry peach lemonade was sweet with a hint of tang from the raspberries. And has quickly become a new favorite way to do lemonade. We liked it so much we took it to a friends house to share with them!
Sometimes it's nice to be friends with a food blogger. There are usually food related perks every time you see them!
If you love lemonade, peaches and raspberries, then I recommend you give this raspberry peach lemonade recipe a try. It's easy to whip together, sweet, hint of tang and goes down real smooth!
This post contains Amazon affiliate links as a free service to you!
Ingredients
1 cup + 5 cups of water, divided
1/4 cup white sugar
3 peaches, peeled & diced
6 ounces raspberries, washed
1 cup fresh squeezed lemon juice (about 1 pound of lemons)
Instructions
In a medium pot, mix 1 cup of water and sugar. Bring to a boil.
Add peaches and raspberries. Cook boiling 5 minutes mixing well. Peaches and raspberries will break down and turn to mush, this is good!
Remove from heat and allow to cool for 5 minutes.
Transfer warm mixture to a blender. Blend or pulse until smooth and no chunks.
Strain mixture through a fine mesh strainer to remove raspberry seeds and any chunks.
Add lemon juice and mix well.
Place mixture in container with a lid and refrigerate until cool.
When ready to serve, add 5 cups of water to lemonade syrup & mix well.
https://numstheword.com/raspberry-peach-lemonade/
Items recommended for this recipe include…
One Year Ago, 2014