This fresh and colorful Grilled Corn Salad is the perfect side dish or dip for any summer gathering! Whether you're enjoying a quiet meal at home or attending a potluck picnic, this simple and delicious salad is sure to be a hit.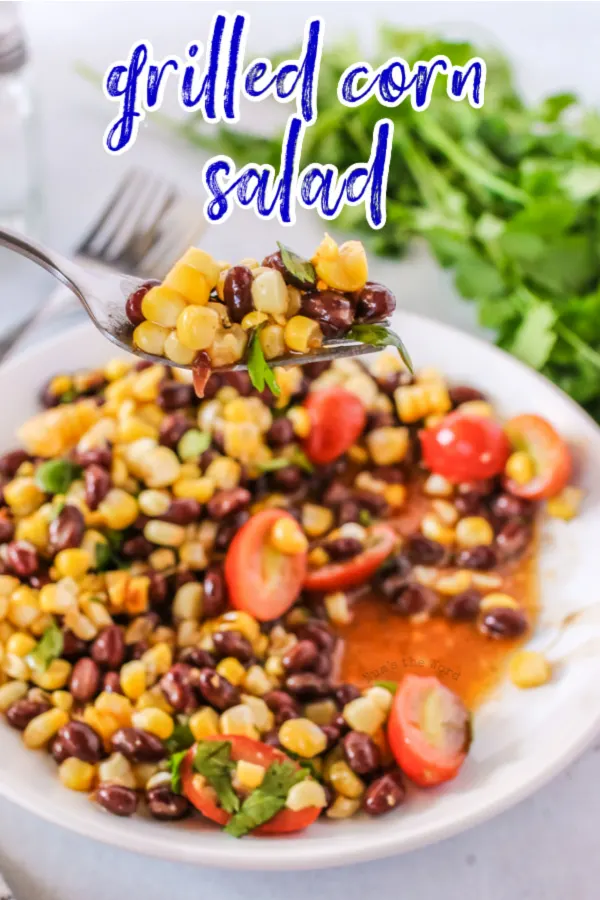 Nothing elevates the natural flavor and sweetness of corn quite like a grill can. Perfectly smoky, but still perfectly sweet, grilled corn takes a regularly tasty corn salad and makes it AMAZING!
With all the bright and fresh flavors of summer rolled into one dish, there's so much to love about this summer grilled corn salad.
So fire up your grill and save some room for a couple ears of corn, because you're going to LOVE this grilled corn salad recipe!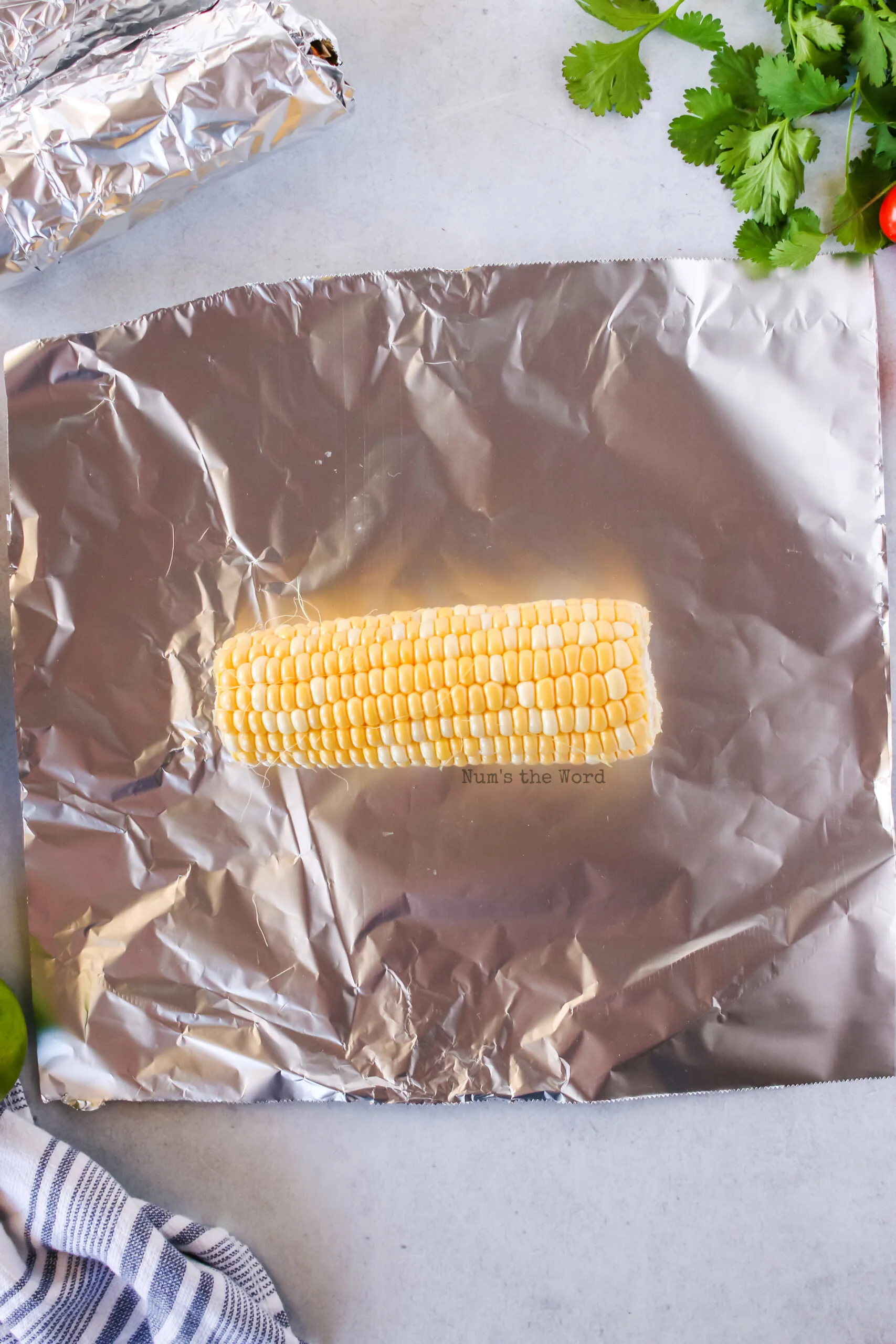 How to grill corn for salad?
While this might be the most daunting step of your grilled corn black bean salad recipe, it's really quite simple to do! In just a few quick and simple steps, you'll have tasty ears of grilled corn ready to salad-ify:
Shuck the corn

, removing all the peels and silk.

Wrap foil

around each ear of corn and place on the heated grill.

Remove foil

and place ears of corn directly onto the grill to sear.

Allow corn to cool

before cutting the grilled kernels from the cob.
It's really that simple! You can easily grill a couple ears of corn alongside your grilled meats. Just save a bit of room for a bit of corn and you're well on your way to a delicious Mexican grilled corn salad.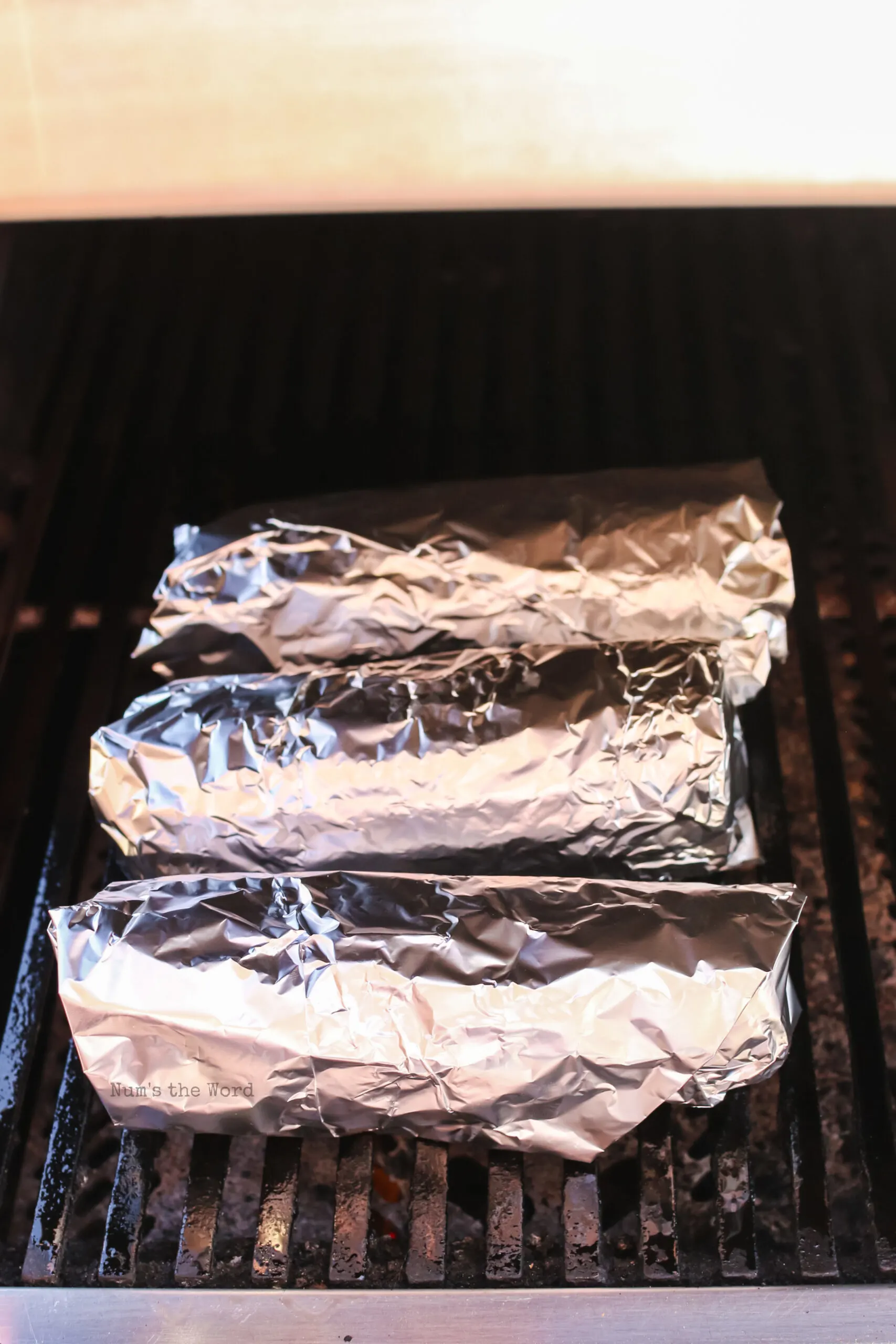 Can you grill corn in advance for corn salad?
Yes, you can grill corn in advance! If you're planning to use it the next day, then you're good to store it in the refrigerator. Cooked corn will last 3-5 days if properly stored in the fridge.
Keep in mind that the further you make the corn ahead and the longer you store it in the fridge before making it into salad, the shorter your SALAD'S shelf life will be.
Another option is to freeze the grilled corn. You can freeze the entire cooked cobs, or you can cut off the grilled kernels. Store in an airtight container or freezer bag.
I think it's much easier to remove the kernels from the cob prior to freezing. Then you can just dump the frozen kernels into the salad as you make it.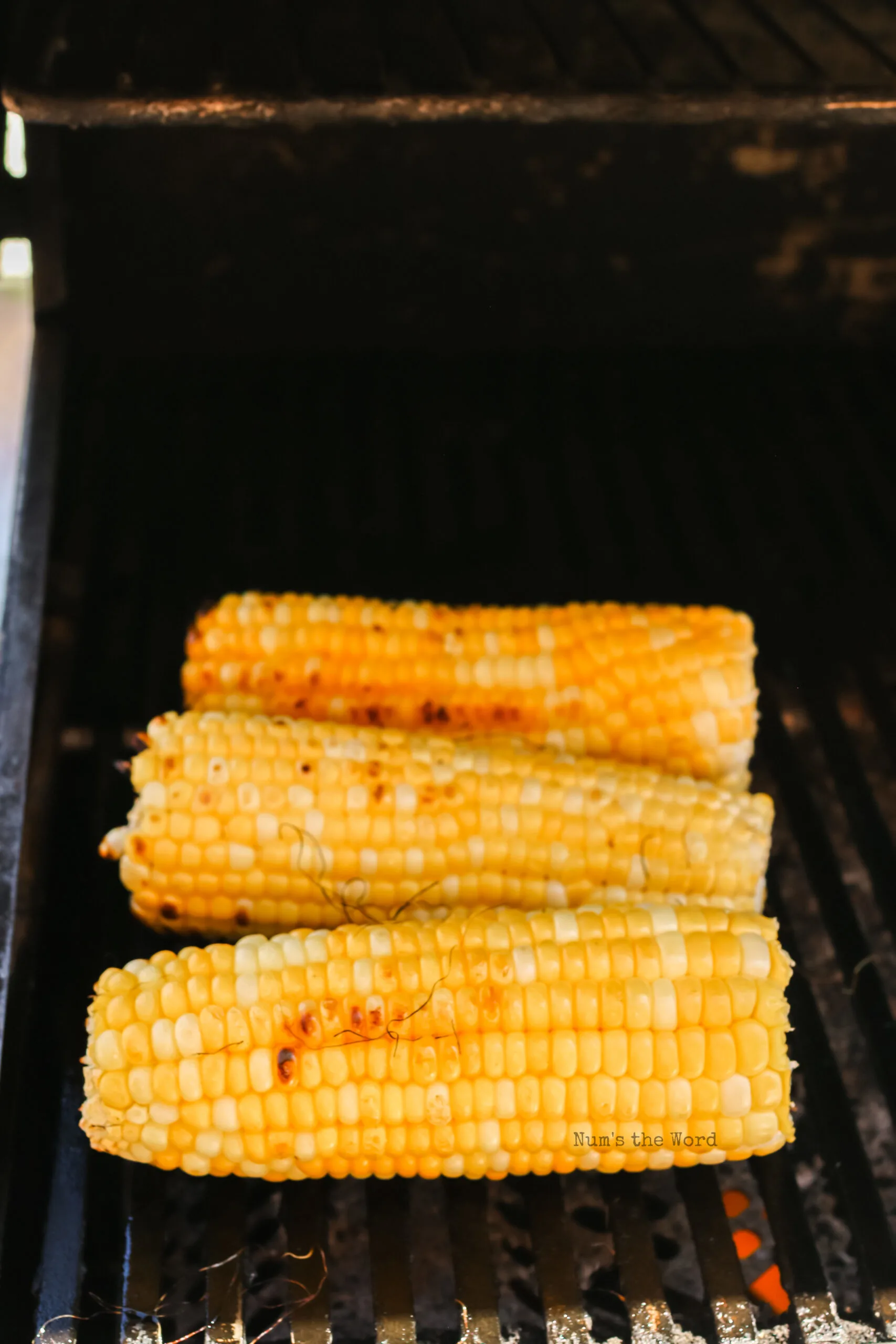 What ingredients are in grilled corn salad?
To make this tasty black bean and corn salad, you'll need the following ingredients:
Fresh corn

– to make this grilled corn salad really GREAT, the emphasis needs to be on the

grilled corn

. You'll need fresh corn for grilling!

Black beans

– this black bean and corn salad recipe gets protein and color from the black beans. I love the contrast of the black beans and corn in both color and texture!

Grape tomatoes

– tomatoes add color and juicy flavor to your corn salad.

Cilantro

– one of the quintessential herbs for Mexican inspired dishes.

Olive oil

– part of the dressing for your grilled corn salad.

Red wine vinegar

– vinegar helps to enhance the flavors of the other salad ingredients, while also helping to preserve the salad so you can enjoy it longer!

Fresh lime juice

– lime juice adds flavor, while the acidity also helps to enhance flavors and preserve your grilled corn salad.

Garlic

– packs a lot of flavor in a tiny package!

White sugar

– sugar works as a flavor enhancer and also helps to counteract the acidity of some of the other dressing ingredients.

Cumin

– the seasonings in the dressing really make this grilled corn salad SING.

Chili powder

– a tasty blend of dried, ground peppers and other seasonings, a bit of this adds a lot of flavor!

Salt

– the age-old flavor enhancer.

Black pepper

– adds depth of flavor, especially to vegetables and meats.

How to make Grilled Corn Salad?
As far as how to prepare corn salad, it's simple! Other than grilling the corn, the rest of the steps are just a matter of combining and stirring. Not a difficult recipe, but with incredibly tasty results!
Grill

corn and cut kernels from cob

Combine

with black beans, tomatoes, and cilantro

Whisk

dressing ingredients

Pour

dressing over mixture

Stir

well to combine

Enjoy

!
You can serve this grilled corn salad either warm or cold.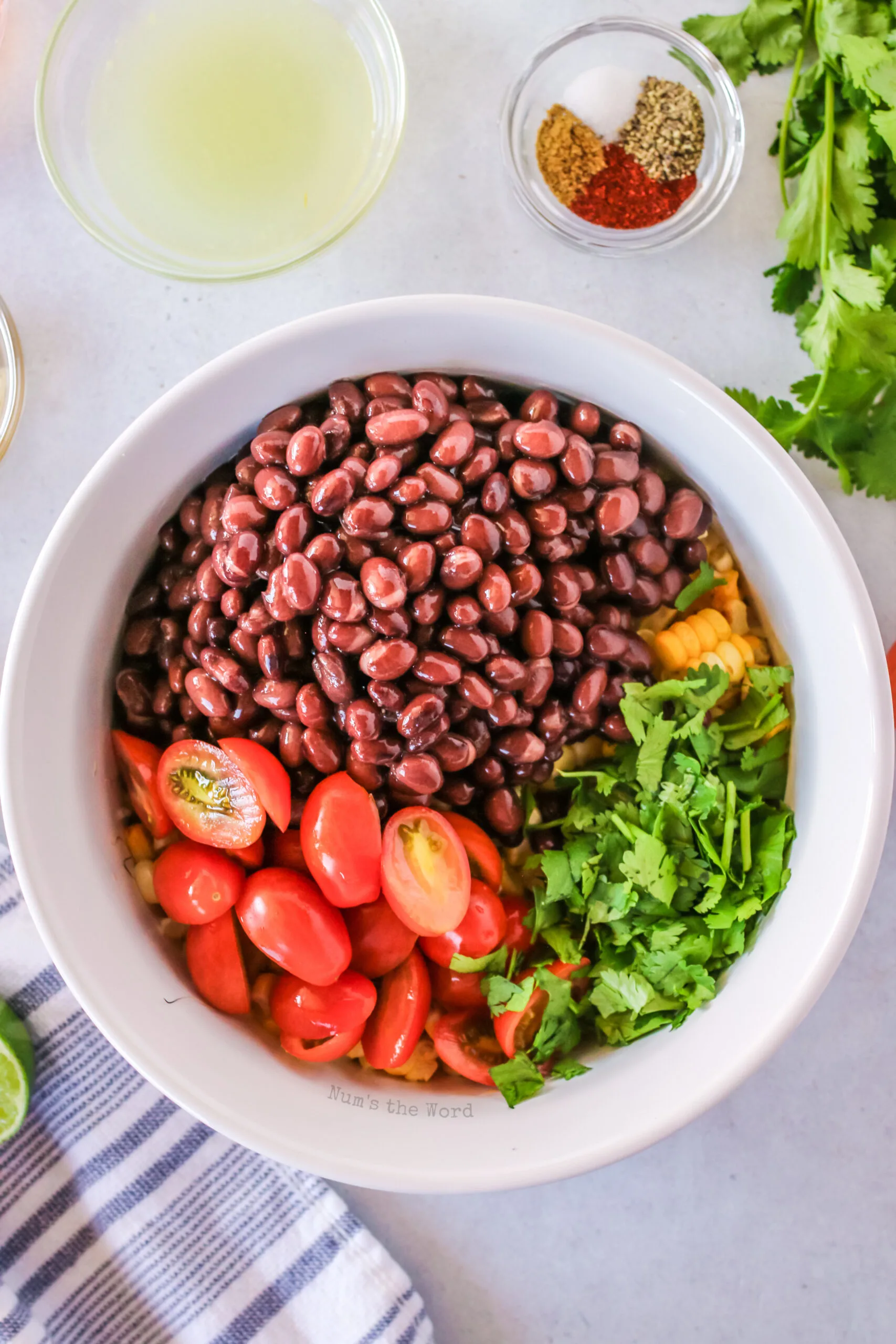 What goes well with corn salad?
Grilled corn salad makes an excellent side dish for any meal, gathering, picnic, or potluck. It's a great addition to grilled meats, since you already have the grill fired up. Consider some of the following ideas: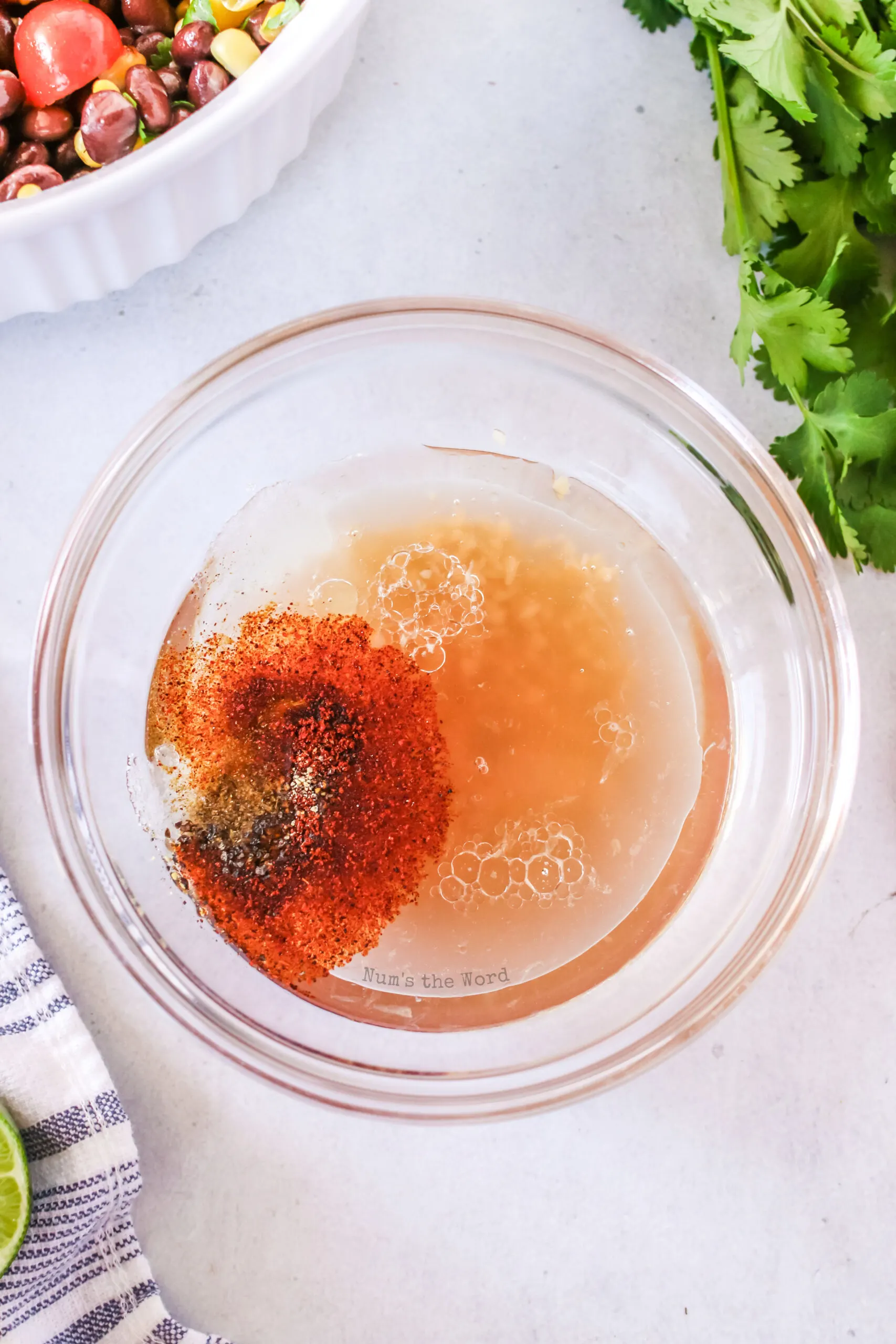 Can I make corn salad ahead of time?
Yes! One of the great things about this corn salad is that it lasts for up to 5 days in the fridge, so you can make it ahead and enjoy it later.
Whether your making for a gathering the next day or want a healthy and yummy snack for the midday slump, this recipe is a great option for any occasion!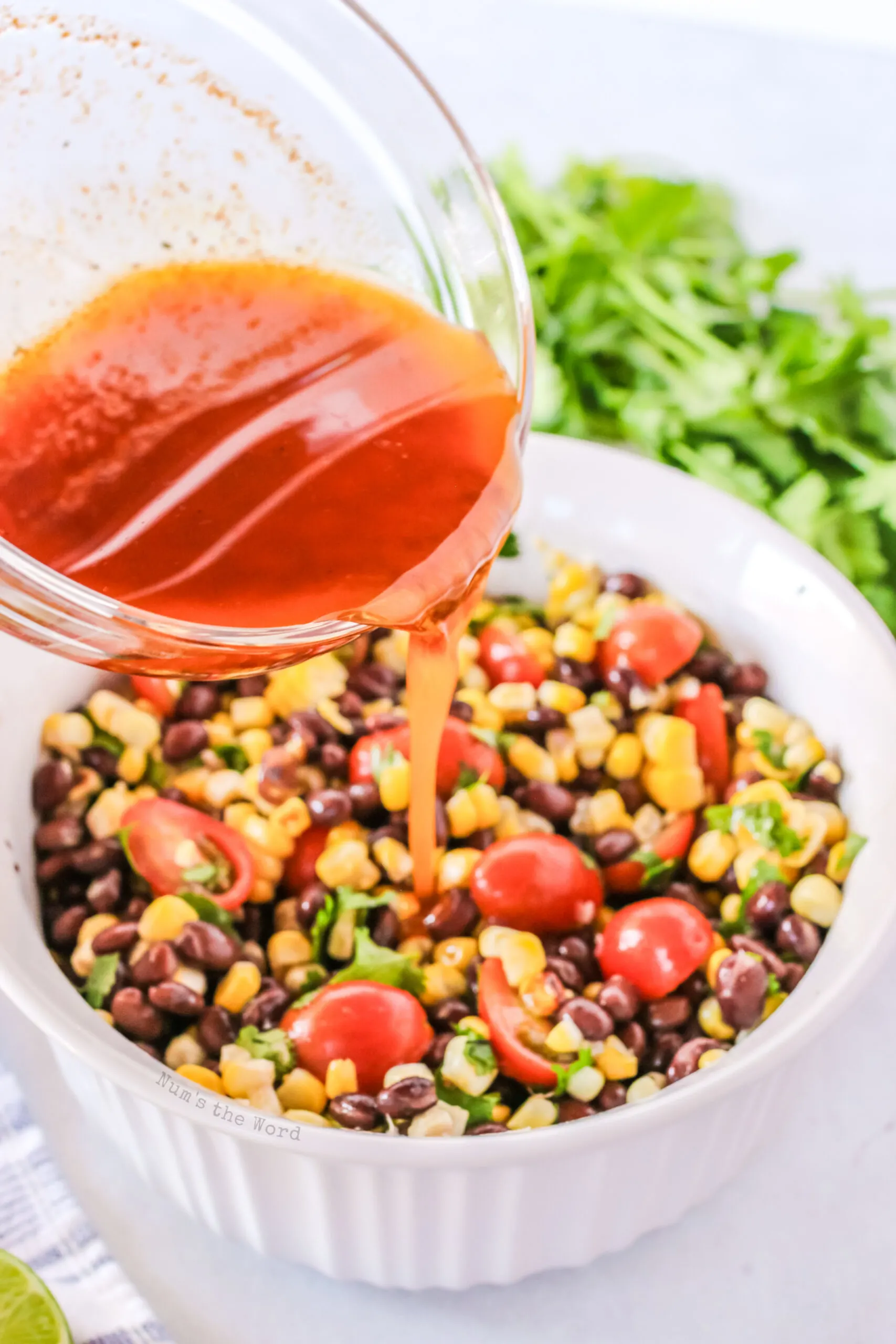 Can you freeze corn salad?
I don't recommend freezing this corn salad. The fresh ingredients will be negatively affected in terms of texture and flavor by the freezing and thawing process. While the beans and corn freeze well, the fresh tomatoes and cilantro do no.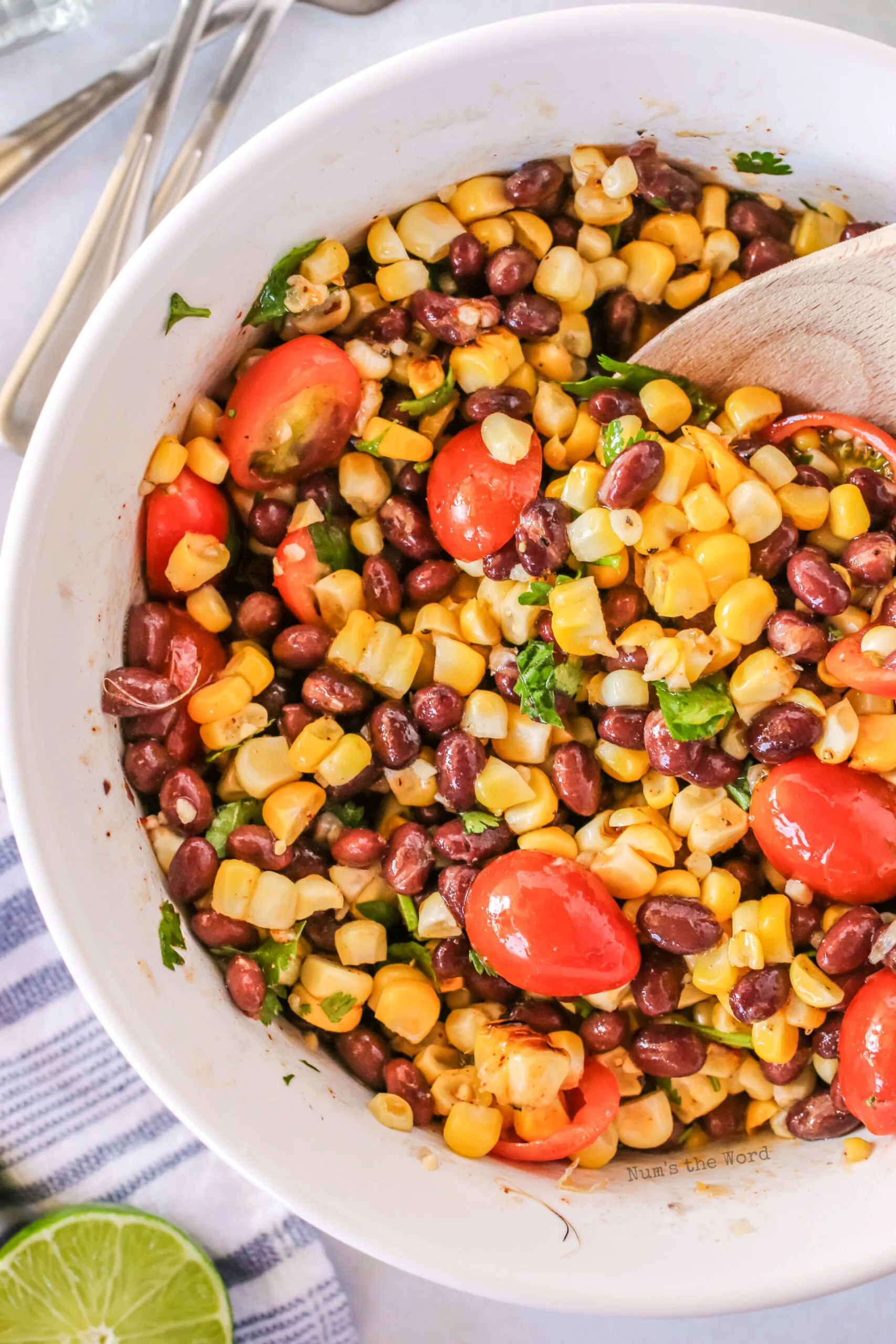 Can guinea pigs eat corn salad?
The individual corn kernels can be a choking hazard for guinea pigs, and this salad recipe includes garlic — which guinea pigs should avoid. I do not recommend feeding this grilled corn salad recipe to your guinea pig friends.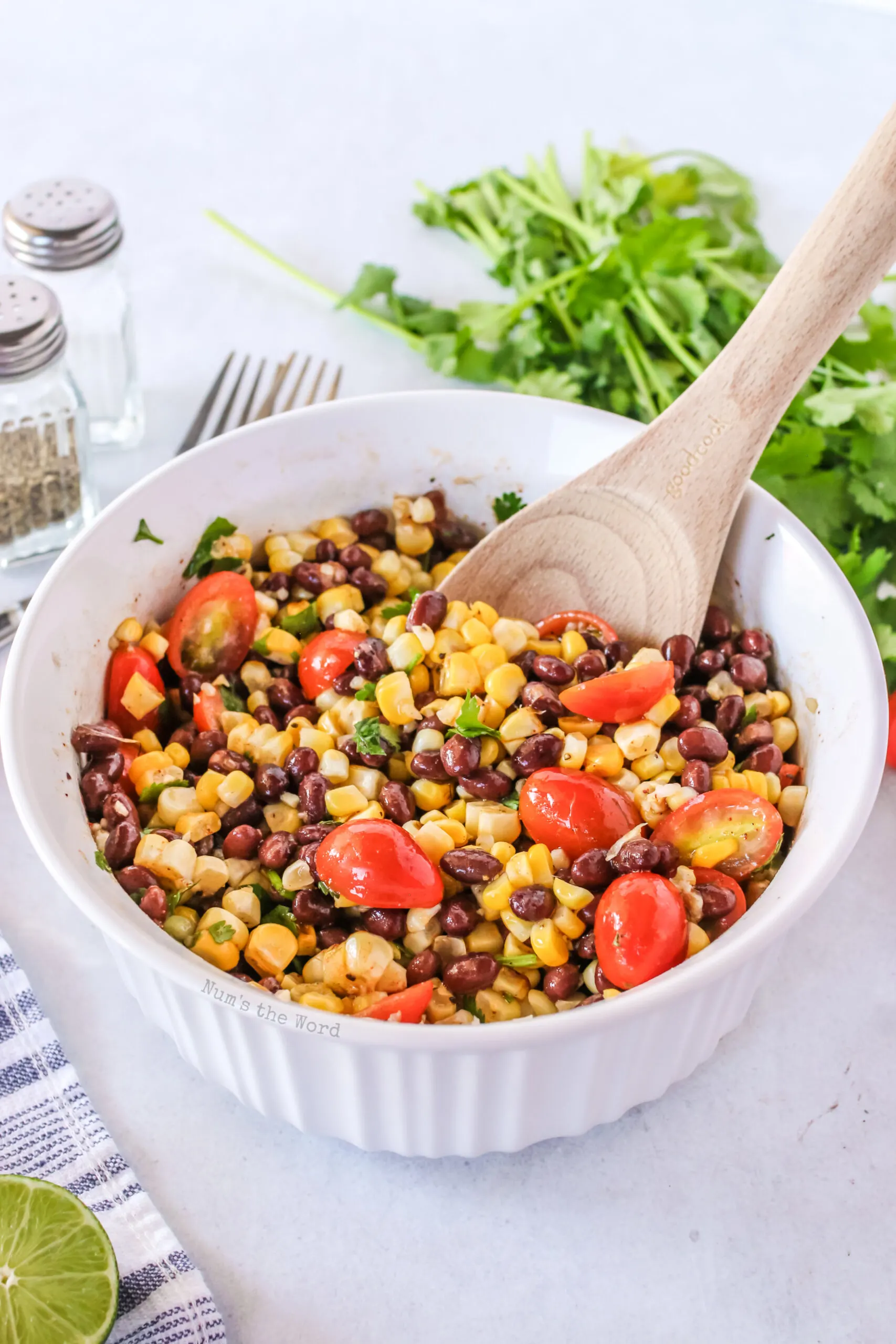 Light, refreshing, and delicious, this grilled corn salad is sure to be a hit at any meal. Serve it over grilled meats, as a side, or even as a dip with chips! It's versatile, tasty, and easy to make!
Grilled Corn Salad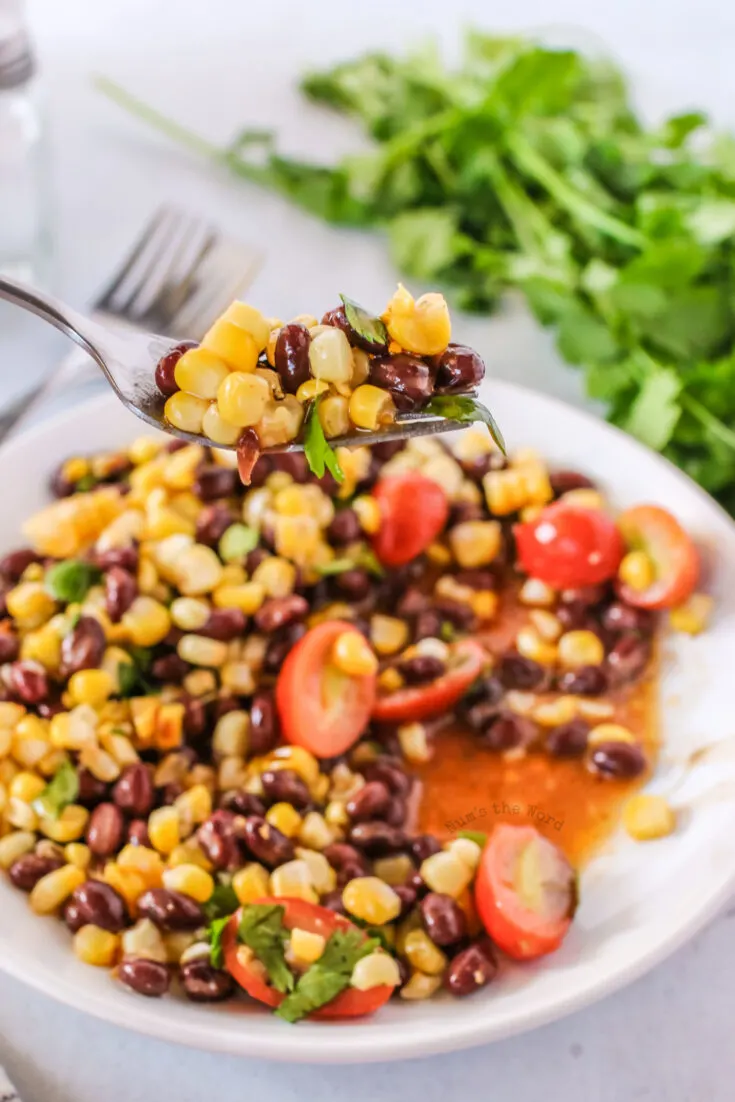 This fresh and colorful Grilled Corn Salad is the perfect side dish or dip for any summer gathering! Easy to make and packed with flavor!
Ingredients
3 ears of corn, peeled and silks removed
1 (15 ounce) can of black beans
10 grape tomatoes, cut in half lengthwise
1/4 cup cilantro
2 Tablespoons olive oil
1 Tablespoons red wine vinegar
1 Tablespoons fresh lime juice
1 teaspoon minced garlic or garlic paste
1/2 teaspoon white sugar
1/4 teaspoon cumin
1/4 teaspoon chili powder
1/8 teaspoon salt
1/8 teaspoon black pepper
Instructions
Wrap each ear of corn with foil and grill for 15 minutes.
Remove corn from foil and place cobs on grill grates to sear corn, turning regularly for 5 more minutes.
Let corn cool then cut corn from cob and place in a bowl.
Add black beans, tomatoes, and cilantro, mix well.
In a small bowl whisk olive oil, vinegar, lime juice, garlic, sugar, cumin, chili powder, salt and black pepper and whisk.
Pour dressing over corn and stir.
Serve warm or cold.
Nutrition Information:
Yield:
8
Serving Size:
1
Amount Per Serving:
Calories:

108
Total Fat:

5g
Saturated Fat:

1g
Trans Fat:

0g
Unsaturated Fat:

3g
Cholesterol:

0mg
Sodium:

72mg
Carbohydrates:

14g
Fiber:

3g
Sugar:

3g
Protein:

4g