Wet Burritos are an easy weeknight meal everyone will love. Baked in enchilada sauce for extra flavor, this tasty dish also makes a great freezer meal!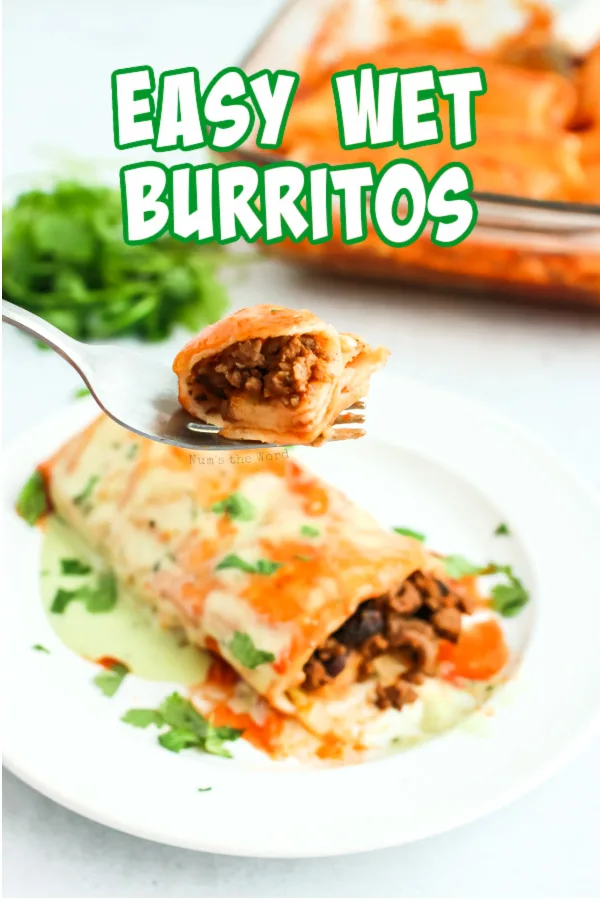 These wet burritos with sauce are a delicious and easy way to feed your family, and they are even FREEZABLE! Quick and easy baked burritos are a smothered or wet burrito recipe and are loaded with delicious flavor!
This recipe is an easy weeknight meal that everyone will love, and take traditional burrito up a notch or two on the tastiness scale.
Wet Burritos are a great meal because they can easily be adapted to any filling, so use what you have on hand and enjoy the tastiness that are these fantastic oven baked burritos!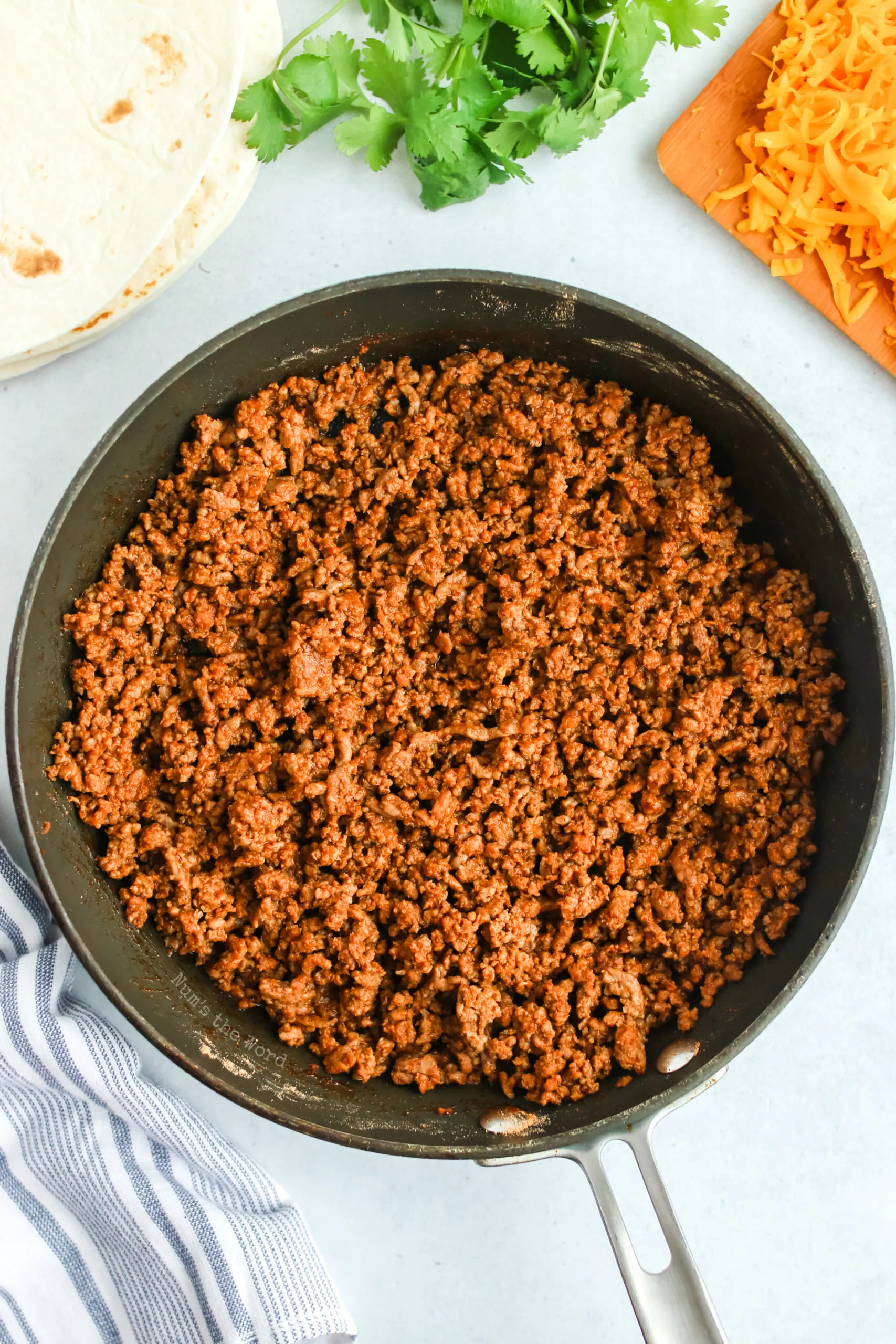 What is a wet burrito?
A wet burrito is a burrito that is covered — or smothered — in a red or green sauce and melted cheese. This delicious twist on a typical burrito isn't something you can just pick up and eat with your hands … at least not without making a huge mess! Wet burritos are typically eaten with a knife and fork.
Also known as a smothered burrito or enchilada style, wet burritos share similarities with wet chimichangas and enchiladas in that they are covered in sauce and cheese before serving.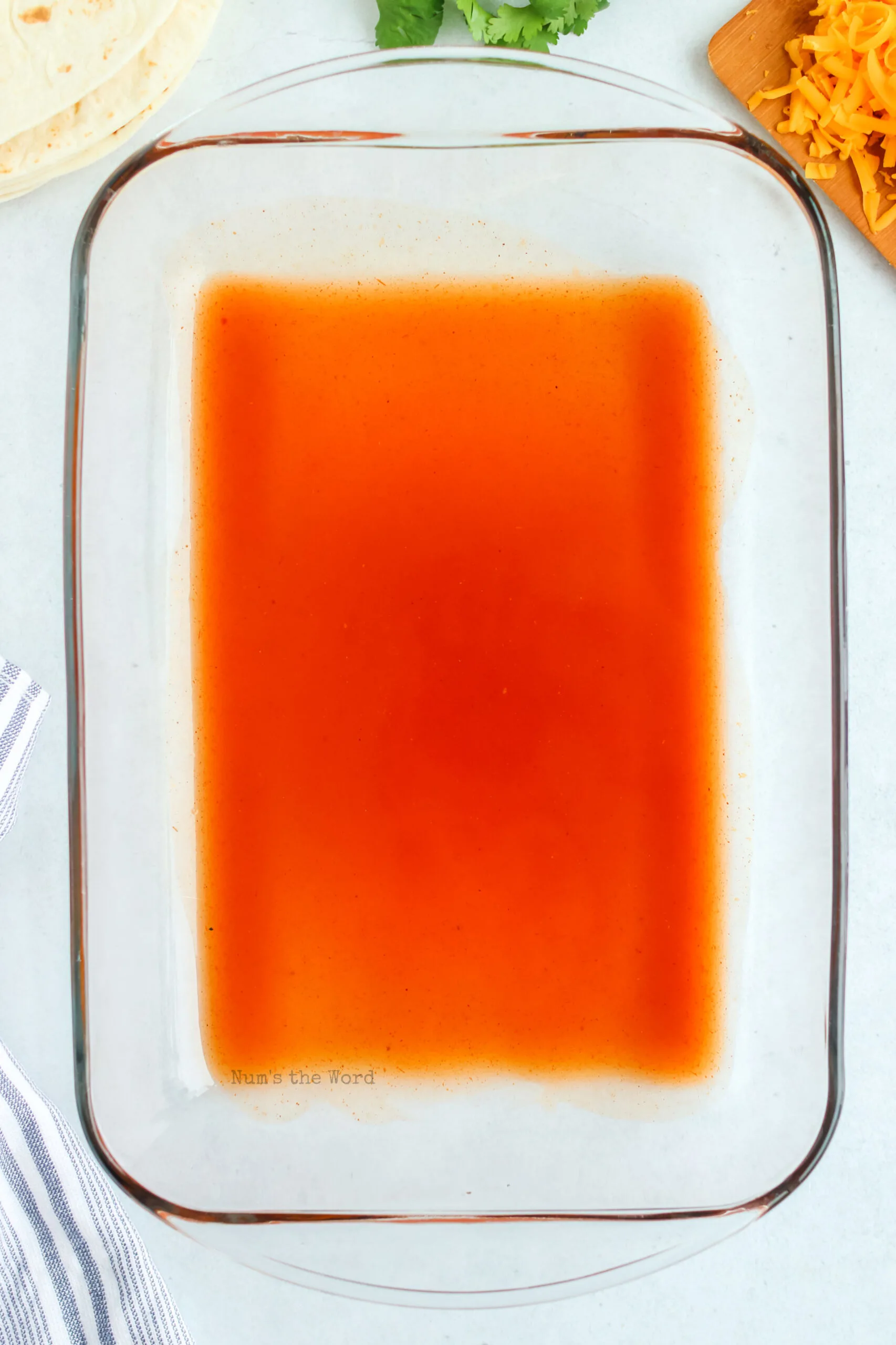 Where was the wet burrito invented?
It seems useful to go back a little further in time and first answer the question of where the burrito was invented — which was not Mexico. In Spanish, burrito means "little donkey." The meat and beans and rice filled variety is said to hail from California in the 1930's, though there are some existing theories that the idea for the burrito might originate from northern Mexico prior to then.
Knowing that the burrito is not actually a part of traditional Mexican cuisine, it may be slightly less surprising to learn that the wet burrito is considered to have been invented at Beltline Bar in Grand Rapids, Michigan in 1966.
What is the difference between a burrito and a wet burrito?
The difference between a burrito and a wet burrito really comes down to the finishing touches of the recipe. A burrito is typically served "dry," meaning with toppings or sides not included or on the side. A wet burrito is served covered in enchilada sauce and melted cheese. It is often baked, kind of like a giant enchilada.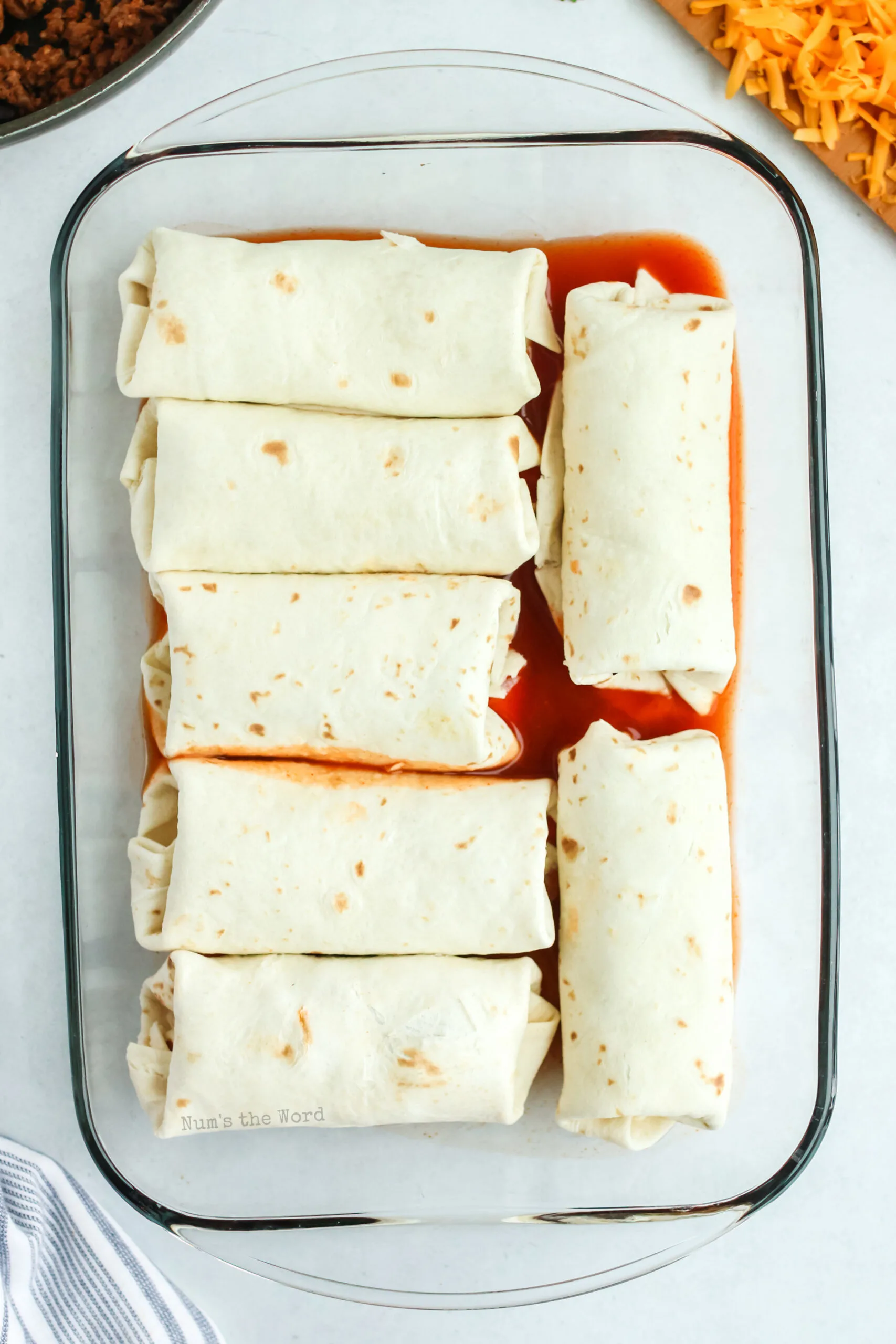 What is in wet burritos?
To make these wet burritos smothered in saucy goodness, you'll need the following ingredients:
Flour tortillas

– for this recipe we use 10-inch flour tortillas. You can use bigger if you want, but I wouldn't recommend trying to go smaller.

Ground beef

– few things are as filling and satisfying as a burrito stuffed to the gills with meat and cheese.

Taco seasoning

– you can use a packet of taco seasoning or 2 Tablespoons of

homemade

taco seasoning. This will flavor your ground beef and thus your burrito!
Black beans

– canned black beans make these a cinch to prepare and assemble! You can also substitute refried beans, pinto beans, or your favorite variety.

Onion

– a bit of diced onion adds a whole lot of flavor and a bit of burrito filling.

Cheddar cheese

– the crowning glory of any burrito, in my opinion, is ooey-gooey-melty cheese. Shredded cheddar will provide part of your filling and part of the "wet" or "smothered" burrito topping.

Lettuce

– any kind of shredded lettuce will serve your purposes here.

Tomato

– tomatoes are an optional filling choice. If you prefer, you can serve your lettuce and tomato on top after your burritos are done cooking, rather than inside. Adjust this recipe to your tastes!

Enchilada sauce

– for this recipe we use a mild red enchilada sauce, but feel free to use a green enchilada sauce or amp up the spice factor with a medium or hot variety!

Cilantro Lime Dressing

– this is totally optional, but I absolutely LOVE the flavor of this simple dressing on top of my wet burritos.

Check out the recipe here!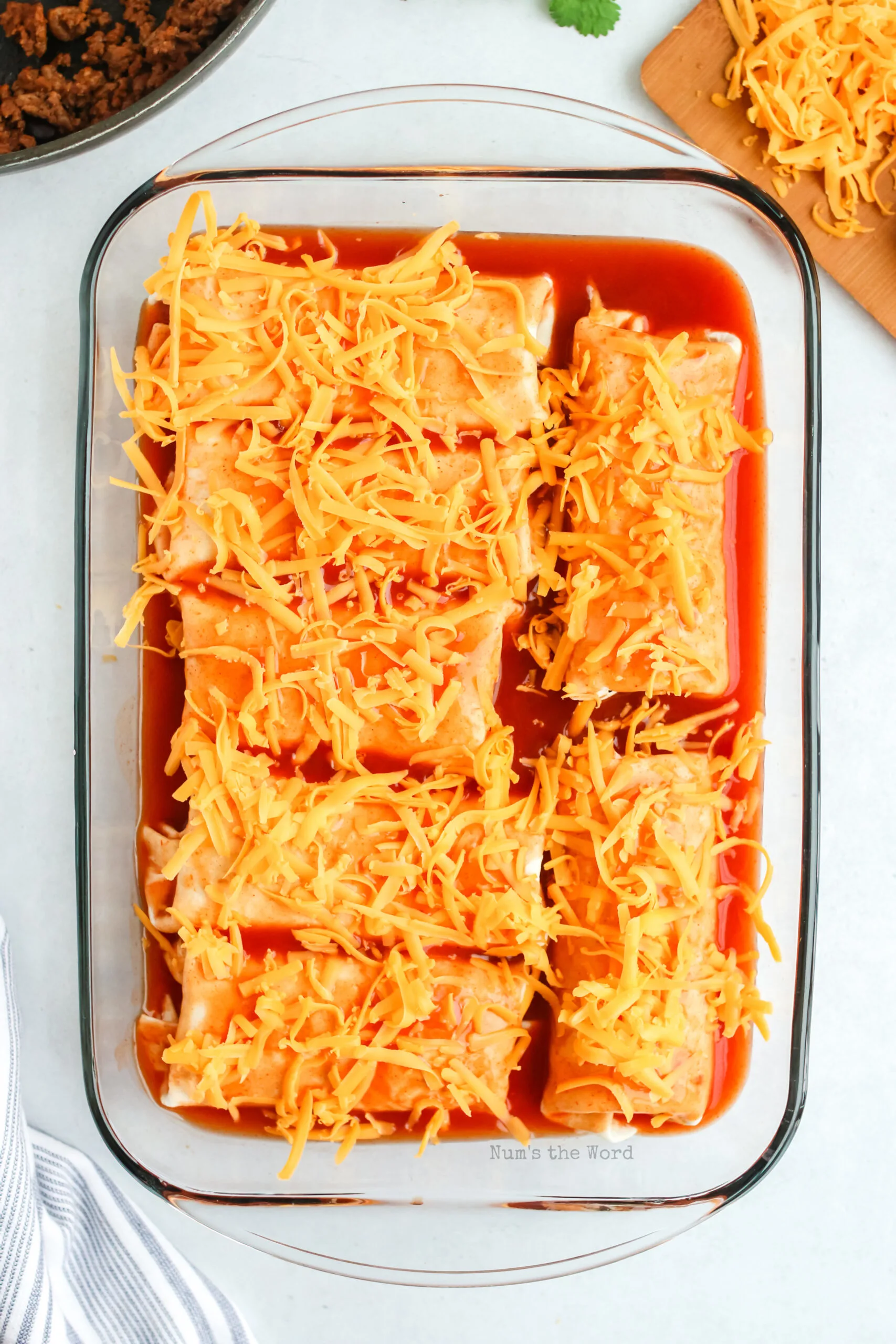 How to make wet burritos?
Cook

ground beef – this is probably the most difficult step and it's a stretch to call it difficult. I like to double whatever ground beef I'm cooking so I can save some in the freezer for an even quicker and easier future meal!

Assemble

the burritos – combine all those tasty fillings and roll 'em up!

Arrange

in a baking dish – this recipe fits great in a 9×9 casserole dish, but if you're making a double batch, start piling them into a 9×13.

Top

with enchilada sauce and shredded cheese – this is the "wet" part of your wet burrito.

Bake

burritos – these wet burritos are a baked burrito recipe so all that saucy goodness gets fully saturated into those tortillas.

Garnish

your baked beef burritos with salsa fresca, sour cream, avocados, fresh cilantro, jalapenos, cilantro lime dressing, or any other topping you can dream up!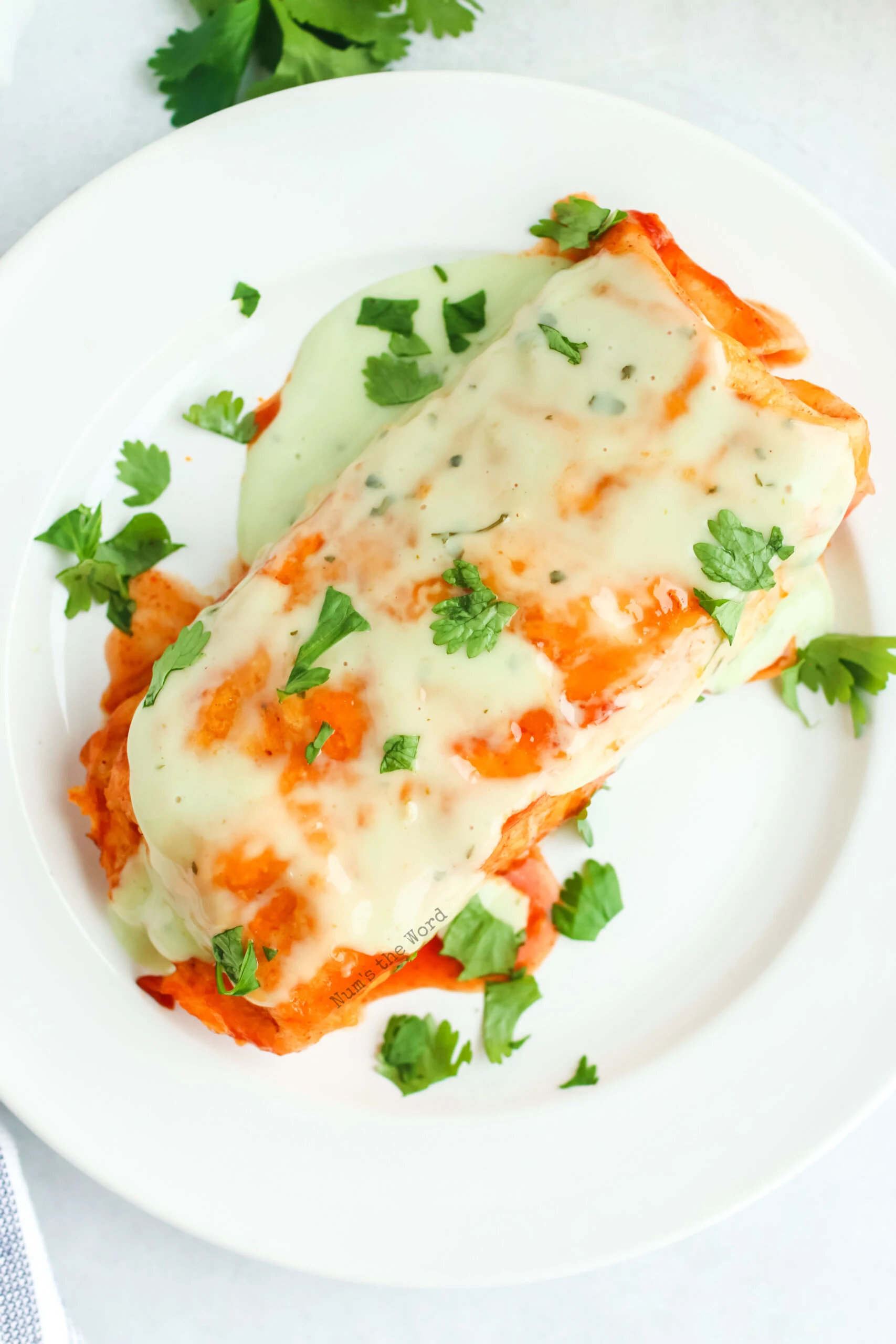 Can you bake burritos in an Instant Pot?
Short answer: NO.
When you "bake" something in the Instant Pot, what you're really doing is steaming it. That's why you always have to have some sort of liquid in the bottom of your Instant Pot, even if you're using the pot-in-pot method.
So, if you wanted to "bake" these burritos in the instant pot, you'd actually be steaming them, either in the enchilada sauce itself, or using pot-in-pot with water in the main pot and enchilada sauce covering your burrito in a separate container. This will greatly alter the texture of your burritos.
If you try to "bake" the burrito in the Instant Pot with enchilada sauce serving as your liquid, you'll end up with a big, mushy mess. Your tortilla will either be steamed into an oblivion or you'll get the dreaded "burn" message.
If you try to "bake" the burrito using the pot-in-pot method, you'll have better results, but the burritos will be much more WET than they'll be coming out of the oven.
You can, however, prepare the taco meat in your Instant Pot! But that's all I'd recommend for this recipe. You'll notice if you search for other Instant Pot burrito recipes that they also only prepare the filling in the Instant Pot, then either broil or pan fry the assembled burrito.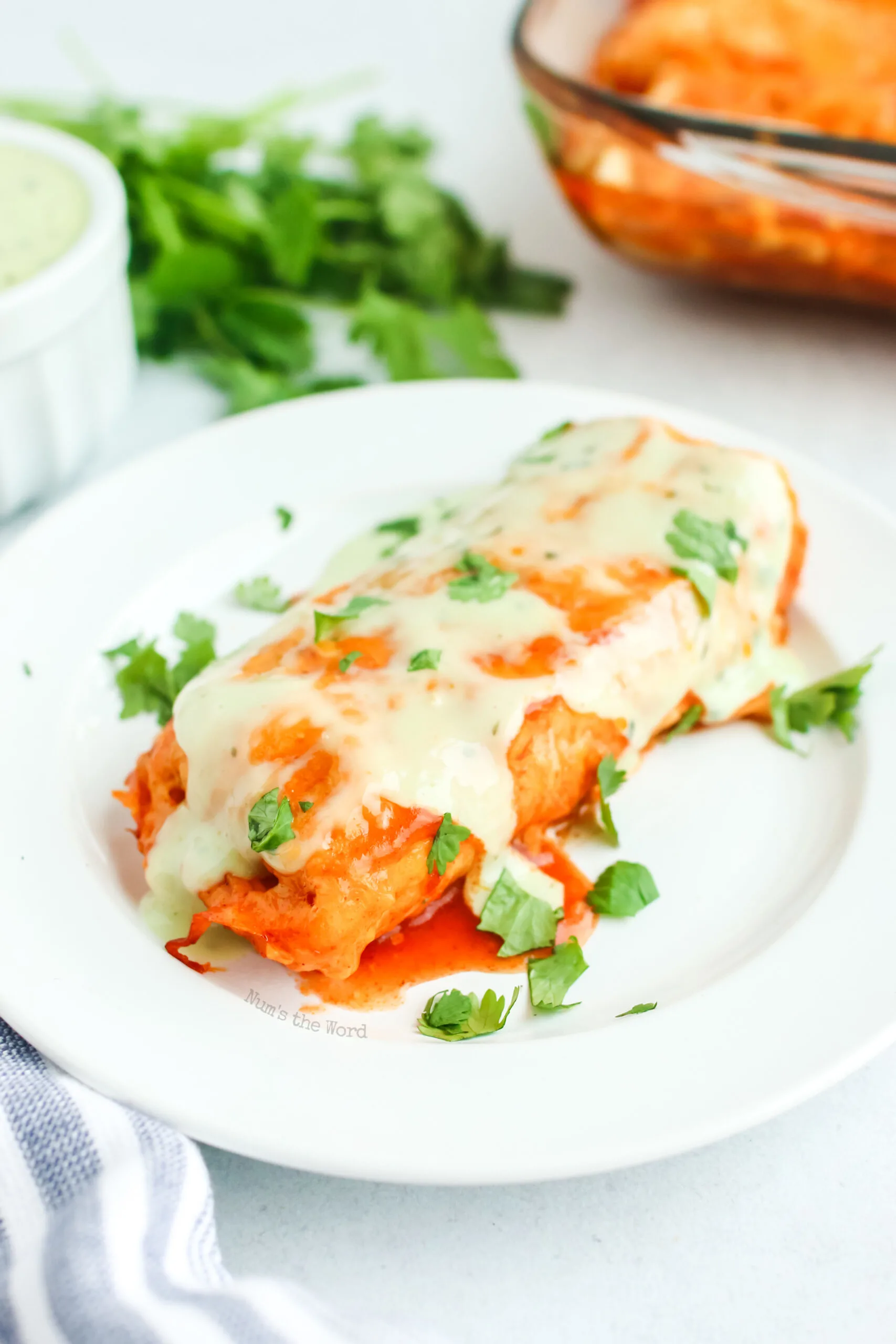 Can you bake lettuce in a wet burrito?
Absolutely! The heat will wilt the lettuce a little; if that is unappealing to you, serve the lettuce as a garnishing on top.
Can you freeze wet burritos?
Yes! But I recommend freezing them before the actual baking. Just prepare it all without the enchilada sauce, wrap it in heavy duty foil and freeze in an airtight zipper bag.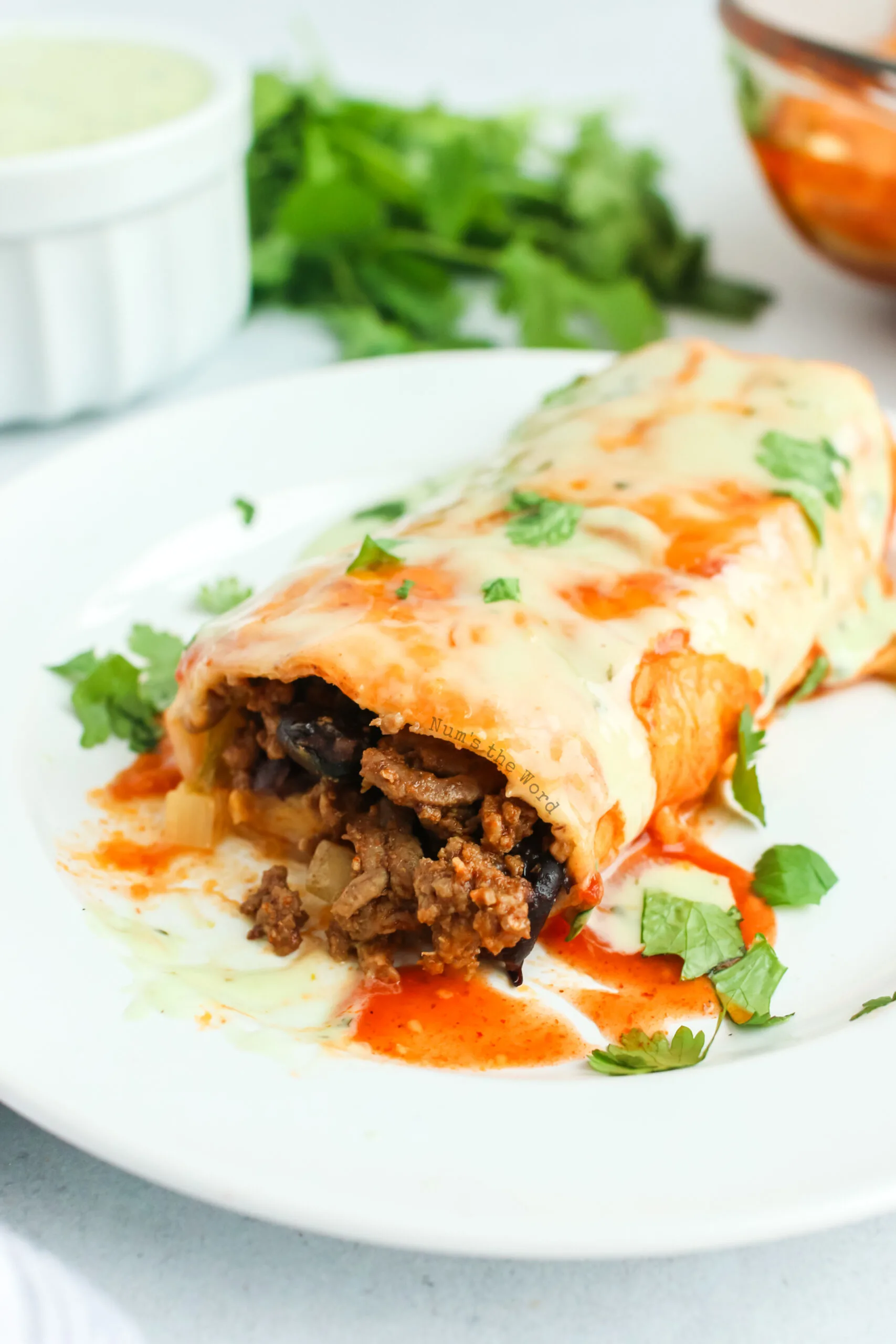 How to bake frozen wet burritos?
When ready to bake, allow to thaw in the fridge overnight (or while you are at work), add enchilada sauce and bake as normal.
If you are baking these frozen, I suggest baking them for 1 hour to 1 hour 15 minutes, depending on your oven, to ensure they are cooked through.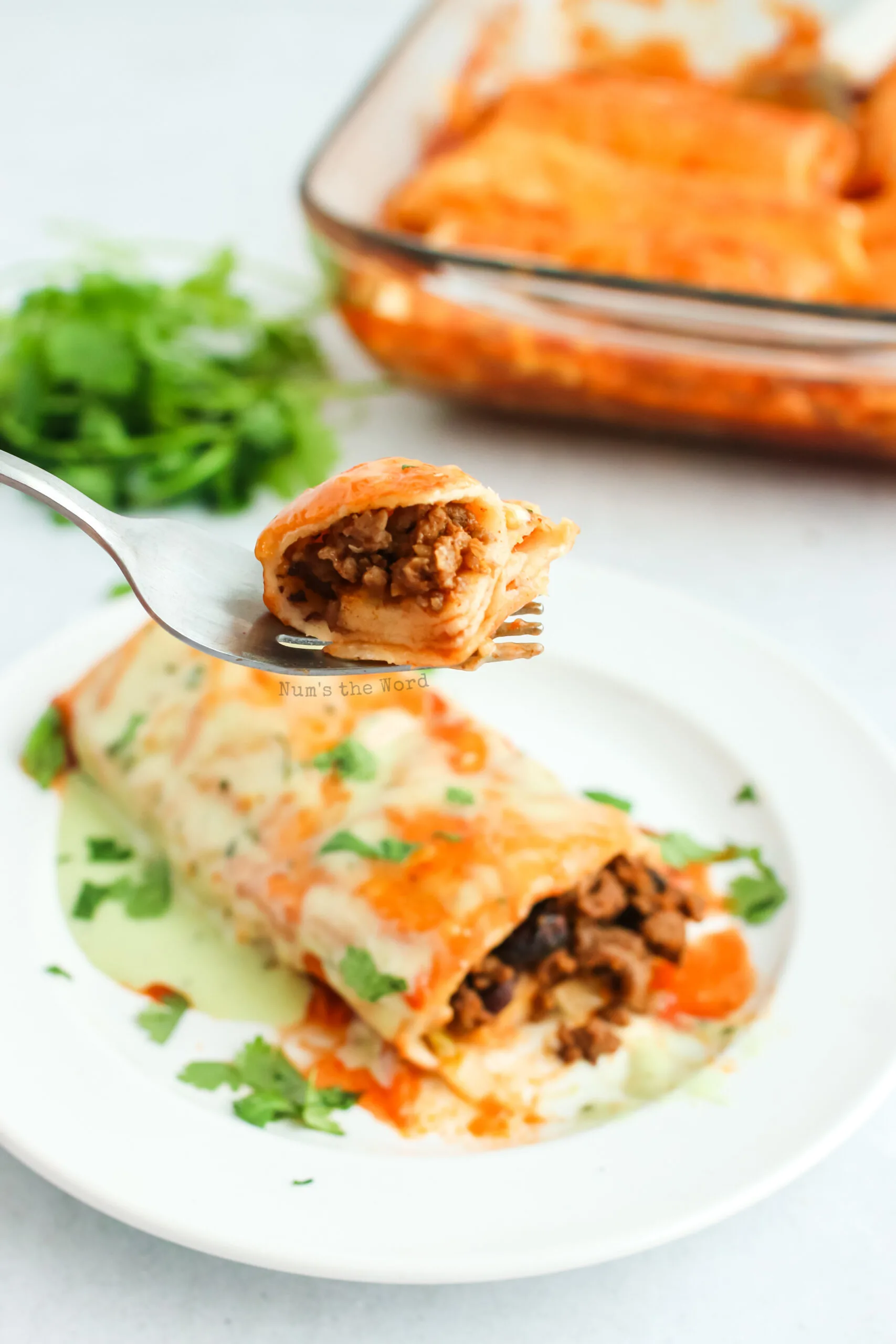 These wet burritos are a great way to make something ahead of time for either freezing or after work. They are filling enough to feed a crowd of hungry teenagers and can be made as thick or thin as you wish. I'm sure you'll love these baked burritos, regardless of your fillings and toppings. Best of all, be prepared to be FULL after this meal!
Yield: 7 Burritos
Wet Burritos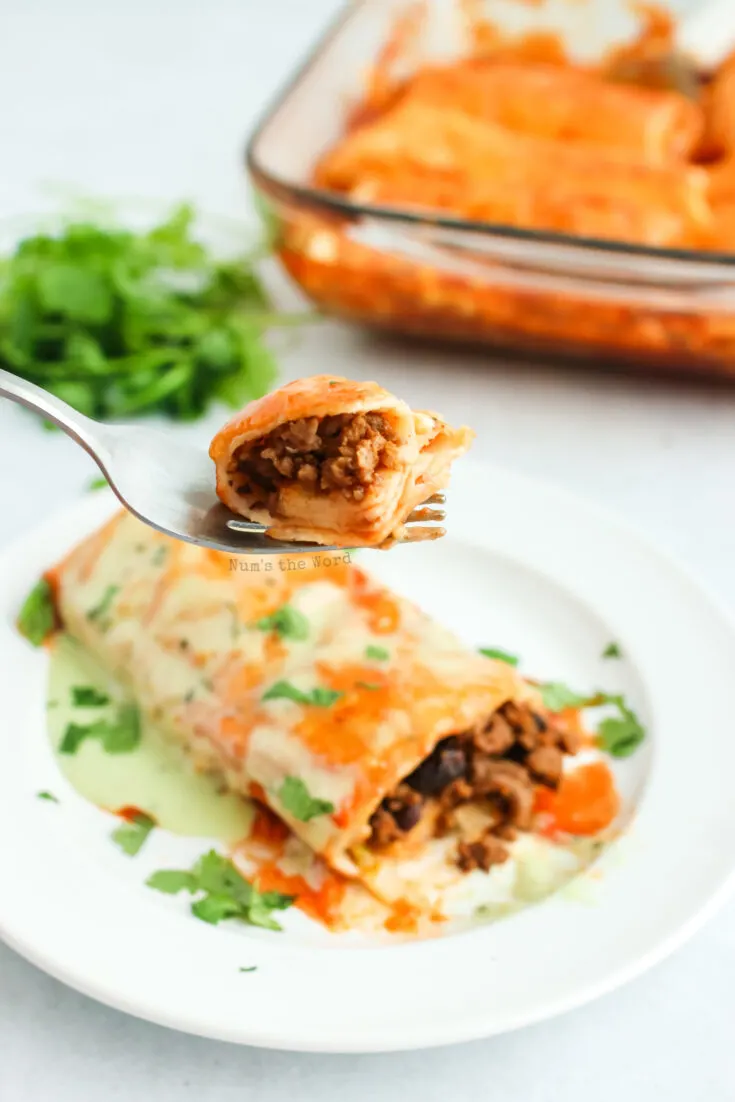 Wet Burritos are an easy weeknight meal everyone will love. Baked in enchilada sauce for extra flavor, this tasty dish also makes a great freezer meal!
Ingredients
8 (10 inch) flour tortillas
1 pound lean ground beef
1 can black beans, rinsed & drained - can substitute refried beans if desired.
1/2 cup diced yellow onion
3 cups shredded cheddar cheese
shredded lettuce - any kind
1 large tomato (optional)
1 (19 ounce) can of mild enchilada sauce
1 recipe for Cilantro Lime Dressing, optional
Instructions
Preheat oven to 350*F
Cook ground beef and taco seasoning until beef is cooked through.
In the bottom of a 9x13 pan, pour 1/4 can of enchilada sauce and spread evenly..
In the middle of a tortilla, layer ground beef, black beans, onions, cheese, lettuce and tomato.
Fold up like a burrito and lay in the pan on top of the enchilada sauce.
Repeat with each burrito.
Pour remaining enchilada sauce over burritos making sure to cover all of the tortilla.
Top with remaining cheese (approximately 1 cup).
Bake for 30 minutes.
Remove from oven, plate and top with sliced avocados, tomatoes, cilantro or
Cilantro Lime Dressing.
Devour!
Nutrition Information:
Yield:
7
Serving Size:
1
Amount Per Serving:
Calories:

644
Total Fat:

41g
Saturated Fat:

15g
Trans Fat:

1g
Unsaturated Fat:

23g
Cholesterol:

106mg
Sodium:

1100mg
Carbohydrates:

30g
Fiber:

8g
Sugar:

4g
Protein:

38g
Originally Posted: August 9, 2016
Photos & Text Updated: April 13, 2021