Stuffing Stuffed Burgers allow you to eat stuffing all year round!  It's also a great way to use up leftover stuffing so it doesn't go to waste!  One of our favorite ways to enjoy stuffing!
This post contains affiliate links.  If you click on an affiliate link and make a purchase, I will make a small percentage on your purchase, which helps keep this website running! Thank you!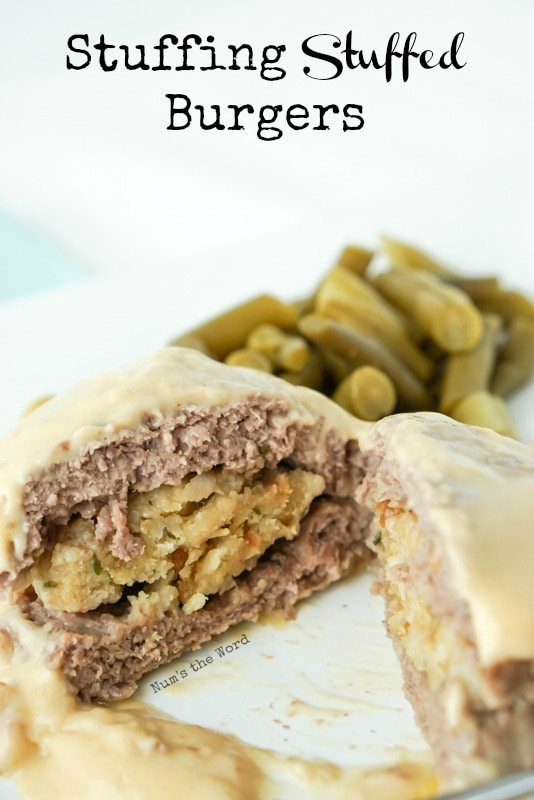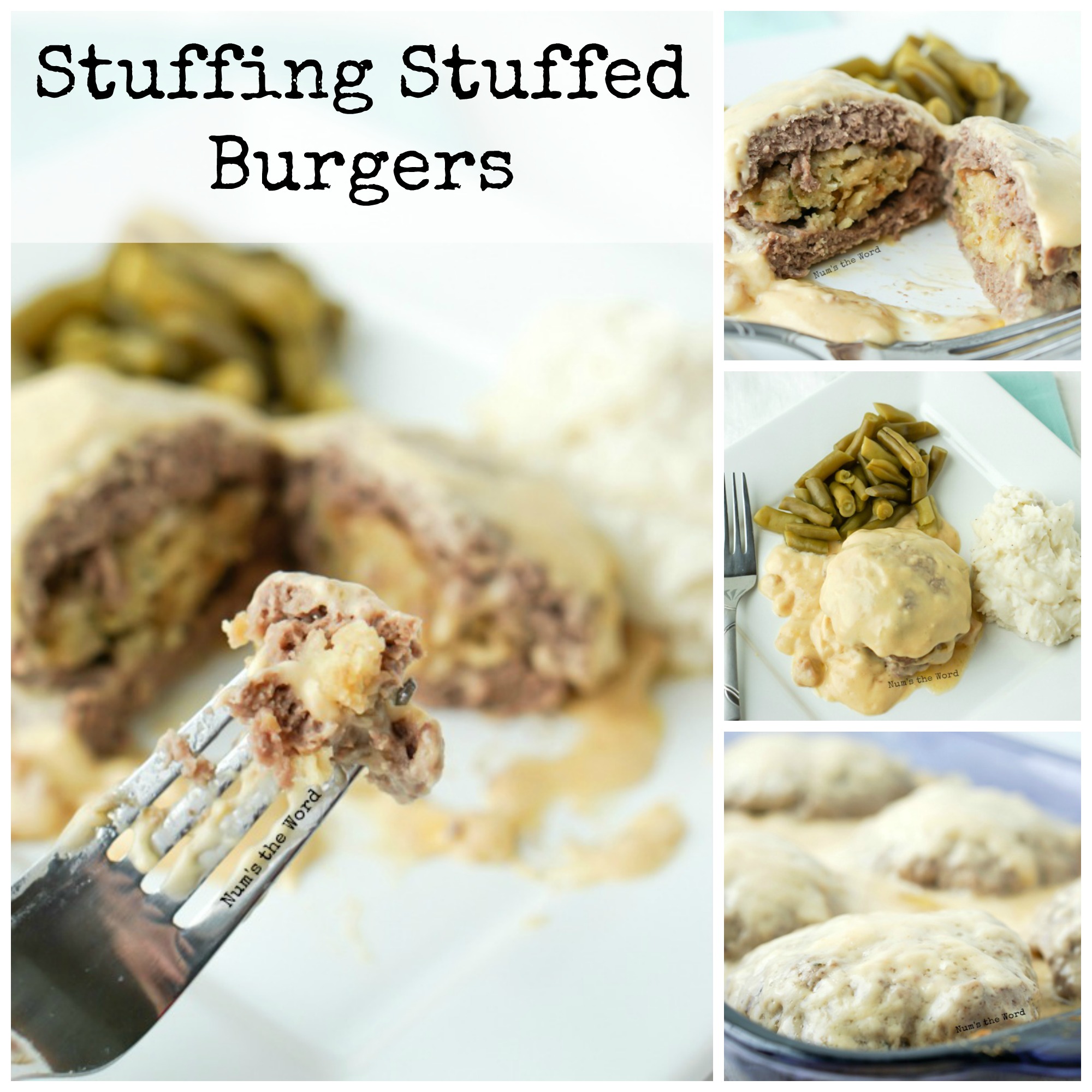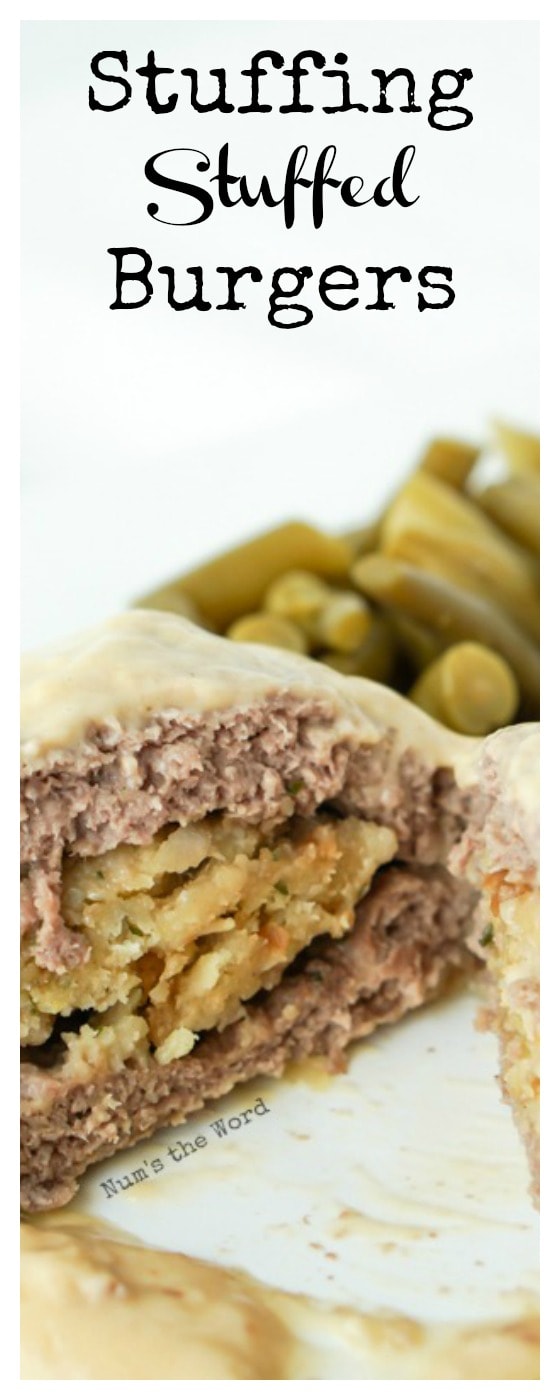 After Thanksgiving this year, I've been on a quest to figure out ways to use up leftovers.
Leftover Turkey, Leftover Cranberry Sauce and Leftover Mashed Potatoes have all made the list.  And all the recipes have turned out quite well.
Now it's time to think of ways to use up leftover Stuffing.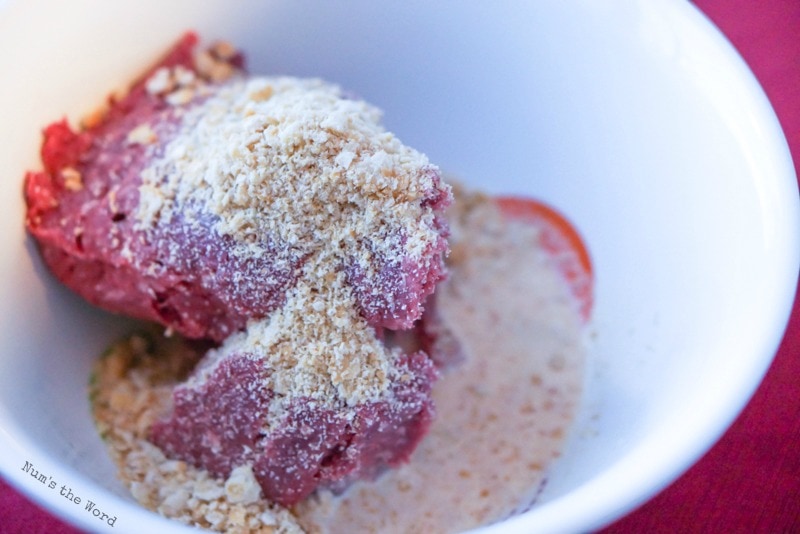 If you've not seen it already, this post called Turkey, Broccoli & Stuffing Casserole is a delicious and simple way to use up leftovers.
However, having more than one option never hurts.
And thus that brings us to another tasty way to use up leftover Stuffing.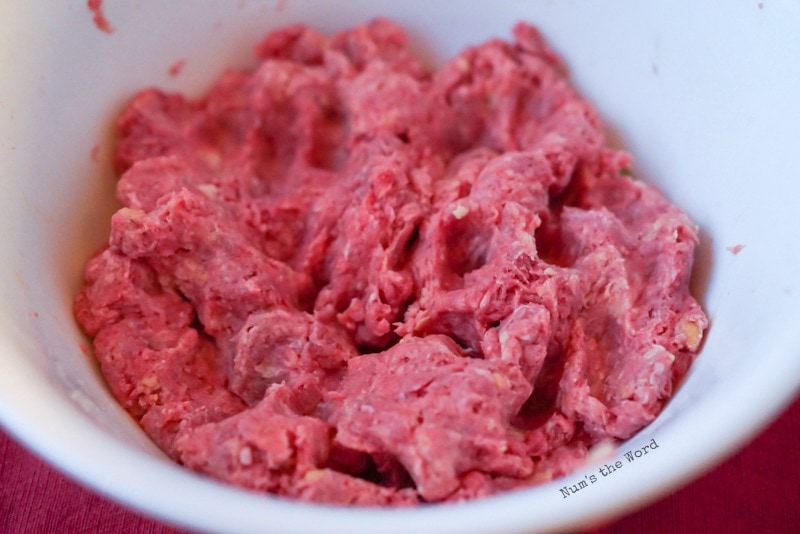 The flavor of the stuffing doesn't actually matter.  It also doesn't matter how it's made.
You can use store bought stuffing or leftover wild rice stuffing, your choice.  But just know that you can use leftovers or fresh stuffing if you plan on making this year round.
Now there are some people who love stuffing.  LOVE it.  And if you are one of those people, then you really shouldn't deny yourself the opportunity to enjoy it more than once a year.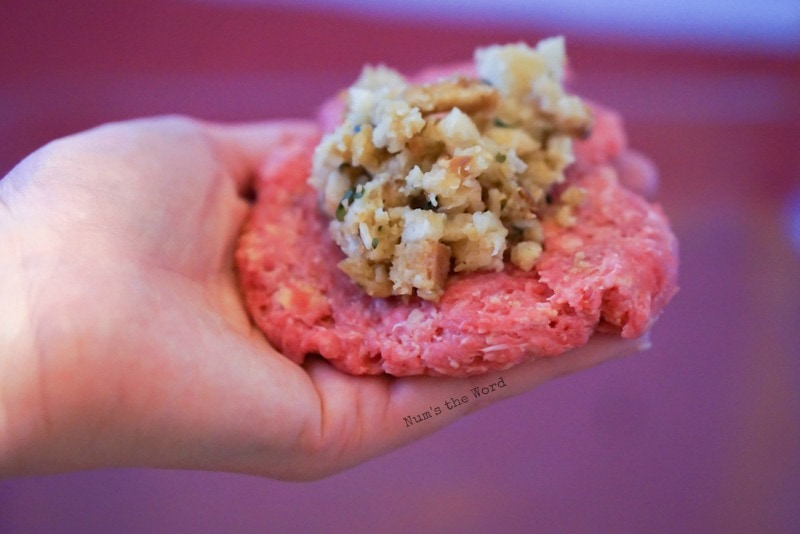 And these Stuffing Stuffed Burgers are a great way to enjoy stuffing all year round!
The first time we made these we invited some friends over for dinner.  A very normal occurrence for us as I prefer to try out new recipes on dinner guests.
I tend to get a good reaction on what they think of the dish by whether or not they finish what is on their plate.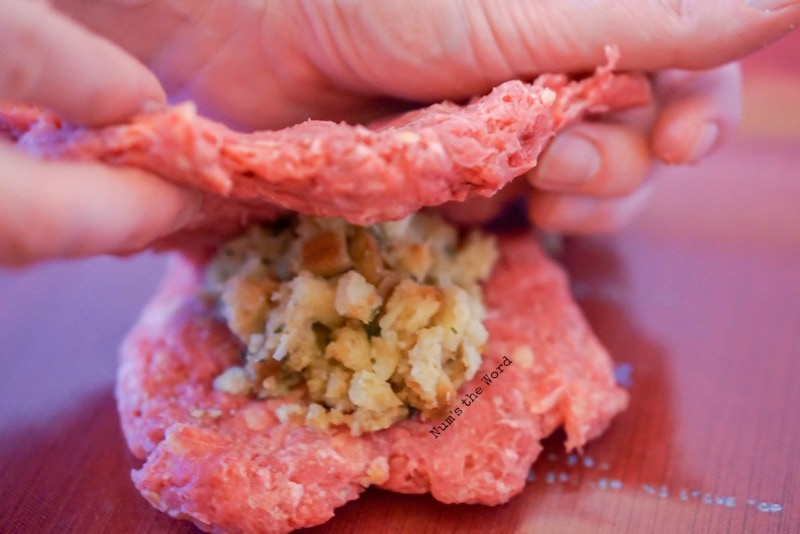 Other good ways to tell if the meal was good (and they aren't lying) is if they take seconds and of course by how long it takes them to choke down the meal.
And don't forget about the unconscious sign of pushing food around the plate with their fork absentmindedly.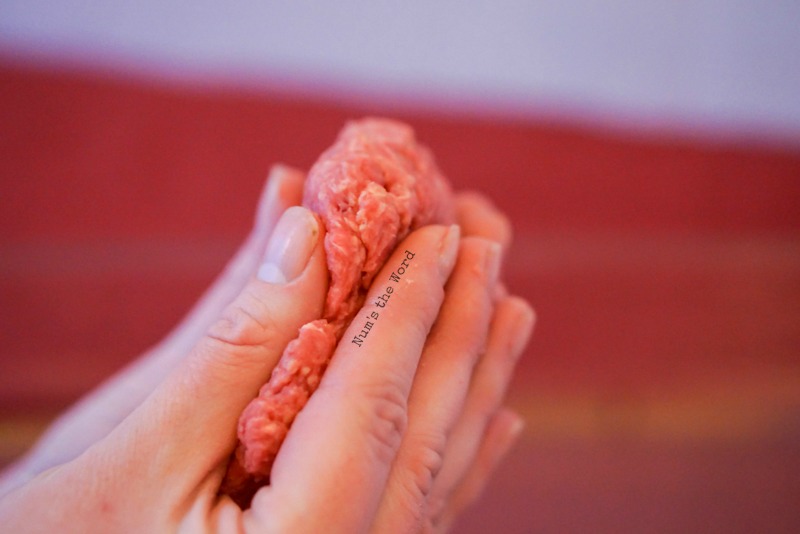 All of these tend to tell you whether the meal or the item, is good or not.
Dinner guests always compliment the meal, thanks in part to the good manners their mothers have taught them, but a compliment doesn't really tell you if they liked it.  It's just the kind thing to say.
How they eat their meal, will tell you everything.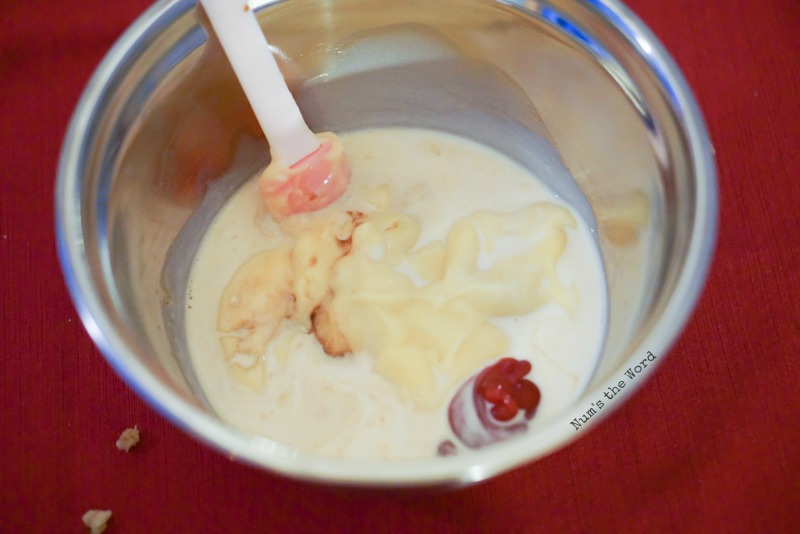 And so with this meal, we invited some friends over.  Tested it out on them.
Before I even had a chance to try the food (I was taking care of cutting up kid bites) our dinner guests began raving about how good it was.
Not so little secret, apparently the husband is a HUGE fan of stuffing.  Lucky me.
We downed the entire meal that night at the table and there was nothing leftover.
We all agreed that the meal was a success.
HOWEVER….as my husband and I were talking…we both agreed that it was lacking something.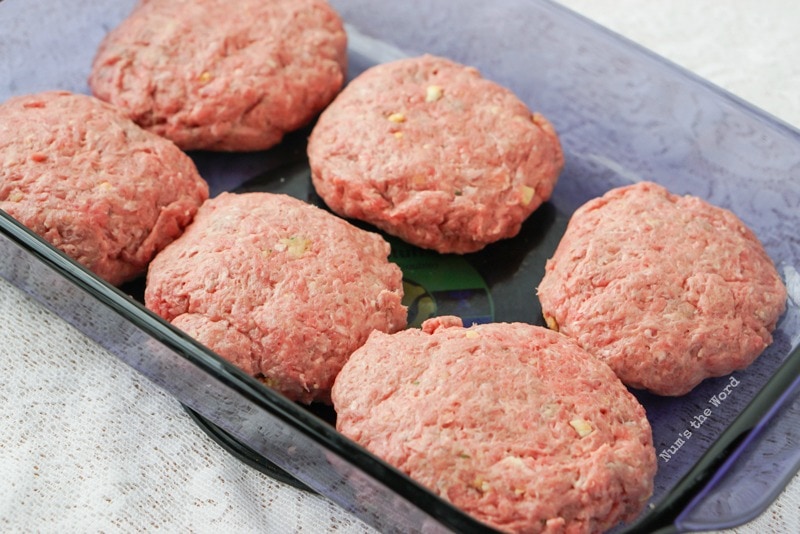 In the end we decided it was onions.
And so, just a few days later, I made it again but added cream of onion soup (no one wants crunchy onions in their hamburger).  And that was the key to the perfect Stuffing Stuffed Burger.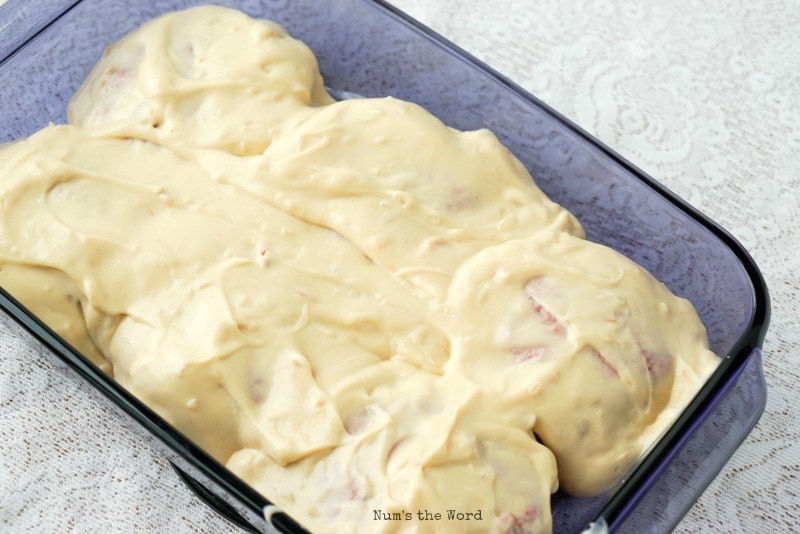 Now because these Stuffing Stuffed Burgers cook in a gravy, it's only natural to serve mashed potatoes with this dish so that the gravy can smother the burger and the mashed potatoes as well.
Plus, as we all know, you can't go wrong with meat and potatoes!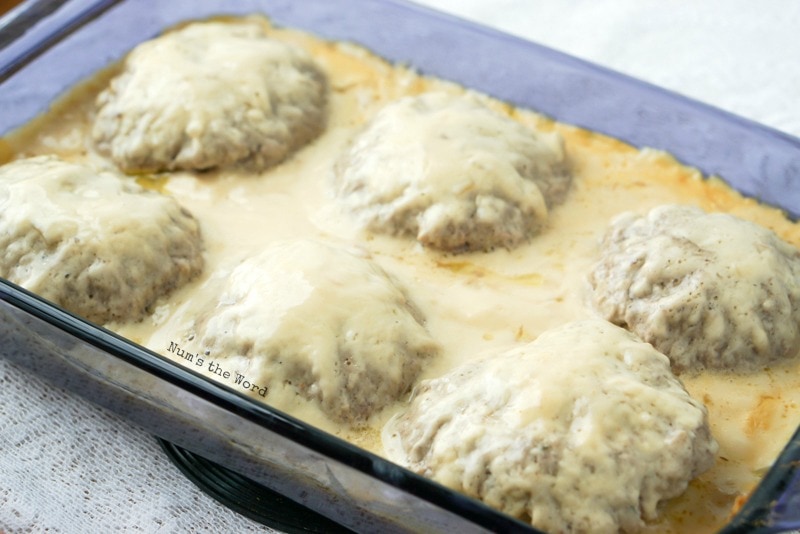 This dish was a hit and is now a favorite!  Simple, delicious and easy to make!
If you love stuffing and need an excuse to eat it all year round (or use up the leftovers) give these Stuffing Stuffed Burgers a try!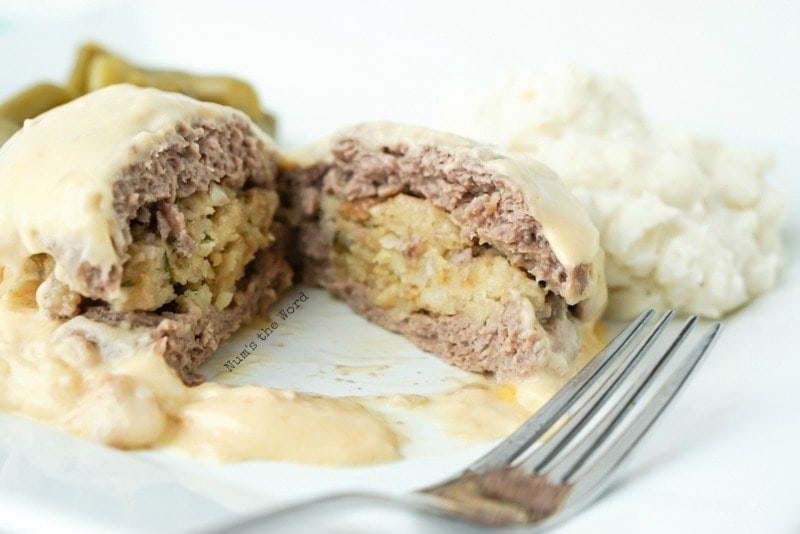 Yield: 6 Burgers
Stuffing Stuffed Burgers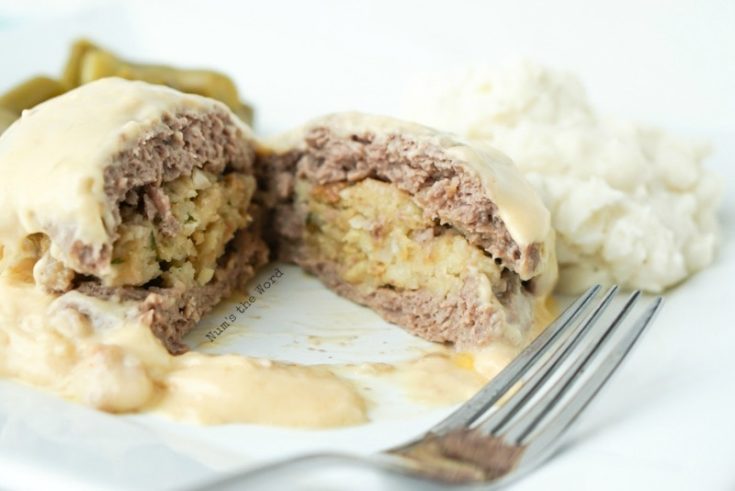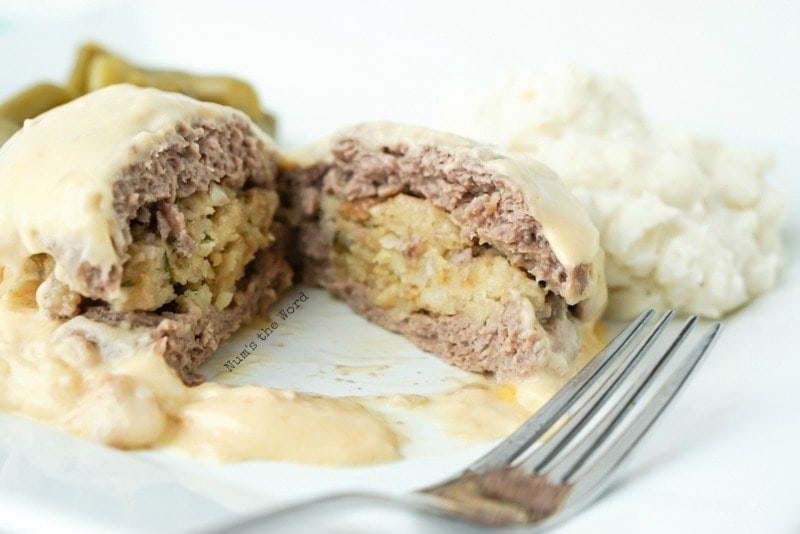 Ingredients
1 lb. ground beef
1 teaspoon salt
1/3 cup + 1/3 cup evaporated milk
12 Ritz crackers, crushed.
1 box Stove Top Stuffing, any flavor (or use leftovers!)
1 (10.5 ounce) can Cream of Mushroom (or Cream of Chicken) soup
1 (10.5 ounce) can Cream of Onion soup
1 Tablespoon Worcestershire sauce
1 Tablespoon Ketchup
Instructions
Preheat oven to 350*F
Prepare a 9x13 casserole dish with cooking spray.
Cook stuffing according to package directions, set aside. OR use leftover stuffing!
In a bowl, combine ground beef, salt, 1/3 cup evaporated milk and crackers. Mix well with hands and divide into 6 balls.
Split each ball into two. Flatten out each half.
Place 2 Tablespoons of stuffing in the center on one of the flat patties.
Place second patty on top and press seams together. Place in casserole dish.
Do this for other 5 patties.
In same, but now empty bowl, combine cream of mushroom soup, cream of onion soup, 1/3 cup evaporated milk, Worcestershire sauce and Ketchup. Mix well.
Pour this mixture over burgers.
Cover and bake for 45 minutes.
Remove from oven, and serve immediately with favorite sides!
Other Ground Beef Recipes You'll Love...