Roasted Acorn Squash is a simple, easy, and delightful side dish. Warm, nutty, and cozy, it pairs well with all your favorite winter dishes.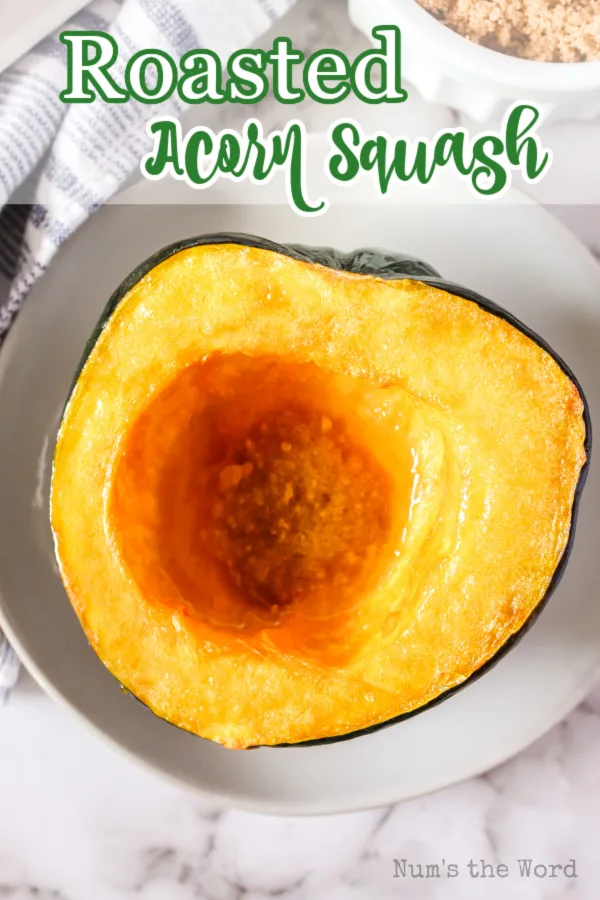 You won't often see acorn squash on the top list of foods people enjoy. But once you try them you'll wonder why not!
Not only is it easy to roast acorn squash but they're really delicious too!
It's got a nutty flavor and when stuffed can even be served as a main dish.
This roasted acorn squash recipe only calls for 3 simple ingredients.
And oven roasted acorn squash takes almost no work! Just a few minutes to cut it up and spread on some seasonings and your oven does the rest!
Roasting acorn squash halves is a delicious way to cook acorn squash because it produces a delightfully vibrant addition to your holiday table.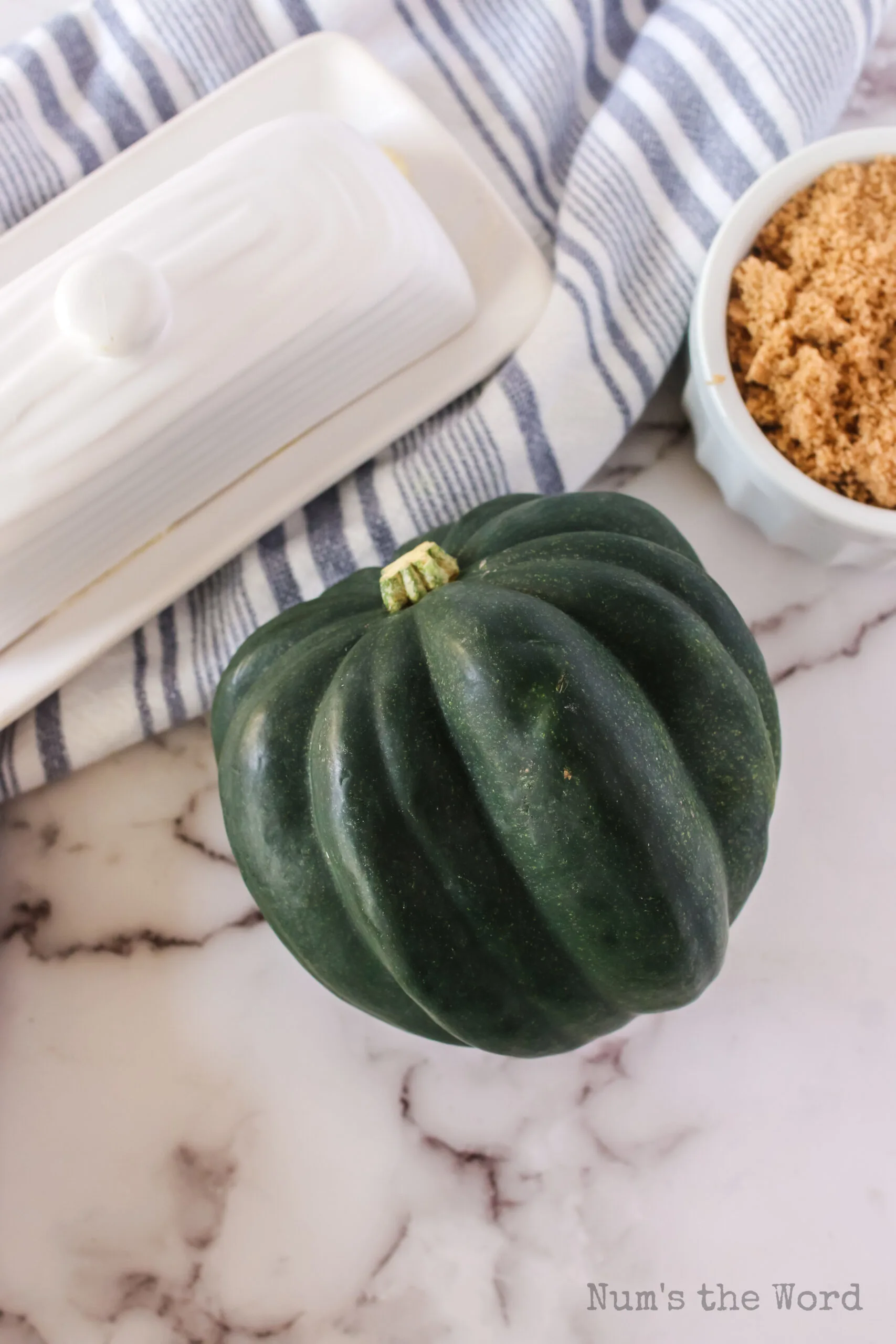 How to Roast Acorn Squash
Follow these simple steps for an easy roasted acorn squash. It'll be one of those fall recipes that'll become one of your favorite things.
Cut Acorn Squash: This is the trickiest part of roasting acorn squash! Look below for tips on how to make it.
Brush: Pour melted butter and brown sugar into the cavity of each squash
Bake: Let your oven take over from here! Fork tender means it's done.
Pro Tips:
Use parchment paper or aluminum foil on your cookie sheet for easier cleanup.
In place of brown sugar you can try savory herbs, chili powder, garlic powder, or sea salt.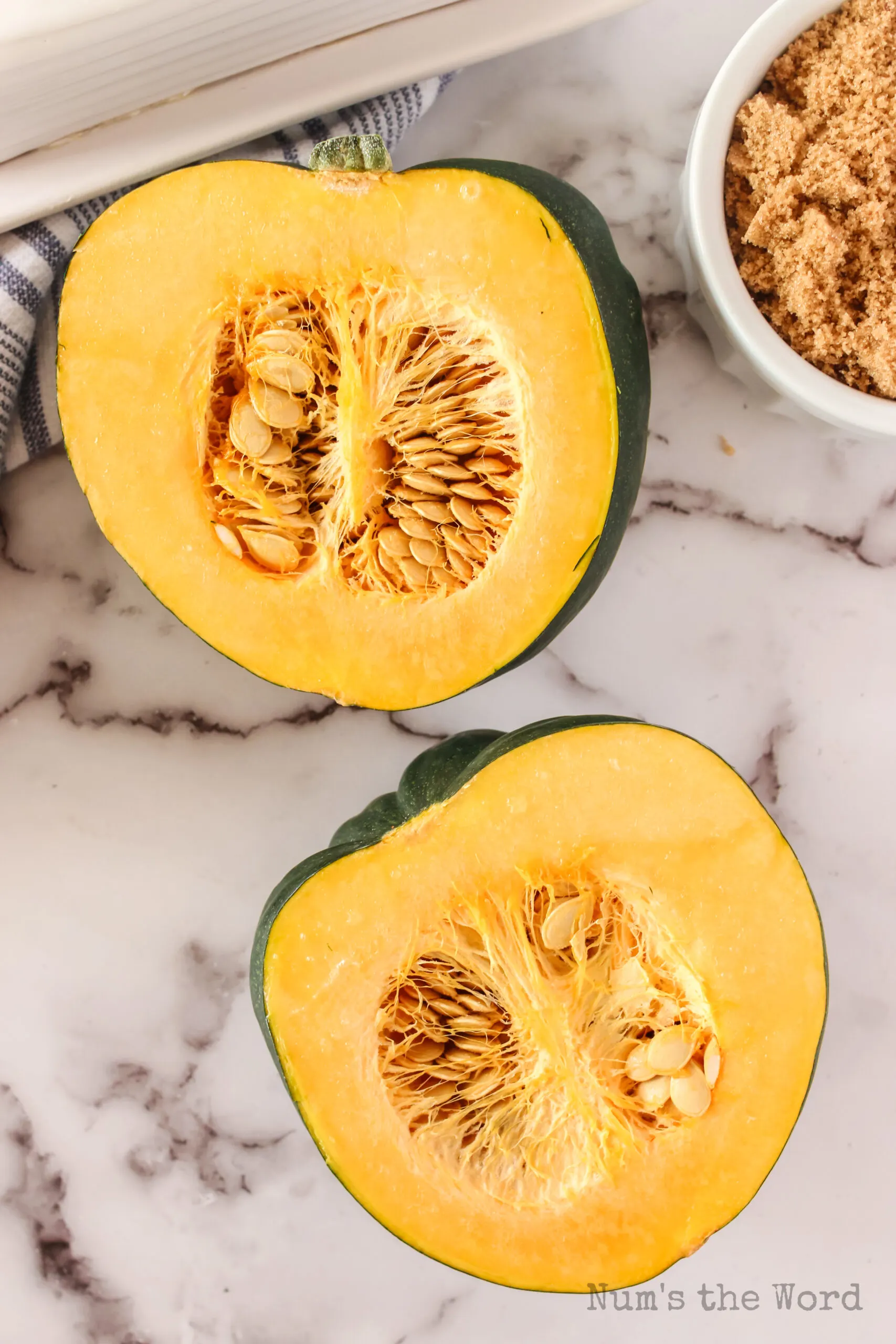 How Long to Roast Acorn Squash
While the size of the squash matters, most acorn squash tend to be around the same size.
It should take about 30 minutes of roasting time to get perfectly roasted acorn squash.
If your acorn squash is smaller than usual or larger than usual, be sure to adjust the bake time accordingly.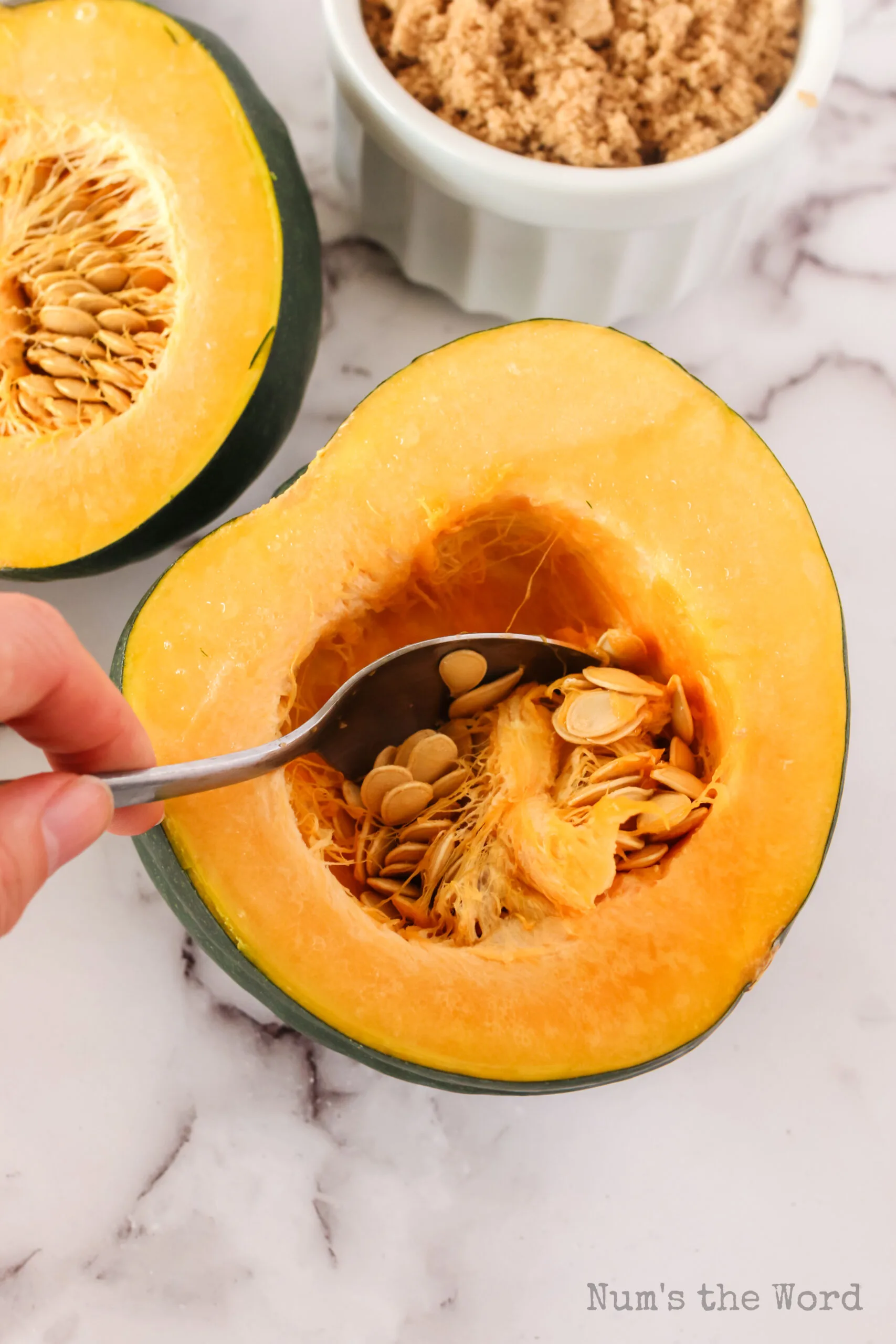 Can I Reheat Acorn Squash?
Yes! Acorn squash reheats well and still tastes delicious.
You can reheat the acorn squash in the microwave but I find it tastes better when reheated in the oven.
Turn your oven on 350 degrees and reheat the acorn squash halves on a baking sheet for 15-20 minutes.
Remember you don't need to recook the acorn squash, just heat it until heated through.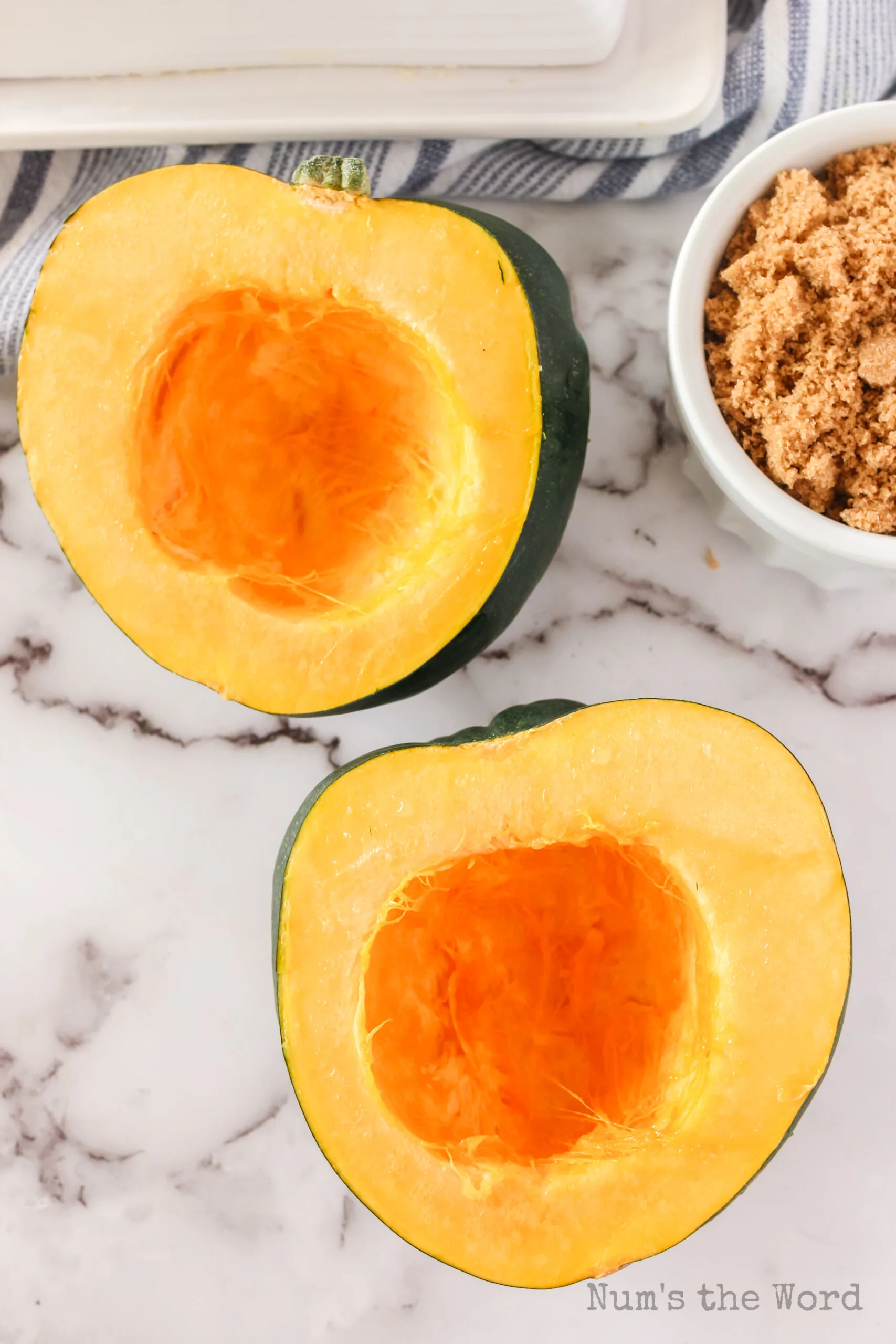 Can You Eat the Skin of Acorn Squash?
You can actually eat the dark green skin of acorn squash. It's completely edible and full of nutrition.
I actually find it's my favorite way to eat acorn squash! Which is why this recipe is so perfect!
However, some people don't like the skin, even once roasted, as it is much tougher than the yellow flesh.
If you don't like the skin you can simply scoop out the insides. Otherwise leave the skins on and enjoy.
If you would like to adjust to eating the skins of acorn squash, try cutting them into small pieces first.
As you get used to the tough exterior you'll find you enjoy it much more.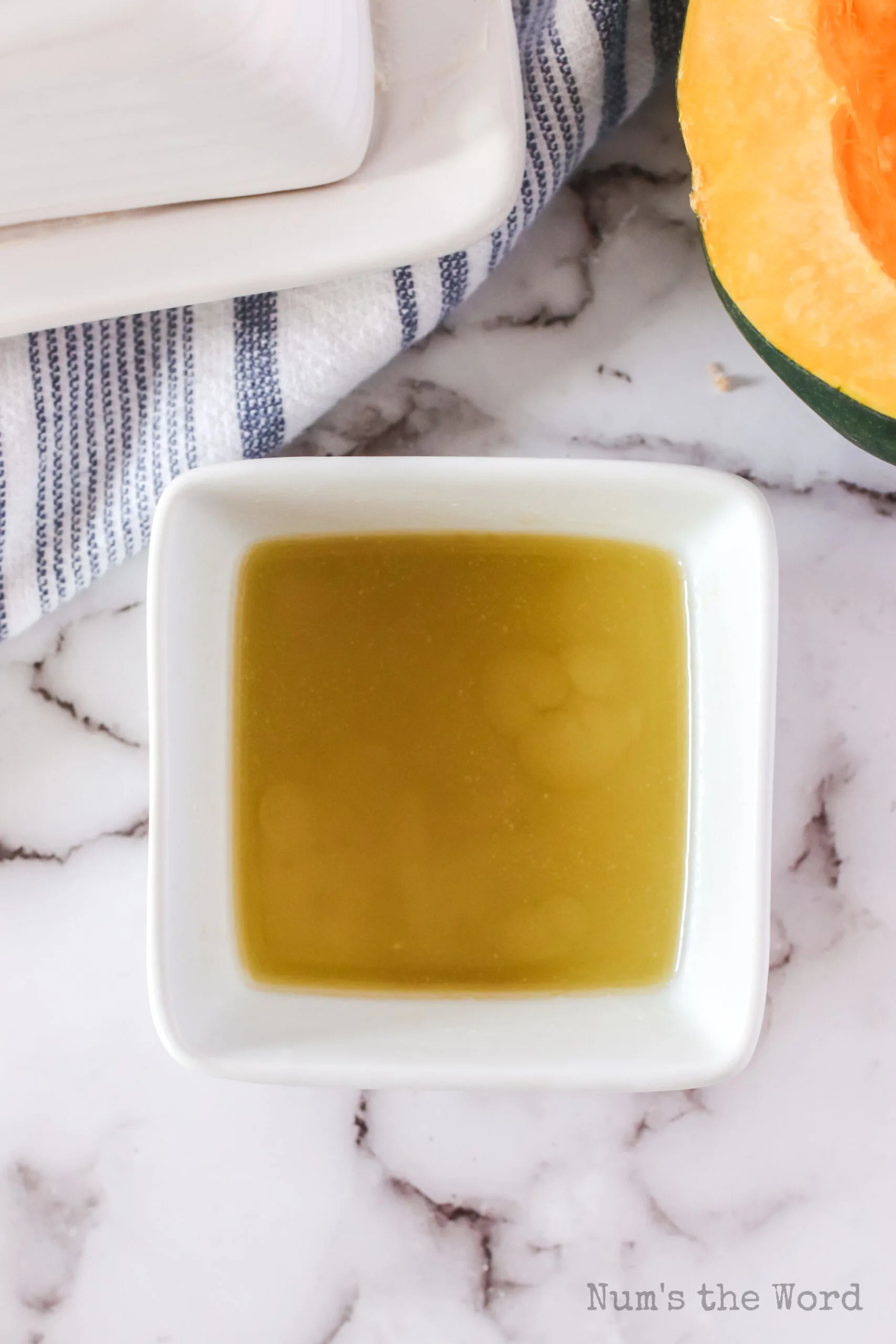 Can You Roast Acorn Squash Seeds?
Just like other winter squash like pumpkin or butternut squash, you can roast the seeds for a delicious snack.
Scoop out the seeds and pulp, then separate the seeds from the stringy bits inside.
Mix the seeds with olive oil and any seasonings such as garlic salt or just plain salt and black pepper.
Place the seeds of the acorn squash in a single layer on a baking sheet lined with parchment paper.
Bake at 325 degrees for 15-20 minutes.
You've now got a nutritious snack to go with your perfect side dish.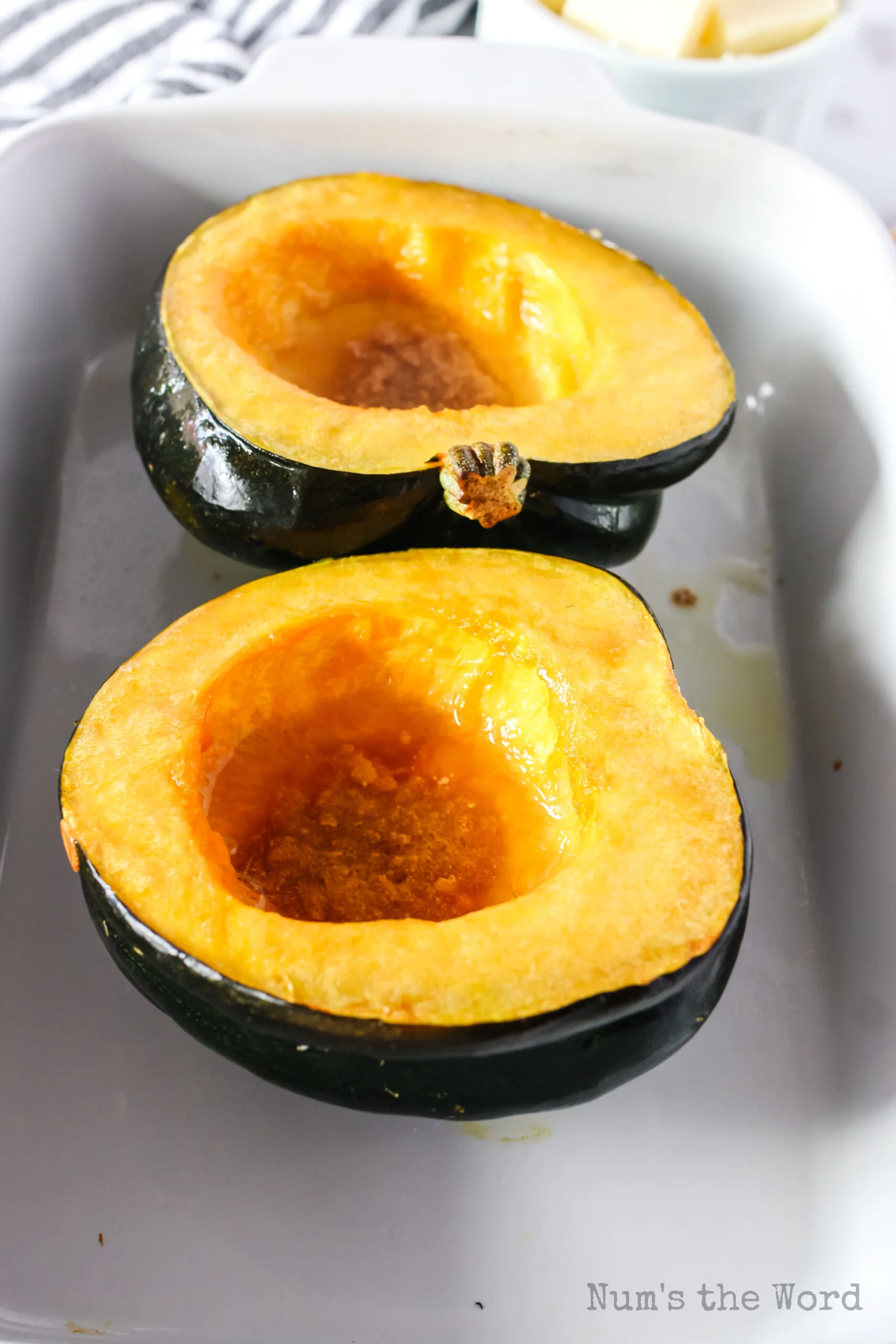 How to Cut an Acorn Squash
Cutting acorn squash can be tricky because the skin is so hard! You need to be very careful.
This is the hardest part of this sweet dish but follow these tips to make it easier.
The first thing to know is you want a very sharp knife. Dull knives will make it harder to cut.
You'll also need a solid cutting board that doesn't slip around.
If your cutting board is slippery try placing a slightly damp towel under the cutting board to keep it from slipping.
You may also try microwaving the whole squash for a couple of minutes in the microwave to help soften the skin.
Then make sure you've got enough surface area and are working on flat surfaces to keep the acorn squashes from rolling away.
Then start on the stem end and place your sharp knife in, then press firmly down to make one even and clean cut.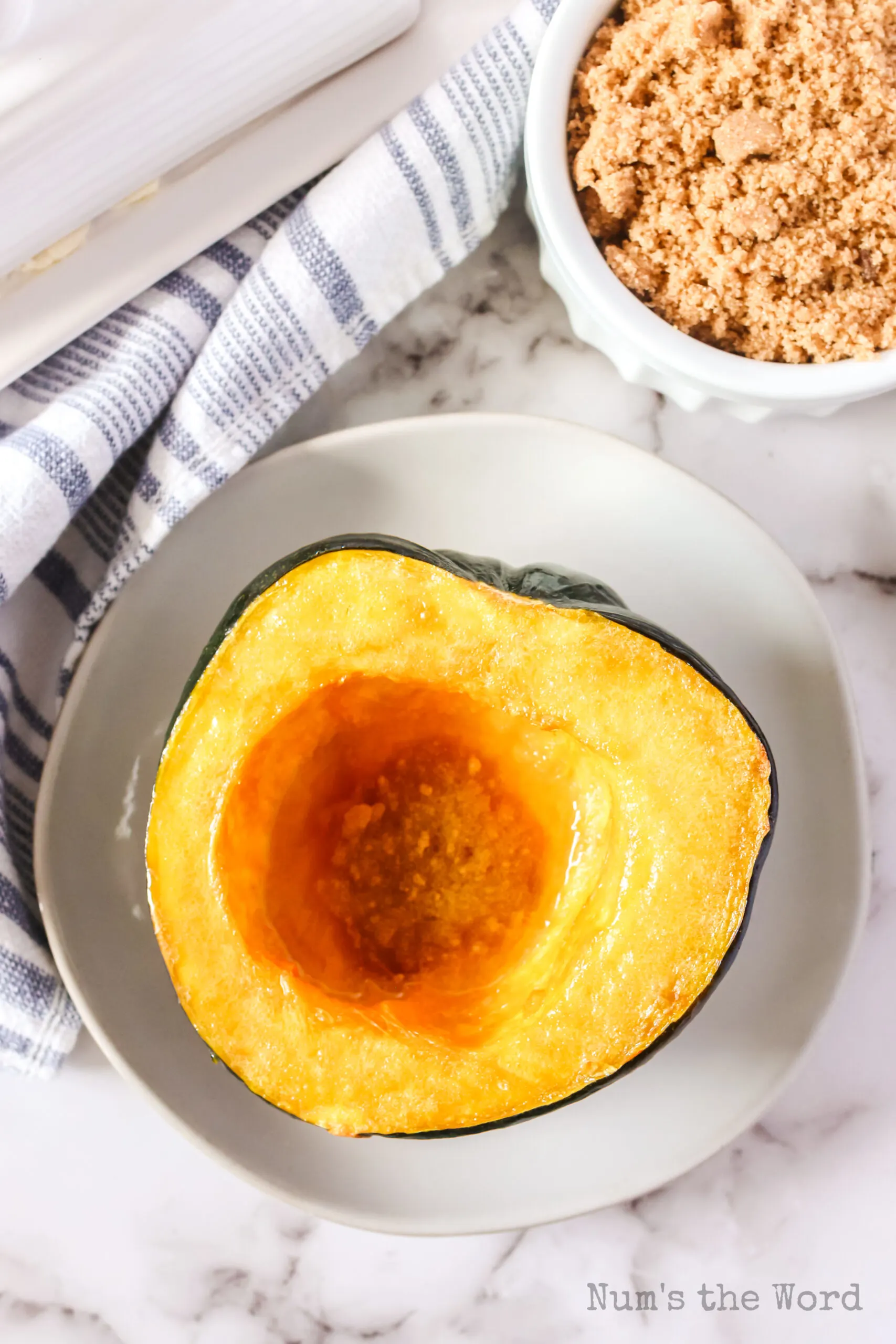 Is Acorn Squash Healthy?
Baked acorn squash is one of those overlooked super foods!
Not only are they delicious and easy to cook, they are also loaded with so many health benefits.
Acorn squash is chock full of Vitamin C, B Vitamins, Magnesium, Potassium, and Manganese.
Plus acorn squash is full of fiber which is so great for your digestive system.
And it's full of antioxidants too! So many reasons to eat acorn squash pieces! So eat up!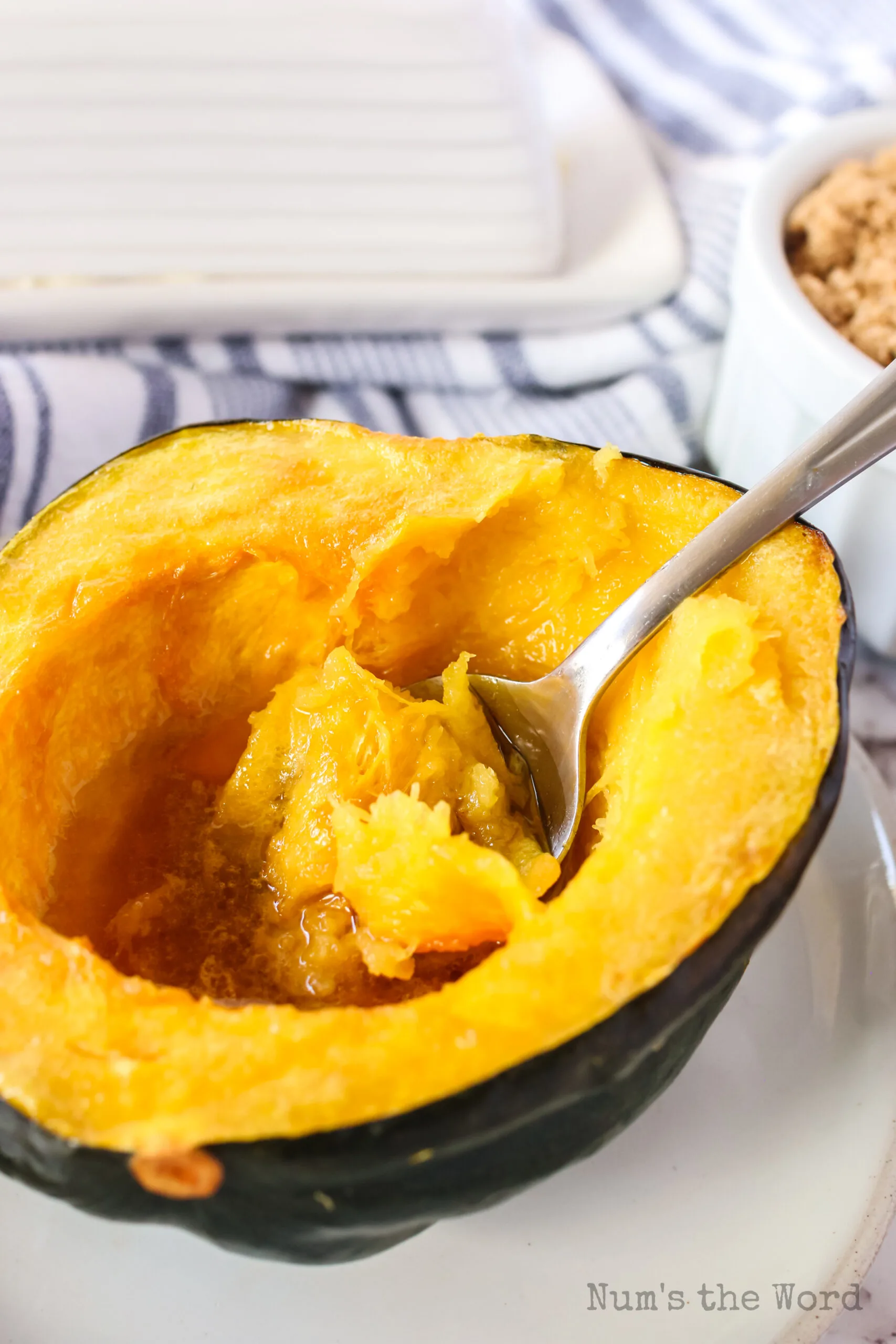 How to Store Acorn Squash
Any leftover acorn squash in an airtight container in the fridge.
It should stay good for up to 3 days after being cooked and still tastes great when reheated.
You'll also want to wait until the acorn squash reaches room temperature before putting it away to keep condensation away.
You can also freeze this sweet squash.
Simply scoop out the flesh with a large spoon, place in a freezer safe bag or container, and freeze for up to 3 months.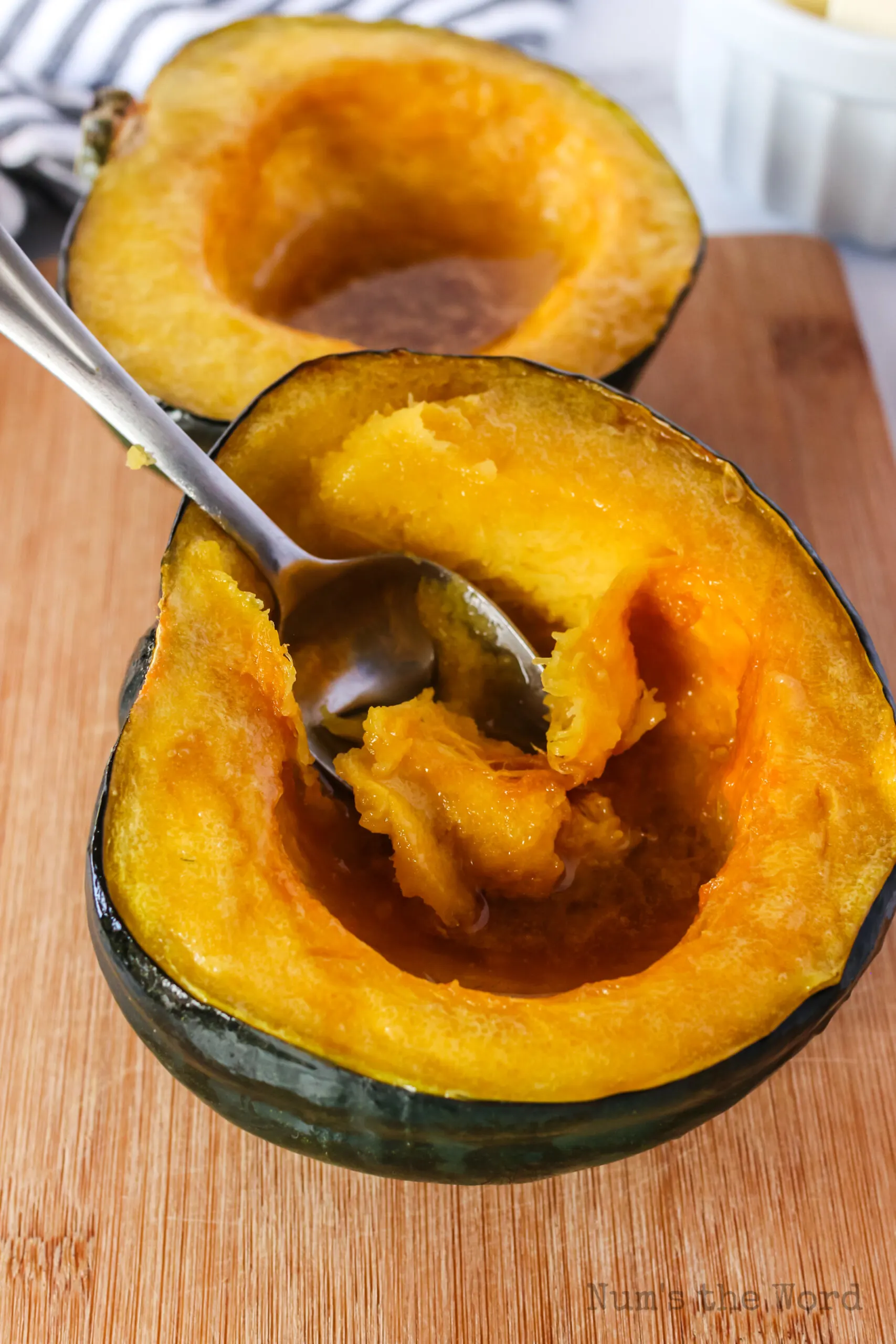 Roasted Acorn Squash is a delightful and simple side dish. Easy to make, so yummy, and perfect served on your Thanksgiving Table! Enjoy!
Yield: 4 Servings
Roasted Acorn Squash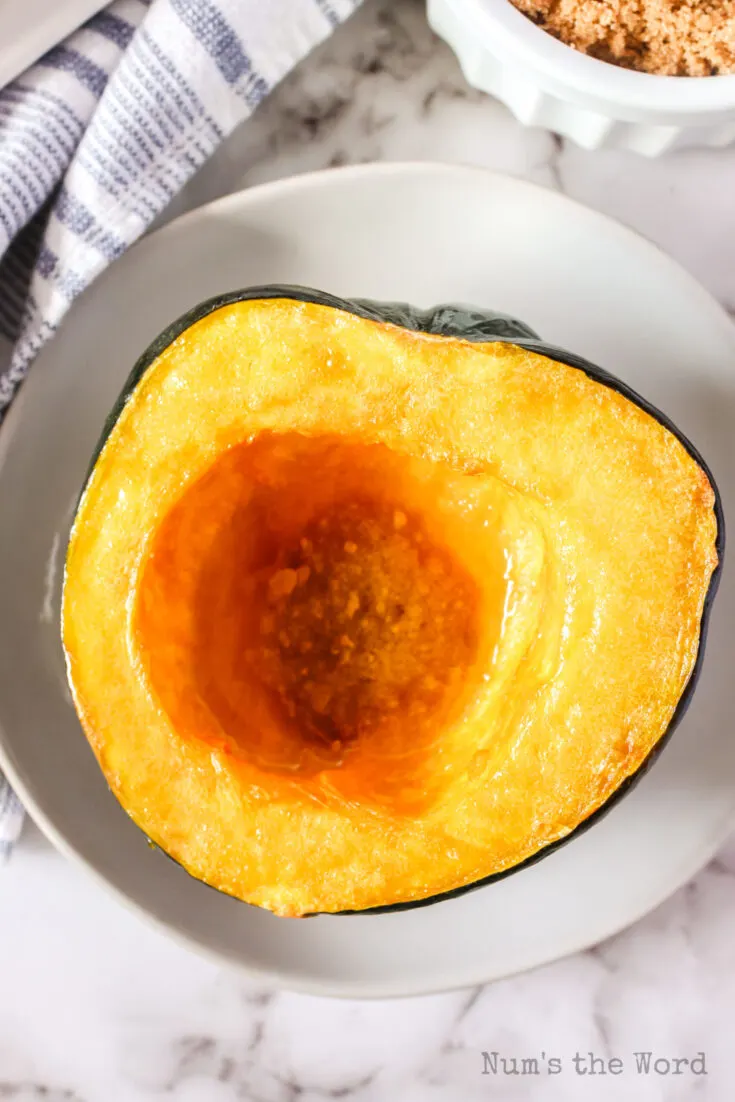 Roasted Acorn Squash is a simple, easy, and delightful side dish. Warm, nutty, and cozy, it pairs well with all your favorite winter dishes.
Ingredients
1 acorn squash
1 Tablespoon brown sugar, packed
2 Tablespoons butter, melted
Instructions
Preheat oven to 400*F
Slice acorn squash in half.
Scoop out seeds and stringy bits and discard. Scrape center to ensure it's clean (like a pumpkin)
In a small bowl, combine melted butter and brown sugar.
Brush butter mixture inside each acorn squash.
Pour remaining butter in the center of each acorn half.
Bake in the oven for 30 minutes, until tender.
Serve hot. The squash skin can be eaten.
Nutrition Information:
Yield:
4
Serving Size:
1
Amount Per Serving:
Calories:

90
Total Fat:

6g
Saturated Fat:

4g
Trans Fat:

0g
Unsaturated Fat:

2g
Cholesterol:

15mg
Sodium:

48mg
Carbohydrates:

10g
Fiber:

2g
Sugar:

3g
Protein:

1g