For the absolutely best comfort food, try this Chicken Tortellini Alfredo! Quick to make, filling, and a totally delicious meal, it'll quickly become a family favorite and weeknight staple!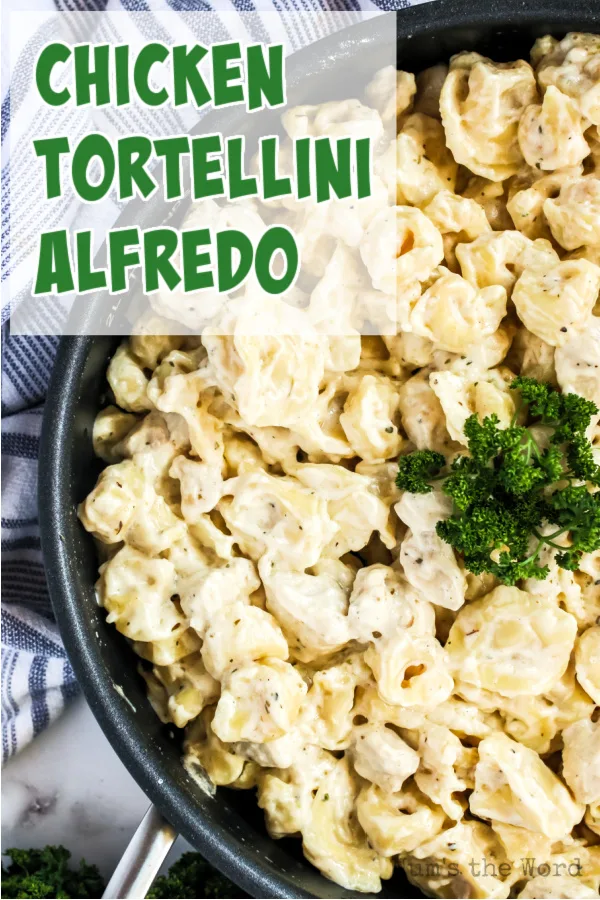 Nothing beats cheesy pasta covered in a creamy alfredo sauce and topped with perfectly cooked chicken. Talk about an easy recipe!
It's decadent but simple and the perfect meal to get a spot in your regular rotation.
You'll love how quick this tortellini chicken alfredo is to make. You can get it from pan to table in under 30 minutes!
It's also an easy dinner that is almost a one-pot meal. Can't argue with that!
Tortellini chicken alfredo also calls for simple ingredients. Aside from the refrigerated cheese tortellini, you probably have everything else already in your fridge!
And this chicken alfredo tortellini recipe is really filling! Loaded with carbs and protein, it's a fill-em-up kind of meal perfect for my hungry hoard.
Make some alfredo chicken tortellini for dinner tonight and you'll definitely be making it again!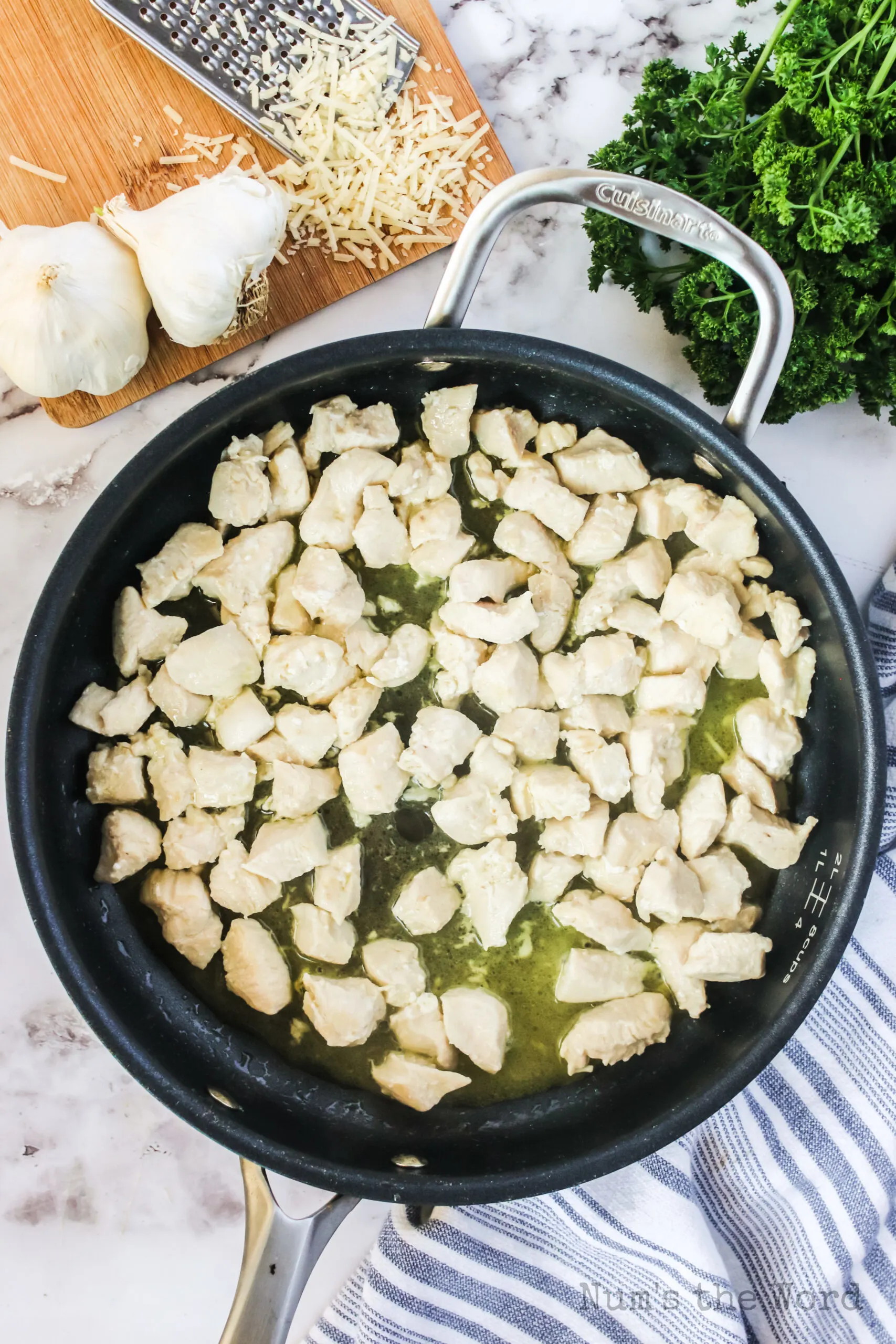 What is Chicken Tortellini Alfredo?
Chicken tortellini alfredo is a classic alfredo pasta dish that you'd find in an Olive Garden restaurant.
Thank you to those Italians who really think up the best food don't they?
Tortellini is a fresh pasta that can be filled with various ingredients including pork, veal, or cheese.
And if you haven't made homemade alfredo sauce, you're in for a treat because it's one of the easiest sauces to make!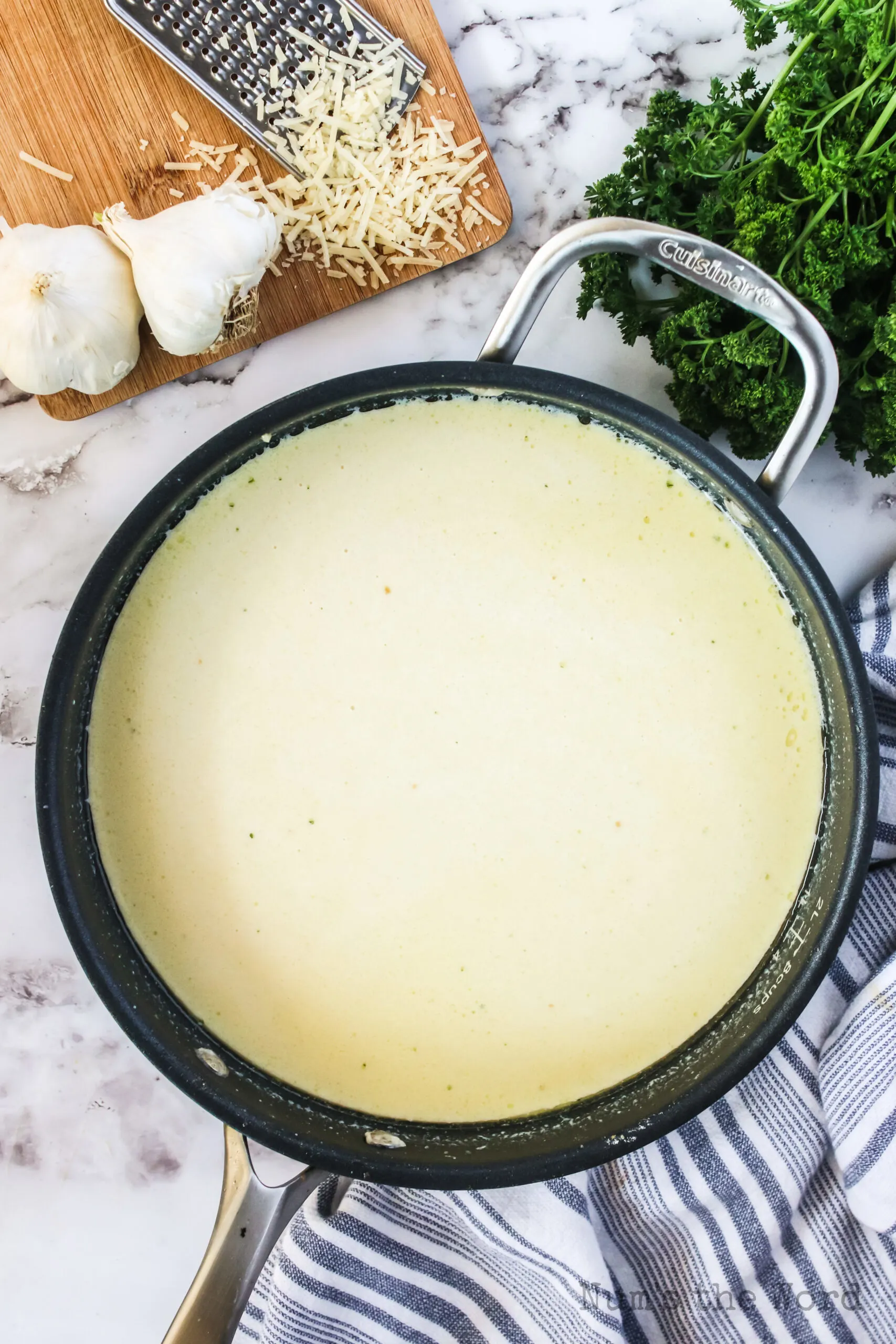 What Ingredients are in Chicken Tortellini Alfredo?
These are staple ingredients you'll need for any easy tortellini alfredo.
Boneless Chicken Breasts: You'll want to cut the chicken into ½ inch cubes.
Cheese Tortellini: You can usually find the tortellini near the produce section of the grocery stores.
Salt: If your parmesan cheese is already super salty, wait to add this until the end.
Butter: Butter is a must have when it comes to classic Italian dishes!
Olive Oil: You'll mix half that butter with olive oil for a beautiful combination.
Garlic Cloves: Minced garlic adds both flavor and a delicious little bite.
Flour: The flour is a thickener needed to create that creamy sauce.
Broth: The chicken broth pairs nicely and helps even out the half and half.
Half and Half: Creamy goodness! This is a must have for tortellini alfredo chicken.
Seasonings: Grab your onion powder, mustard powder, black pepper, basil, oregano, and parsley.
Parmesan Cheese: Powdered parmesan cheese will not mix in well. Use freshly shredded parmesan cheese.
Parsley: The parsley adds the perfect decadent garnish for the top of the chicken alfredo!
Pro Tips:
No time to make the chicken yourself? No problem! Use leftover chicken or a store bought rotisserie chicken!
If you substitute with heavy cream, your sauce will be very rich and thick. You may need more broth to balance it out.
Garlic powder could be substituted if you have no fresh garlic.
Unsalted butter or salted butter will work. Just be sure to check at the end to see if you need more salt.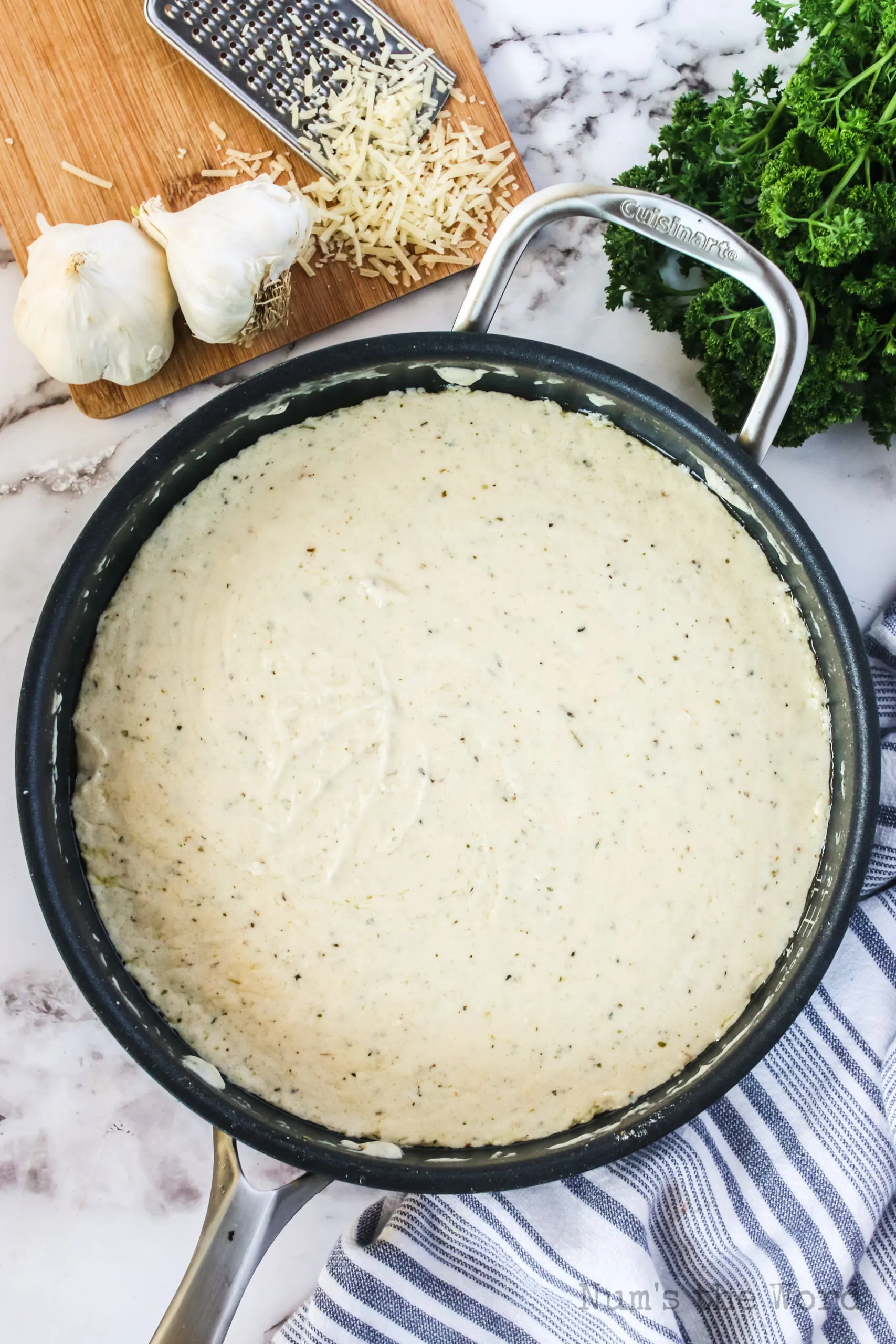 How to Make Tortellini Chicken Alfredo
Your busy weeknights don't need to get in the way! Follow these delicious pasta recipe instructions to get the perfect easy meal.
Cook: Cook the chicken and boil tortellini until done. Check the package instructions for how to cook tortellini.
Make the Sauce: Cook the garlic first and then add the flour, chicken broth, half and half, and seasonings. Finally mix in that parmesan cheese.
Toss: Add the chicken and tortellini and mix until well coated and everything is hot.
Pro Tips:
When you add the flour, cook for a minute to get rid of the flour taste before adding anything else.
The mixture will get thick before it thins out. That's normal.
This pasta makes reasonable portions. If you've got really hungry people, double it or serve with a salad and breadsticks.
Cooking the garlic first cuts down on some of the strong garlic taste.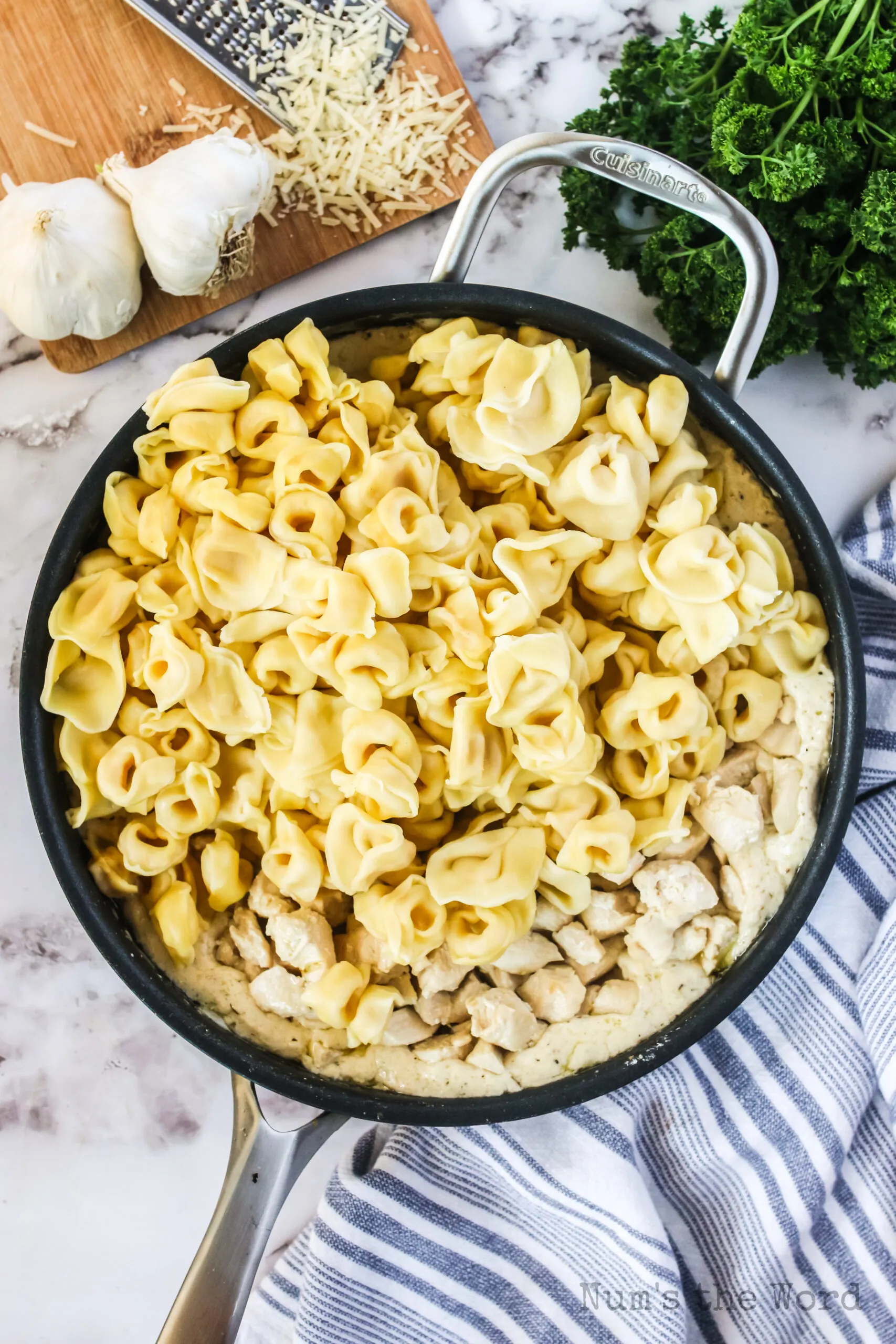 Can You Freeze Chicken Tortellini Alfredo?
You can absolutely freeze chicken toretellini alfredo!
Freezing chicken tortellini alfredo pasta is super easy and an easy meal prep!
Simply cook the recipe, according to directions, and then wait for it to cool to room temperature.
Then add the tortellini to an airtight bag or freezer safe container.
You can freeze this chicken tortellini alfredo recipe for up to 2 months.
I like to cook a double batch, one to eat tonight, and one to freeze for nights when I really need them.
Pro Tip: Write the name of the recipe and the date on your bag so it doesn't get lost in the freezer.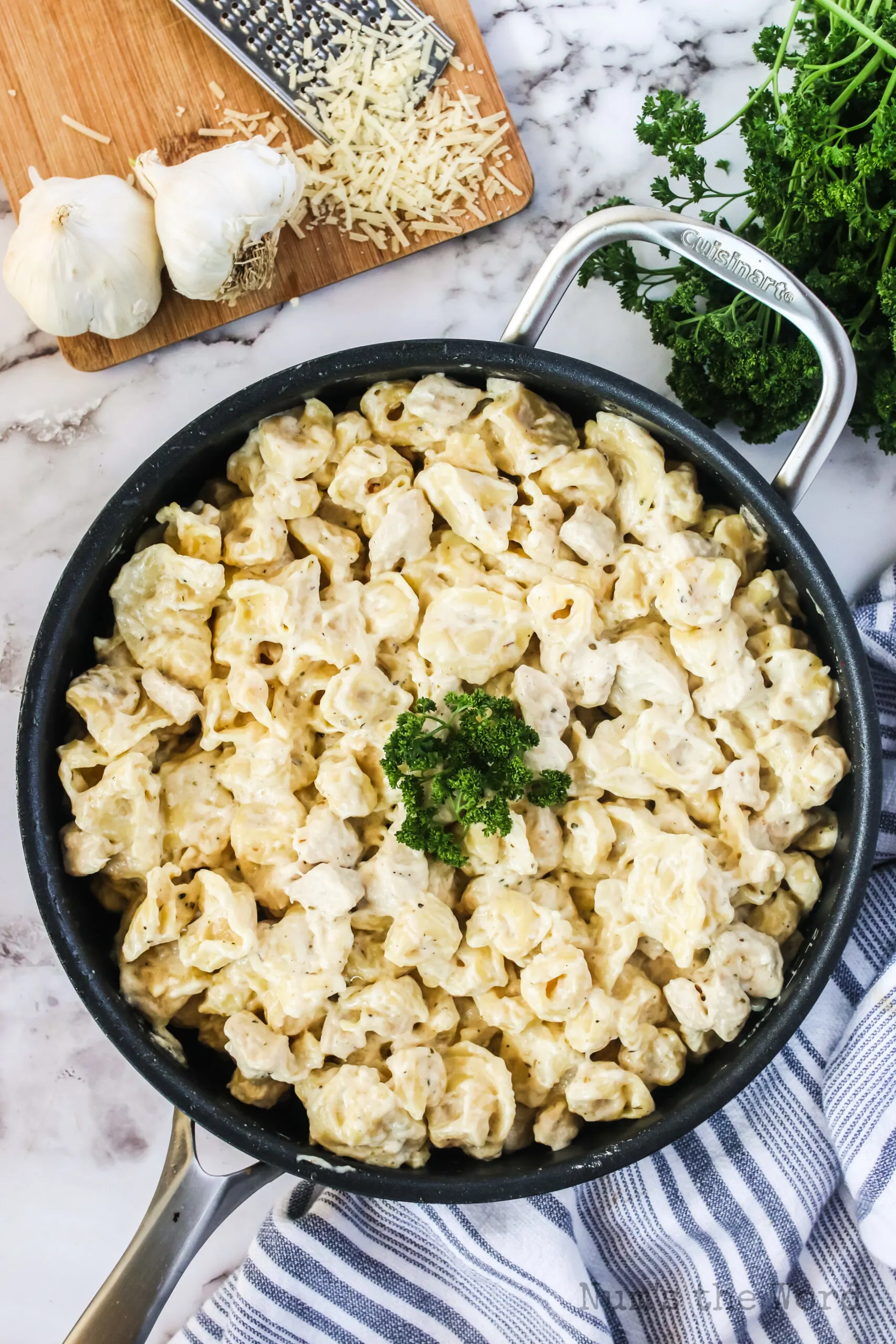 Can You Make Chicken Tortellini Alfredo in Advance?
You can make chicken tortellini alfredo in advance!
When making chicken tortellini alfredo ahead of time, I like to cook everything, but keep them separate.
Then, when you're ready to eat, toss the cooked tortellini, chicken pieces, and pasta sauce together.
The chicken alfredo pasta can be made up to 24 hours in advance.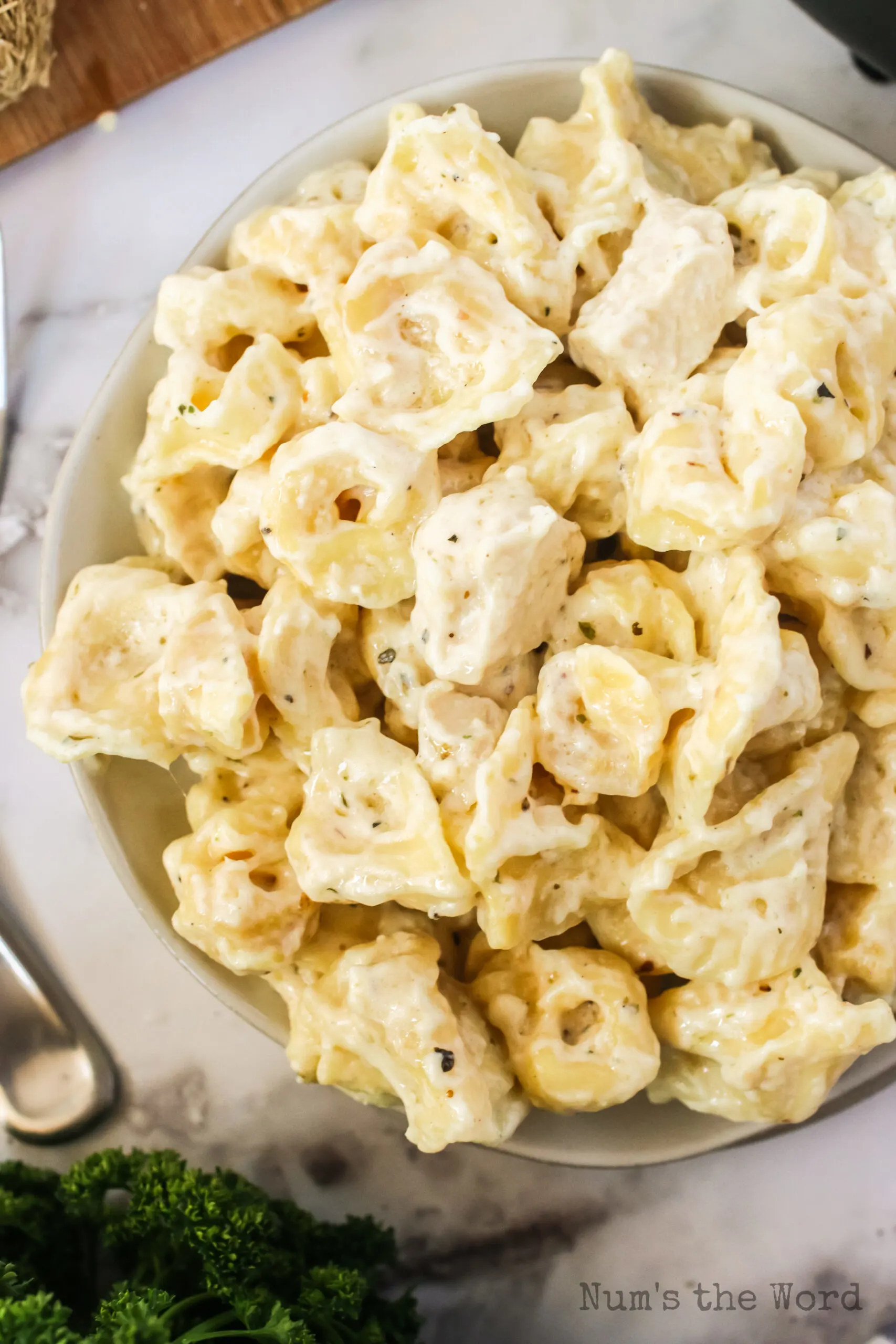 How to Store Chicken Tortellini Alfredo
Store and leftover chicken tortellini alfredo in the fridge.
As long as you keep it in a covered container, it will stay good for up to 5 days.
It's really perfect for meal prep as you can take it a long for easy lunches all week.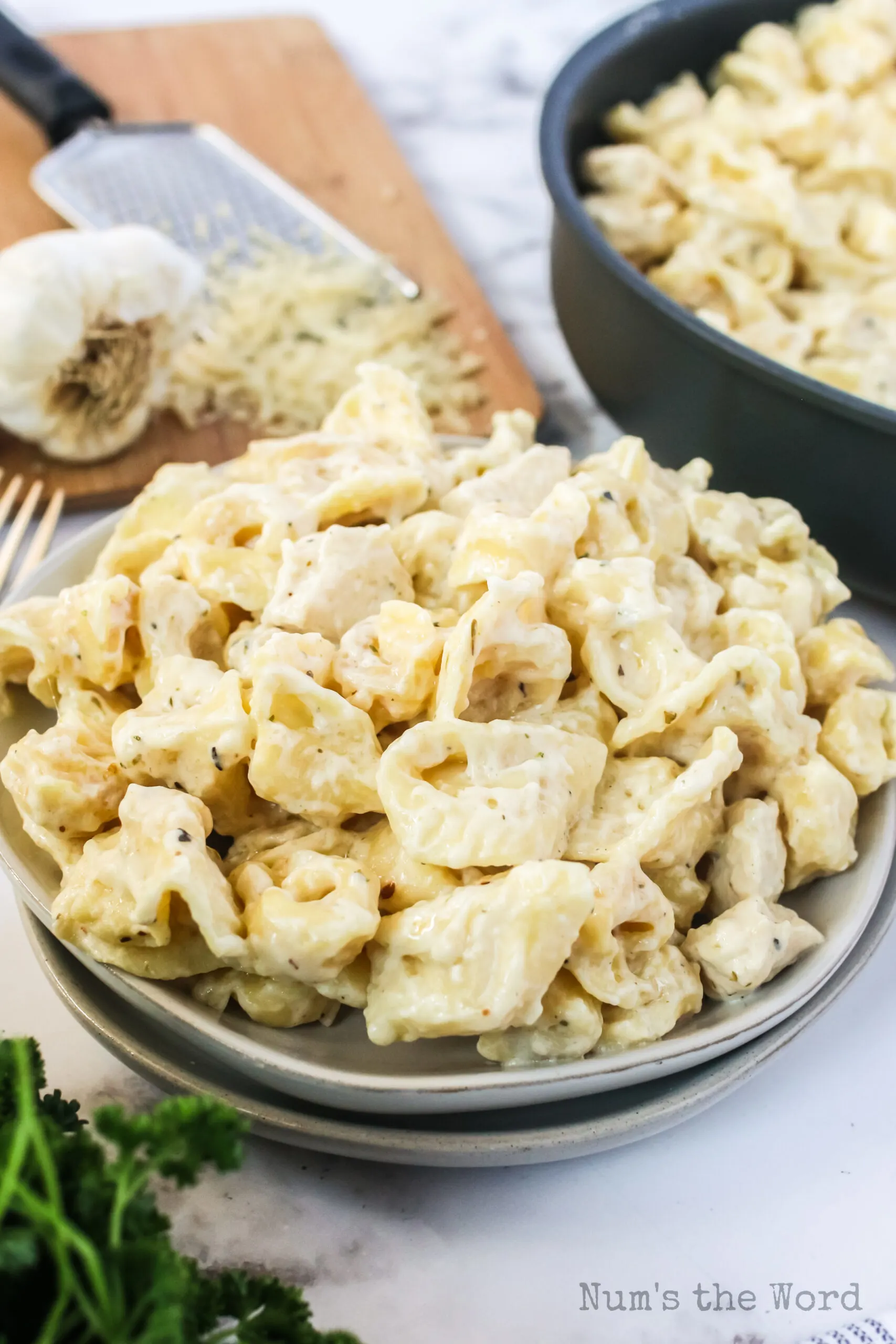 Is Chicken Tortellini Alfredo Healthy?
For a well balanced meal, you'll want to add some veggies to your chicken tortellini alfredo.
It's super simple to toss in some cooked broccoli or spinach. Not only do they add nutrition but also color and flavor!
Here's some other ideas of quick cooked veggies you can toss into your chicken tortellini alfredo.
Spinach
Broccoli
Arugula
Cauliflower
Baby Kale
Zucchini
Peas
Yellow Squash
Be sure the veggies are cooked and then just toss them in when you add the tortellini and chicken.
Don't forget you can always serve this with a Side Salad or a pile of Roasted Vegetables.
And to really make this a classic Italian dish, toss some fresh garlic bread on the table too!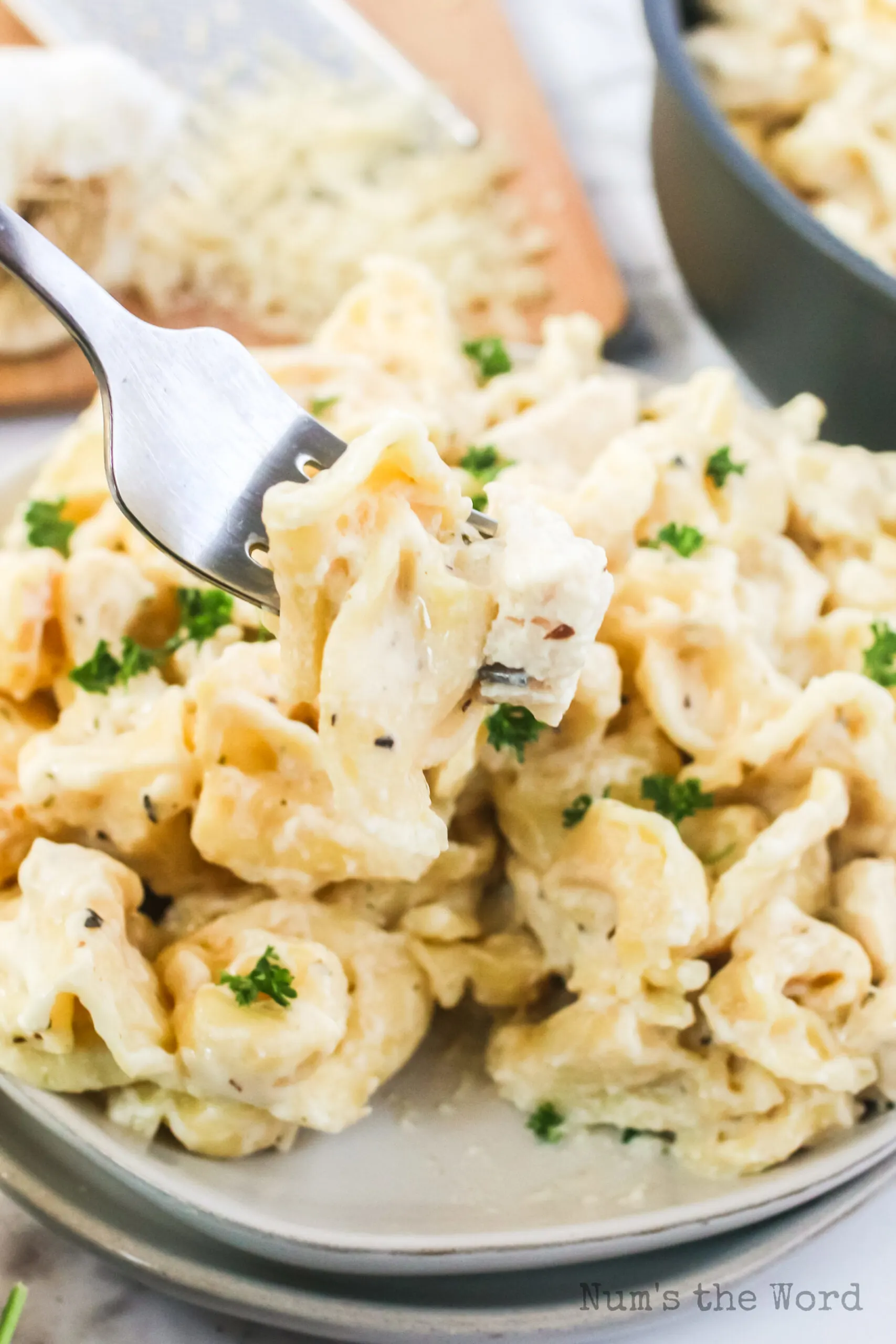 Chicken Tortellini Alfredo is a traditional Italian meal that is a crowd pleaser! It's a comforting weeknight meal that will fill you up and become a favorite in no time!
If you make this delicious pasta, let me know what you thought in the comments!
Yield: 8 Servings
Chicken Tortellini Alfredo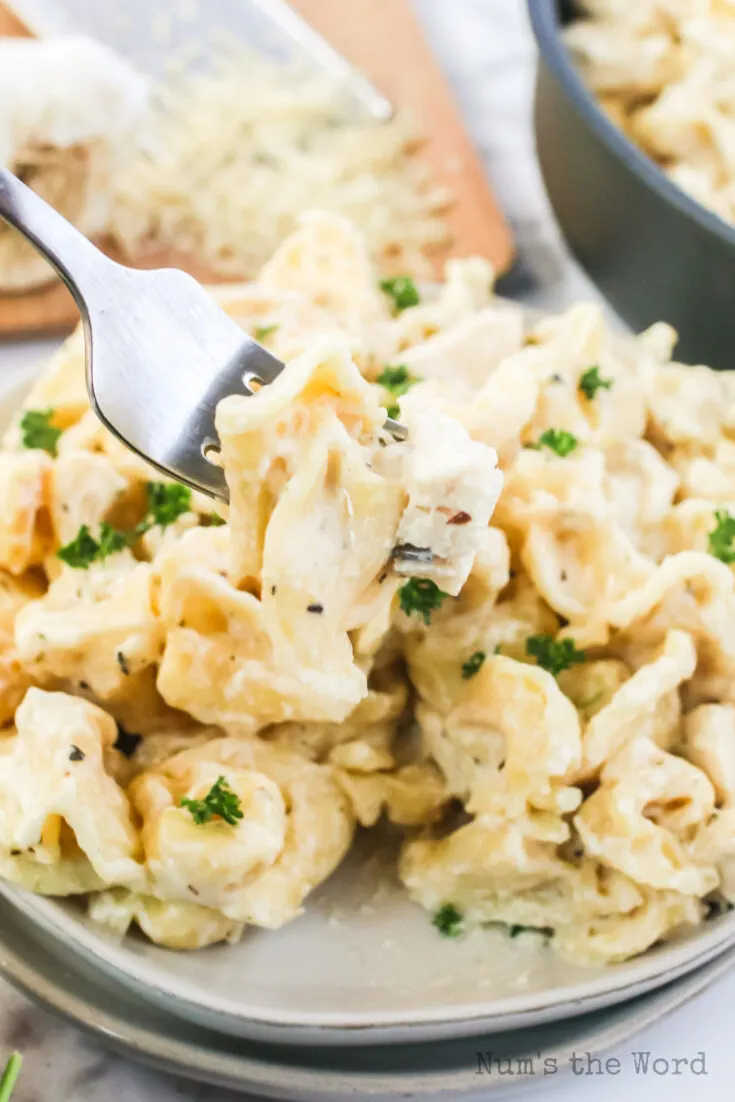 For the absolutely best comfort food, try this Chicken Tortellini Alfredo! Quick to make, filling, and a totally delicious meal, it'll quickly become a family favorite and weeknight staple!
Ingredients
2 chicken breasts, cut into 1/2 inch pieces
20 ounces of 3 cheese tortellini
1/2 teaspoon salt
2 Tablespoons butter
2 Tablespoons olive oil
3 Tablespoons butter
4 garlic cloves, minced
3 Tablespoons all-purpose flour
1/2 cup chicken broth
1 1/2 cups half and half
1/4 teaspoon onion powder
1/4 teaspoon mustard powder
1/4 teaspoons black pepper
1/2 teaspoon dried basil
1/2 teaspoon dried parsley
1 cup shredded parmesan cheese (not powdered)
1/2 teaspoon fresh parsley
Instructions
Cook Tortellini according to package directions.
While tortellini is cooking, cook chicken. Once tortellini is finished cooking, drain and set aside.
Heat a large skillet over medium heat.
Add 2 Tablespoons butter and 2 Tablespoon olive oil.
Once butter and oil are hot, add chicken.
Cook chicken, until chicken is cooked through - about 5 minutes.
Remove chicken from pan and set aside.
Add 3 Tablespoons of butter to the empty skillet. Melt butter.
Add garlic and cook for 1 minute.
Add flour and cook 1 more minute - this will help get rid of the flour taste.
Slowly add chicken broth to flour mixture, whisking well after each addition. Mixture will get thick before it thins out.
Slowly add half and half to the flour mixture until a nice thin cream sauce is created.
Now add all your seasonings, onion powder, mustard powder, black pepper, dried basil & dried parsley. Mix well.
Bring to a simmer and cook for 8 minutes.
Add parmesan cheese and stir gently until completely melted and mixed in.
Add chicken and tortellini and cook for 2 minutes or until chicken and tortellini are hot.
Serve immediately with a sprinkle of fresh parsley on top.
Nutrition Information:
Yield:
8
Serving Size:
1
Amount Per Serving:
Calories:

348
Total Fat:

21g
Saturated Fat:

11g
Trans Fat:

1g
Unsaturated Fat:

9g
Cholesterol:

81mg
Sodium:

590mg
Carbohydrates:

20g
Fiber:

1g
Sugar:

2g
Protein:

19g