With its creamy texture, meaty filling, and warm sauce bursting with flavor, this Instant Pot Chicken Tikka Masala is guaranteed to become a family favorite.
The flavors and textures all fit perfectly together to form one of the most mouthwatering curries I've ever consumed.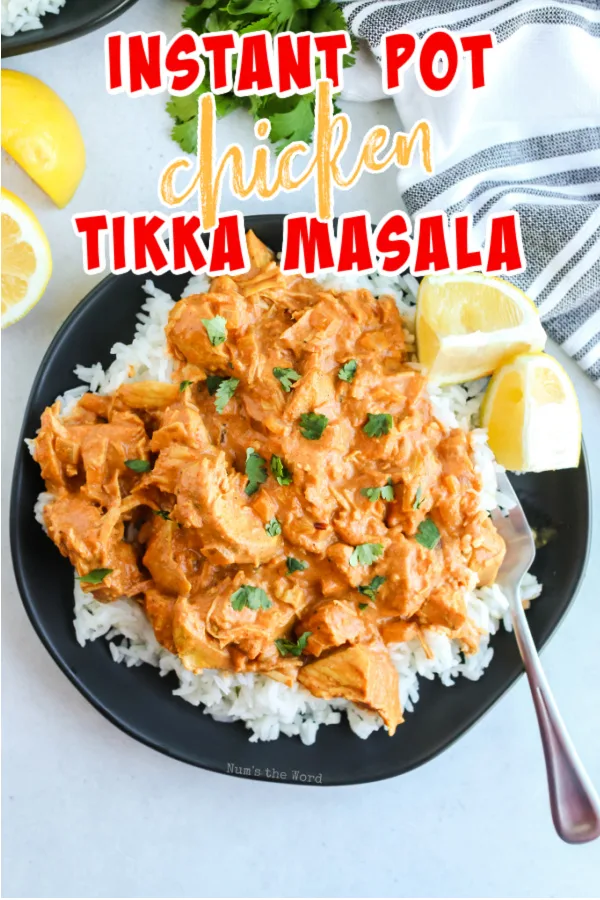 This easy chicken tikka masala is one of my absolute favorite meals. It is also easy to mass produce and a great crowd-pleaser, so it's my go-to for entertaining. It's also easy to prep ahead and keep warm, so it's my go-to for delivering meals to sick families or new mothers.
And what makes this the BEST chicken tikka masala recipe is that it's also made in the Instant Pot, so you can't beat the ease of prep, even from frozen chicken to finish!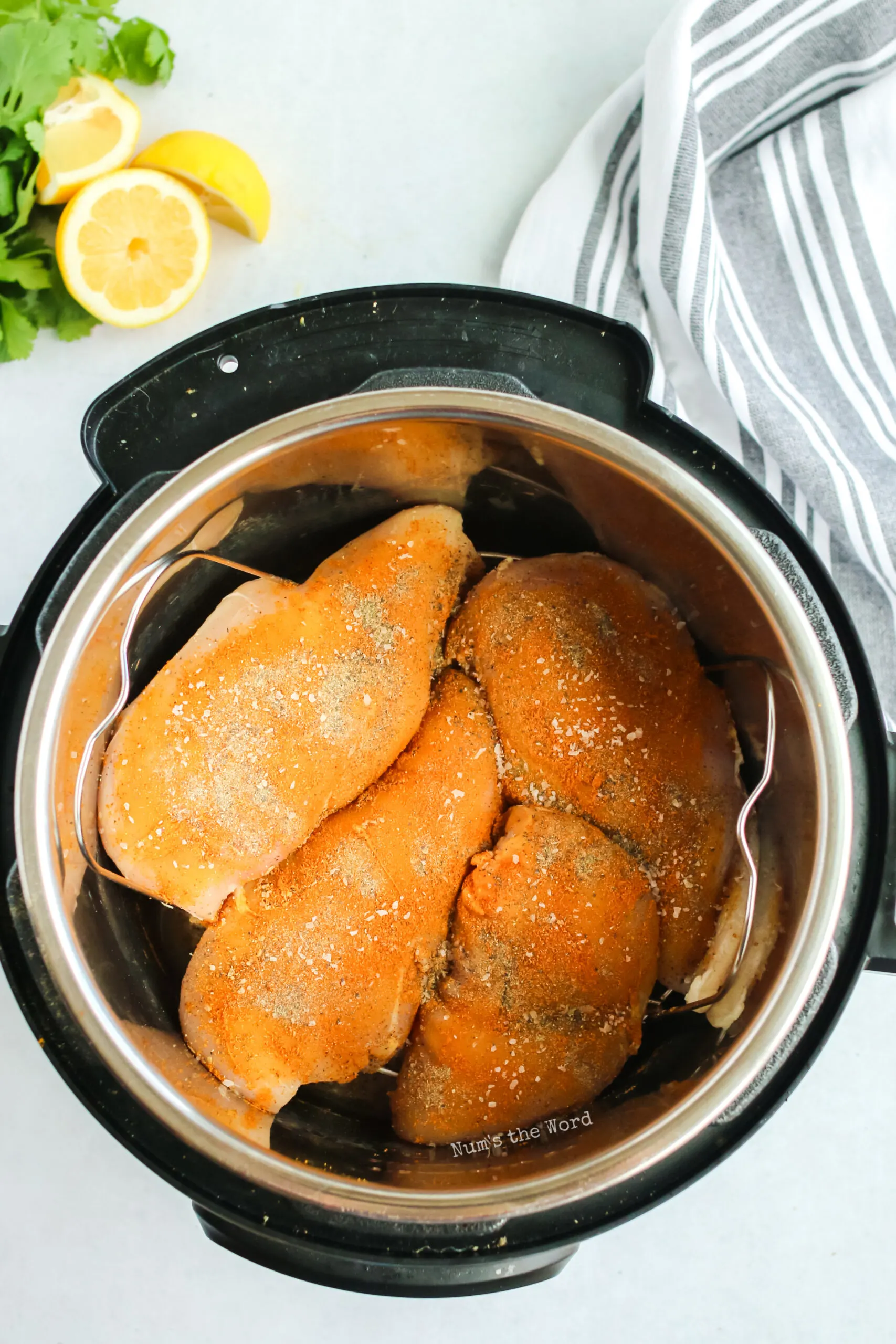 What is tikka masala?
This easy Indian Chicken Tikka Masala Recipe is chunks of chicken in a spiced curry sauce. The sauce is typically orange in color and creamy in texture.
Though in this recipe we do all the cooking in the Instant Pot for ease and convenience, a traditional tikka masala would use roasted or grilled marinated chicken. But I promise we've not sacrificed flavor for ease in this recipe! It's still to die for.
Butter chicken vs. tikka masala:
The appearance of butter chicken and tikka masala are very similar, but there are subtle differences in flavor. Tikka masala is packed with layers and layers of differing, but complementing flavors, and is usually a little more intense in the tomato department.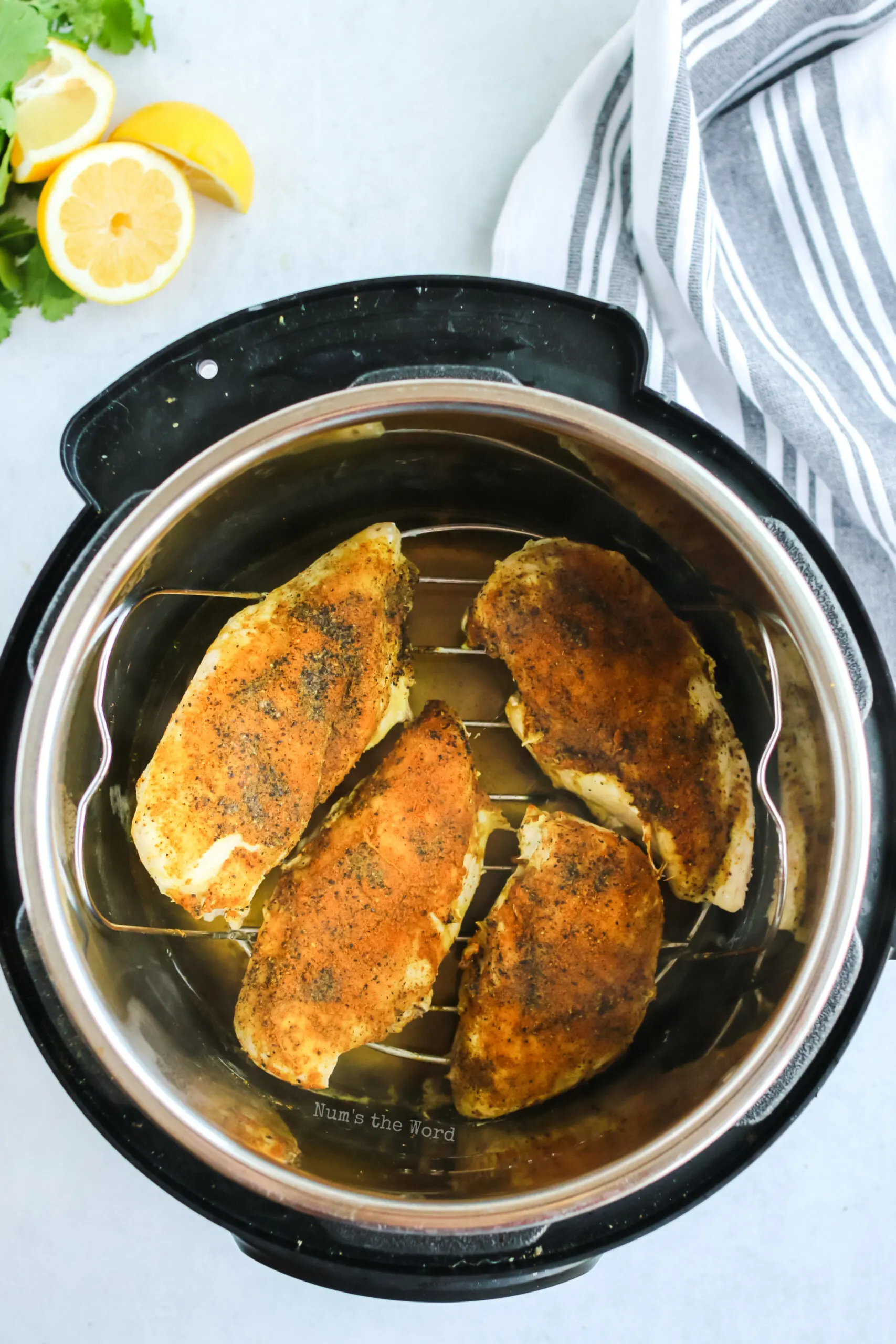 What ingredients are in chicken tikka masala?
Chicken tikka masala main ingredients consist of chicken, tomato sauce, whipping cream, onion, garlic, and a great many different spices. Here's exactly what you'll need:
Chicken breasts

– fresh or frozen, making chicken tikka masala Instant pot style means either way is a breeze!

Curry powder

– you'll use curry powder to season the chicken breasts before cooking them in the Instant Pot.

Butter

(or Ghee if Keto) – for sautéing the onions and garlic.

Onion

– provides a lot of flavor and is part of the curry sauce base.

Garlic

– I prefer to use a garlic paste or jarred minced garlic for ease of prep and measurement!

Ground cumin

– I like to combine all my spices in a small bowl ahead of time so I'm not scrambling to measure a million things out quickly.

Salt

– flavor enhancer, oh yeah!

Fresh ginger paste or grated ginger

– I love the bright taste of fresh ginger, but in a pinch you can sub ground ginger. I use ¼ teaspoon ground ginger for every 1 teaspoon fresh.

Cayenne pepper

– use more or less, depending on how much kick you want in your sauce.

Ground cinnamon

– the first time I made this I thought,

What?! Cinnamon!?

But trust me, friends, it's amazing. It's subtle, but adds so much depth to the flavor of the sauce!

Ground turmeric

– I love the flavor AND color of turmeric! It really helps make this dish not only delicious, but BEAUTIFUL!

White sugar

– sugar helps offset the acidity of canned tomato products. I add sugar to just about anything I make with any sort of canned tomato derivative!

Smoked paprika

– I LOVE the depth of flavor a bit of smoked paprika adds to a recipe. It's earthy and rich and adds a hint of woodsmoke that is incredibly tasty!

Tomato sauce

– this easy chicken tikka masala recipe gets its tomato flavor from canned tomato sauce.

Heavy whipping cream

– whipping cream provides the rich, creamy texture of your curry sauce. If you want a dairy free alternative, substitute coconut milk (though the texture will be slightly less creamy).

Kosher salt and fresh ground pepper

– I like to salt and pepper the chicken breasts, along with the curry powder, before cooking them. I also add about ½ tsp fresh ground pepper to the sauce.

Lemon

– wedged (for garnish)

Cilantro

– chopped (for garnish)

Jasmine rice

– cooked, for serving with sauce. If you have a different rice you prefer, use your favorite!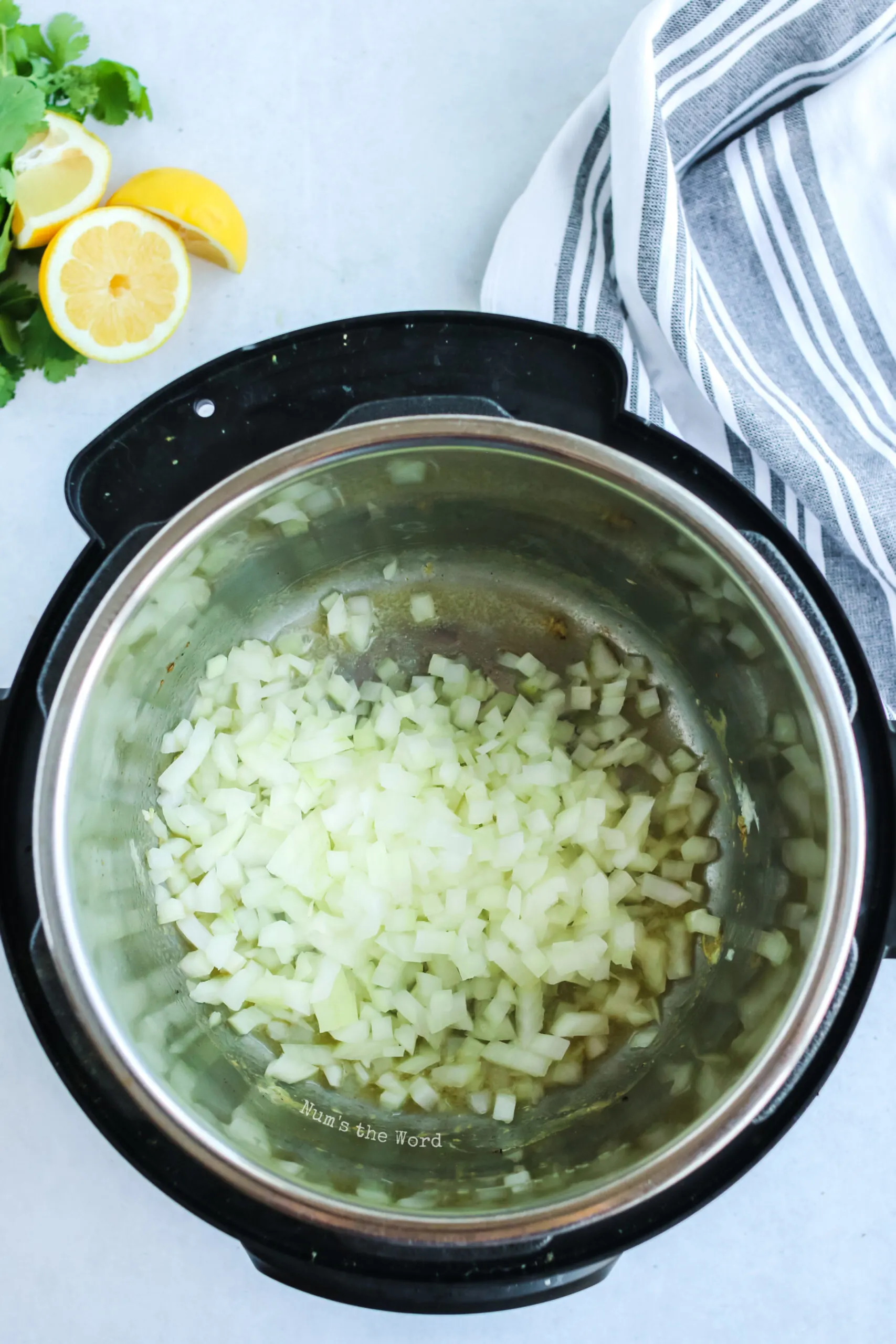 How to make tikka masala:
I know the list of ingredients looks intense, but once you have all the spices, it's really a simple recipe to throw together … but it tastes like a million bucks. This entire meal is made in the instant pot in stages.
Cook your chicken! This is done in a sauce. You can use fresh or frozen chicken. Once cooked, set chicken and juices aside.
Sauté! Now it's time to sauté the onion and garlic so they are nice and tender – again in the instant pot.
Mix! Add all the ingredients together and let it simmer while the flavors meld.
Serve! We like to serve with lemon slices and cilantro!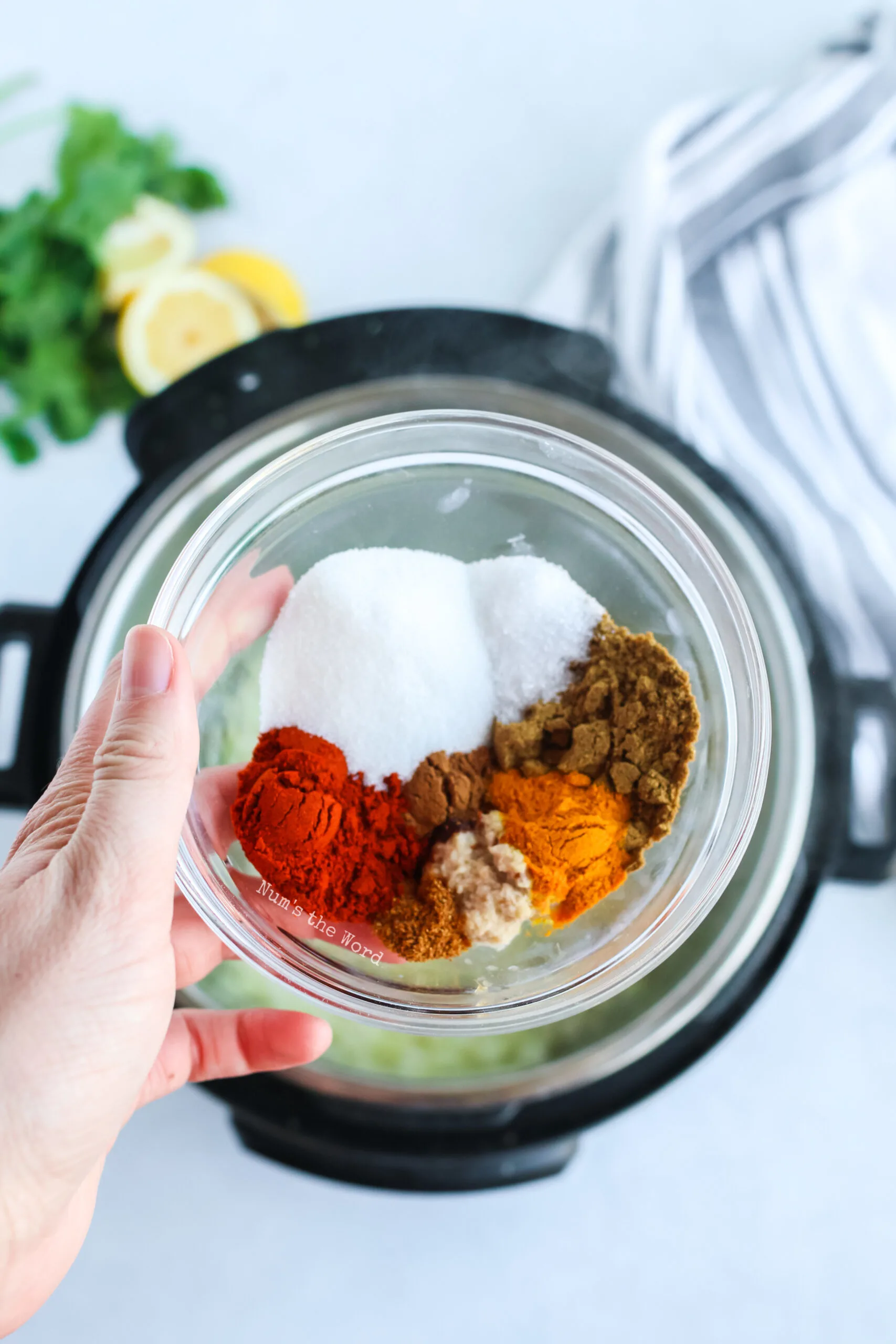 What to serve with tikka masala:
This chicken tikka masala recipe is best served over rice. I also highly recommend, nay — insist — that you serve it garnished with fresh lemon and cilantro. I like to squeeze a little lemon juice on top before I mix in a little cilantro to my serving.
Some of our favorite sides to serve with tikka masala are roasted broccoli or cauliflower. We sometimes "rice" our cooked cauliflower and serve the tikka masala over that as well.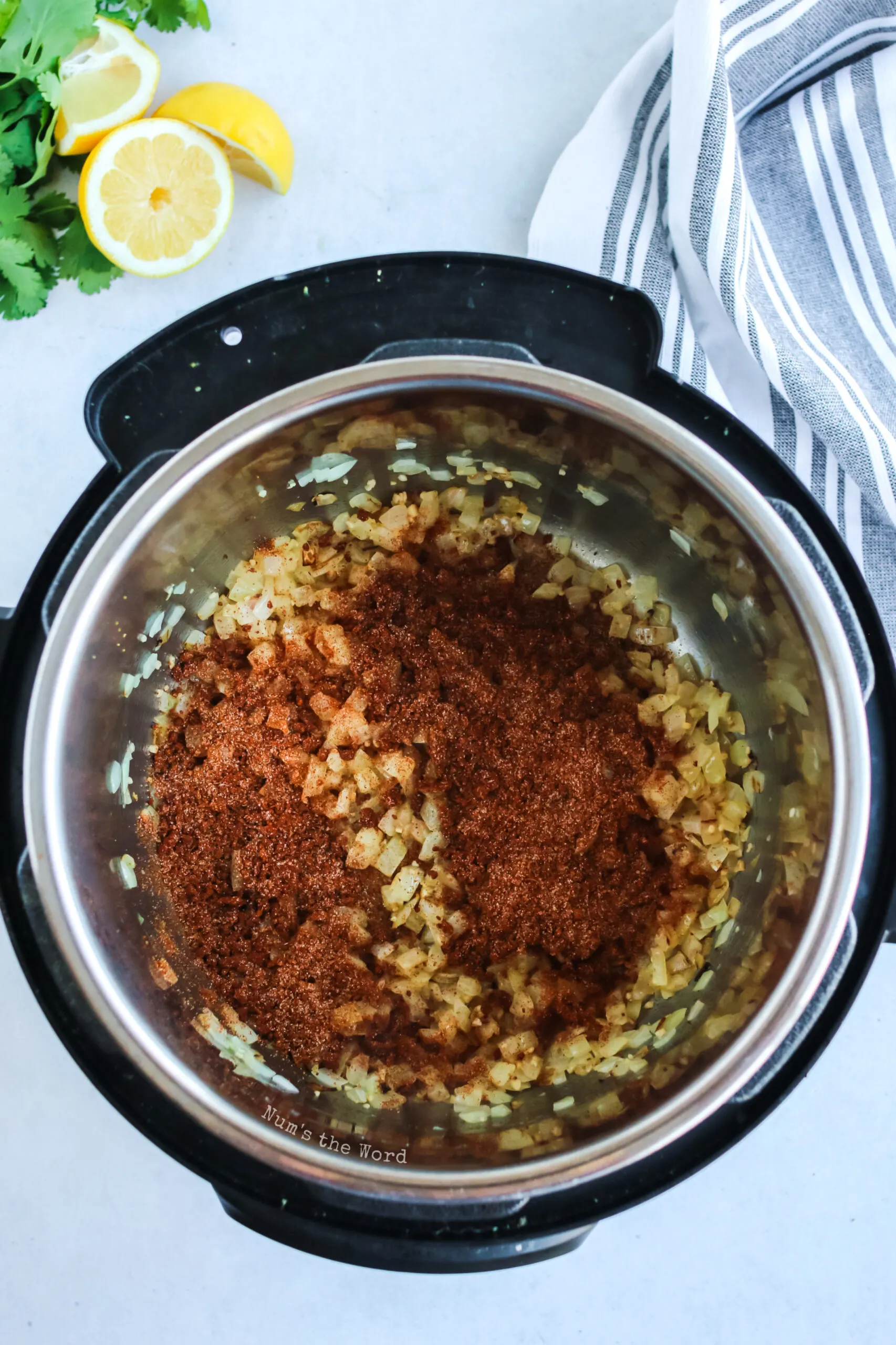 Is chicken tikka masala healthy?
This tikka masala recipe contains a lot of great, nutritious ingredients! But it also contains a significant amount of whipping cream and some butter.
It's not the most unhealthy thing you can eat, but I wouldn't call it a "health food" either. But in moderation, it provides a great source of protein and many vitamins and minerals!
What does tikka masala taste like?
Can I just say heaven? Is that a descriptive enough answer? While it's considered a curry, I wouldn't describe it as having a very strong "curry" flavor. It's predominant flavors are creamy tomato and layers of seasonings, with some spice.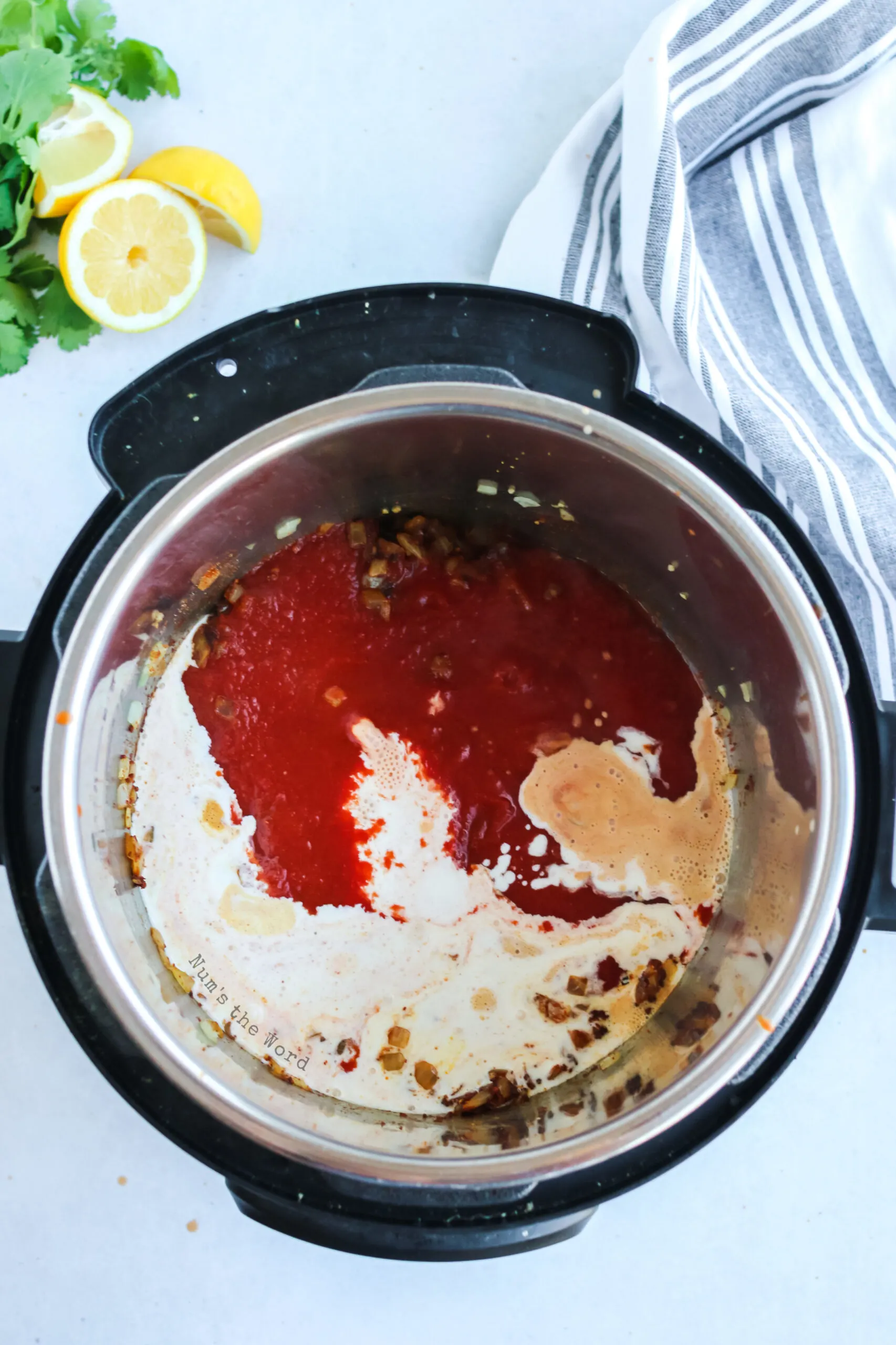 Is chicken tikka masala spicy?
That is up to you, my friend! While this recipe calls for some cayenne powder, I often leave it out if I'm cooking for family or friends who can't handle the heat. My husband likes to add extra spice to his servings using either curry powder or red pepper flakes.
Is chicken tikka masala keto?
This exact recipe isn't Keto. However you can easily adapt it to be! Simply switch out the butter for ghee, leave out the sugar and buy a no sugar added tomato sauce. Once those substitutions are done, you will have a delicious and flavorful Keto Chicken Tikka Masala.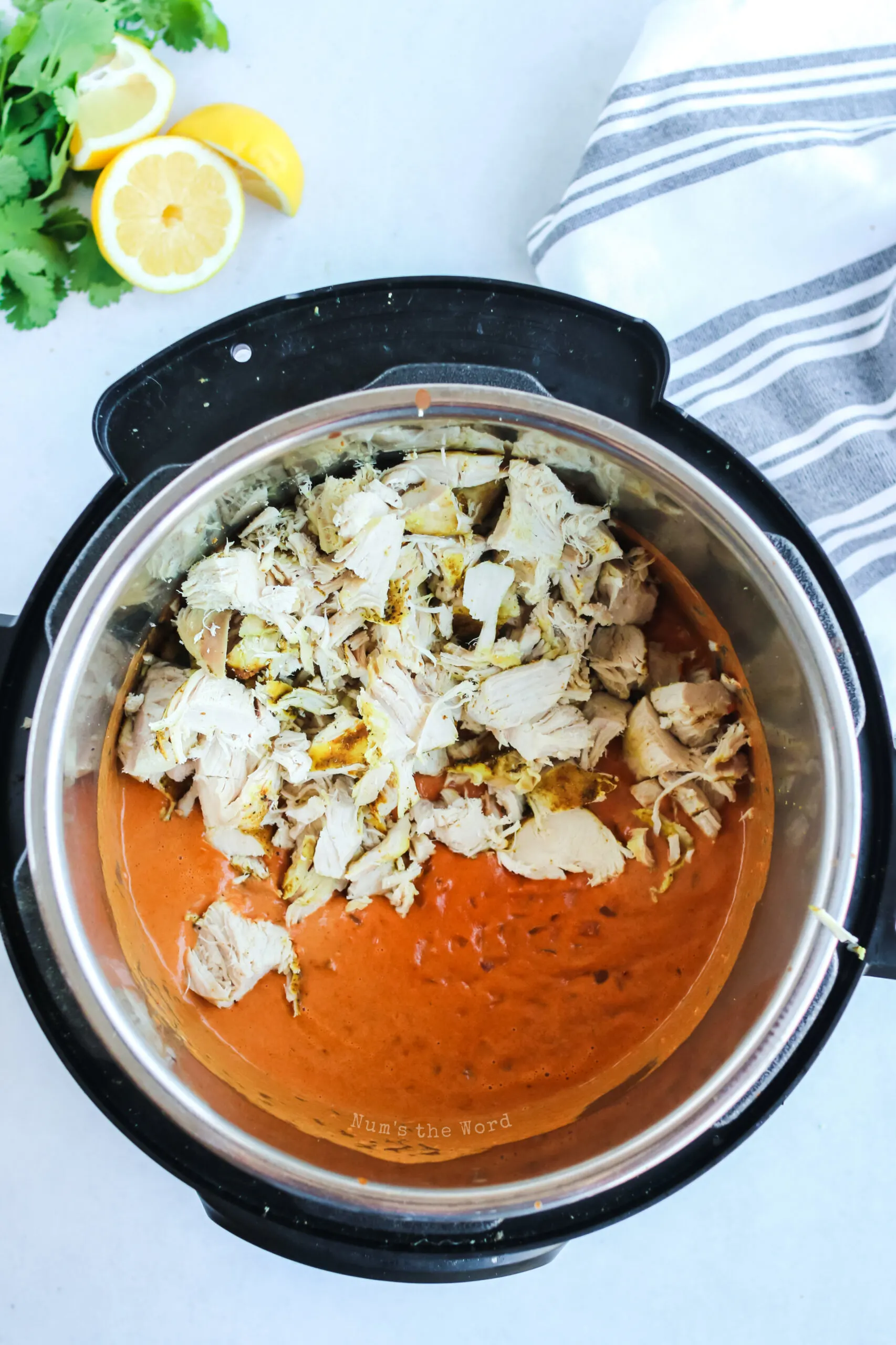 Is tikka masala curry?
Yes, tikka masala is a type of curry. The sauce is considered a curry sauce, though it doesn't taste remotely like curry powder.
Is chicken tikka masala gluten free?
The ingredients in this recipe are naturally gluten free. However I have noticed that some brands of heavy whipping cream say they may have crossed paths with wheat ingredients, so be sure to read your labels!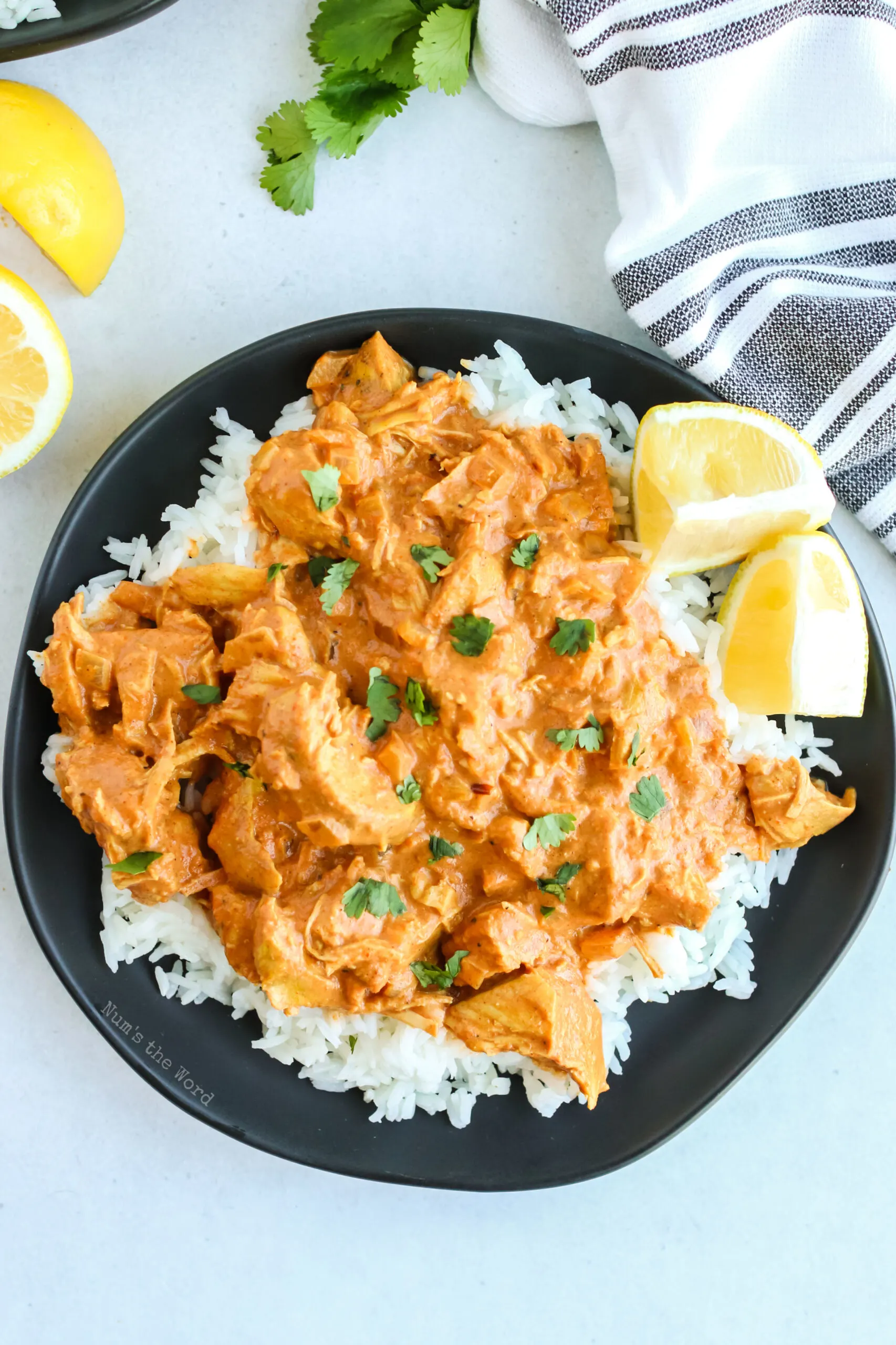 Pro tip: If you're on a time crunch, you can start the chicken in the Instant Pot and do the rest of the cooking on the stove top. I sometimes let the sauce simmer without the chicken until the chicken is ready to add.
Great Side Dishes to serve with Tikka Masala:
Great Desserts to serve with Chicken Tikka Masala:
I hope you enjoy this Instant Pot Chicken Tikka Masala recipe as much as we do! I've tried a couple different recipes and I have to say, this is HANDS DOWN the best tikka masala I've ever had.
It's rich, creamy, layered with flavor, and something we make nearly every week. Enjoy!
Instant Pot Chicken Tikka Masala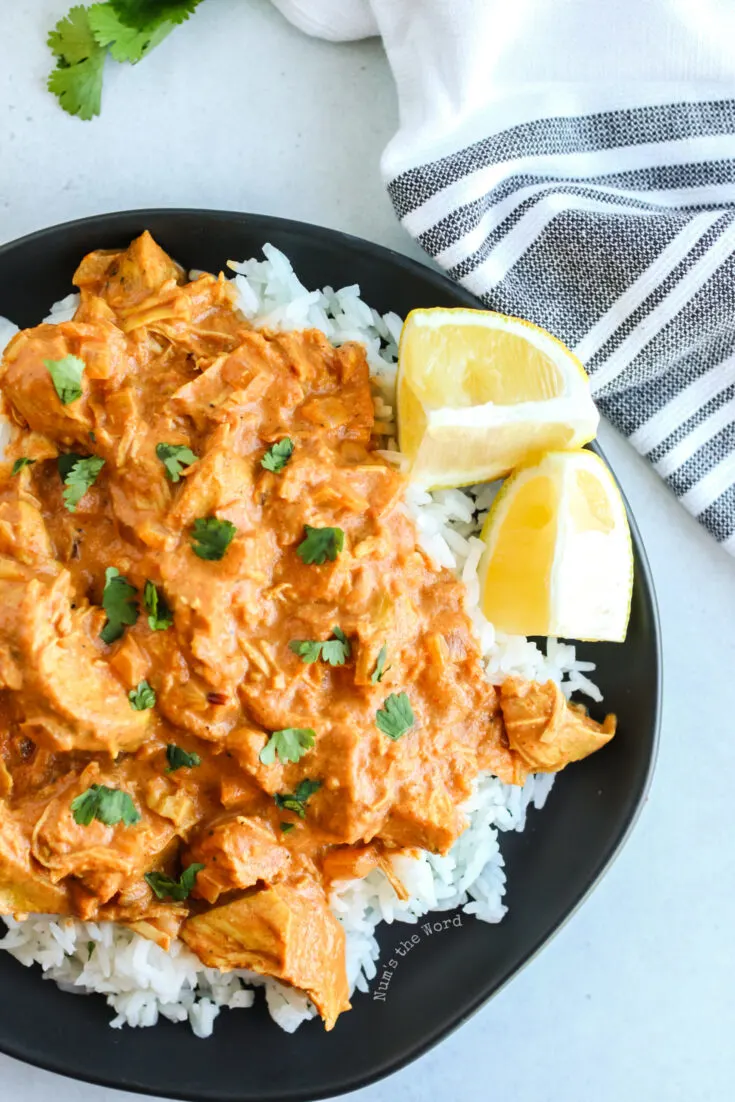 Ingredients
4 boneless, skinless chicken breasts
1 teaspoon curry powder
1/4 teaspoon salt
1/4 teaspoon black pepper
2 Tablespoons butter
1 medium yellow onion
1 Tablespoon ground cumin
1 teaspoon salt
2 teaspoons fresh ginger paste or fresh grated ginger
1/4 teaspoon cayenne pepper
1/2 teaspoon ground cinnamon
1/2 teaspoon ground tumeric
2 teaspoons smoked paprika
1 Tablespoon white sugar
2 teaspoons garlic, minced
1 (14 ounce) can tomato sauce
1 cup heavy whipping cream
1 lemon, cut into wedges
1/4 cup fresh cilantro, chopped
4 cups cooked Jasmine rice
Instructions
Pour 1 cup water into the bottom of the Instant Pot.
Place trivet in the Instant Pot and put chicken breasts on the trivet, trying to avoid layering as much as possible.
Season the top of the breasts with curry powder, kosher salt, and pepper.
Seal the lid of the Instant Pot and set to "poultry" for 8 minutes.
Allow for natural pressure release.
Remove chicken from instant pot and set aside. Drain instant pot and set drippings aside.
Turn Instant pot to Sauté setting and melt butter.
Add onions and sauté onions until well cooked and slightly browned.
While onions are sautéing combine cumin, salt, ginger paste, cayenne pepper, cinnamon, turmeric, smoked paprika, and sugar in a small bowl.
Add garlic to onions and sauté another 1-2 minutes
Once onions and garlic are cooked, pour in seasonings, stirring frequently, until well combined and fragrant.
Stir in tomato sauce and heavy cream and turn off sauté setting and turn it on to warm.
Carefully dice the chicken into small, bite-sized pieces and add them into the sauce. Pour in 1/2-1 cup of the chicken drippings that you set aside depending on how thick you want your sauce.
Cook for an additional 10 minutes in the warm setting, then serve over rice and topped with fresh cilantro and fresh squeezed lemon wedges.
Nutrition Information:
Yield:
8
Serving Size:
1
Amount Per Serving:
Calories:

303
Total Fat:

16g
Saturated Fat:

9g
Trans Fat:

0g
Unsaturated Fat:

6g
Cholesterol:

92mg
Sodium:

482mg
Carbohydrates:

18g
Fiber:

1g
Sugar:

4g
Protein:

21g
Recipe by Whitney Condie