You'll never run out of Italian Seasoning once you learn how to make your own! Just a few simple ingredients you probably already have in your pantry and you've got yourself a delicious and easy seasoning!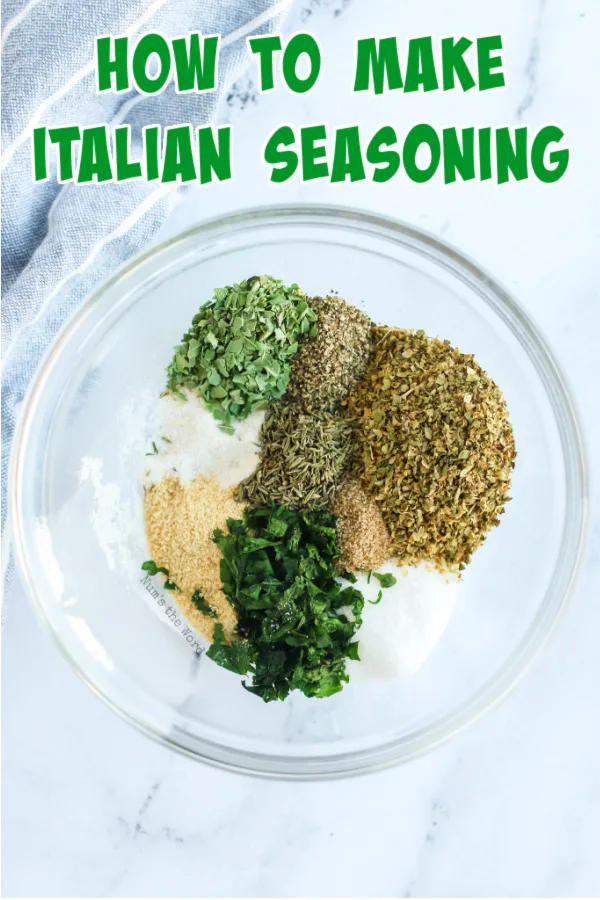 This dried Italian seasoning recipe is a simple and versatile way to add flavor to your favorite meats, soups, sauces, vegetables, dressings, and more!
It's great because all of the ingredients are dried and shelf-stable, so you can whip this up and store it in your pantry for whenever you need to amp up the Italian flavor of any dish!
Often it seems the little, but flavorful, things somehow escape my shopping list. Case in point: Italian seasonings packet.
It's easily overlooked and not something I want to run back to the store for. But with this DIY Italian seasoning recipe, you can always have some on hand whenever you need it!
Made with typical spice cabinet-staples, I reckon you'll be able to mix up a handy batch of this Italian herb seasoning with things you already have on hand!
Can't beat that. And if you're missing an ingredient, never fear; we probably have a substitution idea for you, or you can omit one or two things and still get a lot of wonderful flavor!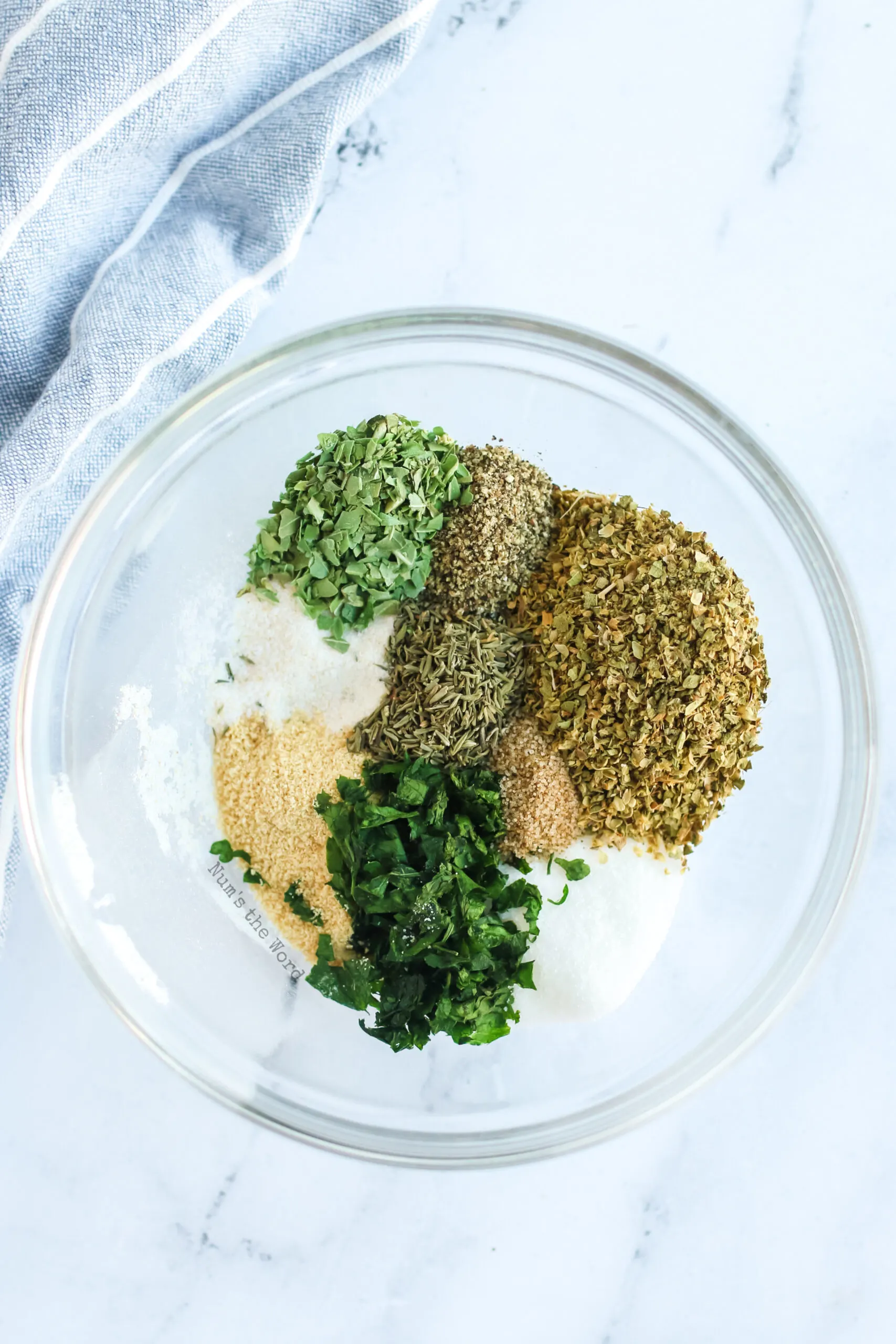 What is Italian seasoning?
Italian seasoning is a blend of herbs and spices that can be used to flavor a variety of foods.
Most commonly, you'll find oregano, basil, rosemary, thyme, sage, and garlic, though there are many variations.
From meats to soups to vegetables to dressings and beyond, this versatile and simple seasoning blend will amplify the flavor of any Italian-inspired dish.
Interestingly, you're not likely to find pre-blended Italian seasoning in Italy — it's not something that's typical of the country or its cuisine — however, these ingredients are a compilation of those typically used in Italian cooking.
Is Italian seasoning the same as Italian dressing mix?
Pretty much! There are many different iterations of Italian seasoning, though most have significant overlap.
You can use this Italian seasoning blend as a flavor base for homemade Italian dressing, as well as a dry rub for meats or roasted vegetables, flavor boosting for soups and sauces, and more!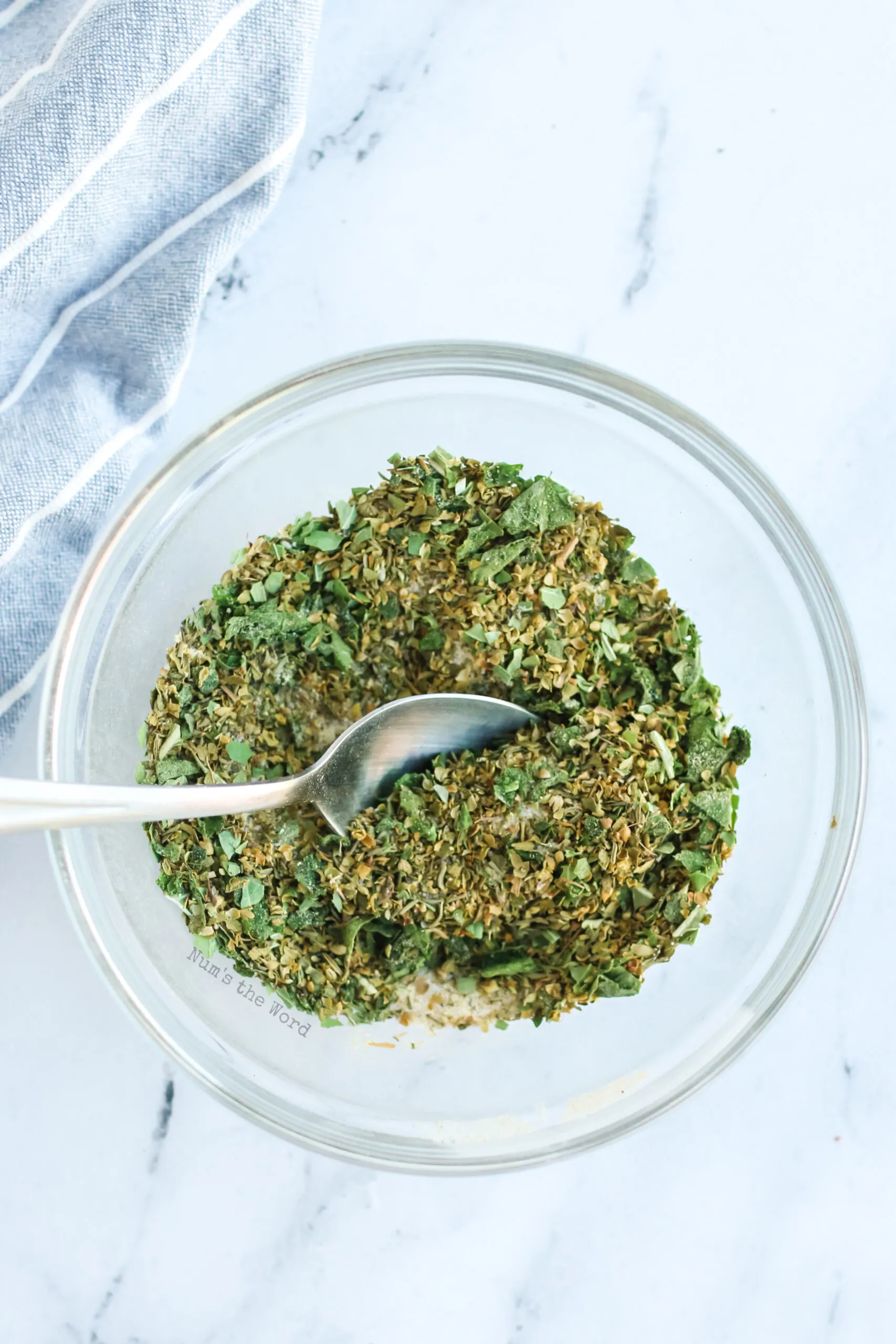 What is in Italian seasoning?
Most of the ingredients you need to make your own homemade Italian seasoning mix can be found
Garlic salt

– garlic salt has the perfect ratio of salt and garlic, but you can also use garlic powder and salt separately!

Pro tip:

garlic salt is 3 parts salt, 1 part garlic, and 1 part anti-caking agent. To substitute garlic powder and salt for garlic salt, use ¼ the amount of garlic powder. So for 1 tsp garlic salt, use ¼ tsp garlic powder and ½ tsp salt. You can add more of either ingredient to your taste!

Onion powder

– onion powder is a great way to add onion flavor that is shelf stable. If using dried, minced onions, double the amount.

White sugar

– whether you're using your DIY Italian seasoning to make Italian dressing or to flavor soups or sauces, a bit of sugar is an important ingredient to counteract the acidity of tomato products or vinegars.

Dried oregano

– oregano is a Mediterranean staple, so it's no wonder you can find it in Italian seasoning blends.

Black pepper

– black pepper packs both subtle kick and flavor.

Dried Thyme

– thyme also originated in the Mediterranean and has a nearly minty flavor. It blends great with the other herbs in this seasoning recipe.

Dried Basil

– I think this is the herb I most think of when I imagine Italian cuisine. It reminds me of pesto and pasta and all things delicious!

Dried Parsley

– dried parsley has a subtle, bitter flavor that serves as a contrast and enhancer to the other flavors in this seasoning mix.

Celery salt

– celery salt is a combination of ground celery seeds (which do not come from the grocery store variety of celery) and salt.

Salt

– salt is a flavor enhancer and helps to make each individual herb and seasoning stand out a little. You can always scale your salt additions to taste!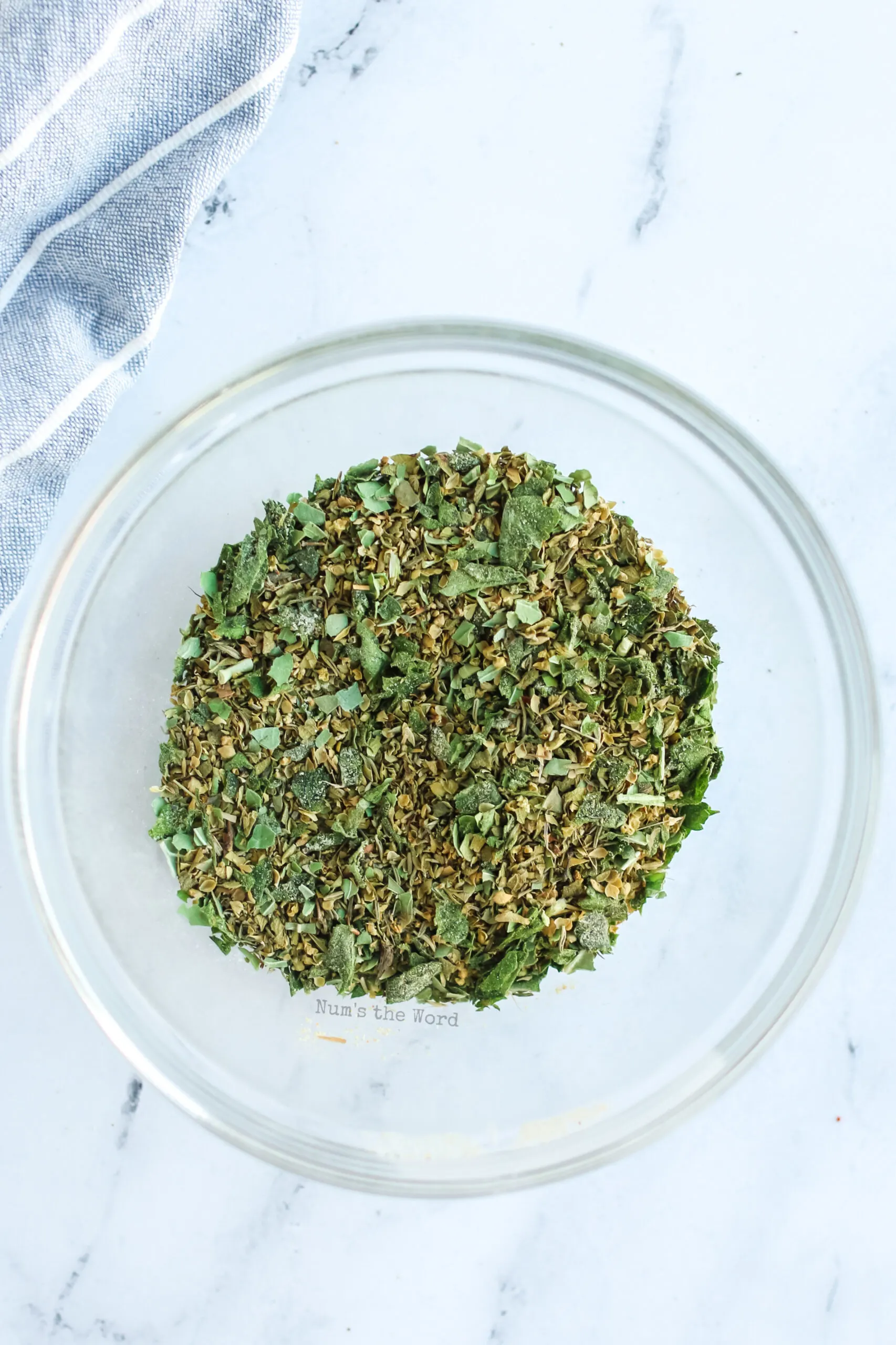 How to make Italian seasoning?
Alright … prepare yourselves for the longest set of instructions you'll ever see:
Mix it all together.
Now that's what I call a one-step wonder! If you're using it day of, and not storing it, you can definitely use fresh herbs. However you'll want to double your fresh ingredients as they have a more subtle flavor.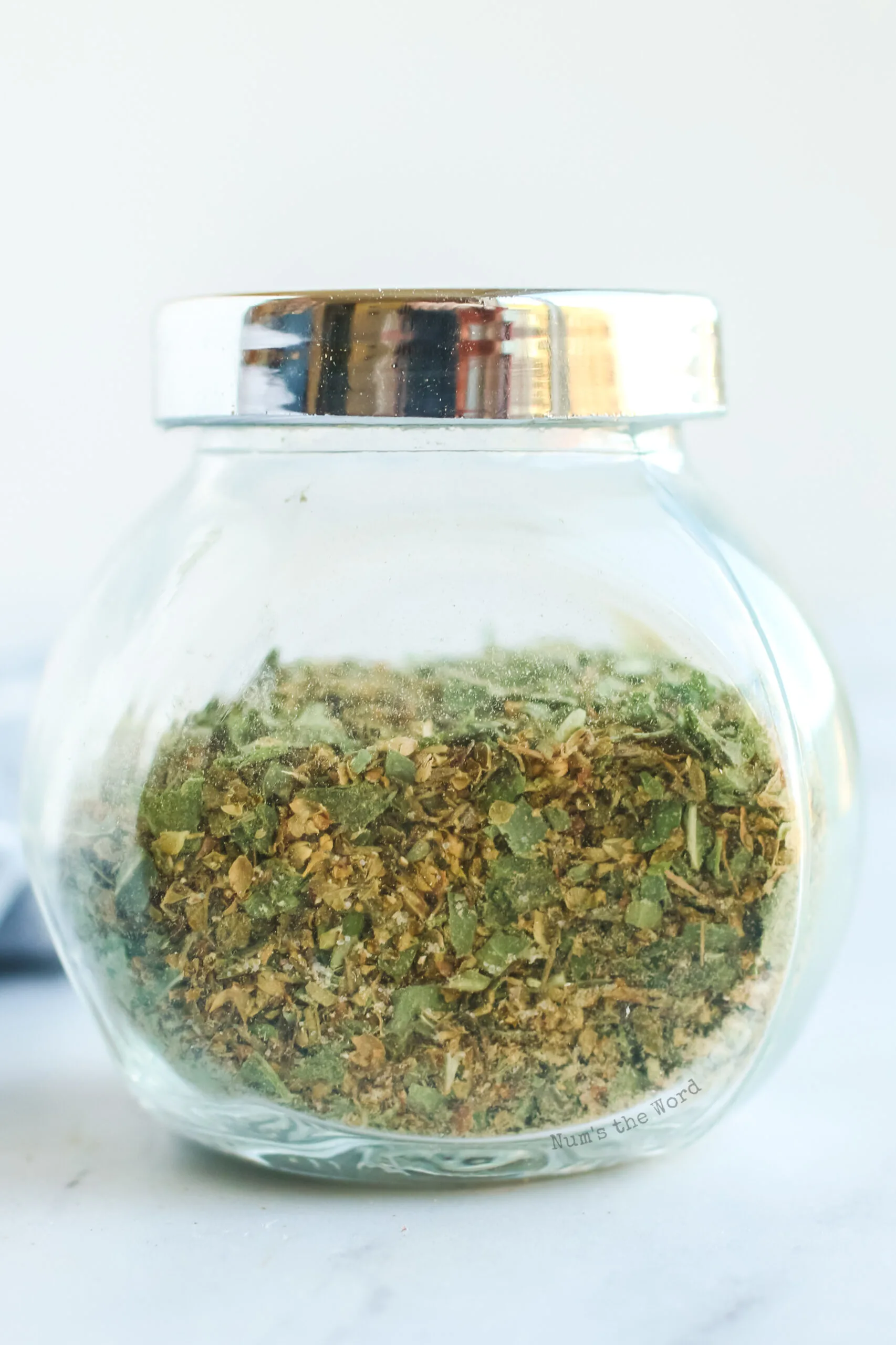 What can I substitute for Italian seasoning?
If you find yourself out of more ingredients than you'd like to omit, a general rule of thumb for an Italian seasoning substitute is you can combine equal parts of any combination of the following herbs: rosemary, thyme, basil, oregano, and marjoram.
You'll notice that this particular recipe doesn't include rosemary or marjoram. There's a great deal of variation between Italian seasoning recipes, and you can play a bit with this recipe to make it your own.
If you're not a fan of celery salt, consider subbing marjoram. Or you can add a touch of either herb if you're a fan. Marjoram has a similar, but more subtle, flavor to oregano. Rosemary has a lemony-pine flavor profile and is very strong.
Is Italian seasoning gluten free?
Yes! The great thing about making your own seasoning mix is that you know exactly what's going into it. None of the ingredients included in this recipe contain gluten, so your seasoning should be gluten free! As always, check your labels.
Can dogs have Italian seasoning?
No!! Salt, onions, and garlic are all things you should avoid feeding to your dog. Since those comprise three of the main ingredients in this seasoning recipe, please do not feed any to your pup!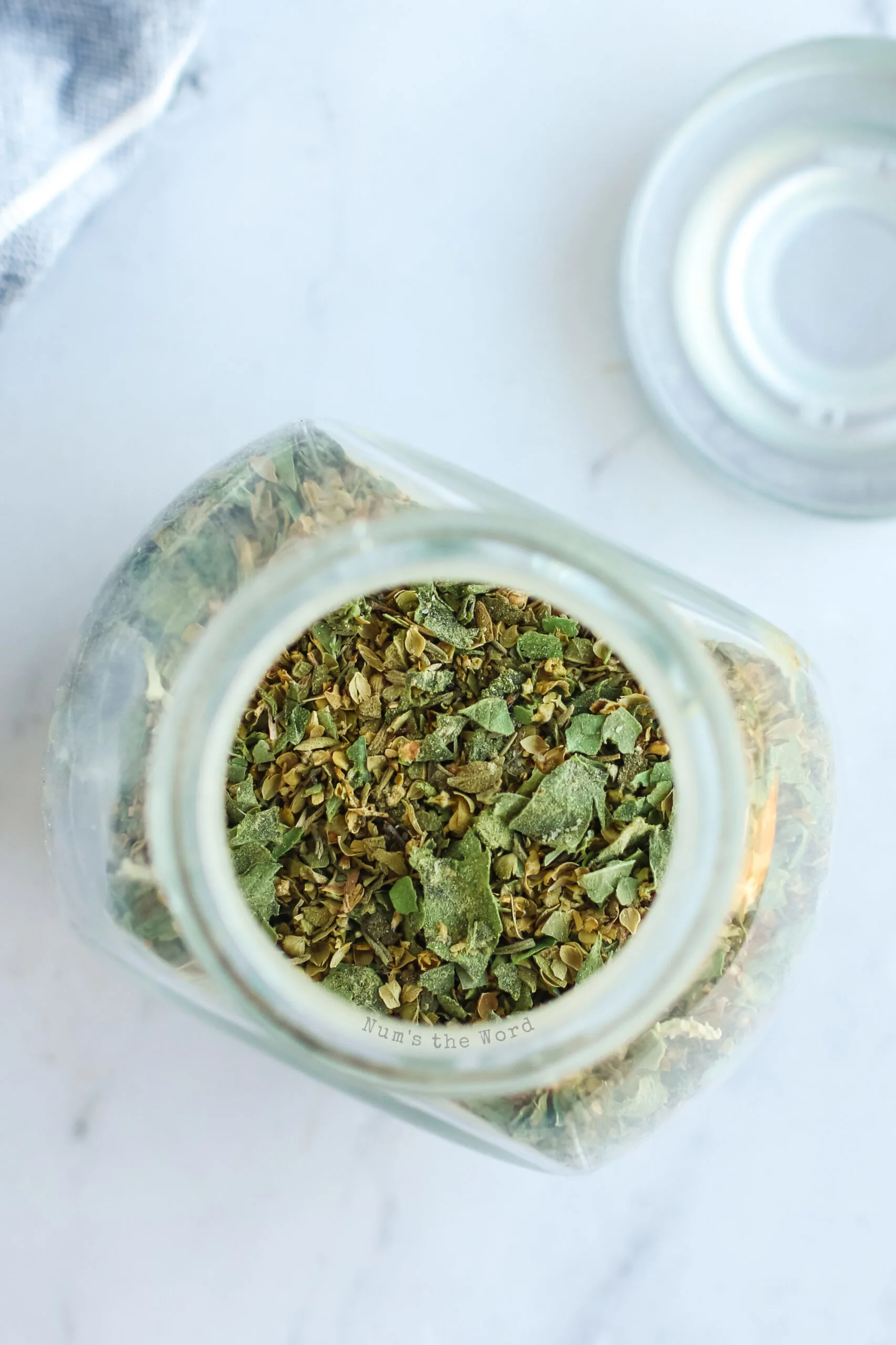 Italian seasoning recipe ideas:
Italian seasoning is such a simple and quick way to add a lot of flavor to your favorite Italian dishes. I love to roast veggies with olive oil and Italian seasoning.
It's also a great addition to your favorite pasta sauce, as a rub on meats, or in a tasty soup. Make a batch and keep it on hand!
Italian Seasoning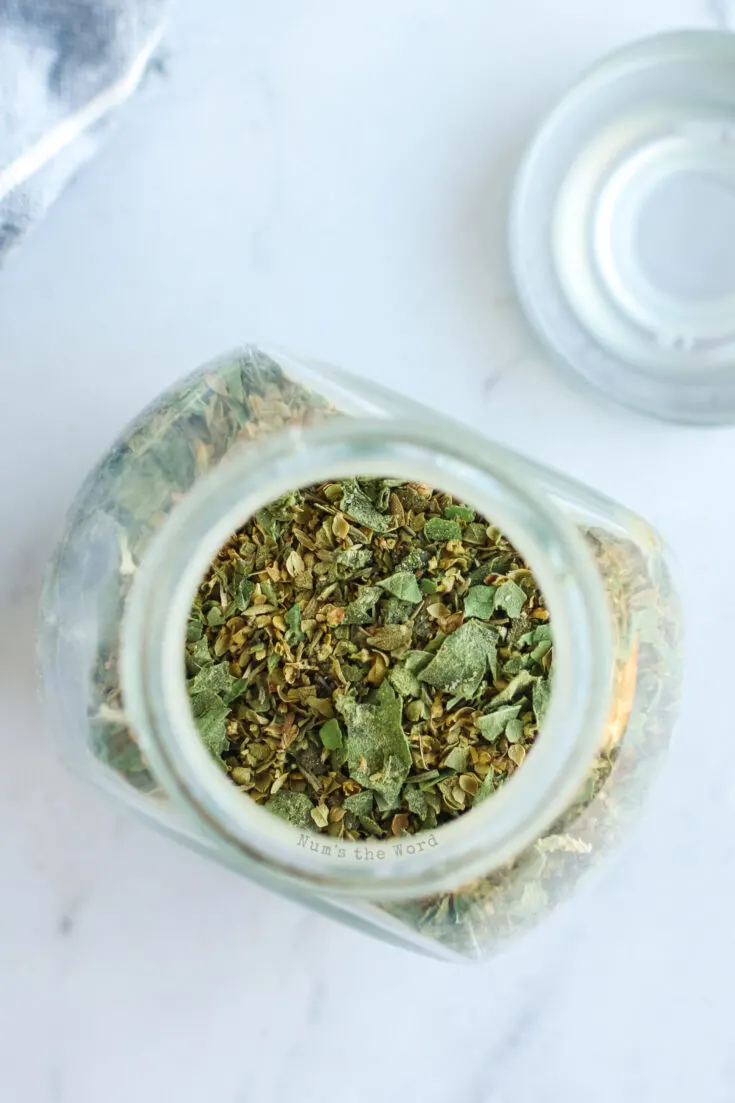 You'll never run out of Italian Seasoning once you learn how to make your own! Just a few simple ingredients you probably already have in your pantry and you've got yourself a delicious and easy seasoning!
Ingredients
1 Tablespoon garlic salt
1 Tablespoon onion powder
1 Tablespoon white sugar
2 Tablespoons dried oregano
1 teaspoon ground black pepper
1/4 teaspoon dried thyme
1 teaspoon dried basil
1 Tablespoon dried parsley
1/4 teaspoon celery salt
Instructions
Mix all together and use as recipe directs.
Nutrition Information:
Yield:
2
Serving Size:
1
Amount Per Serving:
Calories:

62
Total Fat:

0g
Saturated Fat:

0g
Trans Fat:

0g
Unsaturated Fat:

0g
Cholesterol:

0mg
Sodium:

2539mg
Carbohydrates:

15g
Fiber:

3g
Sugar:

7g
Protein:

2g