This creamy cucumber salad is refreshing and delicious, and one of my favorite summertime side dishes or snacks. Garden fresh cucumbers are something I eagerly look forward to JUST for this recipe!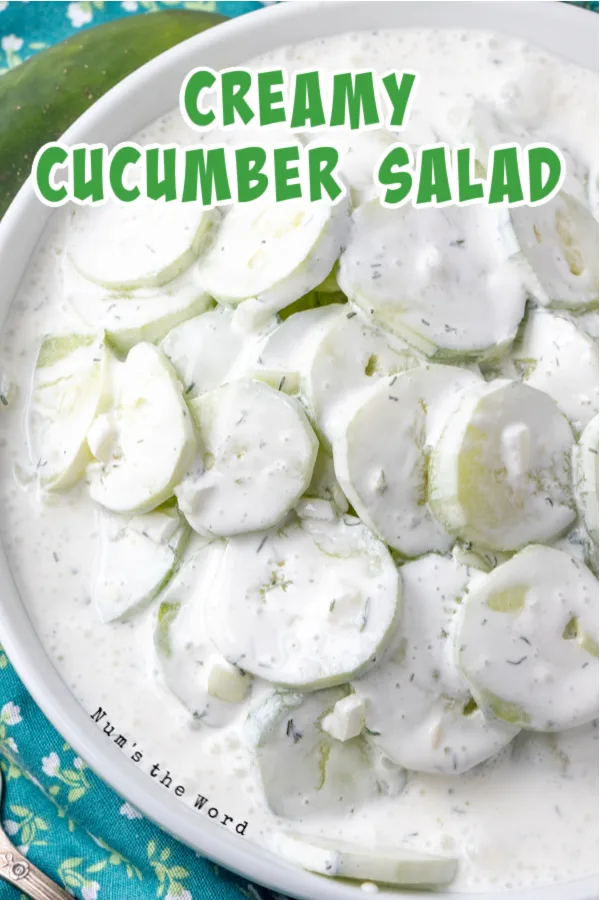 But the great news is you don't have to have a garden to enjoy these tasty creamy cucumbers; and it doesn't even have to be summer!
Cucumbers are conveniently in stores year round, so you can enjoy a little taste of summer any time of year.
With an irresistible blend of onion, dill, and cucumbers combined with the creaminess of sour cream and the zip of vinegar, this is by far the BEST cucumber salad recipe I've ever had.
It has become a side-dish staple in our home, whether for picnics, potlucks, family dinners, and beyond!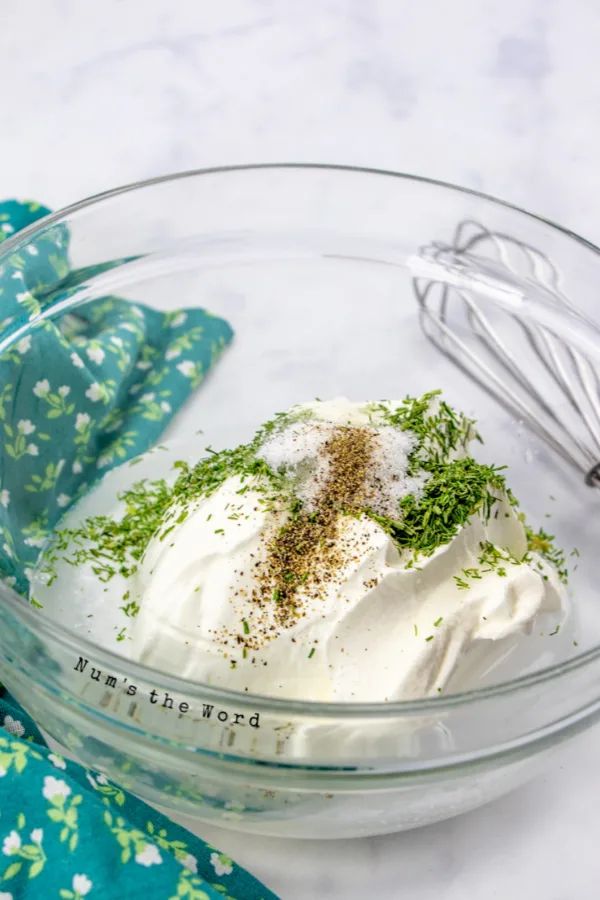 What goes in a cucumber salad?
There are many different variations of cucumber salad, some creamy and others not. I've tried quite a few different types of cucumber salads over the years, and I have to say: this is BY FAR my favorite.
While there are a lot of different styles of cucumber salads out there ranging from a variety of cuisines, this simple blend of flavors and creamy dressing really makes the cucumbers stand out!
This cucumber salad is simple and quick to make! With just a few pantry and refrigerator staples, you're well on your way to devouring this refreshing and creamy salad.
To make this delicious cucumber salad with sour cream, you'll need the following ingredients:
Cucumbers

– obviously you can't have cucumber salad without the cucumbers! Cool, crisp, and oh-so-refreshing.

Yellow onion

– I like to mince my onion for this recipe to keep it from overwhelming the cucumbers in this cucumber onion salad.

Sour cream

– the "creamy" part of this creamy cucumber salad recipe comes from — you guessed it — the sour cream!

Salt

– the combination of salt and vinegar helps to enhance and contrast the cool sweetness of the cucumbers.

White vinegar

– part of what makes this recipe delicious is how it has similar notes to pickles, but it's lighter and creamier and so fresh!

Dill weed

– something about cucumber dill salad just seems so right together! You can use dried or fresh. Fresh will give you a bit of a lighter taste; just remember that fresh herbs are less concentrated, so you typically want to use a 1:3 ratio for dried to fresh herbs.

Sugar

– sugar helps the sweeter notes of this cucumber salad stand out a bit, while reducing some of the acidic bite of the other ingredients.

Pepper

– pepper adds great depth of flavor to any dish, this one included!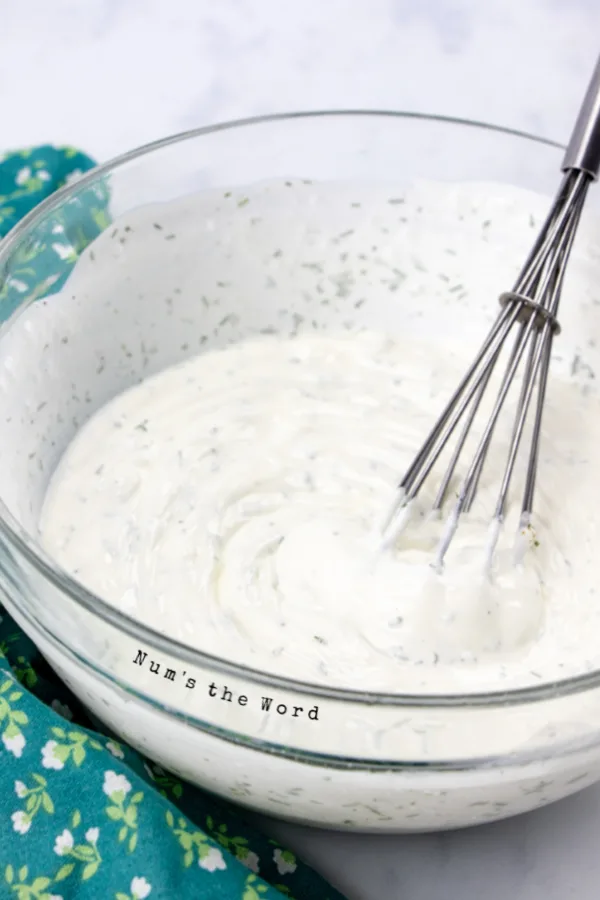 How to make cucumber salad?
Sometimes gathering and preparing the ingredients for a recipe feels like more than half the battle! This recipe is no exception. Once you have the ingredients ready, the rest of this cucumber and onion salad is easy.
Combine

cucumbers and onion in a bowl.

Mix

sour cream, salt, white vinegar, dill weed, sugar, and pepper together.

Pour

sour cream dressing over cucumbers and onions.

Stir

to combine.

Refrigerate

, covered for 6 hours or longer.

Serve

!
Like I said, just a few simple steps, and you're ready to enjoy your EASY cucumber salad!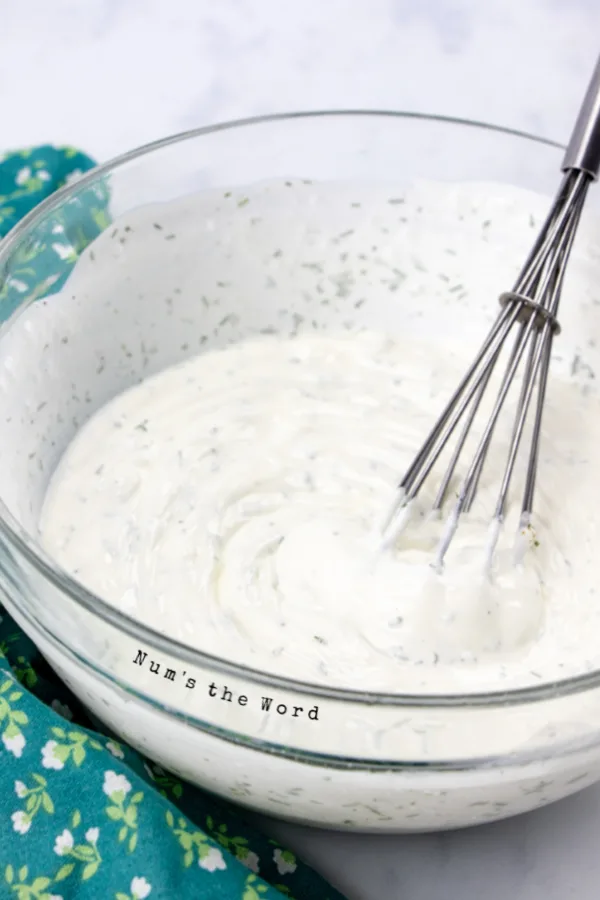 How to cut cucumber for salad?
There's more than one way to cut a cucumber, and different cucumber recipes call for different cutting styles. For this recipe, I recommend either slicing or halving and then slicing the cucumbers.
If you find that whole or half slices are a bit too much of a mouthful, you can also quarter and slice the cucumbers.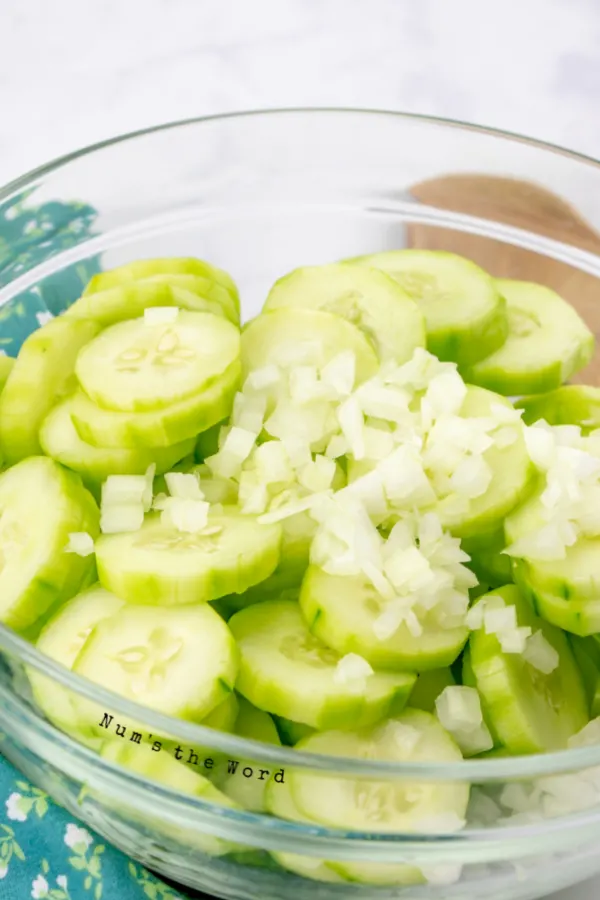 Can I freeze cucumber salad?
Unfortunately, this recipe does not freeze well. Fresh cucumbers and sour cream are both poor freezing candidates.
Sour cream will become grainy in texture and often separates after thawing. The cucumbers will become mushy and watery after freezing. Not a great look for a fresh and creamy cucumber salad, right?!
While you can freeze sliced cucumbers for later use, they're only good for purees, smoothies, or cooked dishes after having been frozen. Fresh veggies don't usually freeze and thaw and still taste and feel like fresh veggies afterward.
The good news is these creamy cucumbers do great in the fridge for up to 4 days.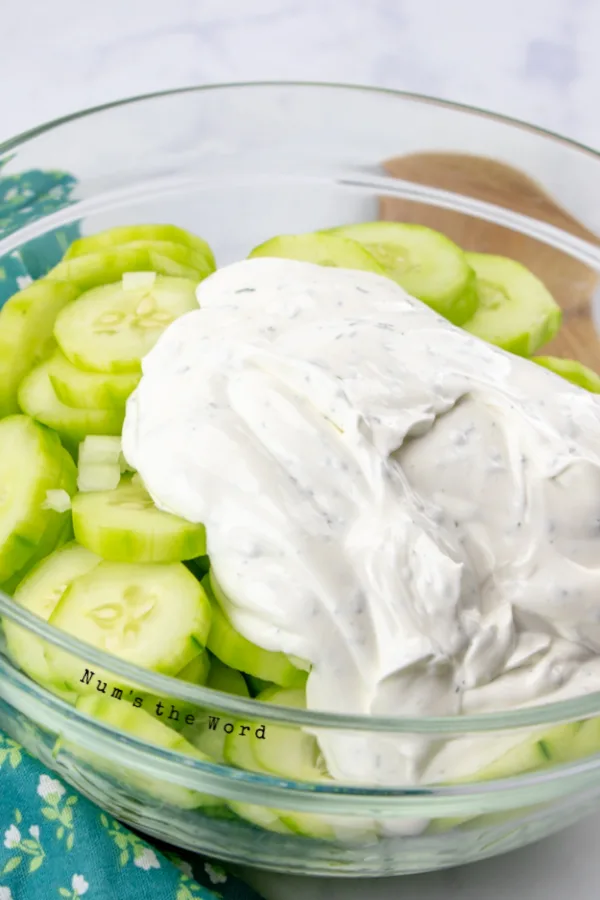 How many carbs are in a cucumber salad?
The main sources of carbs in this recipe come from the cucumbers and the sugar. There are around 8g of carbs in a single serving.
Of course, this estimate is approximate and can vary based on the size and amount of cucumbers you use. Cucumbers are a relatively low-carb vegetable.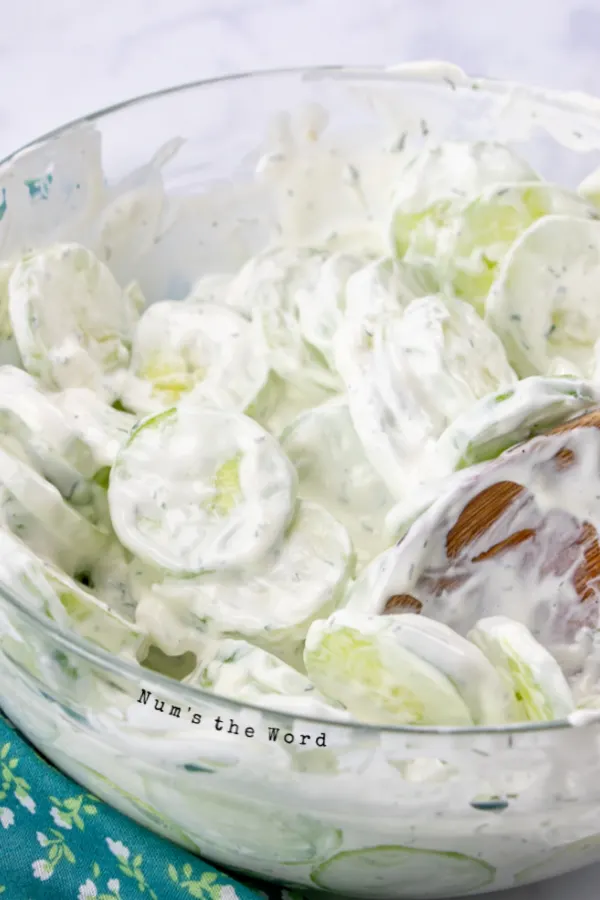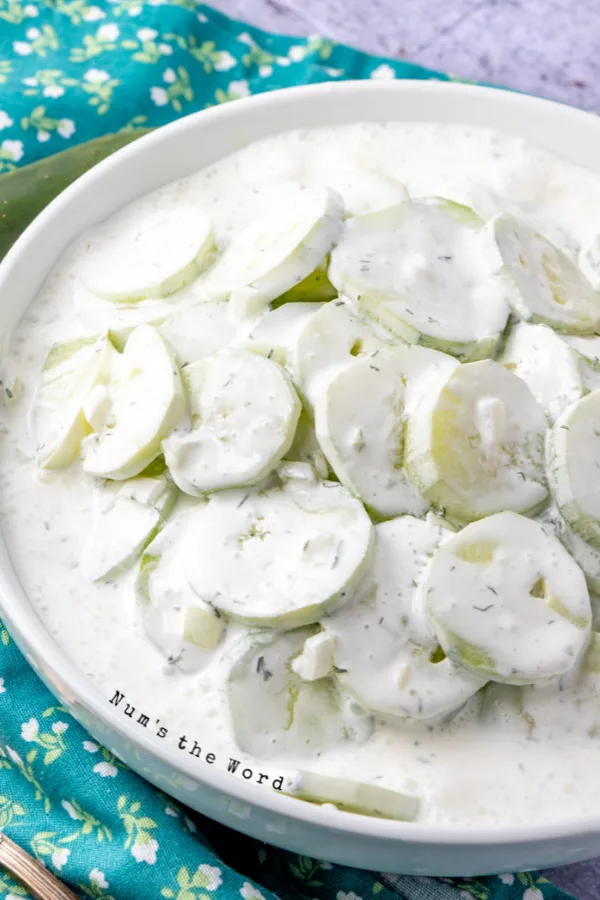 What to serve with your creamy cucumber salad?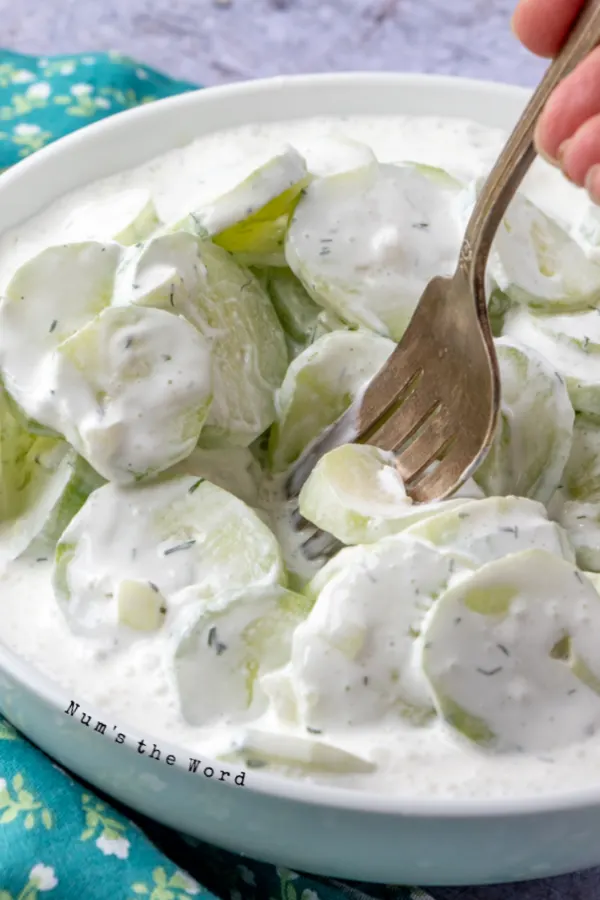 There's so much to love about this creamy cucumber salad recipe! The perfect blend of flavors, the creaminess of the dressing, the cool crispness of the cucumbers … need I say more?!
Whether you enjoy this salad as a side dish at home, a picnic, a potluck, or as a snack, it's sure to become a favorite for you and your family!
Yield: 10 Servings
Creamy Cucumber Salad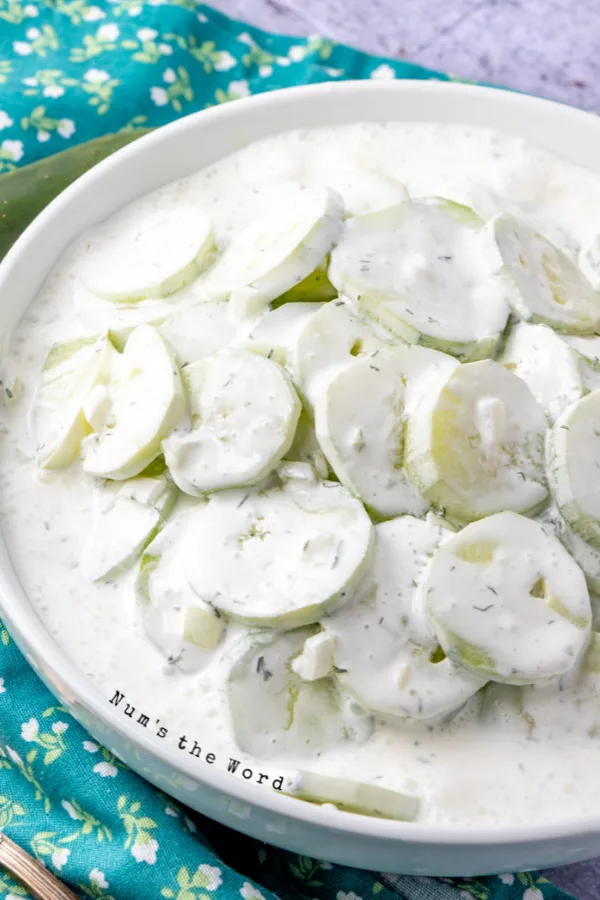 This creamy cucumber salad is refreshing and delicious, and one of my favorite summertime side dishes or snacks. Garden fresh cucumbers are something I eagerly look forward to JUST for this recipe!
Total Time
6 hours
10 minutes
Ingredients
4 large cucumbers, peeled and sliced
2 Tablespoons minced yellow onion
16 ounces sour cream
2 teaspoons salt
1/4 cup white vinegar
2 teaspoons dill weed
1/2 teaspoon sugar
Pinch of pepper
Instructions
Place cucumbers and onion in a bowl.
In a separate bowl combine sour cream, salt, vinegar, dill weed, sugar and pepper. Mix well.
Pour over cucumbers and mix.
Cover with plastic wrap and refrigerate for 6 hours or longer.
Mix well and serve.
Nutrition Information:
Yield:
8
Serving Size:
1
Amount Per Serving:
Calories:

137
Total Fat:

11g
Saturated Fat:

6g
Trans Fat:

0g
Unsaturated Fat:

3g
Cholesterol:

33mg
Sodium:

549mg
Carbohydrates:

8g
Fiber:

1g
Sugar:

5g
Protein:

2g
Originally Posted: August 29, 2017
Photos & Text Updated: July 20, 2021