This Easy Pasta Salad is going to be your new best friend! It's the perfect summer food for all of your holidays, picnics and barbecues! Ready in 15 minutes, this Italian Pasta Salad can be made the day before and clean up is a BREEZE!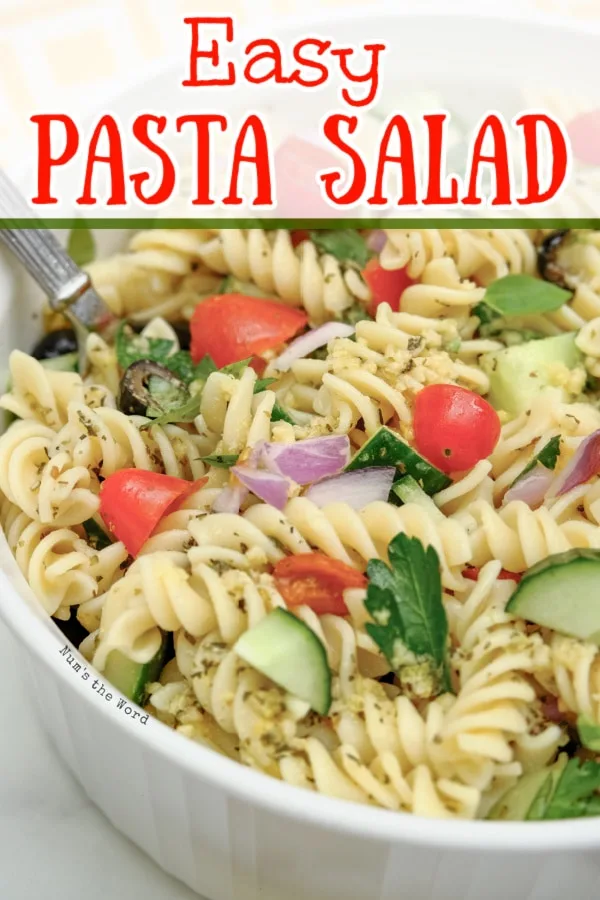 My yummy Easy Pasta Salad is made with homemade Italian dressing (don't let that scare you, it's a piece of cake)! The flavors blend together beautifully! And the color of the dish… oh my, you are going to have to exercise your self control to make sure you don't eat it all yourself!
One of my very favorite tried and true Pasta Salads! It is fast, amazingly delicious, can be made in advance. Plus it can be served as a side dish or even as a main meal! Have I enticed you enough? Because you are DEFINITELY going to want to make this for your next get together!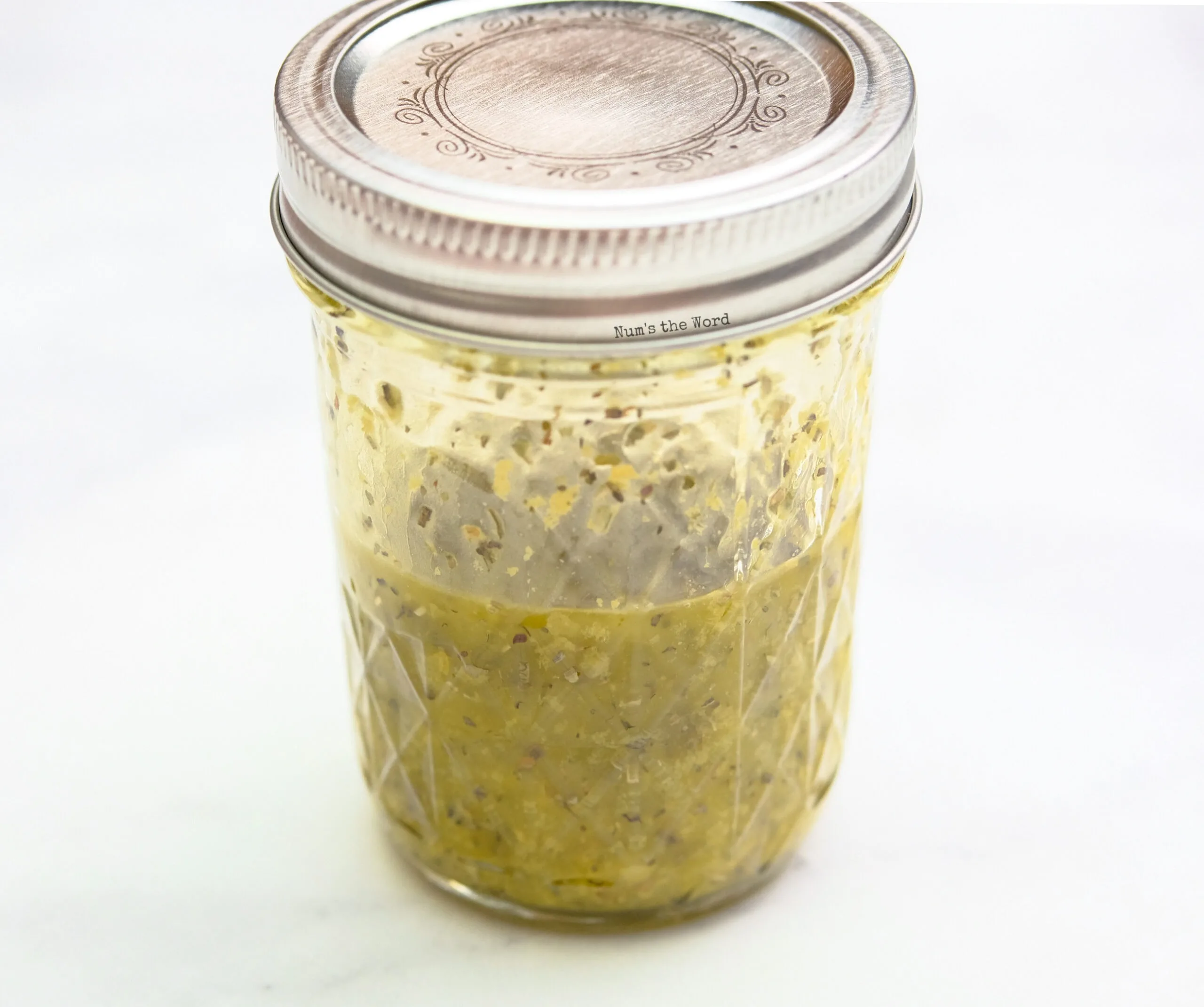 What is Pasta Salad?
If you don't know what pasta salad is, you are in for a treat! Pasta salad is a blend of noodles, veggies, and possibly meats or cheeses. All covered in a flavorful dressing.
What You'll Need for Easy Pasta Salad
Fusilli Pasta

: Those swirly noodles everyone loves. If you want you can also substitute for another medium size pasta noodle like Rotini, Farfalle, or Penne. I wouldn't suggest a thin spaghetti noodle though.

Black Olives

: Quick! Toss them in before your kids get them on their fingers!

Grape Tomatoes

: Or sub for cherry tomatoes. I mean really, no one would know.

Red Onion

: More mild than other onions, it's perfect for tossing in uncooked.

Cucumber

: Oh yes you are going to love that crunch. You can be flexible here if you need to use up those veggies from your garden. This Italian pasta salad is incredibly forgiving!

Parsley

: You'll want to opt for fresh if you can. Pasta salad is much better with fresh herbs.

Basil

: Did you know you can grow most of these herbs in the garden? Summer time foods are always better with foods straight from the garden!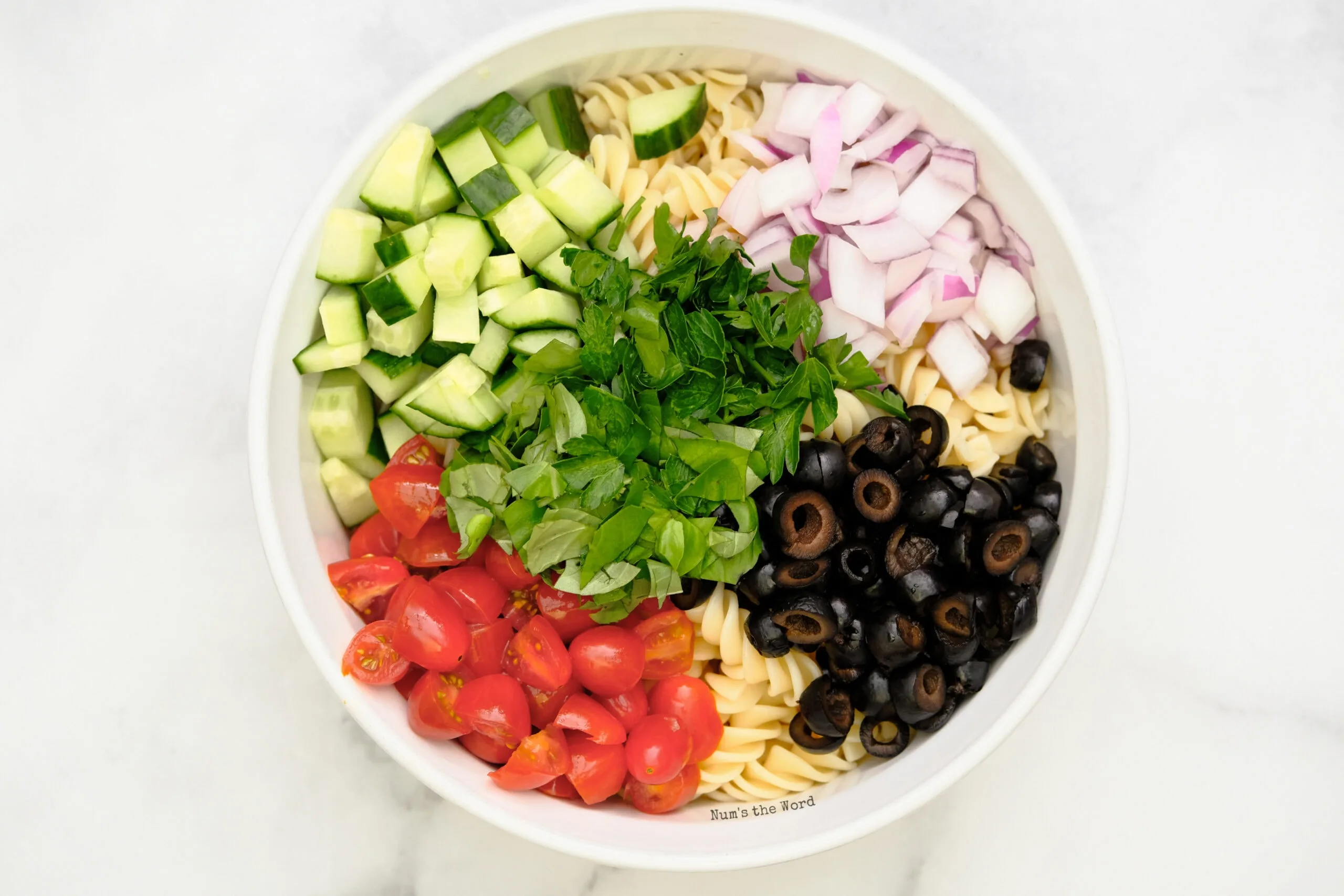 What You'll Need for Homemade Italian Dressing
Olive Oil

: If you have another neutral oil, you can feel free to substitute.

Lemon Juice

: Lemons are the perfect sour addition to this dressing.

Garlic

: A little bit of spice here goes a long way!

Sugar or Maple Syrup

: Sour, spicy, and now sweet. The perfect combo!

Italian Seasoning

: This is a favorite around my house!

Salt

: Oh wait! Sour, spicy, sweet, and salty! Now we've hit perfection.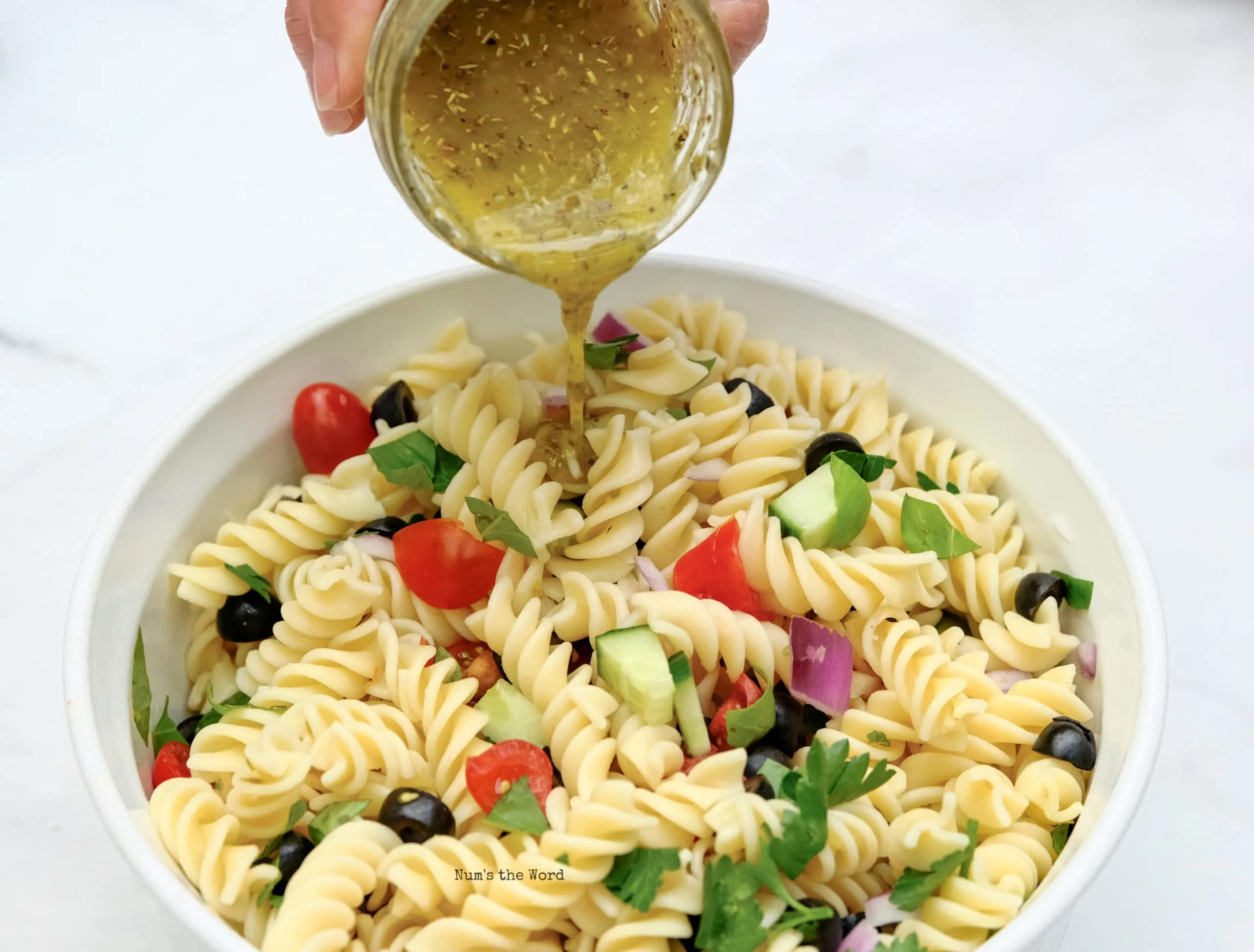 How to Make Easy Pasta Salad
Cook your pasta

: Follow the directions on the box.

Prepare the dressing

: While your pasta cooks you can do this part!

Chop your veggies

: This can be done in advance if you want but it doesn't normally take very long!

Mix it all together

: Use a big bowl. You don't want your pasta falling out all over the counter and floor!

Serve or save for later

: This can be served warm or chilled. Which is really what makes it the perfect summer bring along dish!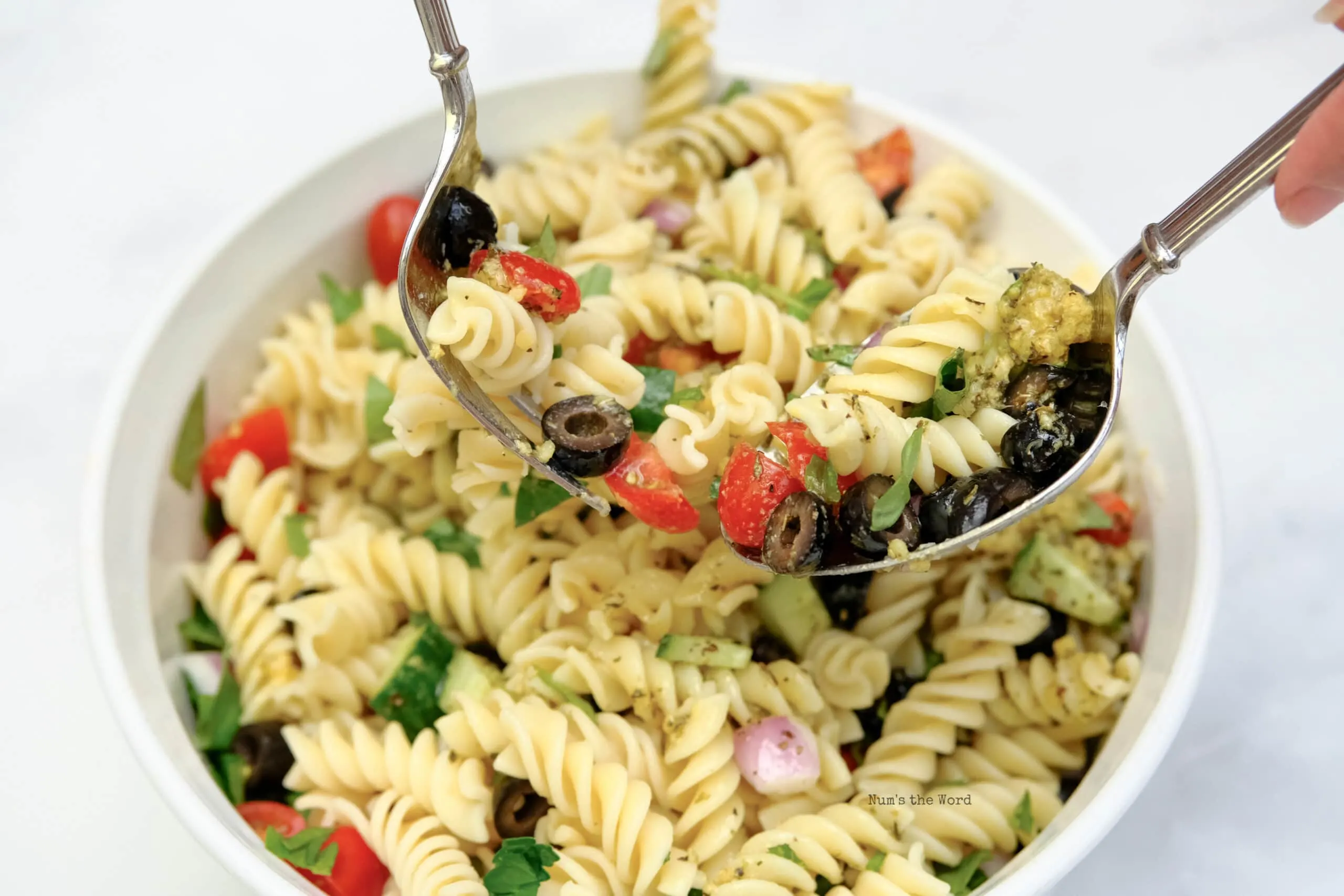 Pro Tips:
Cook your pasta to al dente

: You DO NOT want mushy noodles! And if you are making this in advance, you especially want to make sure they are not over cooked as they will soften in your fridge over time.

Keep your veggies the same size

: You don't want to take a bite of a gigantic onion next to a tiny cucumber and tomato. You want the flavors to be pretty equally balanced through the whole salad.

Allow your pasta to cool

: Maybe you like slightly warmed and cooked cucumber but I'm guessing you don't. If you don't let your pasta cool it can cook your veggies and make them wilt.

Make in advance

: This cold pasta salad can be made and eaten immediately. Which I love when I'm short on time and have company coming over! But if you allow those flavors to blend in your fridge for a little while, it's going to taste amazing. Plus you can make it in the morning and then focus on your other dishes when it's dinner time.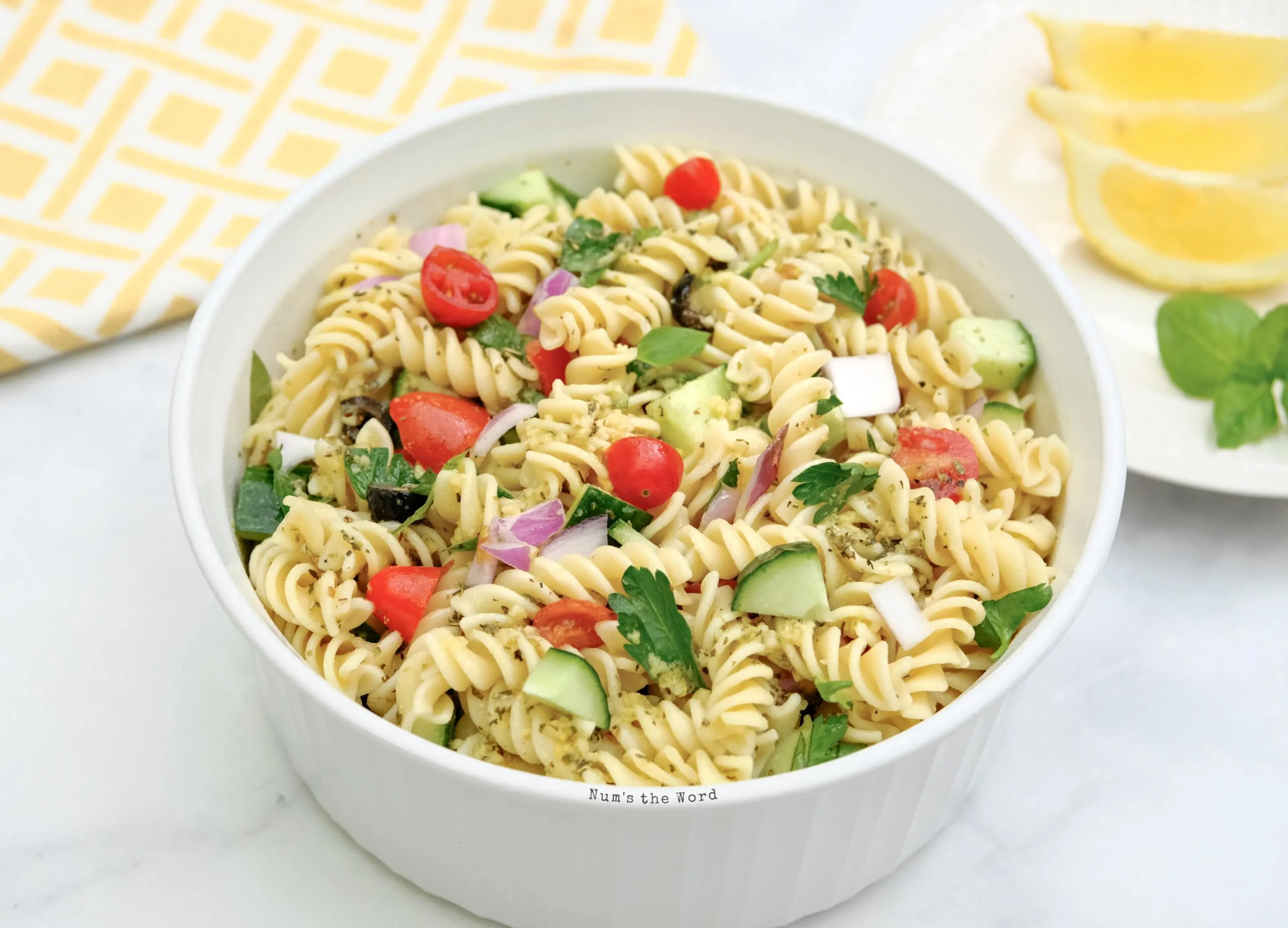 How Long is Pasta Salad Good For?
When stored properly in an airtight container, pasta salad can be stored in your refrigerator for up to 3 days. Though the veggies will probably begin to lose their crispness after about 48 hours.
What Goes with Pasta Salad?
Oh my goodness! Pasta salad is so flexible! It would be great next to any kind of meat. Some of our favorites are:
Really the sky's the limit with the meat options. What about:
Or you can choose to serve pasta salad as a main dish. In which case it would pair perfectly with a bread such as Green Tomato Quick Bread, Banana Yeast Bread, Leftover Mashed Potato Bread, or 2 Ingredient Biscuits.
Did you know this easy pasta salad is also vegan? If you want to keep with the vegan theme, serve with Vegan Stuffed Peppers, or another roasted grilled vegetable on the side.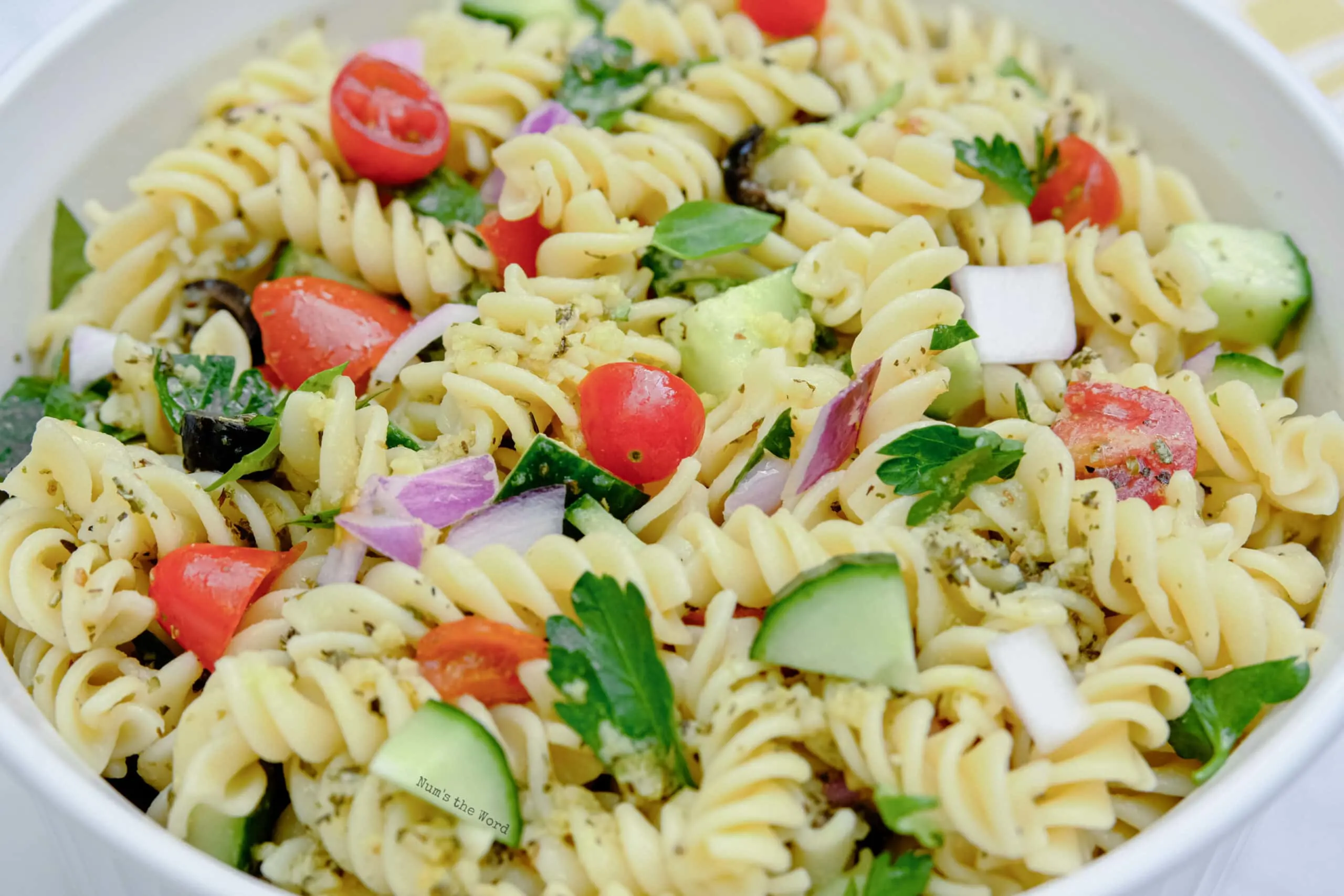 Can You Freeze Pasta Salad?
While you technically CAN freeze pasta salad, your veggies are going to lose quite a bit of their crispness upon thawing. If you choose to freeze the salad, I would opt for freezing the ingredients separately and then tossing them together after you give them time to thaw. While it won't taste quite as good as the fresh, it is an option if you need to make this further in advance.
This easy pasta salad is so quick to whip up, I would really opt for making no further than a day ahead of when you want to eat it.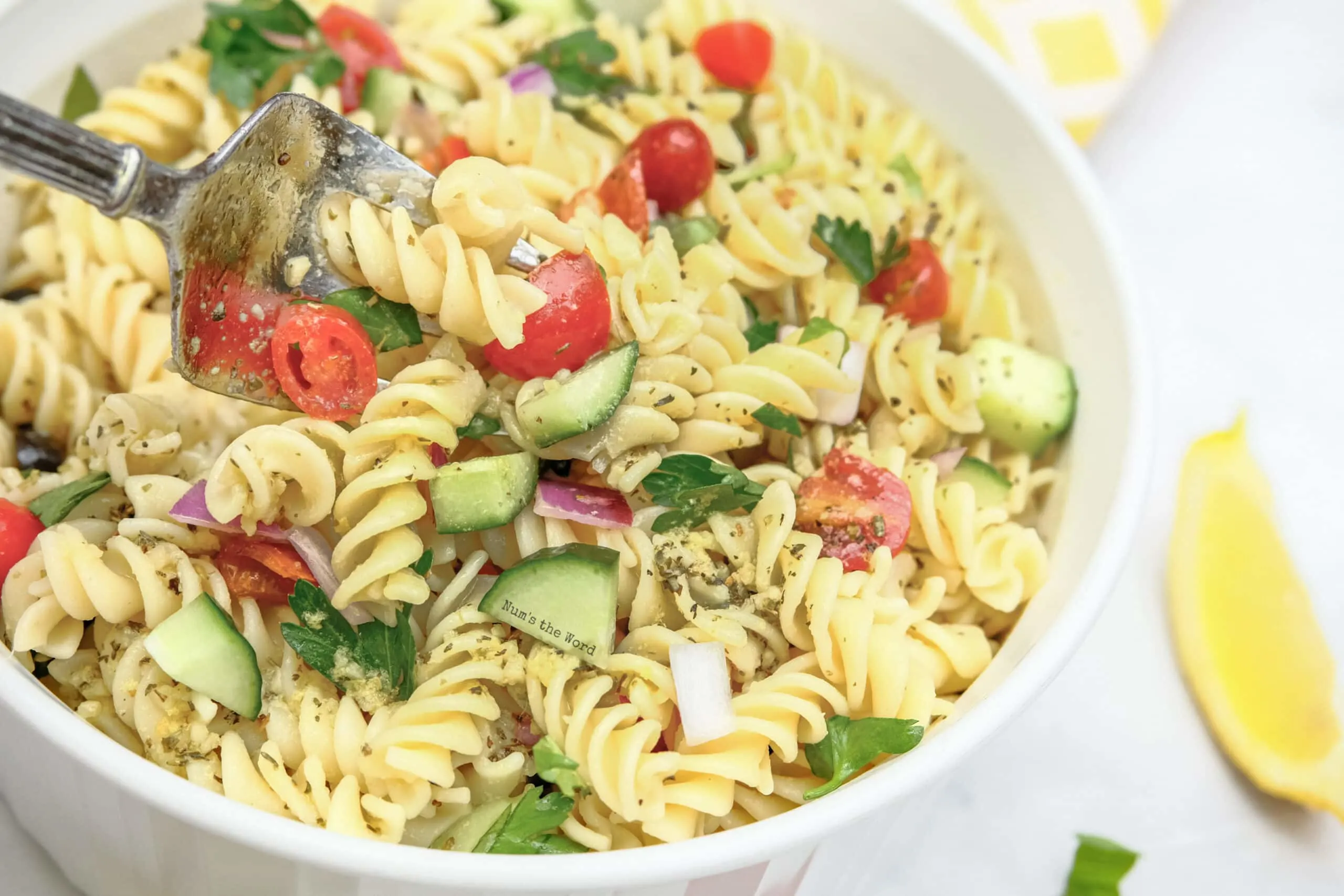 Is Pasta Salad Healthy?
While everyone's definitions of health vary I can tell you, it's got starches, veggies, herbs, and fats. That goes down as healthy in my opinion!
How much Pasta Salad Do You Need Per Person?
If you're cooking for a crowd, there is no better option than choosing to go with Pasta Salad! It's cheap, it's fast, it's easy, and everyone loves it. Wins all around. You'll want to aim at about 5 oz. of pasta per person.
Since pasta salad is normally served with other dishes, you'll want to take that into account when preparing your pasta salad, but then I always think more food is better than less.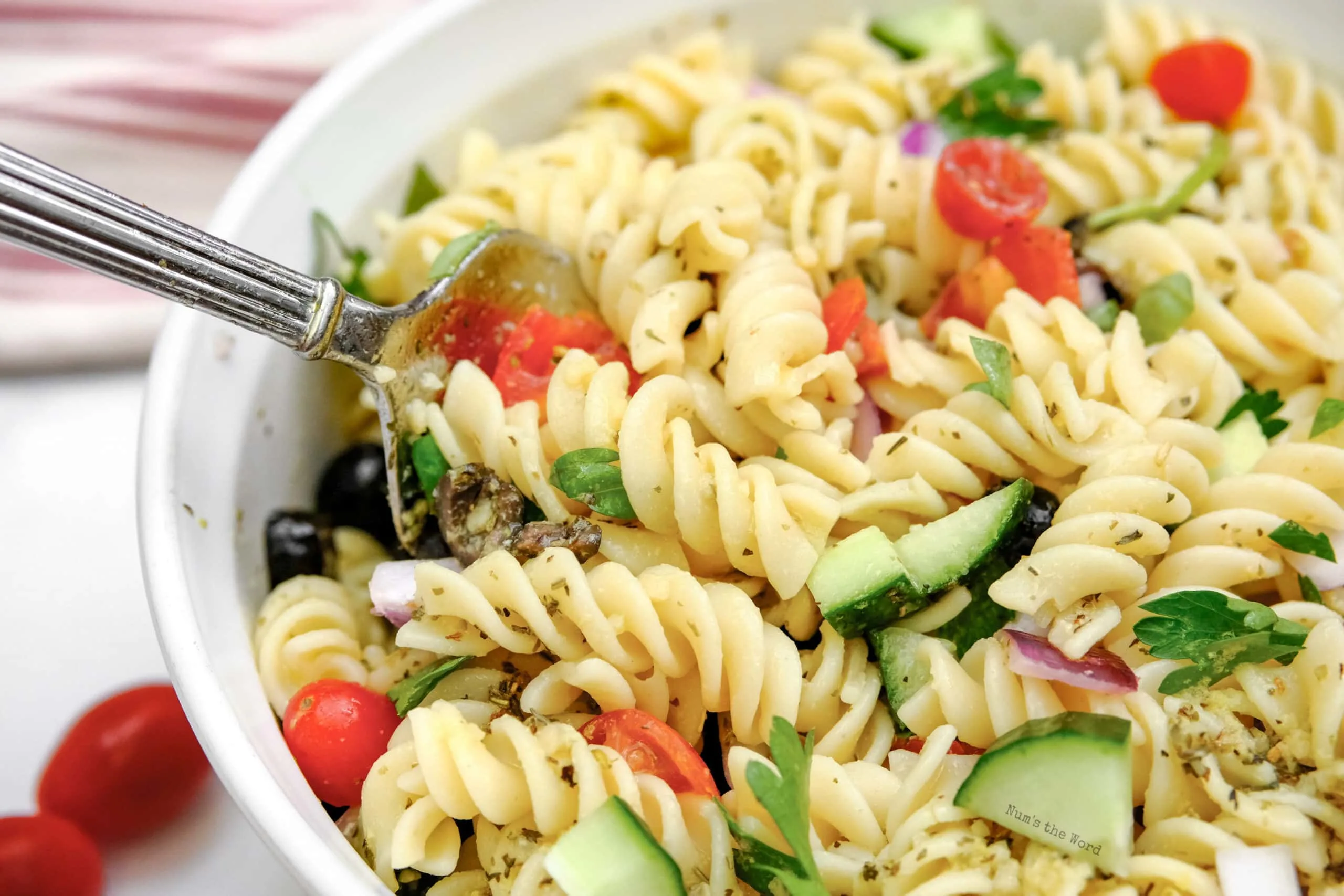 Desserts to Enjoy with this:
Easy Pasta Salad is going to win over the hearts of everyone in your family. You are going to love how quickly and easily it comes together and you can bring it to every single barbecue, holiday, and picnic of your summer! What are you waiting for?
Easy Pasta Salad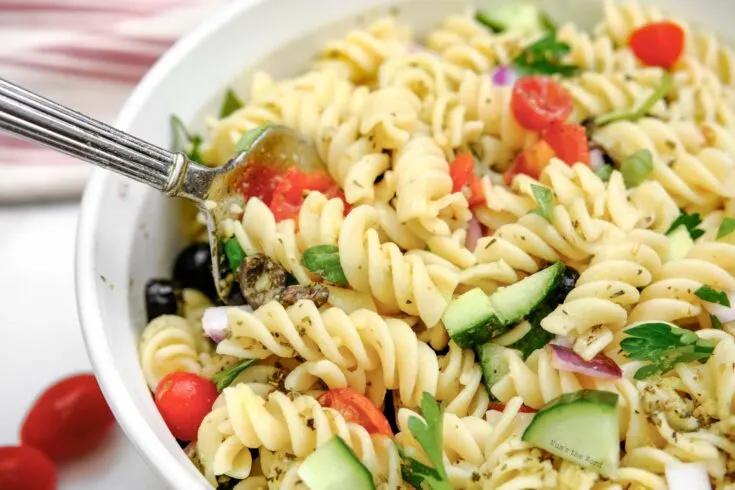 Ingredients
1 lb (16 ounces) Fusilli Pasta
1/3 cup olive oil
1/3 cup lemon juice
2 teaspoons minced garlic
1 Tablespoon sugar
2 teaspoons italian seasoning
1/2 teaspoon salt
1/2 cup black olives, sliced
1 cup grape tomatoes, sliced
1/2 red onion, chopped
1/2 cup cucumber, diced
3 teaspoons fresh basil leaves, chopped
3 teaspoons parsley, chopped
Instructions
Bring a pot of water to a boil on medium to high heat. Add the pasta and cook according to package directions.
While pasta is cooking, prepare the dressing.
In a small jar with a top combine olive oil, lemon juice, garlic, Italian seasoning, sugar and salt. Place lid on jar and shake to blend. You can also use a bowl and whisk and mix well.
Now prep your vegetables if you have not already.
Once pasta is done cooking, drain pasta and add to a large serving bowl.
Add olives, tomatoes, onion, cucumber and salad dressing. Mix well.
Serve immediately or cover and refrigerate until ready to serve. This can be made 24 hours in advance.
Store any leftovers in a covered container for up to 3 days in the refrigerator.
Nutrition Information:
Yield:
10
Serving Size:
1
Amount Per Serving:
Calories:

104
Total Fat:

8g
Saturated Fat:

1g
Trans Fat:

0g
Unsaturated Fat:

7g
Cholesterol:

0mg
Sodium:

159mg
Carbohydrates:

7g
Fiber:

1g
Sugar:

2g
Protein:

1g