This Air Fryer Chicken Breast recipe is delicious, versatile, easy, and faster than traditional oven cooking and with less oil! With all those attributes to recommend it, it's no wonder this is one of our favorite, go-to ways to prepare chicken breasts.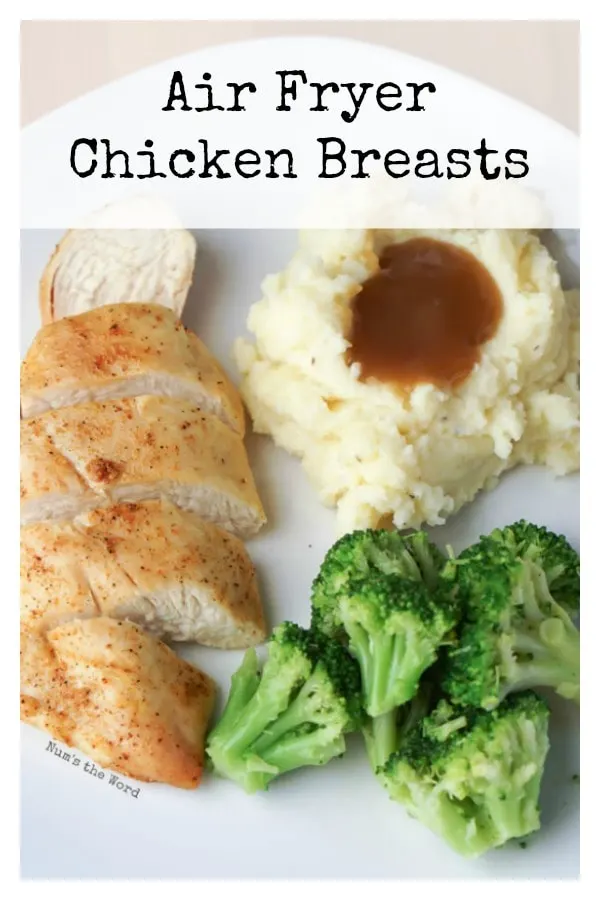 Cooking chicken breast in air fryer is a great way for meal prepping, easy weeknight dinners, lunches, or even to use in other entrees. There's very little active work and the meat is perfectly moist and tender in a matter of minutes, giving you the best juicy air fryer chicken breast you've ever had.
Whether you're looking for a quick and simple dinner or an easy way to prep chicken for another dish, this is the recipe for you! It's amazing how much an air fryer simplifies cooking chicken, especially when it does it so well.
This chicken breast air fryer recipe is one of our favorite ways to enjoy a flavorful chicken breast with our favorite side dish. A healthy meal in a matter of minutes is a win-win in my home! Plus this recipe uses simple ingredients! Two ingredient air fryer chicken, doesn't get any easier, which makes this the perfect meal for busy weeknights!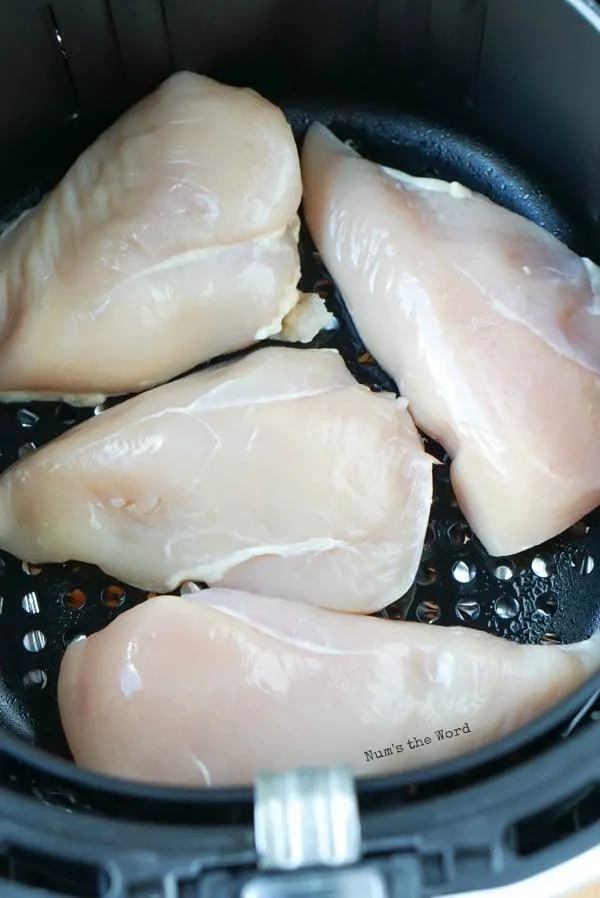 Can you cook frozen chicken breast in the air fryer?
While frozen chicken is great to have on hand, it can be quite difficult to remember to thaw it ahead of time. Or perhaps you're like me, and you like to keep frozen chicken on hand for those in-between-shopping-trip days, but you would like it to not be boiled and shredded … enter the air fryer!
You can enjoy delicious and tender meat straight from frozen when cooking chicken breast in air fryer! You don't need to do anything different in terms of preparation; frozen chicken will simply require a longer cook time than thawed chicken.
A general guideline is that frozen meat will take 50% longer to cook. So if you would normally cook the chicken for 14 minutes, plan on at least 21 for frozen chicken.
This is where it comes in handy to have an instant read thermometer. If you want safely cooked — but not OVER cooked — meat, you definitely want to be using a thermometer to make sure it's cooked just right!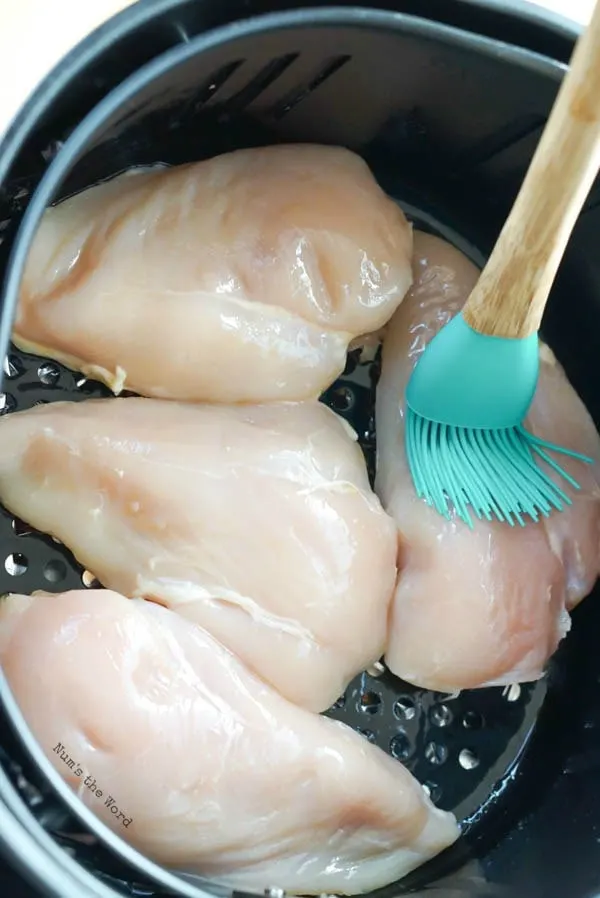 How to cook chicken breast in air fryer?
This recipe is SO SIMPLE. It's a piece of cake to cook boneless chicken breast in air fryer. To get started, you'll need the following ingredients:
Fresh Chicken breast – this easy recipe is for air fry chicken breast no breading, and I used boneless chicken breasts. If you're cooking bone-in or other cuts of meat, your cook time might vary. Use a meat thermometer!
Olive oil – brushing both sides of the chicken with olive oil prevents sticking and helps give the outside a bit of a crispy texture.
Seasoning – use your favorite! Some of ours are lemon pepper, creole, steak seasoning, curry powder, homemade taco seasoning, Italian seasoning, seasoning salt, and good-old salt and pepper mixed with a little garlic powder and onion powder.
Once you've got your awesomely short list of ingredients ready, it's time to get cooking!
Line the air fryer basket with foil for easy cleanup.
Brush boneless skinless chicken breasts with oil and season.
Cook at 390 degrees, flipping breasts over partway through.
Serve! Let your chicken rest for a few minutes before cutting to ensure nice and juicy chicken.
Pro Tip:
Depending on the size of your chicken breasts, you may need to adjust the cook time. If you are using small breasts, cut the cook time down and check to ensure you do not over cook. If you are using larger breasts, try the cook time as stated and add more if needed.
We love dips! Dip your chicken in Honey Mustard, ranch, Chick-Fil-A sauce, barbecue or even ketchup!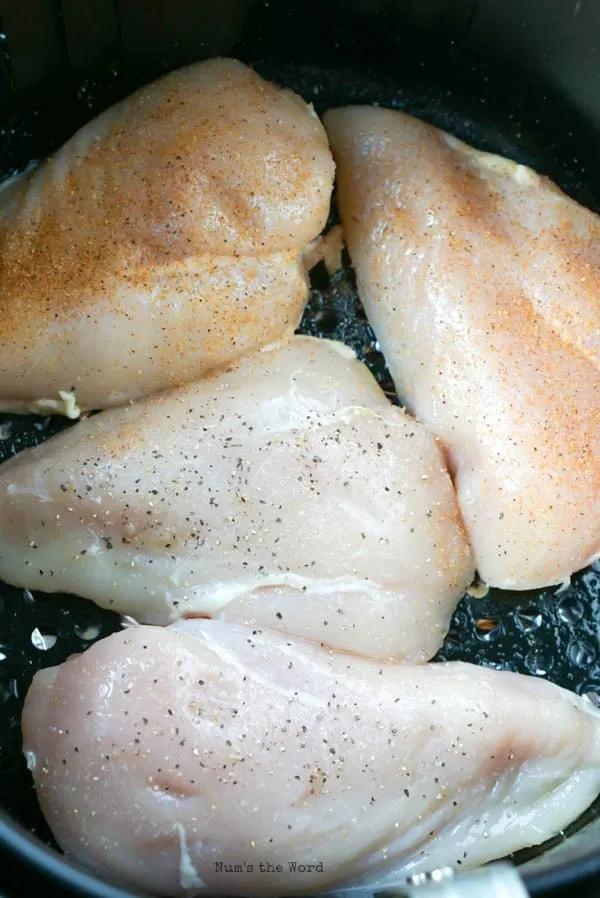 How long to cook chicken breast in air fryer?
Obviously there will be some variation between chicken breasts due to thickness, whether or not it's frozen, etc. You'll get the best results with your air fryer boneless chicken breast if you trim them to be similar in size.
Typically I cook 4 chicken breasts in a single layer for about 7 minutes on one side, then flip and cook an additional 5-8 more minutes. Use a meat thermometer to ensure your chicken reaches an internal temperature of 165 degrees.
If you're cooking a frozen chicken breast air fryer, then you'll want to add about 50% more time to both sides of the cook times. For example, cook the first side for 10-11 minutes, flip, then continue cooking for another 8-12 minutes.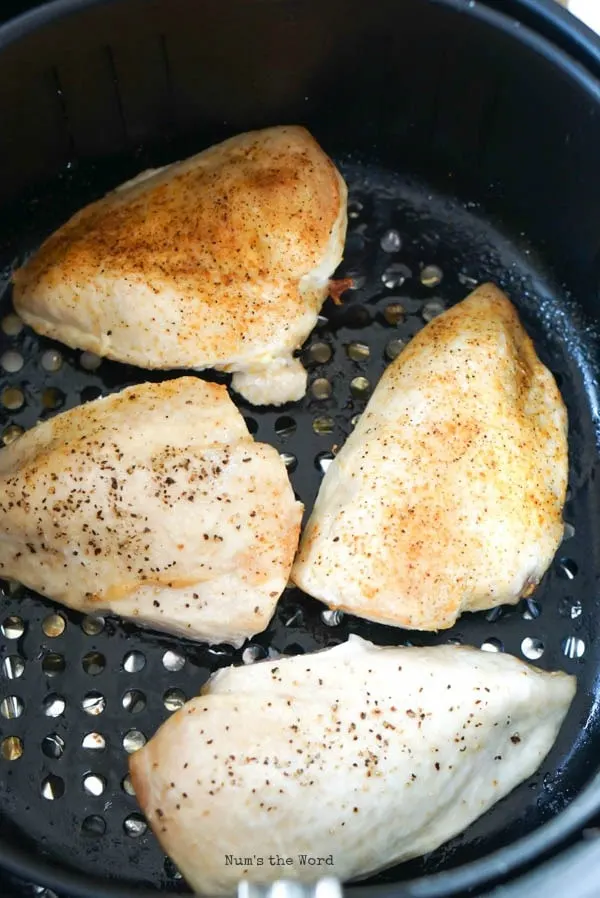 What temperature should chicken breast be when cooked fully?
Chicken breasts should reach an internal temperature of 165 degrees to be safely and fully cooked. Overcooking the meat will give you tough, dry chicken instead of tender and moist!
Be sure to use a meat thermometer to make sure you neither under nor over cook your chicken breasts!
How to reheat chicken breast in an air fryer?
When reheating a chicken without breading, you'll want to make sure to add a bit of fat to the outside to maintain moisture. I recommend brushing the chicken you want to reheat with oil or butter. Reheat for about 4 minutes at 375 degrees.
It's worth noting that cooked chicken leftovers can also be eaten cold. I especially love to eat leftover cold chicken on salad or with grains and veggies.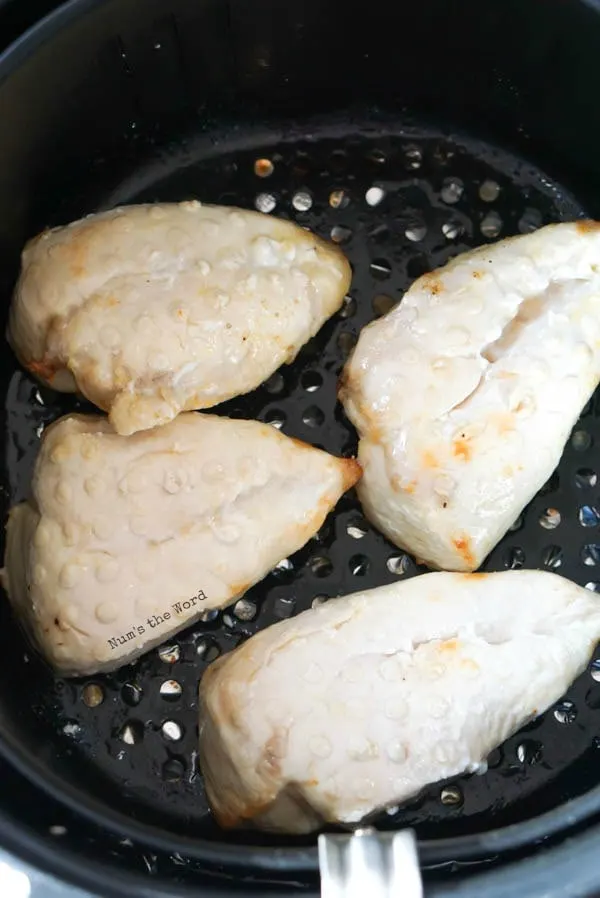 What can I make with chicken breast?
We've got plenty of chicken ideas over here at Num's the Word. Some of our current favorites are:
Creamy Chicken Enchiladas
Chicken Salad Sandwiches
Buffalo Chicken Dip
Chicken and Avocado Wraps
Instant Pot Chicken Tikka Masala
How to make juicy chicken breast in air fryer?
The most important key to making juicy and tender chicken in the air fryer is to NOT OVERCOOK it. And the best way to avoid overcooking your meat is to use a meat thermometer!
Boneless chicken breast air fryer cook times can vary based on the size and thickness of your chicken breasts, as well as whether or not your meat is frozen or thawed. If you want to keep your meat juicy, be sure to cook it to 165 degrees, but try not to cook it more than that!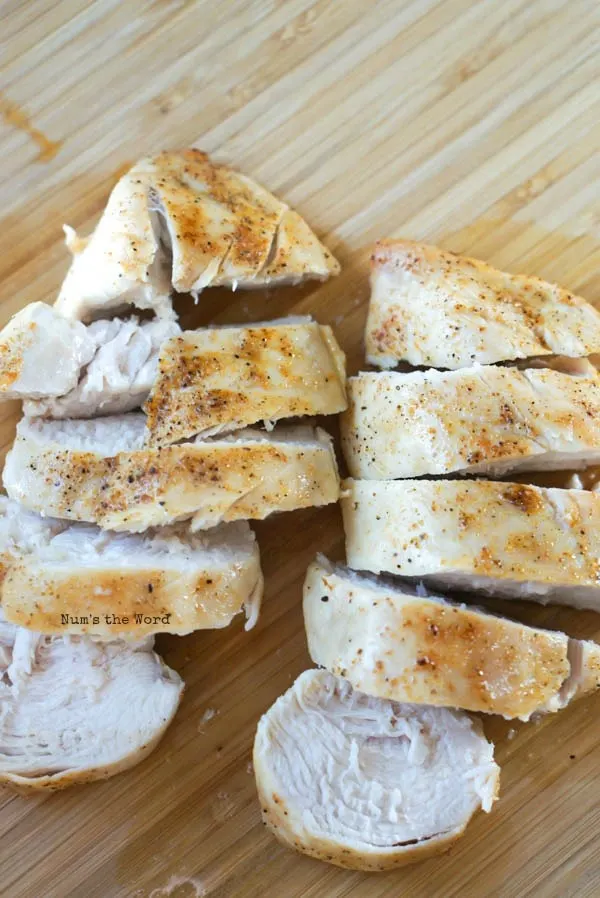 Why is chicken tough sometimes?
Chicken tends to be tough when it is overcooked. This is especially true for baked, grilled, and air fryer chicken recipes because the meat is not being cooked in a liquid or fat.
As I've mentioned a couple times above, be sure not to overcook the meat and aim for 165 degrees (or a little higher) for fully cooked, but still juicy and tender meat!
How to store leftover air fryer chicken breasts?
If you've cooked too much, or are trying to meal prep for the week, storing your air fryer chicken breasts is easy! Simply put them in an airtight container or a freezer bag. Make sure to write the date on the container because as we all know food can sometimes get lost. This way you don't have to remember when you made it but can simply determine if it's still good to eat. We recommend you eat leftover chicken within 3-4 days of cooking.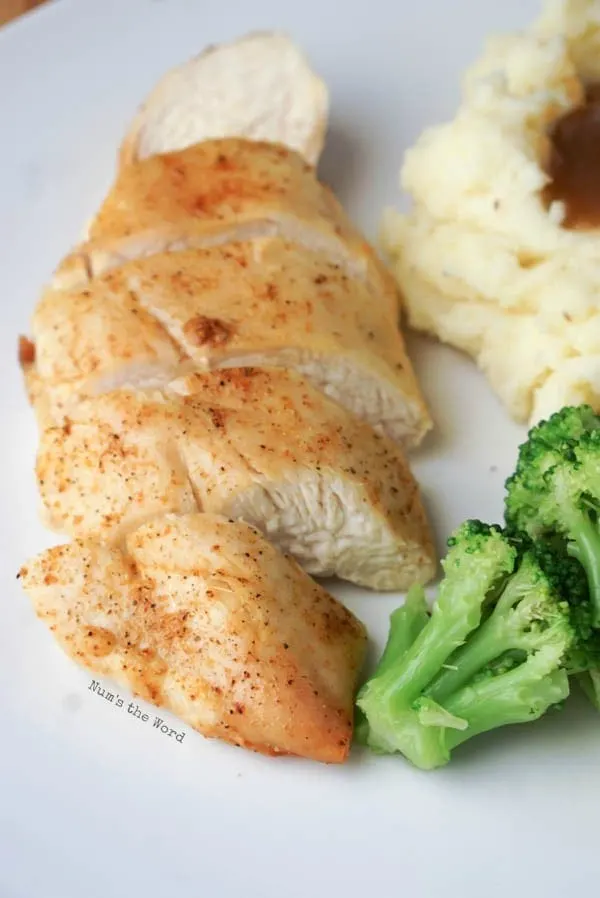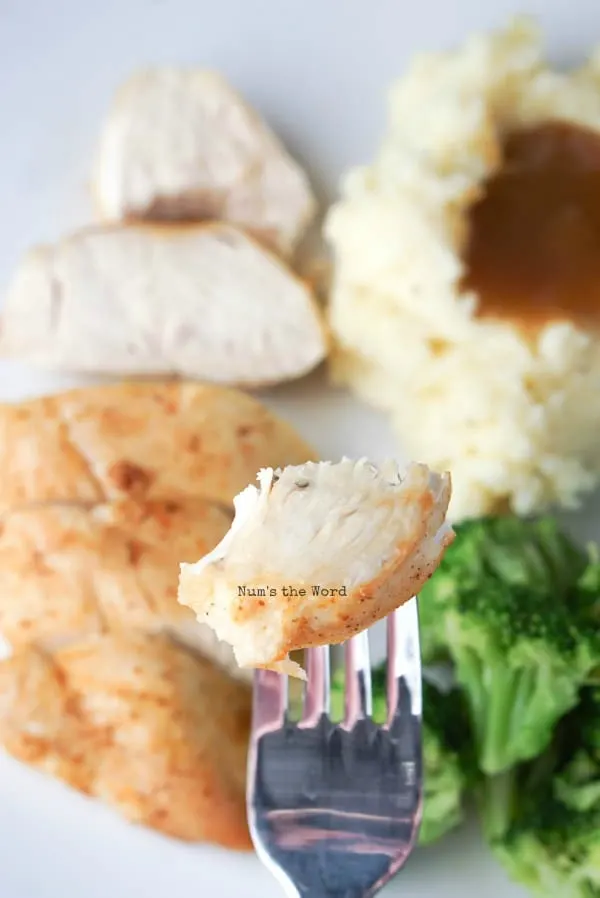 Whether you're meal prepping lunches or need a quick and easy dinner that's healthy and filling, this is the recipe for you! This recipe is also great for preparing meat for other dishes. Air Fryer Chicken Breasts are one of the most convenient and effective ways of cooking chicken!
Yield: 4 Chicken Breasts
Air Fryer Chicken Breasts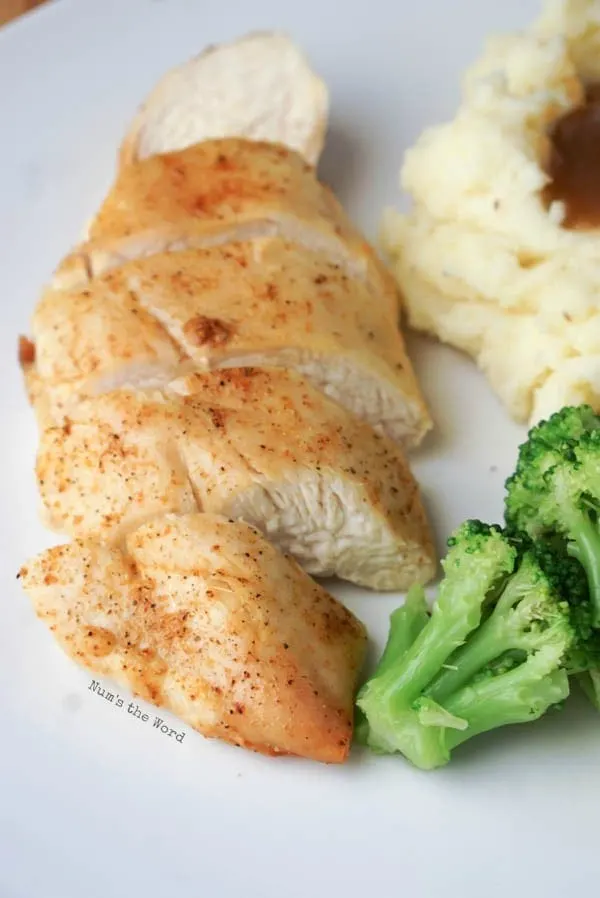 Air Fryer Chicken Breasts can be seasoned with your favorite seasonings and cooks in half the time as the oven. Low fat, gluten free, diary free and packed with flavor!
Ingredients
4 Chicken Breasts
2 Tablespoons olive oil
2 Tablespoons seasoning - any (I used Creole Seasoning)
Instructions
Line the bottom of outer basket with foil. This helps with clean up. Do not line inner basket.
Trim breasts according to personal tastes.
Brush olive oil onto each breasts, both sides.
Sprinkle seasoning onto each breast
Place breasts into basket, try to keep a little space between each for even cooking.
Place basket into air fryer and cook at 390* for 7 minutes.
Remove basket and flip chicken breasts. Cook for 5 - 8 more minutes depending on thickness of breasts.(My breasts cooked for 7 then 7 more minutes.) Internal temperature of chicken should be 165*F when fully cooked. By over cooking chicken, it will taste dry.
Remove from Air Fryer and serve with favorite sides.
Nutrition Information:
Yield:
4
Serving Size:
1
Amount Per Serving:
Calories:

261
Total Fat:

11g
Saturated Fat:

2g
Trans Fat:

0g
Unsaturated Fat:

8g
Cholesterol:

102mg
Sodium:

2368mg
Carbohydrates:

1g
Fiber:

1g
Sugar:

0g
Protein:

37g
Originally Posted: April 12, 2019
Photos & Text Updated: July 6, 2022