Air Fryer Hot Dogs are juicy, crispy, and the perfect addition to your weeknight rotation. They are simple, quick, easy, and literally a no-thought meal that your entire family can enjoy. Roast, toast, and eat. Ready in mere minutes, you're going to love them.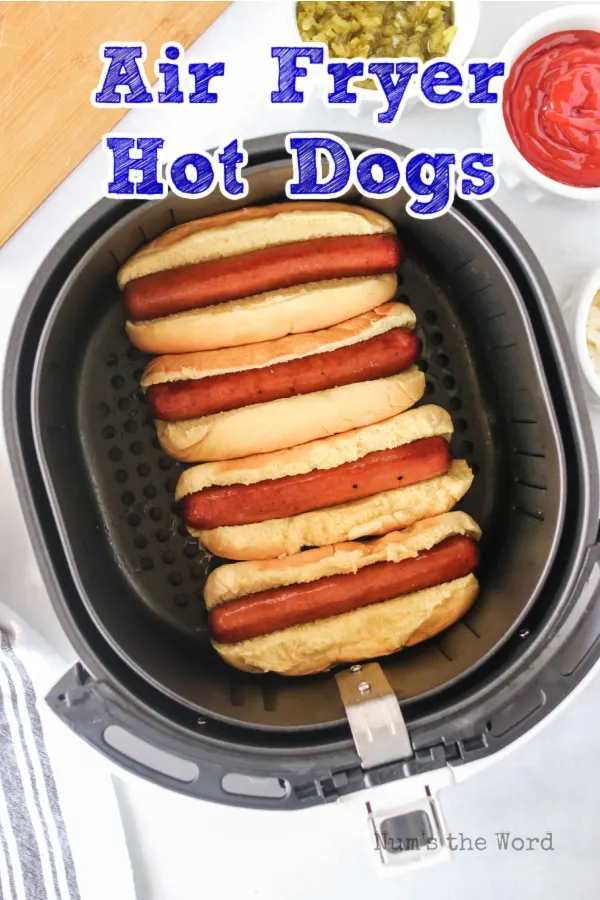 Cooking hot dogs in the air fryer is going to be your favorite way to cook them. I mean the grill is great too. But when you are choosing between air fryer, boiling, or nuking? Blah!
Definitely pick the air fryer. They come out perfectly juicy and crispy and they are served with a toasted bun too. Nobody can resist a toasted bun.
I love how quick these air fryer hot dogs are to make. They are done in under 10 minutes, which saves my sanity some nights if you know what I'm talking about.
I also love that they are so customizable. What's your favorite topping? Ketchup, relish, mustard, sure. Want to make them special? You can do that too.
Have you tried Mango Dogs? My kids favorite is a Mummy Hot Dog. It's so delish.
And did I mention how easy air fryer hot dogs are? My kids were introduced to toasted hot dogs buns years ago but I just couldn't bring myself to toasting them all the time.
Seemed like a lot of work. But this way is so easy, I can let them do the whole thing. And they love it when I let them cook dinner.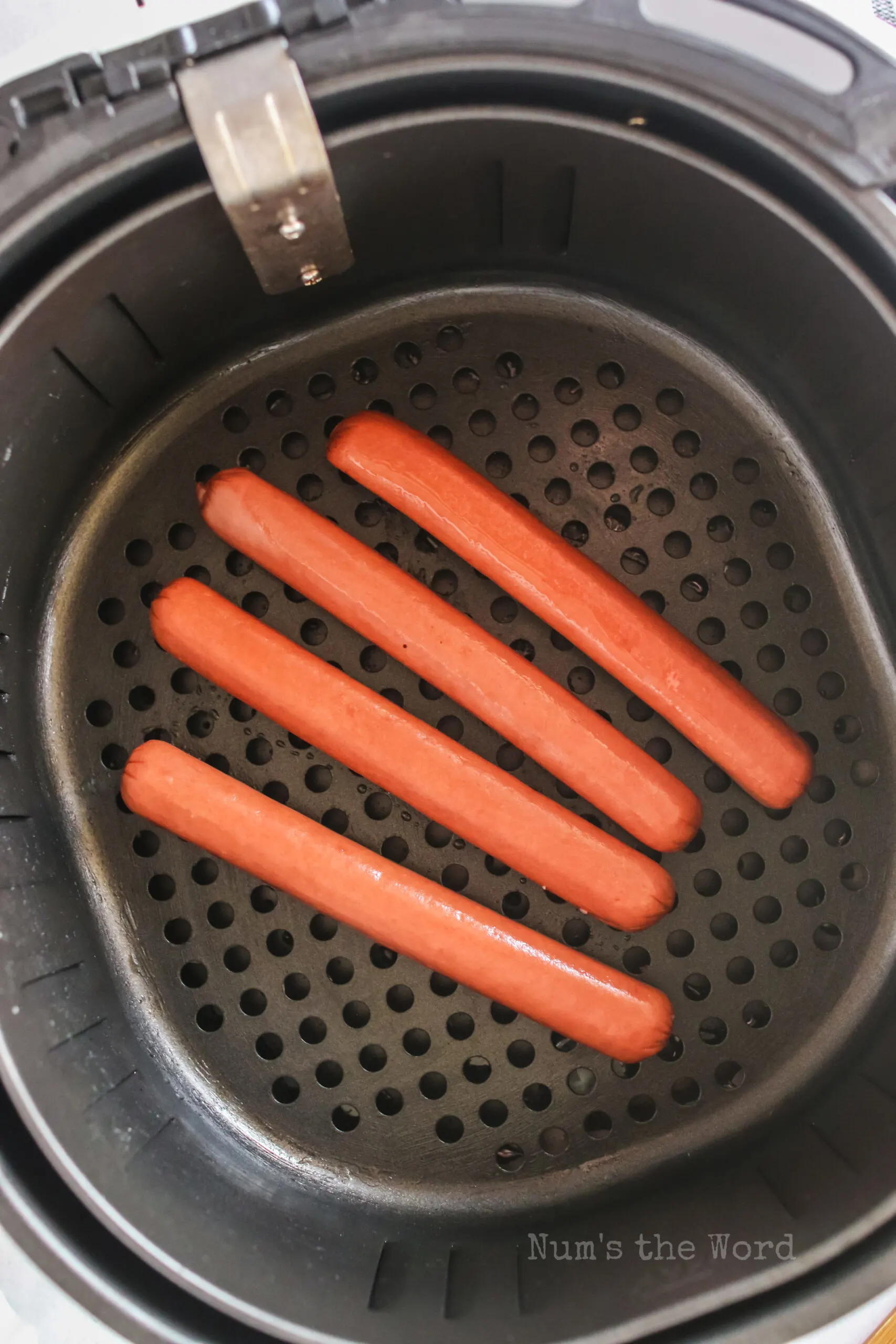 Ingredients for Air Fryer Hot Dogs
Two. Two ingredients. It can't get any easier than that.
Hot Dogs:

My son likes the old fashioned casing. I like all beef dogs. Whatever your preference, it's so easy to customize hot dogs for everyone. Which is a win at my house. And if you want brats instead, I have a recipe just for that:

Air Fryer Brats

.

Buns:

Oh my goodness another chance to customize! My husband loves thick buns. I prefer the smaller ones. Guess what? We can do them all. Sky's the limit with this recipe.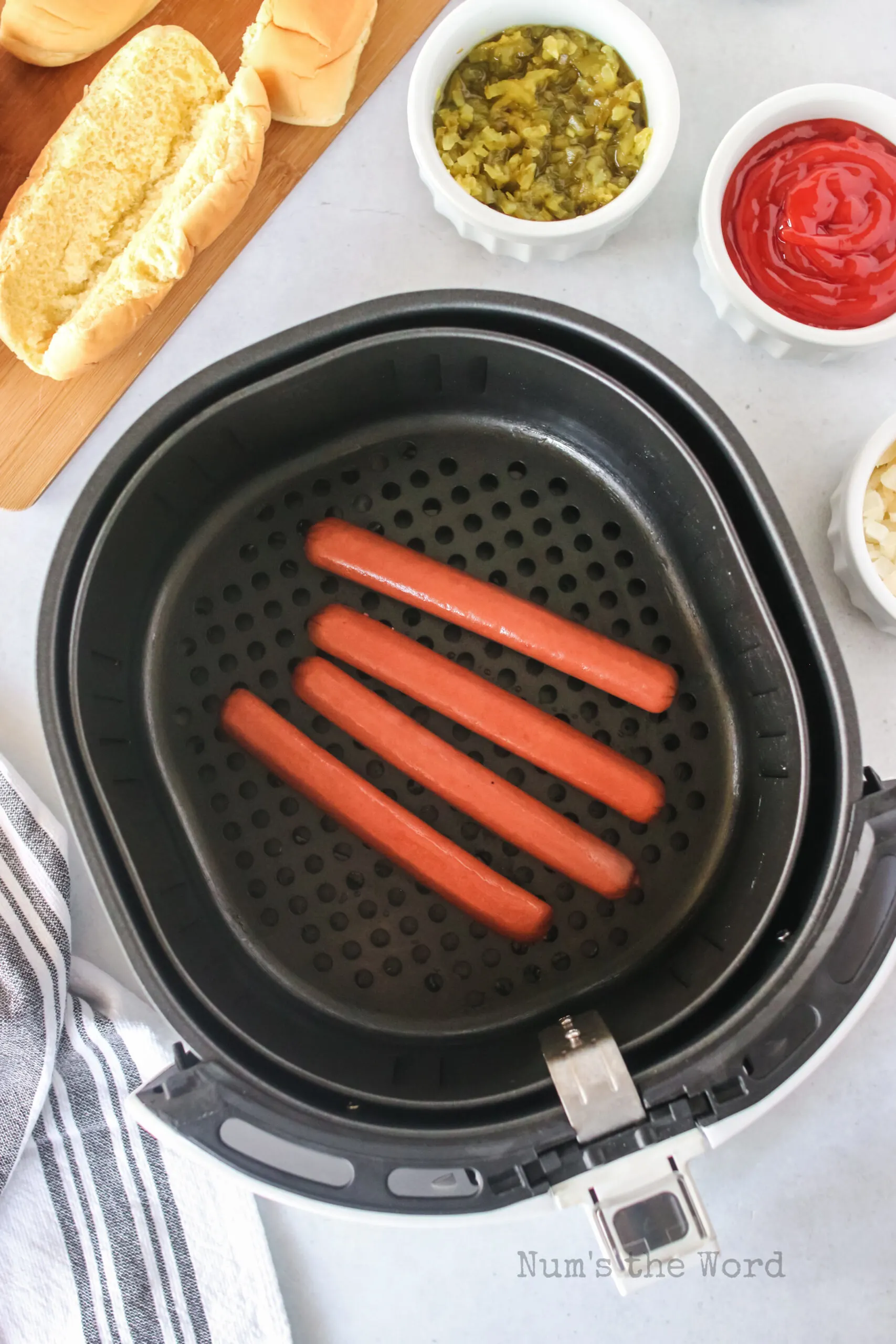 How to Cook Hot Dogs in Air Fryer
Roast:

A few minutes in the air fryer is gonna get your hot dogs perfectly roasted.

Toast:

Take the hot dogs out, put them back in with the buns. When toasted to perfection, take them out.

Eat:

And the best part, I just cooked dinner. In 10 minutes. I can't even get the table set that fast. Maybe I should remember to clear it before I start cooking this one next time. Or just eat them outside. Plates are unnecessary outside right?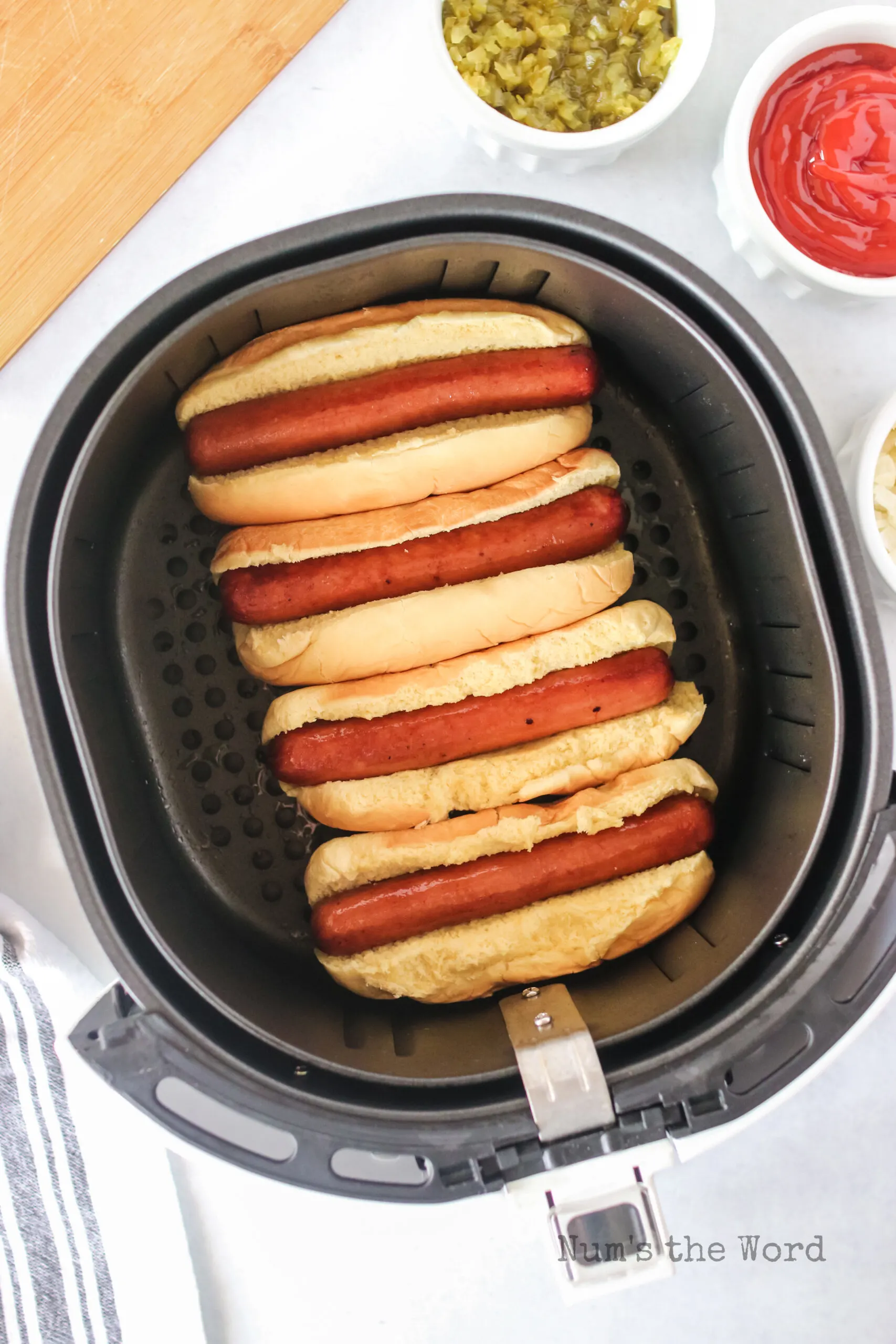 Can You Freeze Hot Dogs?
Yes. In fact, whenever I bring hot dogs home, they go straight to the freezer. They are the perfect food to keep in the freezer for whenever you need them.
I wouldn't try freezing them once cooked though. Not that it would ruin them or anything, just what's the point of freezing cooked hot dogs when cooking them takes no time at all?
I try to only freeze things I know I'm not going to have time to make. Luckily, I always have time to make air fryer hot dogs.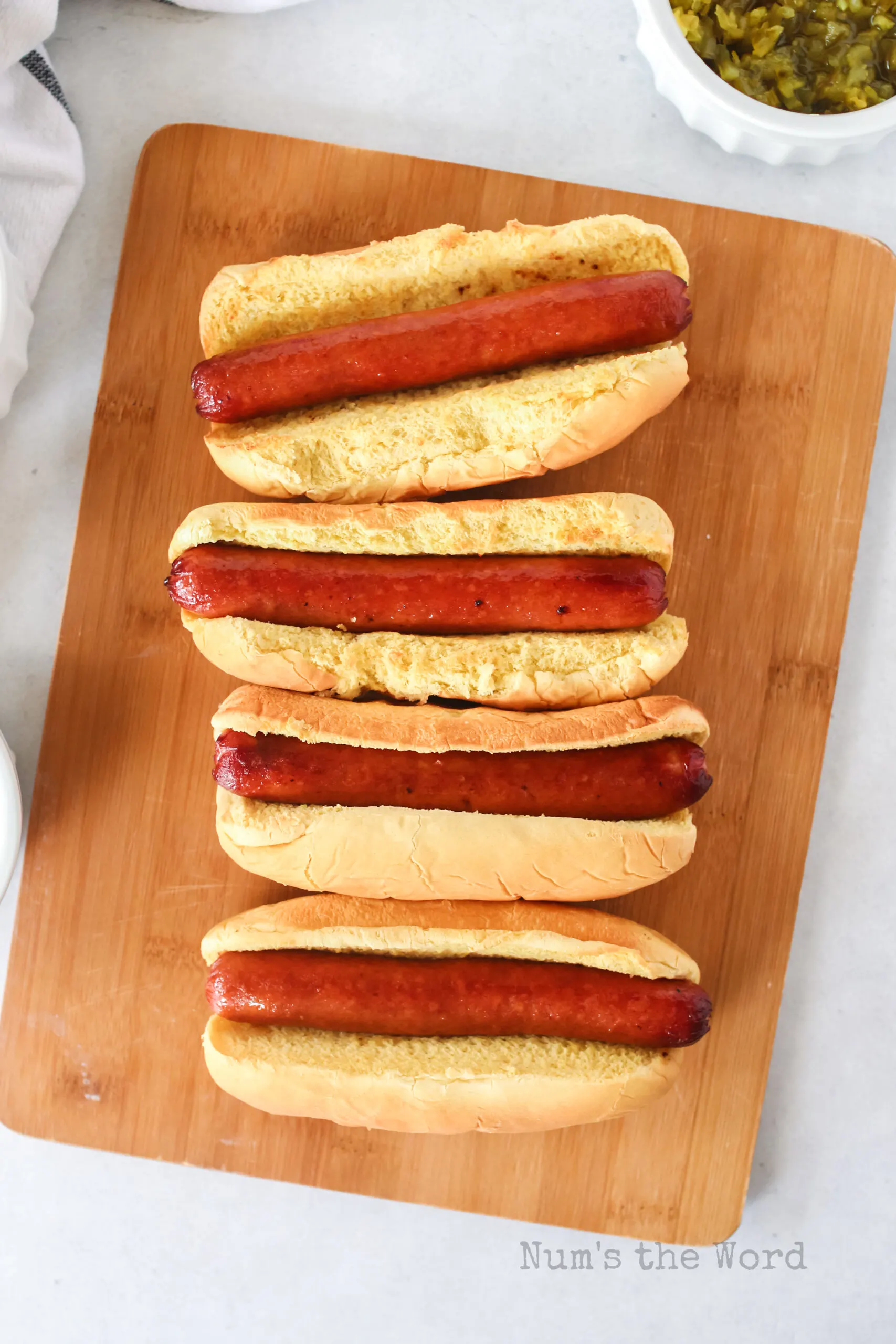 How to Cook Frozen Hot Dogs in Air Fryer
I'll be honest, if I'm serving air fryer hot dogs, I probably forgot to even take them out of the freezer before it was time to eat. If you're like me, have no fear. They will be ready in a snap.
Roast:

Cook for 5 minutes, flip the hot dogs, cook 5 minutes more, or until roasted to perfection.

Toast:

Same cooking instructions as before to get that nice, toasted bun.

Eat:

And this step hasn't changed at all either. No one will even know you waited until the last minute to pull those hot dogs from the freezer.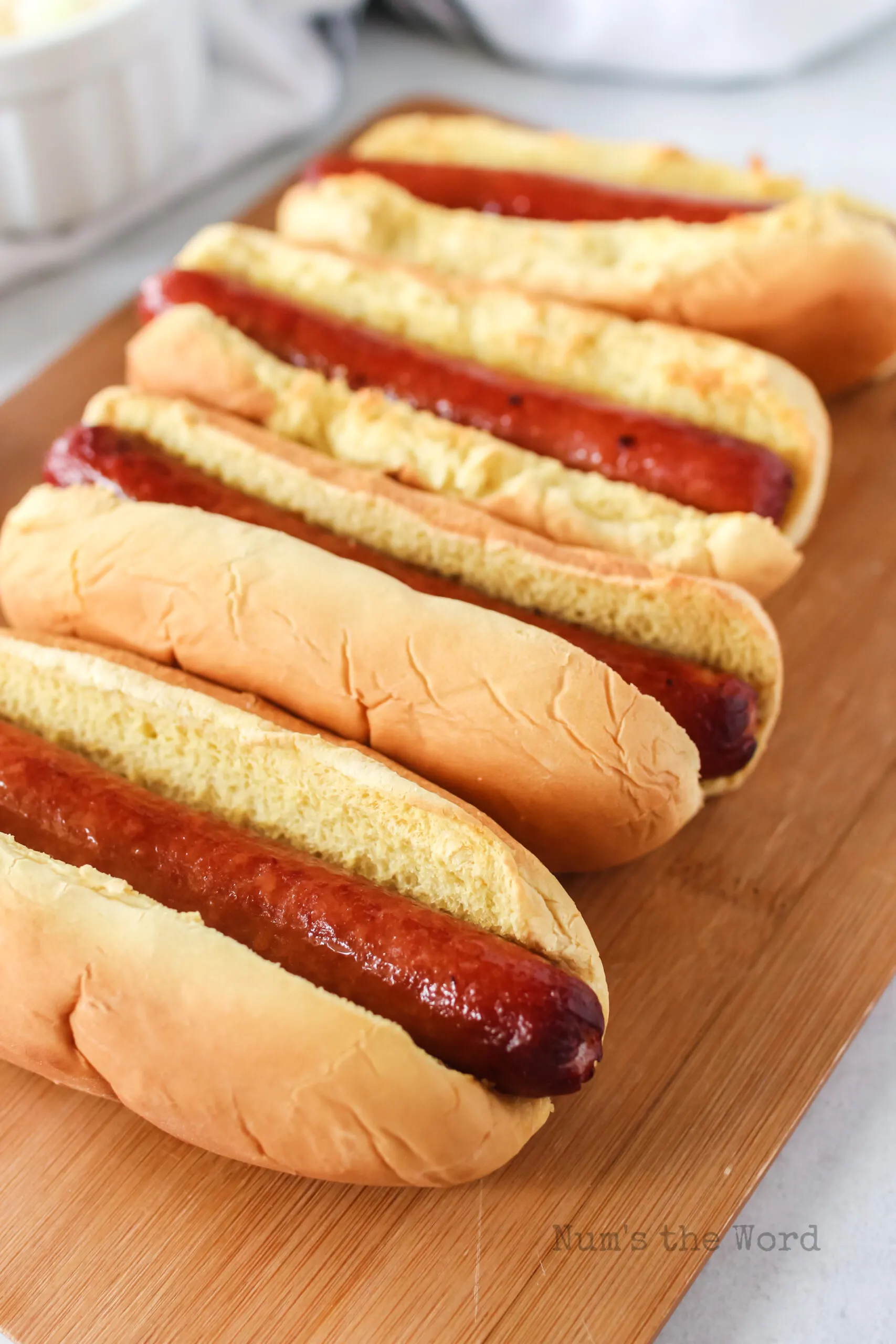 Can You Refreeze Hot Dogs?
Yes. If you took too many out and didn't cook them all, you can totally refreeze the ones you didn't cook. Or if you over cooked you can freeze those ones too.
You should only ever refreeze them once though as they may begin to grow bacteria if you thaw and refreeze more than once. Remember to always check your food before cooking to make sure it's still good.
What are Hot Dogs Made Of?
I was always afraid of looking this up. Better not to know right? Actually, it's not that bad. Hot dogs are typically made of beef or pork and ground and then processed into hot dog shape.
I'm still probably not going to watch a video on how they are made. But I don't watch videos on how lots of things are made. I enjoy them better this way.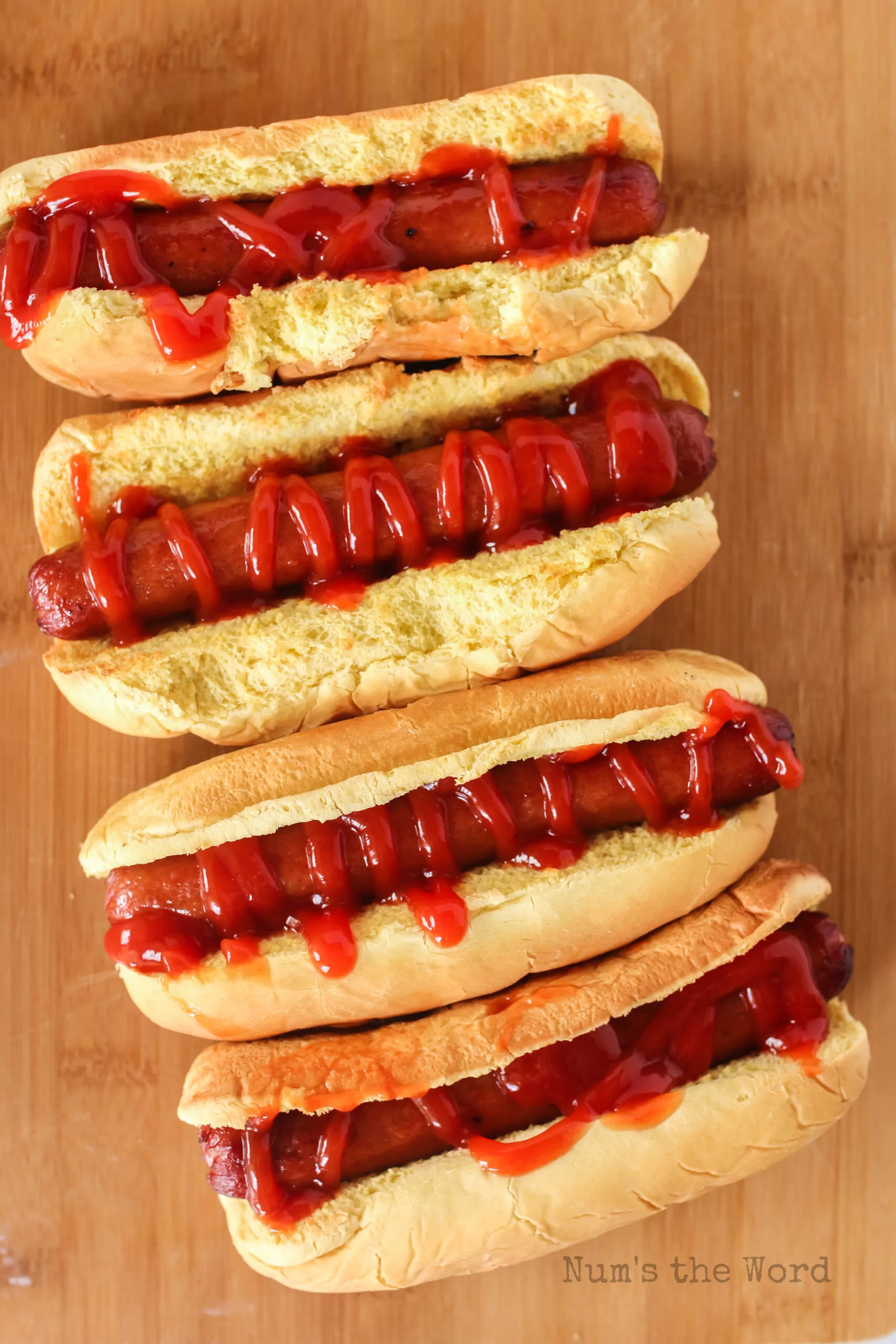 How Long Do Hot Dogs Last in the Fridge?
Unopened hot dogs will stay good in the fridge for 1-2 weeks.

Opened hot dogs will stay good in the fridge for up to 7 days.

Cooked hot dogs will stay good in the fridge for up to 7 days.
Can You Eat Raw Hot Dogs?
Yes. Yes you can. But you shouldn't. Don't get me wrong. Eating raw hot dogs will not make you sick. They are not any worse for you than cooked hot dogs. They are totally, 100 percent safe.
But, WHY? Why would you subject yourself to raw hot dogs when cooking hot dogs in the air fryer is so super simple, fast, and easy? Trust me. Roast, toast, eat. They are better that way.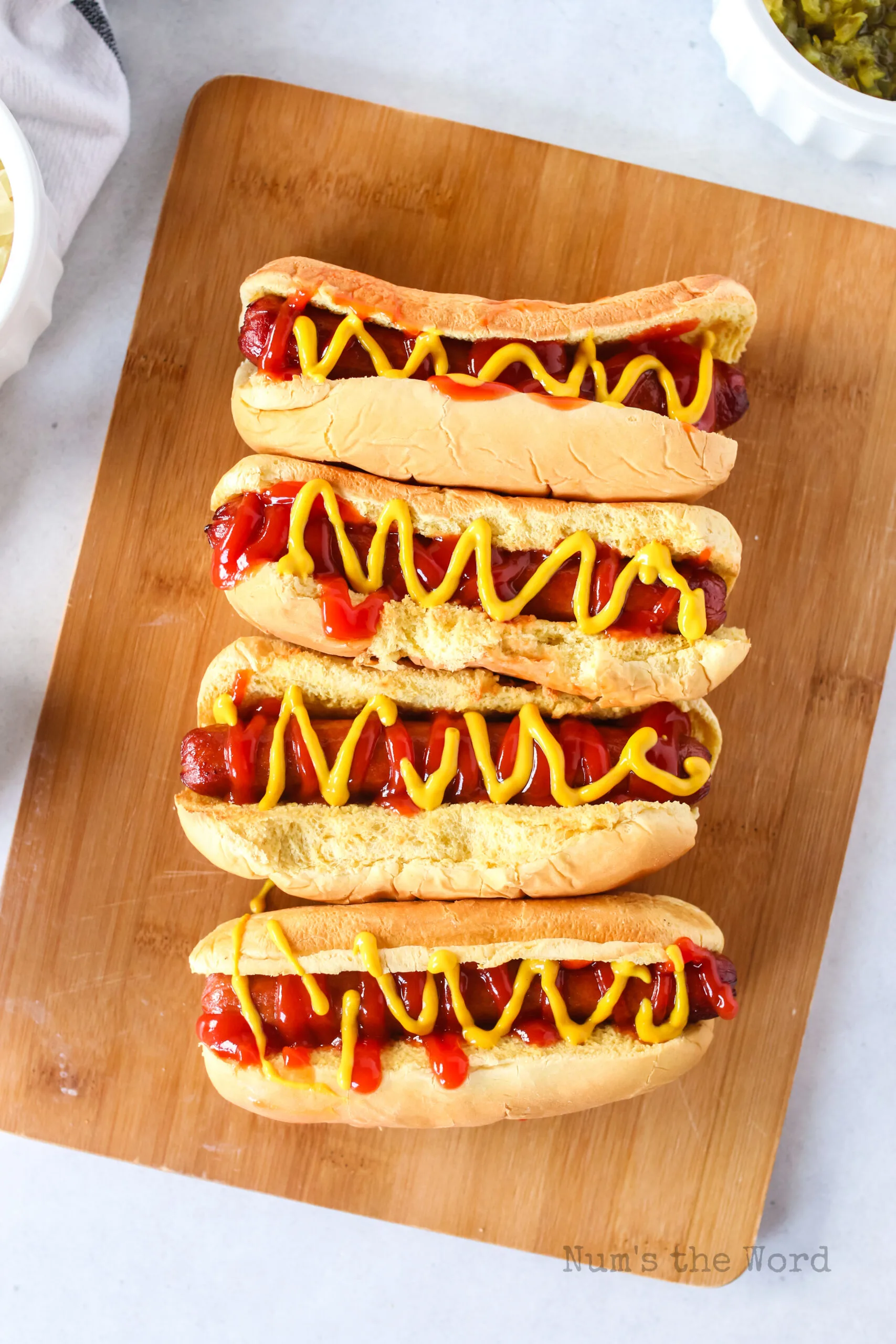 Air Fryer Hot Dog Toppings
I don't know if you've ever thought hot dogs are bland, but get that notion out of your head right away. Here's some ideas to dress them up.
Chili

Caramelized Onions

Barbecue Sauce

Pickles

Tomatoes

Jalapenos
Add some fries and call it a complete meal.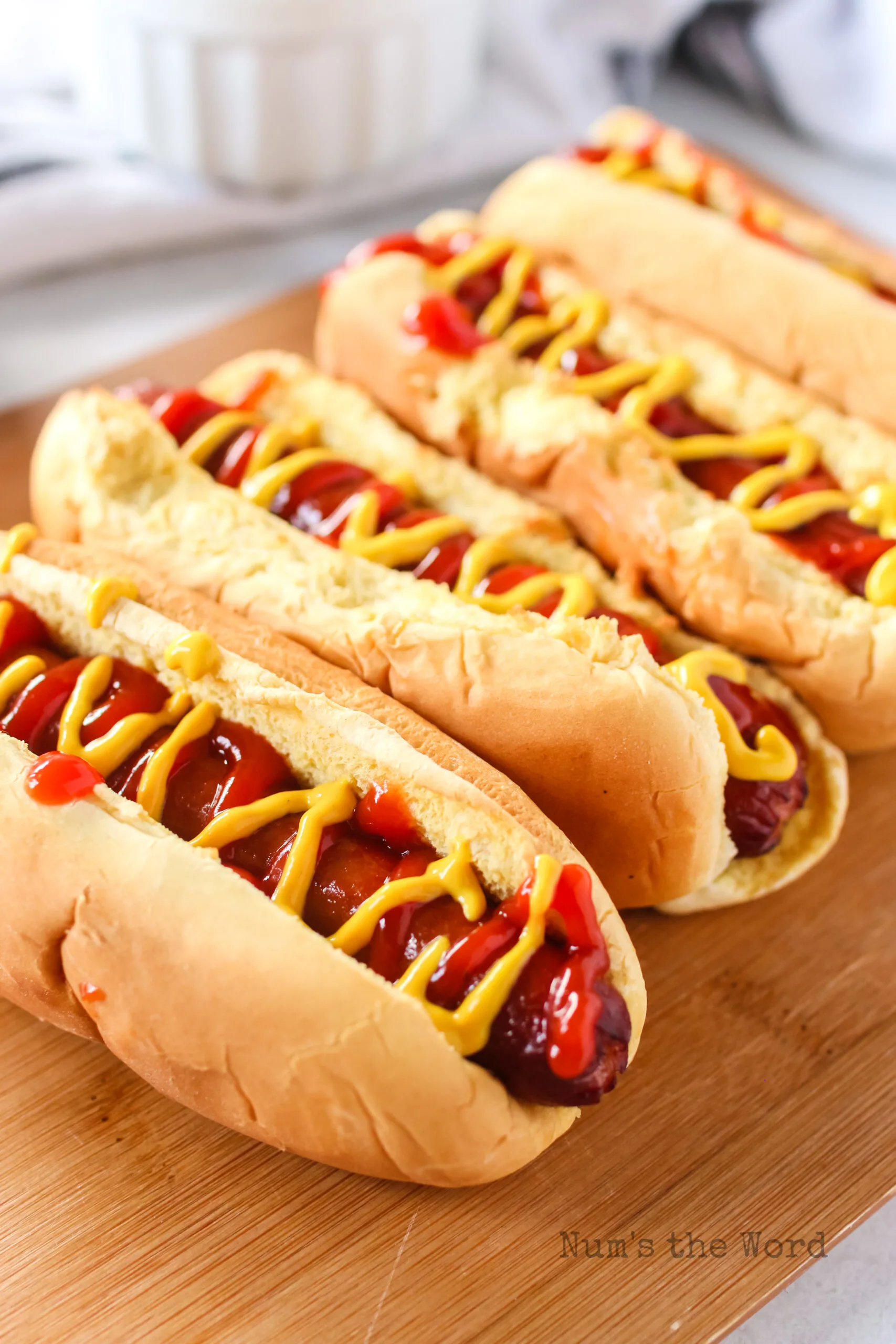 Air Fryer Hot Dogs. You are going to love them. They are crispy on the outside, juicy on the inside, customizable in every way, quick, and easy. Served on a perfectly and easily toasted bun.
Try some tonight and let me know what you think.
Yield: 4 Hot Dogs
Air Fryer Hot Dogs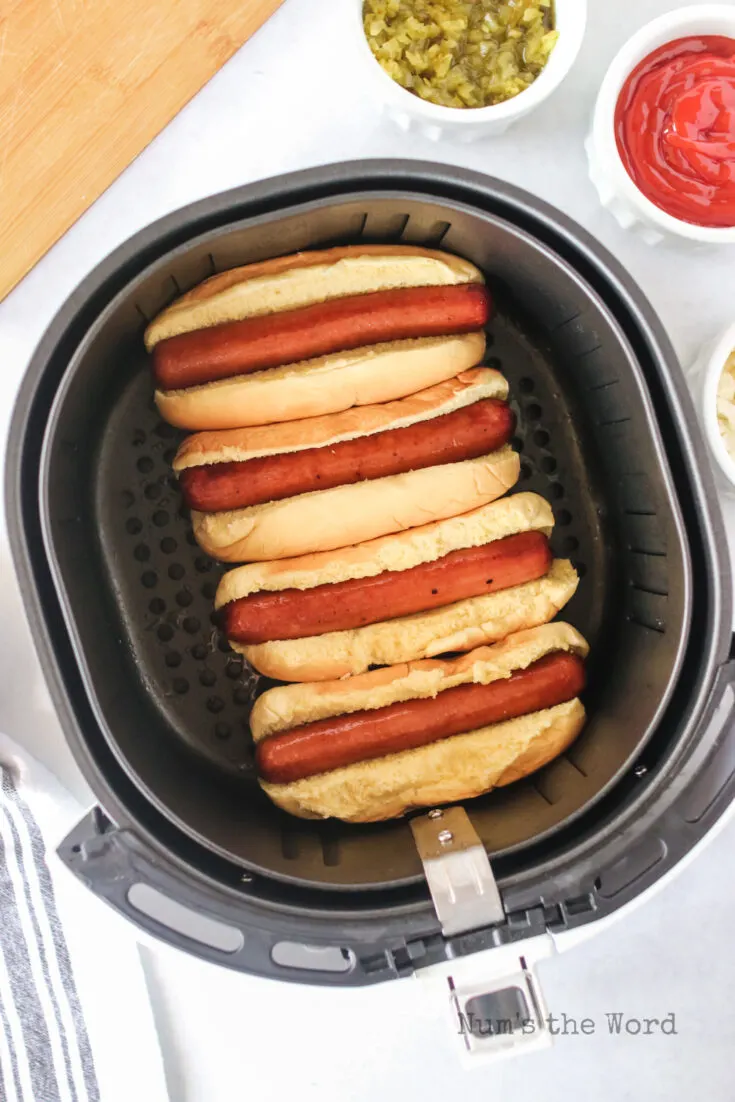 Air Fryer Hot Dogs are juicy, crispy, and the perfect addition to your weeknight rotation. These make the prefect lunch or on the go meal.
Additional Time
3 minutes
Ingredients
4 hot dogs
4 hot dog buns
Instructions
Place hot dogs in air fryer.
Cook at 390F for 5 minutes.
Remove hot dogs from air fryer and place in hot dog buns.
Add hot dogs in buns back to air fryer and cook at 390F for 2 minutes.
Add favorite toppings and serve.
Nutrition Information:
Yield:
4
Serving Size:
1
Amount Per Serving:
Calories:

300
Total Fat:

16g
Saturated Fat:

6g
Trans Fat:

0g
Unsaturated Fat:

8g
Cholesterol:

28mg
Sodium:

666mg
Carbohydrates:

27g
Fiber:

1g
Sugar:

4g
Protein:

11g