Air Fryer Asparagus is so crispy, tender, and absolutely delicious! It is a wonderful side dish or snack that is ready in a fraction of the time compared to other cooking methods.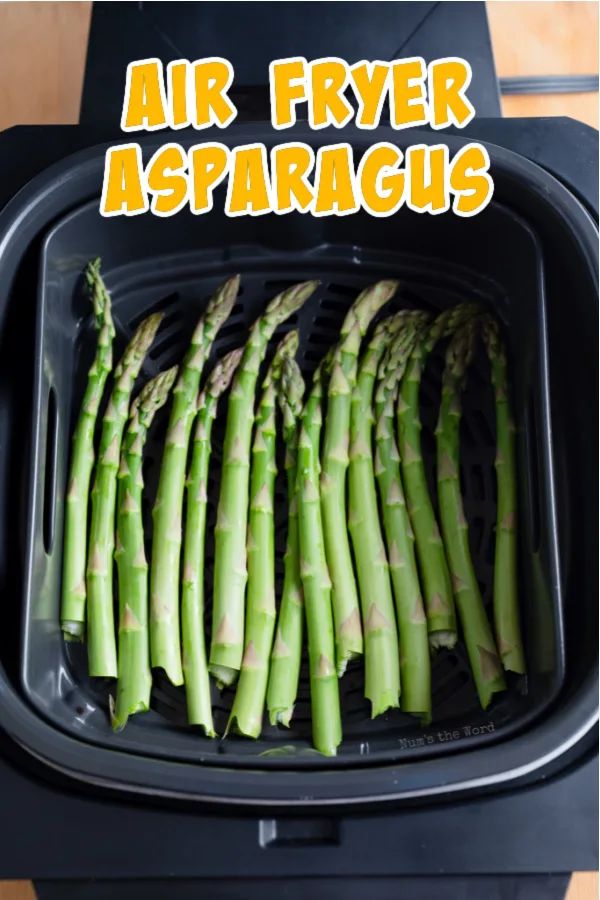 Asparagus is done when it's little ends turn a crisp golden color and the inside melts in your mouth. With this air fryer asparagus recipe it is easy to cook the asparagus to perfection.
Asparagus in the air fryer doesn't require you to heat up your oven which in the summer is always a bonus. No standing over and hot stoves or ovens means I can be sitting in my living room under the fan instead.
I also love that this air fryer asparagus just requires a handful of ingredients that are all things that I have in the pantry or refrigerator.
Once you try cooking asparagus in air fryer, I promise, you won't want to cook it any other way.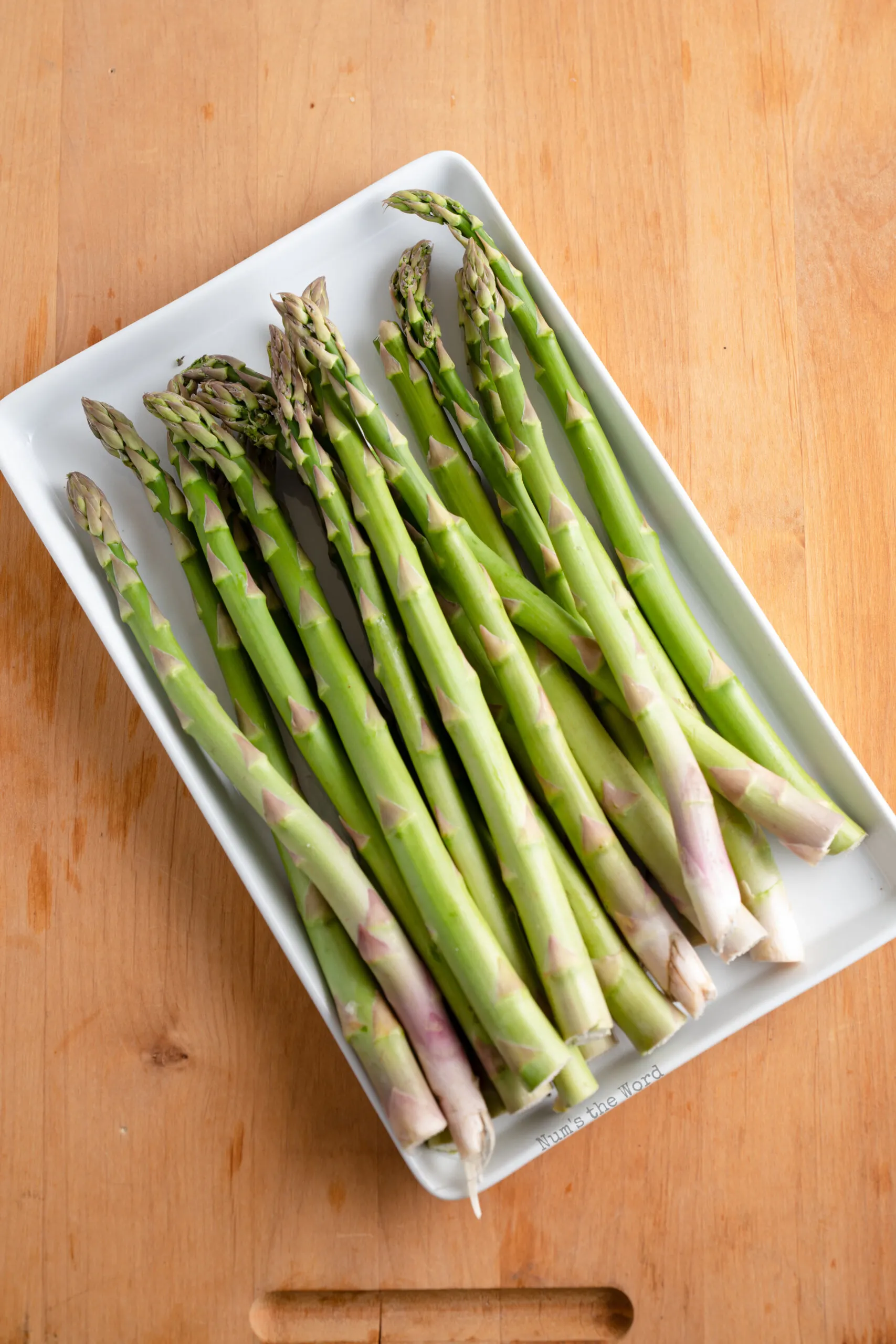 Ingredients for Air Fryer Asparagus
Asparagus:

When choosing asparagus choose pieces that are all roughly the same size. That makes it so that the asparagus will all cook around the same rate and some won't be over cooked before the others are done.

Oil:

You can use any type of vegetable oil here. I really like olive oil but have also tried generic vegetable oil, coconut oil, and avocado oil, all with success.

Salt and Pepper:

I find freshly ground sea salt and black pepper to be my favorite on the air fryer asparagus.

Butter:

The butter can be salted or unsalted. It will be used for a delicious dip for the asparagus.

Garlic Powder:

Instead of adding the garlic powder to the asparagus, add it instead to the melted butter and enjoy yourself some asparagus fries dipped in garlic butter.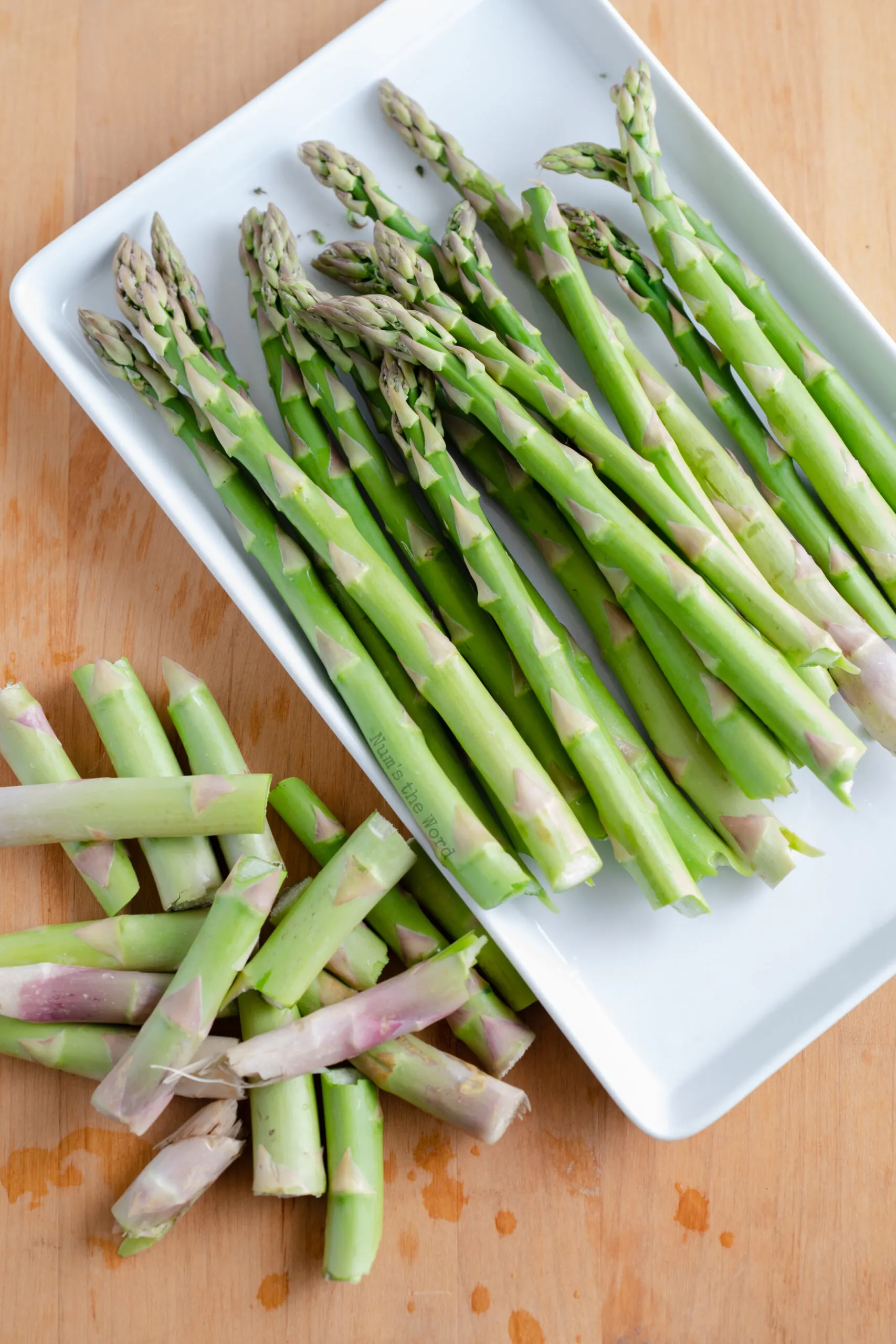 How to Cook Asparagus in the Air Fryer
Prepare:

Snap the ends off the asparagus and prep it for the air fryer.

Cook: Cooking is a breeze in the Air Fryer!
Eat: When it

is hot out of the air fryer dipped in garlic butter, it is wonderful!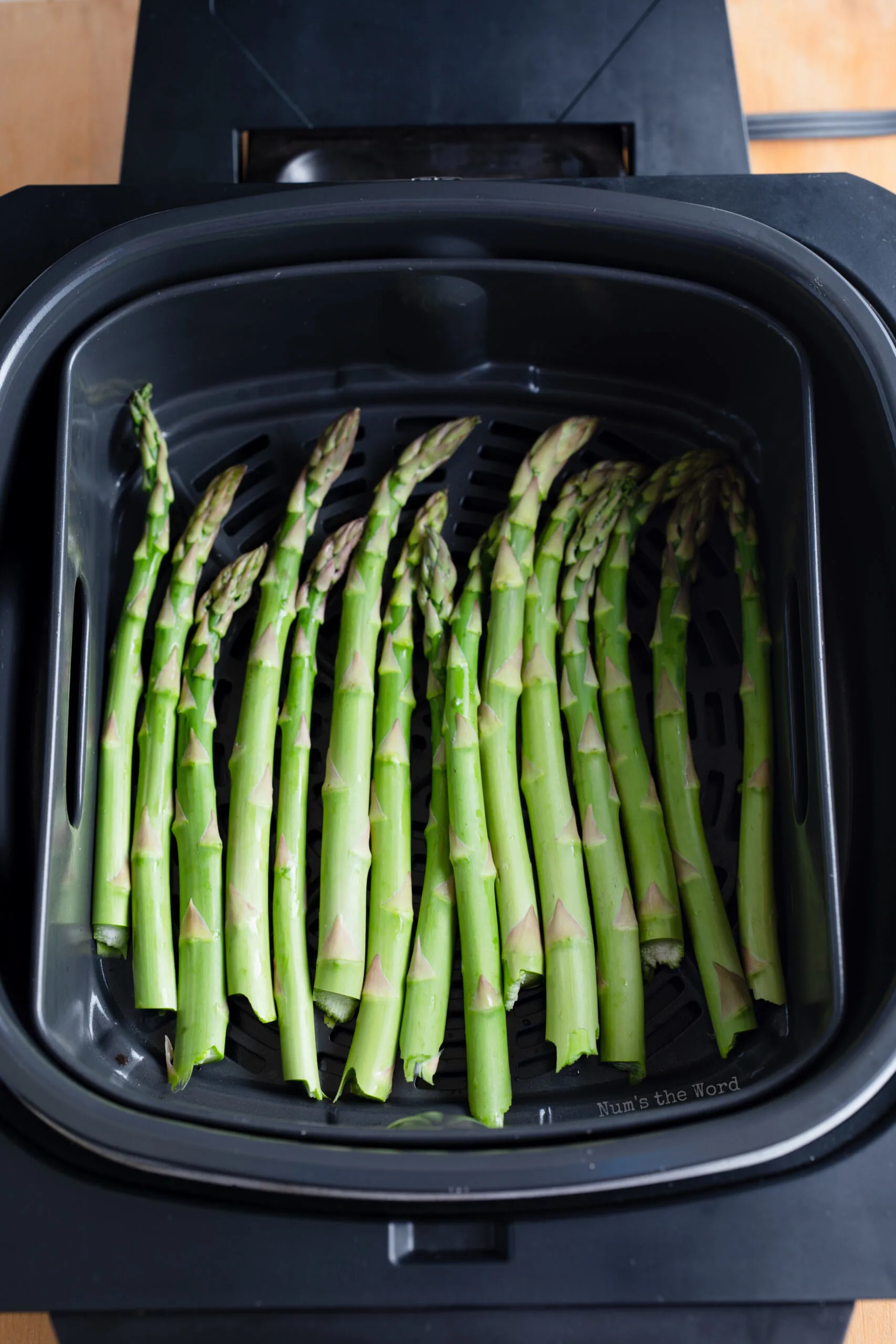 How Long Does Asparagus Last In the Fridge?
Asparagus is not a vegetable that you should plan on keeping forever and still eating it. It actually goes bad pretty quick. Here's how long to keep it.
Fresh, uncooked: 3-4 days

Wrapped with a wet paper towel: 5-7 days

Cooked: 3-5 days
Asparagus ends will become slimy when no longer good so be sure to keep your eyes on it.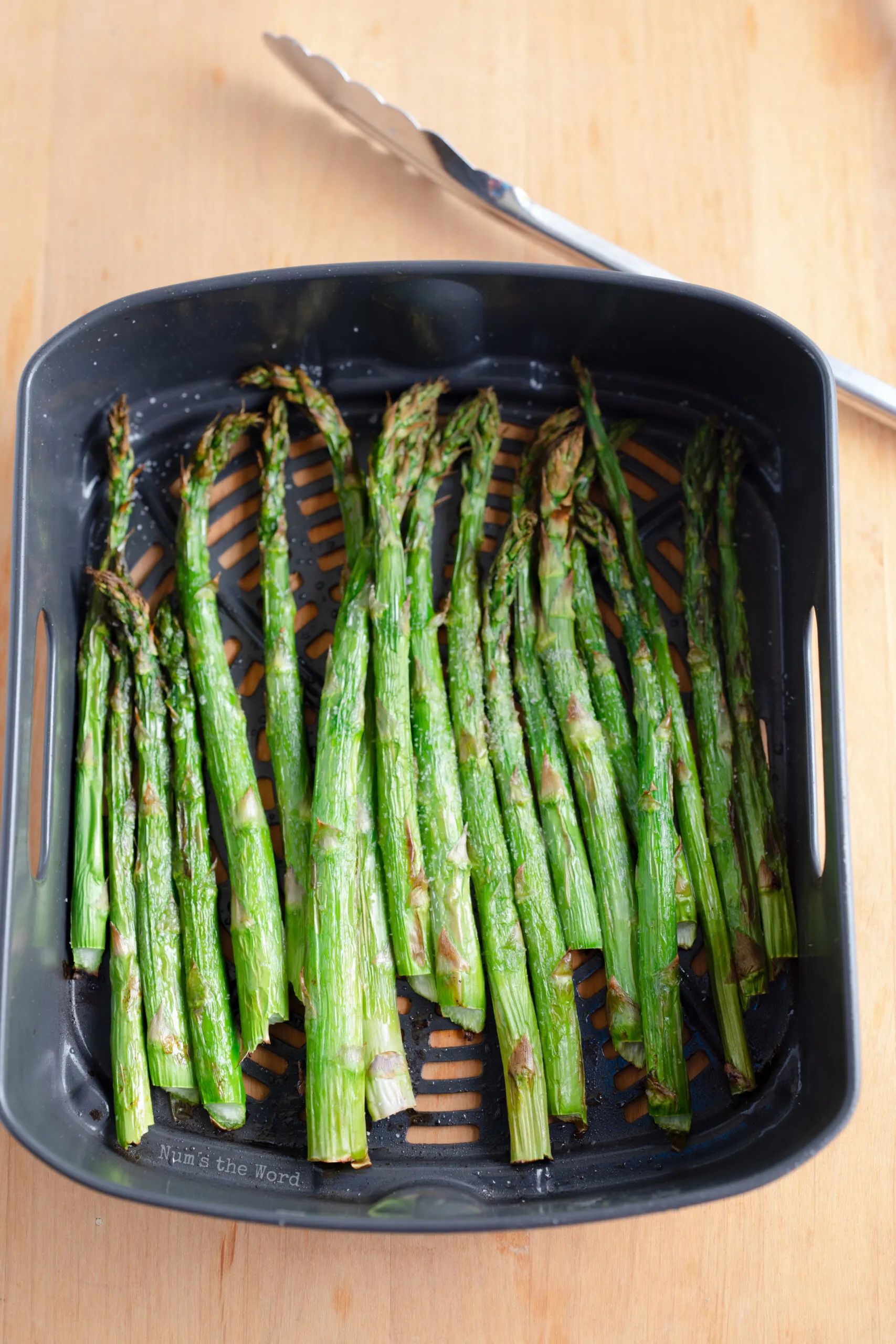 Can You Eat Asparagus Raw?
Actually- you can. But you are going to want to slice it pretty thinly. Raw, asparagus is rather woody, which is why it's normally cooked first. However feel free to take a nibble straight out of the garden!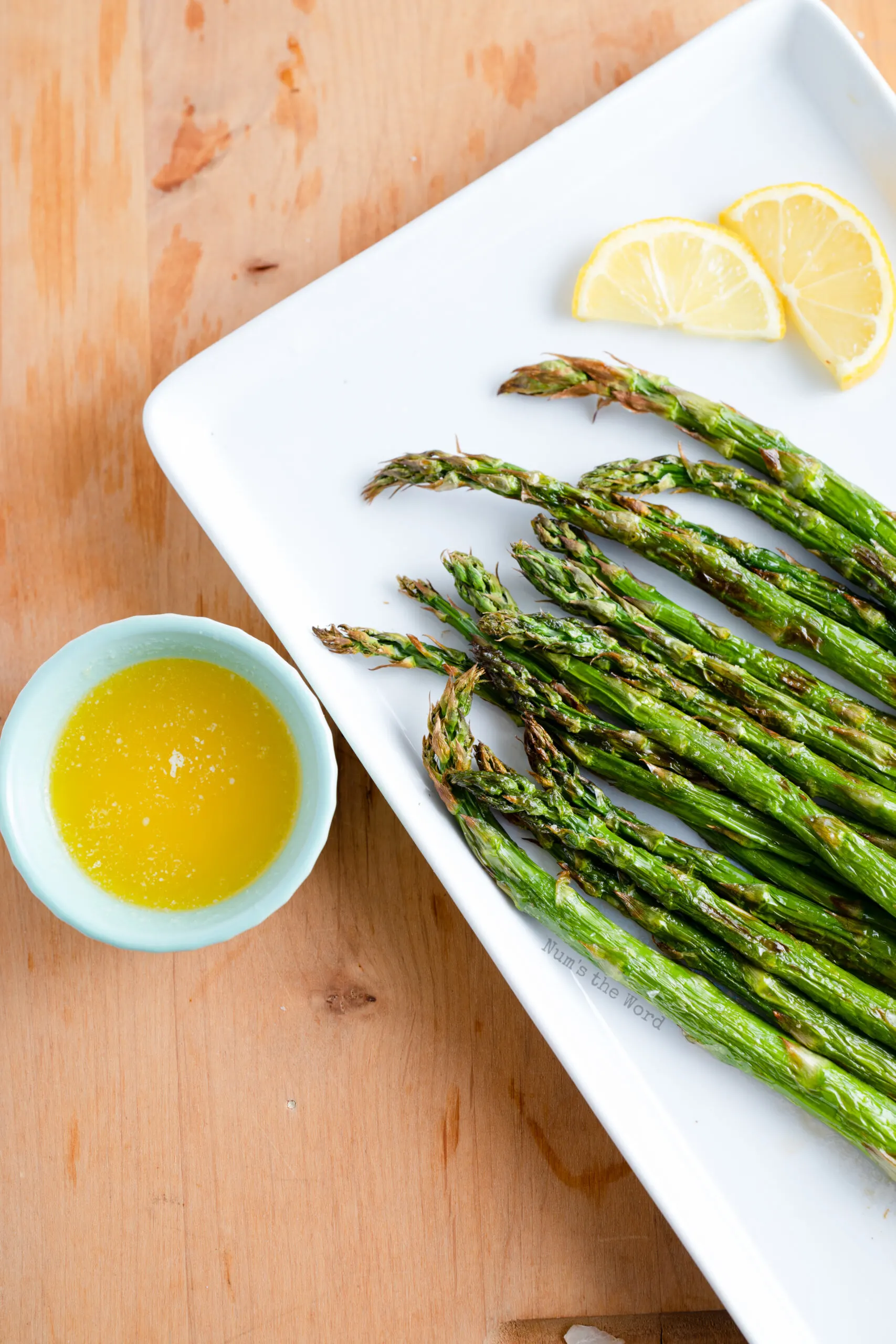 Can Dogs Eat Asparagus?
Yes, dogs can eat asparagus. While asparagus has many health benefits for humans, it also has many healthy benefits for dogs.
Just like with humans, if you are serving raw asparagus to your dog, make sure it is cut up small to make it easier for them to chew through.
If you decide to make these air fryer asparagus fries for your dogs, they can eat that too but unfortunately they cannot have butter, oil, salt, or pepper.
So, don't try serving them your leftovers of this meal as it will do funky things to their digestive system.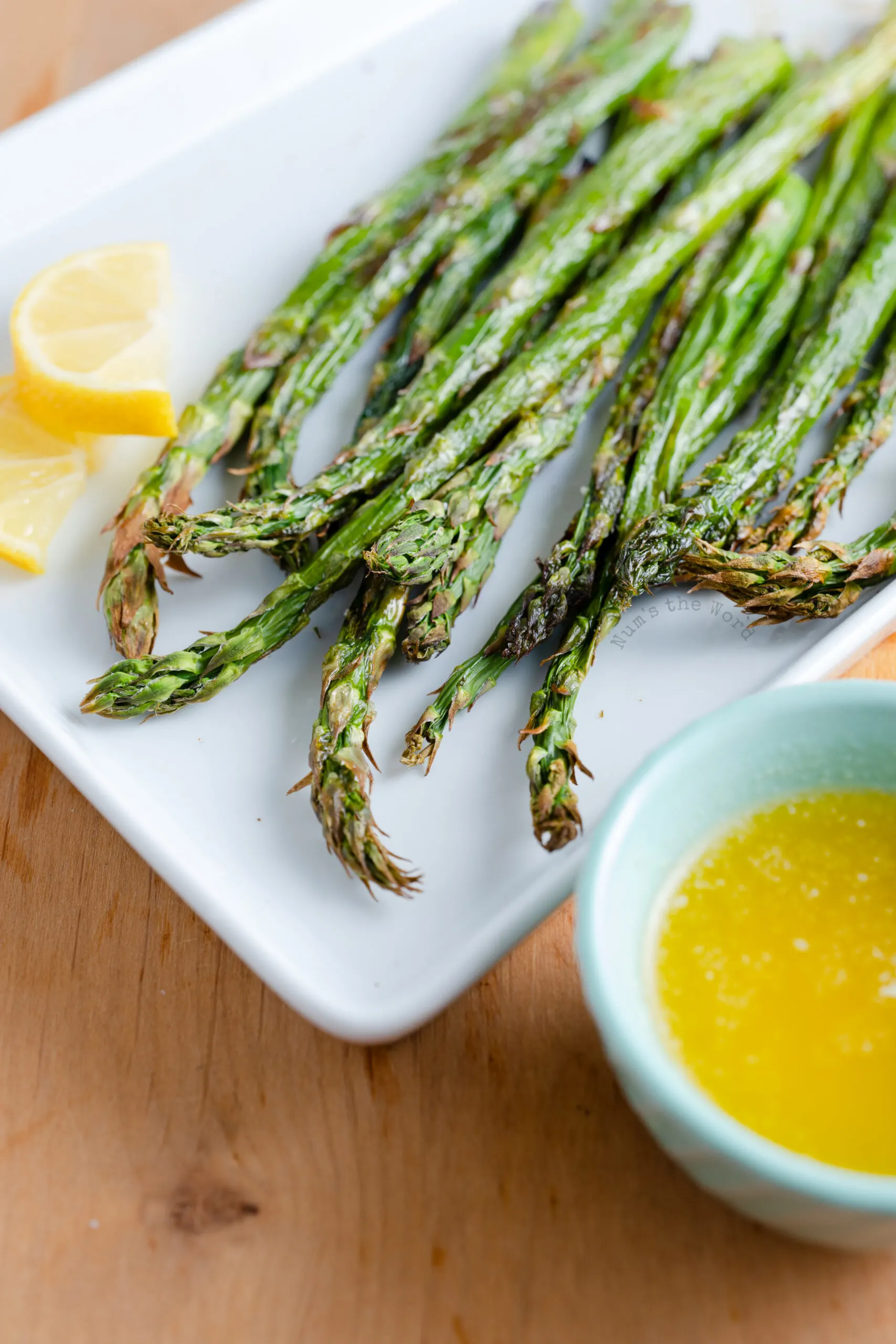 Can You Freeze Asparagus?
Follow these simple steps to freeze your uncooked asparagus.
Prep:

First, snap the woody ends off your asparagus. Next, cut your asparagus down to the size you are going to want to use it. 1-2 inches for soups and stews, longer if desired also.

Blanch:

Blanching helps your asparagus retain color and nutrition.

Bring a pot of water to boil and then place your spears inside.

They will cook for 3-5 minutes in the boiling water. Meanwhile, prepare a bowl of ice water.
As soon as your spears are done blanching, move them to the ice water to stop them from cooking. Let them sit an additional 3-5 minutes and then drain in a colander.

Flash Freeze:

After they are dry, lay the spears on a cookie sheet and put in the freezer for up to one hour. This will prevent the spears from sticking to each other and then you can take out as much as you want when you are ready.

Freeze:

Move them from a cookie sheet to a freezer friendly container, label it, and store your asparagus for up to 8 months.
When you are ready to cook the asparagus, you can take it straight from the freezer to the pot. Asparagus loses some of its crispiness in the freezer so it's better to cook the asparagus into a dish after pulling from the freezer rather than cooking it on it's own.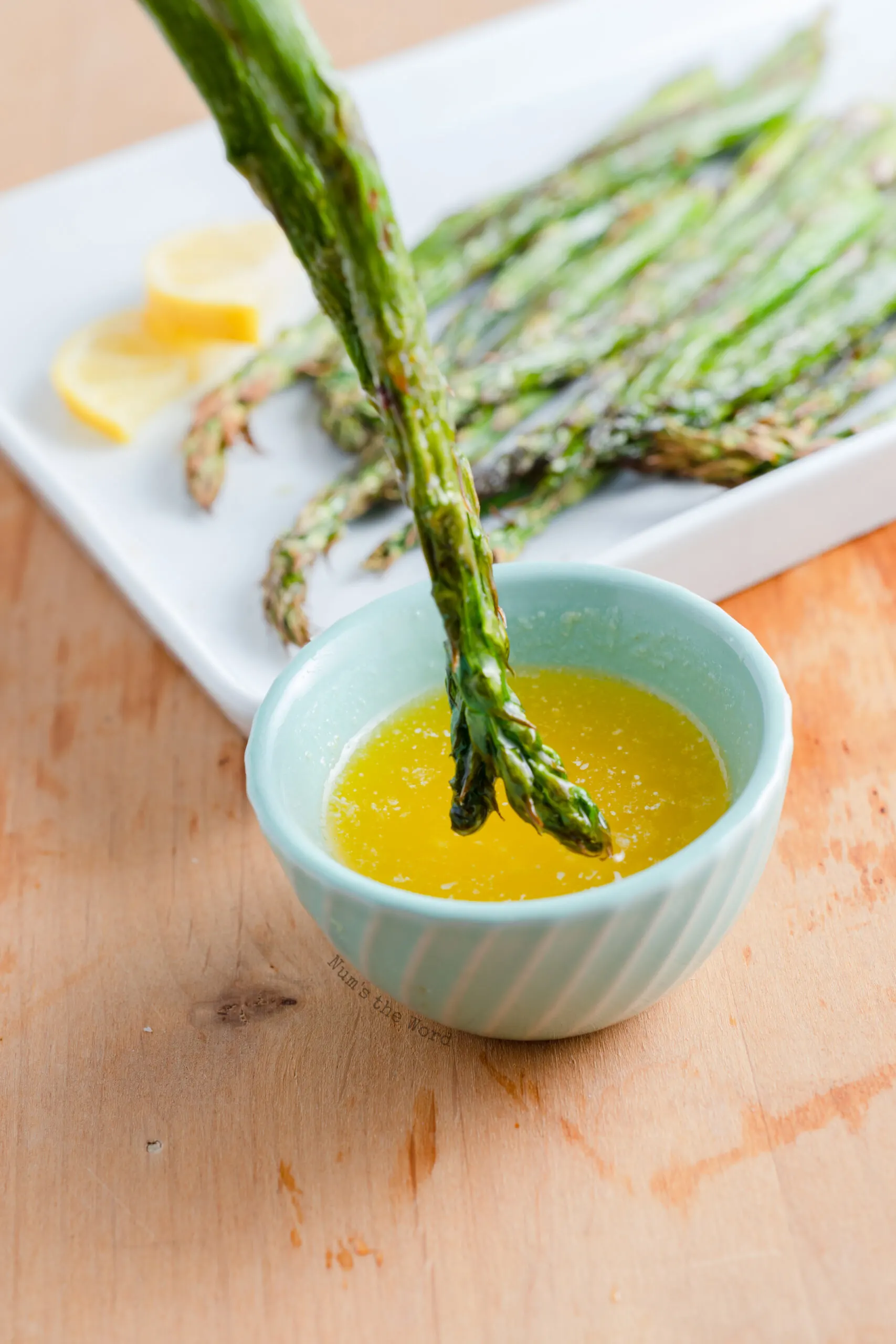 This Air Fryer Asparagus is a terrific way to use up your asparagus. It's delicious, fast, easy, crispy tender, and absolutely a perfect side dish to any meal you are serving.
Yield: 2 Servings
Air Fryer Asparagus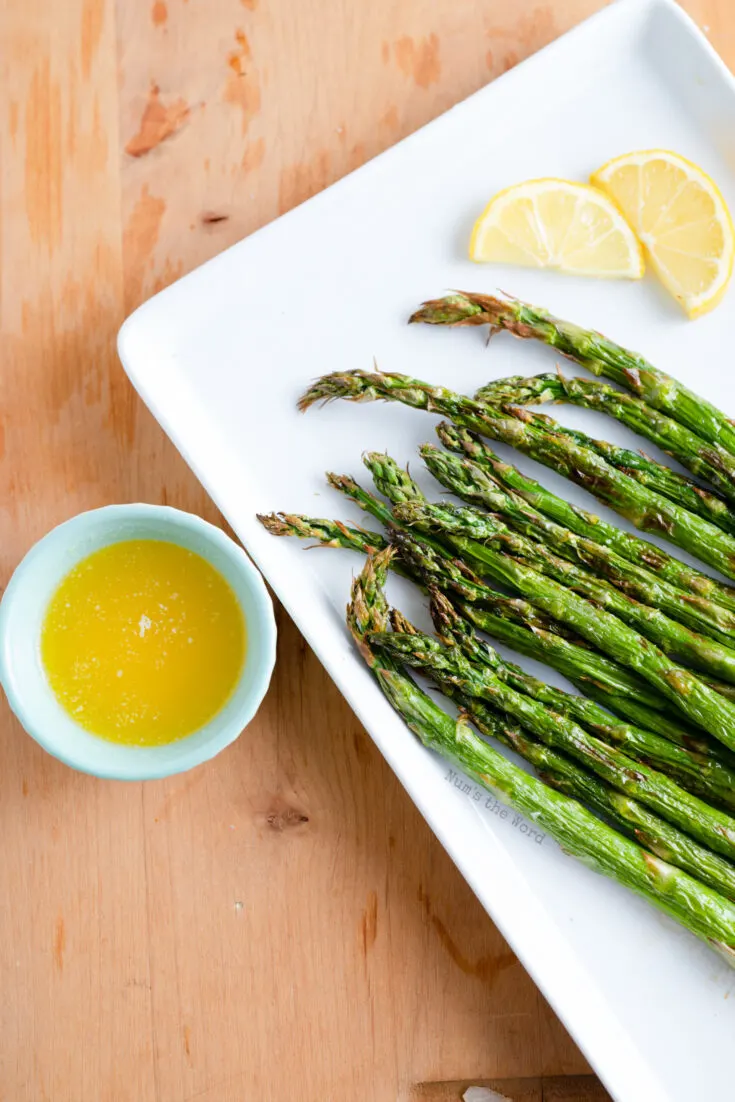 Air Fryer Asparagus is so crispy, tender, and absolutely delicious! It is a wonderful side dish or snack that is ready in a fraction of the time compared to other cooking methods.
Ingredients
1 bunch of asparagus
2 Tablespoons of canola oil
1/4 teaspoon salt
1/8 teaspoon black pepper
3 Tablespoon butter
1/4 teaspoon garlic powder
Instructions
Rinse asparagus well and pat dry as much as possible with a paper towel.
Snap off ends of asparagus (as opposed to cutting) and place in a single layer in air fryer basket
Gently toss asparagus with oil and set timer for 12 minutes - turning half way through cooking
Remove once cooking is complete and season with salt and pepper.
Melt butter in microwave for 15 - 20 seconds.
Add garlic powder and mix.
Sprinkle garlic butter over asparagus or use as a dipping sauce.
Nutrition Information:
Yield:
2
Serving Size:
1
Amount Per Serving:
Calories:

277
Total Fat:

31g
Saturated Fat:

12g
Trans Fat:

1g
Unsaturated Fat:

18g
Cholesterol:

46mg
Sodium:

403mg
Carbohydrates:

1g
Fiber:

0g
Sugar:

0g
Protein:

0g