*VIDEO* Cheesy Broccoli Casserole is the perfect side dish to any meal. Easy to prepare, tastes delicious and is a crowd pleaser! A family favorite recipe!
This post contains affiliate links. If you click on an affiliate link and make a purchase, I will make a small percentage on your purchase. This helps keep this website running! Thank you!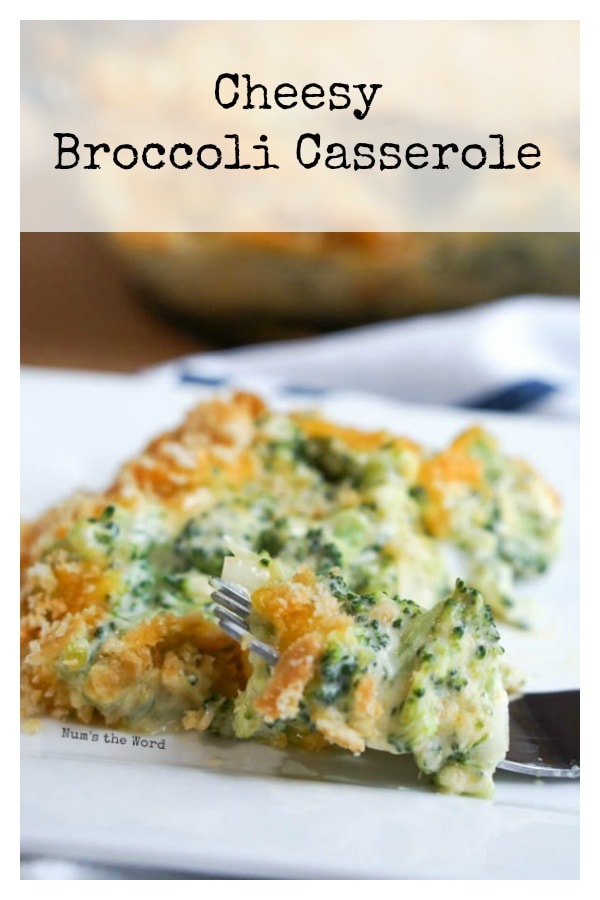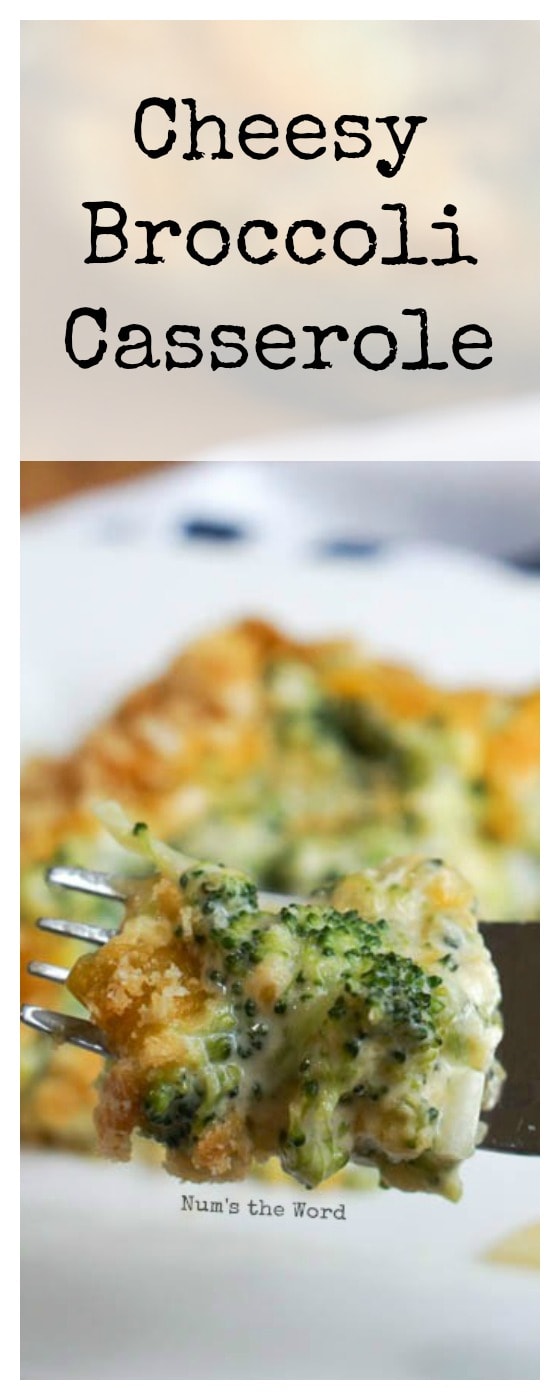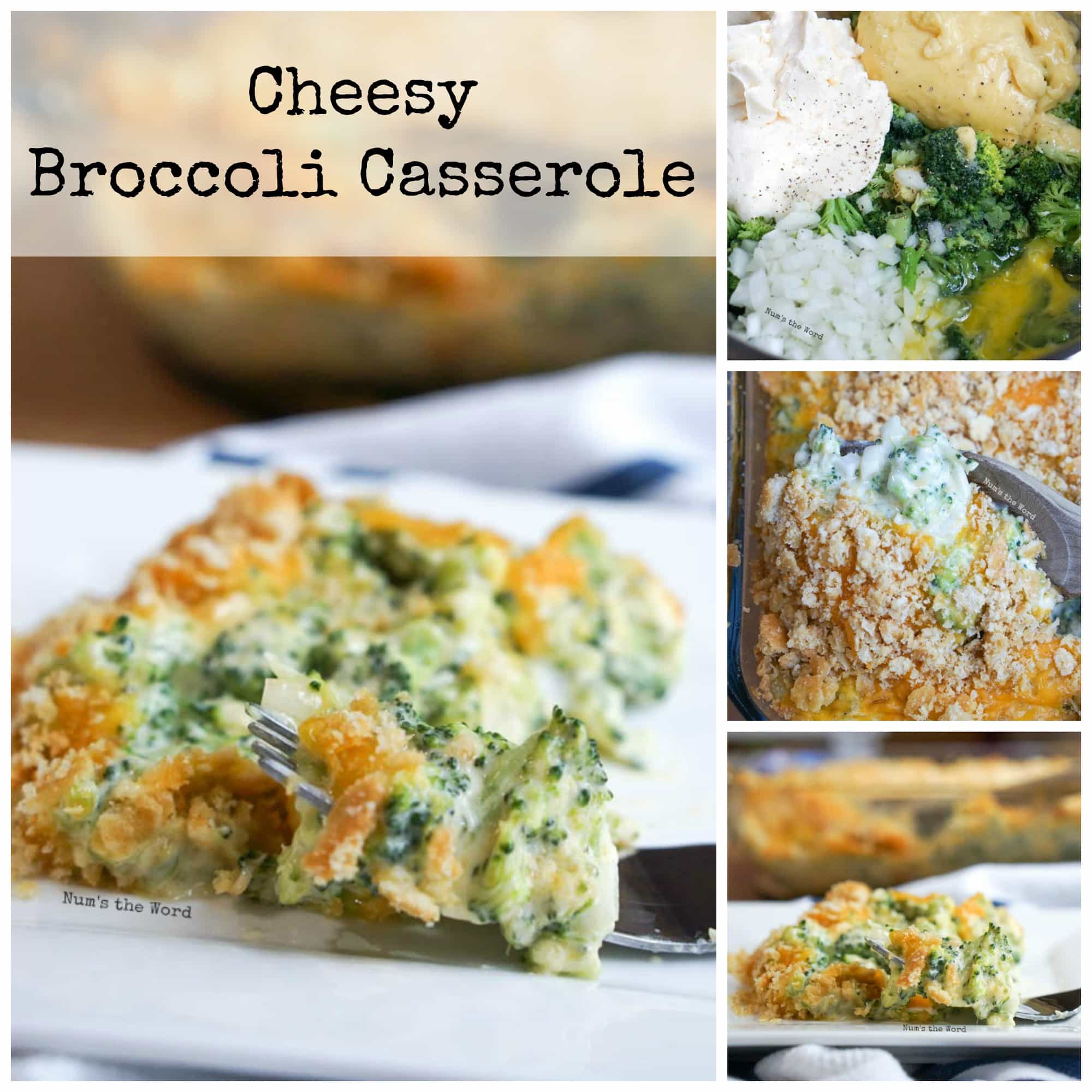 When it comes to Holiday gatherings, what is your favorite part?
For me, I don't know if I can pick just one.
I love the decorations and how they can transform a house into a home.
The feelings that arise when you see a home transformed bring love, excitement and unseen possibilities.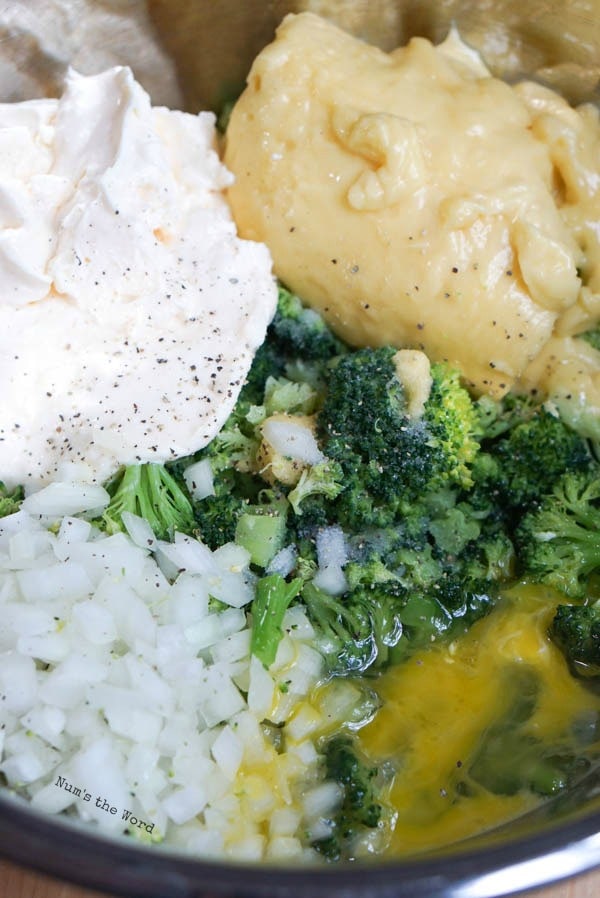 I love how during the Holidays, families take more time to see each other.
We travel all over the country, and often the world, to see the ones we love.
Having someone make time for you by coming to your home and spending time with your family is a cherished gift.
We are all given the same amount of time each day, and spending a few moments of that precious time with family and loved ones shows how much we care about them.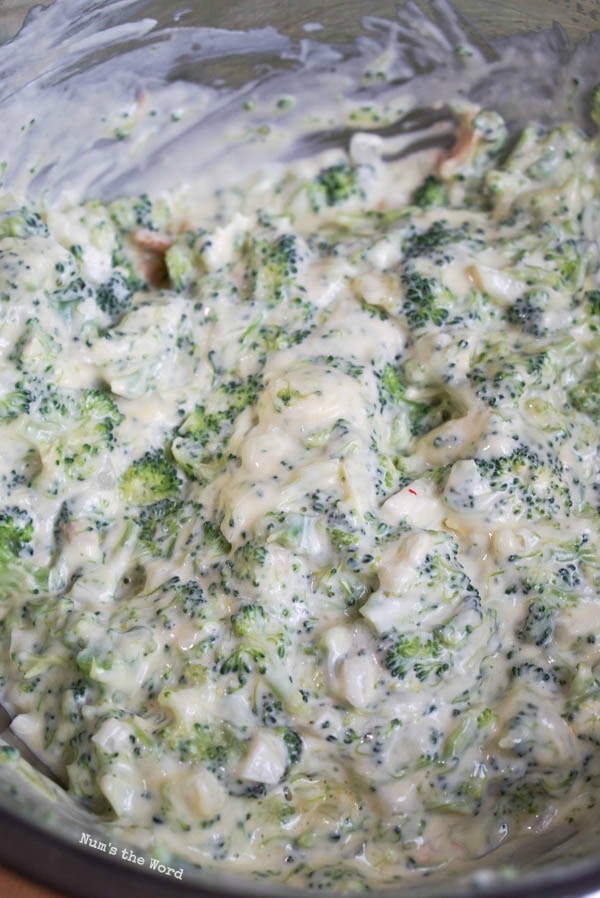 I love gathering around the table to eat, chat and reminisce with one another about the times of old.
And lastly I love the traditions that accompany each Holiday.
Traditions of certain activities, events and recipes that come back year after year.
This Cheesy Broccoli Casserole is one of those traditions that we started back in 2015 and will continue on for many more years to come.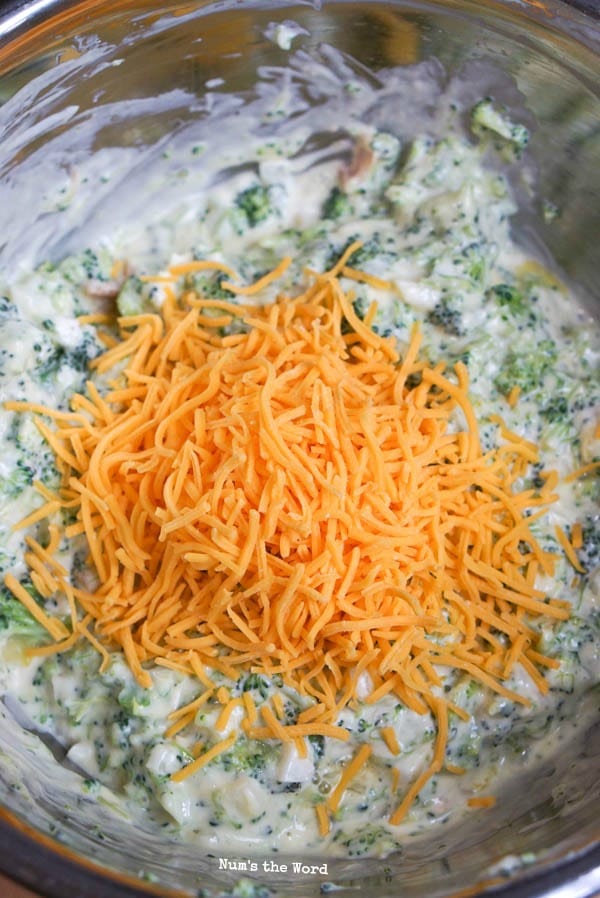 Our Thanksgiving, Christmas and even Easter meals all include this tasty side dish that has become a staple in our home.
Over the years, I've come to discover, that thus far, every woman I've put this casserole in front of, has loved it.
And most men I've put this casserole in front of, have cringed because it has the word "broccoli" in it.
HOWEVER, most men do eat it out of politeness and then tell me it wasn't half bad.
There are of course exceptions to these two rules as I'm sure there are a few women who don't care for it as well as a few men who do.
Having said that, my husband and Father-in-Law have both been forced to eat this quite a bit in the last few years.
This is because I've found it to be such an easy side dish.
Despite this, neither of them would say it's their favorite, but they still eat it.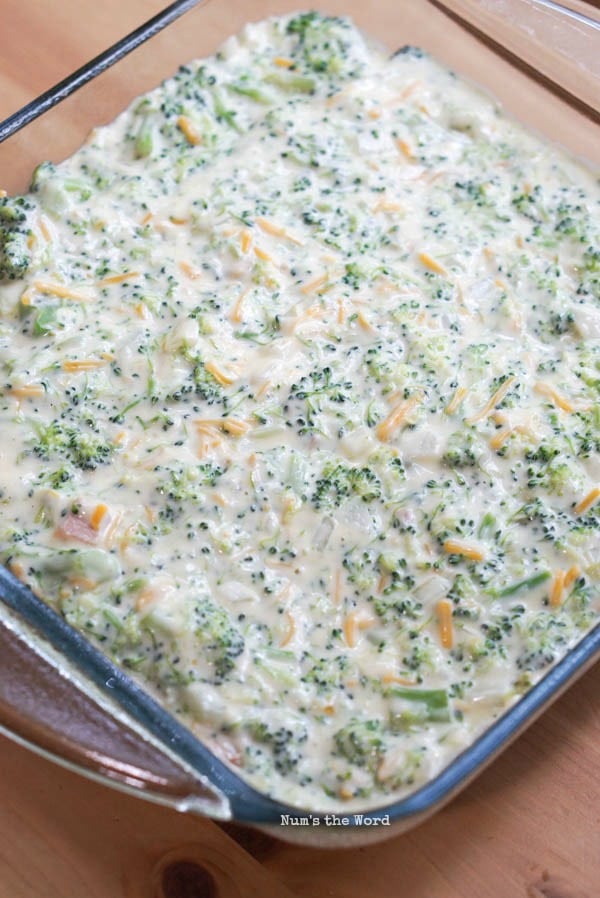 My Mother-in-Law and I both agree that this is the best Cheesy Broccoli Casserole we've ever eaten.
Seriously, it's incredible!
We LOVE it.
Now despite the name, let's be clear – this casserole is NOT healthy.
It may have broccoli in it but that and the onions are the only slightly healthy items in this dish.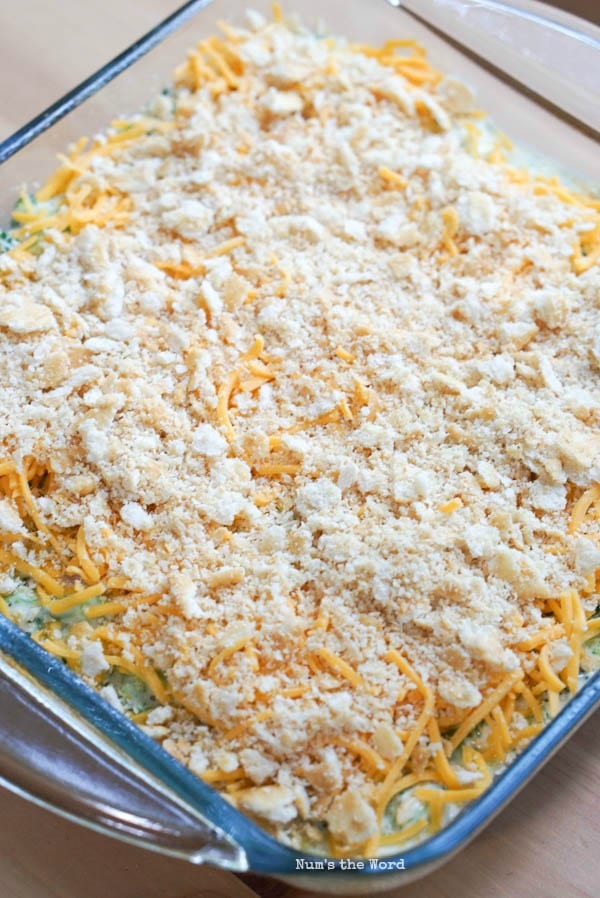 I mean, it's smothered in a cheesy sauce, topped with more cheese and then buttery crackers.
It's delicious because it's not healthy.
And it's not healthy because it's delicious.
This Cheesy Broccoli Casserole is one of the best side dishes I've eaten in the last few years and I cannot recommend high enough for you to try it!
We love it so much that since 2015, it has been on our table every Thanksgiving, Christmas and Easter.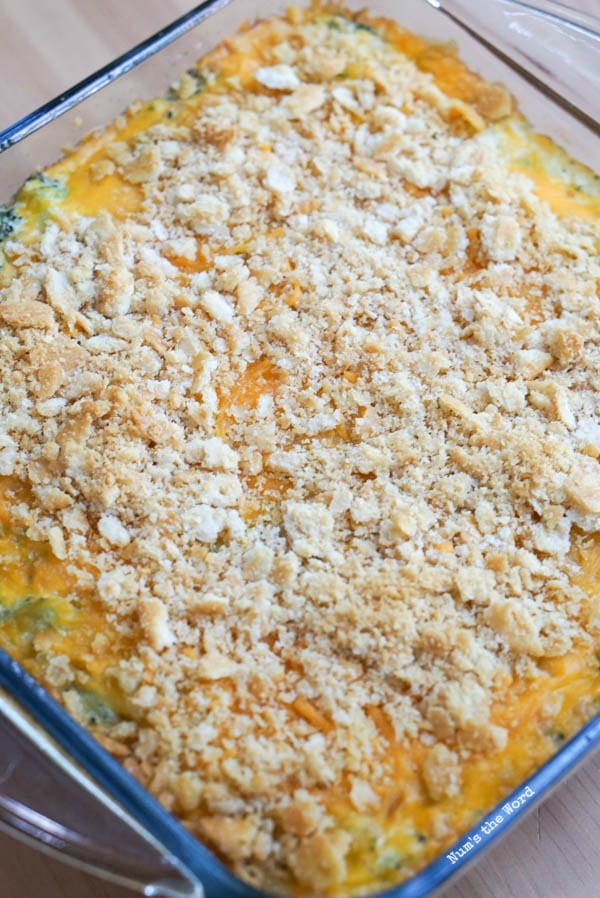 It is also Num's the Word's #1 made Thanksgiving recipe by a landslide.
Clearly we are not the only people who love this.
Many families have told me that it is a must have item on their Thanksgiving table every year too!
In fact, if you read through the comments below you'll see that this Cheesy Broccoli Casserole is a big hit among broccoli & non broccoli lovers alike.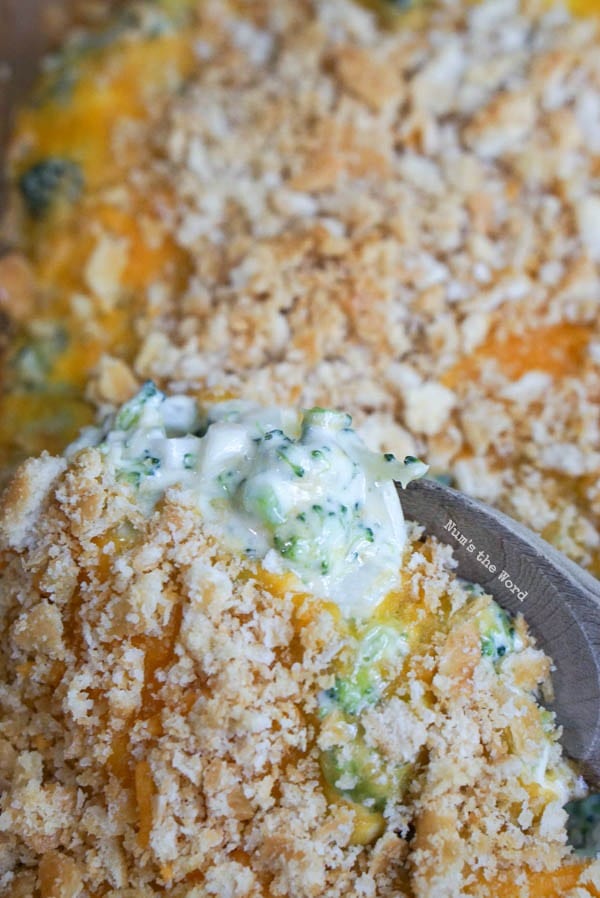 Take Amanda. She left me this comment, which made my day:
"Hi! I just wanted to come back to your site and give this recipe the props it deserves. I have never ever been a broccoli fan. My husband on the other hand loves it. During the Holidays I always ask my husband and son to tell me a side dish that they would like for me to cook. My hubby usually always requests broccoli casserole and I have made him a few in the past, but they just were not my cup of tea. Until now.
I could have ate the whole pan of this by myself. I will defiantly been making this again and again. Thank you for sharing such a wonderful recipe. I know some people can't get past the mayo, but seriously do yourself a favor and just use it. Even if you have to close your eyes while you mix it in. It is now 12:30 am and I haven't been in from work long. I am on my way to the kitchen to have some more of this casserole and a side of ham. 😉"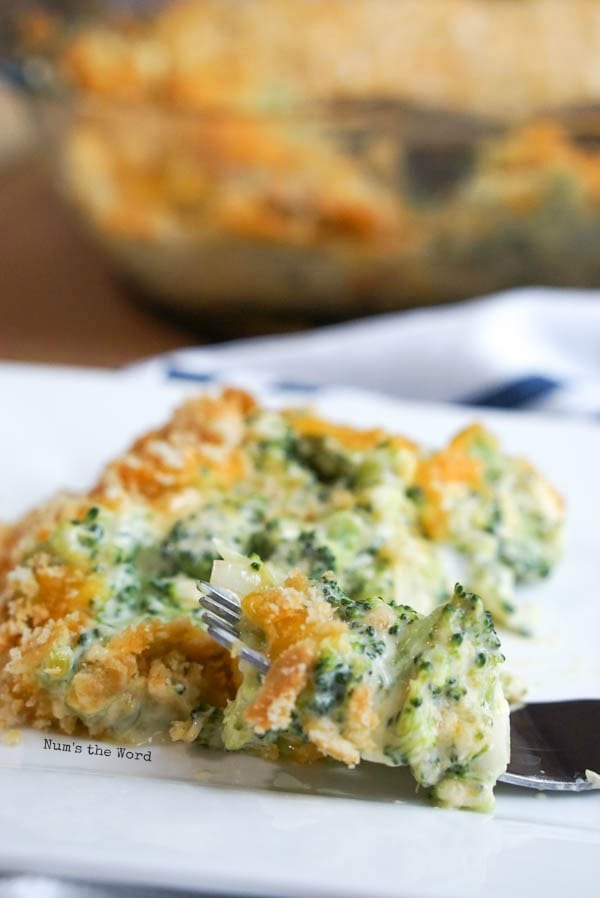 Talk about a warm fuzzy comment! Thanks Amanda!
I have also had readers tell me that they've adapted this recipe to be Cheesy Cauliflower Casserole or Chicken & Broccoli Casserole.
I love side dishes that can easily be adapted to meet all kinds of needs.
Side dish or Main dish, this is a must have on your dinner table!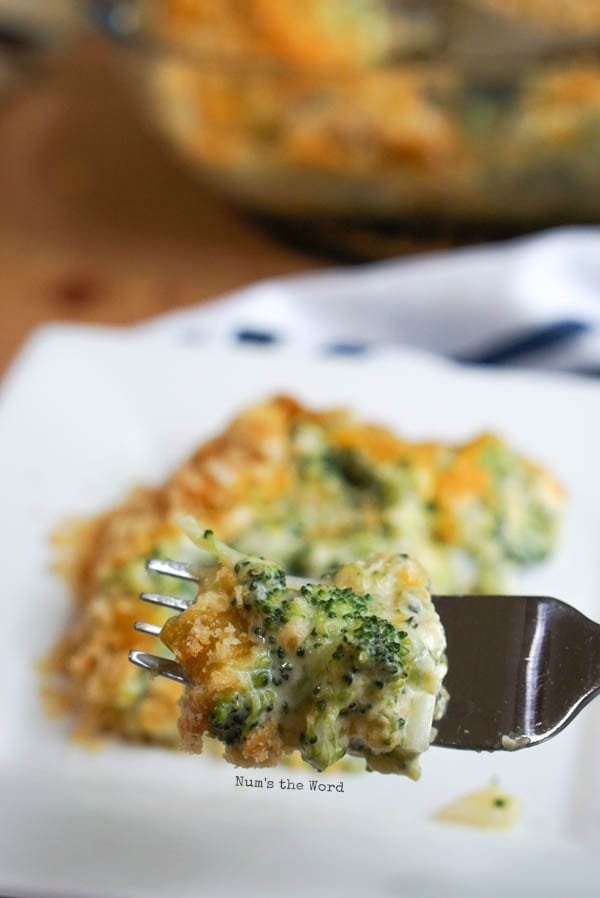 Oh and before you go thinking this is a Holiday only side dish, you'd be wrong.
We make this all year round with a variety of main dishes and so far it's paired well with everything!
However, it is a tradition in our home to make this every Thanksgiving, Christmas and Easter.
So if you are ever invited to dinner on one of those days, be sure to try this Cheesy Broccoli Casserole!
Yield: 8 Servings
Cheesy Broccoli Casserole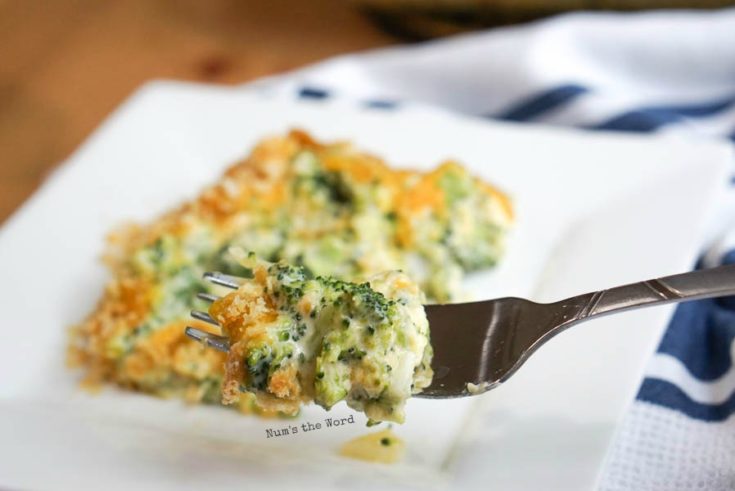 Cheesy Broccoli Casserole is the perfect side dish to any meal. Easy to prepare, tastes delicious and is a crowd pleaser! A family favorite recipe!
Instructions
Preheat oven to 350*F
Place broccoli in a steaming basket on stove and steam for 5 minutes or until broccoli is tender to a fork.
Remove broccoli from stove and chop into bite sized pieces. Place into a medium size mixing bowl.
Add to broccoli, soup, mayonnaise, butter, eggs, onion, salt and pepper. Mix well.
Add 3/4 cup of cheese to broccoli mixture and mix well.
Pour entire contents into an 8x8" square baking dish.
Top with remaining 3/4 cup of cheese and Ritz crackers.
Bake for 30 minutes or until cheese is melted and top is golden.
Notes
Nutritional Information is estimated
Recommended Products
As an Amazon Associate and member of other affiliate programs, I earn from qualifying purchases.
Nutrition Information:
Yield:
8
Amount Per Serving:
Calories:

254
Total Fat:

20.2g
Saturated Fat:

6.3g
Cholesterol:

72mg
Sodium:

689mg
Carbohydrates:

15.9g
Fiber:

1.4g
Sugar:

3.5g
Protein:

4.4g
Originally Posted: March 11, 2015
Photos & Text Updated: October 17, 2018
Other Broccoli Recipes You'll Love...