For a comforting, warm treat, try these Apple Dumplings! They are a taste of Grandma's house right from the comfort of your own home!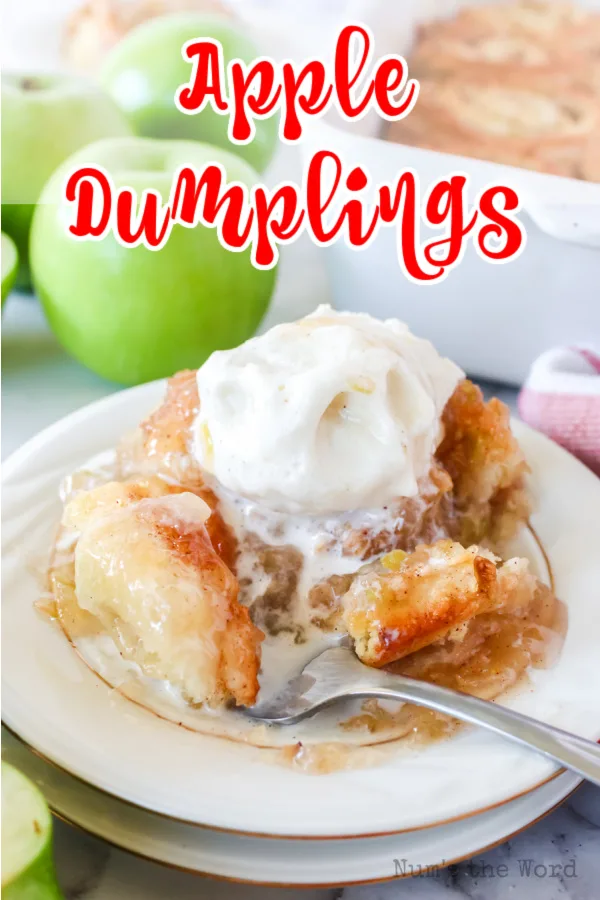 The crisp apples will just melt into your flaky crust, and the whole thing is drizzled with the sweetest cinnamon syrup. It's like eating an apple pie but in perfect portions of nostalgia.
This apple dumpling recipe is a huge hit around here, especially during apple season. Probably because they literally taste like morsels from heaven. Not kidding.
And they're actually fairly easy to make too. So don't be intimidated if you've never made apple dumplings before!
We love making Swedish Apple Pie or Apple Crumb Pie. But you'll find there's a difference between those and an apple dumpling. The crust of the old-fashioned apple dumplings recipe is so light and fluffy, a mix between a bread and a pie crust.
But don't worry, this easy apple dumpling recipe tastes amazing with a scoop of vanilla ice cream, making it a delicious dessert all will enjoy.
What are Apple Dumplings?
Easy Apple dumplings are what I like to describe as apple cinnamon rolls meet apple pie. You get the best of both worlds in just one perfect dessert.
Some recipes call for wrapping an apple slice in a piece of crescent rolls dough. This recipe however is a vintage recipe where you grate your apples and create an almost apple cinnamon roll, but bake them in a yummy sweet syrup sauce.
They're a fun twist from the original apple pie but they taste SUPER delicious just like you'd want them too.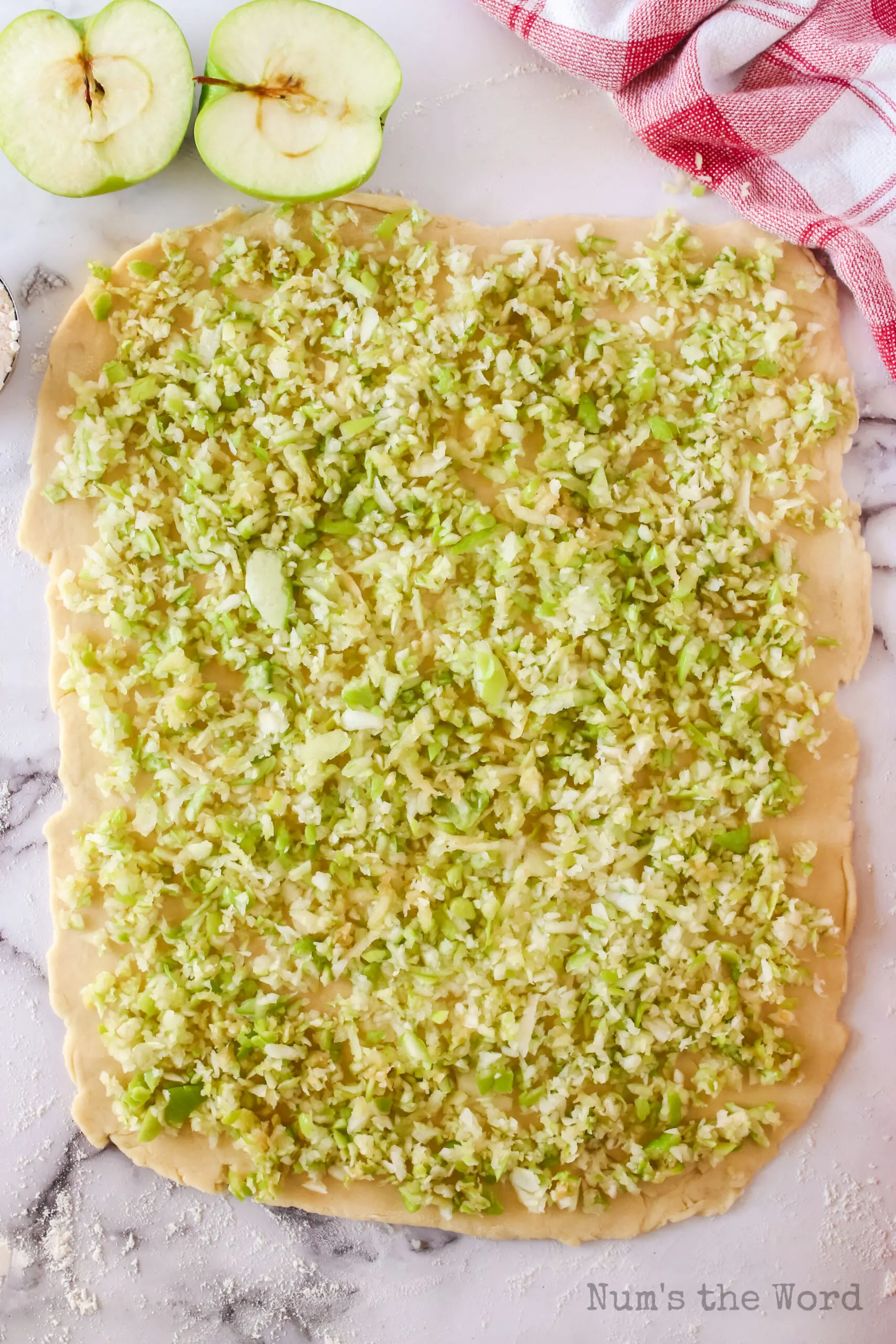 What Ingredients Are In Apple Dumplings?
Here's what you're going to need to get those warm, delicious apple dumplings. Don't be intimidated that the list seems a little long.
They're all pantry ingredients, and many of them are repeats.
For the Crust:
Flour: Use all purpose flour for best results.
Salt: This is needed to flavor the crust so don't leave it out.
Baking Powder: Not normally in pie crust, the baking powder is what gives it that light and airy feel.
Butter: You'll want the butter to be room temperature for easy mixing.
Milk: The milk will wet the dough to make it all hold together.
For the Apple Inside:
Fresh Whole Apples: You don't need to peel apples for this recipe, just grate them up with your cheese grated and you won't notice any skins.
Cinnamon: Cinnamon always pairs well with apples and is a fan favorite.
Sugar: I use white sugar. It pairs well with both the cinnamon and the apples to create a nice cinnamon sugar.
For the Sweet Sauce:
Water: This is almost a non-ingredient! Grab this from your kitchen sink!
Sugar: This time you'll be using brown sugar for a tasty buttery brown sugar sauce!
Butter: It doesn't matter the temperature of this butter as you'll be melting it.
Cinnamon: The cinnamon again creates just the right flavor needed for a delicious sauce.
Pro Tip:
Use a food processor on the grate setting to grate the apples. It goes so much faster!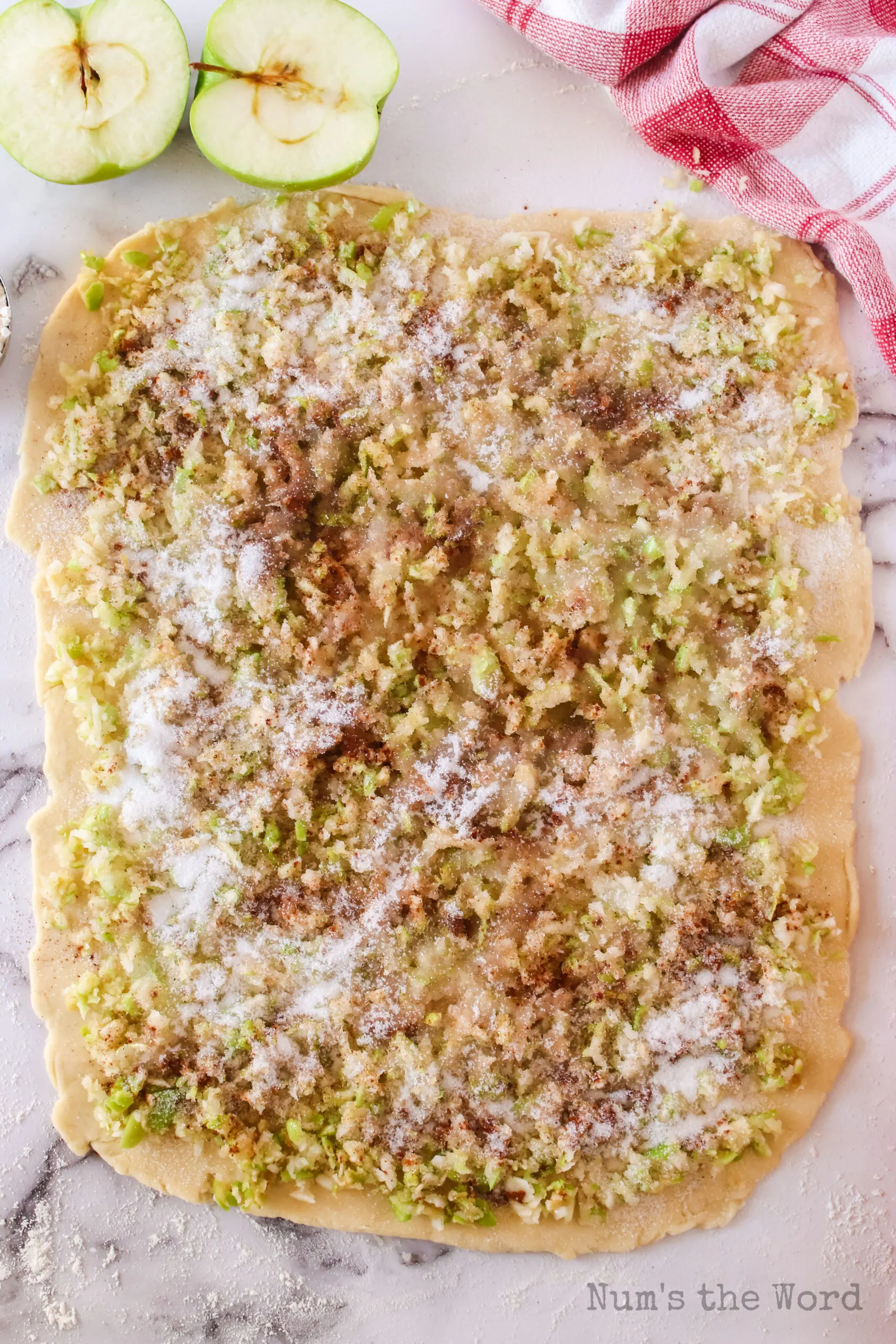 How to Make Apple Dumplings
Make the Pastry Dough Crust:
Blend: Using a pastry blender will help the ingredients to combine well.
Roll: Think of a cinnamon roll shape as you roll the crust out on a floured surface.
Add the Apples:
Top: Layer the grated apples followed by the cinnamon and sugar on the rolled crust.
Roll: It'll be a little more difficult to roll than a cinnamon roll as it's stiffer but it'll roll the same way.
Cut: Then you'll cut the dumplings just like a cinnamon roll. So if you've made cinnamon rolls, you've got this in the bag.
Make the Sauce:
Heat: Bring all the ingredients for the sauce to a simmer over medium heat.
Pour: Pour the caramel sauce on top of the dumplings in the pan.
When you're done pouring on the sauce, just bake and eat with a large scoop of ice cream!
Pro Tips:
Don't stack the dumplings too close together. Allow them room to expand.
Homemade Apple Dumplings are best served warm with ice cream, more sauce, or on their own.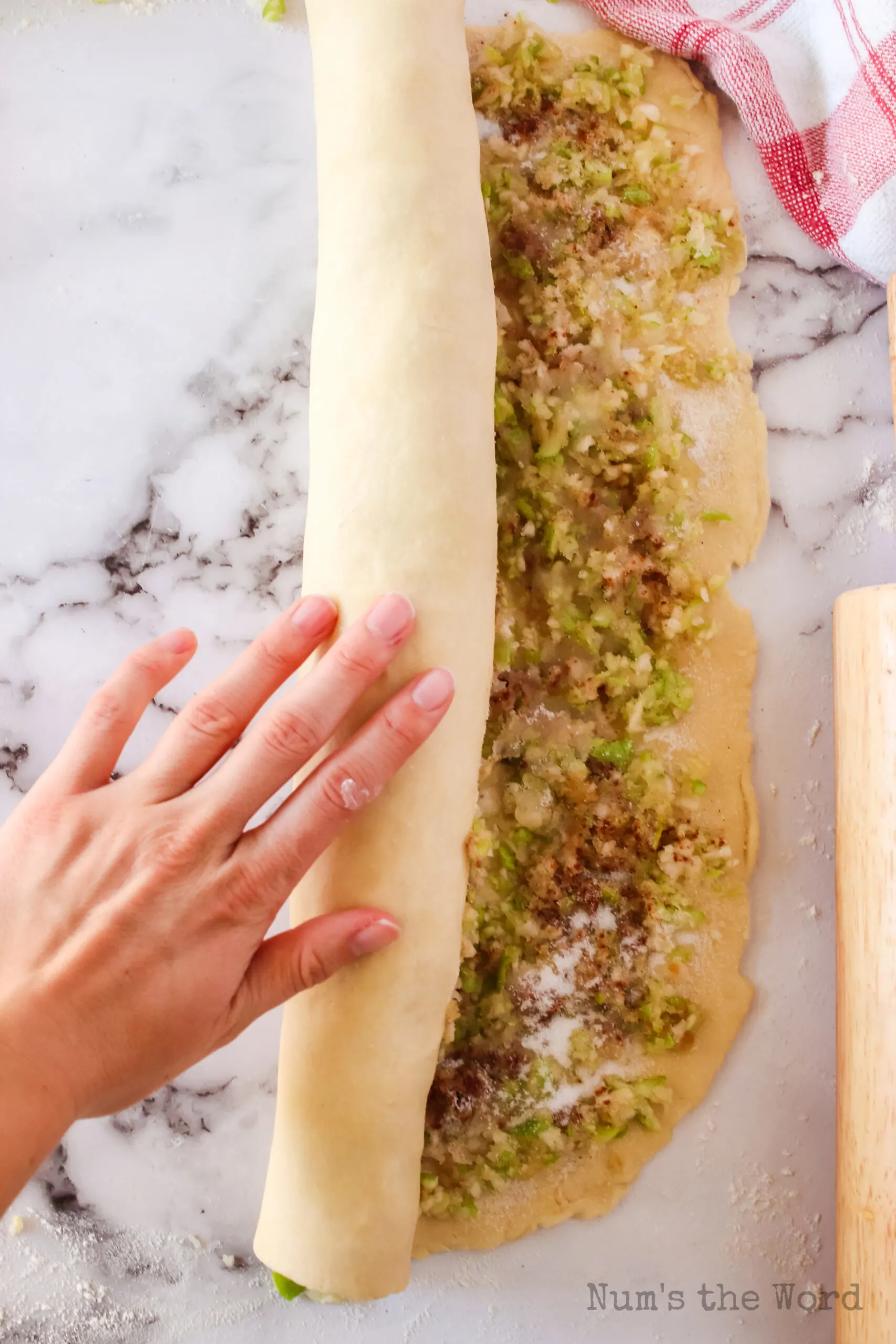 What Are The Best Apples for Apple Dumplings?
We recommend you use granny smith apples. They are more of a tart apple that helps balance the sugar in the recipe.
They also hold up well in baking and don't turn to complete mush as they are considered a crisp apple. Other fresh apples you could try would be Honeycrisp, Jonathan, Braeburn, or Gala.
If you go for Gala, they will soften more, so it may be a bit more applesauce like inside – don't worry they'll still taste great!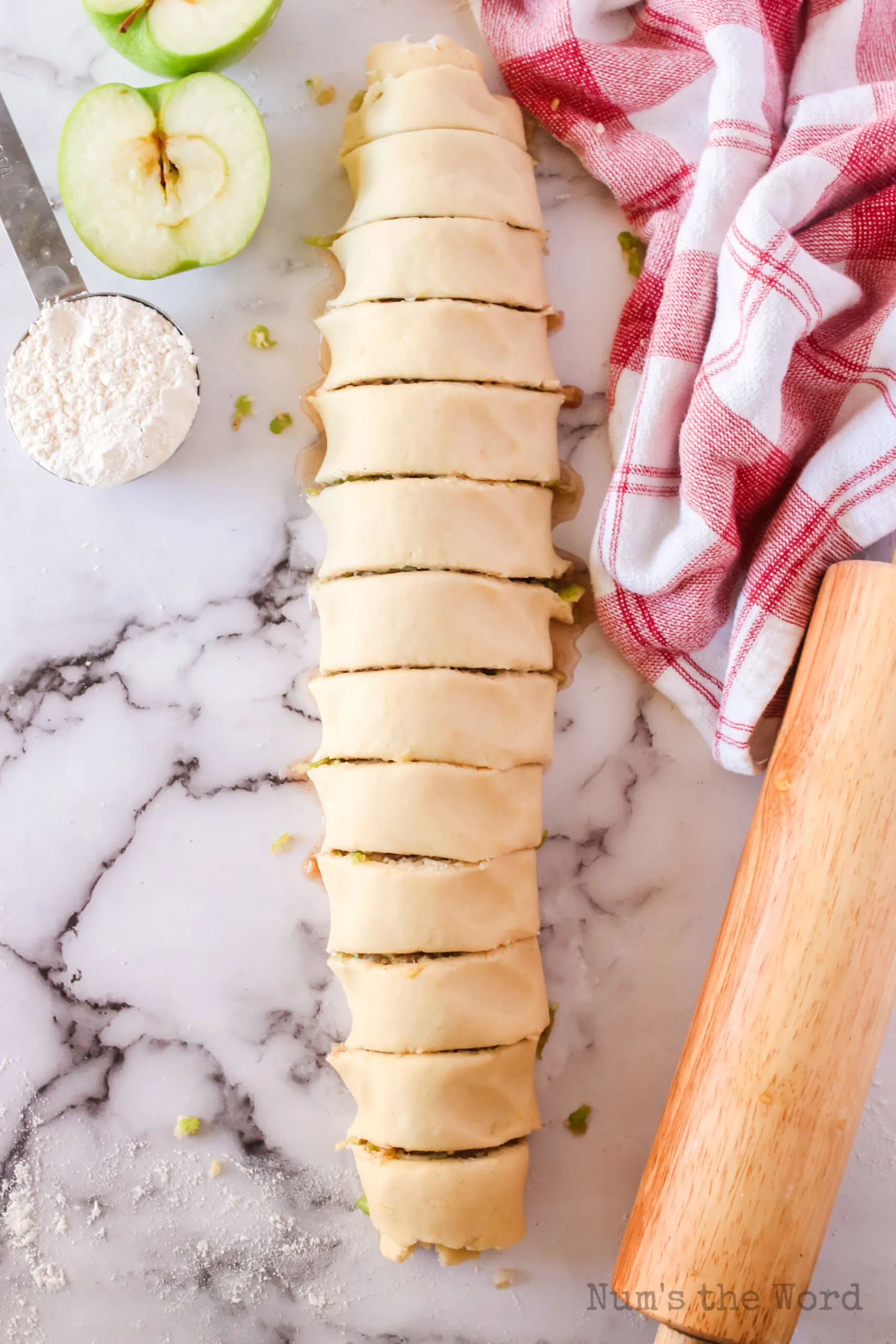 Can You Make Apple Dumplings Ahead of Time?
Yes! Apple dumplings can easily be made ahead of time. Apple dumplings are really best served when first baked, so I recommend following all the steps up to adding the sauce.
Cover the baking dish of apple dumplings in the fridge for up to 48 hours before baking. Then, when you're ready, pull the pan out of the fridge and make the sauce.
Pour the sauce on and bake as normal. Everyone will love the quick treat and the smell will be divine.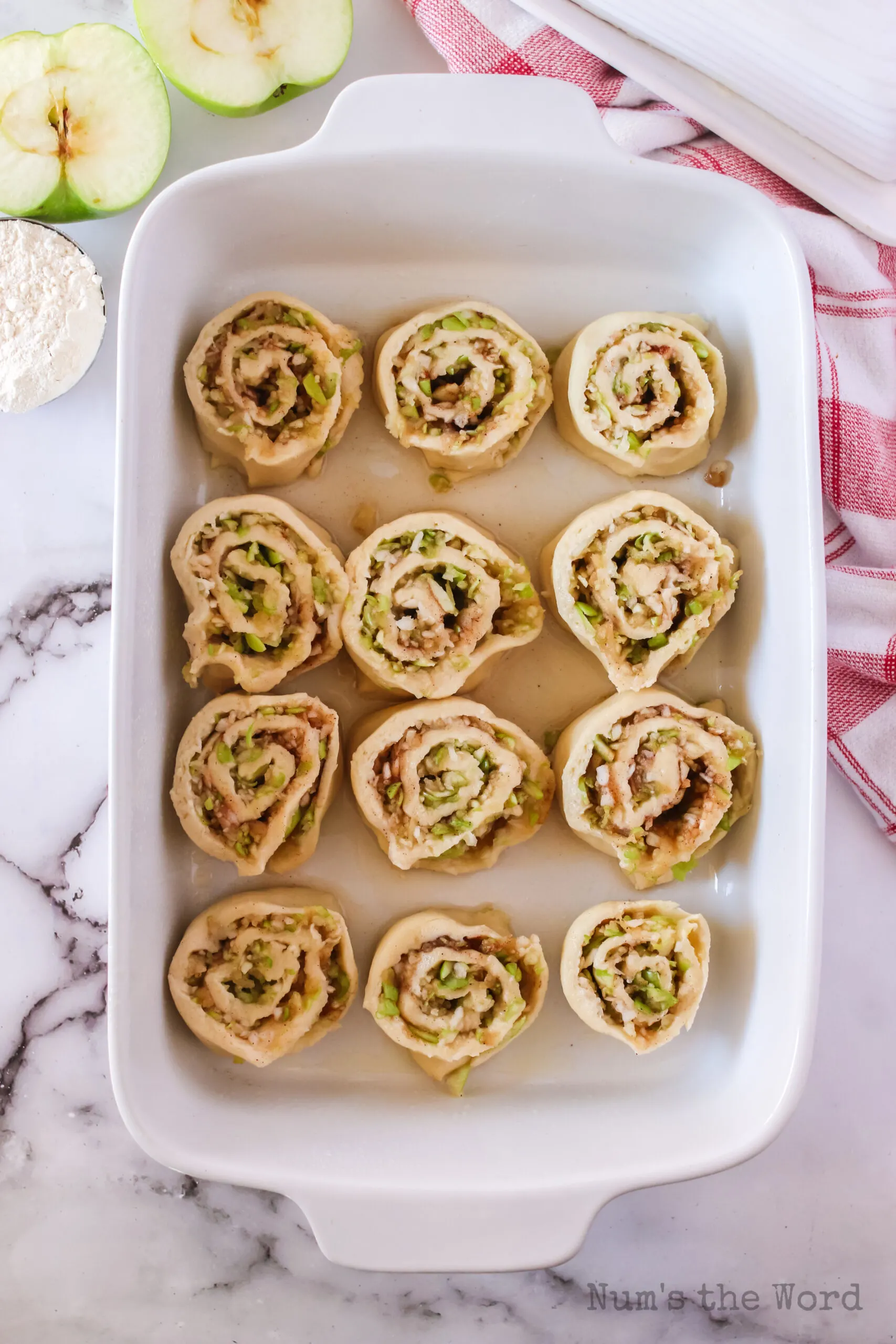 Can You Freeze Apple Dumplings?
Another yes! You can absolutely freeze apple dumplings.
Just go ahead and make the apple dumplings like normal before freezing.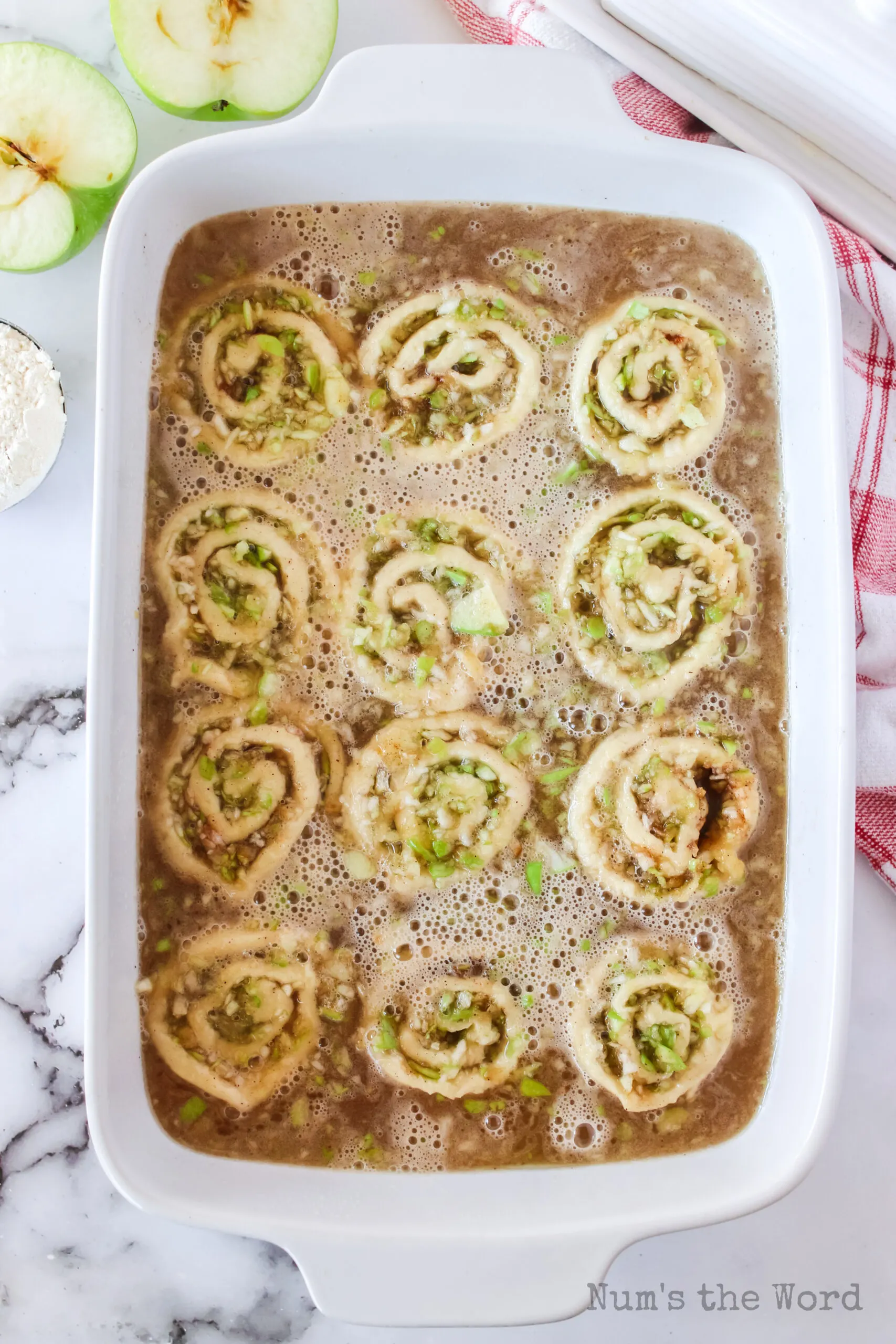 How to Freeze Apple Dumplings
To freeze apple dumplings, gently cut each apple dumpling to make remove from pan easier. Then, place the apple dumplings in the freezer on their tray.
Allow them to freeze for 1 hour. This will keep the apple dumplings from sticking together once frozen.
Then remove them from the tray, place them in a freezer safe bag, and freeze. You could also place them in an airtight container too.
Keep apple dumplings in the freezer for up to three months. You can take out as many as you want at a time or take them all out.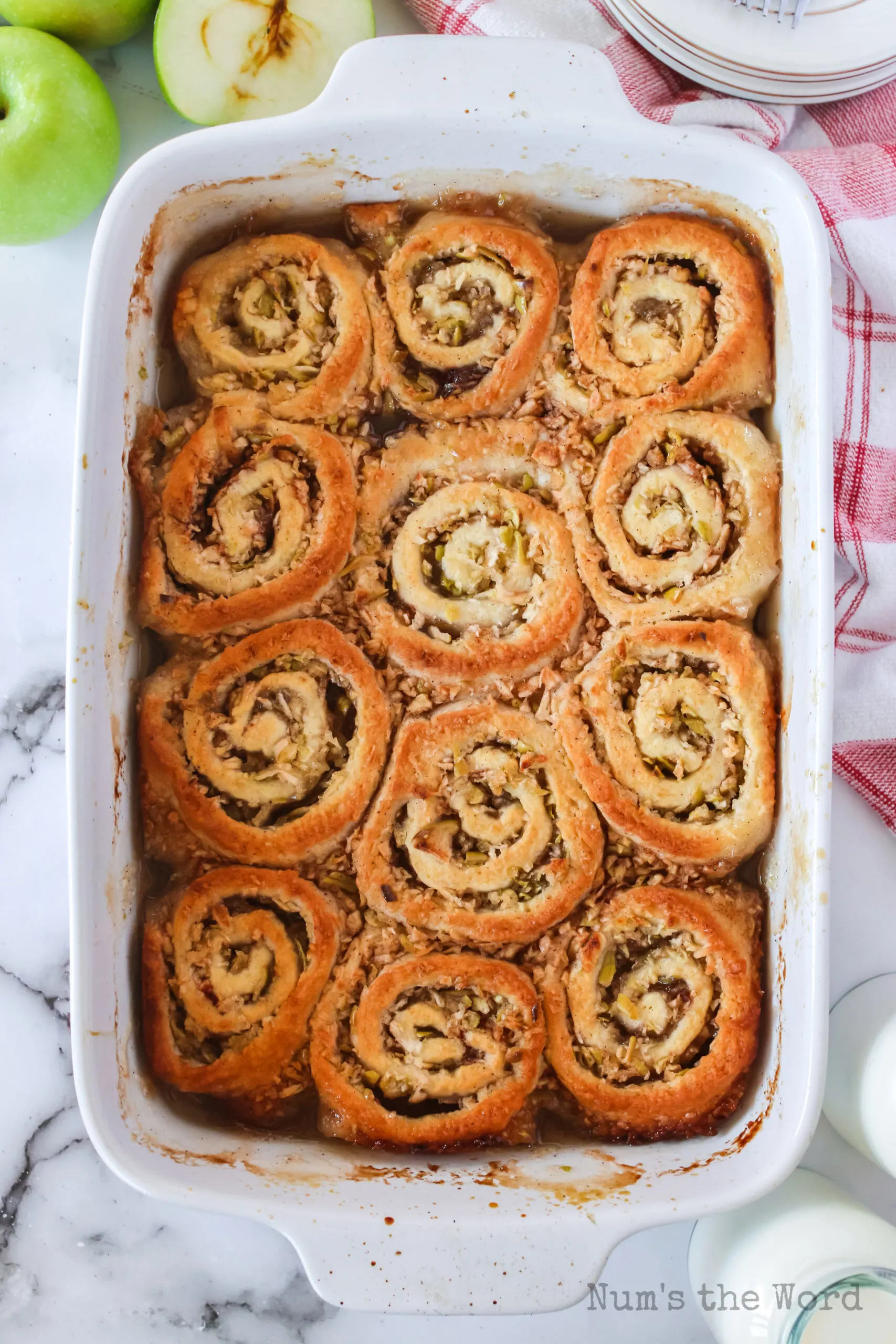 How to Reheat Apple Dumplings
I find leftover apple dumplings reheat the best in the oven, though you can use a microwave too.
First, allow the dumplings to come to room temperature on the counter. This should take about an hour or so.
Oven: Reheat at 350 for 10-12 minutes. Cover them in foil to prevent the tops from burning.
Microwave: About 30 seconds should produce a warm apple dumpling.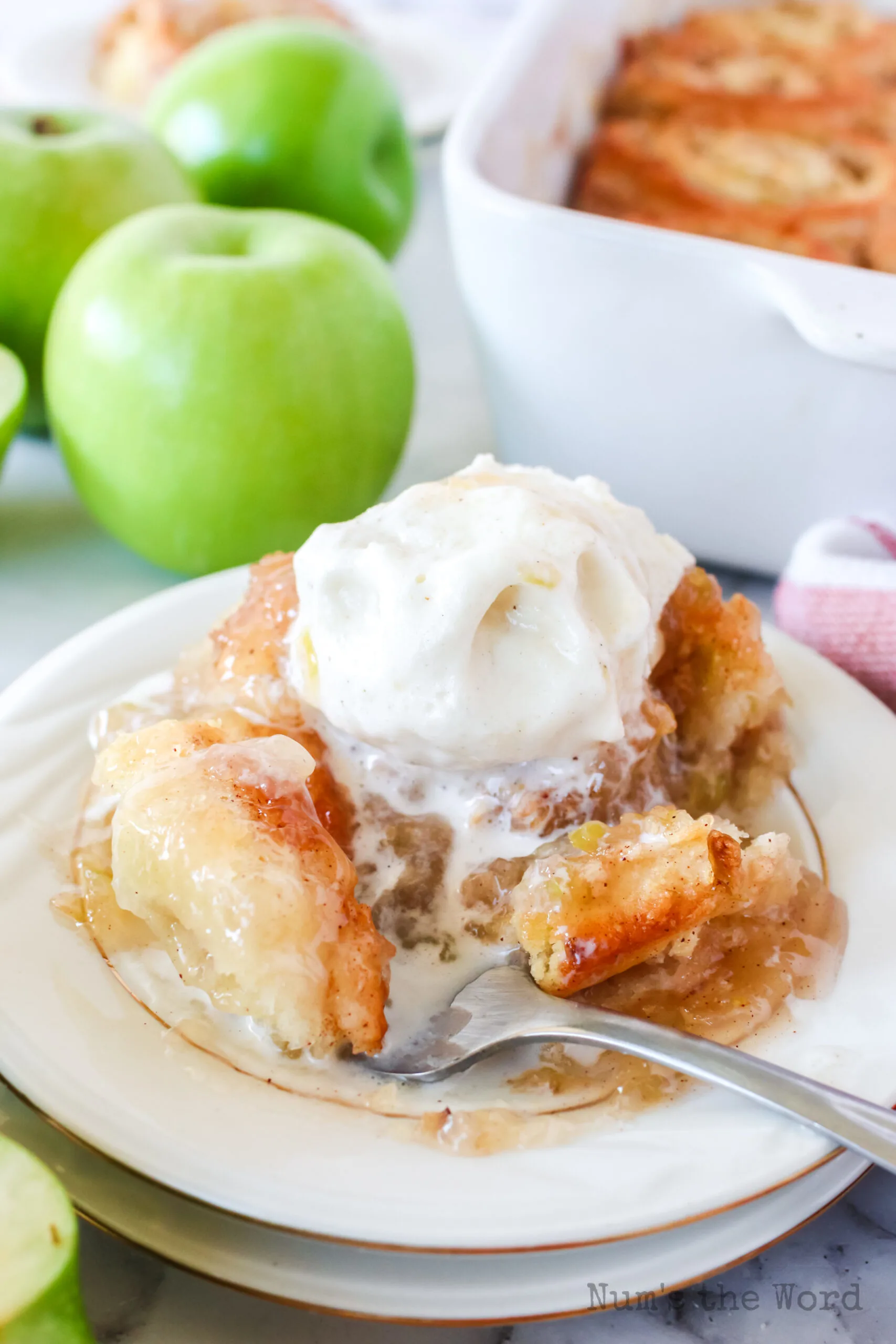 More Granny Smith Apple Recipes You'll Love…
Apple Dumplings are one of our favorite apple desserts, making them a sweet treat that everyone enjoys! Full of nostalgia (and butter!) They are the perfect addition to your apple recipes!
Let me know what you think in the comments!
Yield: 12 Dumplings
Old Fashioned Apple Dumplings Recipe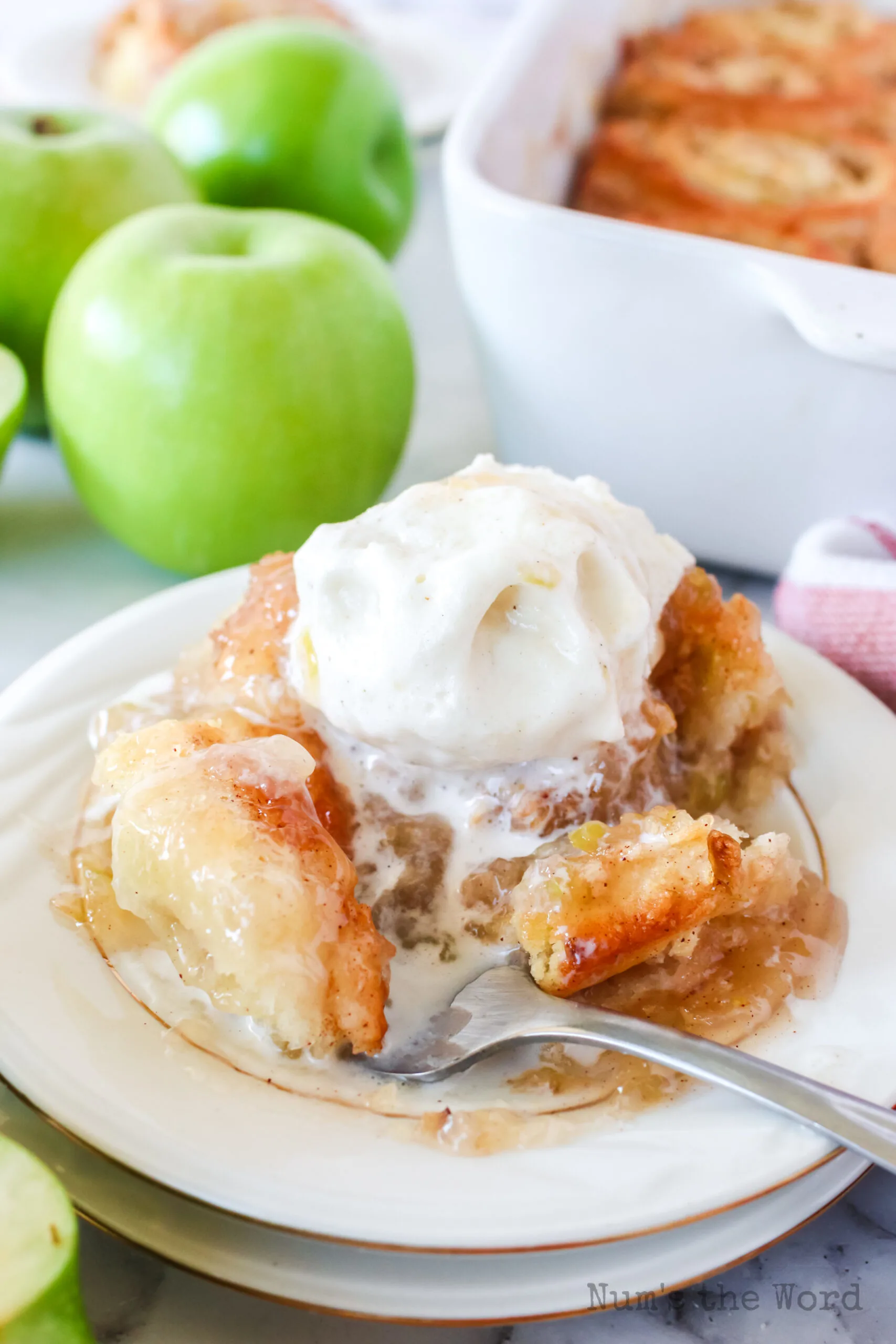 For a comforting, warm treat, try these Apple Dumplings! They are a taste of Grandma's house right from the comfort of your own home!
Total Time
1 hour
20 minutes
Ingredients
2 cups all-purpose flour (Crust)
1 teaspoon salt (Crust)
2 teaspoons baking powder (Crust)
3/4 cup butter, room temperature (Crust)
1/2 cup milk (Crust)
4 Granny Smith apples, grated with skin on, core removed (Filling)
1/2 teaspoon cinnamon (Filling)
1/2 cup white sugar (Filling)
2 cups water (Caramel Sauce)
2 cups brown sugar (Caramel Sauce)
1/4 cup butter (Caramel Sauce)
1/4 teaspoon cinnamon (Caramel Sauce)
Instructions
Preheat oven to 400*F
Spray a 9x13 casserole dish with oil. Set aside
In a bowl, using a pastry blender, mix flour, salt, baking powder and butter until mixture is crumbly.
Add milk ¼ cup at a time, mixing well with a rubber spatula to bind ingredients.
Lightly / medium flour a work surface and place dough in the middle. Roll out dough into a 10 x 14 inch rectangle. Think cinnamon rolls.
Grate apples and place on top of rolled out dough.
Sprinkle apples with ½ teaspoon cinnamon and ½ cup white sugar.
Gently roll up dough along the long end - like you would a cinnamon roll. Dough is more like a thick pie crust than a soft cinnamon roll dough. This makes it harder to roll, not to mention this bulky apple layer.
Once dough is rolled up into a tight roll, cut like cinnamon rolls, cut in 1 ¼ inch slices, like cinnamon rolls.
Place apple dumplings into a prepared casserole dish, filling the dish entirely. Don't overpack, allowing room for rolls to gently expand during cooking.
In a small saucepan, bring 2 cups water, 2 cups brown sugar, ¼ cup butter and ¼ teaspoon cinnamon to a simmer.
Pour over apple dumplings.
Bake for 35 minutes.
Remove and serve immediately by itself or with a scoop of vanilla ice cream.
Nutrition Information:
Yield:
12
Serving Size:
1
Amount Per Serving:
Calories:

386
Total Fat:

16g
Saturated Fat:

10g
Trans Fat:

1g
Unsaturated Fat:

5g
Cholesterol:

41mg
Sodium:

395mg
Carbohydrates:

60g
Fiber:

2g
Sugar:

42g
Protein:

3g