Apple Gingerbread Cake is easy to make and perfect for all your holiday gatherings. You can make it any time of year and oh my goodness your taste buds will thank you if you do.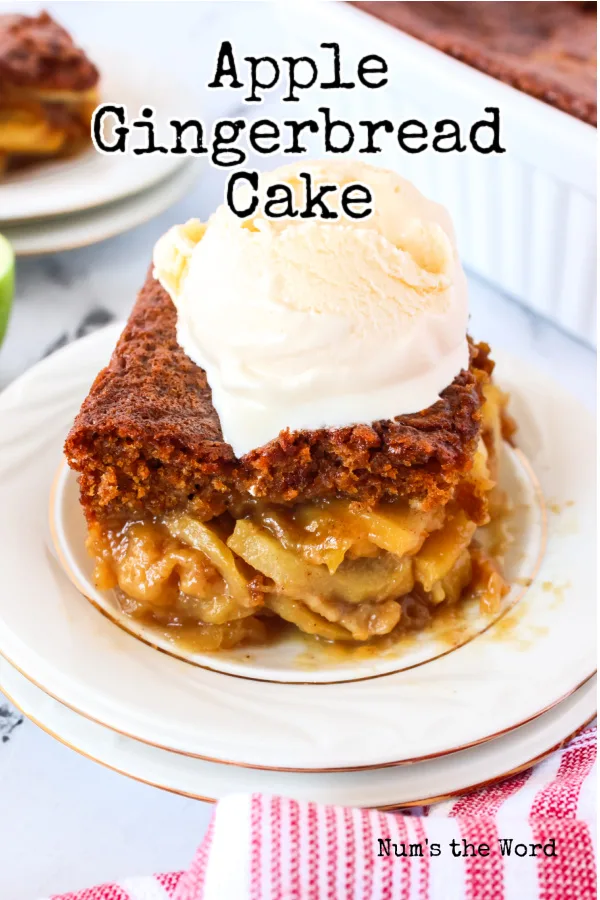 Sweetly spiced apples are baked and then covered in a quick gingerbread cake. When served with a heap of vanilla ice cream, all of your guests will be absolutely stunned.
Made with all pantry and fridge ingredients, I love that I can quickly toss this apple gingerbread cake into the oven for an unexpected holiday party.
I also love this is a moist cake. That's important. A tender and perfectly sweet cake in every bite.
This cake can be dressed up in so many ways too! I love that it's so customizable for every event!
When you are looking for an easy apple gingerbread cake recipe, look no further!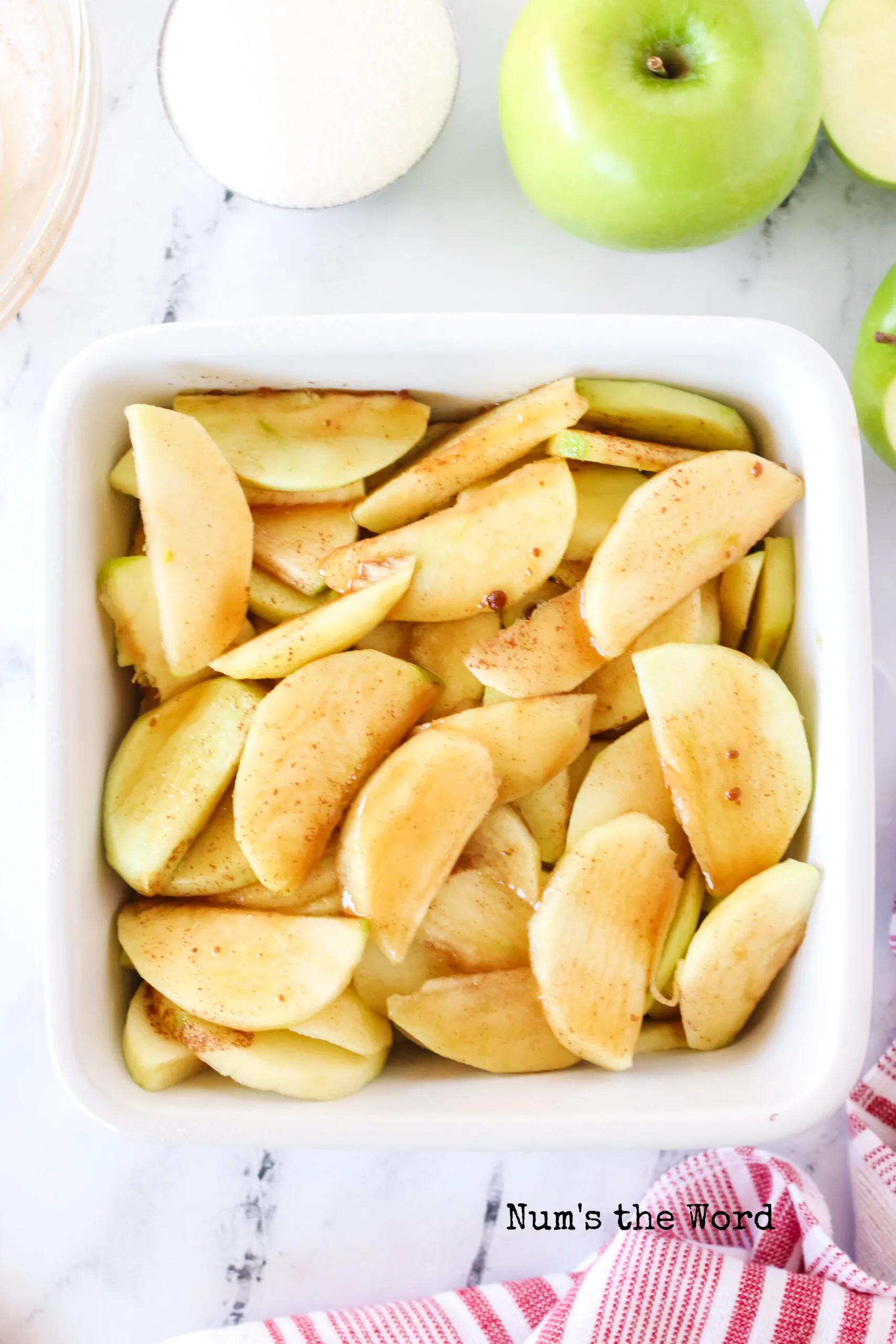 Ingredients in Apple Gingerbread Cake
For the Apples:
Apples:

I prefer granny smith apples but any other tart apple would work.

Brown Sugar:

Don't swap for white sugar as you need the brown sugar for depth of flavor.

Cornstarch:

This is used to thicken the apples so they aren't runny.

Lemon Juice:

You can use lemon juice either from a container or freshly squeezed.

Cinnamon:

Cinnamon flavored apples. Need I say more? MMMMM…
For the Gingerbread Cake:
Egg:

This binds the cake ingredients together.

Buttermilk:

Buttermilk is much thicker and more sour than regular milk.

Molasses:

Molasses is what most people associate with gingerbread. Don't substitute it.

Oil:

You can use vegetable oil or olive oil.

Flour:

Use regular all purpose flour.

Sugar:

With all the other flavors in the gingerbread cake, white sugar is best used here.

Ginger:

Can't have gingerbread without the ginger!

Baking Soda:

Used in conjunction with the molasses to help the cake rise.

Salt:

Sea salt, table salt, Himalayan salt, take your pick!

Baking Powder:

Different from baking soda, use them both!

Nutmeg:

The nutmeg goes perfectly with the cinnamon from the apples!
Pro Tip: If you don't have any buttermilk use ½ Tablespoon lemon juice or vinegar with ½ cup of your milk of choice.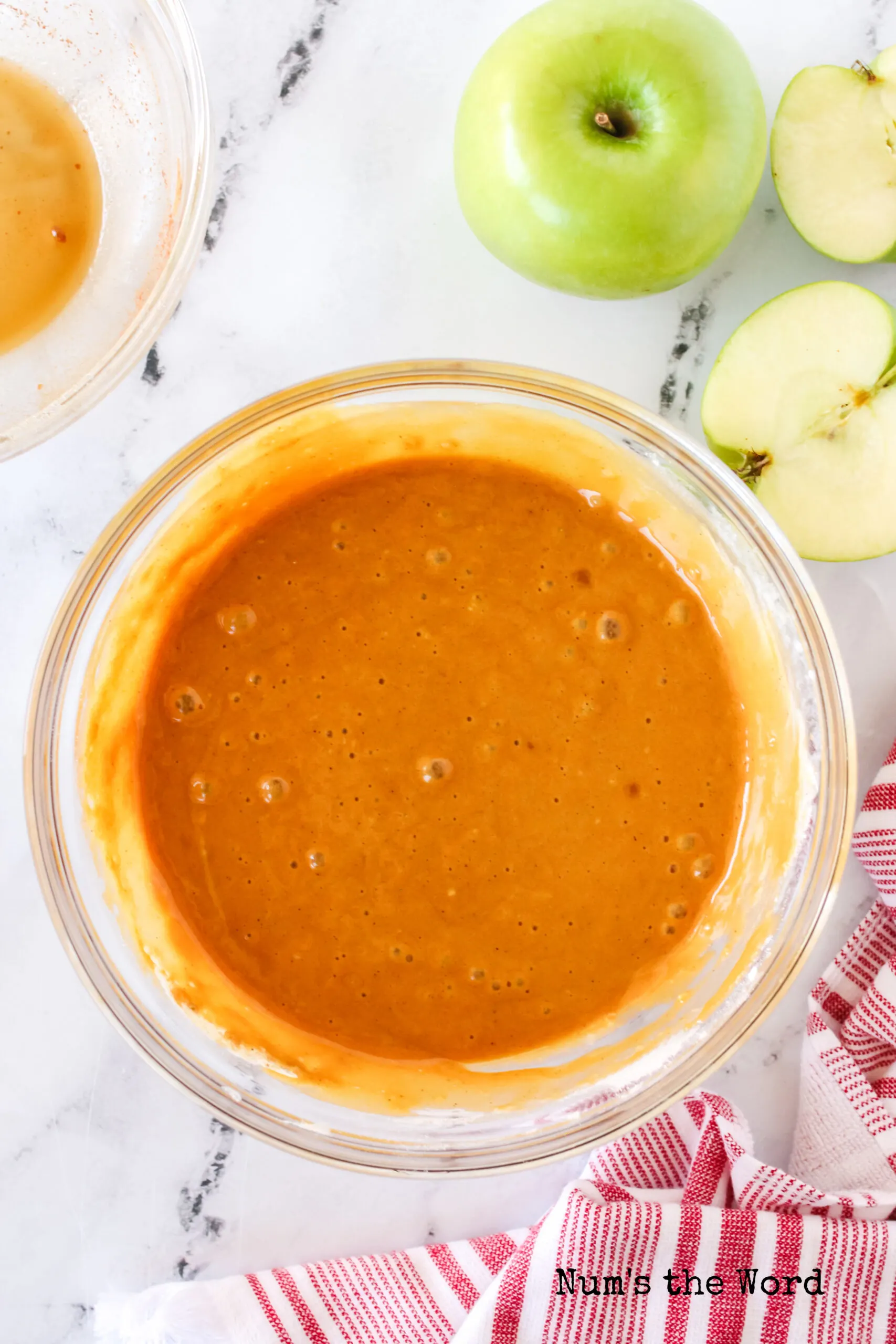 How to Make Apple Gingerbread Cake
Cook Apples:

I highly recommend investing in an apple corer that peels and slices at the same time. It saves so much time! Cook all the apple ingredients together.

Make Cake:

You'll want your gingerbread cake topping to go on as soon as you pull the apples out of the oven. So use the apple cooking time to get it ready.

Eat!:

Best served warm right out the oven! Well.. maybe allow it enough time so you don't burn your tongue.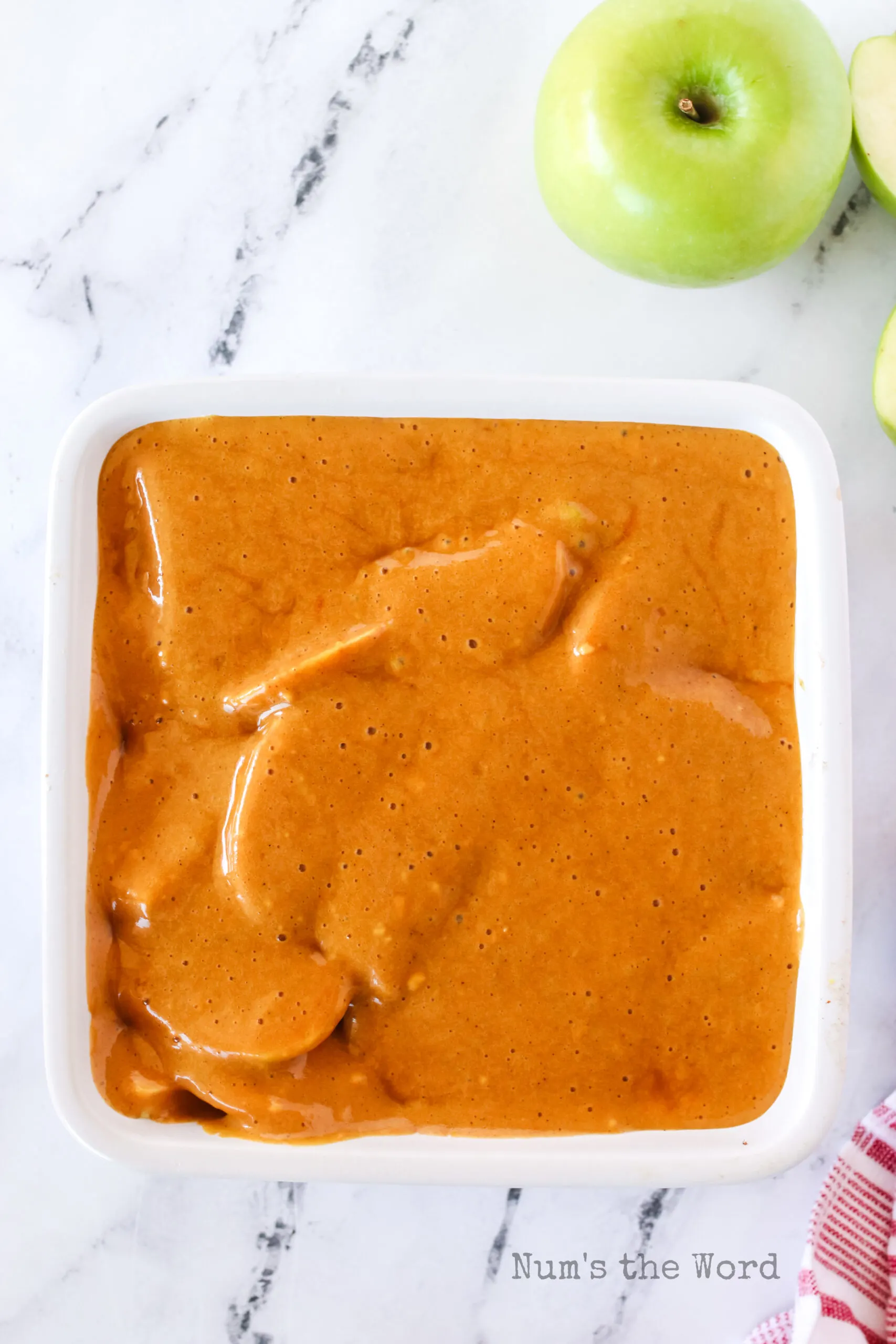 How to Cook Apple Gingerbread Cake
Your apple gingerbread cake will bake in the oven so be sure to preheat and save yourself some time.
First you'll bake the apples and then you'll bake the gingerbread cake on top.
Total cooking time is close to an hour so plan accordingly.
During that time, heavenly smells will be radiating from your kitchen. So don't leave your windows open unless you plan to share!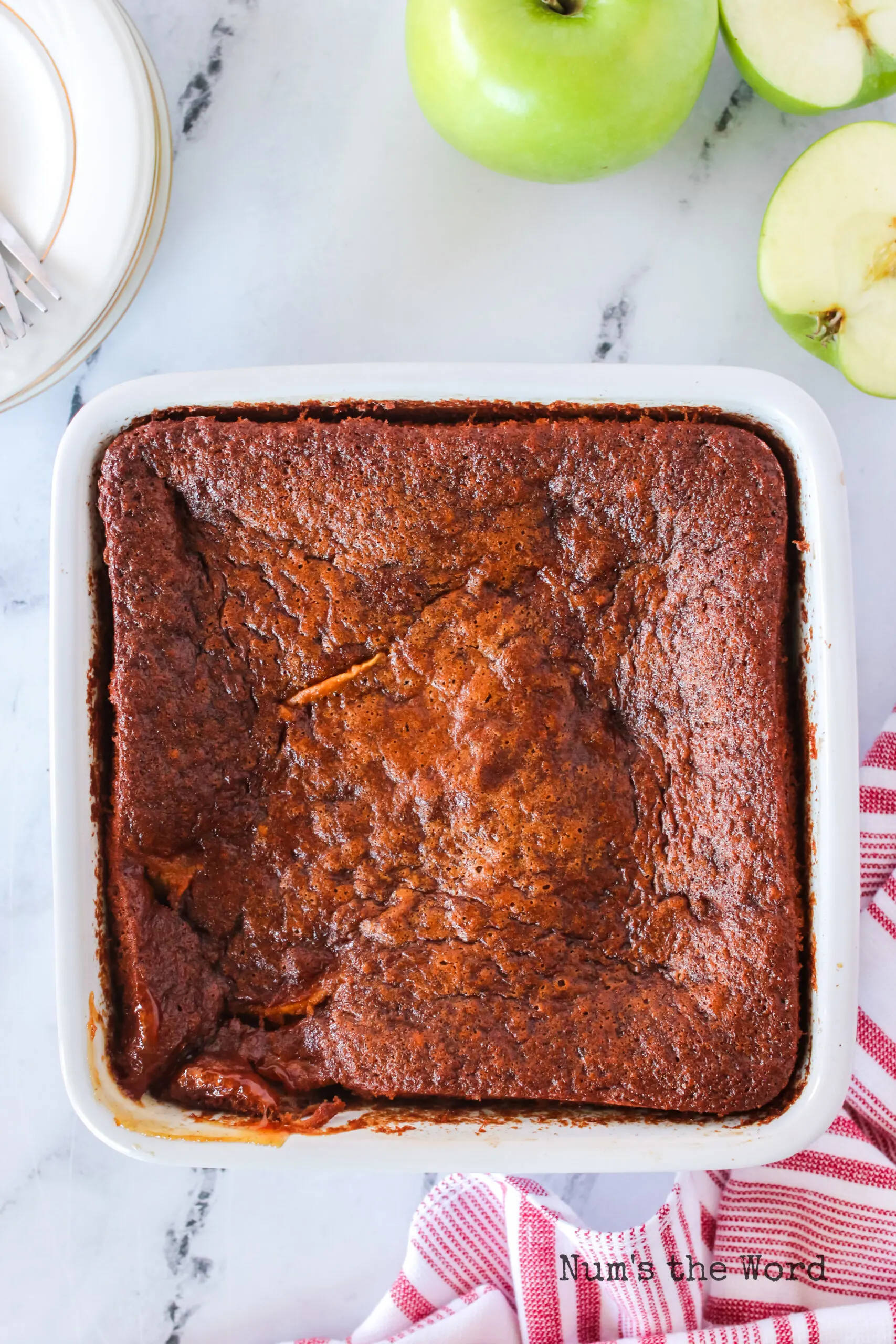 How to Cut Apples for Apple Gingerbread Cake
There's lots of fancy gadgets on the market you can buy that will peel, core, and slice your apples. AMAZING!
If you don't have one, never fear, you can still make apple gingerbread cake, it'll just take a little more effort.
First slice the apples. Never try to cut them before slicing. It makes the job much more difficult.
You can use either a peeler or paring knife to remove the skin.
Next, remove the core.
You want the apple slices to be about ¼ inch thick. Try to keep them evenly sized so your slices will cook evenly.
You can leave longer slices of apple or cut them down to bite size.
Don't chop them as it will change the cook time and be more likely for your apples to burn.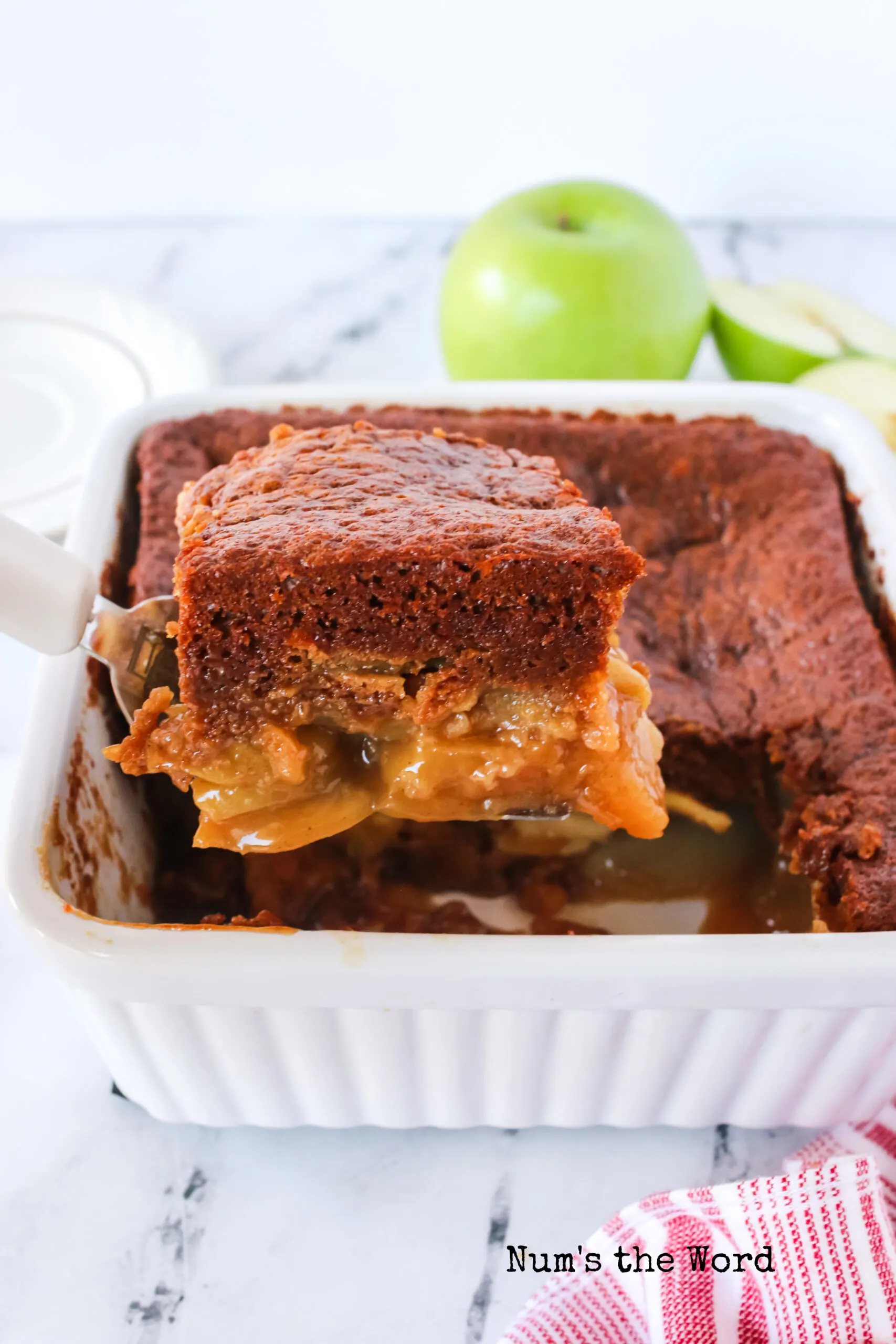 Can You Freeze Apple Gingerbread Cake?
This apple gingerbread cake can be frozen.
First, wait for the gingerbread cake to cool completely.
Once cooled, I recommend cutting it into serving sizes.
This will make it easier to pull out the portion that you need and also cuts down on the thawing time.
Next, place each piece in an airtight container. Make sure to label your container with date and what's inside.
When properly stored in this way, apple gingerbread cobbler should last in the freezer for up to 6 months.
When you are ready to eat, simply remove from the freezer and allow the cake to come to room temperature.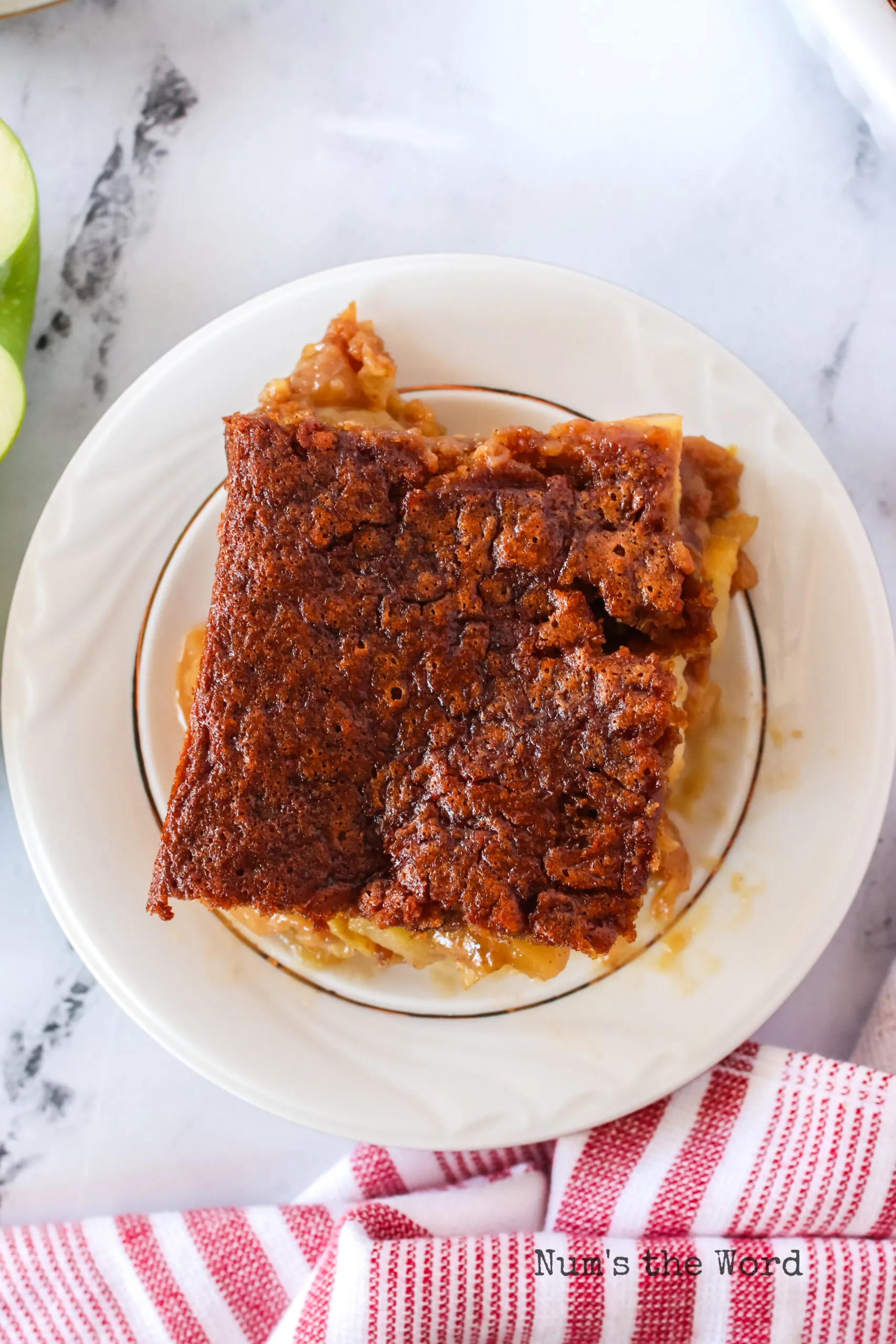 Toppings for Apple Gingerbread Cake
First of all, apple gingerbread cake needs no toppings. Seriously.
This cake is sweet, tart, and delicious all on it's own. So don't feel like you need to DO anything.
In fact, I would make the argument that apple gingerbread cake is just so Cozy without any toppings. You know what I mean?
But toppings can surely dress up your cake and they can be fun too!
We all know there's a personal favorite here… looking at you, you melty, sweet, delicious, vanilla ice cream. But you actually have a lot of other options too!
Nothing!
Vanilla Ice Cream
Sprinkled Powdered Sugar
Whipped Cream
Caramel Drizzle with Chopped Nuts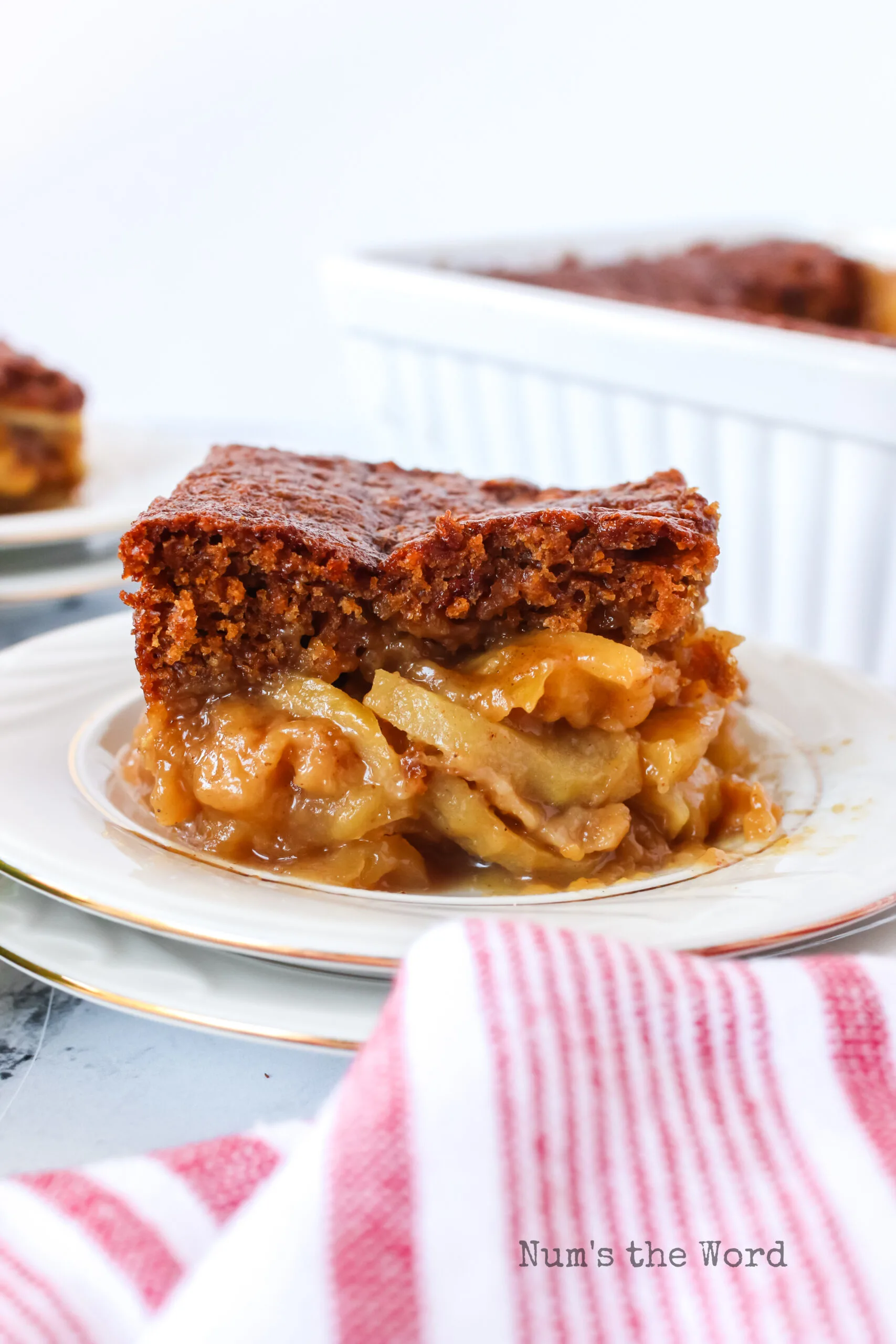 How to Store Apple Gingerbread Cake
First, allow your apple gingerbread cake to cool completely.
Or what you want of it, and then allow the rest to cool completely. That makes much more sense.
Then store the cake covered in the fridge for up to 5 days.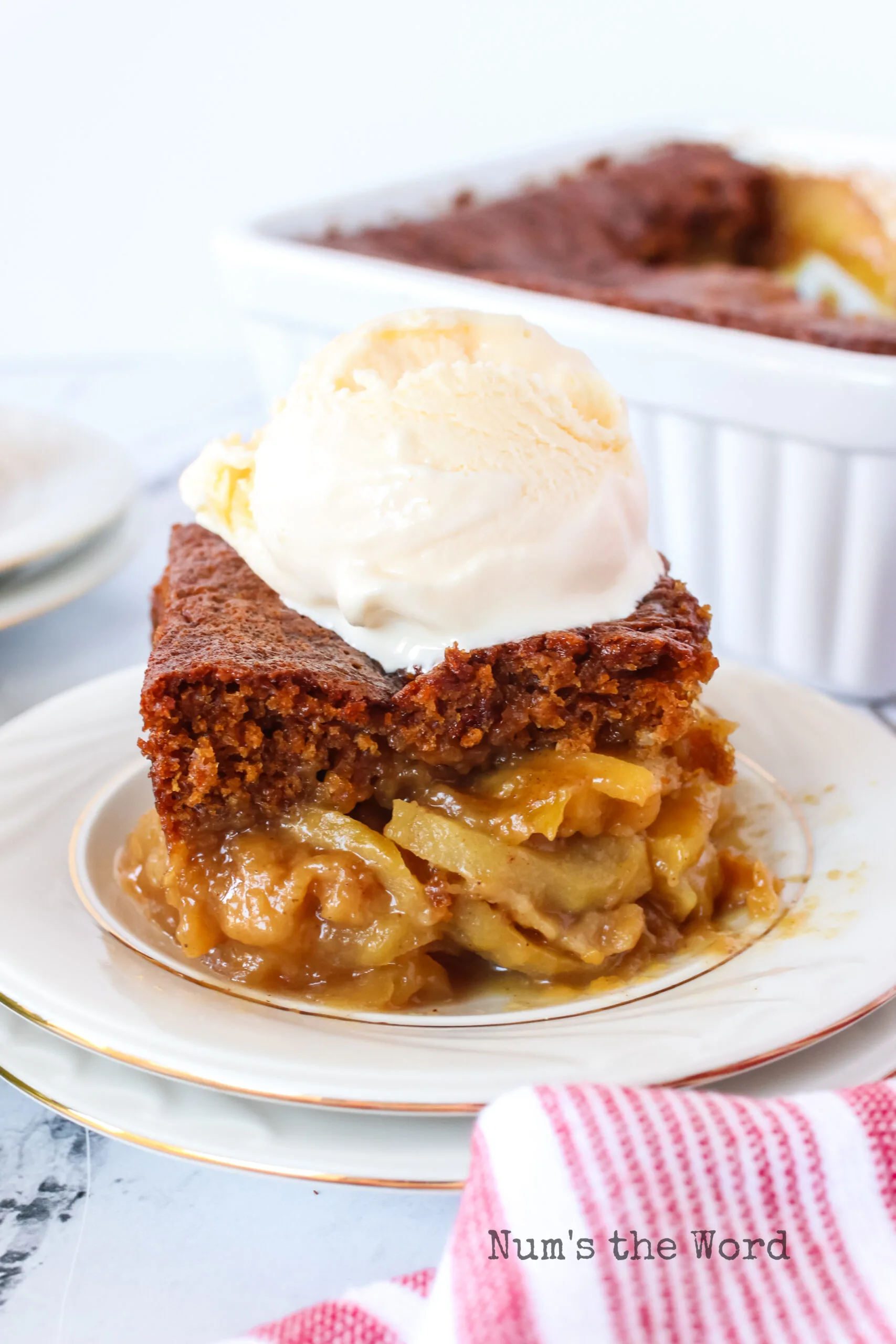 Can Apple Gingerbread Cake be Made Ahead of Time?
Yes. It can be served warm and fresh from the oven or served at room temperature.
If you want to heat it back up again, simply pop it into the oven until warm and then dig right in.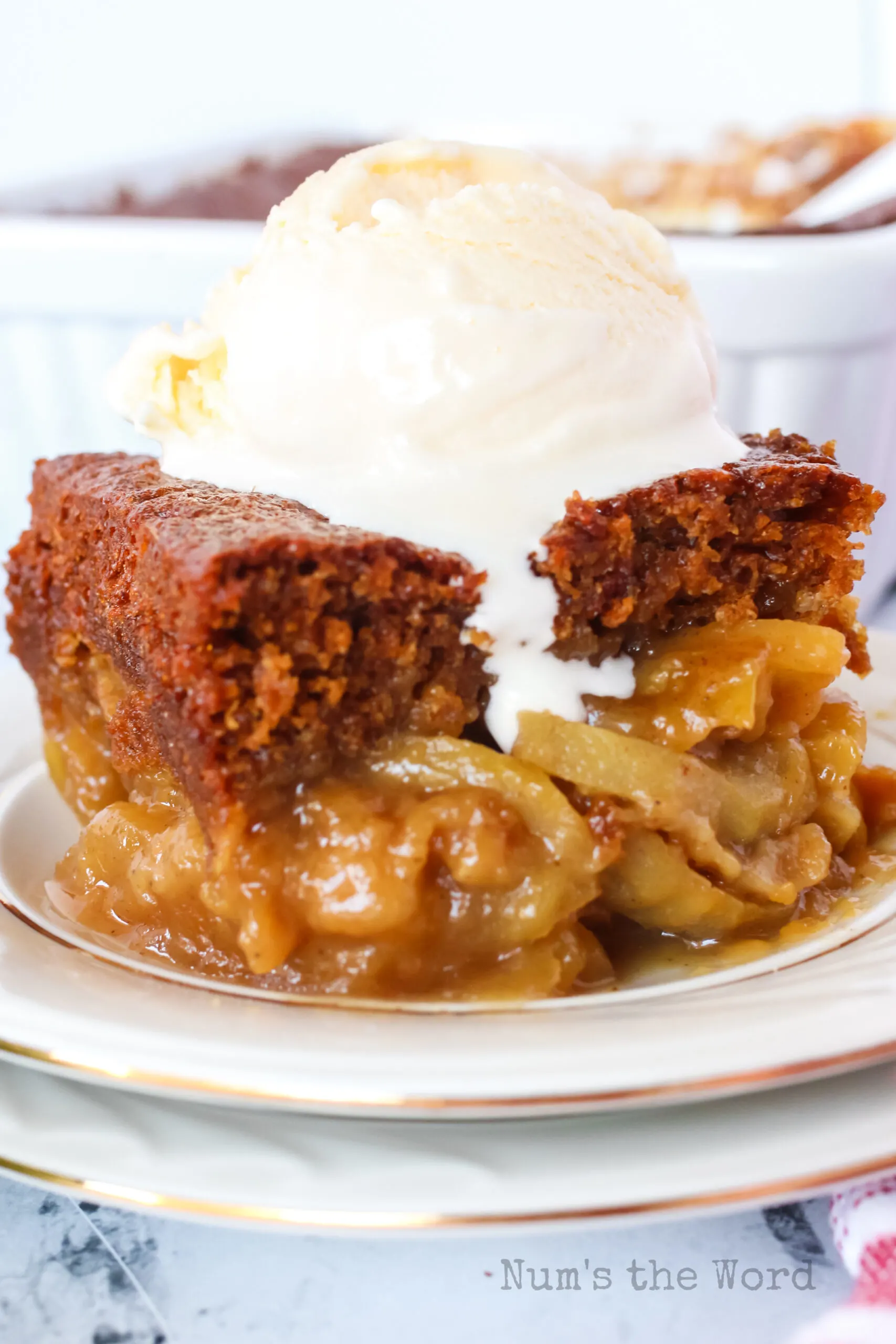 More Apple Recipes You'll Love…
Apple Gingerbread Cake is going to be your absolute favorite! It is easier than cake but still stunningly delicious. This cake is the perfect way to use up all of your fall apples.
Yield: 9 Servings
Apple Gingerbread Cake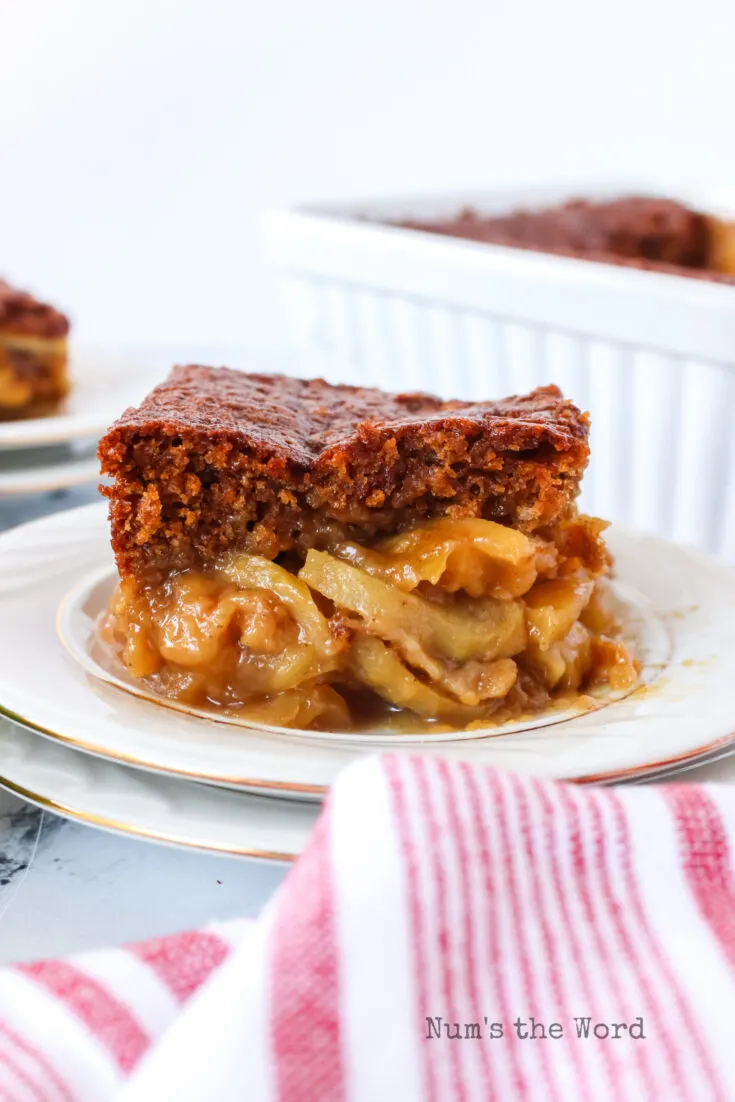 Total Time
1 hour
15 minutes
Ingredients
6 medium granny smith apples, peeled, cored and sliced 1/4 inch thick
1/2 cup brown sugar
1 teaspoon corn starch
2 Tablespoon water
1 Tablespoon lemon juice
1/2 teaspoon cinnamon
1 egg
1/2 cup buttermilk
1/4 cup molasses
2 Tablespoons vegetable oil
1 cup flour
1/2 cup white sugar
1/2 teaspoon ground ginger
1/2 teaspoon baking soda
1/4 teaspoon salt
1/4 teaspoon baking powder
1/4 teaspoon nutmeg
Instructions
Preheat oven to 350*F
Spray an 8x8 casserole dish with cooking spray and set aside.
Peel, core and slice apples in ¼ inch thick slices.
Place in a prepared casserole dish.
In a mixing bowl combine brown sugar, cornstarch, water, lemon juice and cinnamon. Mix well and pour over apples.
Cover the dish with foil and bake for 20 minutes.
While the apples are pre-baking, make gingerbread topping.
In a bowl combine egg, buttermilk, molasses, oil, flour, sugar, ginger soda, salt baking powder and nutmeg.
Once the apples have baked, remove from the oven and immediately top with gingerbread topping.
Place back in the oven, without covering, for additional 35 minutes.
Remove from the oven and serve warm with a scoop of ice cream.
Nutrition Information:
Yield:
9
Serving Size:
1
Amount Per Serving:
Calories:

266
Total Fat:

4g
Saturated Fat:

1g
Trans Fat:

0g
Unsaturated Fat:

3g
Cholesterol:

21mg
Sodium:

184mg
Carbohydrates:

55g
Fiber:

4g
Sugar:

39g
Protein:

3g