Roasted Butternut Squash is a fall-favorite recipe. With its rich, buttery texture and sweet, nutty flavor, it's an irresistible taste of autumn.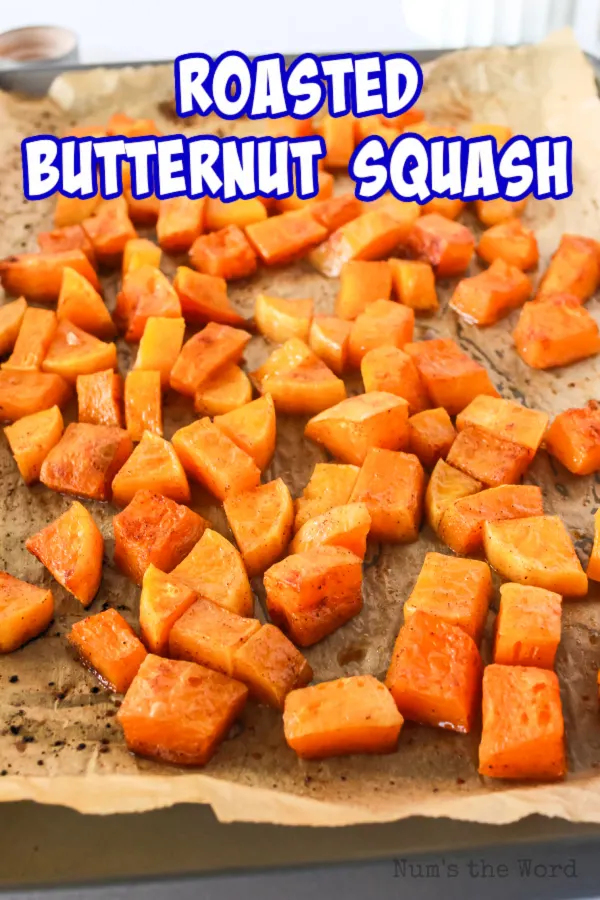 I love the versatility of butternut squash! And roasting it only adds richness to its already great flavor.
Whether you're adding it to your favorite soup, stew, or pasta, or letting it shine as a side dish or a butternut squash soup-er star (aren't I witty?!), you'll always roast it first after you try this recipe.
This oven roasted butternut squash enhances the sweetness and flavor by caramelizing some of the natural sugars and releasing some of the buried flavors within the squash.
You'll get a better, deeper, richer flavor by roasting it — and it's so easy to do!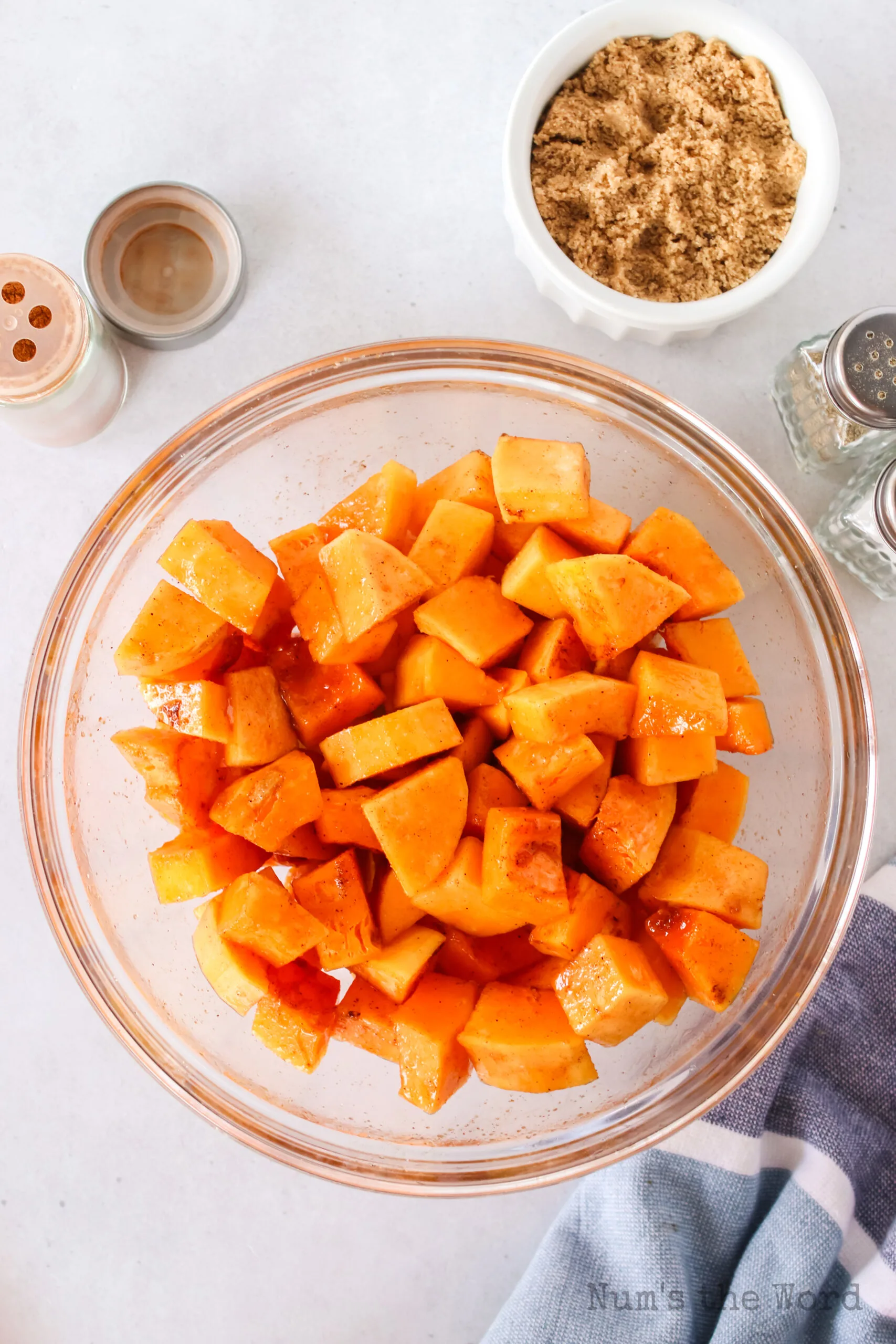 What ingredients are in roasted butternut squash?
In this roasted butternut squash recipe, we use a few extra flavor-enhancing ingredients to really bring out the best in the squash. To get started, you'll need the following ingredients:
Butternut squash

– for this recipe, I use peeled, seeded, and cubed squash.

Olive oil

– olive oil helps the butternut squash crisp up on the edges while cooking.

Brown sugar

– brown sugar is a flavor enhancer that also lends its own rich, caramelly taste.

Cinnamon

– the warm, aromatic flavor of cinnamon roasted butternut squash is incredible!

Salt

– the sweet and savory combination in this recipe makes this the BEST roasted butternut squash!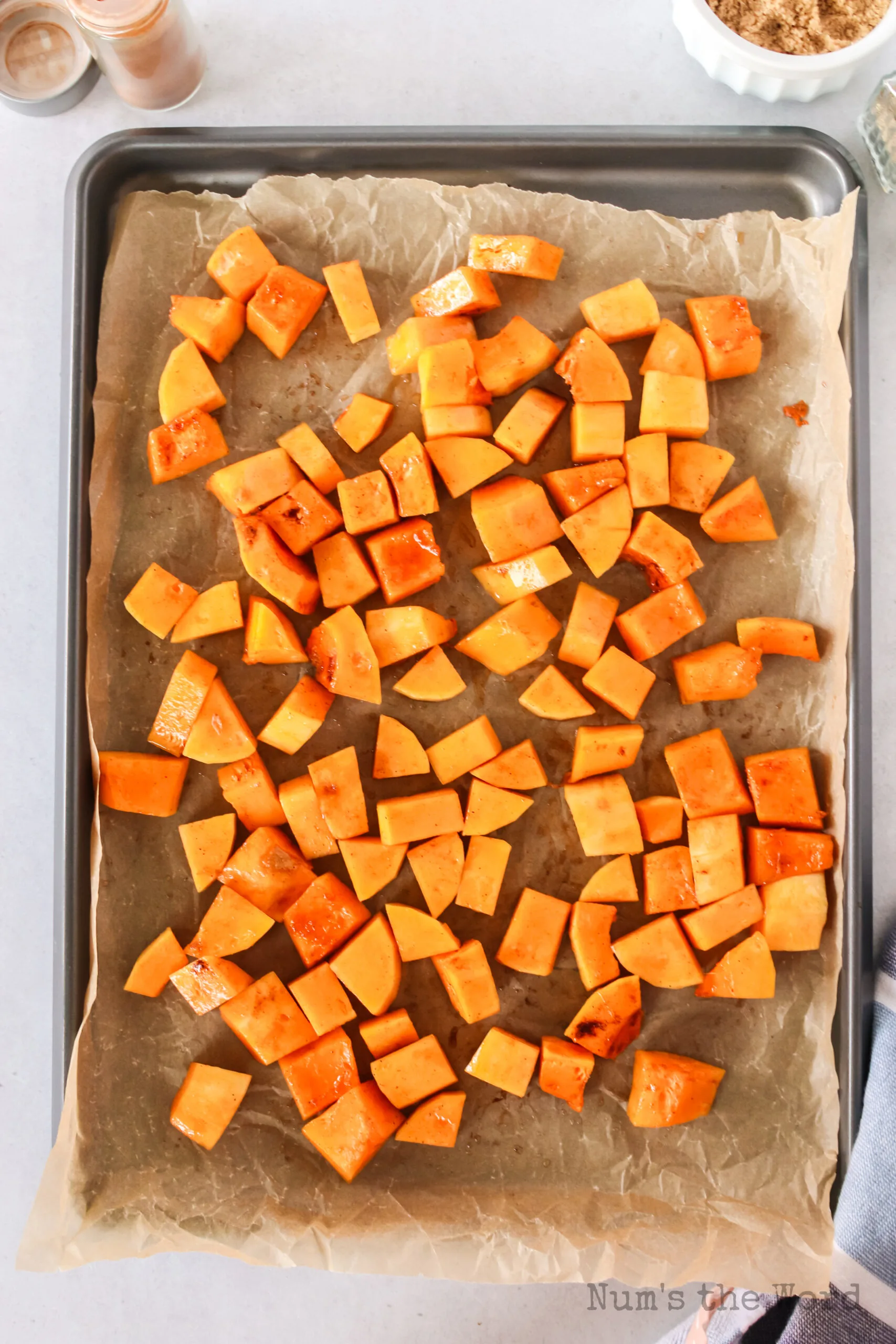 How to roast butternut squash?
Toss

squash with seasoning ingredients and oil.

Spread

squash out on the lined baking sheet.

Cover

with foil.

Bake

!

Remove

foil and BAKE some more!

Serve

and enjoy.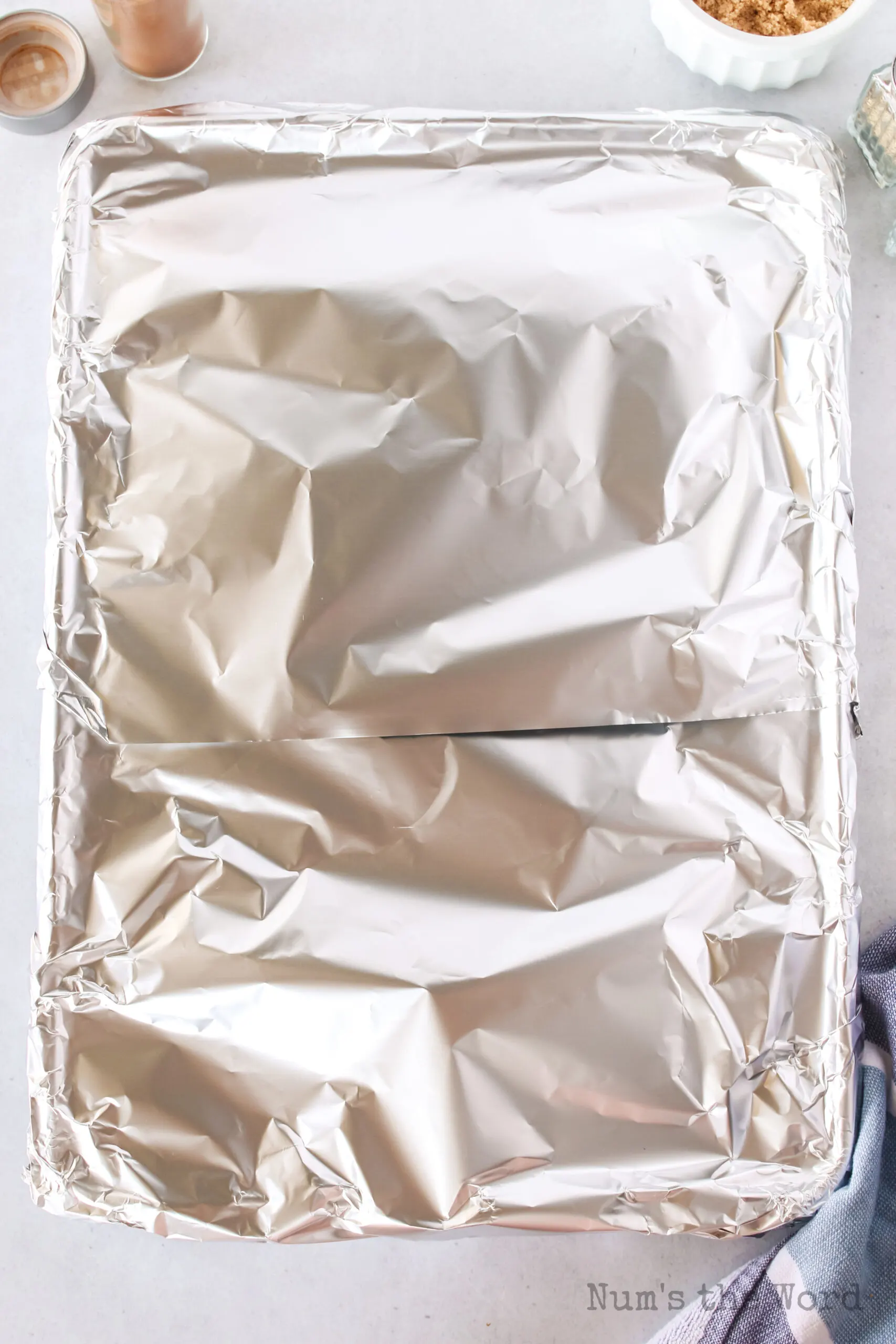 How long to roast butternut squash?
To allow ample time for caramelization and the softening of the squash, you'll want to cook it for a total of about 35 minutes — 20 minutes covered in foil and 15 minutes uncovered.
The squash is fully cooked when the outside is browned and caramelized and the cubes can easily be pierced with a fork.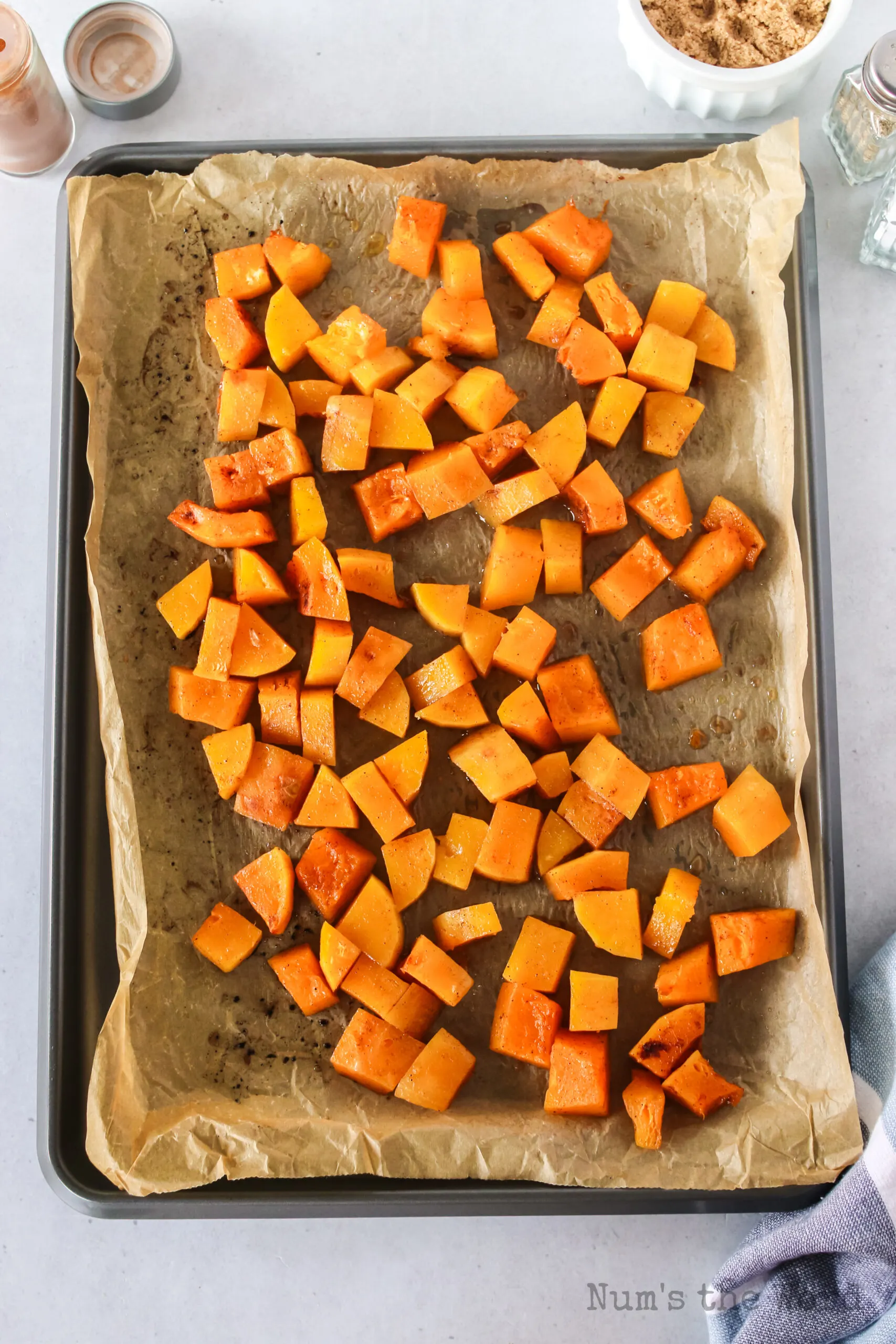 Do you have to peel a butternut squash before roasting?
Nope, you do not! Roasted whole butternut squash is a convenient way to roast squash that you'll be using in a blended soup or sauce.
It saves active prep time when it comes to peeling and cubing — because you don't have to peel OR cube it!
However for this recipe we decided to peel the squash. My kids are anti skin on anything – potatoes and apples are always skinless in this house. However you can leave the peel on if you wish.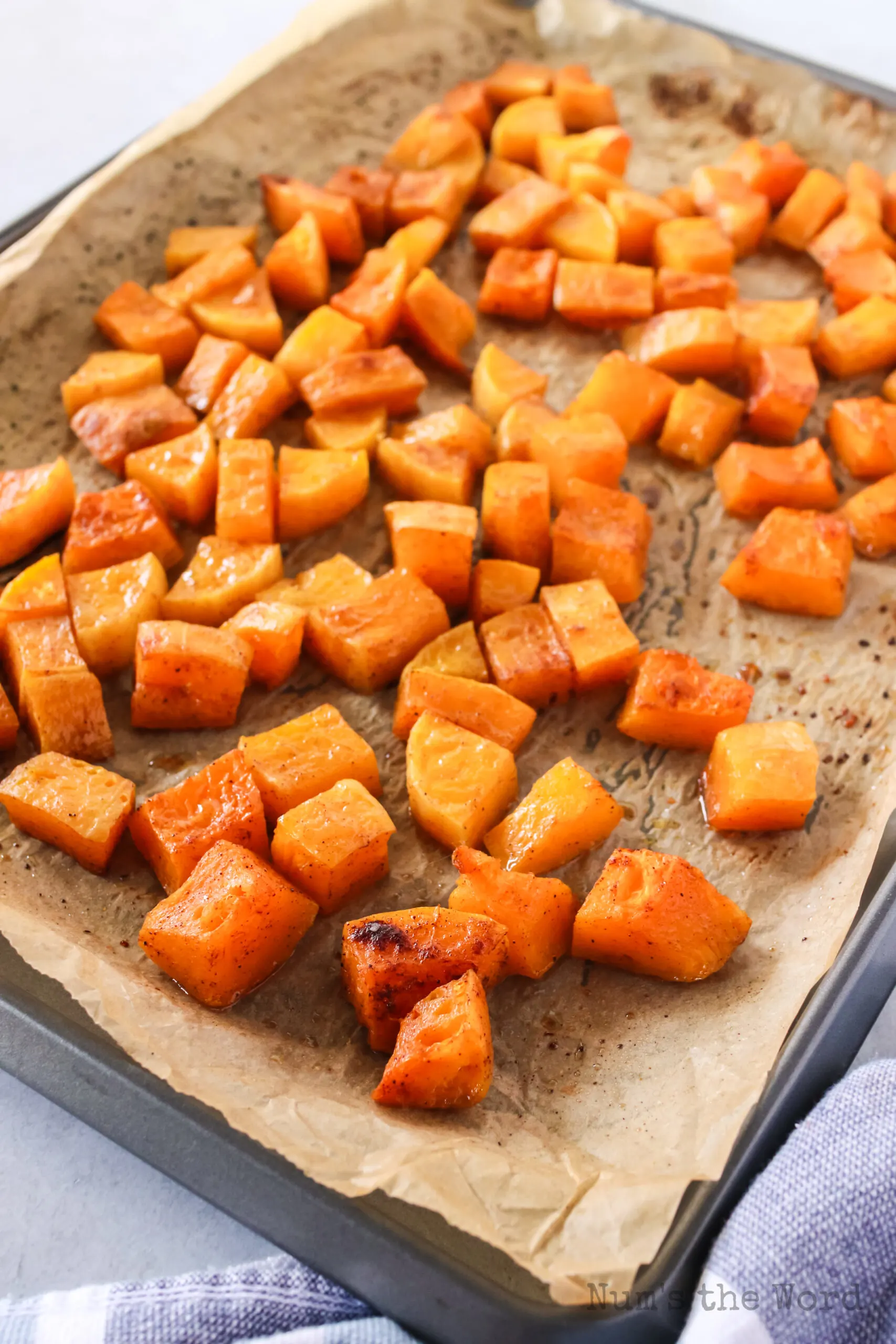 Can you roast frozen butternut squash?
Absolutely! Roasted butternut squash cubes from frozen is a quick and convenient way to make this fabulous dish.
Using frozen saves you the trouble of peeling, cutting, and cubing the squash on your own!
Keep in mind that you might need a little additional cooking time if you're using frozen squash.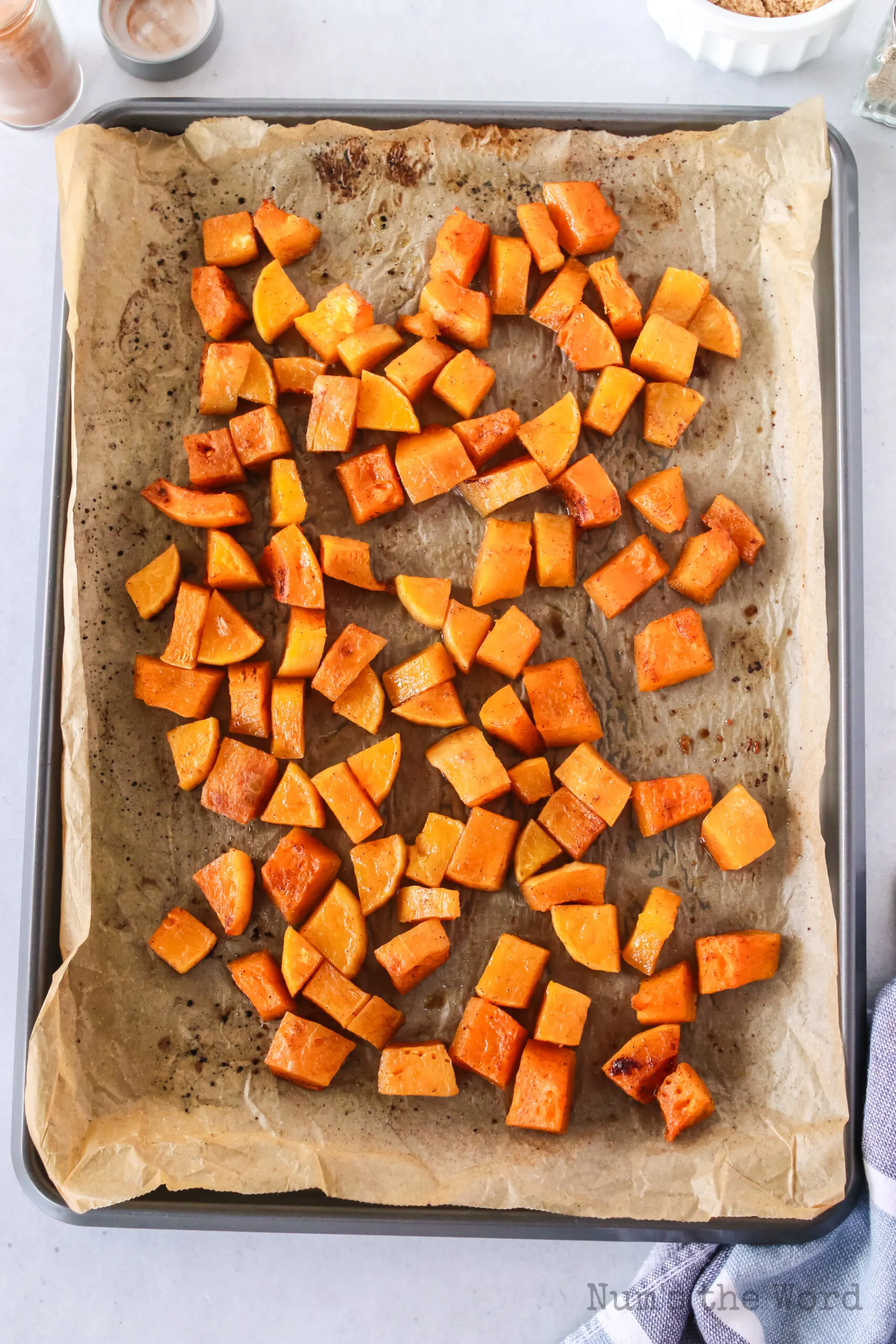 Can I freeze roasted butternut squash?
Yes, you can! Though I would mention that when you freeze the cooked squash, it will be hard to regain the outer-texture without reheating it in an air fryer.
The great news is that you can freeze cooked or uncooked squash — so if you want more of that fresh-cooked texture, consider freezing prior to cooking.
To freeze uncooked butternut squash, peel and cube to desired size and "pre-freeze" on a lined baking sheet by spreading out the cubes so they aren't touching and allowing it to freeze for about 2-3 hours.
Once the cubes are pre-frozen, you can place them in a zipper bag or other airtight container and store in the freezer for 2-3 months.
When you're ready to cook the squash, season and prepare it as you would fresh squash and bake as directed, allowing for a little extra baking time if needed.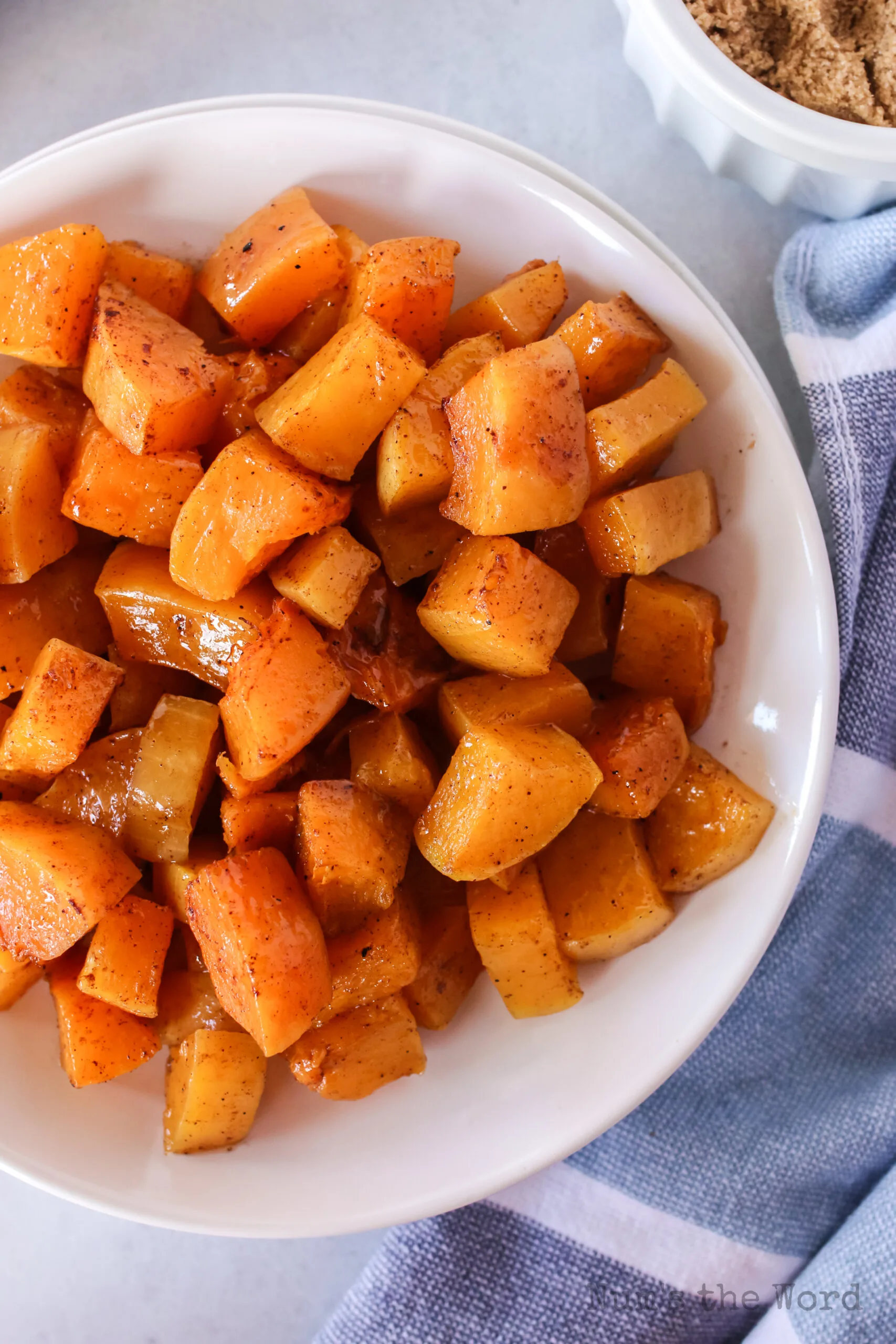 Can you roast butternut squash seeds?
Yes, you can roast butternut squash seeds. You can actually roast the seeds of any winter squash variety! Pumpkin, butternut, acorn, spaghetti — all of them have seeds that can be roasted.
Are roasted butternut squash seeds healthy?
Squash seeds are nutritious and can make for a great snack! They contain fiber, protein, and other vitamins and minerals.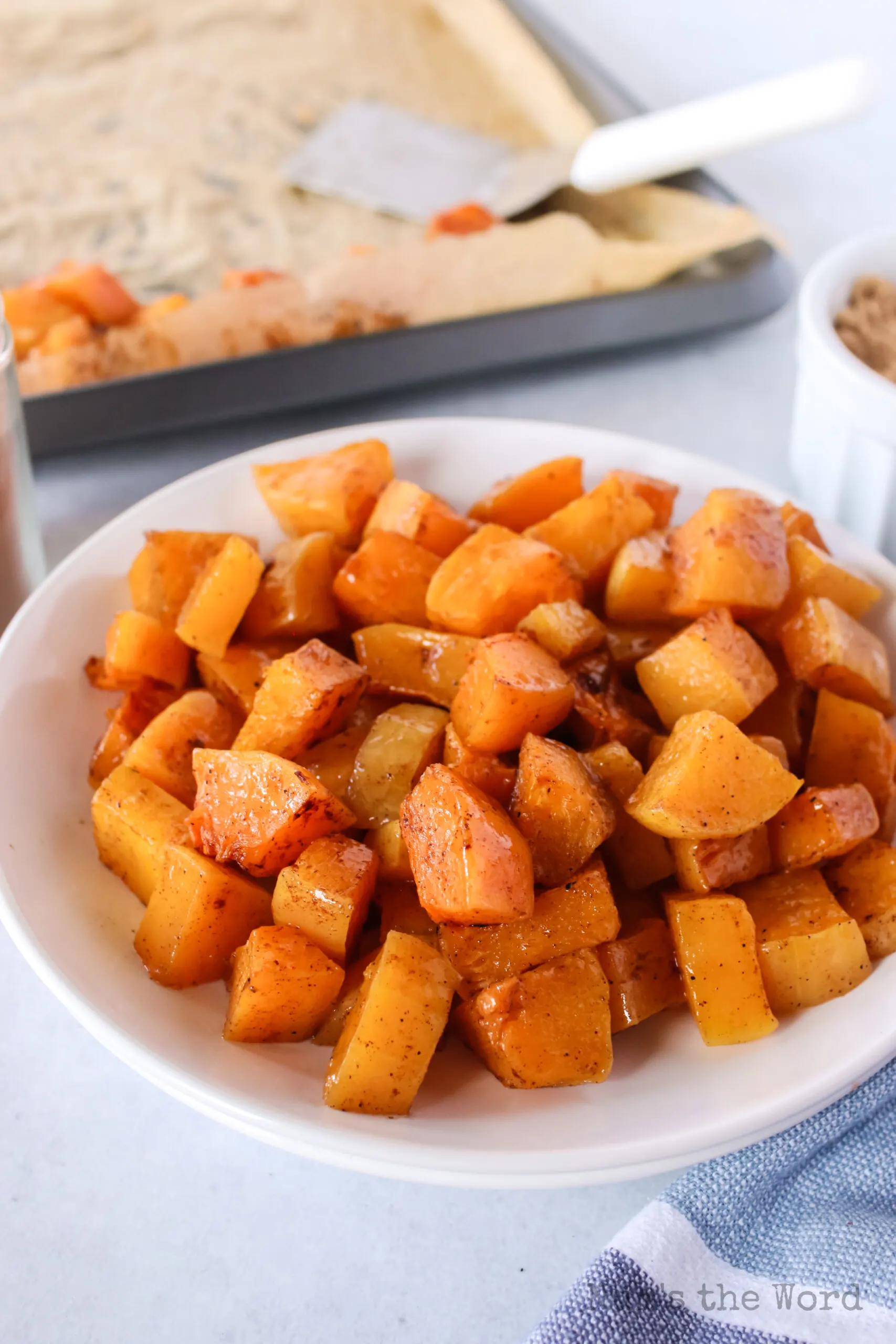 Can dogs eat butternut squash?
Yes, dogs can eat cooked butternut squash, though uncooked could be a little rough on their digestion. That being said, this recipe contains additional sugar, salt, and cinnamon, which are not always great for furry friends.
Most recommendations advise against feeding your pets foods with added sugars and salts.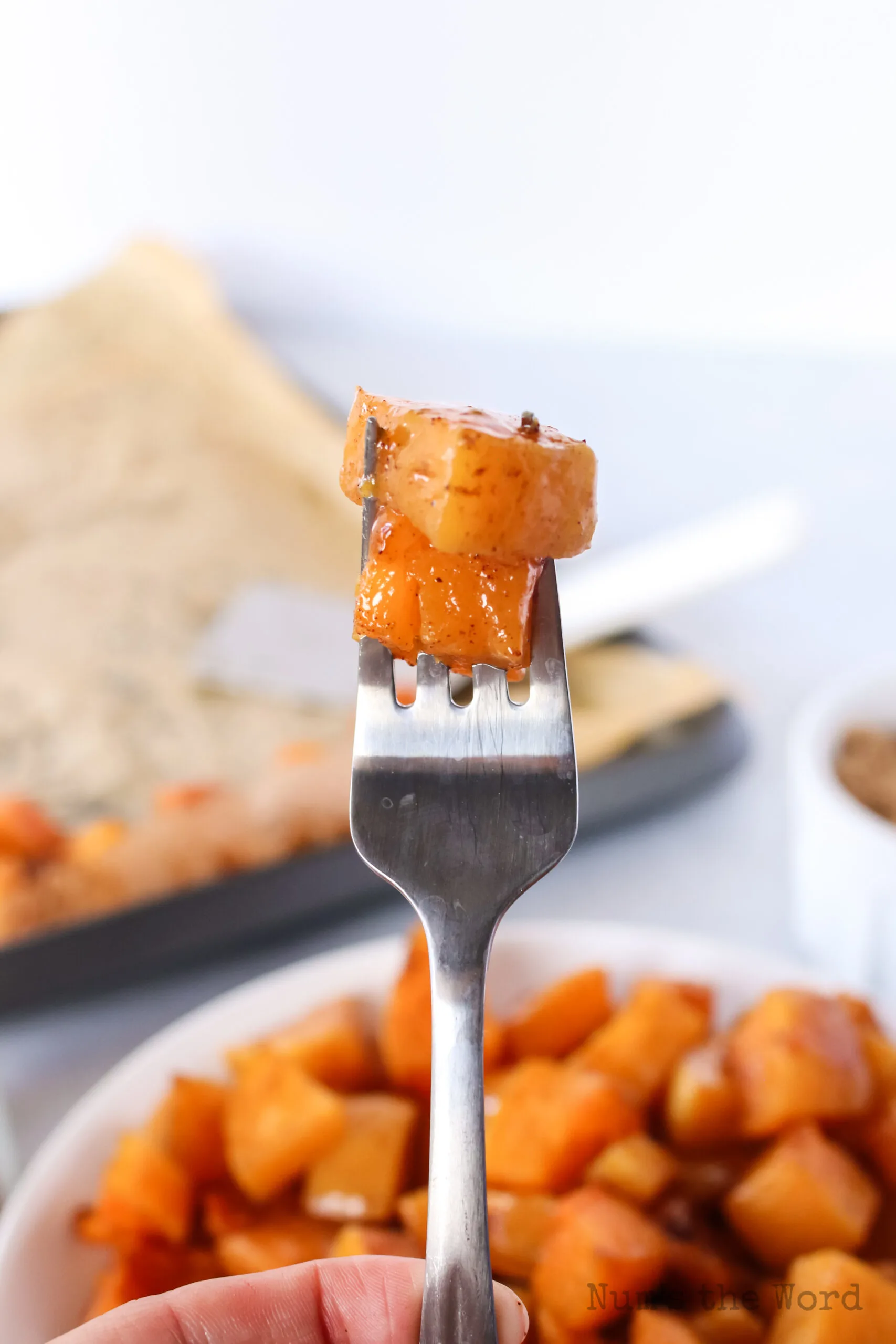 More Autumn Recipes You'll Love…
This Roasted Butternut Squash recipe is sure to be a family favorite, whether you're serving it as a side dish or as a tasty addition to pastas or soups.
Yield: 6 Servings
Roasted Butternut Squash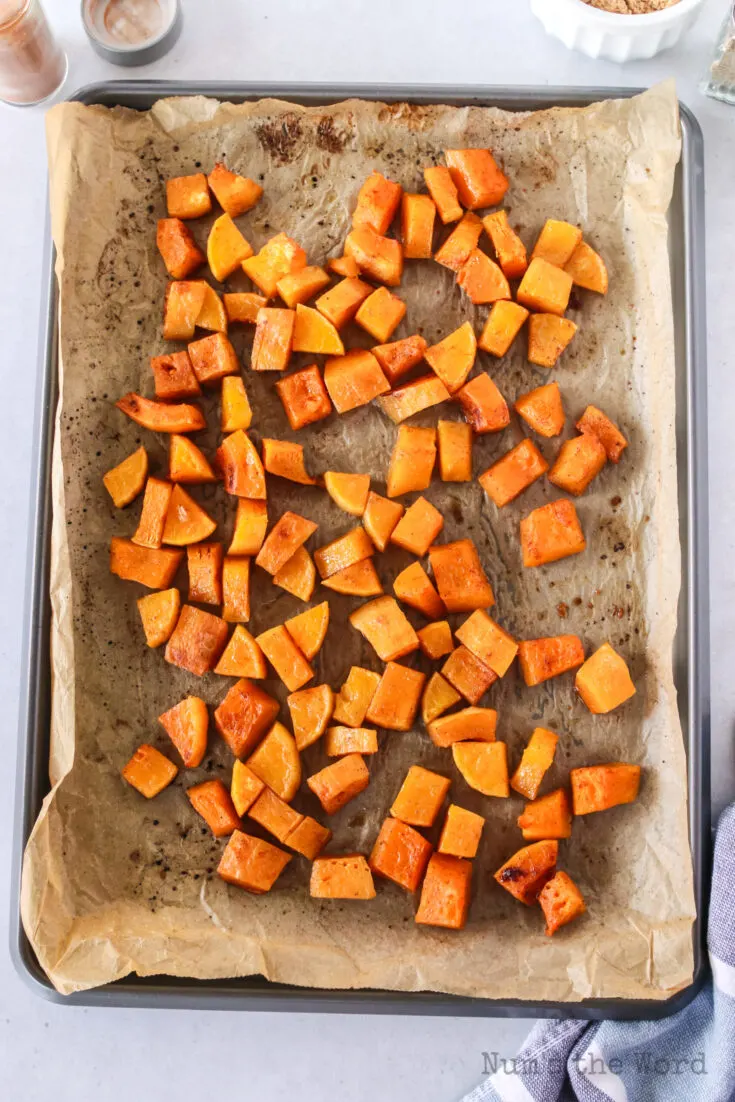 Roasted Butternut Squash is a fall-favorite recipe. With its rich, buttery texture and sweet, flavor, it's an irresistible taste of autumn.
Ingredients
1 large butternut squash, peeled, seeded and cut into 1 inch cubes
2 Tablespoons olive oil
2 teaspoons brown sugar
1/2 teaspoon cinnamon
1 teaspoon salt
Instructions
Preheat oven to 400*F
In a bowl, toss cubed squash with olive oil, brown sugar, cinnamon and salt.
Place on a lined cookie sheet and cover with foil.
Bake for 20 minutes.
Remove foil and bake uncovered for 15 minutes, squash should be fork tender.
Nutrition Information:
Yield:
6
Serving Size:
1
Amount Per Serving:
Calories:

59
Total Fat:

5g
Saturated Fat:

1g
Trans Fat:

0g
Unsaturated Fat:

4g
Cholesterol:

0mg
Sodium:

354mg
Carbohydrates:

5g
Fiber:

1g
Sugar:

2g
Protein:

0g