Oatmeal Pecan Banana Bread is a quick bread that is perfect for breakfast, snack or dessert. It's easy to make and keeps you full longer than traditional banana bread.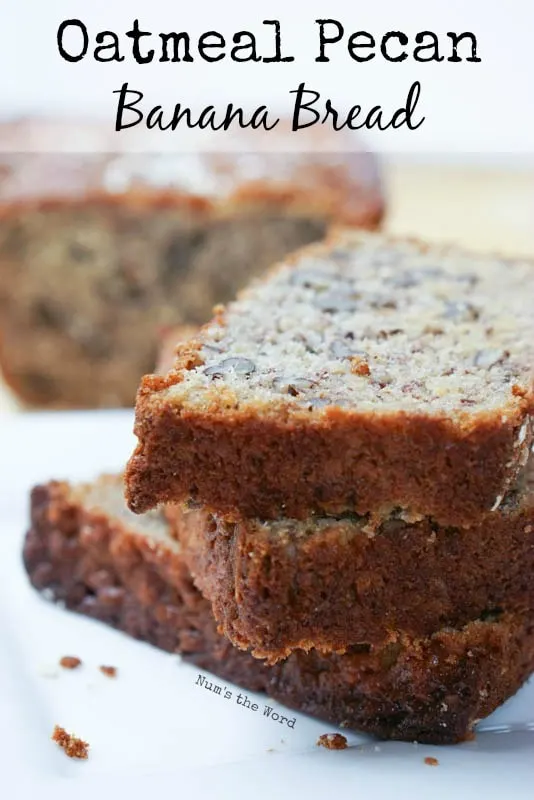 There is a certain ring to the words Oatmeal Pecan Banana Bread.
Perhaps it's because it sounds delicious.
Or Perhaps it sounds like a good, stick to your ribs breakfast.
Or perhaps it sounds healthy.
No matter what it sounds like to you, it sounds amazing to me.
I assure you, it is.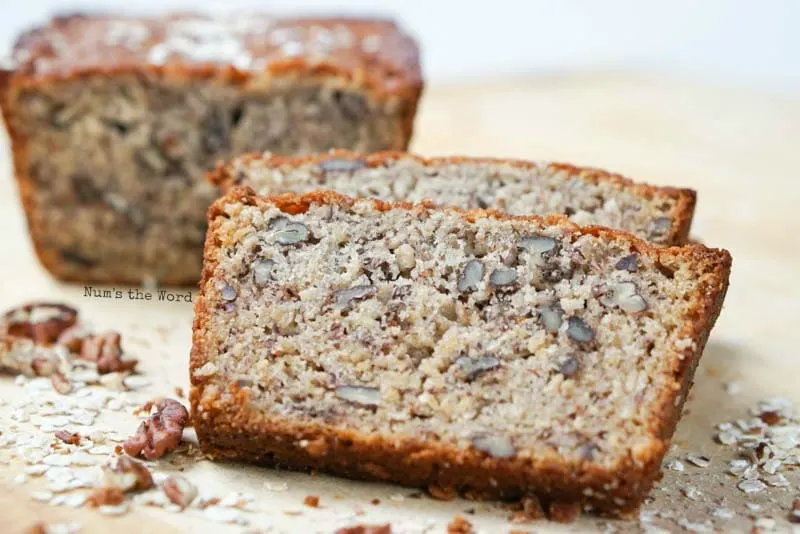 This Oatmeal Pecan Banana Bread is simple, hearty and delicious.
It's more nutritious for you than your daily pop tart or sugar cereal and will hold you over longer than either of those too.
Not only does it make a great breakfast, but also a great snack or dessert.
This Oatmeal Pecan Banana Bread is not overly sweet and has great texture from the pecans.
Now I will warn you, it has Pecans in it.
I know that may sound like an obvious statement, but my husband totally glazed over the addition of pecans.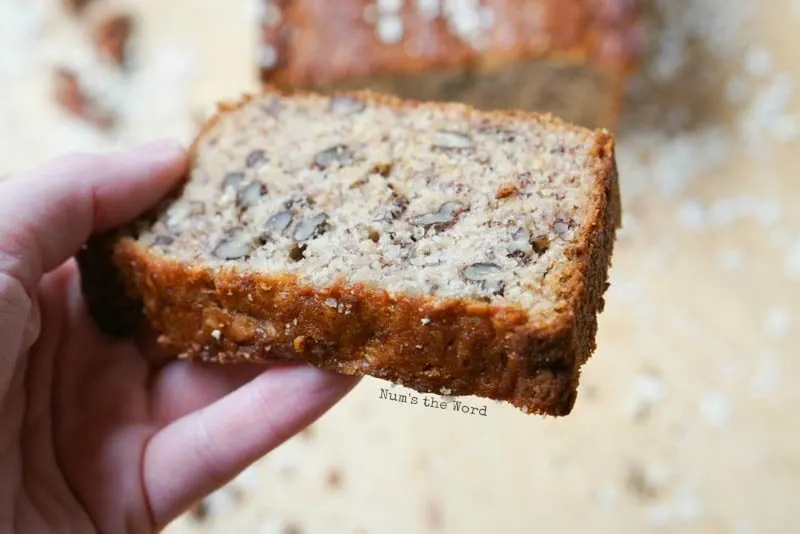 Let me explain.
When I was making the bread, my husband asked what kind.
I said, Oatmeal Pecan Banana Bread.
Then when it was done baking, he asked if I was taking photos of this or if it was up for grabs.
So I tell him, yes I need to photograph the Oatmeal Pecan Banana Bread.
I then quickly photograph the bread so he can have a slice.
Granted, I wanted one too while it was warm!
As I'm sure you know, Banana Bread fresh from the oven is the best!
Warm banana bread with banana bread is a weakness of ours that we can't resist.
It's not uncommon for us to down half a loaf within the first 15 minutes of it coming out of the oven because it's just so tasty warm!
As I slice into the bread, he says…wait, there are NUTS in the bread?
I say to him, Uh yea, it's called Oatmeal PECAN Banana Bread.
To which he claims he never heard me say the word Pecan.
Now in his defense, I have quite a few different banana breads on this website.
NONE of which include nuts.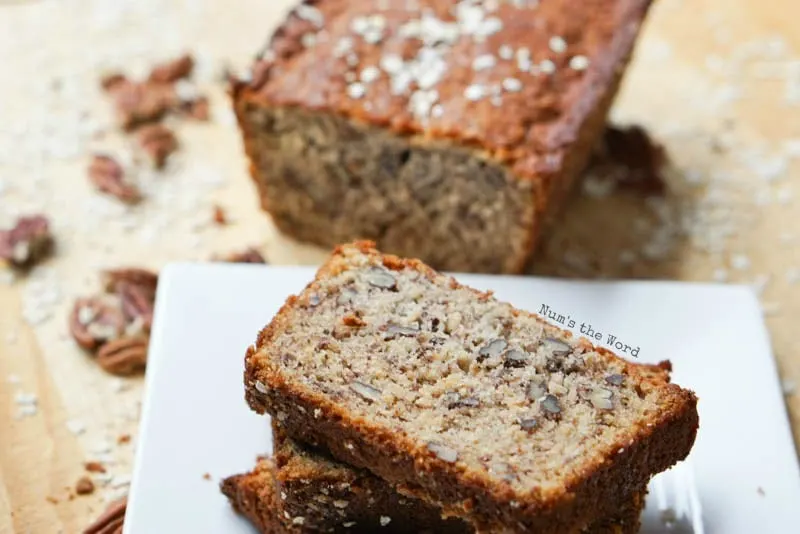 I grew up with NEVER putting nuts in my banana bread.
My mother breaks out in canker sores from nuts, so in general we avoid them.
Except for Peanuts. Peanuts and Peanut Butter were always in our home.
All other nuts though rarely saw the light of day.
The habit of no nuts in bread stuck as I moved out.
This is why my husband was surprised at the addition of nuts.
I never put nuts in my breads.
However, as I said in the beginning, there is a certain ring to the term Oatmeal Pecan Banana Bread.
Not only does this bread have nuts, is easy to make, and tastes delicious.
In my house this Oatmeal Pecan Banana Bread is considered "healthy" making it an acceptable breakfast, snack or dessert!
If you like Oatmeal, Pecans and Bananas, then you'll love this bread!
Yield: 1 Loaf
Oatmeal Pecan Banana Bread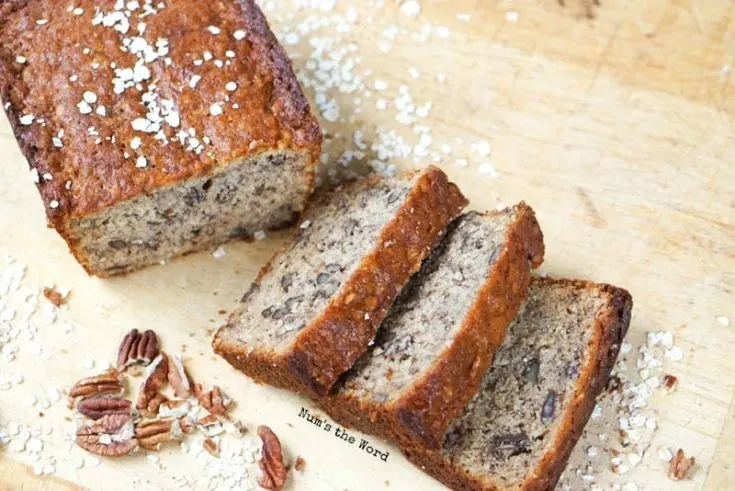 Total Time
1 hour
10 minutes
Ingredients
2 eggs
2/3 cup sugar
1/3 cup butter, room temperature
1/2 teaspoon salt
1/4 teaspoon baking soda
2 teaspoons baking powder
3/4 cup quick oatmeal
1 cup mashed bananas
1 cup flour
1/2 cup pecans
Instructions
Preheat oven to 350*F
Spray one bread pan with cooking spray and set aside.
Blend together eggs, sugar and butter.
Add salt, baking soda & baking powder. Mix again.
Add oatmeal and bananas and blend well, scraping sides if needed.
Add flour then pecans. Mix well after each addition. Scrape sides of bowl and ensure all is mixed well.
Pour batter into prepared pan.
Bake for 1 hour or until toothpick inserted into middle of bread comes out clean.
Remove from oven, allow to cool for 5 minutes.
Remove from pan, slice and slather it with butter!
Devour immediately.