A traditional Irish-American meal, Instant Pot Corned Beef is the ultimate no fuss, easy meal that can be made any time of the year.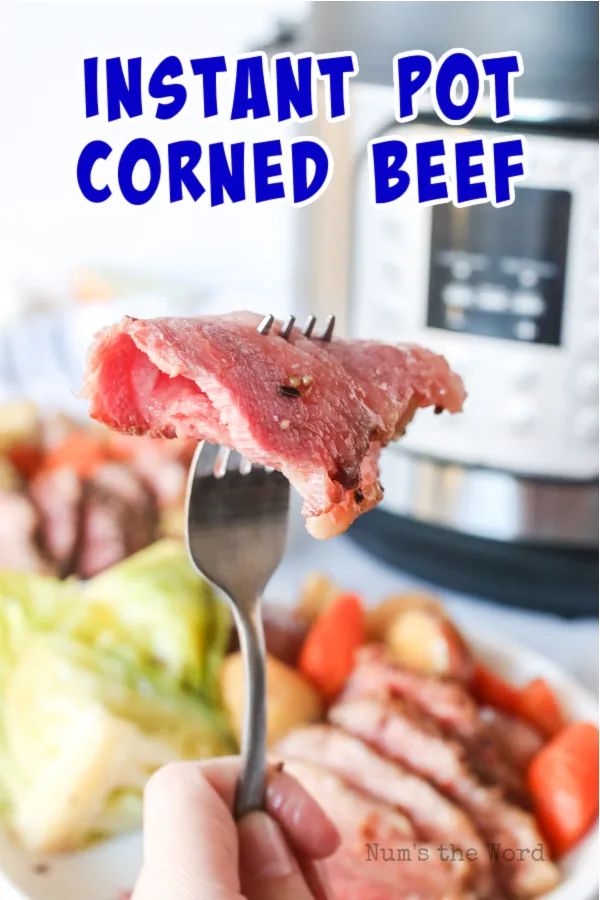 It's just like Crockpot Corned Beef and Cabbage, but it comes together in a fraction of the time. And though it's great on St. Patrick's Day, it's great every other day too.
The meat is salty, garlicky, tender, and juicy. The cabbage, potatoes, and carrots get cooked right in the instant pot with the meat.
I love the short cooking time of corned beef instant pot. It cooks so quickly and the meat is cooked to perfection.
Instant pot corned beef brisket is super filling. With all the extra veggies, it's a one pot meal that feeds the whole family.
This is one dish all of my kids not only eat but gobble down. And if you get 5 stars from them, you know it's absolutely amazing.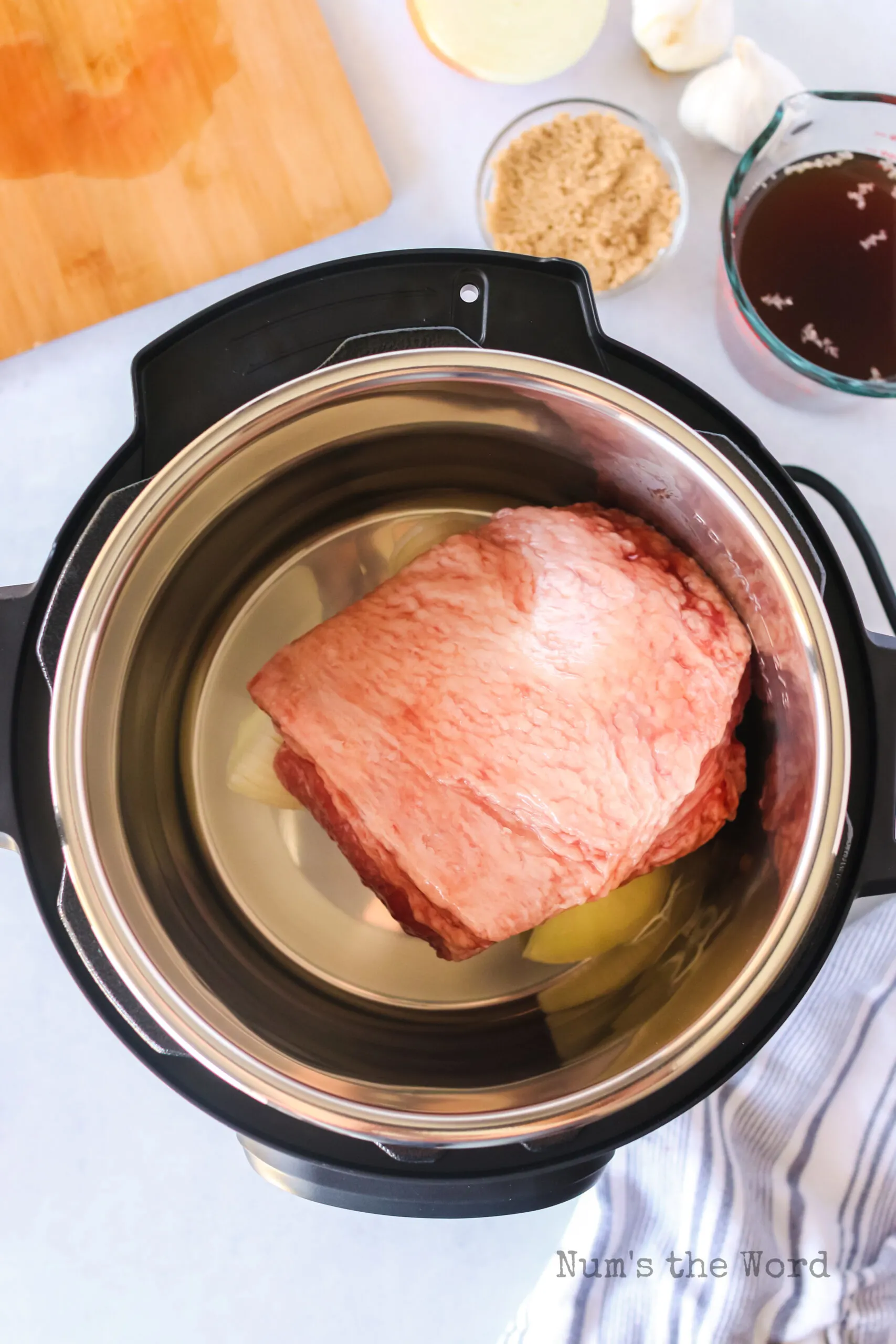 What is Corned Beef?
Corned Beef is a salt cured brisket of beef. It is popular in the United Kingdom, Australia, New Zealand, and Ireland.
It is typically cooked with sugar and spices. Most often it is served with cabbage, potatoes, or carrots.
It is often cooked on St. Patrick's Day as a traditional Irish meal.
Why is it Called Corned Beef?
Despite its name, there is actually no corn in corned beef. The salt in corned beef is large grain rock salt, also known as "corns" of salt.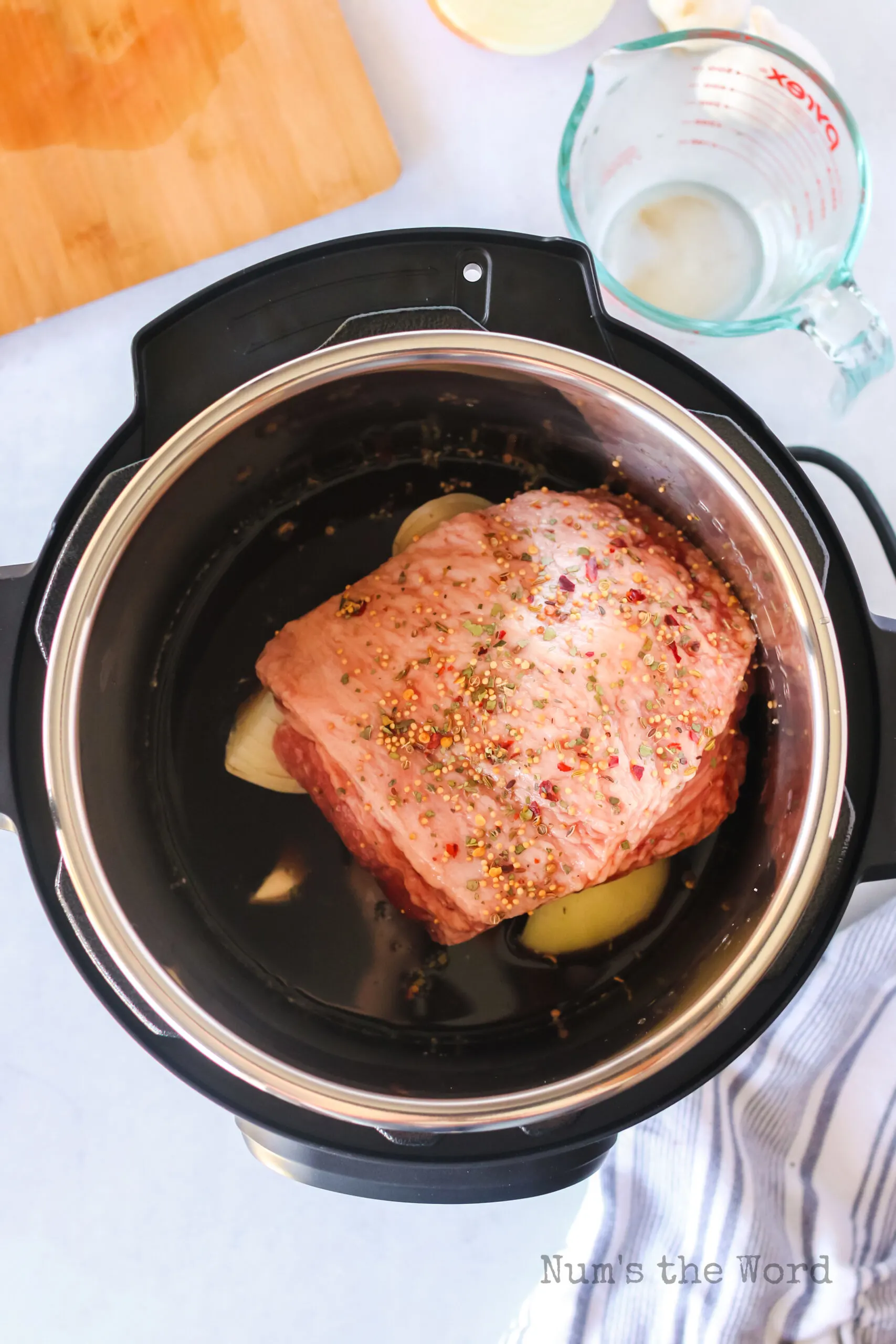 Ingredients in Instant Pot Corned Beef
Corned Beef Brisket:

I use a three pound brisket in this recipe.

Onion:

You'll only need to cut the onions into quarters.

Garlic:

Use fresh garlic cloves or garlic paste.

Brown Sugar:

This is added for sweetening.

Worcestershire Sauce:

A perfect addition of savory.

Beef Broth:

This is used for flavoring and to keep the corned beef brisket from burning.

Carrots:

Chop the carrots while the corned beef is cooking.

Potatoes:

Cut the potatoes into quarters or halves, as desired.

Cabbage:

Nothing like a wedge of cabbage next to corned beef
Pro Tip: If you and your family hate any of those vegetables, leave them out or cook them separately. You could also substitute with your own favorite veggies too!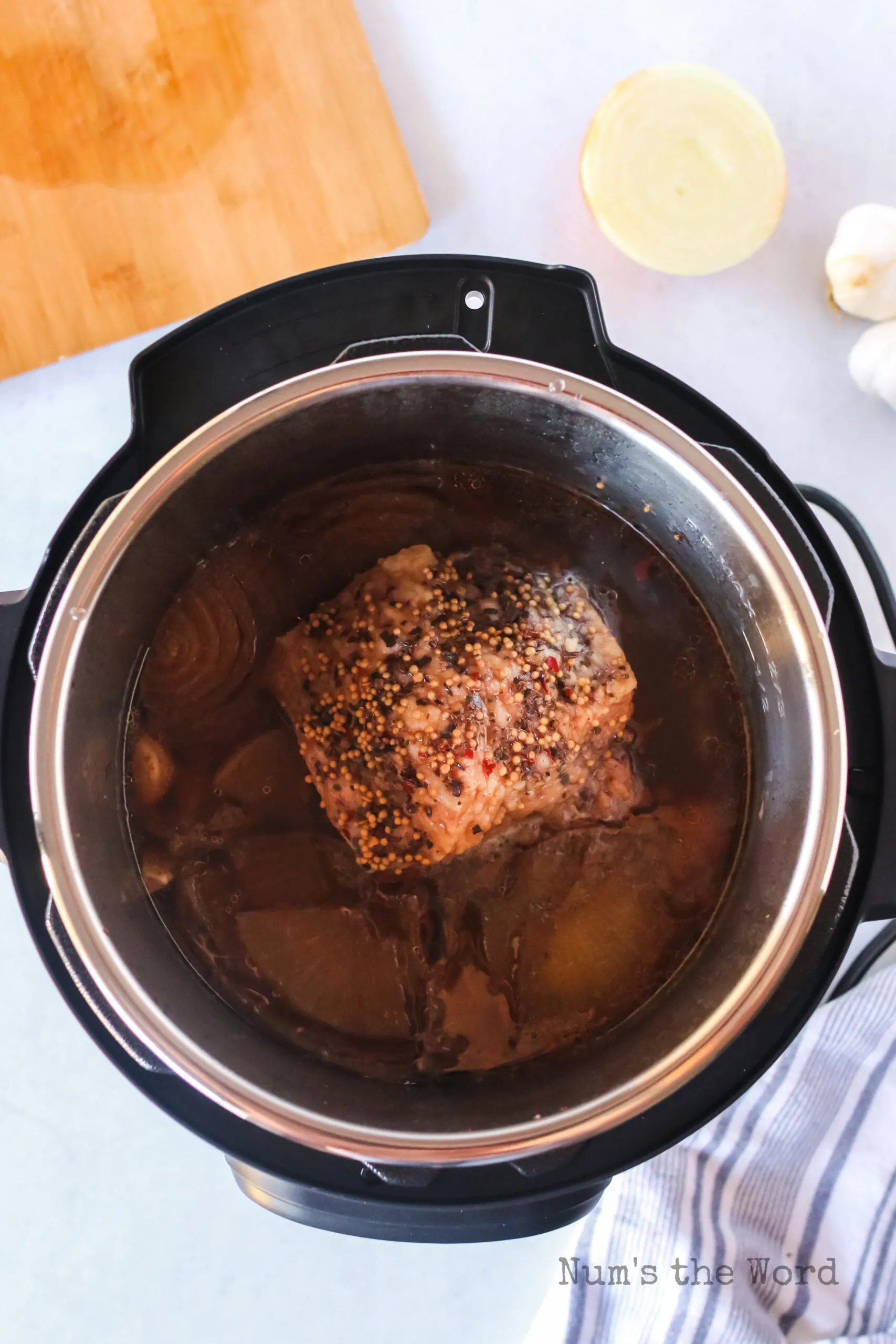 How to Cook Instant Pot Corned Beef
Beef:

First you'll need to cook your beef.

Veggies:

Next cook your veggies

Eat:

Last, slice or pull that beef and enjoy it!
Pro Tip: Cut up the veggies while the beef is cooking in the instant pot so they'll be ready to toss right in.
How Long to Cook Corned Beef in Instant Pot
For a three pound corned beef brisket, you'll need 90 minutes in the instant pot on high and then 15 minutes of natural release.
When planning time for cooking be sure to plan 10-15 minutes for the pressure to get up to high before the 90 minutes start.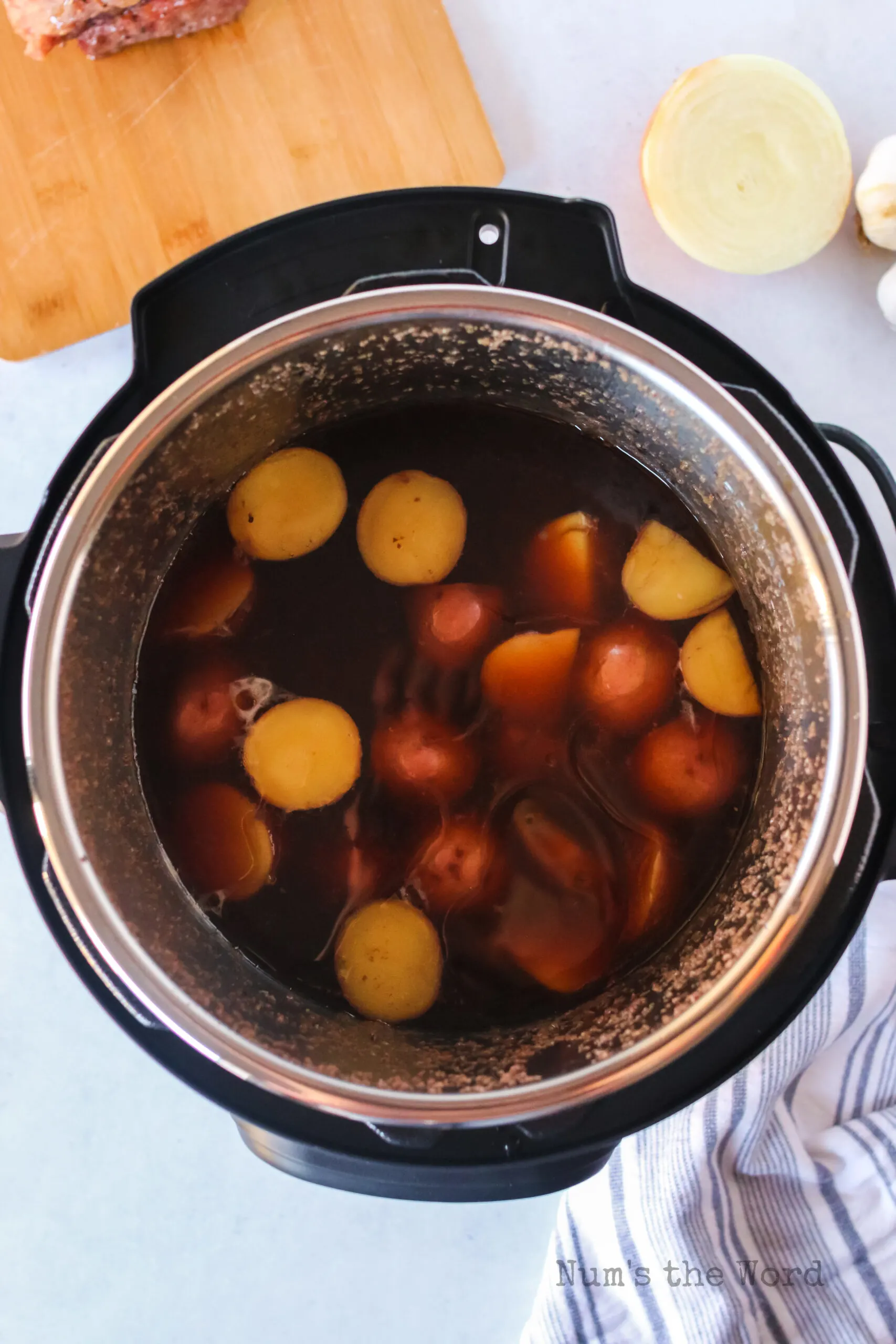 Can I Cook Frozen Corned Beef in an Instant Pot?
If you forgot to get your frozen corned beef out of the freezer in enough time to thaw, not to worry. You can still cook it in the instant pot, it'll just take longer.
For each pound of frozen corned beef brisket, you'll need 34 minutes of cooking time. This recipe calls for a three pound beef brisket, so cook for 102 minutes from frozen.
If you buy a 4 pound corned beef brisket, 136 minutes and so on. Plan accordingly for the size of your brisket.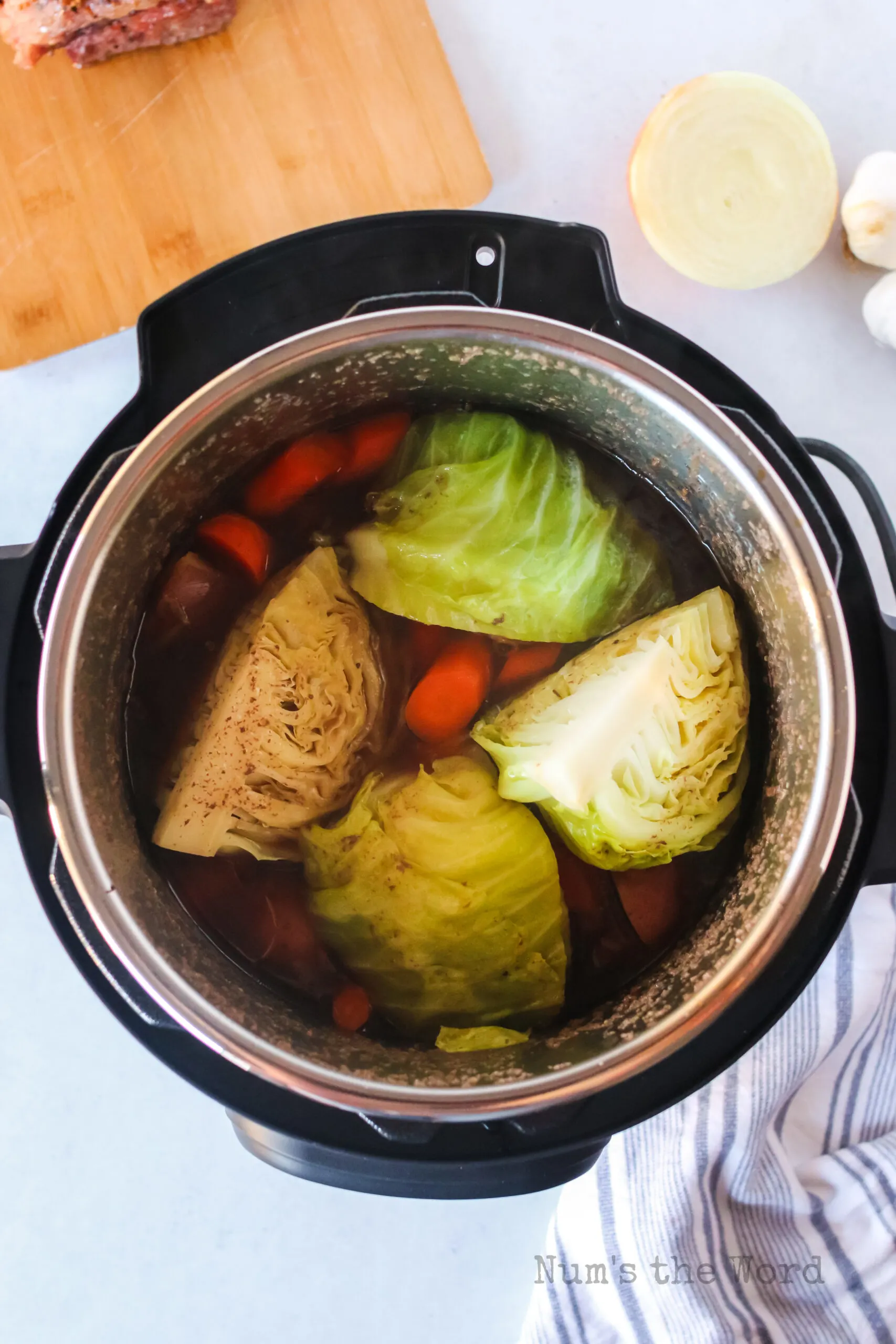 Can You Overcook Corned Beef?
When cooked perfectly, corned beef is soft, tender, salty, and juicy.
Unfortunately, corned beef brisket can be overcooked. When it is overcooked it tends to become tough and chewy.
If you follow this instant pot corned beef recipe exactly, it won't burn. I've done the math. I've cooked it. Trust me.
If you aren't sure if your corned beef is cooked thoroughly, check it with a thermometer. Corned beef should have an internal temperature of 145 degrees when cooked through.
How to Slice Corned Beef
The corned beef doesn't need to be sliced until after it comes out of the instant pot.
Beef tends to be most tender when you slice against the grain. Use your knife, turn the corned beef brisket, and cut so that it doesn't follow the grain.
If you choose not to slice, you can always pull corned beef. If it doesn't pull and shred easily, it hasn't cooked long enough.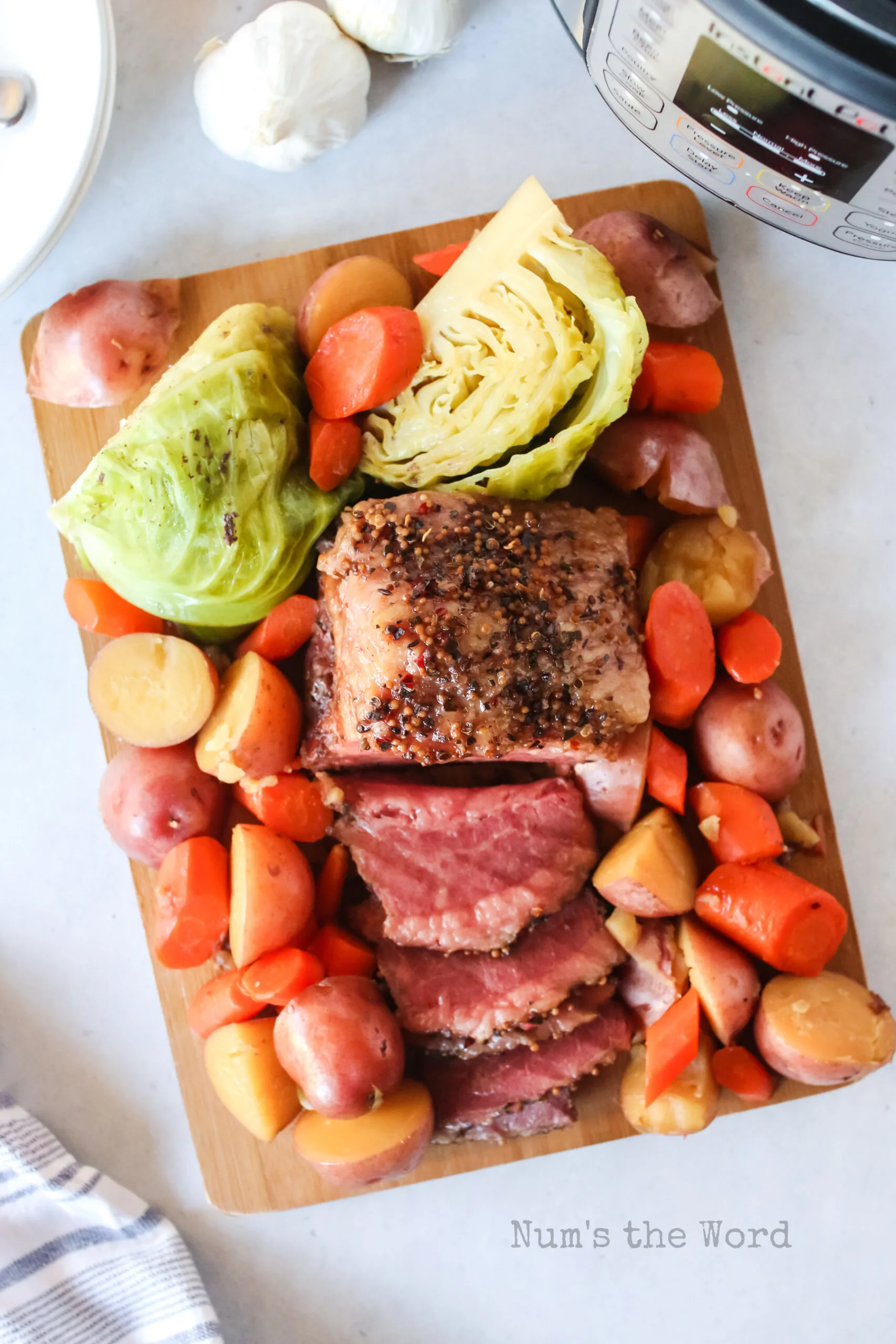 Is Corned Beef Keto?
This instant pot of corned beef is not keto. The brown sugar used to sweeten the meat is not a keto approved staple and should not be used on the keto diet. However if you leave the brown sugar out, it should be Keto approved.
Can Dogs Eat Corned Beef?
Corned beef may not have any corn, but it sure does have a lot of salt. SOOO YUMMY.
But, not for your pooch. Dogs can get salt poisoning from eating too much salt. Save this dish for the humans.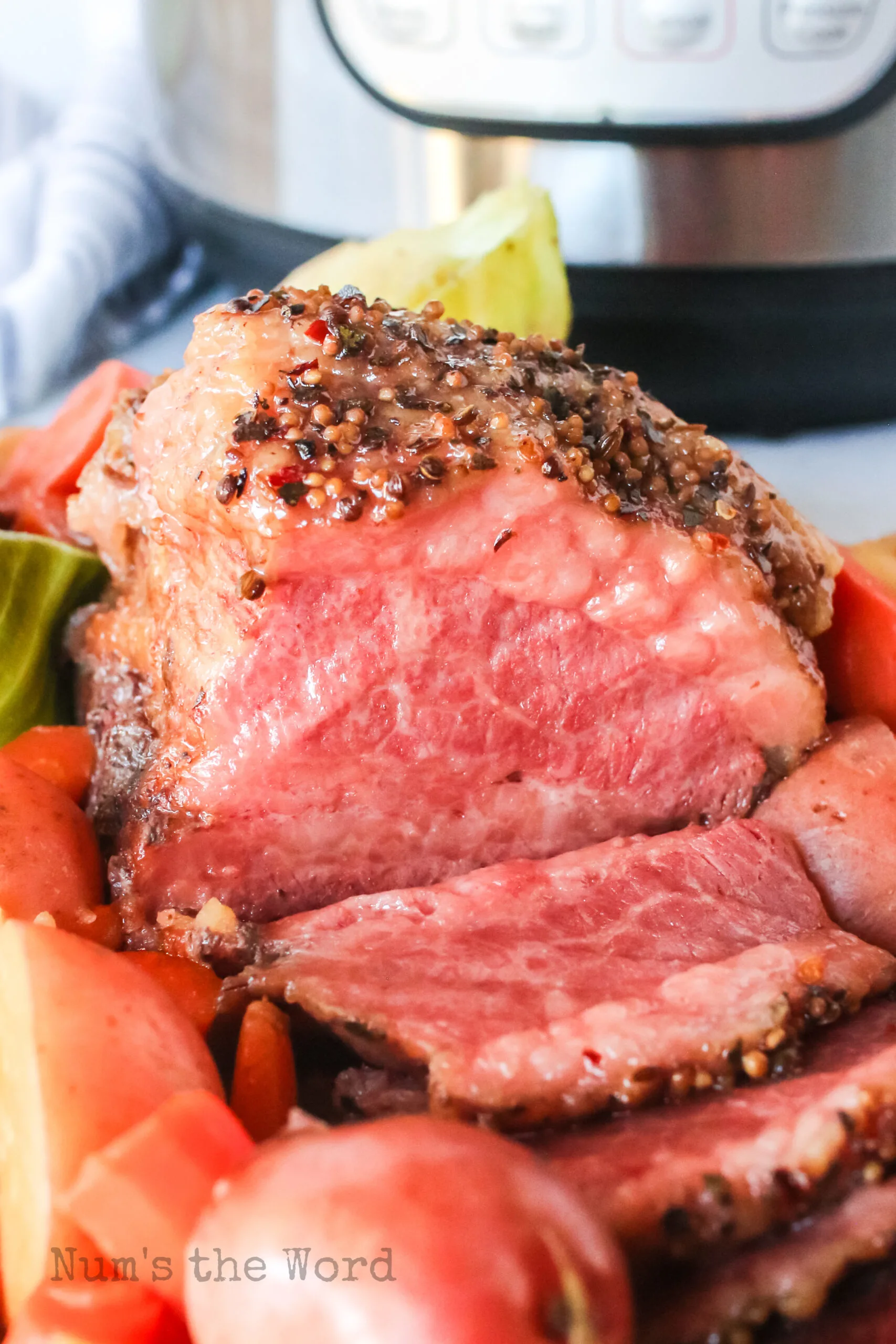 What Goes with Instant Pot Corned Beef?
Normally corned beef is served with carrots, potatoes, and cabbage. And yay! This recipe already has instructions for how to cook all of those things.
Can you Freeze Corned Beef?
Yes! If properly wrapped and packaged, cooked corned beef can be stored in the freezer for up to three months.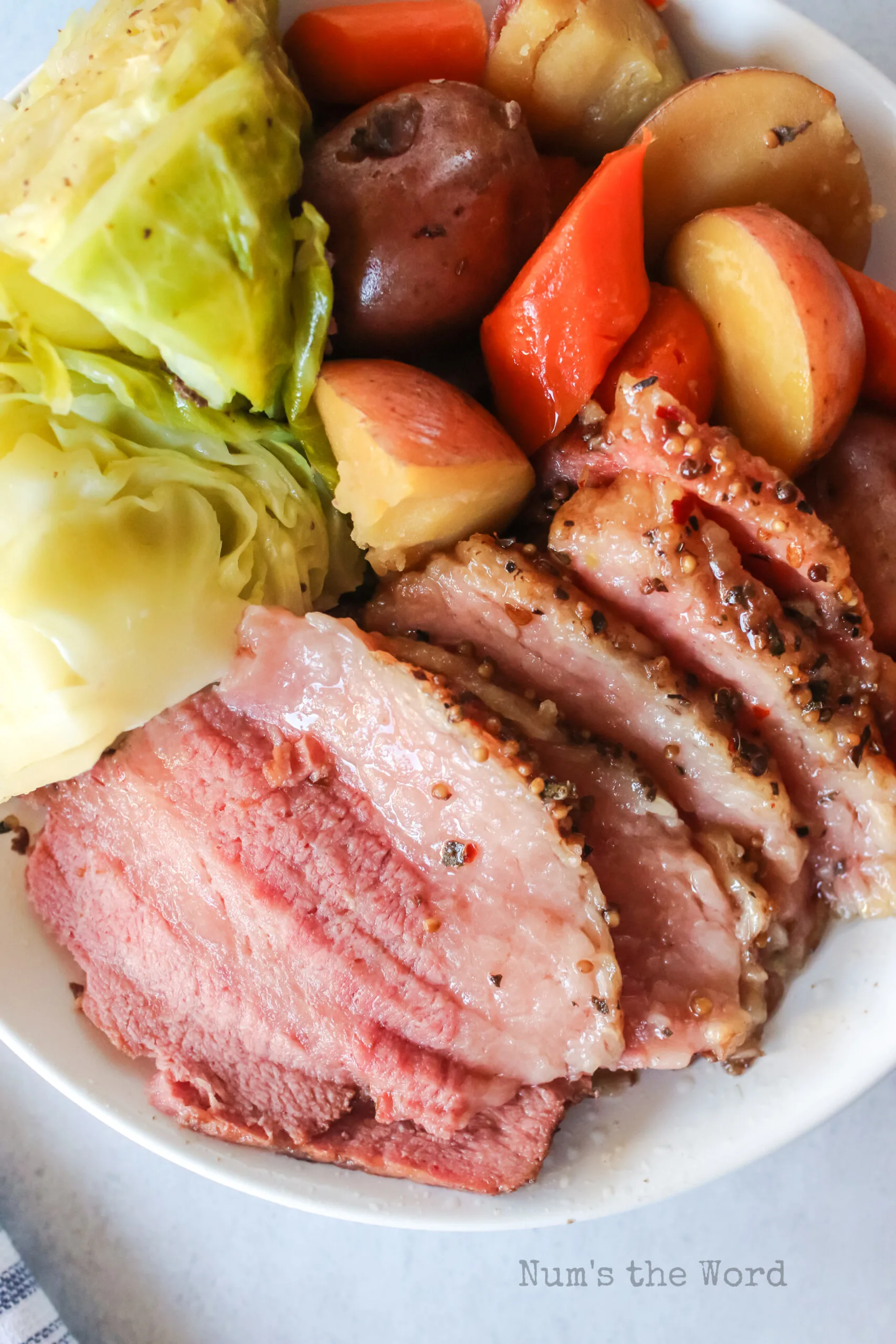 More Instant Pot Recipes You'll Love…
More Beef Recipes You'll Love…
Instant Pot Corned Beef is a favorite meal to serve for holidays, family gatherings, or weeknight meals. It is salty, savory, and cooked to perfection.
I hope you and your family enjoy it just as much as we do!
Yield: 6 Servings
Instant Pot Corned Beef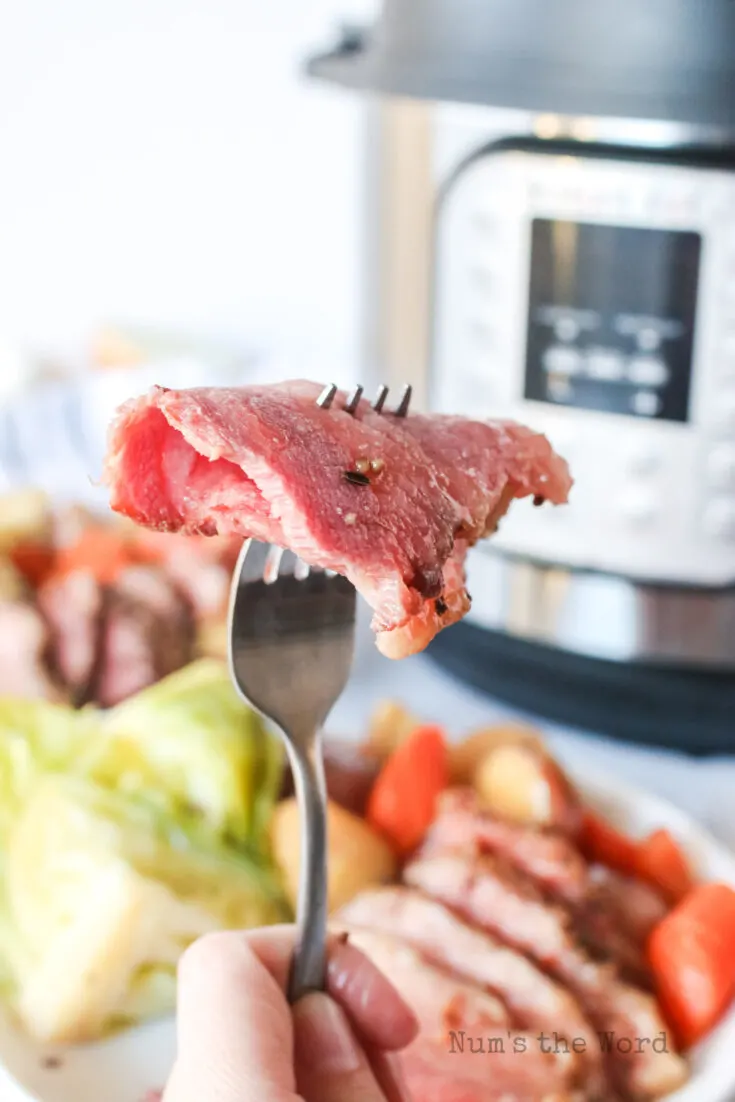 A traditional Irish-American meal, Instant Pot Corned Beef is the ultimate no fuss, easy meal that can be made any time of the year.
Cook Time
1 hour
35 minutes
Additional Time
40 minutes
Total Time
2 hours
25 minutes
Ingredients
1 large yellow onion, cut into 4 wedges
3 pound corned beef brisket
2 cloves garlic
1/4 cup brown sugar
3 Tablespoons Worcestershire Sauce
2 cups beef broth
4 large carrots, chopped
1 pound red potatoes, cut in half, quartered if larger
1 cabbage, cut into wedges
Instructions
Place chopped onions at the bottom of the instant pot.
Place corned beef, fat side UP, on top of the onions.
Add garlic, brown sugar, Worcestershire sauce and beef broth to the corned beef.
Add the seasoning packet that came with the corned beef.
Put the lid on the pressure cooker and cook for 90 Minutes on high pressure.
When the timer goes off, let it naturally release for 10 minutes., then flip the valve and let remaining steam pour out.
Open the lid and remove onions and corned beef.
Add potatoes and cook on high for 3 minutes. Release pressure once time goes off.
Add carrots and cabbage and cook for 2 minutes on high.
When done, serve immediately.

Nutrition Information:
Yield:
6
Serving Size:
1
Amount Per Serving:
Calories:

791
Total Fat:

42g
Saturated Fat:

17g
Trans Fat:

0g
Unsaturated Fat:

20g
Cholesterol:

240mg
Sodium:

522mg
Carbohydrates:

30g
Fiber:

3g
Sugar:

12g
Protein:

69g