When you are looking for a quick, easy, and filling meal that's packed with flavor, look no further than this Instant Pot Cilantro Lime Rice. It is the perfect side dish for veggies, steaks, burritos, tacos, salsa, you name it!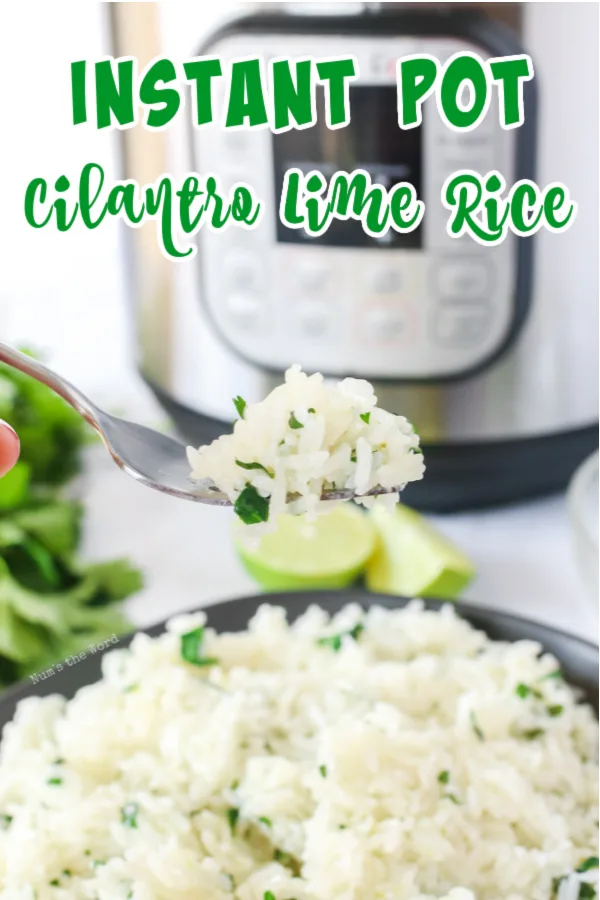 When making the best cilantro lime rice, there is nothing like using your instant pot to make it quick and delicious. If you've ever eaten at Chipotle and had their Cilantro Lime Rice, you'll recognize the flavor.
Butter, lime, and cilantro meld together with your rice to create an absolutely delicious side dish that you can pair with almost anything.
I love how easy this dish is to make! With only 5 ingredients, it comes together in a snap. Plus it makes a lot and is incredibly easy to double or triple depending on my kids and how many friends are coming over for dinner. Leftover cilantro lime rice is never a bad thing.
Oh yeah I should mention here that this is a ONE pot meal. Every time I make a one pot meal I feel like there should be a little chorus singing in the background. Fewer dishes makes me happy. And when I'm happy, everybody is happy.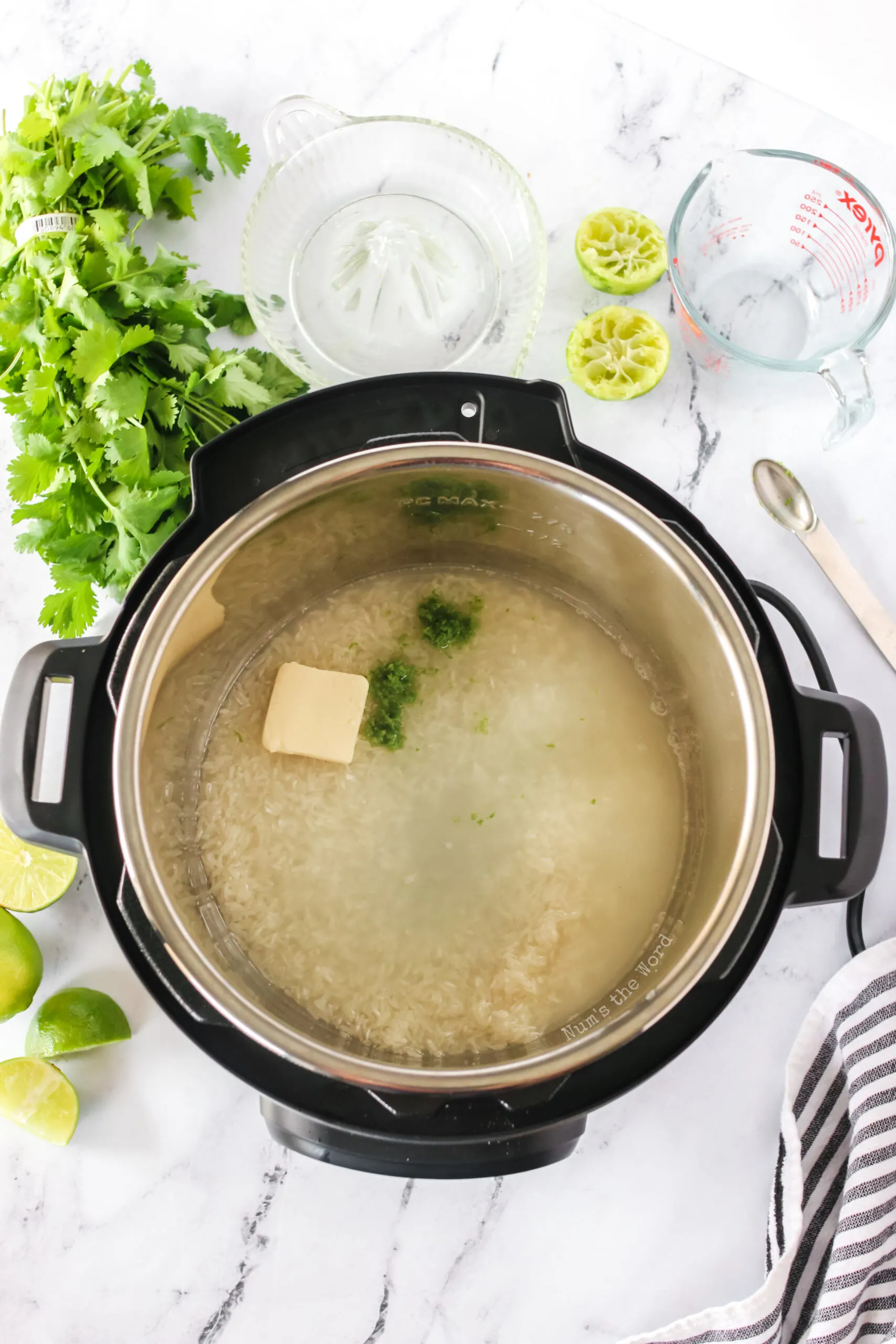 Ingredients Needed for Instant Pot Cilantro Lime Rice
Only 5 ingredients plus water make this a super simple dish!
Rice:

I prefer Jasmine rice in this recipe. It is a long grain rice with a light popcorn-y flavor. You could use another type of long grain rice or even short grain though and it should still turn out great.

Water:

Nothing fancy here. Just grab a cup of water from the tap and call it good.

Butter:

The butter can be salted or unsalted and does not need to be melted before adding to the recipe.

Lime Zest:

Remember to zest your limes before you juice them!

Lime Juice:

You could use store bought, but fresh always tastes better.

Cilantro:

As one of the key ingredients in this cilantro lime rice, it offers flavor and texture!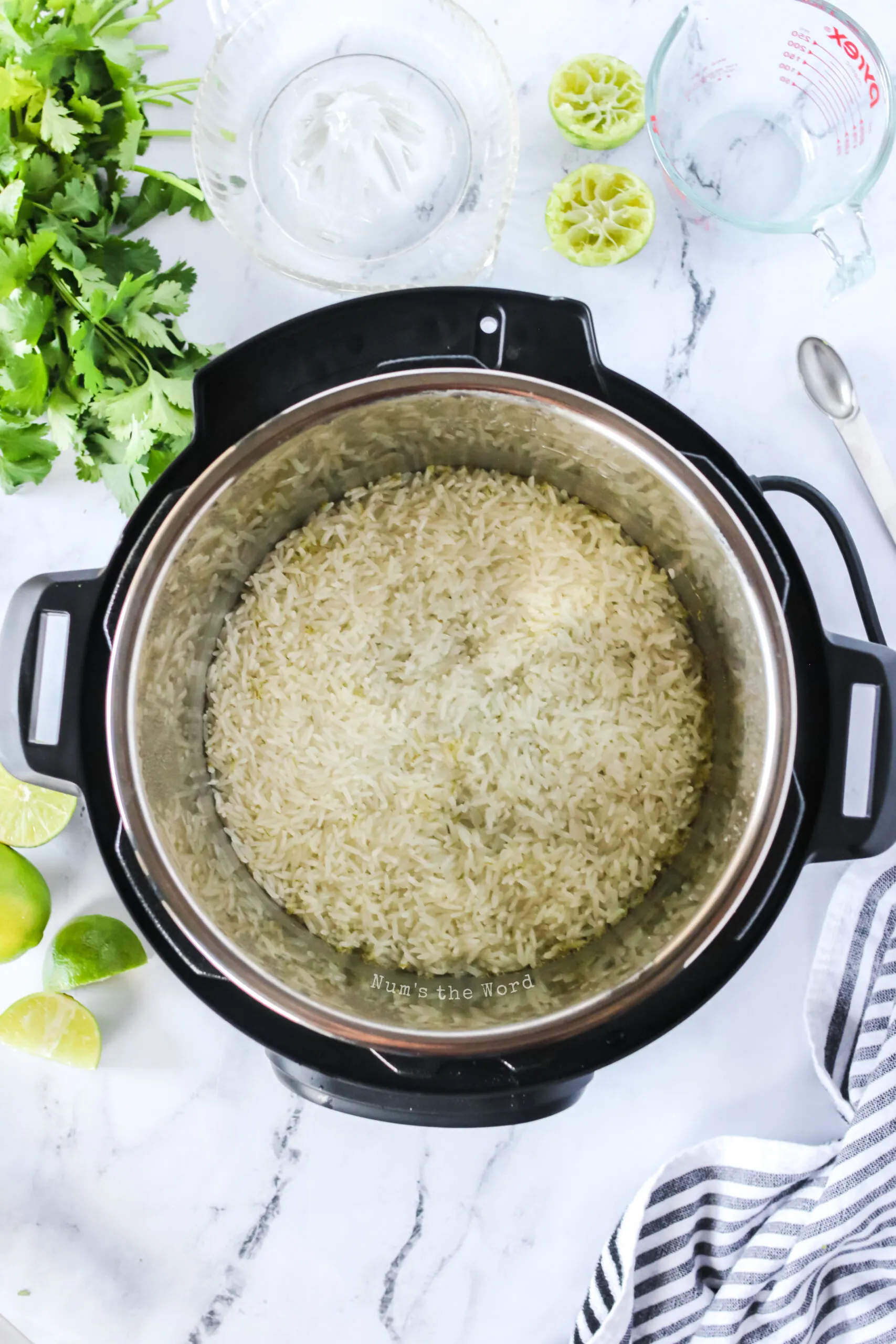 How To Make Instant Pot Cilantro Lime Rice
Prep: You could skip this step, but you'll be glad you didn't when you taste it!
Mix:

Everything but the cilantro gets mixed in before cooking. Mix it all up and call it good.

Cook: So easy to cook rice in an instant pot! You'll never go back to the stove again!
Eat:

The rice is ready to eat right away. SO FAST!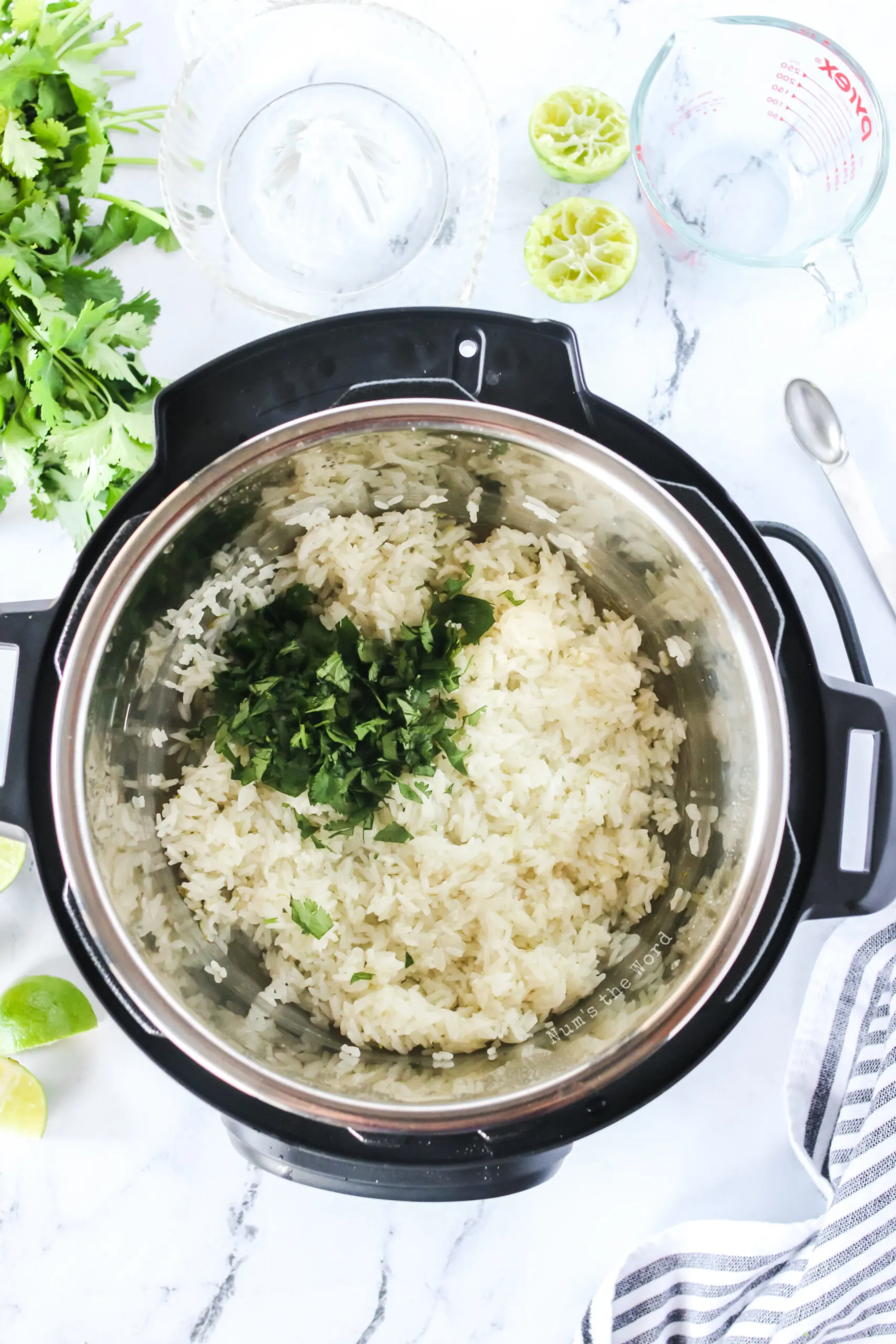 Is Instant Pot Cilantro Lime Rice Gluten Free?
Yes! Rice is naturally gluten free and there are no other flours or gluten things you need to add to this.
How Long Does Cilantro Lime Rice Last in the Fridge?
If you're my kids- until the next morning when they decide to eat it for breakfast. Rice is a breakfast food right?
The rice should last for up to seven days in an air tight container in the fridge if you just happen to make too much!
When you are ready to eat, cover it lightly with a wet paper towel and heat in the microwave in 30 second intervals, stirring between each heating.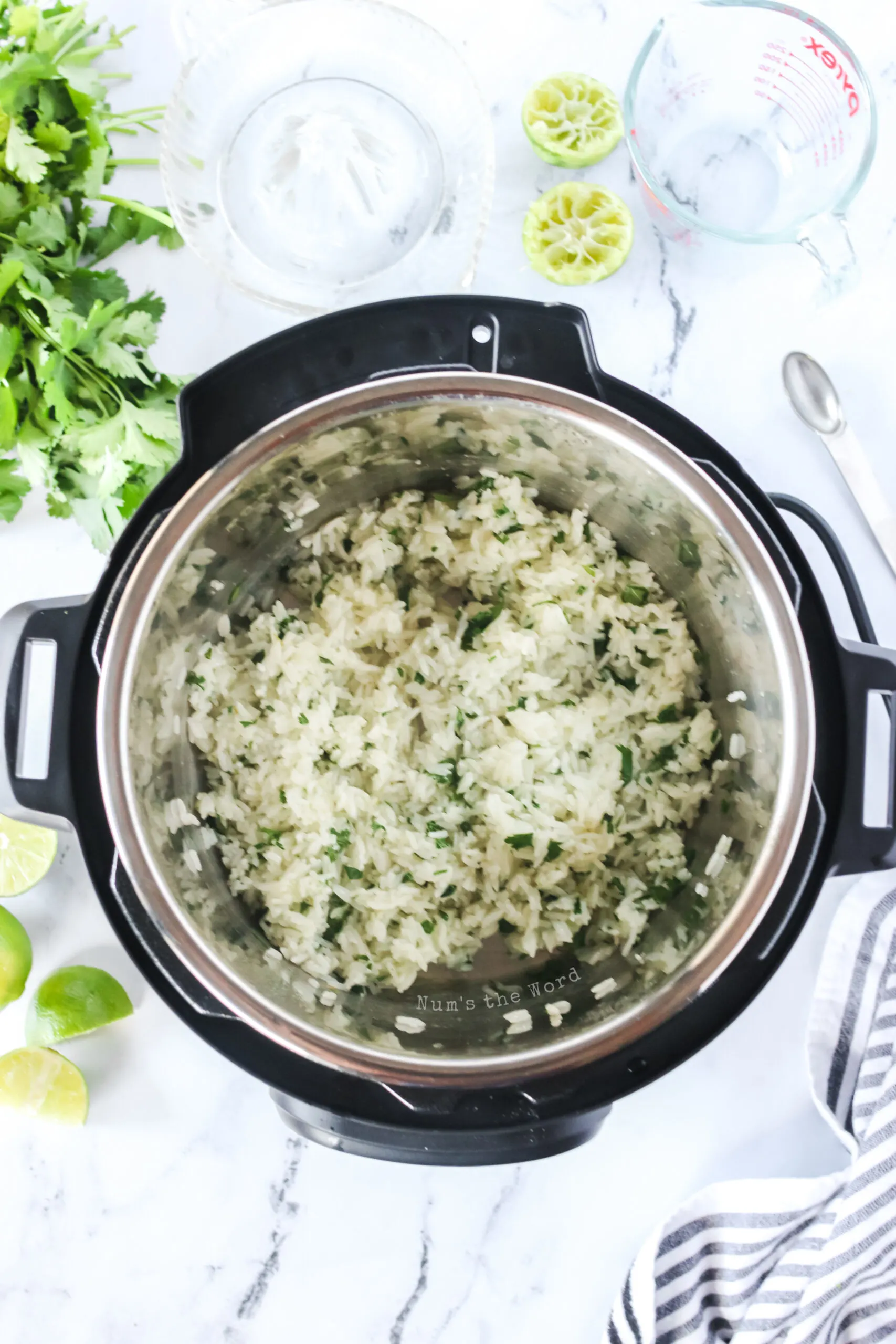 Can You Freeze Instant Pot Cilantro Lime Rice?
Yes. If you're an organized person, prepare it and cook enough for the month. Keep it in bags for how much you will need in each meal and take it out when you're ready for an even easier dinner.
Or if you've got the leftovers freeze them to keep your kids from eating it for the aforementioned breakfast.
Cilantro Lime Rice will stay good in the freezer for up to three months.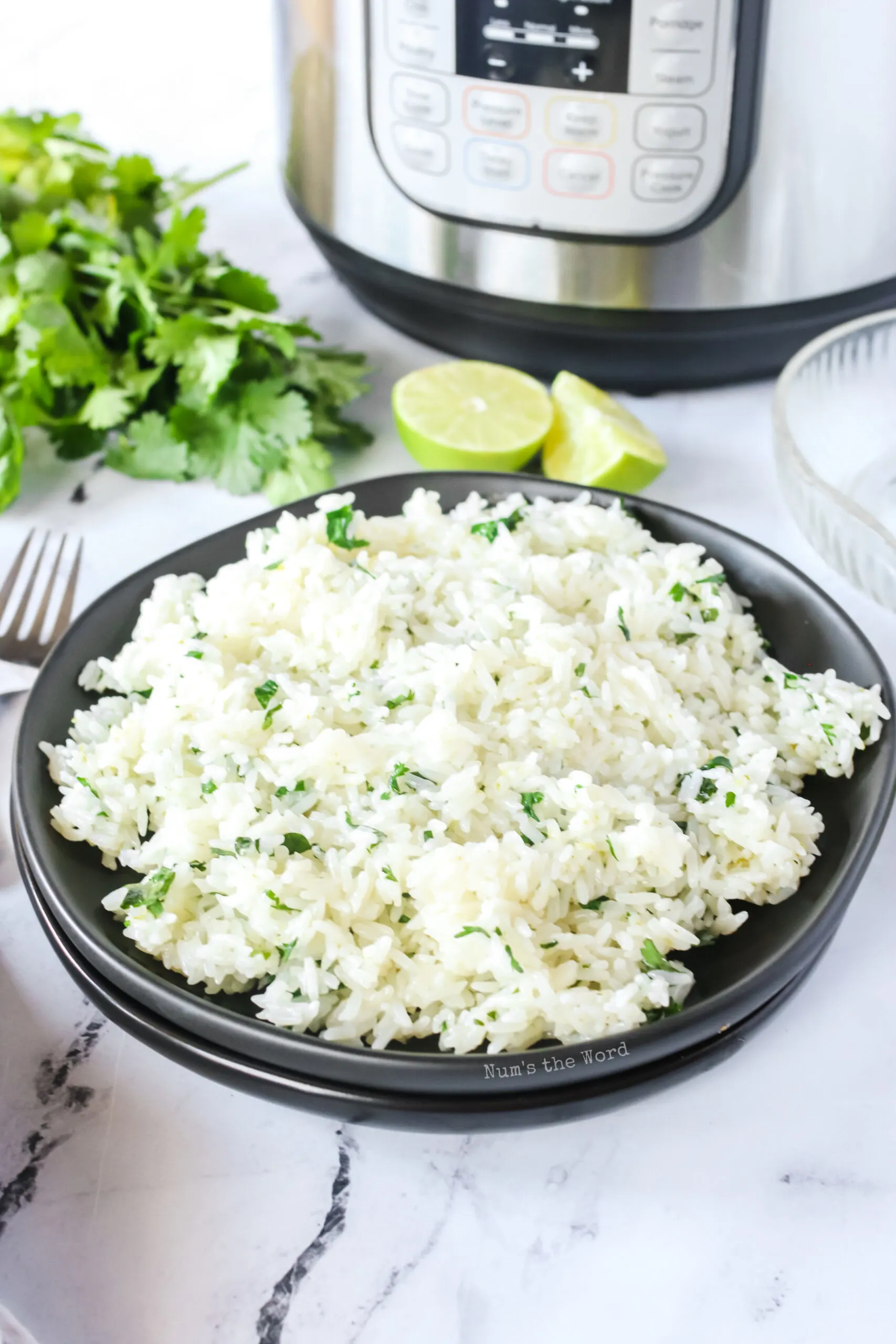 What Goes With Instant Pot Cilantro Lime Rice?
As cilantro lime rice is typically served as a side dish, and not a complete meal, you'll need something delicious to toss with it.
Serve it with tacos, meat, or a salad and you've got a complete meal. Or try serving it with one of the following recipes: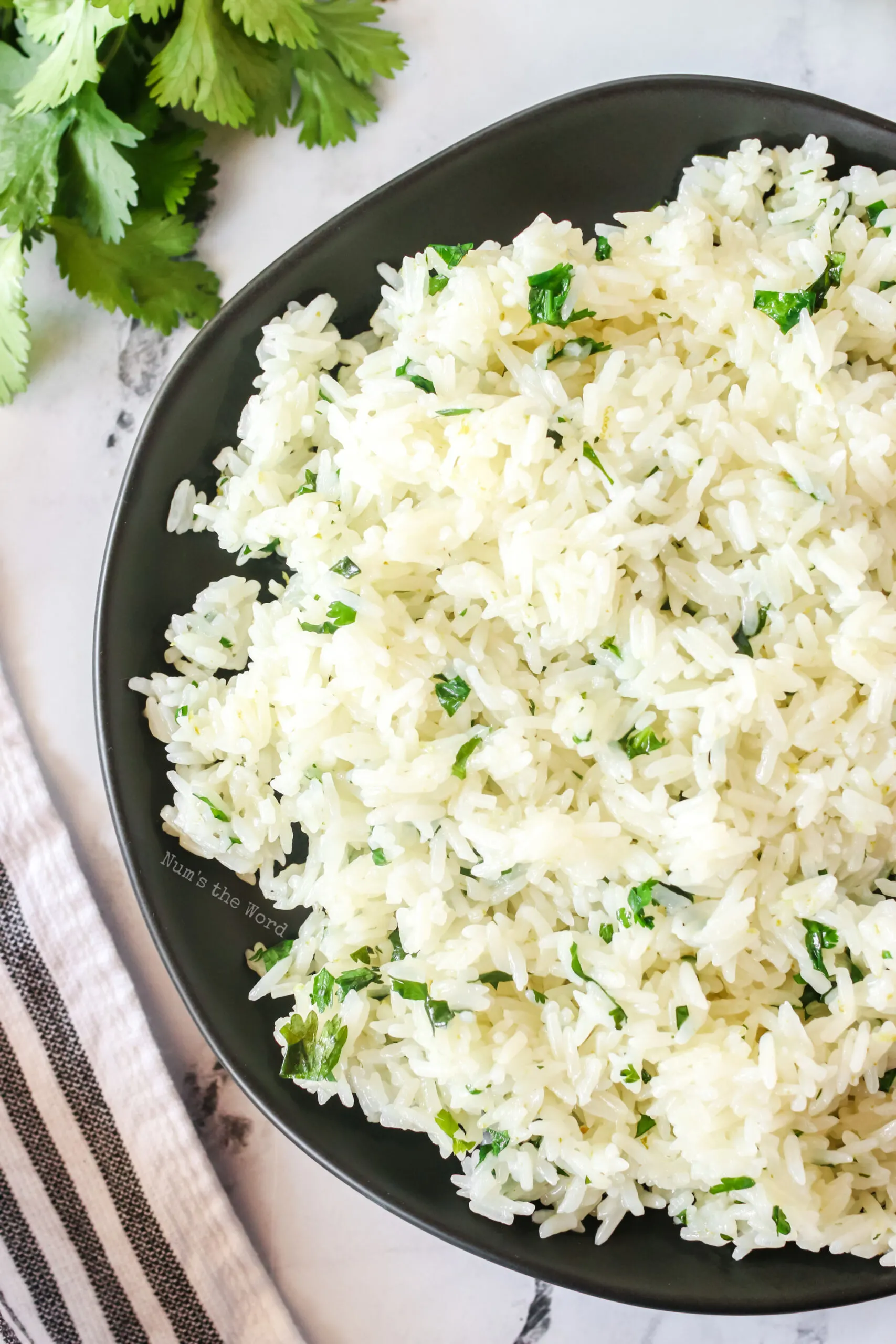 Can Dogs Eat Cilantro Lime Rice?
While rice is fine for dogs to eat, from what I could find online, limes are not. They can be very harmful for dogs. So skip giving this recipe to your pets and save it for the humans running around your house.
This Instant Pot Cilantro Lime Rice is so easy to pull together in no time at all. It is filling, scrumptious, and just what you need for a busy weeknight meal.
Yield: 4 Servings
Instant Pot Cilantro Lime Rice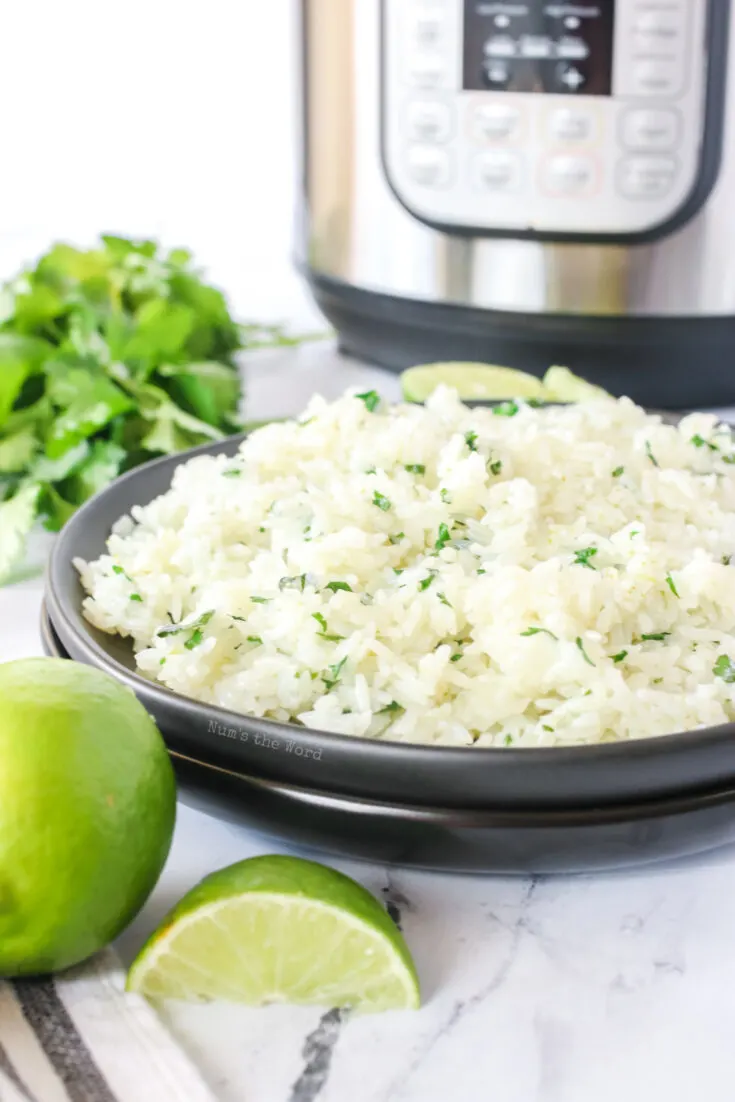 When you are looking for a quick, easy, and filling meal that's packed with flavor, look no further than this Instant Pot Cilantro Lime Rice.
Additional Time
25 minutes
Ingredients
1 cup Jasmine rice
1 cup water - minus 2 Tablespoons
1 Tablespoon butter
1 teaspoon lime zest
2 Tablespoons fresh lime juice
1/4 cup chopped cilantro
Instructions
Rinse rice under cold water until water is no longer milky. Swirl rice with your hand as you wash it to ensure it removes all starchy residue.
Add rinsed rice to the instant pot.
Fill a liquid measuring cup with 1 cup of water. Remove 2 Tablespoons of water and add 2 Tablespoons lime juice. Should equal 1 cup total.
Add water/juice mixture to the instant pot.
Add lime juice and butter and stir.
Close the lid and turn the valve to seal.
Press high pressure and adjust the time down to 3 minutes.
When the timer goes off, let it sit and naturally release for 10 minutes, then flip the valve.
Fluff rice and add in chopped cilantro. Fluff again.
Serve immediately.
Nutrition Information:
Yield:
4
Serving Size:
1
Amount Per Serving:
Calories:

79
Total Fat:

3g
Saturated Fat:

2g
Trans Fat:

0g
Unsaturated Fat:

1g
Cholesterol:

8mg
Sodium:

26mg
Carbohydrates:

12g
Fiber:

0g
Sugar:

0g
Protein:

1g