Instant Pot Sweet Potatoes take a fraction of the time to cook as they do in the oven. Yet inside they're still irresistibly creamy and tender.
Slathered with a thick piece of butter and sprinkled with salt or topped with some cinnamon sugar, there is no way you can go wrong.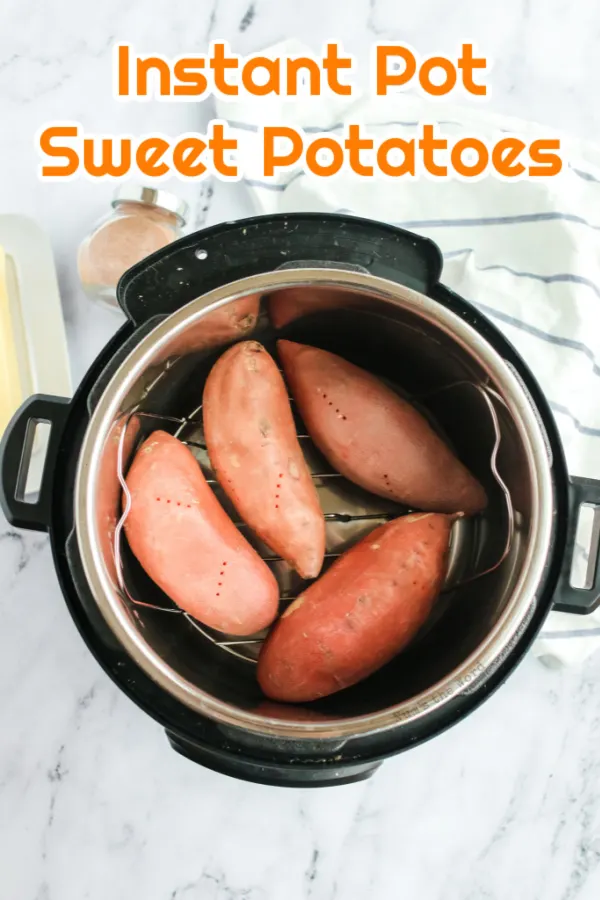 Cooking sweet potatoes in the instant pot is so incredibly easy! It takes very few ingredients– oh wait, that's right just ONE!
When you make sweet potatoes in the oven it takes FOREVER! And when you make sweet potatoes in the microwave, they tend to get dry. Yuck.
However in the instant pot they stay soft, moist, and creamy. Plus they are done so quickly you don't have to spend all day tending your oven. Perfection.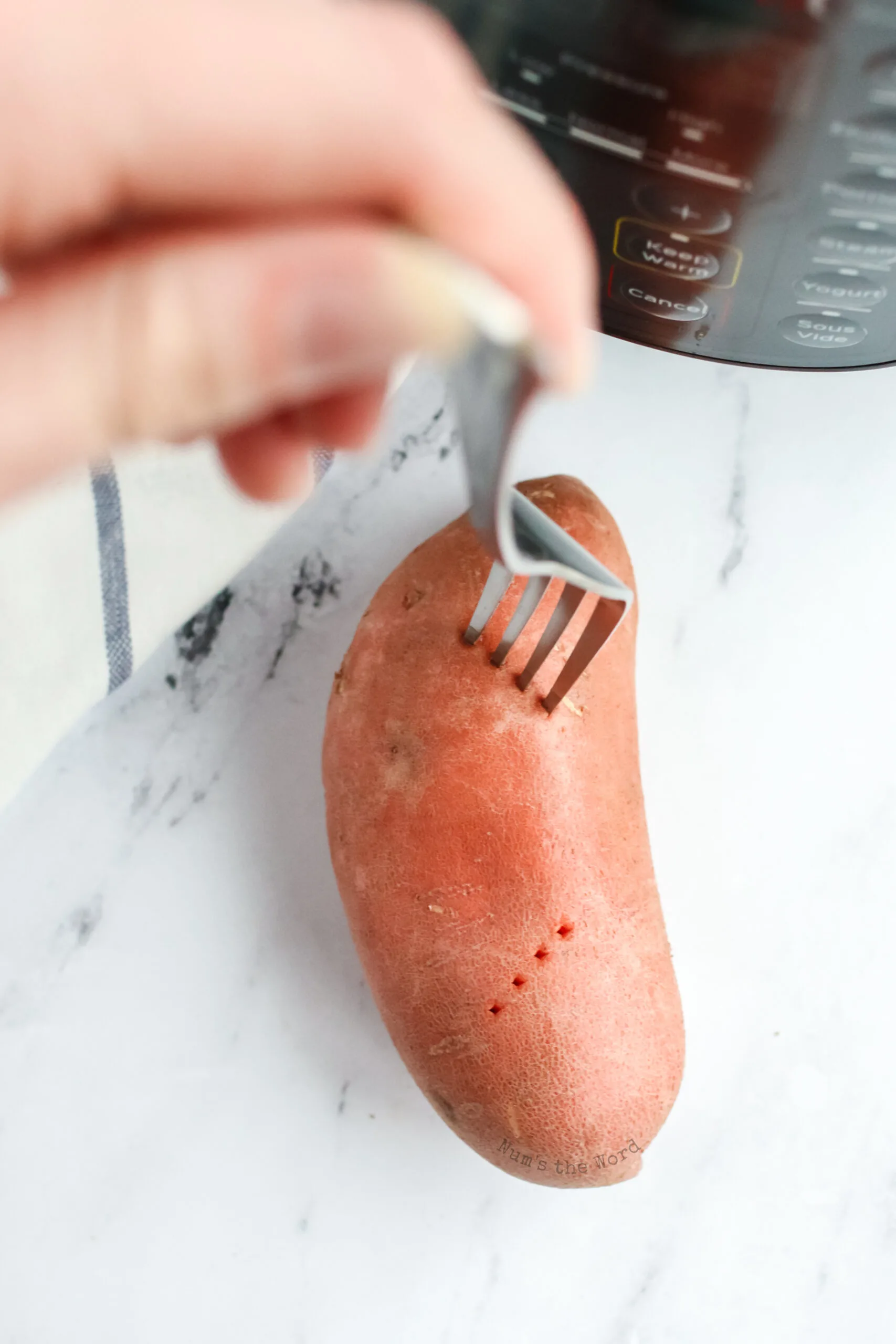 Ingredients for Instant Pot Sweet Potatoes
Get ready for it- Sweet Potatoes! That's it. Ok, ok, also some water to go in the bottom. Seriously, how much easier can it get?
How to Cook Sweet Potatoes in Instant Pot
Prep: Time to prep your potatoes by washing and pricking them.
Cook:

It's so easy in the Instant Pot and ready in minutes!

Serve:

We suggest serving with butter or cinnamon sugar!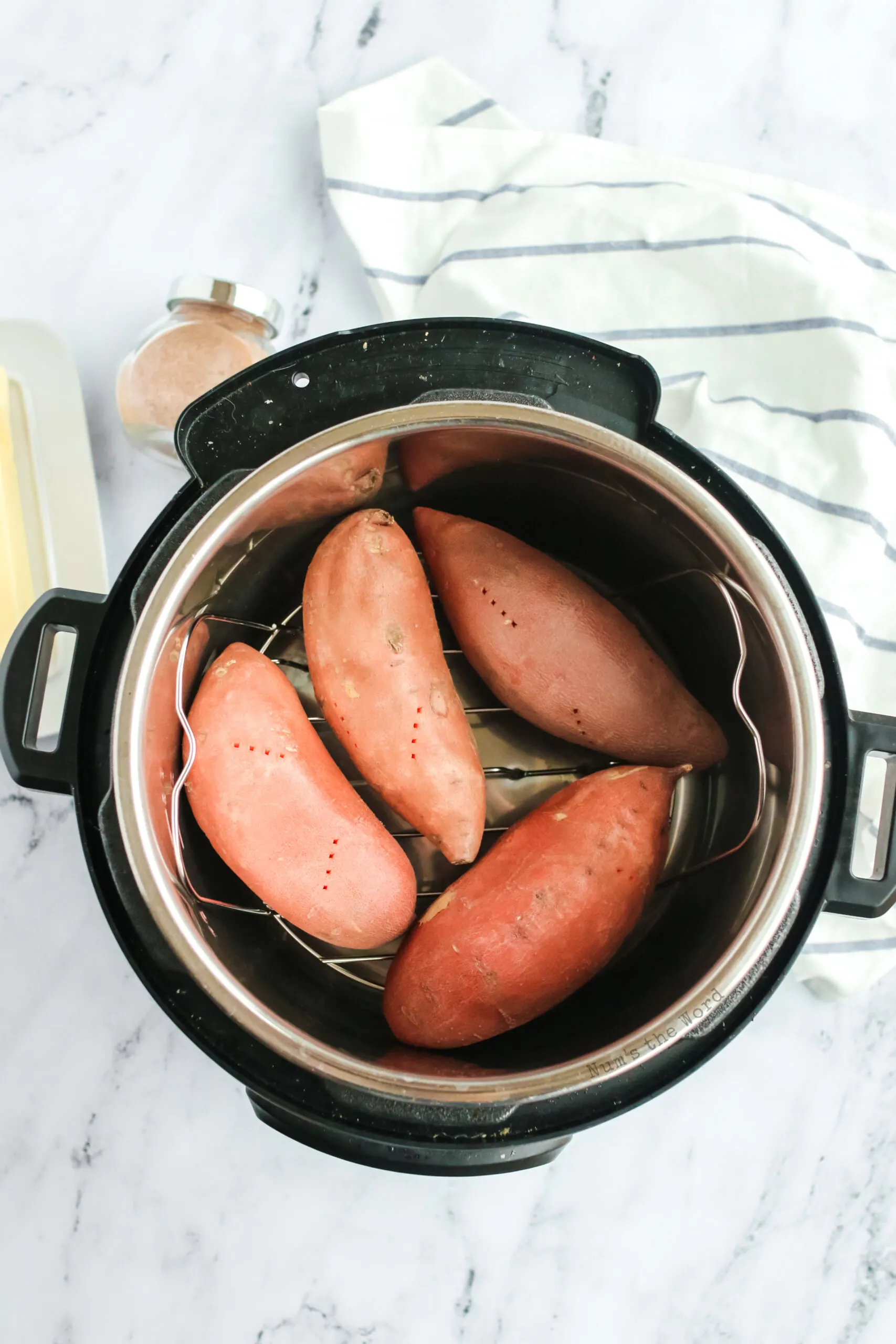 How Long to Cook Sweet Potatoes in Instant Pot
Probably the number one question on everyone's minds! And the answer is it varies based on the size of the sweet potato.
Small Sweet Potatoes: 16 minutes
Medium Sweet Potato: 21 minutes
Large Sweet Potato: 25 minutes
Pro Tip: Choose sweet potatoes that are roughly the same size. Similarly sized potatoes ensure all potatoes are evenly baked.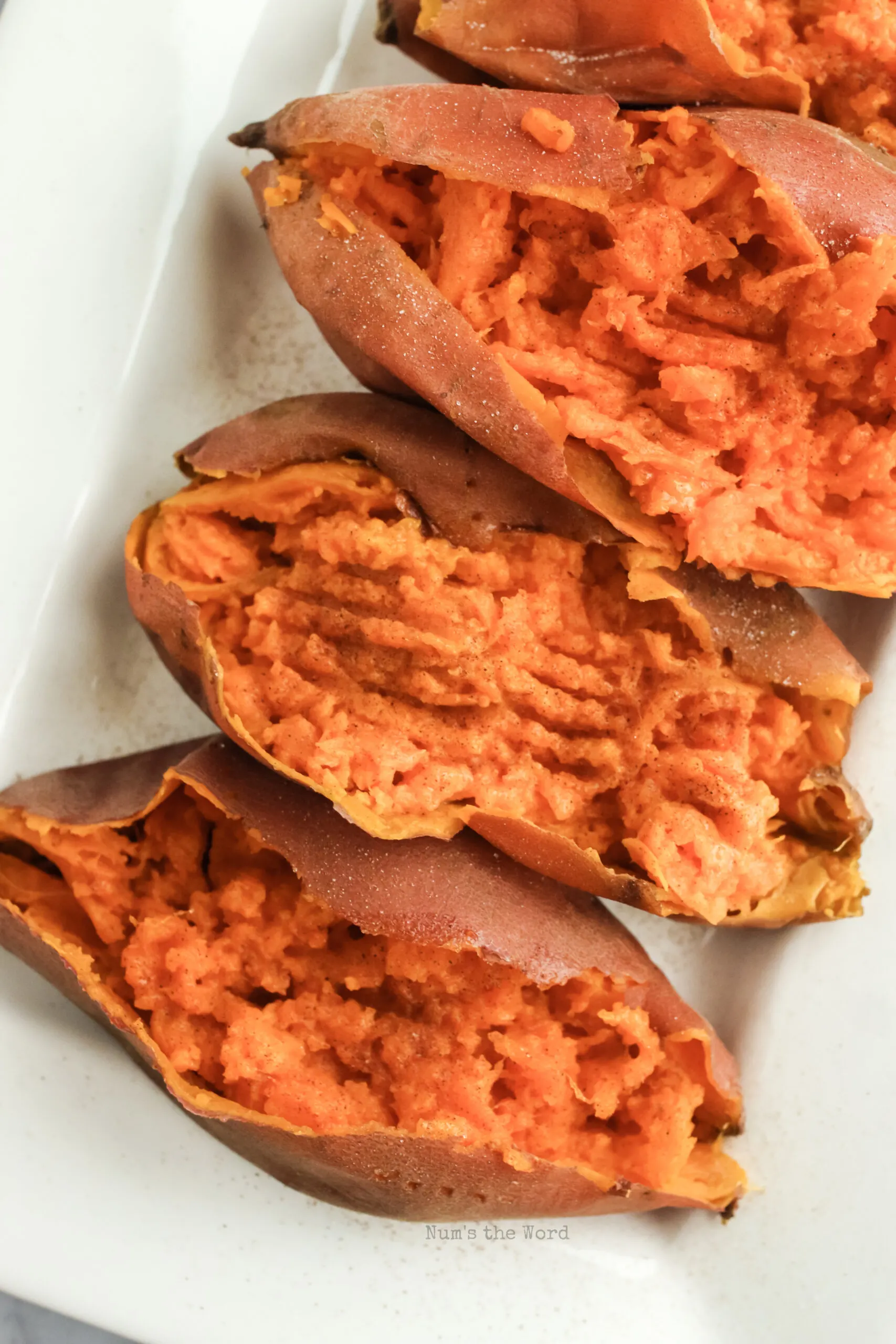 Are Yams Sweet Potatoes?
Yams are not sweet potatoes. Although both are root vegetables, there are a few key differences.
Yams tend to have a dark brown skin that looks similar to a tree bark and they taste more like a yucca. Their flavors are more bland: actually probably similar in flavor to a white potato.
Sweet Potatoes are… well… sweeter. They are less starchy and full of flavor, therefore more likely to be eaten as a stand alone food.
Here's the thing: If you're at the store and it says 'yams' on the sign, it probably isn't yams. Yams are often used in Caribbean or West African cooking and are actually difficult to come by in the U.S. In the early 1930's some farmers began marketing their sweet potatoes as yams and it just kind of stuck.
Most people use the words interchangeably now.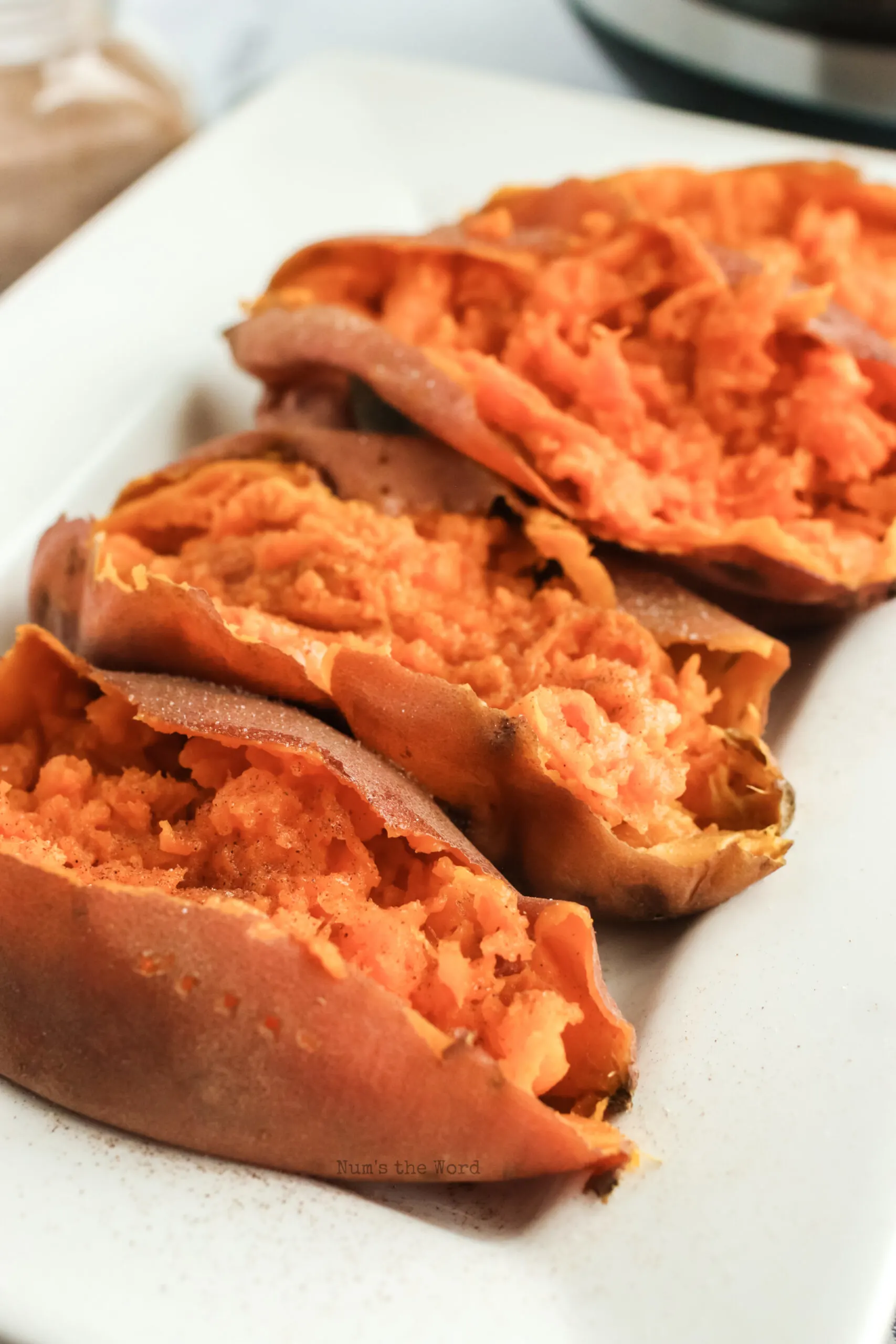 What To Do with Sweet Potatoes
Ok… I will eat these for a meal. Just slather them in butter and some salt. Instant meal! Or maybe sprinkle cinnamon sugar on there. Instant dessert! They are so versatile.
If you need some food inspiration try Pulled Pork Leftovers, Sweet Potato Rolls, Sweet Potato Casserole with Pecans, or Sweet Potato Casserole with Marshmallows and Whipped Sweet Potatoes.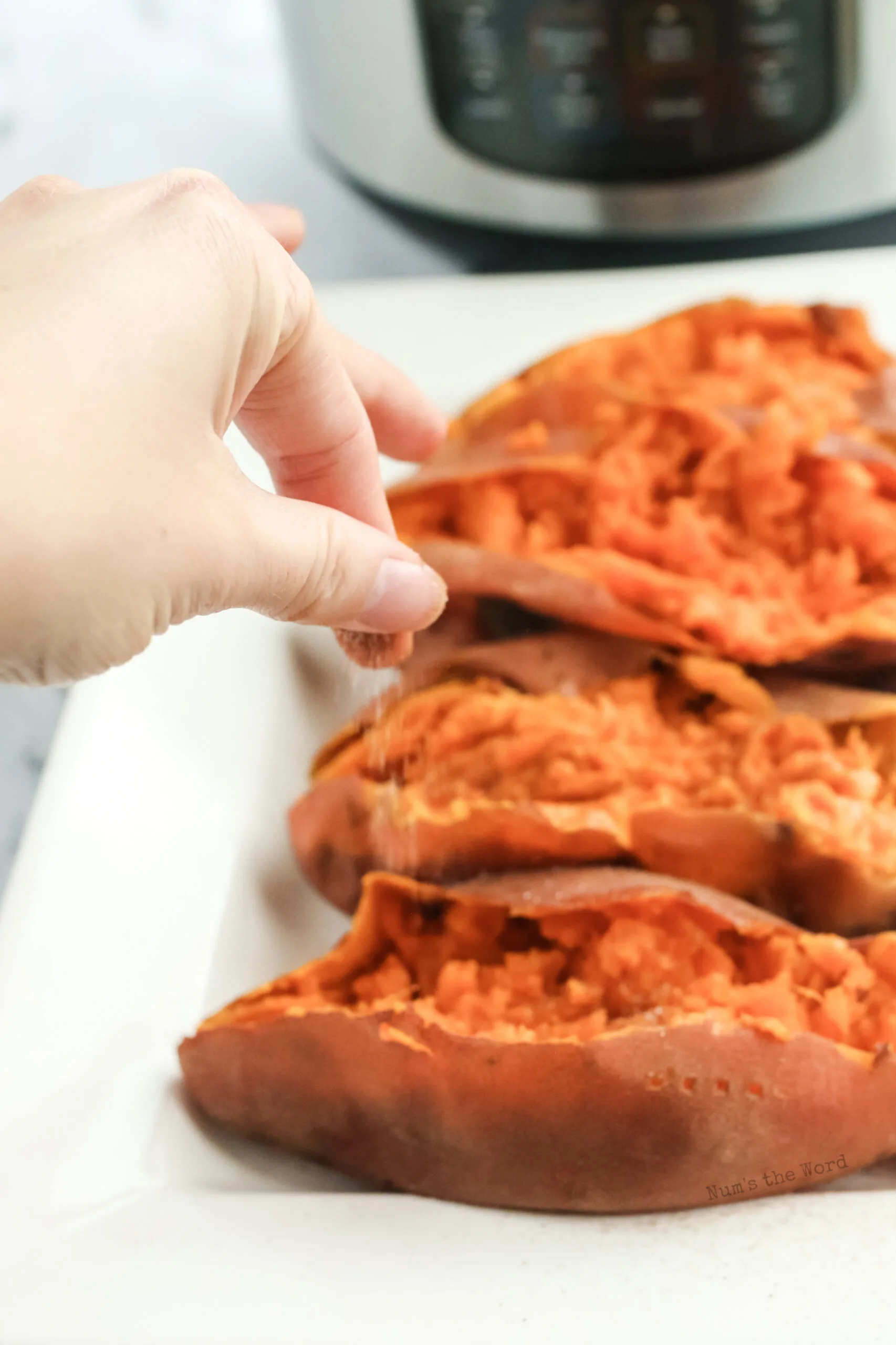 How Long Do Sweet Potatoes Last?
This answer depends on how they are stored and whether they are already cooked.
Uncooked Sweet Potatoes:
Cool dry place: 3-5 weeks

Fridge: 2-3 months

Freezer: 6-8 months
Pro Tip: The fridge or freezer may change the flavor of the sweet potatoes and make them harder in the center. I recommend just keeping them in a cool dry place for best results.
Cooked Sweet Potatoes:
Fridge: 3-5 days

Freezer: 2-3 months
Pro Tips:
Always store your cooked sweet potatoes in an airtight container whether in the fridge or freezer to prevent drying out and bacteria from growing on your food.

Wait for your instant pot sweet potatoes to cool before you place them in the container.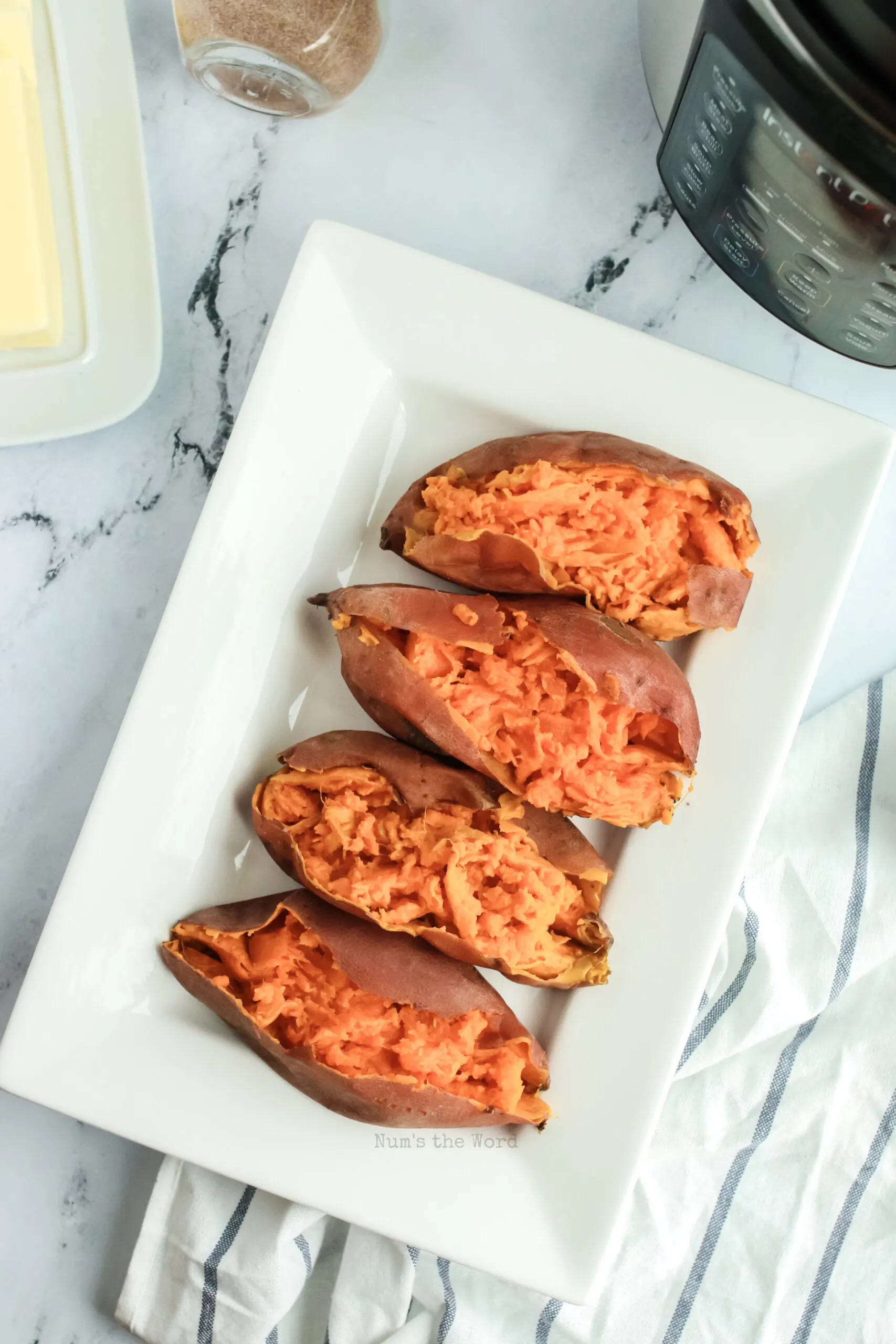 How Many Sweet Potatoes Can You Cook at Once?
I have only ever cooked a single layer at a time. So 4 sweet potatoes is how many I've been able to cook and they work just fine. However I know others have cooked upwards of 6 or 7 (depending on size) and had great success.
What If My Sweet Potatoes Aren't Done?
Sometimes underestimating the size of the sweet potato, and therefore the amount of time it will take to cook them can cause them to not be done at the end of the cooking time.
If this happens, simply add a couple of minutes and cook again. Since the instant pot is already hot it will not take very long to get back up to pressure.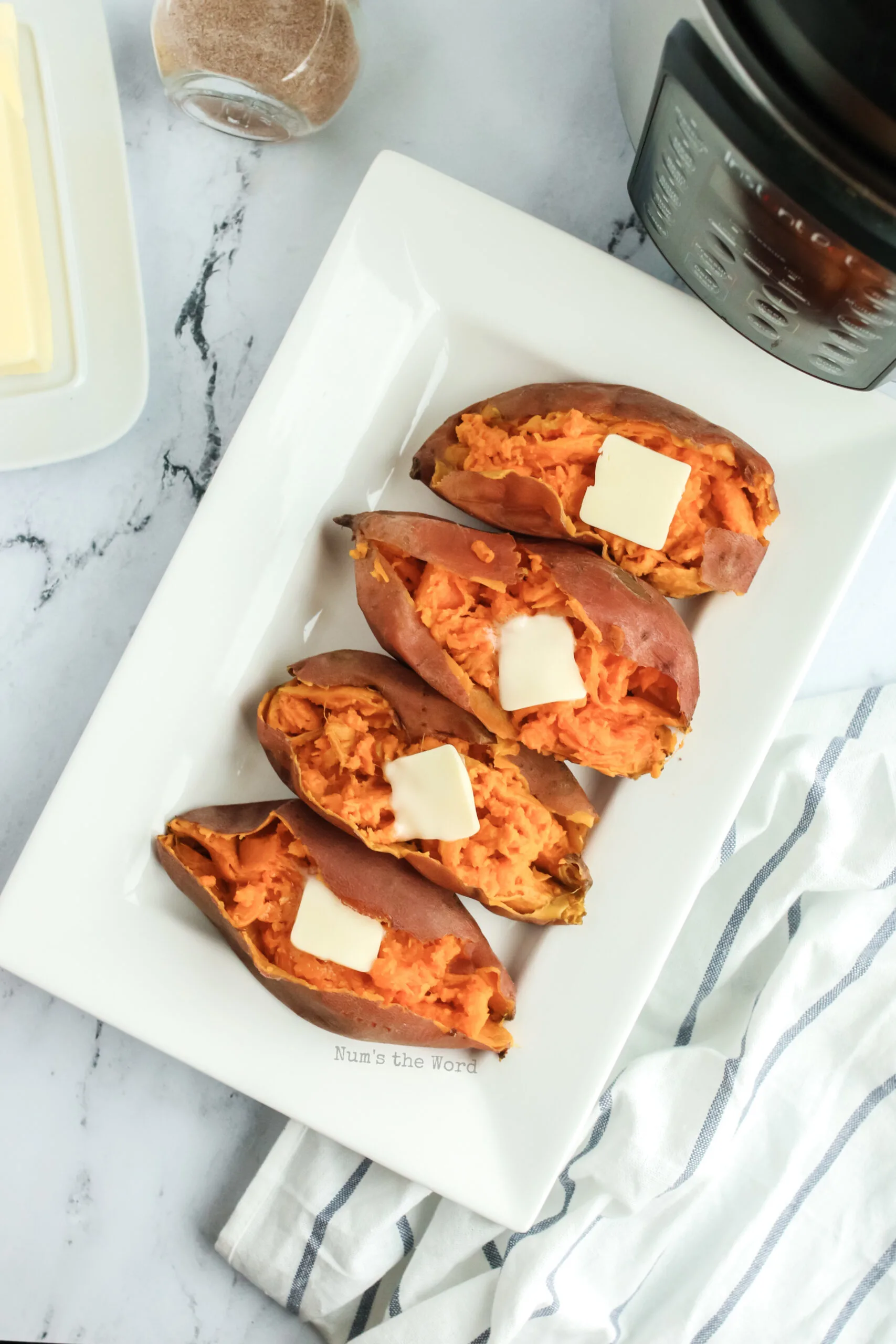 Does This Recipe Work for Regular Potatoes?
No. Sweet potatoes are much harder than white potatoes are. Seriously try sticking a fork in a sweet potato right after a regular potato. Not the same consistency at all. So this recipe is not appropriate for cooking regular white potatoes. If you are looking to make an Instant Pot Baked Potato then we also have that recipe too!
Is a Sweet Potato a Vegetable?
A sweet potato is a vegetable. It is actually a root vegetable, meaning it grows in the ground. It's chock full of Vitamin A and very good for you. Vitamin A is what makes your eyeballs work properly after all.
They are naturally gluten free and I believe approved on most diets. But since I don't follow any diets, if you have a specific diet plan, you'll have to check to see if it fits for you.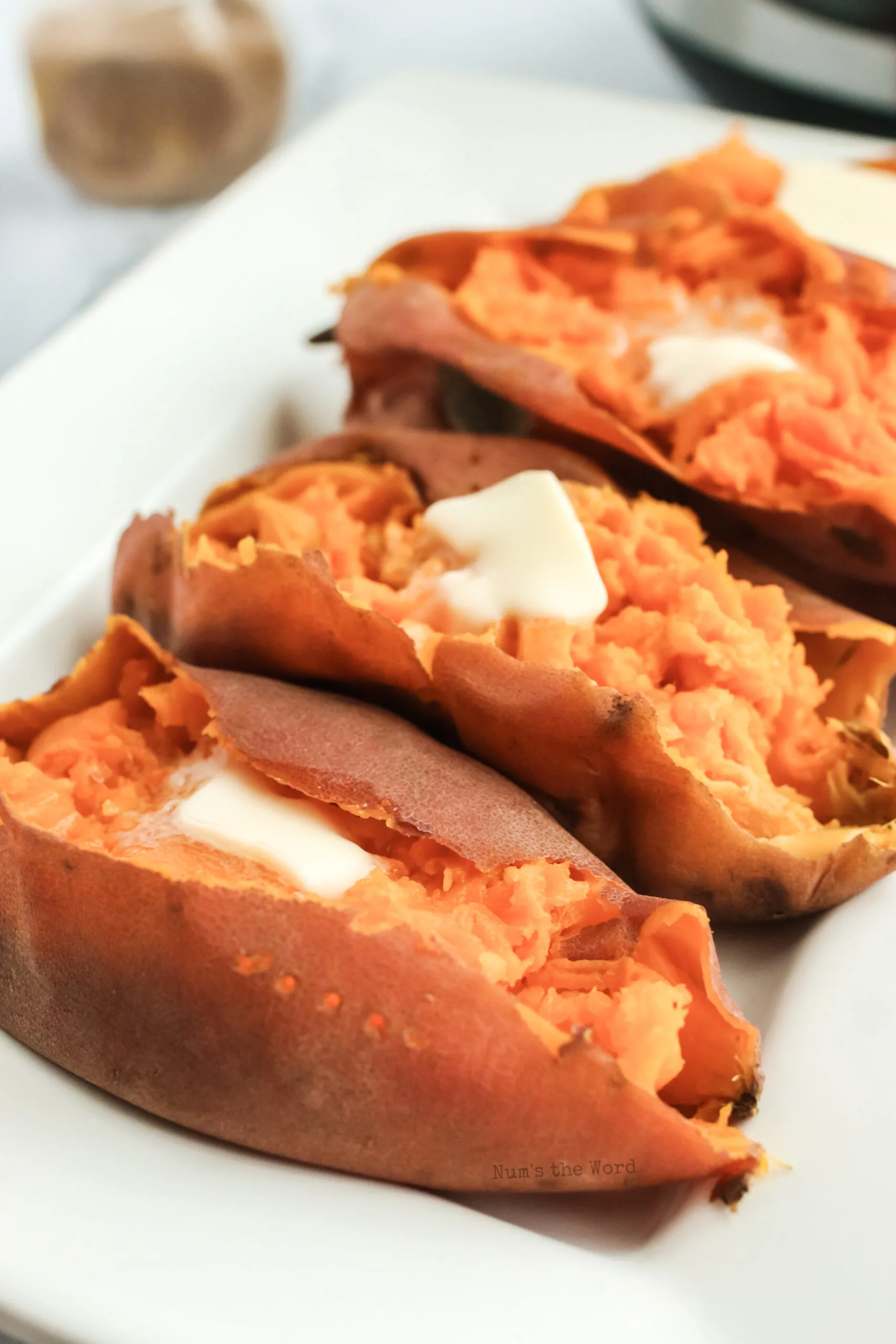 Can Dogs Eat Sweet Potatoes?
Once these instant pot sweet potatoes are cooked, feel free to do whatever you want with them. Including, feeding them to your dog! I've read that you should probably remove the skins first as they can be more difficult for a dog to digest.
Never try to feed your dog raw sweet potatoes however as they can upset their stomachs. Humans on the other hand can eat raw sweet potatoes without the same problem.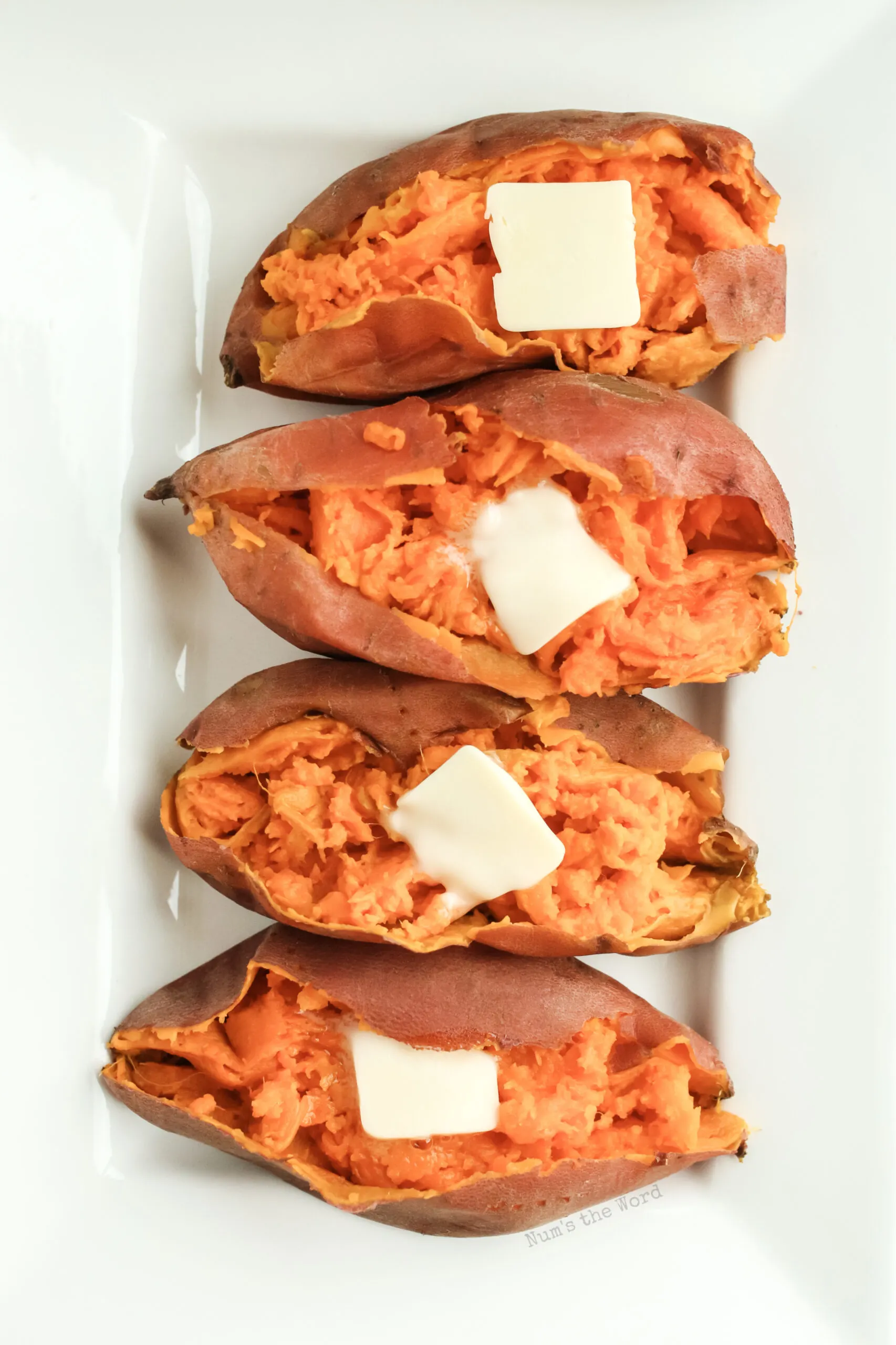 These creamy, instant pot sweet potatoes are absolutely wonderful. They are so soft in the middle, take such a small amount of time, and are the perfect addition to anything else going on your table. Or eat them alone. I do it all the time!
Yield: 4 "Baked" Sweet Potatoes
Instant Pot Sweet Potatoes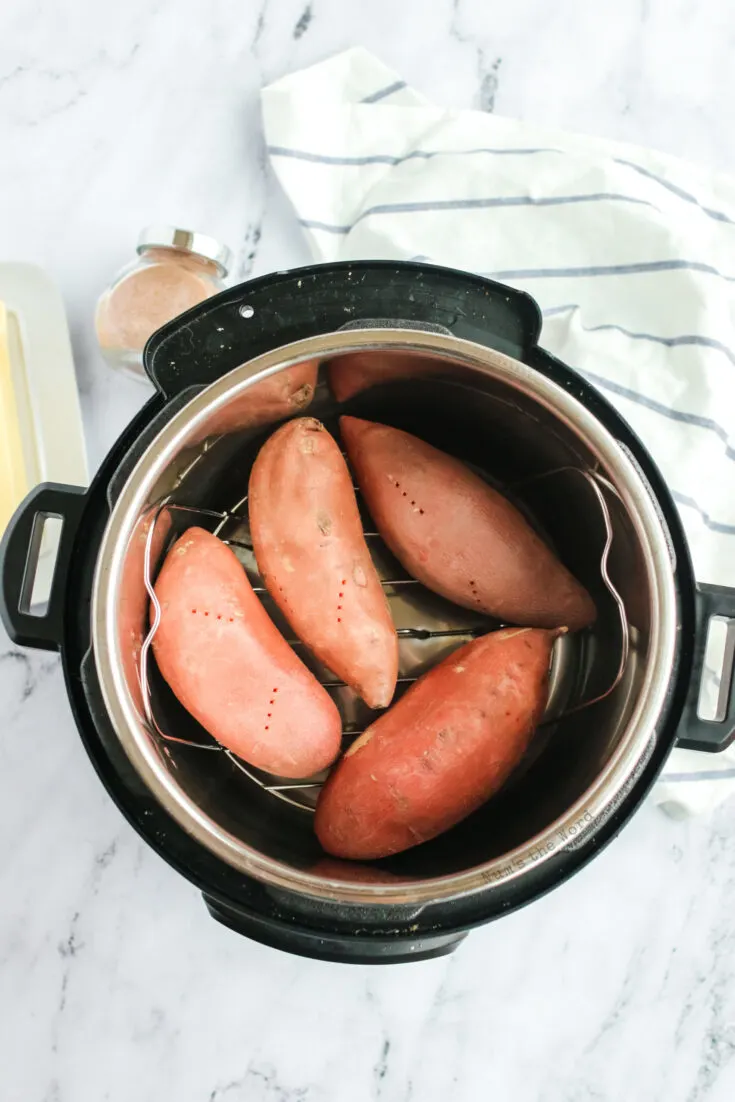 Instant Pot Sweet Potatoes take a fraction of the time to cook as they do in the oven. Yet inside they're still irresistibly creamy and tender.
Additional Time
15 minutes
Ingredients
4 Medium Sweet Potatoes (see notes below for cooking times of other sized sweet potatoes)
1 cup water
Butter, optional
Instructions
Place 1 cup of water into your instant pot.
Wash each of your potatoes and prick each potato 5 times with a fork, randomly around the potato.
Add circle wire rack insert into the instant pot.
Place washed and cleaned potatoes onto rack.
Secure lid and close the pressure valve.
Set the instant pot to high pressure for 16 minutes.
Once the instant pot timer goes off, wait 5 minutes, then release the pressure.
Remove potatoes, slice & fluff and add your favorite toppings.
Notes
Small Sweet Potatoes, cook for 16 minutes.
Medium Sweet Potatoes, cook for 21 minutes.
Large Sweet Potatoes, cook for 25 minutes.
Nutrition Information:
Yield:
4
Serving Size:
1
Amount Per Serving:
Calories:

292
Total Fat:

3g
Saturated Fat:

2g
Trans Fat:

0g
Unsaturated Fat:

1g
Cholesterol:

8mg
Sodium:

67mg
Carbohydrates:

67g
Fiber:

8g
Sugar:

45g
Protein:

3g