These Chewy Oatmeal Chocolate Chip Cookies are a perfect blend of sugar, butter, oats, and chocolate. They are soft and chewy and scrumptious in every bite.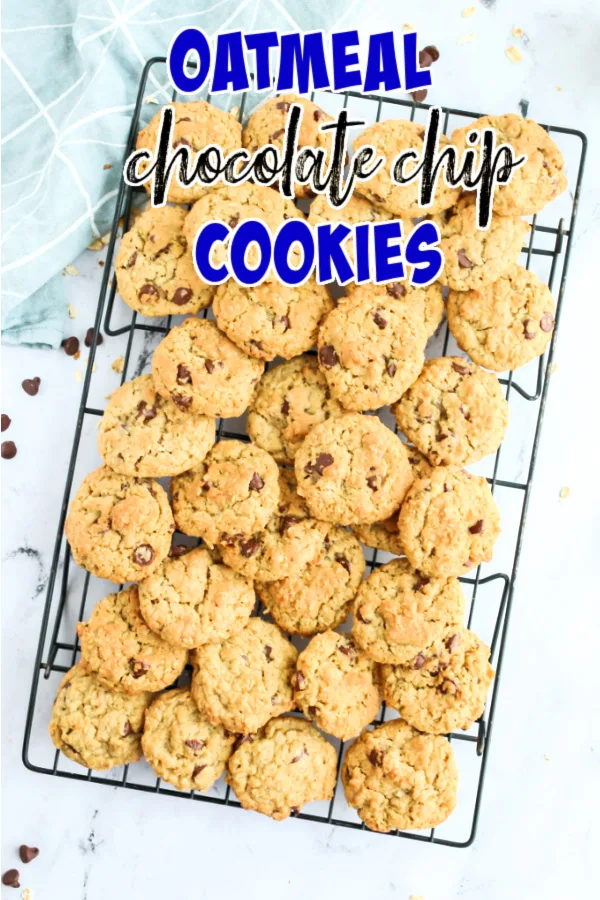 Oatmeal cookies can be made in so many different ways: Cookies with Rice Krispies, Banana Oatmeal Cookies, or just plain old Oatmeal Cookies with nothing added. But there is something about putting chocolate in an oatmeal cookie. Chocolate plus oatmeal is absolute bliss.
I love how quick these oatmeal chocolate chip cookies are. I'm busy. You're busy. So quick cookies are an absolute must!
I also love the flavor! I know I already mentioned chocolate and oats but combine those with some sweet butter and white and brown sugar. It is a cookie I hear requested more often than I care to admit around my house.
These chewy oatmeal chocolate chip cookies are so easy to make! Mix, bake, and eat. It doesn't get any easier than that!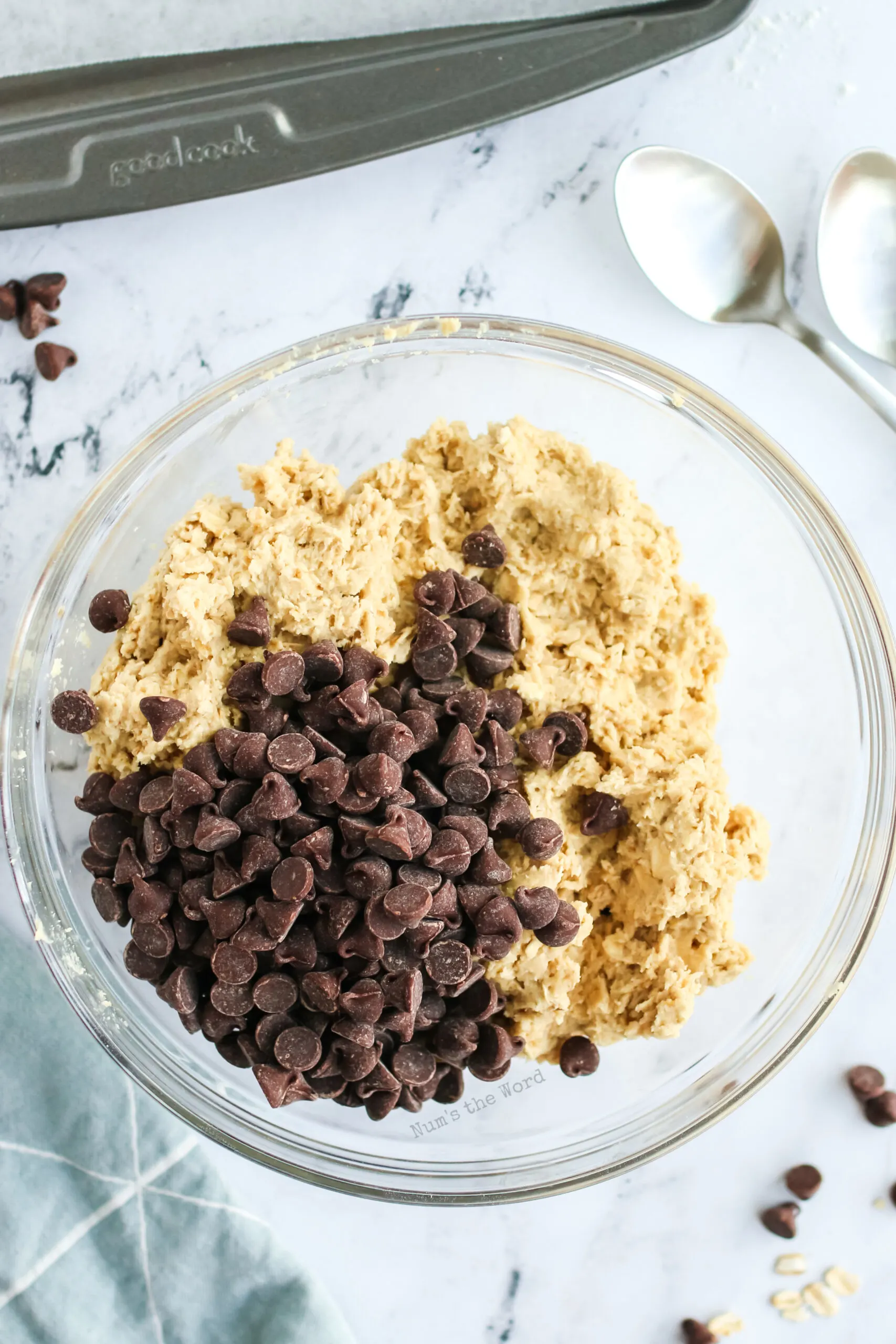 Ingredients in Chewy Oatmeal Chocolate Chip Cookies
Sugar:

This recipe calls for both brown and white sugar. The combo is wonderful. I haven't tried making it with just one or the other so I would recommend sticking with both.

Butter:

When using butter in cookies, the temperature of the cookies can make a big difference. In these easy oatmeal chocolate chip cookies I recommend using room temperature butter.

Eggs:

Same as with the butter, the ingredients blend together best if you use room temperature eggs. Though this doesn't seem to be as important as the butter in the overall texture of the cookie.

Vanilla:

I don't know where we would be without vanilla. Have you noticed it is in almost everything you make? Pure vanilla will give you the best results.

Baking Soda:

This is the reason your cookies rise when baking.

Salt:

Ok maybe even more than the vanilla, I don't know where we would be without salt. While some recipes would be fine leaving out the vanilla, never leave out the salt. It is absolutely vital.

Flour:

All purpose bleached or unbleached flour is what I used here and I haven't tried anything else so recommend sticking with those.

Oatmeal:

There are so many different kinds of oats to use but in soft oatmeal chocolate chip cookies you want to use regular oats, not quick oats. Quick oats will dry the cookies out and change their texture too.

Chocolate Chips:

I made these with milk chocolate but I think it would be fun to try them with white chocolate, dark chocolate, or different combinations of them. Maybe let your kids pick!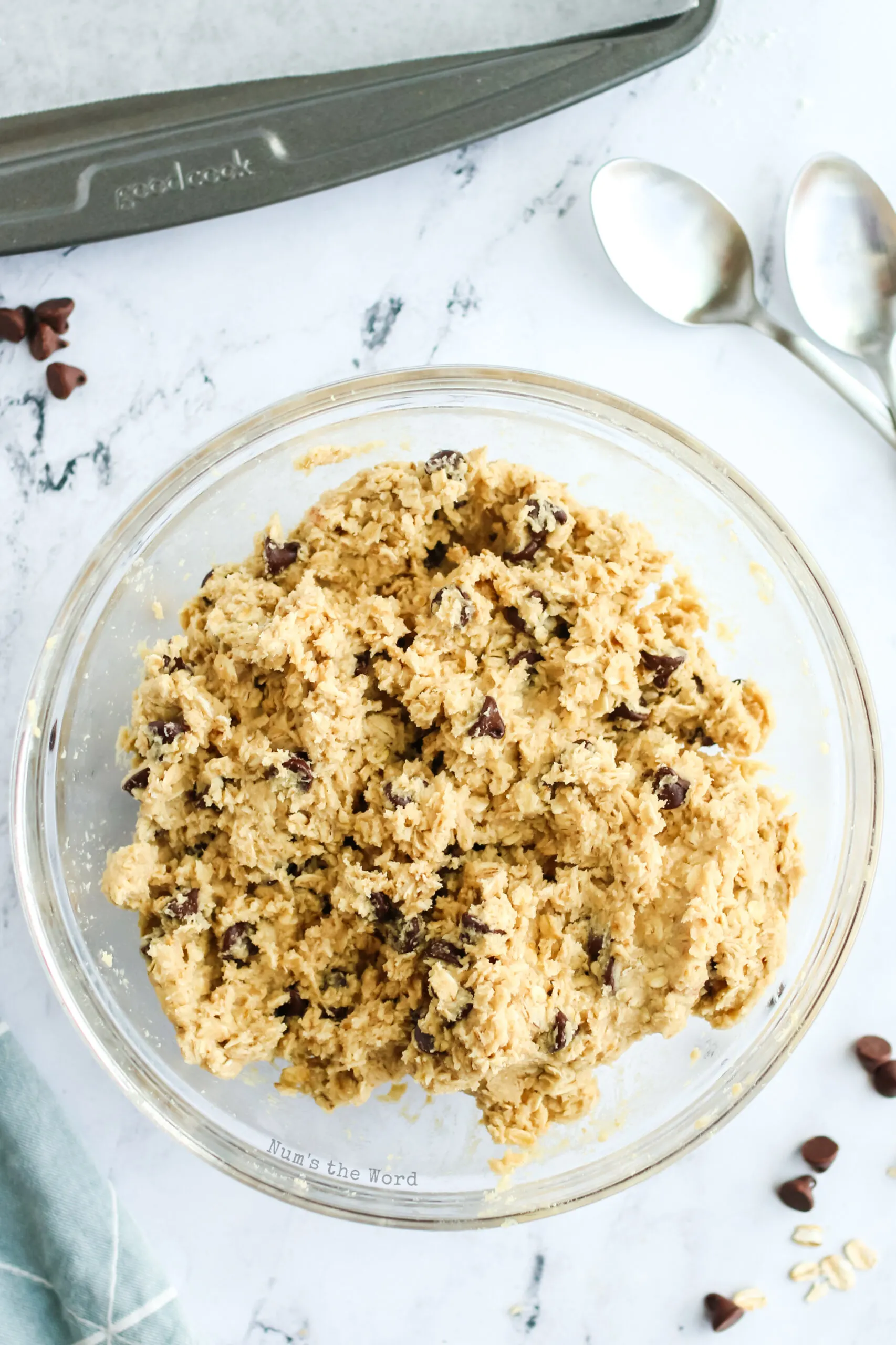 How to Make Chewy Oatmeal Chocolate Chip Cookies
I seriously love how easy these cookies are to make. There is no complicated refrigerating, rolling, or anything else. Simplicity is bliss.
Mix:

Starting with the butter and sugar, mix together until you have a nice and very sweet cream.

Continue adding the rest of your ingredients but be sure to give each time to mix in before adding the next.

Bake:

This is the best time to wash the dishes I think. It helps keep my mind off eating all of the cookies once they come out.

Eat:

Eat them alone. Share them with your kids, neighbors, and friends. Everyone loves an oatmeal chocolate chip cookie.
Pro Tips:
Cover the pan.

I always say less clean up is better so use parchment paper or a silpat or nonstick foil.

Don't overmix. Oatmeal cookies can be finicky in that way. Sometimes overmixing can cause the cookies to become dry.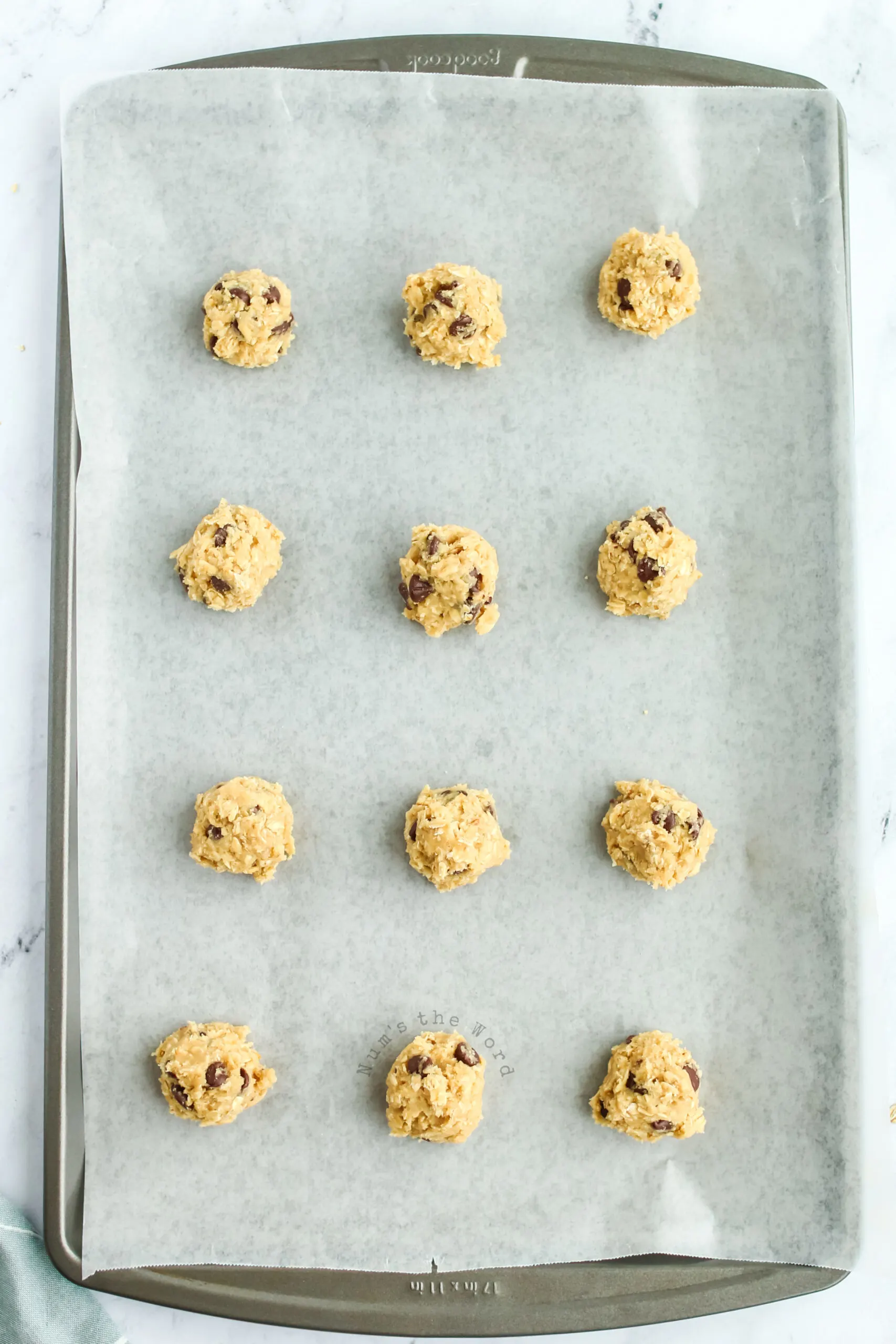 Are Oatmeal Chocolate Chip Cookies Healthy?
This is one of the most interesting questions I get asked. Is a certain recipe healthy? Well… That depends on your version of health.
These cookies have a lot of good fats and fiber. Which is essential in any diet. But they also have a lot of sugar. Probably not so essential although quite delicious.
I also see a lot of people ask if they are healthier if you leave out the chocolate chips. Technically, yes. But with or without the chocolate chips, there is still a lot of sugar in these cookies.
Overall I would say that oatmeal chocolate chip cookies are cookies. Enjoy them like you would any other cookie but don't eat them for every meal. Or do. Who am I to judge?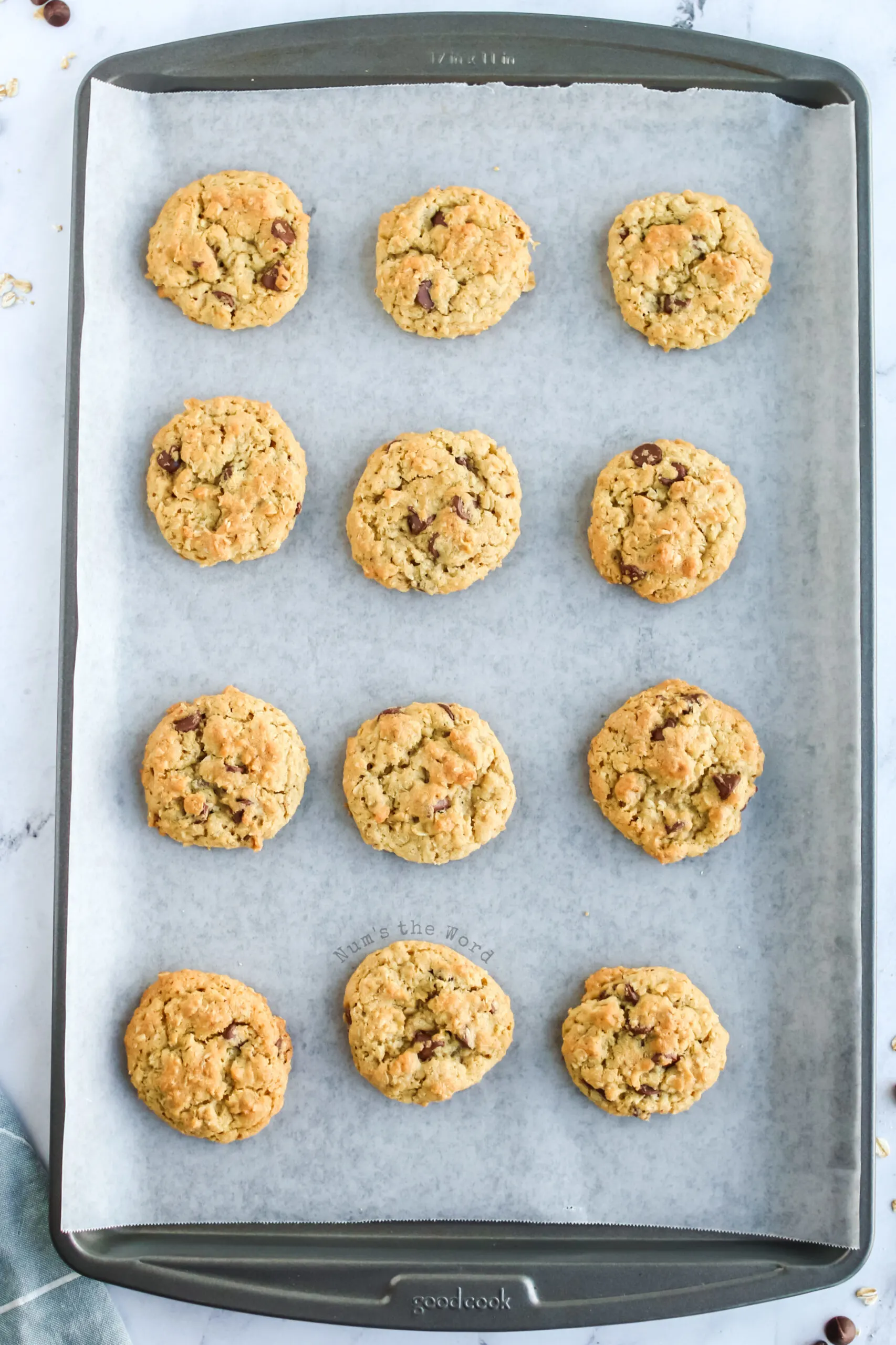 Can You Freeze Homemade Oatmeal Chocolate Chip Cookies?
Yes! You have two options for freezing oatmeal chocolate chip cookies. Either before baking them or after.
To freeze before baking:
Mix according to directions.

Roll into balls and place on a cookie sheet.

Freeze for an hour.

Remove and place in a freezer friendly container.
Pro Tip: Write the directions on the bag so that you don't need to look up the recipe again when you are ready to cook the cookies!
To freeze after baking:
Follow the directions to mix and bake the cookies.

Allow the cookies to cool completely. This is most essential as if they are not fully cooled they will stick to each other in the container.

Place in a freezer friendly container.
Store uncooked or cooked chocolate chip oatmeal cookies in the freezer for up to two months.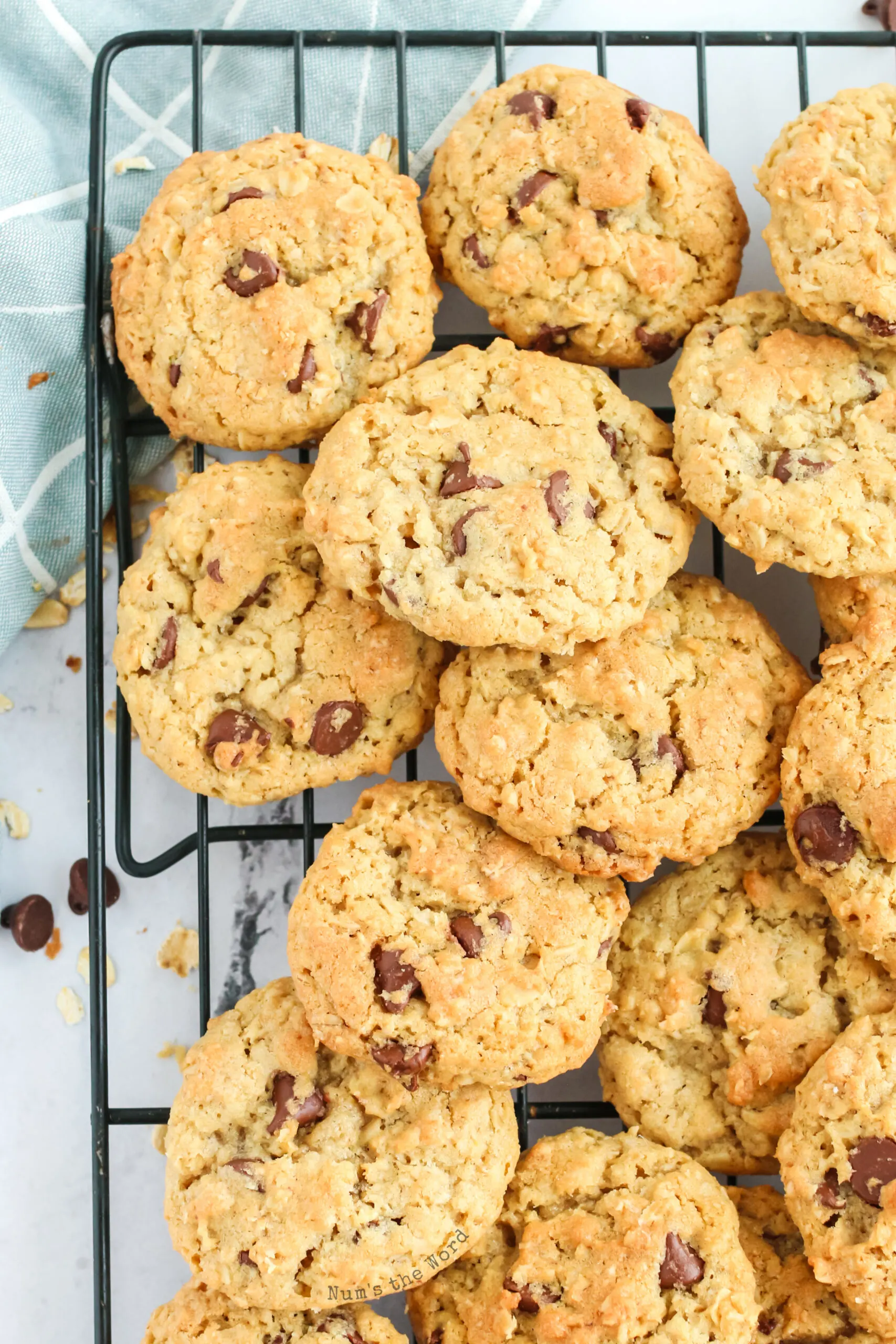 What are the Best Oats to use in Chewy Oatmeal Chocolate Chip Cookies?
You've got three options on oats: steel cut oats, instant oats, and regular oats. Here's how each will affect your cookie.
Steel Cut Oats.

These are DENSE! If you want to use steel cut oats, soak them overnight first and then use half the amount of oats required in the recipe.

Instant Oats.

These will dry out the cookie and make them quite crumbly and thick. I recommend avoiding these altogether.

Regular Oats.

They may also be called old fashioned. These are the ones used most often in chocolate chip cookies and will give you the characteristic chewy texture you love.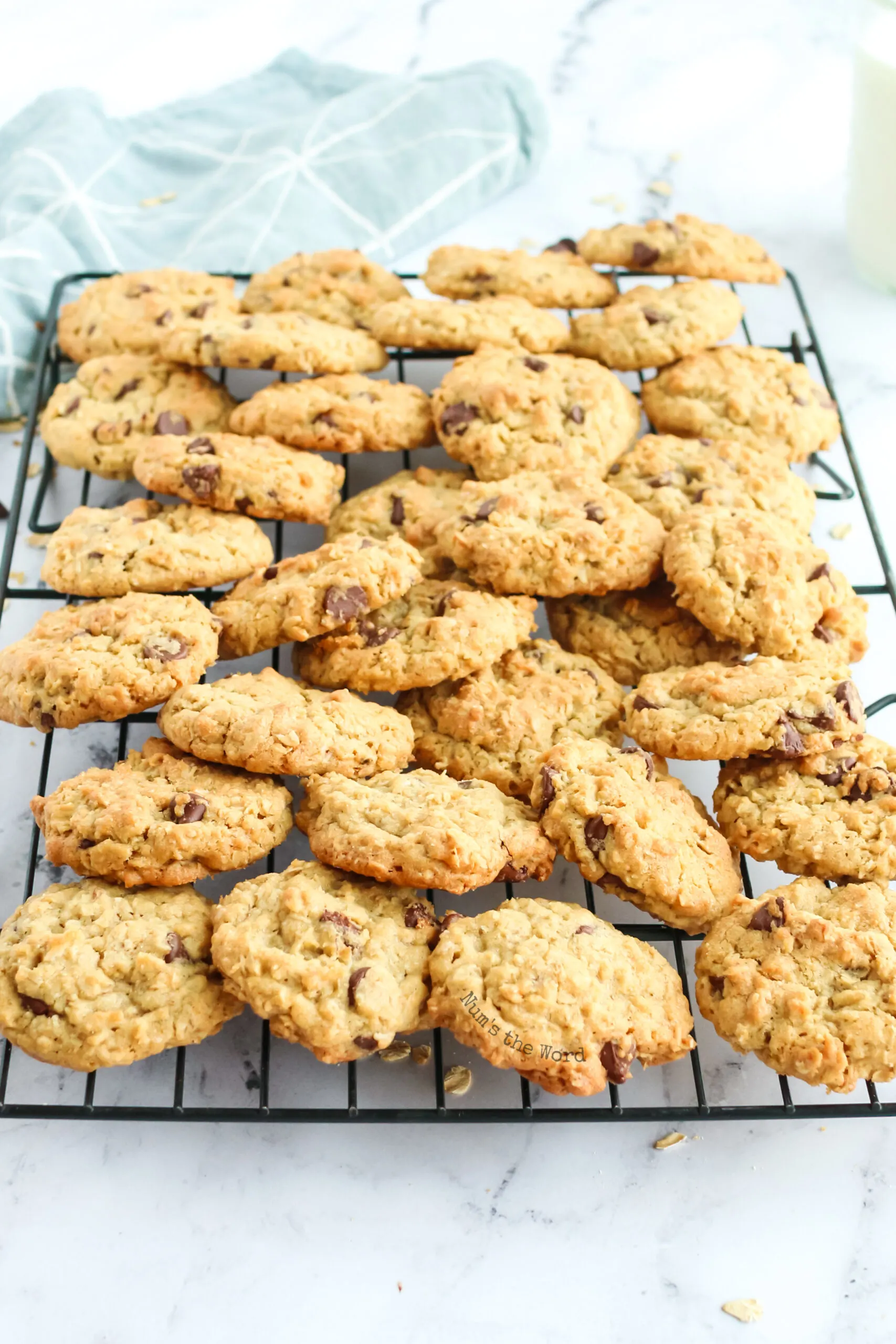 More Cookies You'll Love…
I cannot wait for you to try these chewy oatmeal chocolate chip cookies. They are so scrumptious and the perfect easy cookie to eat all alone or share with everyone else.
Yield: 50 Cookies
Oatmeal Chocolate Chip Cookies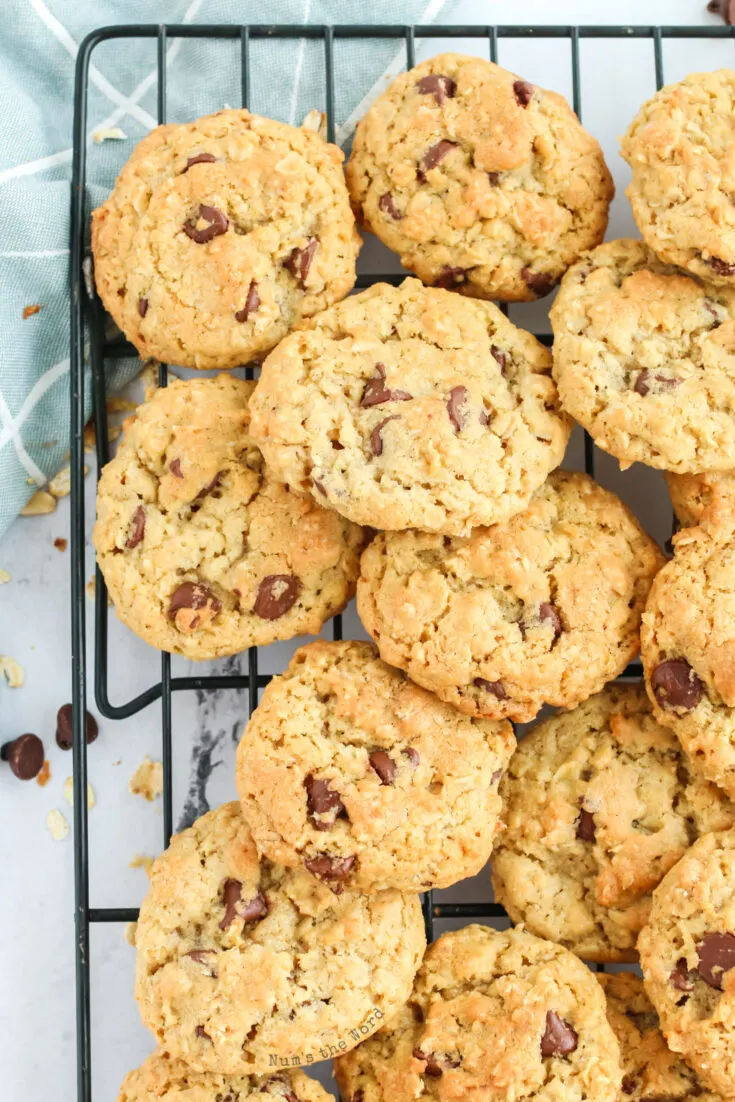 These Chewy Oatmeal Chocolate Chip Cookies are a perfect blend of sugar, butter, oats, and chocolate. They are soft and chewy and scrumptious in every bite.
Ingredients
3/4 cup white sugar
3/4 cup brown sugar
1 cup butter, room temperature
2 eggs, room temperature
1/2 teaspoon vanilla
1 teaspoon baking soda
1/2 teaspoon salt
1 3/4 cups all-purpose flour
3 cups old fashioned oatmeal (regular, not quick)
12 ounces semi-sweet chocolate chips or milk chocolate chips
Instructions
Preheat your oven to 350*F
Prepare 2 cookie sheets with non-stick foil, baking mat or parchment paper.
Using a mixer, blend white sugar, brown sugar and butter until fluffy.
Add eggs one at a time and mix well. Scrape sides of bowl as needed.
Add vanilla, baking soda and salt. Mix well.
Add flour ½ cup at a time, mixing between each addition.
Add oatmeal 1 cup at a time until all has been added.
And chocolate chips and mix well.
Scoop out 1 Tablespoon balls of dough onto prepared cookie sheets. I use a cookie scoop to make this easier.
Bake in preheated over for 8-10 minutes.
Cool on cooling rack for 5 minutes until ready to eat.
Nutrition Information:
Yield:
50
Serving Size:
1
Amount Per Serving:
Calories:

116
Total Fat:

6g
Saturated Fat:

4g
Trans Fat:

0g
Unsaturated Fat:

2g
Cholesterol:

17mg
Sodium:

81mg
Carbohydrates:

15g
Fiber:

1g
Sugar:

9g
Protein:

1g