These Soft Gingerbread Cookies are are so chewy that they melt in your mouth upon first bite.
With no refrigeration needed or wait time, you'll be able to whip up a batch in less than an hour! Perfect for neighbors, teachers or your own family cookie platter.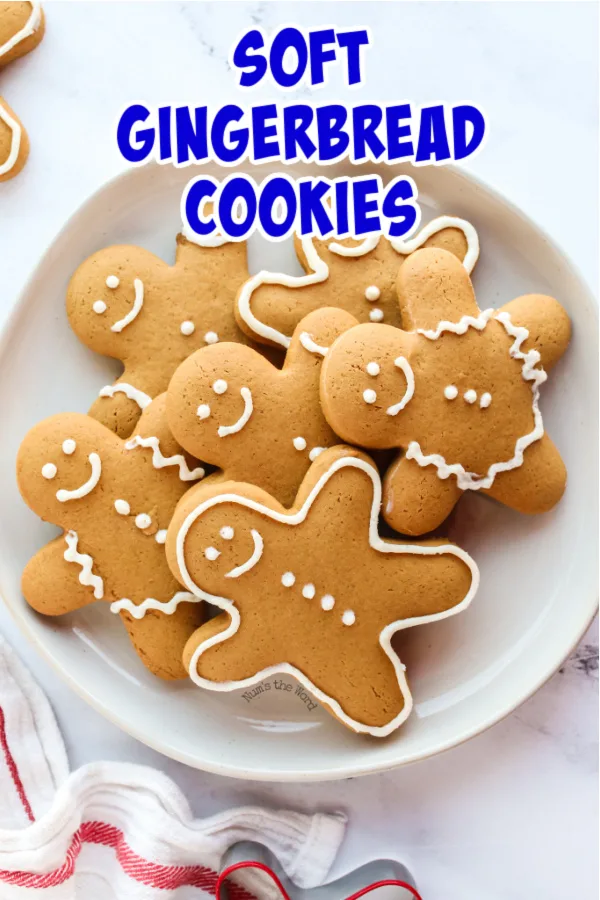 I love that these easy gingerbread cookies require no refrigeration time and retain their shape. Personally I'm not a fan of crunchy cookies, which is why this is the BEST gingerbread cookie recipe there is.
I also can't claim to be the developer of this recipe. My friend Molly shared this recipe with me last year and I instantly fell in love. It was her grandmothers recipe, passed down to her. It's also the best chewy gingerbread cookie I've ever had.
This cookie dough forms perfectly into sweet gingerbread man cookies or any shape you want! Which is important when you have lots of kids who all want their own cookie cutter.
And did I mention that they are SOFT? I mean heavenly, delicious, doesn't need to be dunked, and don't eat them all in one mouthful kind of soft.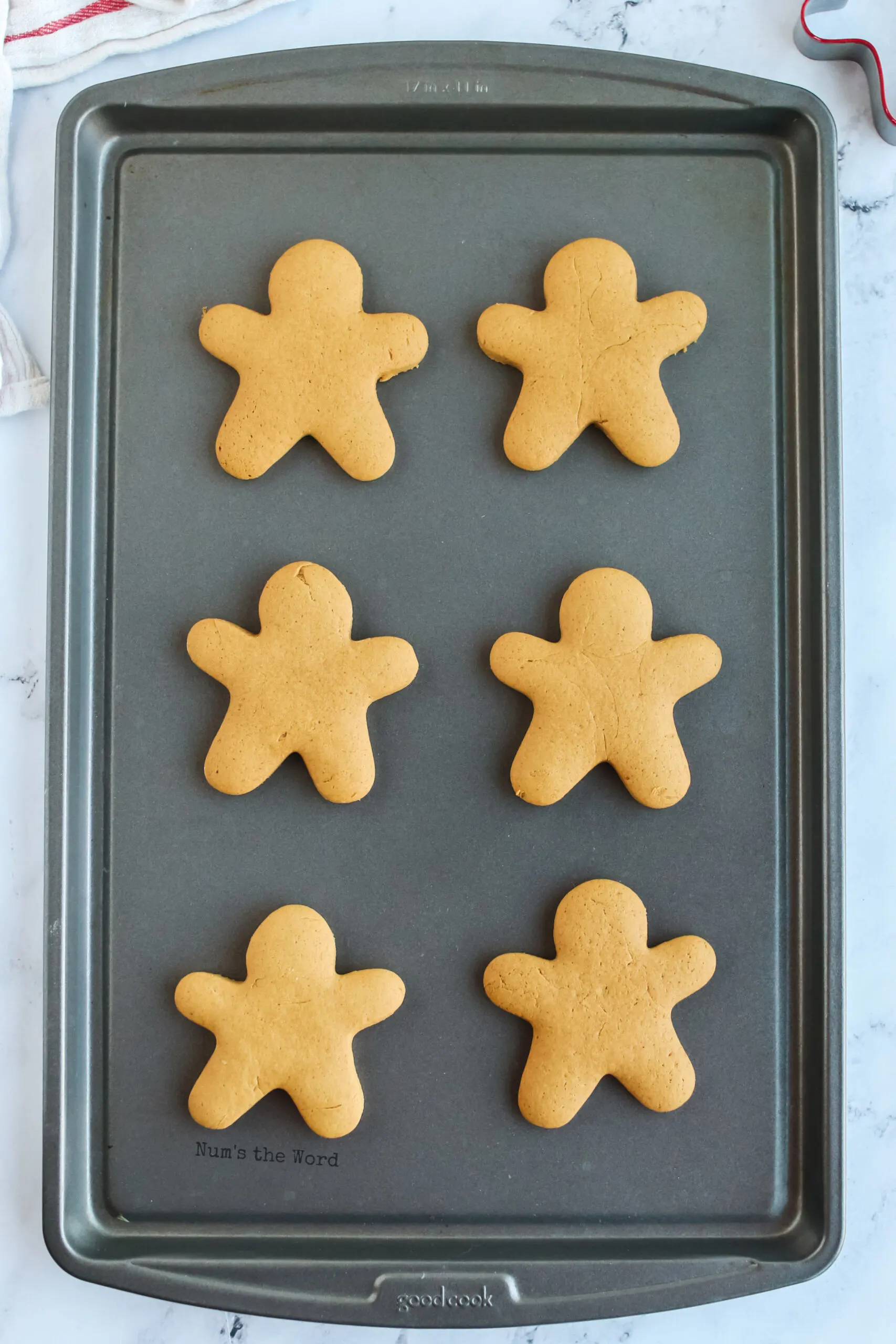 Ingredients for Soft Gingerbread Cookies
Butter:

Let your butter come to room temperature. When you whip it with your sugar you want it to form a cream, not balls of butter coated in sugar. Don't substitute with any other oils. Butter. That's what you need.

Brown Sugar:

Brown sugar has a depth of flavor that cane sugar can't compete with. You may substitute if you don't have brown sugar but your gingerbread cookies are going to be lacking the deep brown molasses flavor.

Molasses:

Did you know that molasses was so important to the early colonists that if they didn't have it around harvest time, they would put off their Thanksgivings until it arrived? Nowadays I think most of us only use it for our holiday cookies! Use dark molasses to give them their classic golden brown color, rich flavor, and the perfect chewiness.

Eggs:

The eggs act as a binder, holding your gingerbread cookie recipe together. They also help your cookies to rise and also…keeps them soft. I'm going to reiterate here, holy moly, soft, delicious cookies!

Sour Cream:

I said it! I'm sharing the secret ingredient here with all of you. Sour cream! You probably aren't going to find sour cream in another gingerbread cookie recipe, but it's the secret to keeping these cookies soft instead of crunchy!

Spices:

Ginger. Cinnamon. Nutmeg. Allspice. If those don't scream, it's cold outside and I need my house to smell like a heavenly aroma, I don't know what does. Don't be surprised when your neighbors drop by for a bite!

Salt:

As is the case in most recipes, they require salt. Just think about what our world would taste like without salt! Okay, now stop, that's just depressing.

Baking Soda:

Baking soda is your base that reacts with the acids in this recipe to allows your cookies to rise. Both molasses and brown sugar react with the baking soda in this recipe so don't leave it out.

Flour:

The only flour I've used in this recipe is all-purpose white flour. While there are other flours you can use, I cannot guarantee the softness, texture, or flavor of the other flours. I recommend using that plain old fluffy white flour.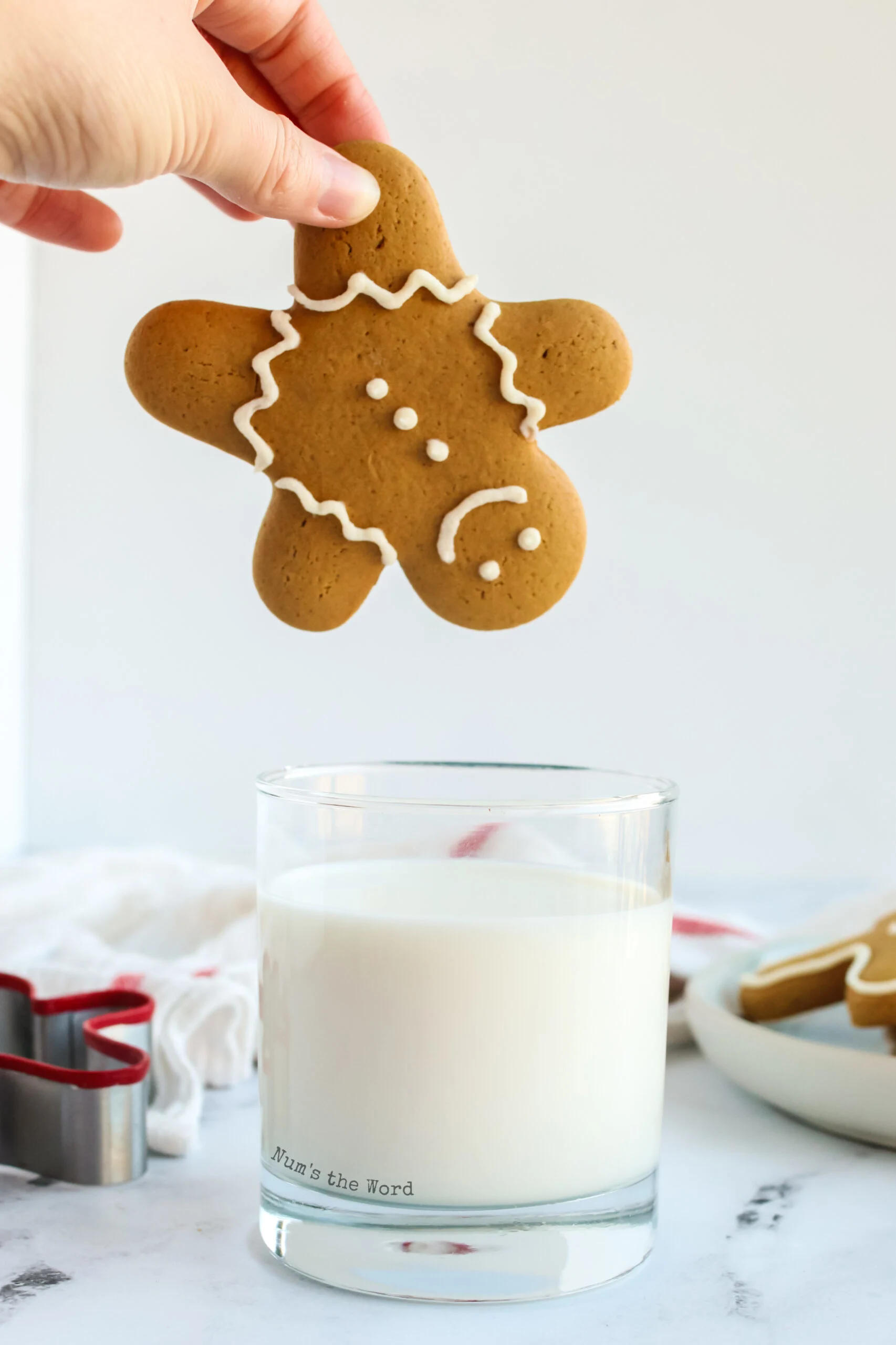 How to Make Gingerbread Cookies

Mix:

Combine your ingredients one at a time until the dough is moist and elastic feeling.

Roll and Cut:

I'm not sure whether my kids like this part or decorating more. Make sure you don't add too much flour to your surface or you'll dry the cookies.

Bake:

Watch the cookies carefully. You want them to be a light golden brown around the edges. Do not wait until they are dark brown or they will lose their softness. If you cut the cookies too thin be especially carefully as they will be prone to burning.

Decorate:

Choose to decorate them or not, either way these cookies will be gobbled up quickly! Alternatively you may wish to decorate before baking, see below for details.
Pro Tip: Do not use this recipe for gingerbread houses. It is way too soft and your walls would crumble.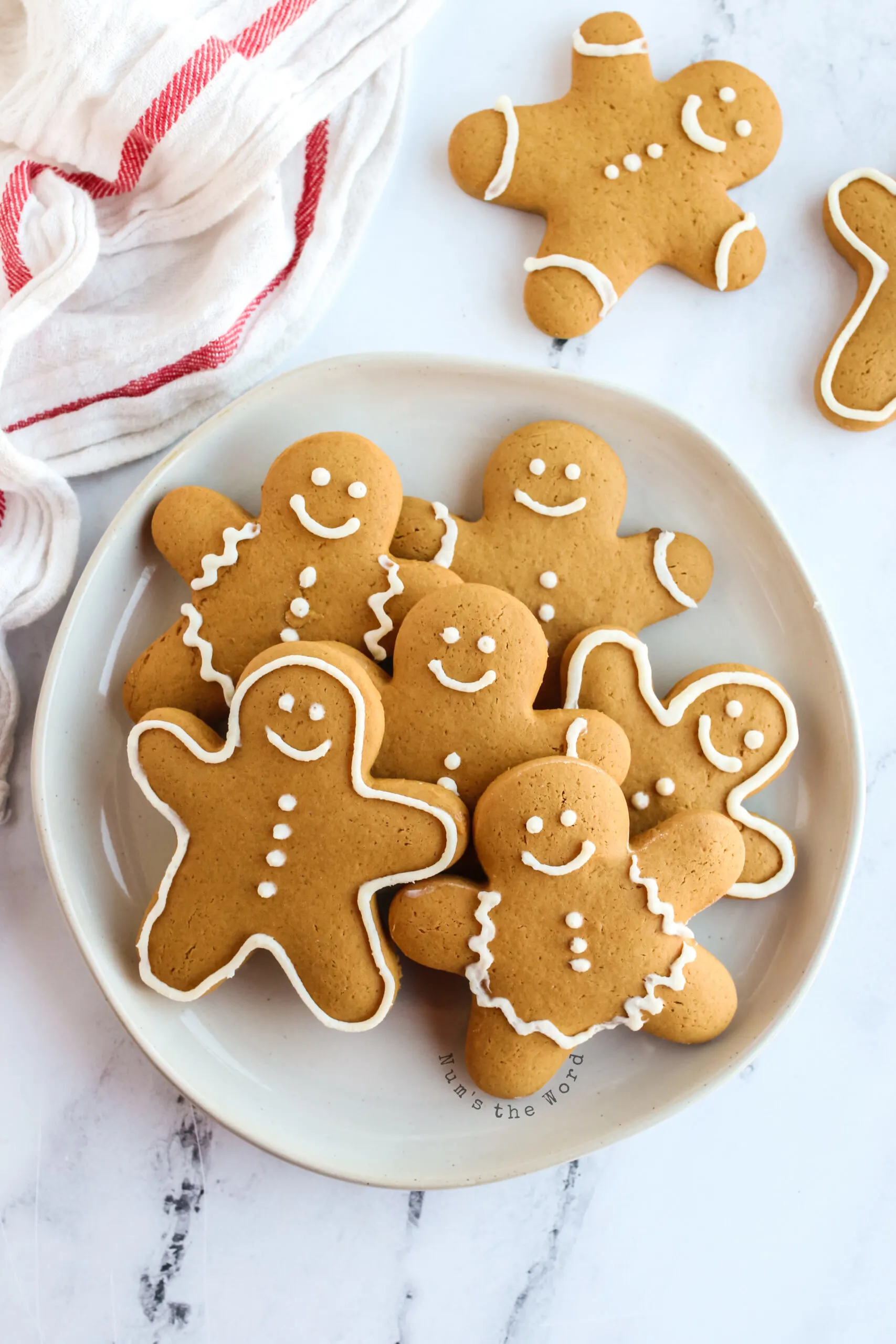 How to Decorate Gingerbread Cookies
I'm pretty sure you can count this as art time for your kids! Let them go crazy using their imaginations or keep your cookies professional looking and choose to do it yourself using:
Icing:

A classic! Icing as it dries as a little bit of a crunch to your soft gingerbread cookie recipe but it is not overly sweet so stick to thin lines and outlining so the cookie flavor is still the strongest.

Candies:

Gumdrop buttons? Yes please! You can also use M&Ms, sixlets, or any other small candies. Use the icing to adhere the candy to the cookies.

Sprinkles:

Press your decorative sprinkles into the cookies before baking and then bake as directed.

Rubber Stamps:

Did you know this was a thing? Get out your crafting supplies before baking and pick any stamps you want. Simple press into the uncooked cookies and the stamp will leave it's mark! Bake! This might be the easiest and cheapest form of decorating I've ever heard of.

Sprinkling Sugars:

Sprinkling sugar comes in all sorts of colors and looks and tastes wonderful on soft cookies. Sprinkle as much as desired on before baking, press in lightly, and then bake. Test run your sugar on a few cookies first as some sprinkles tend to melt and run all over your cookies while others hold together perfectly.

Candy Melts:

Told you this counts as art time! Melt your candies down, dip in a paintbrush, and get to work adding some fun details! You can also dip your cookies into the melting candy as well. The flavor and texture of your cookies may change to match that of your candy melts so don't go overboard. A little goes a long way.

Frosting:

Looking for sugar on sugar? Here you go. Lay on some frosting. While most gingerbread cookies are not decorated with frosting, who am I to judge? You do what you gotta do!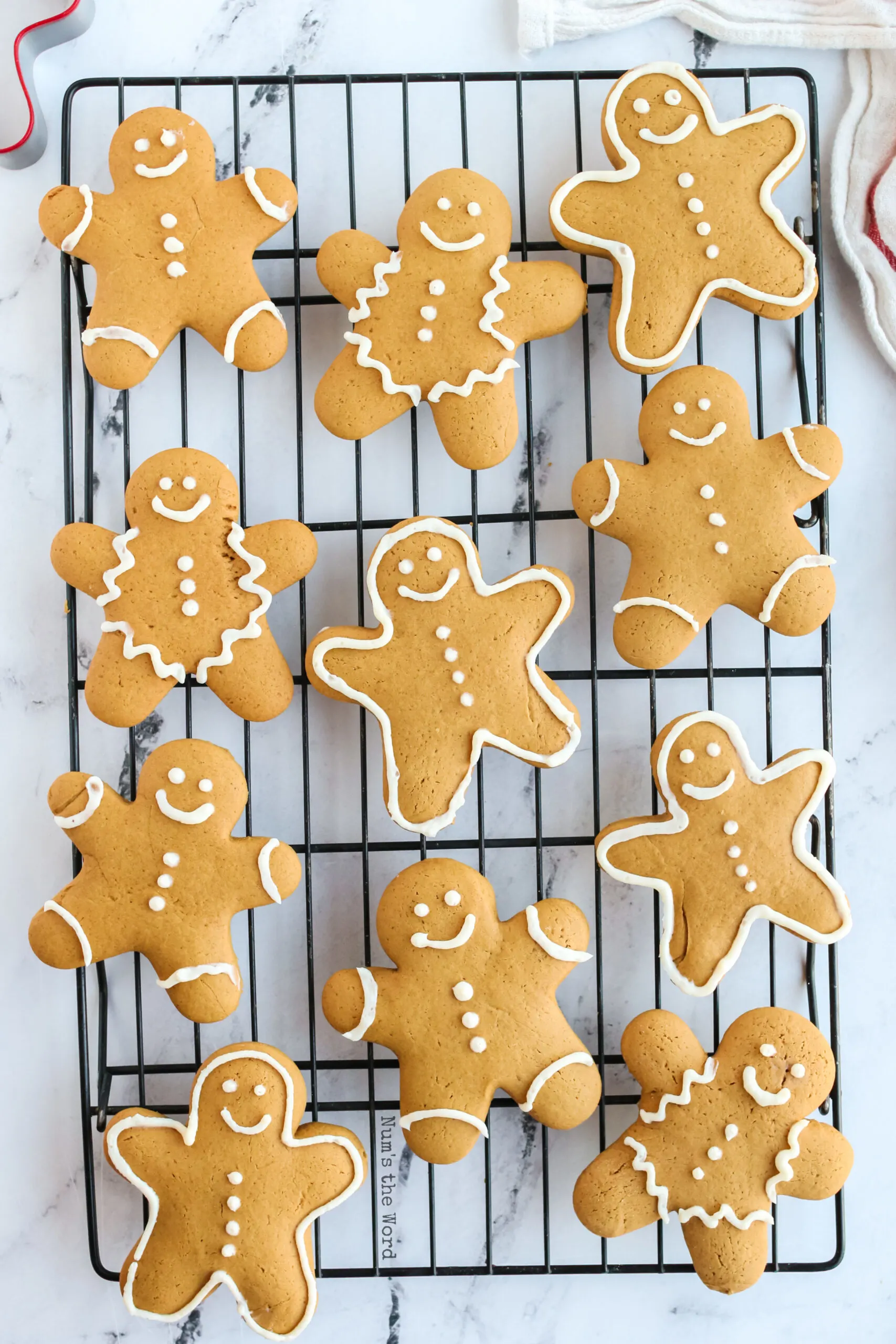 More Ginger Recipes You'll Love: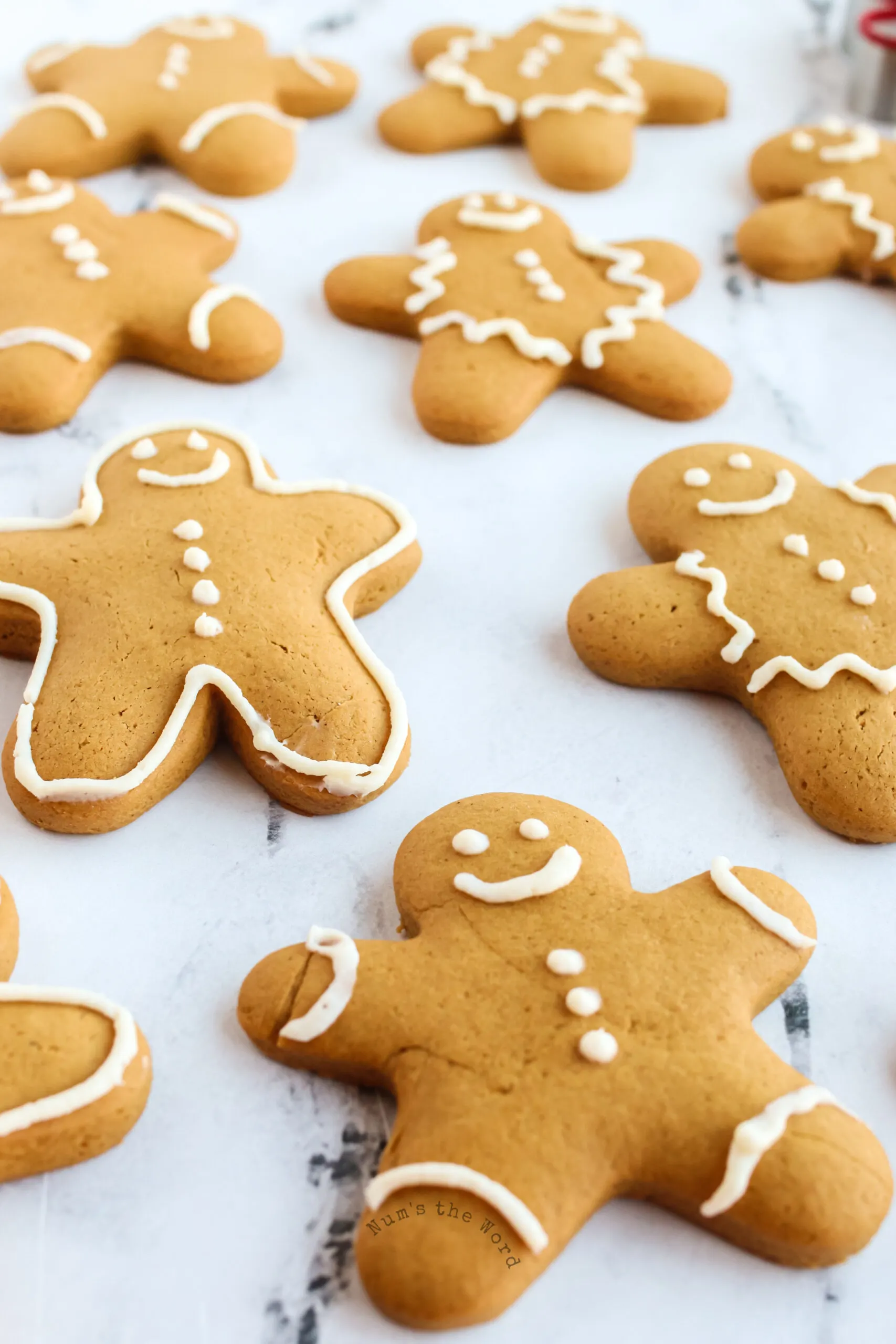 More Cookies You'll Love:
These soft gingerbread cookies are going to rock your world! Perfectly crisp around the edges and melt in your mouth in the center. A classic gingerbread recipe that should be on everyone's holiday list. Enjoy!

Yield: 3 Dozen Cookies
Gingerbread Cookies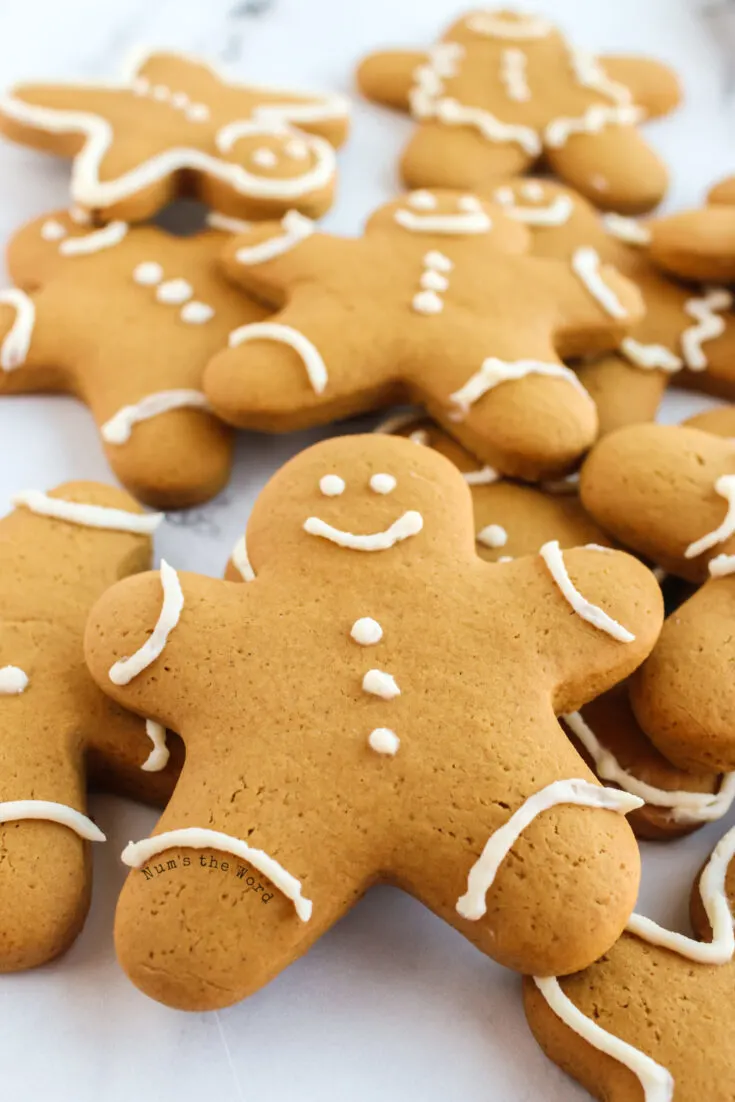 These Soft Gingerbread Cookies are are so chewy that they melt in your mouth upon first bite. With no refrigeration needed or wait time, you'll be able to whip up a batch in less than an hour!
Additional Time
15 minutes
Ingredients
3/4 cup butter
3/4 cup brown sugar
3/4 cup molasses
2 eggs beaten
1/4 cup sour cream
1 teaspoon baking soda
1/8 teaspoon ground allspice
1/2 teaspoon salt
1/8 teaspoon ground nutmeg
2 teaspoons ground ginger
1 teaspoon ground cinnamon
4 3/4 cups all-purpose flour
Icing
1 cup powdered sugar
2 teaspoons milk
2 teaspoons light corn syrup
1/4 teaspoon vanilla extract
Instructions
Preheat oven to 350*F
Cream together butter and brown sugar.
Add molasses, eggs and sour cream. Scrap sides of bowl as needed.
Add baking soda, all spice, salt, nutmeg, ginger, and cinnamon. Mix well.
Add flour slowly 1/2 cup at a time until fully incorporated. If dough begins to look dried out - STOP and do not add more flour. Dough should be soft and elastic like.
Roll out dough on a lightly floured surface to 1/4 inch thick, cut into gingerbread men and bake for 12 - 14 minutes.
Let cool.
While cooling, make frosting.
In a bowl mix powdered sugar and milk. Stir well until a thick smooth paste.
Add corn syrup and stir again, should be a nice consistency.
Add vanilla and stir well.
Add any food coloring now if desired (gel works best).
Frost cooled cookies and enjoy.
Notes
If frosting is too thick, add 1/2 teaspoon more of corn syrup.
Nutrition Information:
Yield:
36
Serving Size:
1
Amount Per Serving:
Calories:

150
Total Fat:

5g
Saturated Fat:

3g
Trans Fat:

0g
Unsaturated Fat:

1g
Cholesterol:

21mg
Sodium:

104mg
Carbohydrates:

25g
Fiber:

1g
Sugar:

12g
Protein:

2g
Recipe by: Molly Cardenas