Fluffy Gingerbread Pancakes are a gourmet twist on a classic recipe! Topped with fresh whipped cream, cinnamon and real maple syrup these scream Christmas Morning! If you love Sunday Brunch and are looking to 'spice things up', try this Gingerbread Pancake Recipe!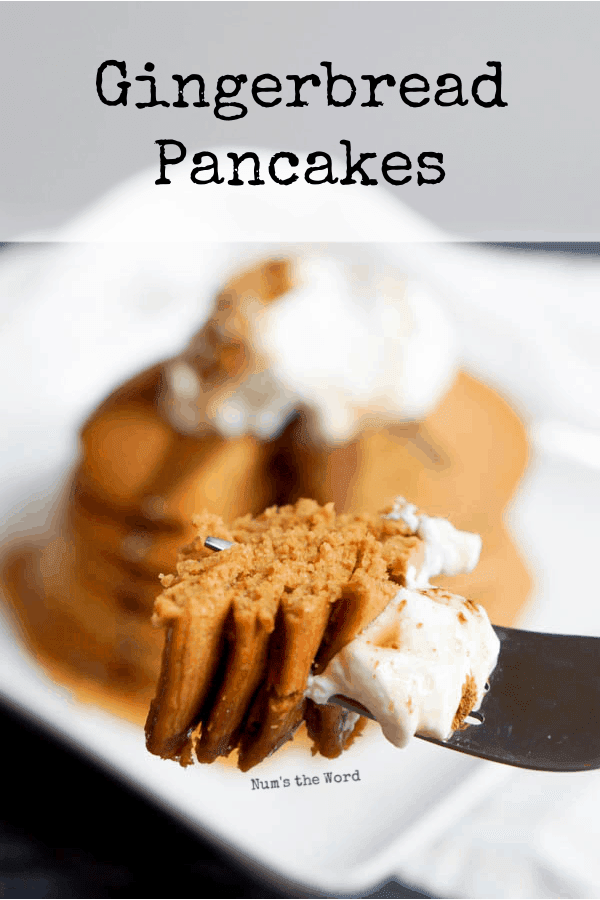 In our house, my husband is the pancake master. He's been known to whip them up on Saturday mornings and even for dinner on a hectic night. There is something about pancakes that brings the entire family together! Toss in fresh fruit, bacon and a few sprinkles and everyone's happy!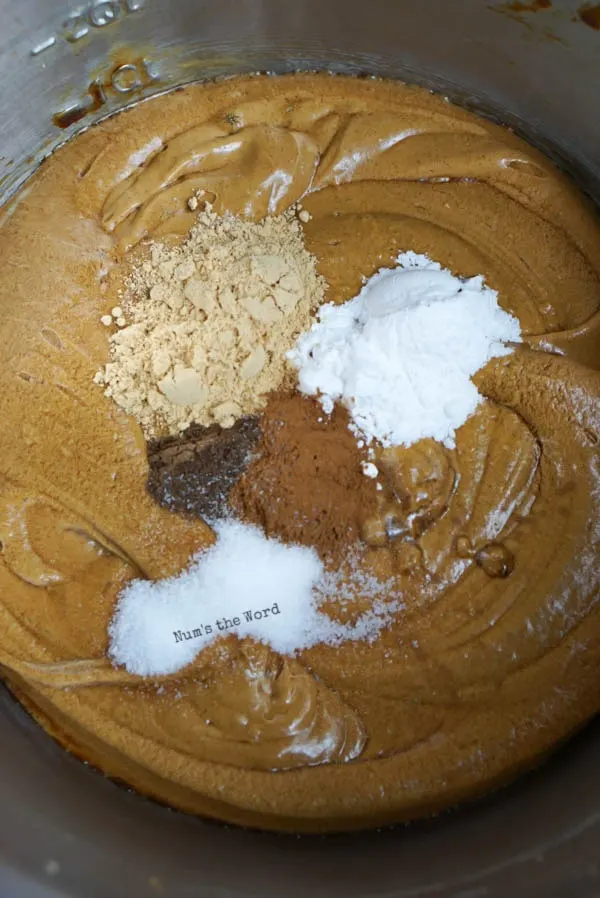 What ingredients are in Gingerbread Pancakes?
If you're a huge fan of gingerbread, then you'll love these gingerbread pancakes! This recipe is very similar to my loaf recipe but with a few modifications to make it pancake worthy!
Brown Sugar – When it comes to gingerbread, we want a burst of flavor, and brown sugar certainly give that! Forget boring white sugar, we're going for brown this time!
Butter – I use salted in everything I make and in this recipe we aren't going to melt the butter. We'll let the griddle do that giving us a richness in our pancake!
Egg – Yep! We always need an egg to help keep our pancakes from running away from us in the cooking process!
Molasses – Gingerbread isn't gingerbread without this key ingredient!
Ground Ginger – They do call it GINGERbread right? So it's a must have too!
Baking Powder – This ingredient is what gives our pancakes the lift they need to get fluffy!
Salt – Yep, salt helps all the flavors pop!
Cinnamon – Warm comforting cinnamon is a gingerbread must have!
Ground Cloves – Just a pinch. Cloves in large quantities can ruin a dish, so we just want a pinch to add that warm flavor to this recipe!
Flour – Do you want soup? If not, keep the flour!
Milk – We don't want rocks, so a little milk will make the batter spread and our bellies happy!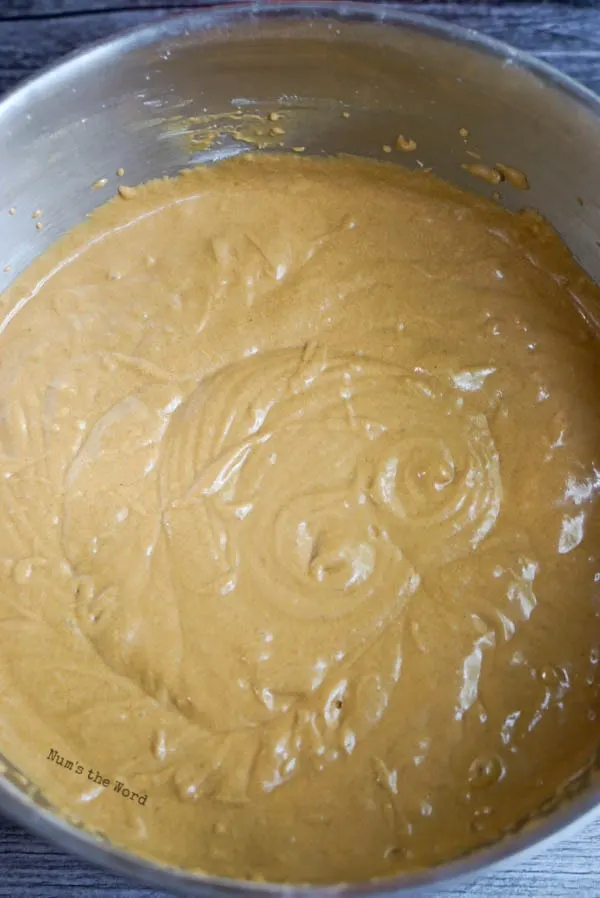 What makes Gingerbread Pancakes light & fluffy?
To make pancakes light and fluffy you need a leavening agent. This is traditionally baking powder, baking soda or a combination of the two. During the cooking process, this ingredient is activated and will make your pancakes go from flat to fluffy!
The more you add of these ingredients, the fluffier your pancakes will be. Having said that, you should also know the more you use, the more you taste the baking powder or baking soda too!
Can this recipe be made into smaller pancakes or even bite sized pancakes for appetizers?
Yes this Gingerbread Pancake recipe can definitely be made into smaller portions. My kids LOVE smaller pancakes, even the tiny drips that sometimes happen. Mini Pancakes are great for school lunches or bite sized sandwiches! And even smaller silver dollar pancakes make for great appetizers.
Stack 3 tiny pancakes with a fancy toothpick fork in the middle and serve with whipped cream and cinnamon! You'll love that you can make them in advance and your guests will love having pancakes as an appetizer!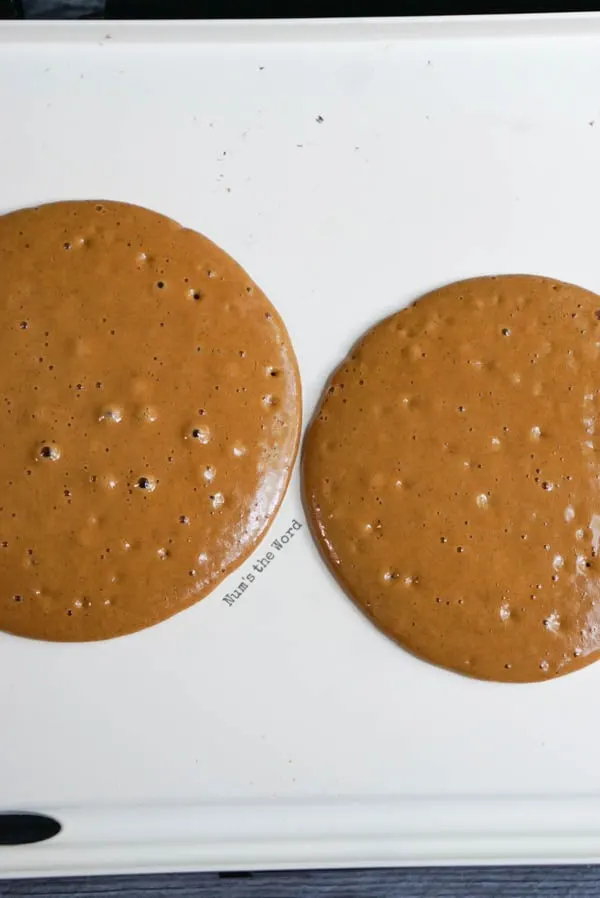 Can Gingerbread Pancakes be made with buttermilk?
Yes it can! If you prefer the flavor of buttermilk pancakes, just swap out the regular milk with buttermilk. It will change the flavor slightly, but the spices should still stand out as the dominate flavor in this gingerbread pancake recipe.
Can I make Gingerbread Pancake batter ahead of time?
Great question. Unfortunately, no. The baking powder or baking soda doesn't keep pancake batter fluffy forever. It starts to break down after a while. So I recommend making these FRESH when you need them OR making the batter, cooking the pancakes and storing them for when you do need them! Don't make the batter ahead of time, freeze or refrigerate your cooked pancakes for later!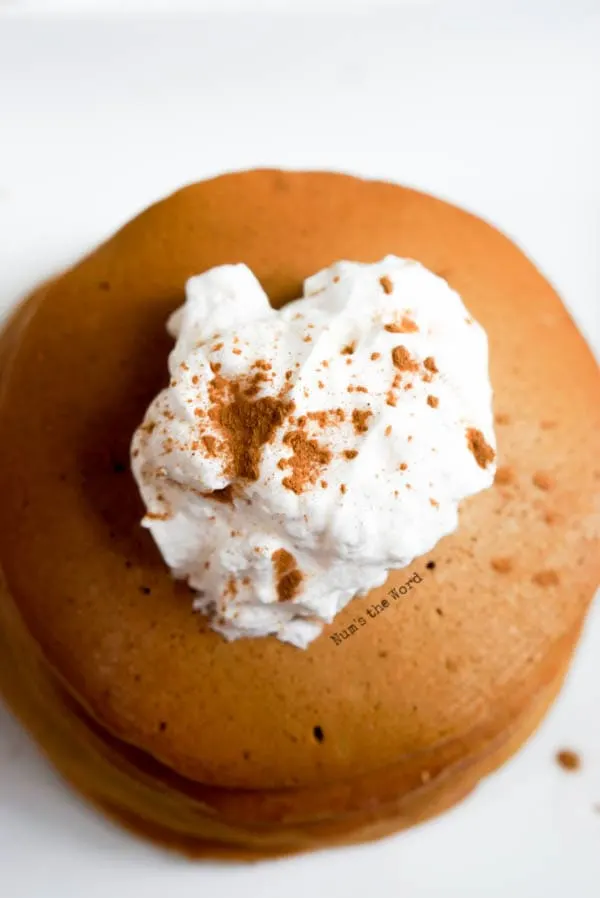 Can I cook Gingerbread Pancakes in a skillet?
Yes you can! If you plan on using a skillet, you may only be able to cook one or two at a time depending on the size of your skillet.
In our home, we prefer to use an electric griddle. We can generally cook 5 pancakes at a time making sure everyone gets a hot pancake right away! We've also been known to cook bacon on one side of the griddle and pancakes on the other, as there is room for both to cook at the same time.
How do you store Gingerbread Pancakes?
There are two reasons you would need to store pancakes. The first is if you are someone who likes to be prepared and think ahead. If you're this person, then you'll need to know how to store your fresh pancakes for a rainy day! The second person is the type who made too many and wants to store them to eat again in a day or two!
No matter the type of person you are, I've got you covered. Check out these two methods for storing your delicious Gingerbread Pancakes!
Refrigerator – Place your unused pancakes in a zipper storage bag in the fridge for up to 2 weeks. To reheat, just nuke in the microwave for 15 – 30 seconds then add your favorite toppings!
Freezer – Making pancakes ahead of time is a GENIUS idea. Make a large batch of pancakes. Then place pancakes side by side on a cookie sheet and freeze for 1 hour. Do not let pancakes overlap. Once frozen, move them into a freezer zipper bag and freeze for up to 3 months. When ready to enjoy cook in microwave for 30 second – 1 minute if still frozen or 15 – 30 seconds if thawed.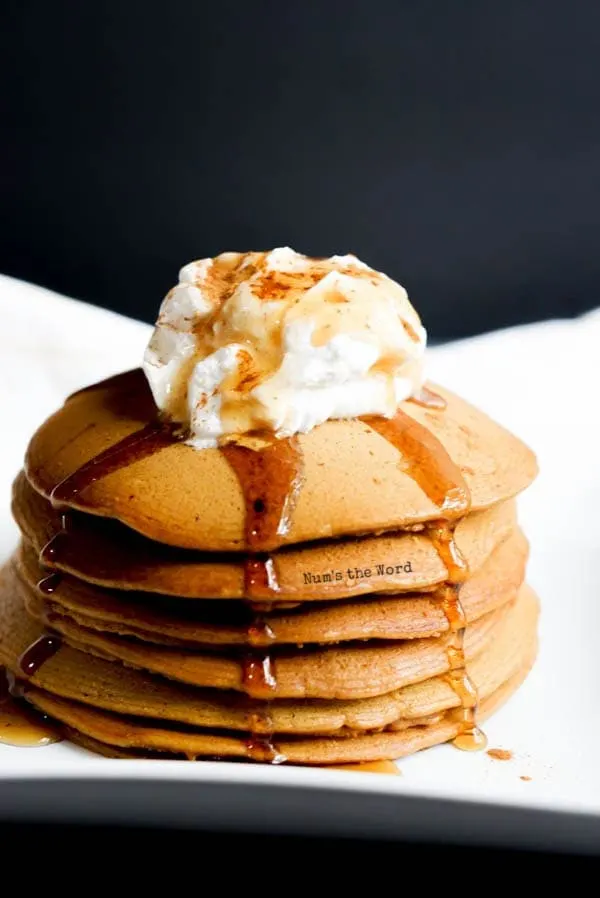 Ginger Flavored Recipes You'll Love…
Breakfast Recipes You'll Love…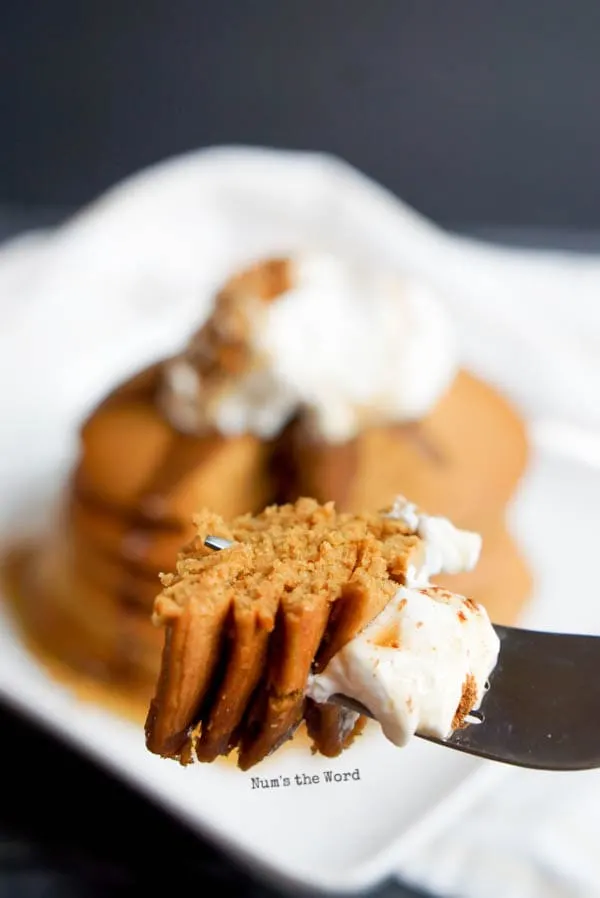 This Gingerbread Pancake Recipe is a family favorite on cold winter mornings when we're not quite ready to accept the chill outside. They also make for the perfect Christmas Gingerbread Pancakes on Christmas morning! If you're looking for something other than Potato Cinnamon Rolls, give this recipe a try! We love it and hope you do too!
Yield: 12 Pancakes
Gingerbread Pancakes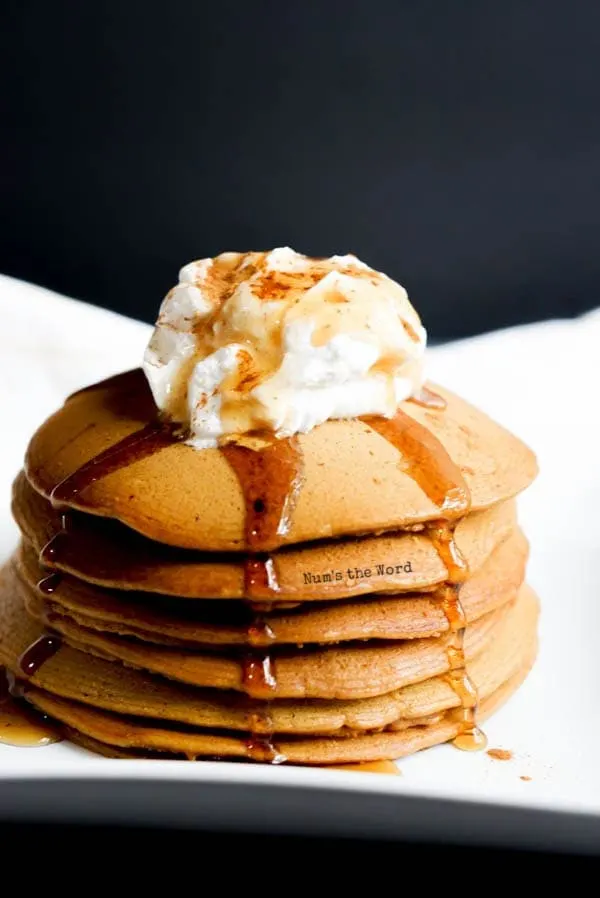 These gingerbread pancakes taste just like Christmas. Add a dollop of fresh whipped cream, sprinkle of cinnamon and a drizzle of real maple syrup and you've just found heaven in a pancake!
Ingredients
3/4 cup brown sugar
6 Tablespoons butter
1 egg
1/2 cup molasses
1 teaspoon ginger
2 teaspoons baking powder
1/2 teaspoon salt
1/2 teaspoon cinnamon
1/4 teaspoon ground cloves
2 cups flour
1 cup milk
Instructions
In a bowl blend butter and sugar together until fluffy.
Add egg and blend well.
add molasses and blend well.
ad ginger, baking powder, salt, cinnamon and ground cloves.
Add flour and blend.
Add milk 1/4 cup at a time until well blended.
Let mixture sit for 5 minutes while you heat up your griddle - batter will thicken.
Butter griddle and place 1/4 cup of pancake batter on griddle. When top of pancake begins to bubble, watch the bubbles. If the bubbles pop but do not immediately fill in with more batter, then your pancake is ready to flip.
Cook second side of pancake for 1 minute then remove from griddle and repeat process until all pancakes are made.
Serve with whipped cream, a sprinkle of cinnamon and real maple syrup!
Recommended Products
As an Amazon Associate and member of other affiliate programs, I earn from qualifying purchases.
Nutrition Information:
Yield:
12
Serving Size:
1
Amount Per Serving:
Calories:

233
Total Fat:

7g
Saturated Fat:

4g
Trans Fat:

0g
Unsaturated Fat:

2g
Cholesterol:

32mg
Sodium:

237mg
Carbohydrates:

40g
Fiber:

1g
Sugar:

23g
Protein:

3g