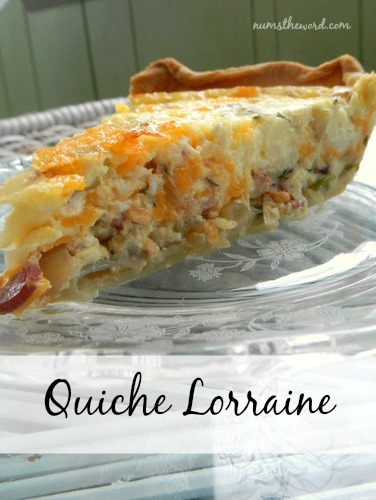 Are you a quiche fan? If so you'll love this simple and delicious Quiche Lorraine!
I was sifting through the fridge one day and realized we had a LOT of eggs. Somehow we ended up with a few dozen and I had no idea how we were ever going to eat that many. Until it dawned on me that a quiche might be nice.
It was't until my adult years that I truly understood what a quiche was or how absolutely delicious they were. And once I had my first bite of a quiche then I was hooked.
I love how easy a quiche is to make and how you can literally justify to yourself that eating quiche is ok for every single meal.
Typically, quiche's are for breakfast or brunch. However I made this Quiche Lorraine for lunch one day. And let me just say it was incredible. Absolutely the best quiche I have ever had. Fluffy, packed with flavor and delicious reheated the next day.
I kid you not, I ate this Quiche Lorraine for lunch, then as a late night snack after dinner, then again for breakfast and again for a snack.
It certainly didn't last long in our home and we all agreed that it was the best one we'd ever tasted. So good, that as I'm typing this my stomach is growling with hunger because my taste buds are salivating at the memory.
I am in no way a quiche expert. However I found this Quiche Lorraine to be super easy to make and would recommend it to anyone who is a beginner or expert in the kitchen!
If you are looking for a nice breakfast item, brunch item or just love quiche, then you have to try this one!
This post contains Amazon affiliate links as a free service to you!
Ingredients
1 (9 inch) unbaked pie crust (boxed or homemade both work)
8 slices bacon, cut into 1 inch pieces
1/2 cup chopped leeks (white and pale green parts only) *If you do not have leeks, than use 1/2 cup of diced green onions
1/2 cup chopped onion
salt and freshly ground black pepper to taste
1 pinch cayenne pepper, or more to taste
3 eggs
2 egg yolks
1 cup heavy cream
3/4 cup milk
1 teaspoon chopped fresh thyme (dried if you don't have fresh)
6 ounces shredded Gruyere cheese (Swiss if you can't get Gruyere)
Instructions
Preheat oven to 425 degrees F (220 degrees C).
Roll pie dough to fit a 9 inch deep dish pie plate. Place bottom crust in pie plate and chill for at least 20 minutes before baking. Line the chilled pie crust with foil and fill halfway up with dried beans, rice, or baking weights. Bake in the preheated oven for 7 minutes. Remove foil and weights and bake until golden brown, about 5 minutes.
Reduce oven to 325 degrees F (165 degrees C).
Cook bacon in a skillet over medium heat until browned and cooked through, 8 to 10 minutes. Remove from pan to drain. Blot out some of the oil from the skillet, leaving 1 to 2 teaspoons.
Add leeks, onion, salt, black pepper, and cayenne pepper. Cook and stir until tender and browned, 5 to 7 minutes. Set aside.
Whisk eggs, egg yolks, cream, and milk together in a large bowl. Add thyme and stir to combine.
Sprinkle 1/3 onion-leek mixture on the bottom of the baked crust. Top with 1/3 cooked bacon and 1/3 Gruyere cheese. Ladle in half the egg mixture. Sprinkle with 1/3 the onion-leek mixture, 1/3 bacon, and 1/3 cheese. Pour in remaining egg mixture and top with remaining onion-leek mixture, bacon, and cheese.
Bake filled quiche in the preheated oven until browned and set, but no longer jiggly in the center, 40 to 45 minutes. Allow to cool slightly before serving.
Notes
Some readers have said this is perfect just the way it is. Others thought there was too much thyme. Keep this in mind when making. If you like thyme, leave it as it is. If thyme is not a favorite flavor for you, then put 1/2 teaspoon thyme in quiche! -------------------------------------------------- If you don't know what to do with the left over egg whites, make one of our delicious coconut macaroons!
https://numstheword.com/quiche-lorraine/
Recipe from: All Recipes
Items recommended for this recipe include…
Another Recipe We Think You'll Love…