This Homemade Sausage Gravy is perfect over fluffy biscuits. This quick and easy recipe makes a great breakfast or brunch item. We love this as leftovers as the flavor just gets better!
This post contains affiliate links.  If you click on an affiliate link and make a purchase, I will make a small percentage on your purchase, which helps keep this website running! Thank you!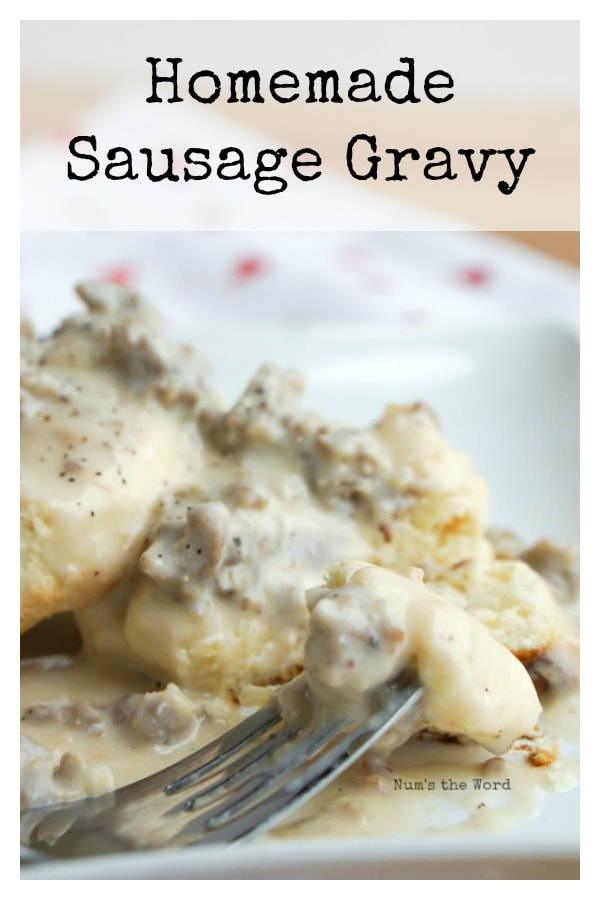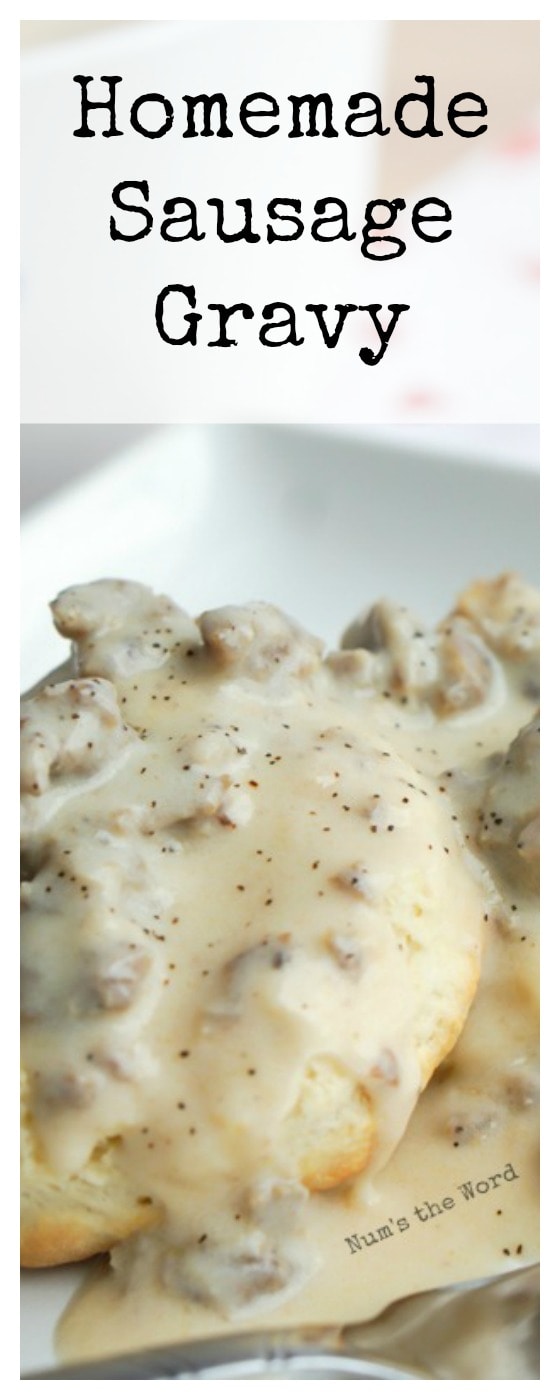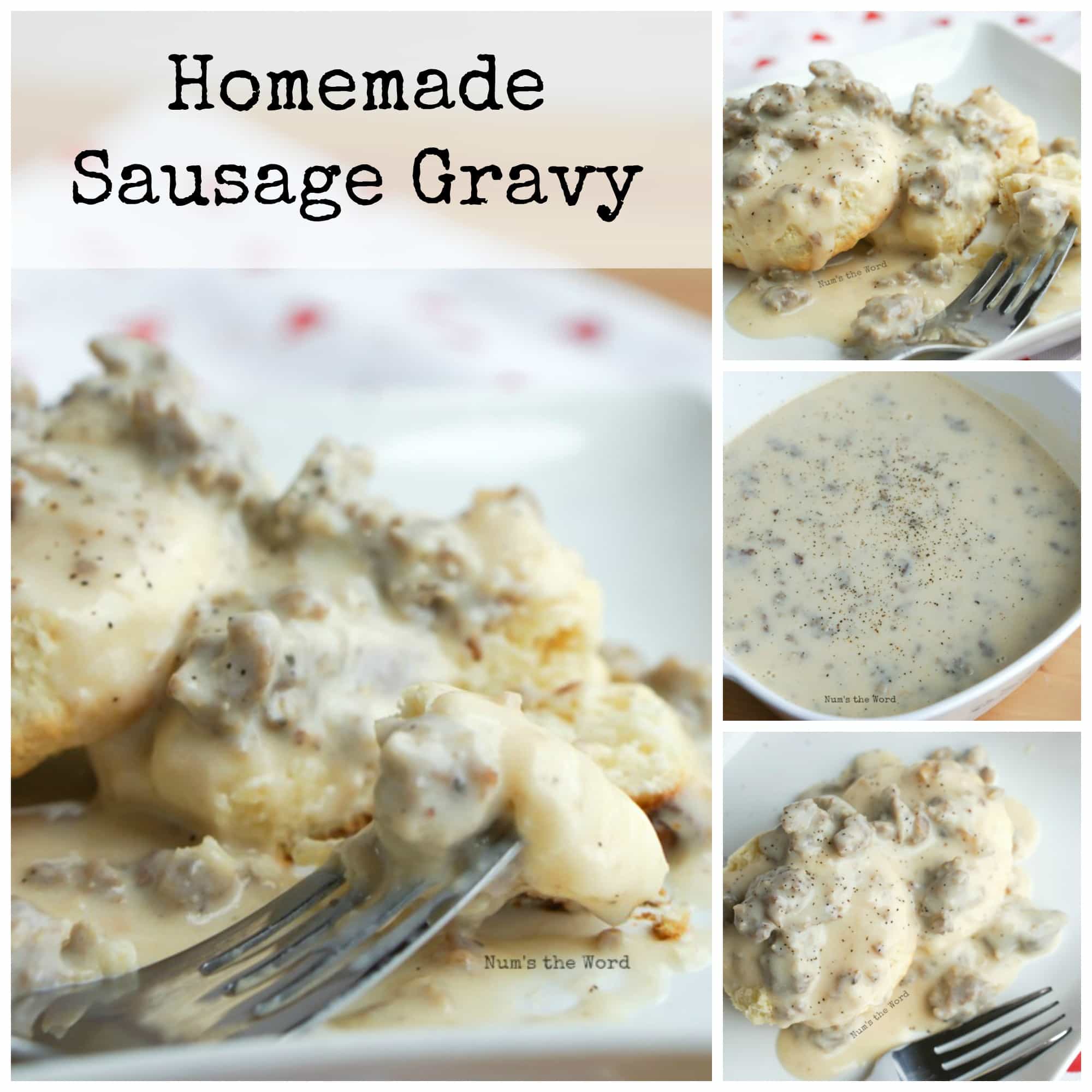 Would you believe that I had never had Biscuits and Gravy until my 30's?
Growing up, biscuits and gravy was never on the menu.
I don't recall once having it in our home and I certainly don't recall ever ordering it at a restaurant.
It was a foreign dish to me and something that my picky self wasn't willing to gamble money on.
I was too cheap to try something I may not like.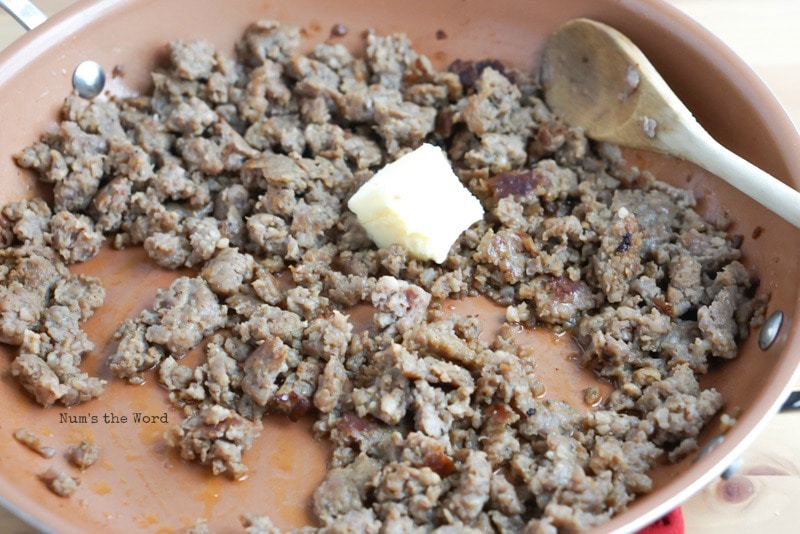 It wasn't until I was married for many years that I finally decided to see what all the hype was all about.
My husband liked Biscuits and Gravy so I knew that if I made it and didn't like it, it wouldn't go to waste.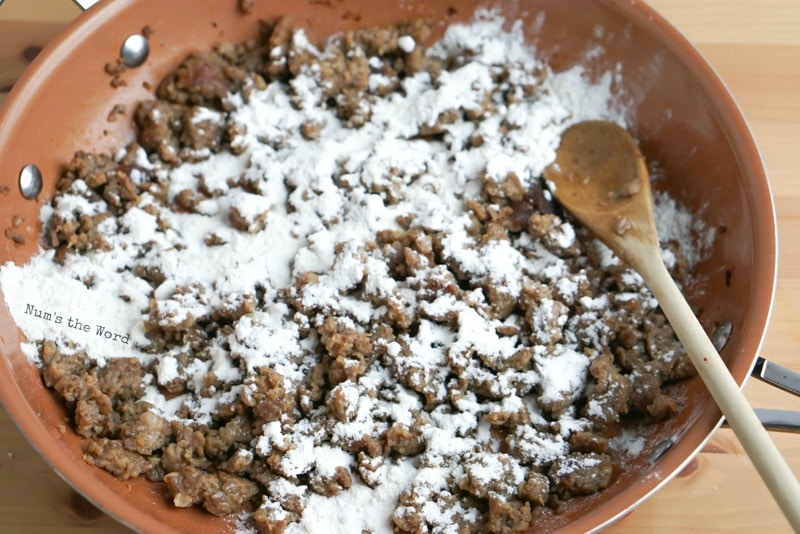 To my happy delight, I really liked it.
The flavors were simple and delicious and melded beautifully together.
A lovely cream sauce with cooked sausage, thickened up and poured over homemade biscuits.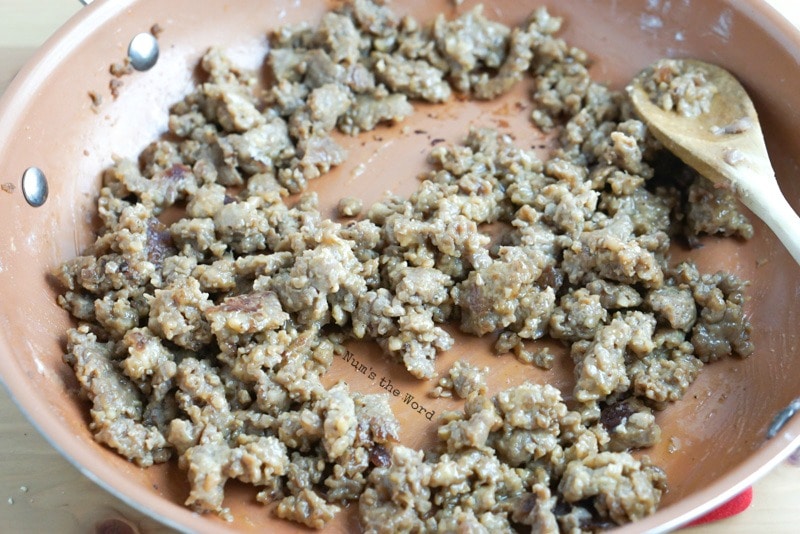 I'm a sucker for all carbs and especially breads.
And really like my homemade biscuit recipe.
I feel like if you're going to go to the effort of making from scratch Homemade Sausage Gravy, you should also spend the extra 30 minutes to whip up homemade biscuits too.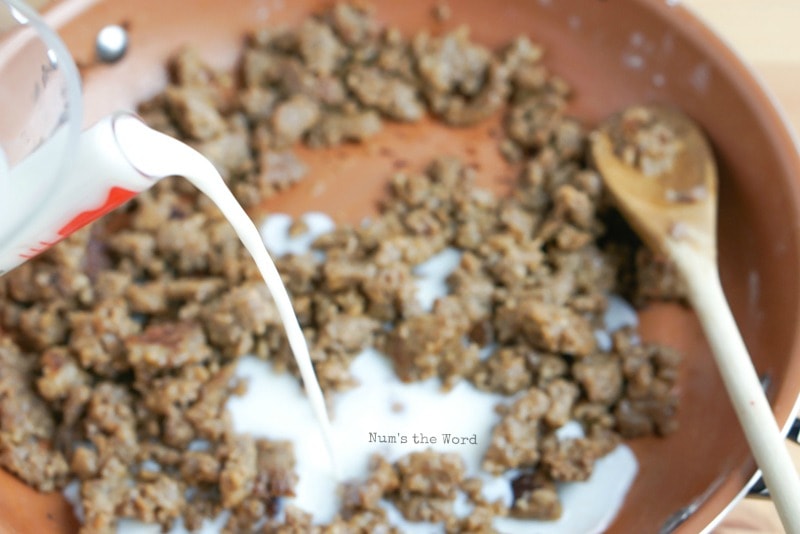 They are simple baking powder biscuits that fluff up quite nicely.
The thicker you roll the dough, the thicker they'll bake.
And we all love a good thick fluffy biscuit!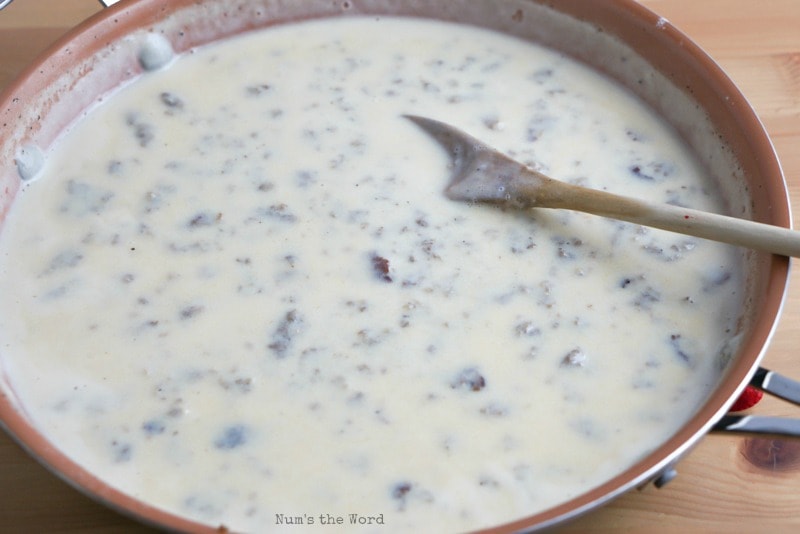 One question that will eventually be asked is can you substitute plain sausage for other flavors.
Rather than waiting for someone to ask the question later, I'll answer it now.
YES!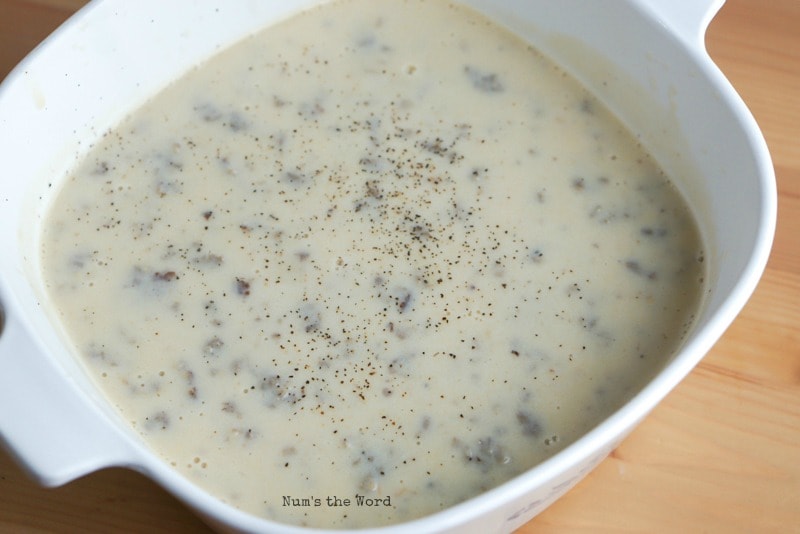 We've made this same Homemade Sausage Gravy recipe with sage sausage, maple sausage and original sausage.
If you like a kick to your meat then you can also buy Hot flavored sausage too.
And as strange as this may sound, we think it tastes better the next day then fresh out of the pan.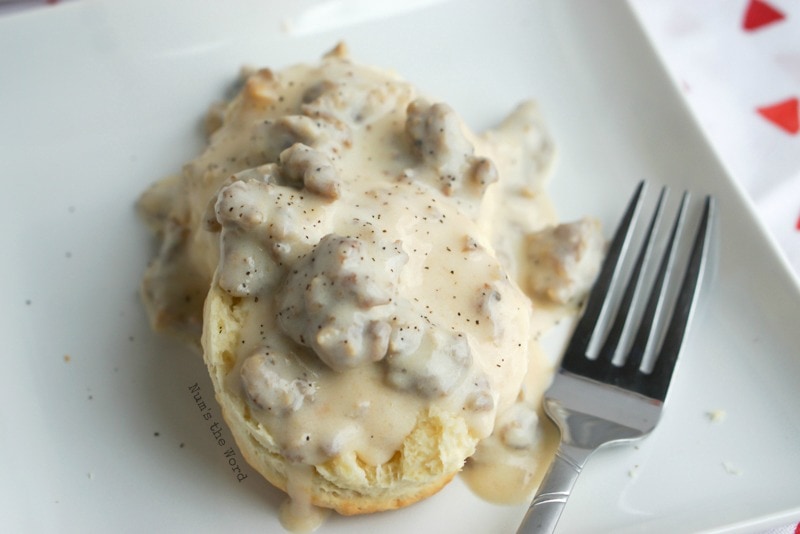 I believe it's because the flavors have had time to meld more.
Generally speaking, as you've read in other posts, we aren't big into leftovers.
This Homemade Sausage Gravy tastes even better a day or two later so we happily eat it up until it's gone!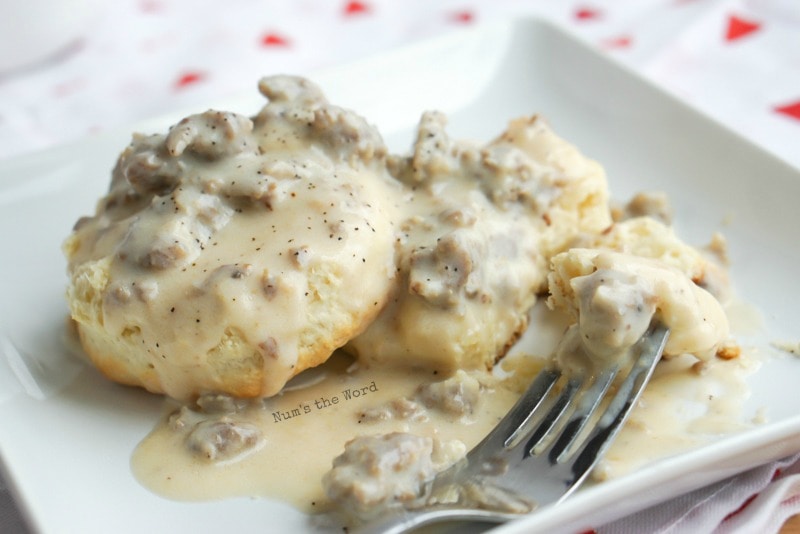 I love how quick and easy this recipe is and how it can turn an ordinary breakfast into a gourmet breakfast in a matter of minutes.
Perfect for Sunday brunch or when company is staying over!
Any sausage lover will appreciate the time and effort that you put into making this easy Homemade Sausage Gravy!
Yield: 6 Servings
Homemade Sausage Gravy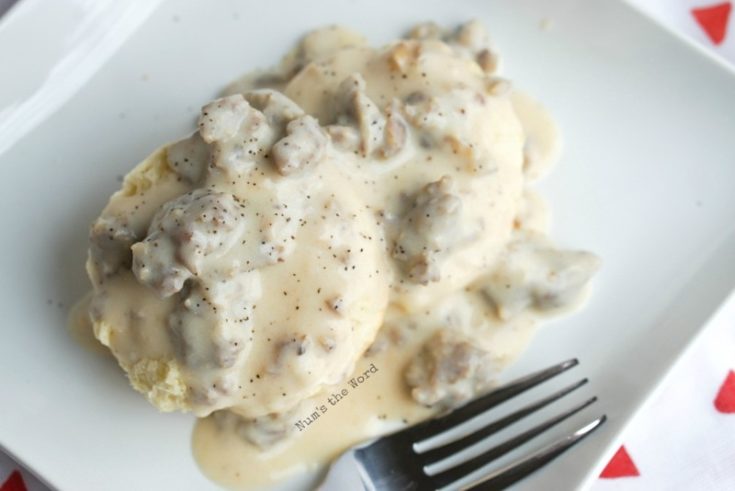 Ingredients
1 (12 ounce) package of regular breakfast sausage
2 Tablespoons butter
1/4 cup flour
3 cups milk (the higher fat milk the better)
1 teaspoon salt
1/4 teaspoon pepper (or more for taste)
Instructions
Cook sausage in a large skillet, breaking up into small pieces as it cooks.
Once fully cooked, add butter and mix well until melted and mixed together.
Add flour and mix together.
Add milk 1/2 cup at a time, stirring well after each addition. Mixture will become very thick and then slowly thin out. If you add all of milk at once it will clump. Add it slowly so that it will be a smooth gravy.
Once all milk is added add salt and pepper to taste.
Serve over biscuits.
Notes
If gravy is too thick, add more milk.
Other Breakfast Recipes You'll Love...