This Scrambled Eggs Recipe is Perfection in a pan. Golden and creamy, egg critics everywhere are going to love these eggs.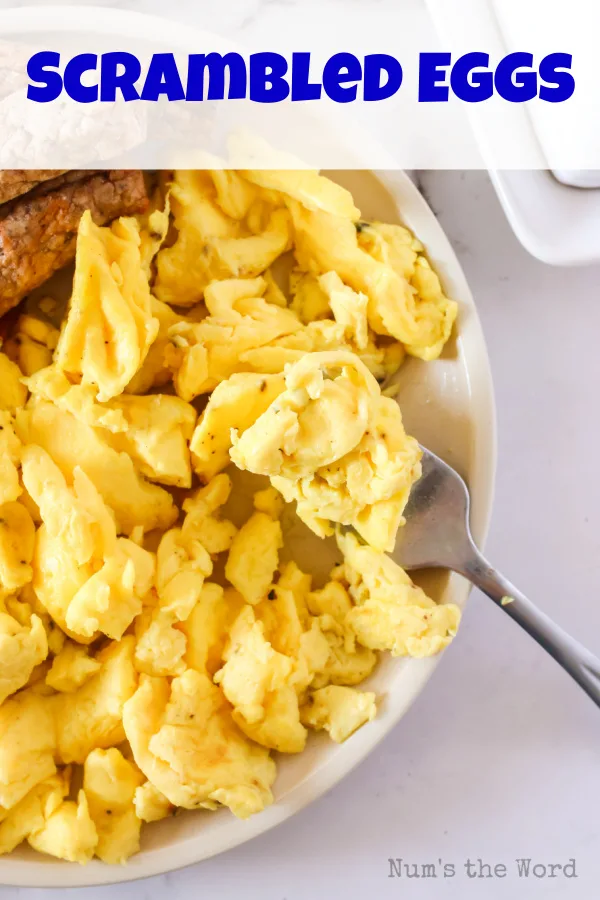 Not overcooked or undercooked, but that sweet spot of creamy scrambled eggs are easier to achieve than you thought!
First of all, scrambled eggs are easy to achieve. If you find yourself sweating, you're thinking too hard!
They cook quickly too! This dish should be ready to eat in about 5 minutes.
That makes this recipe perfect for busy mornings. There's always time to make them.
No fancy ingredients also means you'll always have what you need on hand to make perfect eggs.
The best scrambled eggs are easy to achieve, perfect for busy mornings, and you should definitely try them out today!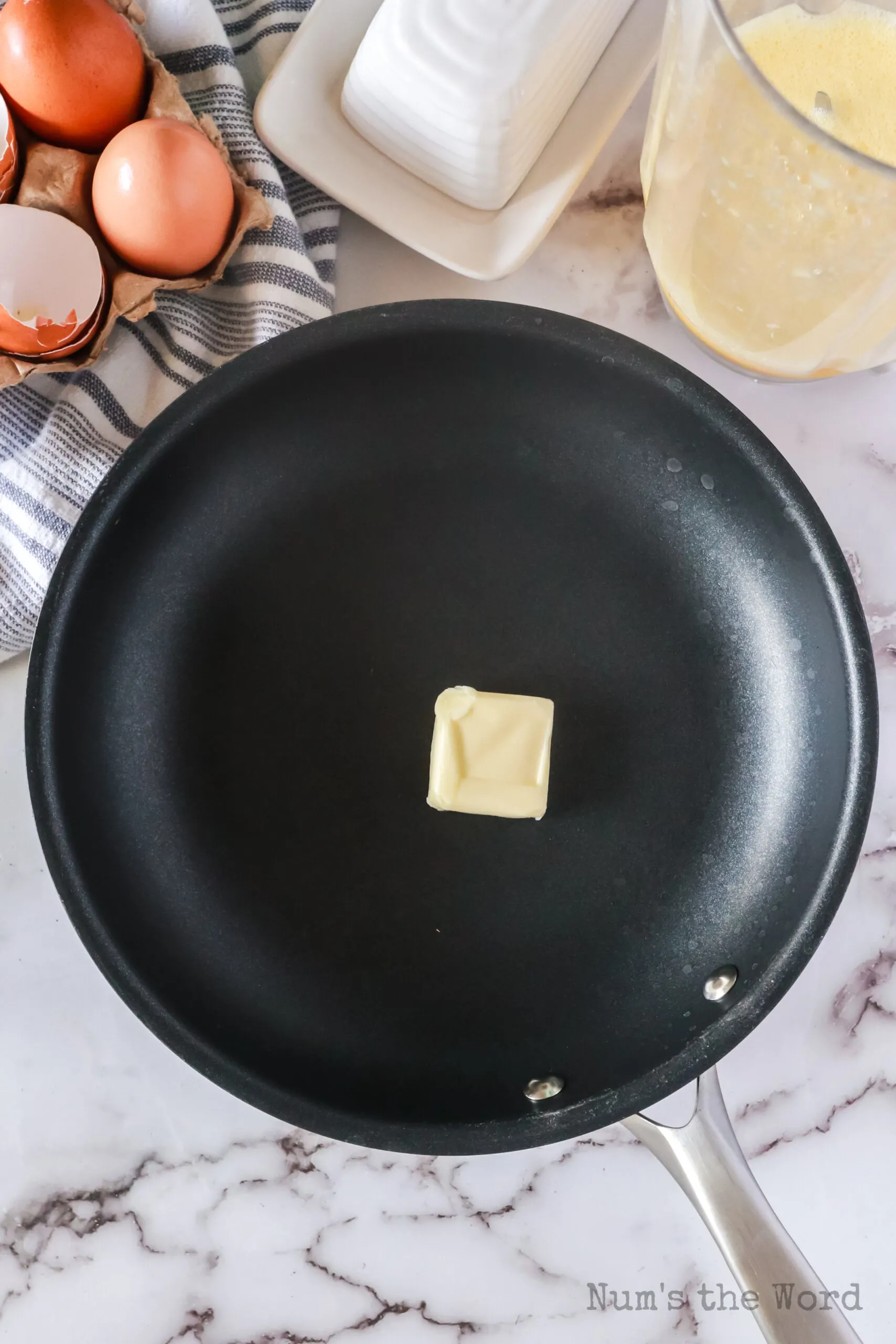 How to Make Scrambled Eggs
Here's what you'll need to make this scrambled eggs recipe:
Butter:

Don't skimp on this one! No oil replacements. BUTTER! You need it.

Eggs:

Obviously, this is another no replacement possible.

Water:

This is for mixing in with the eggs to create creamy eggs.

Salt and Pepper:

For seasoning! Adjust the amounts to suit yourself.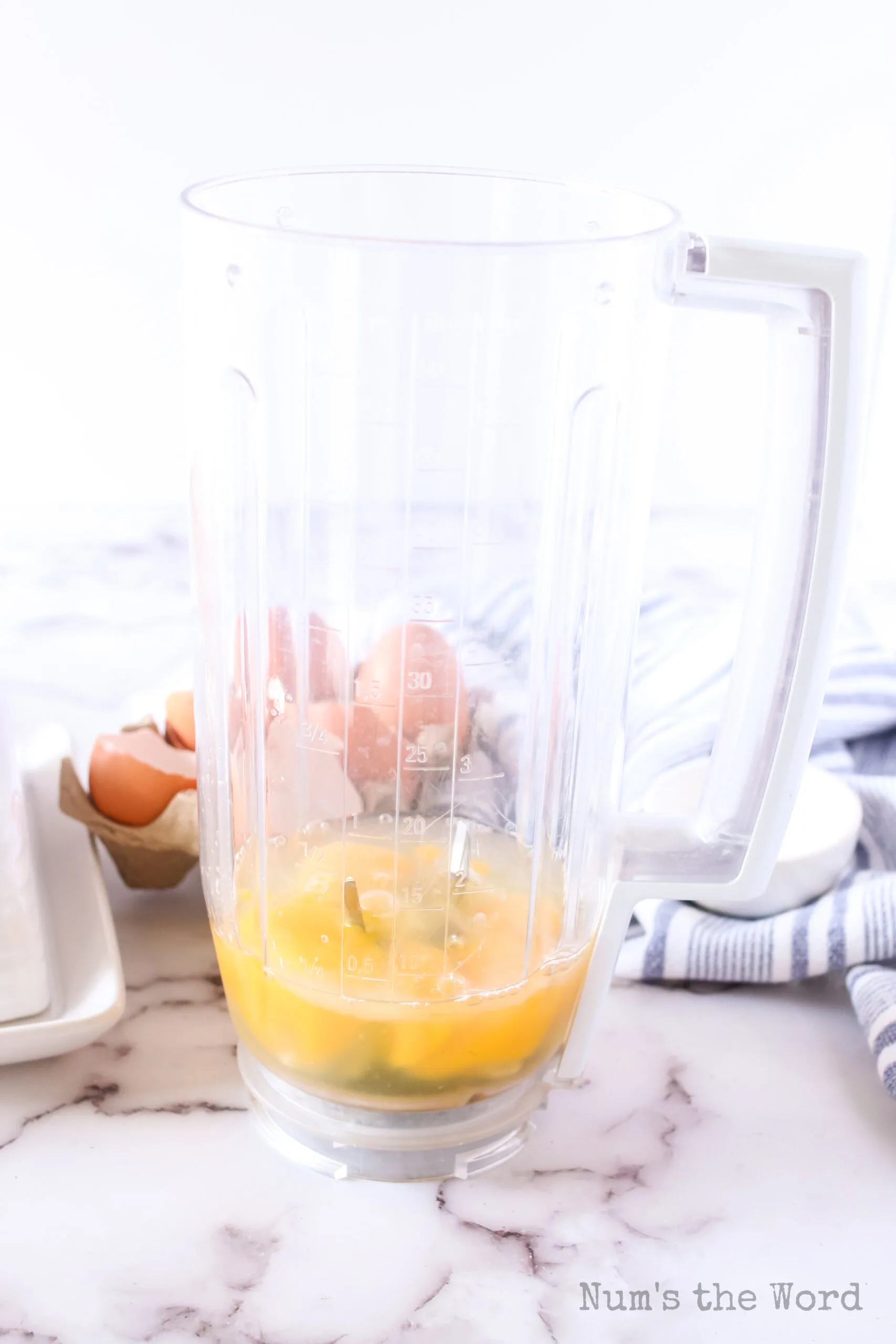 How to Cook Scrambled Eggs
Making a scrambled eggs recipe is super easy as long as you follow these important steps:
Butter:

The butter needs to be melted before adding the eggs to prevent them from sticking.

Blend:

A blender will quickly mix the water and eggs to create a frothy mixture.

Stir:

Pour the eggs in the pan and then mix with a rubber spatula.
Pro Tips:
Do not whisk the eggs once they're in the pan. You want large chunks, not tiny pieces.

If you don't have a blender, whisk the eggs and water with a fork until light and frothy.

Remove the eggs from the heat while still moist to prevent overcooking.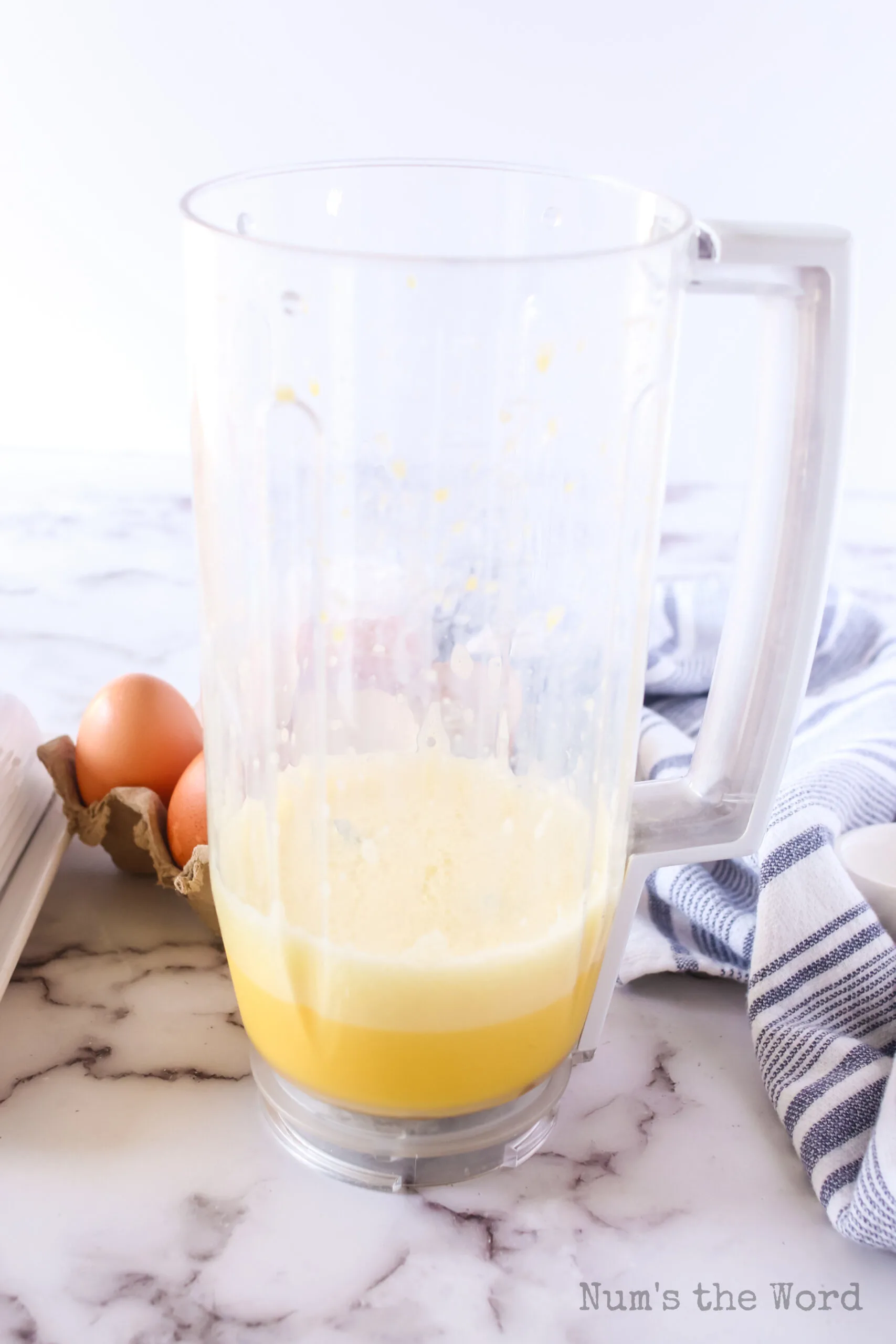 How Much Protein is in Scrambled Eggs?
Each large egg contains about 6g of protein. To calculate how much protein you need in a day, divide your weight by 20s and then multiply by 7.
For example, a person weighing 160 lbs would need about 56g of protein a day. Of course, that's just an average.
People who are trying to gain muscle, pregnant, etc. may need more protein than that. And some people may have certain conditions which require them to eat less.
This scrambled eggs recipe calls for 4 eggs so it should provide 24g of protein.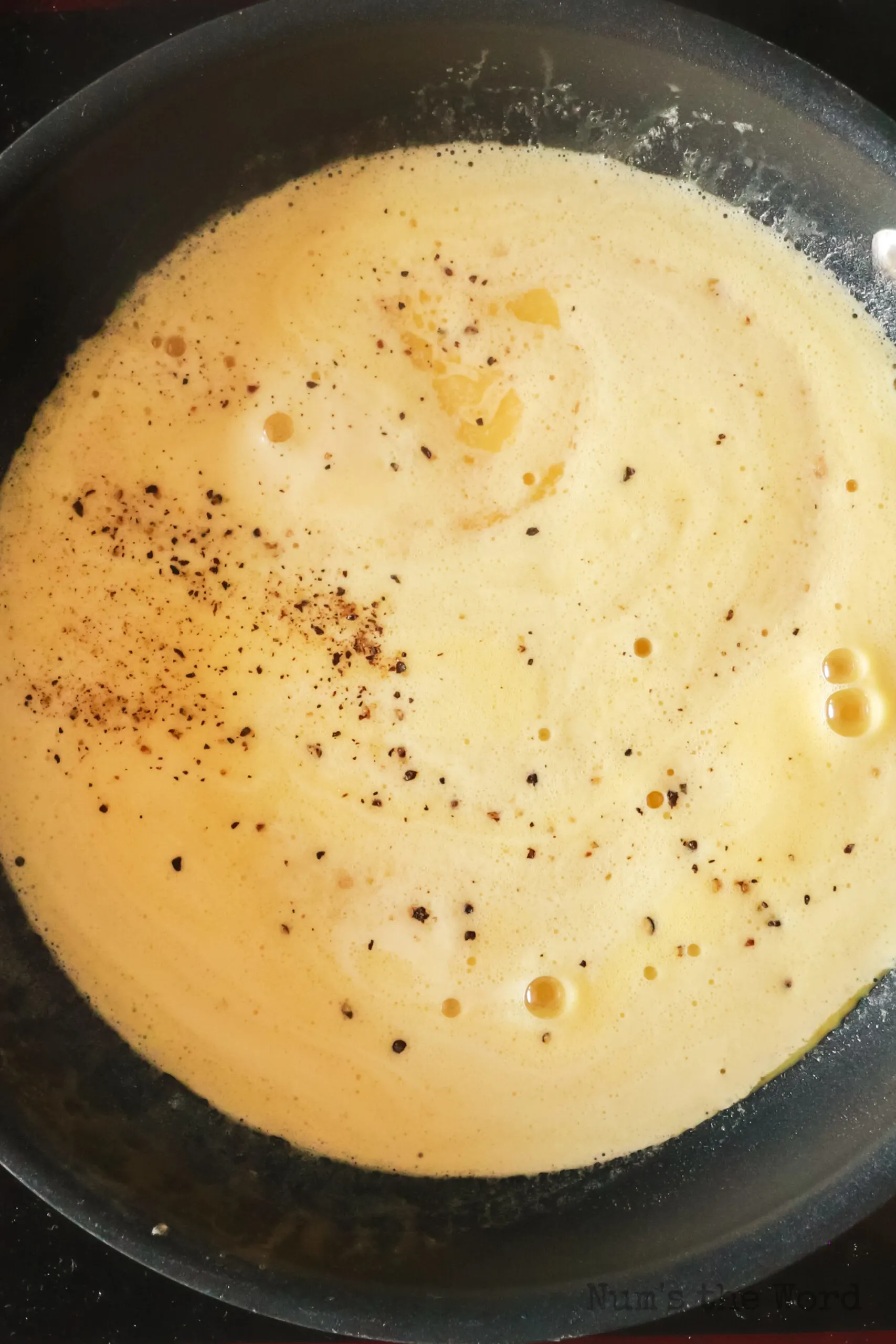 How to Make Fluffy Scrambled Eggs
So what's the key to getting the perfect amount of fluffy in your scrambled eggs?
The whipping! When your eggs are light, frothy, and bubbly before they go in the pan, that's the secret!
So don't be afraid to whip those eggs up into a frenzy. The other secret? Don't overcook!
When you remove the eggs from the heat while there is still a little moisture left, it prevents them from drying out.
No one wants dry, chopped up eggs!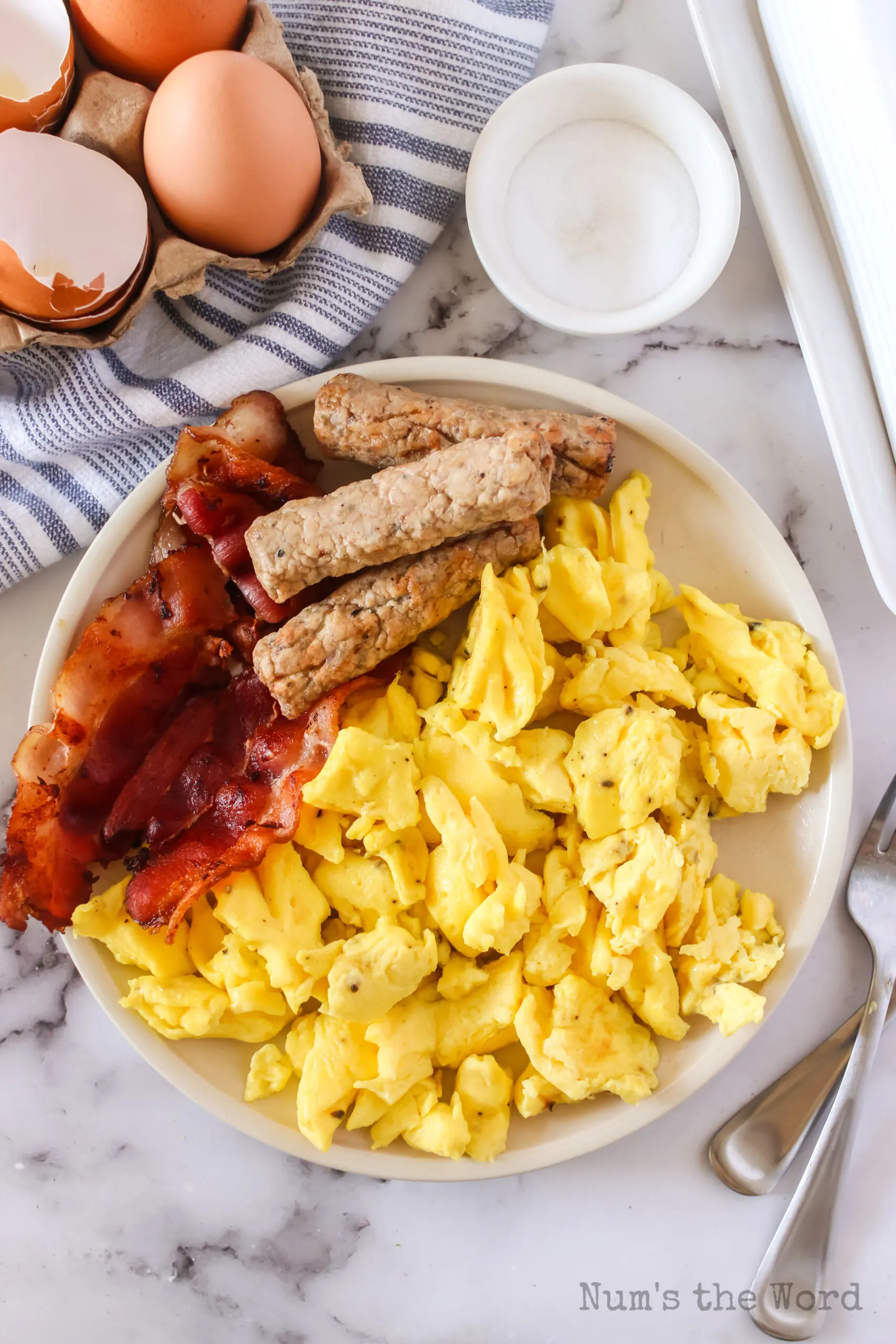 Can Dogs Eat Scrambled Eggs?
Dogs can eat scrambled eggs as long as they are cooked. Raw eggs can be harmful for dogs.
Dogs also shouldn't be eating eggs that are cooked in butter, oil, or with any sort of seasoning. That rules out giving your dogs this recipe.
However, you can always toss an extra egg into a pan next to yours and give your dog a treat too!
I find it's easier to give them hard boiled eggs. Then I don't have to worry about the eggs sticking.
Try this Instant Pot Hard Boiled Eggs recipe for your dogs!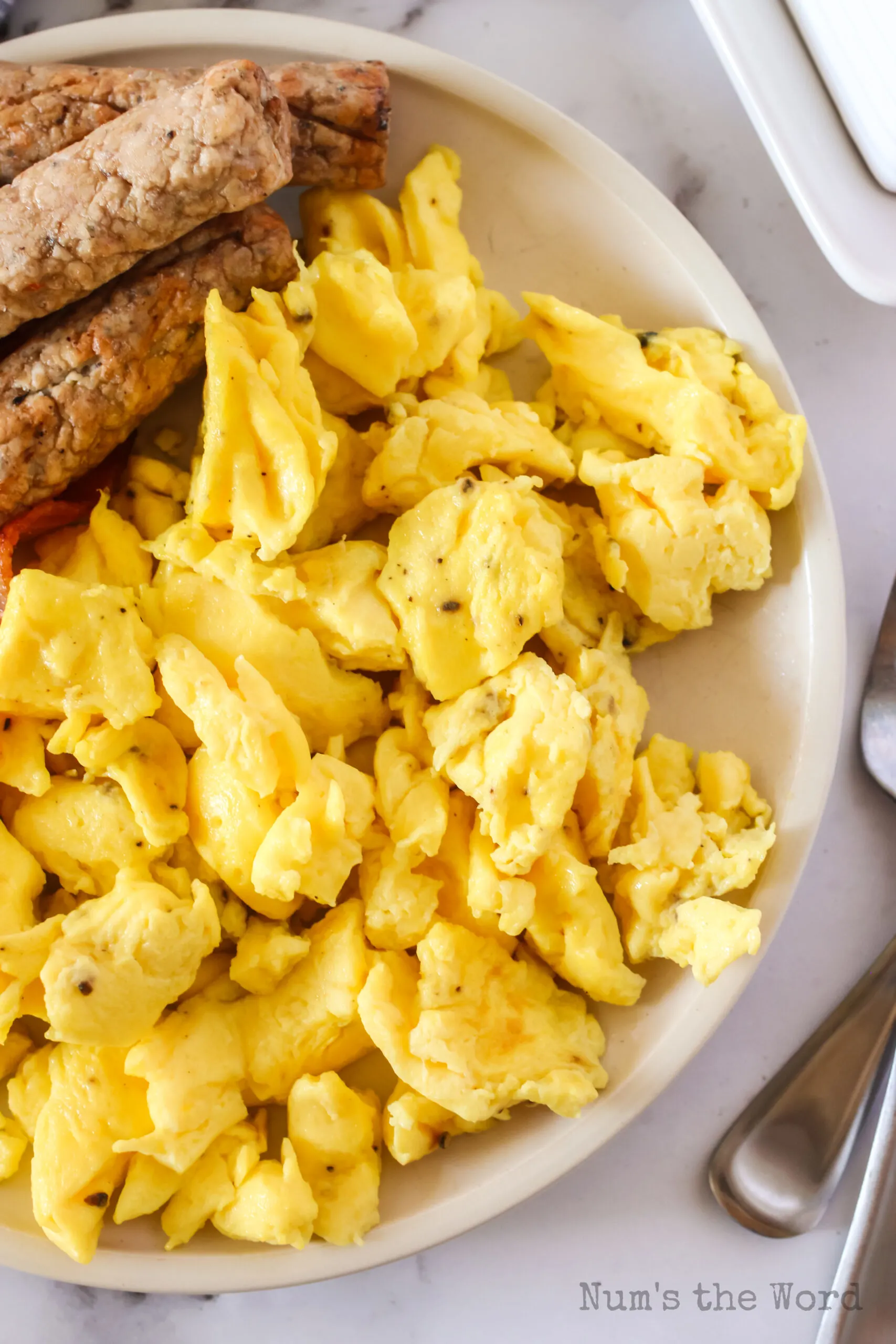 Are Scrambled Eggs Healthy?
Adding scrambled eggs to your diet is one of the healthiest things you can do for your mornings!
Packed with nutrients and protein, they fill you up until lunch and help your body to function too.
The majority of the health community agrees, eggs of all kinds are good for you!
If you're looking for an extra healthy option, try mixing some veggies into your eggs or serving on the side.
Some good ones are mushrooms, onions, bell peppers, and tomatoes.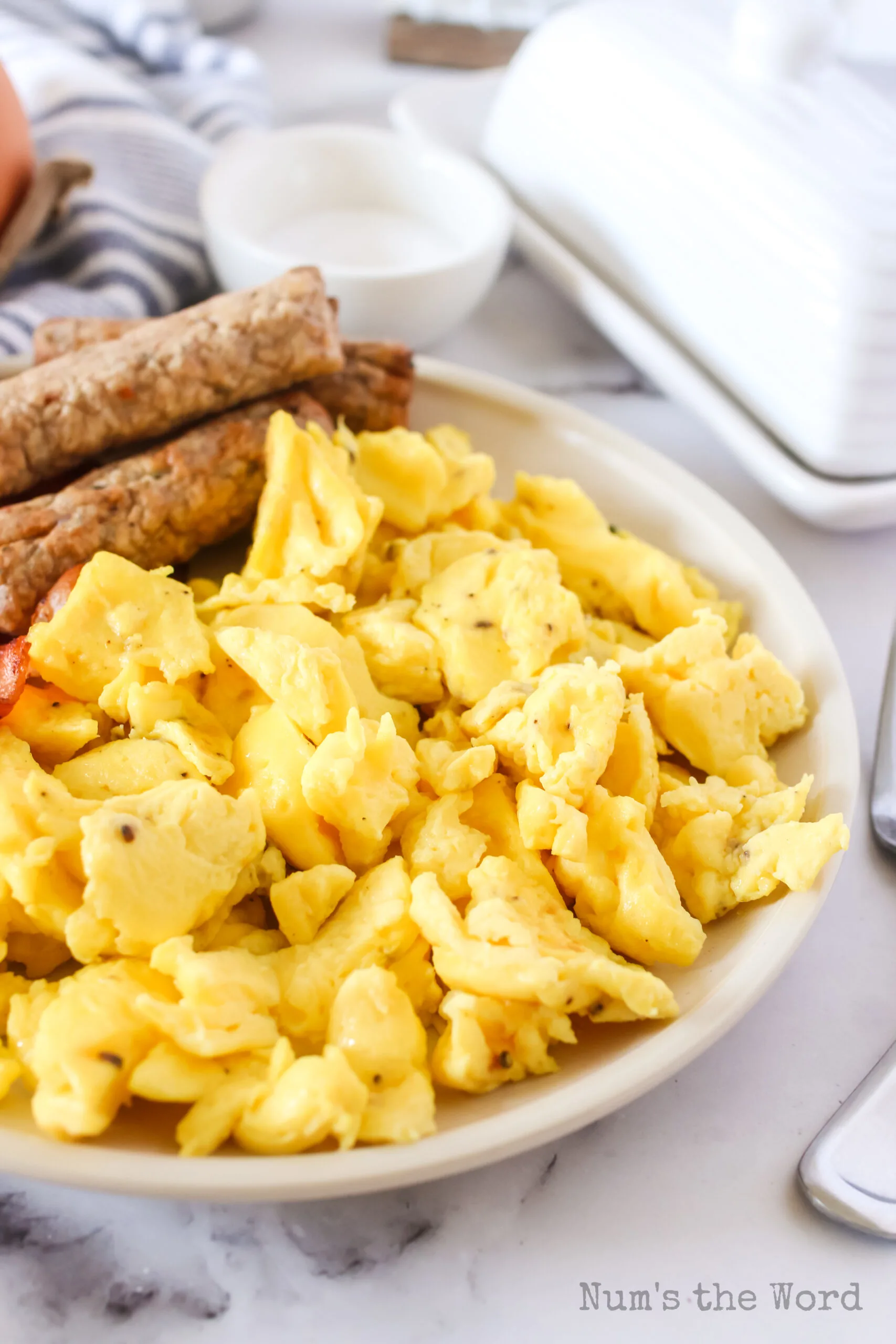 Can Cats Have Scrambled Eggs?
Your cats can enjoy scrambled eggs too! Here's some things to keep in mind.
Raw eggs can carry all sorts of bacteria which can be harmful and sickening to both humans and pets.
Always cook any eggs you or your animals are going to be consuming. Including your cats.
Also, it's best if you avoid adding any seasonings to your cats eggs as they just don't process them like we do.
Hard boiled eggs seem to be the easiest to prepare for cats.
I've got Air Fryer Hard Boiled Eggs that are super quick and easy!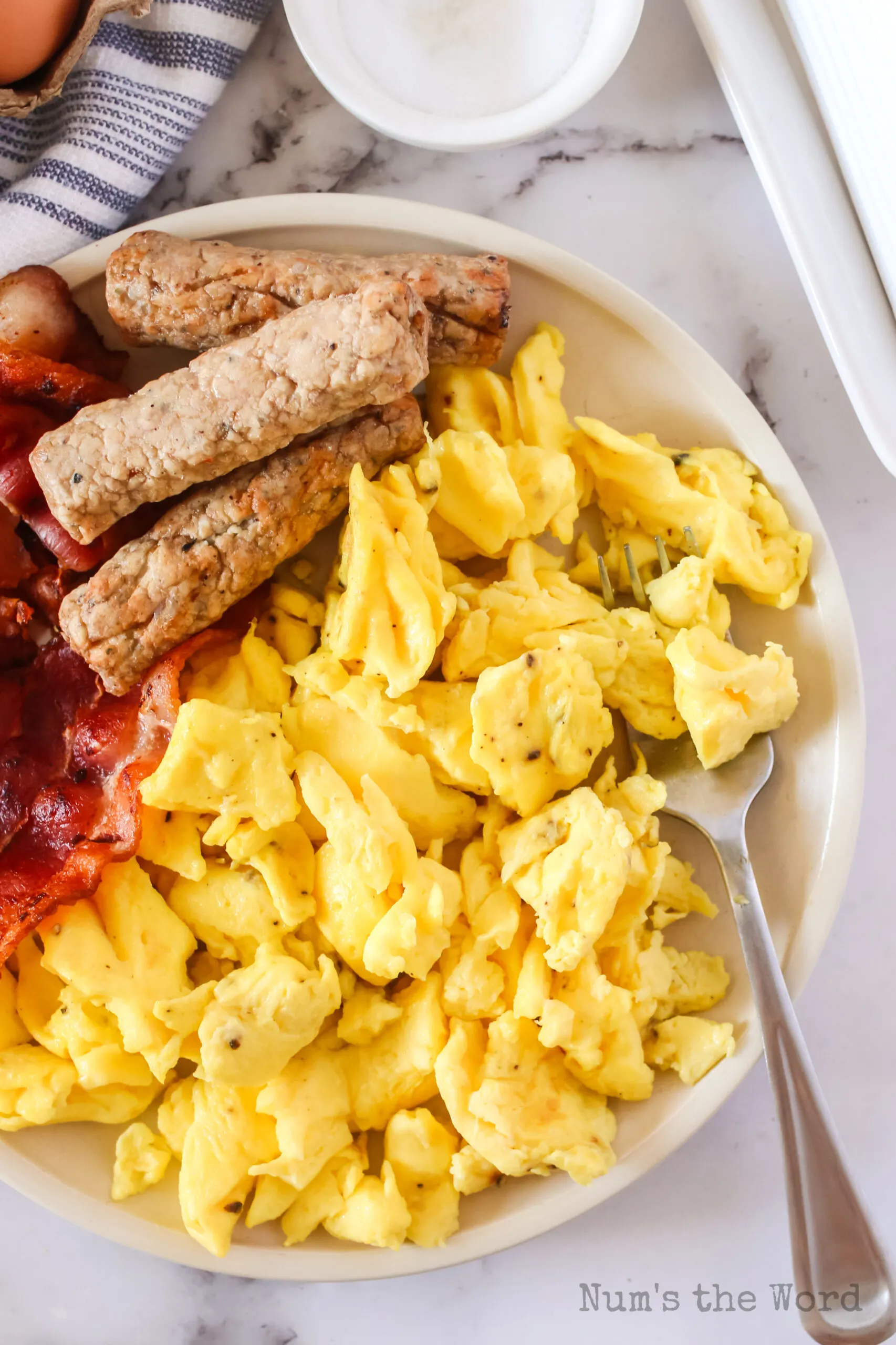 Can Babies Eat Scrambled Eggs?
Current research shows scrambled eggs are perfect for serving to any baby over the age of 6 months.
All those nutrients do good things for our little ones!
Always fully cook the eggs when feeding to a baby. Babies have a harder time digesting undercooked food than adults do.
Also, butter, seasoning, and things like that should not be introduced at the same time. And some things like butter should wait until they are at least a year old.
Always be sure to watch your baby if it's the first time trying a new food for any allergic reactions.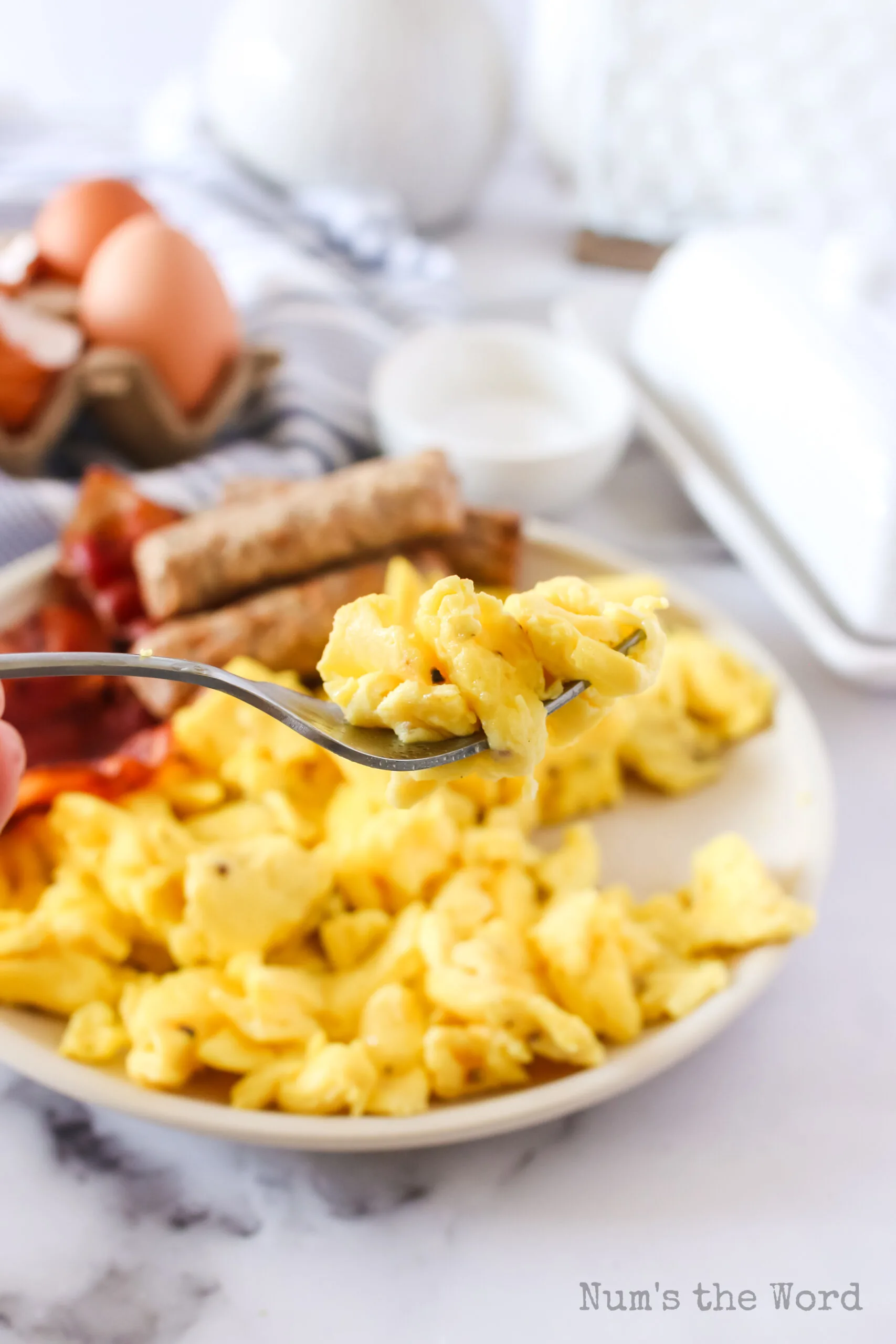 What to Serve with Scrambled Eggs
Want to spice up your scrambled eggs recipe? Here's some ideas!
Egg Taco:

Tortillas wrapped around scrambled eggs make great breakfasts!

Serve with salsa, bacon, avocado, and/or cheese.
Egg Sandwich:

scrambled eggs on a crispy piece of toast or mashed between them is always a hit!
And don't forget these yummy sides!
However you serve up your scrambled eggs recipe, I know that these creamy eggs are going to be a hit!
Let me know your favorite way to eat them in the comments!
Yield: 2 Servings
Scrambled Eggs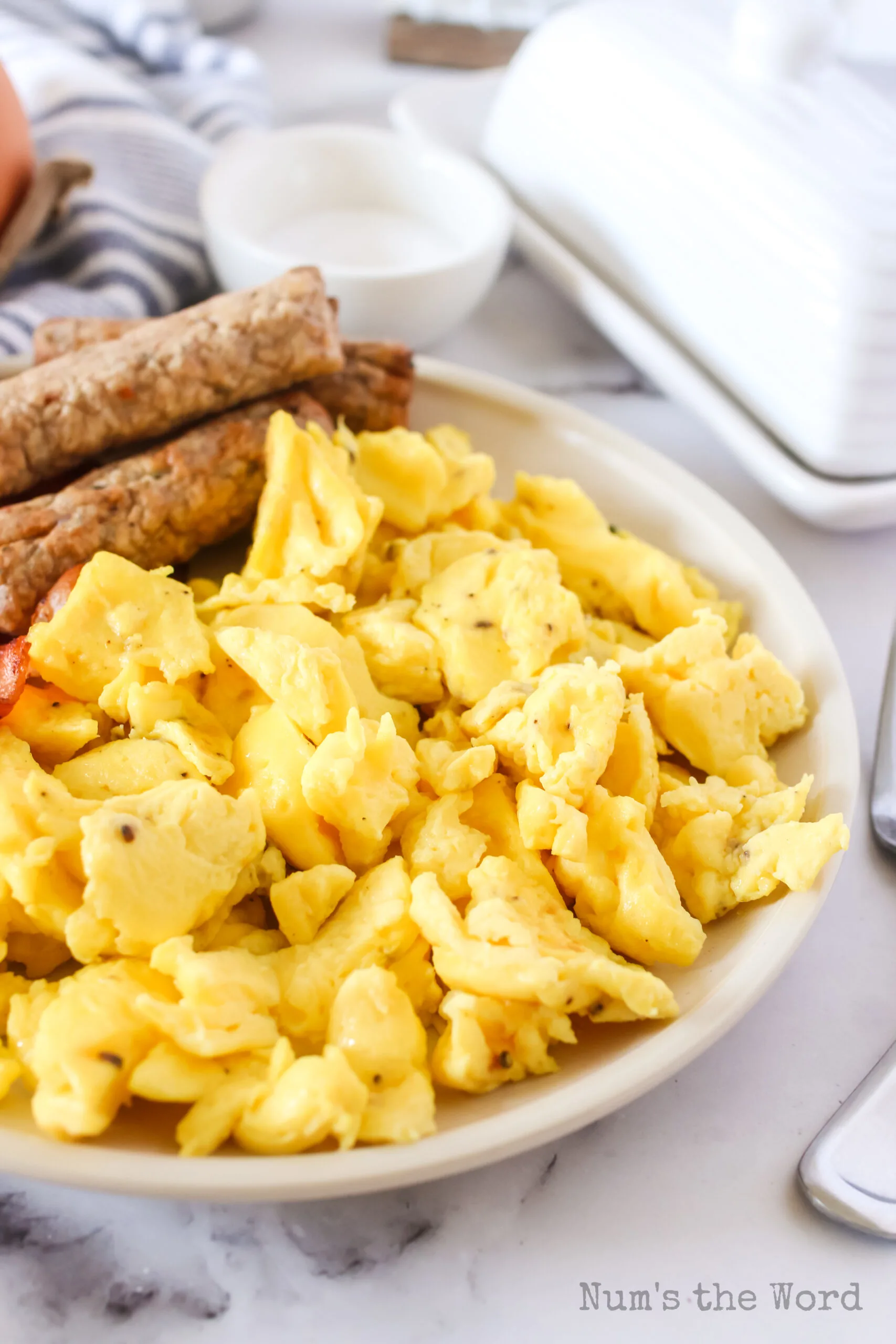 This Scrambled Eggs Recipe is Perfection in a pan. Golden and creamy, egg critics everywhere are going to love these scrambled eggs.
Ingredients
1 Tablespoon butter
4 eggs
4 teaspoons of water
pinch of salt
pinch of black pepper
Instructions
Add butter to a non-stick skillet and heat until butter is melted.
Blend eggs and water in a blender until nice and foamy.
Gently pour eggs into a buttered skillet.
Top with a sprinkle of salt and pepper.
Let eggs sit for 20 seconds
Using a rubber spatula, gently and slowly push eggs in a circular motion starting from outside of the pan and working your way to the center.
Continue this motion allowing uncooked parts of the eggs to flip and cook.
Continue this until eggs are cooked with a little moisture left in the pan.
Remove pan from heat and transfer to a serving dish.
Serve with slices of bacon and sausage links.
Do not whisk eggs or mix vigorously in the pan or you'll deflate them. The goal is to have fluffy scrambled eggs. There should be large chunks of eggs, not a billion tiny pieces.
Nutrition Information:
Yield:
4
Serving Size:
1
Amount Per Serving:
Calories:

97
Total Fat:

8g
Saturated Fat:

3g
Trans Fat:

0g
Unsaturated Fat:

4g
Cholesterol:

194mg
Sodium:

127mg
Carbohydrates:

0g
Fiber:

0g
Sugar:

0g
Protein:

6g