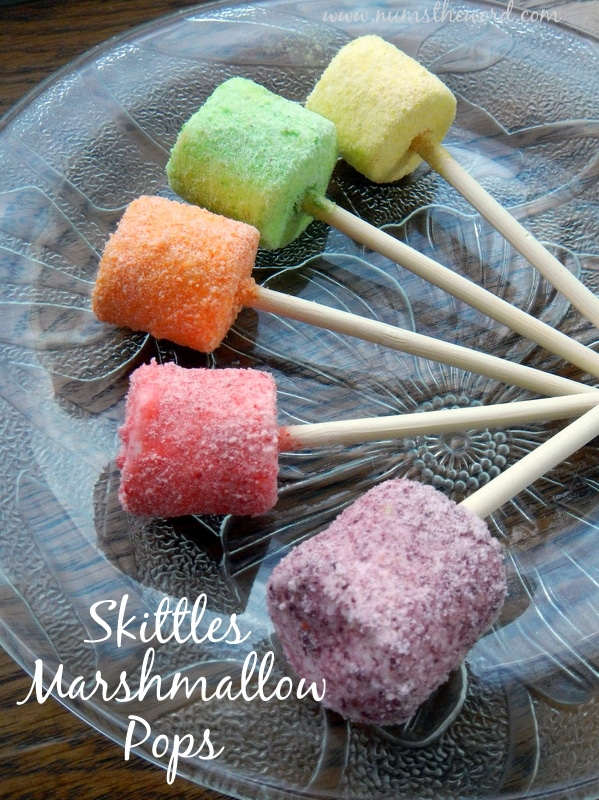 My 3 year old LOVES to be in the kitchen with me. And in general, just about 90% of what I post on this website is partially, if not almost completely made by her with direction from me.
So when it came time to make something fun for St. Patrick's Day, I decided that these Skittles Marshmallow Pops would be fun.
My daughter LOVES Marshmallows. She also LOVES skittles. So combine the two together and you have a fun and very tasty kid friendly treat. Plus it was one that she could do 99% all by herself.
So fast forward ahead.
I decided to wait to make these until we went to my parents home. I went to the store, got the items needed and then stood there like a blubbering idiot as I stared at the word "foam block" on my shopping list. Why on earth did I need a foam block? After about 5 minutes of racking my brain as to why I would put such a ridiculous thing on my list, I decided to forgo getting it.
Only to realize once we started to make these that I did in fact need a foam block to stand my pops up in to allow them to set. Eh, it all worked out. They looked great, tasted amazing and my daughter had an great time making them, however, I do highly recommend using a foam block if you are going to be making these.
This post contains Amazon affiliate links as a free service to you!
Skittles Marshmallow Pops
Ingredients
2 bags of skittles, individual size (or several pouches of fun sized skittles)
Bag of Large Marshmallows - not the EXTRA large, just normal large
Water
Sucker Sticks
Foam Block or styrafoam block
Instructions
Using multiple bowls, separate the skittles out by color. This is a great task to get your kids to do if you trust them enough to not eat them.
Starting with the lightest color, grind up one color of skittles using a high powered blender or grinder (I used a magic bullet) then return powder to it's individual bowl. Repeat with each color going lightest to darkets.
Stick a sucker stick 3/4 into a marshmallow.
Quickly dip marshmallow into a cup of water.
Gently towel off marshmallow or shake excess water off.
Spoon skittles powder over damp marshmallows, thoroughly covering.
Place skittle's marshmallow pop in a foam or Styrofoam block allowing to dry completely.
Notes
My 3 year old was able to do everything with the exception of the blender. She loved making these and "sampling" each step of the way.
https://numstheword.com/skittles-marshmallow-pops/
Items recommended for this recipe include…
Another Recipe We Think You'll Love…