Fun, delicious, and absolutely adorable, these Strawberry Hot Cocoa Bombs are perfect! Making everyday life into something absolutely magical, you are going to love these bombs!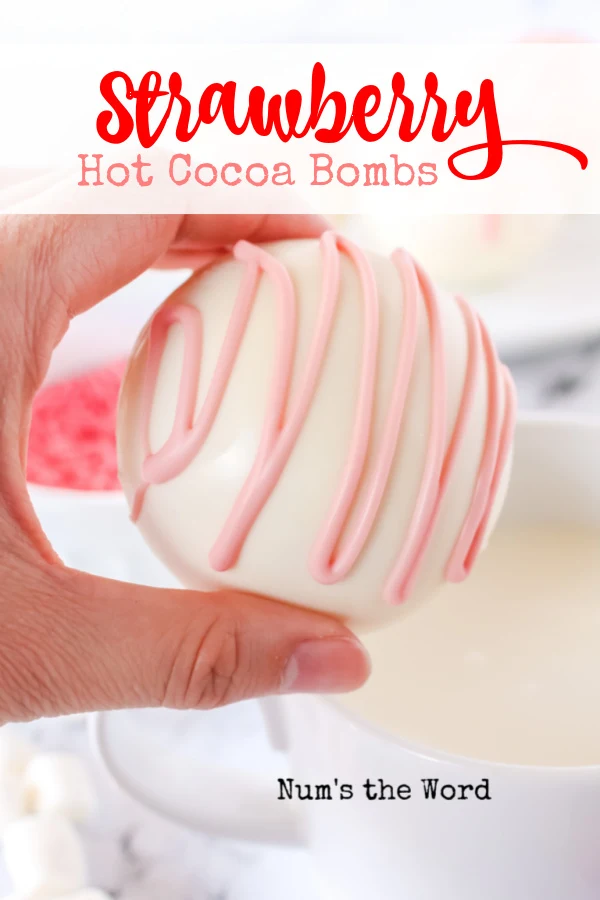 White chocolate, strawberries, marshmallows, sprinkles, and hot milk. Need I say more? Oh. My. Goodness.
They may seem a little intimidating to make but actually, these diy strawberry hot cocoa bombs are super simple!
When you drop strawberry hot cocoa bombs into a cup of hot milk, they do what any bomb would do.
They explode, melt and become beautiful.
They become creamy and wonderful.
And not only are they fun for you but they are fun for everyone. They are such fun gifts to give and the recipients are always a little awed.
The perfect diy project with kids, you have got to try these strawberry hot cocoa bombs!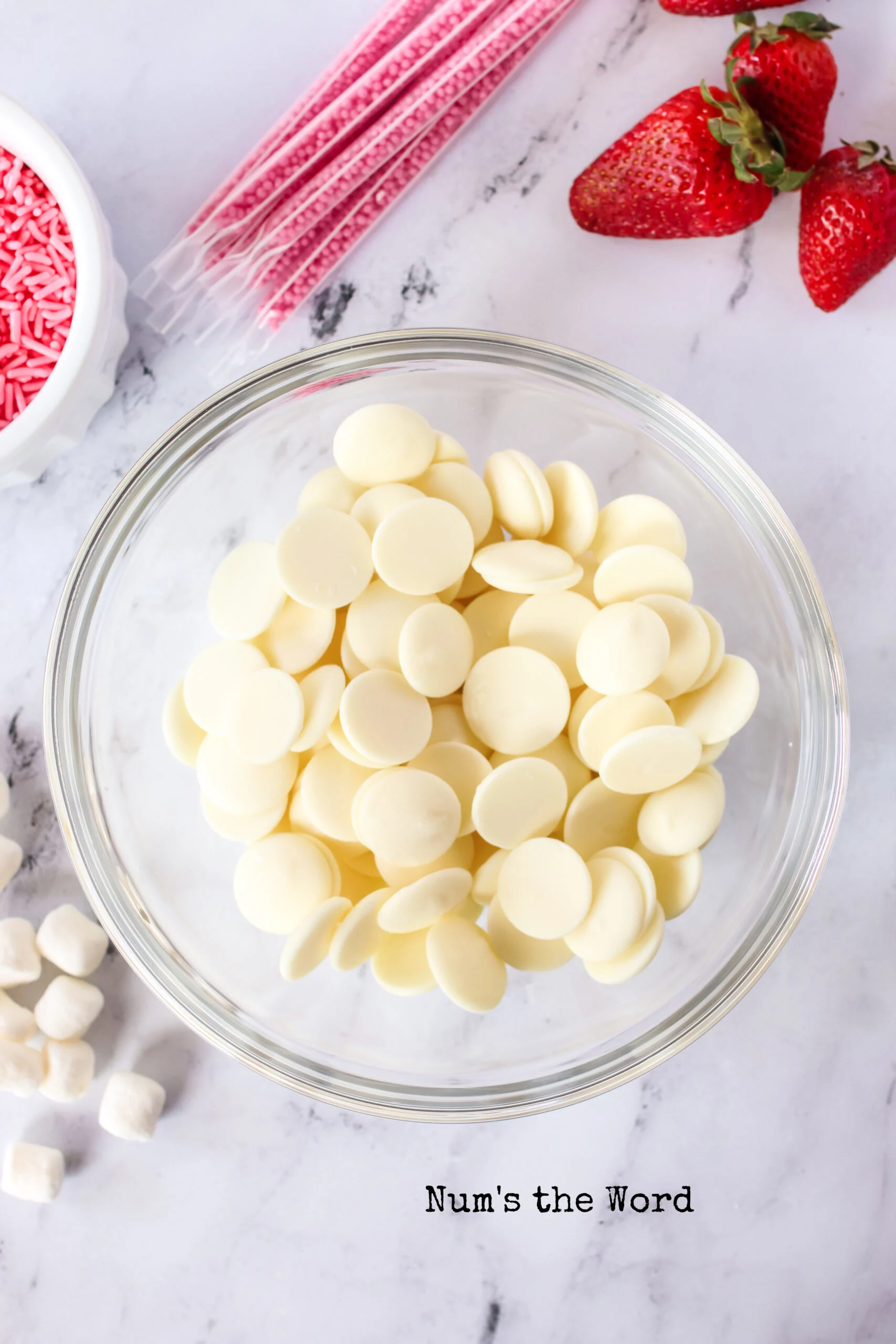 What Are Strawberry Hot Cocoa Bombs?
Have you heard of hot cocoa bombs? Because they are seriously the best invention!
You know how you used to get a mug, a spoon, and some cheap hot cocoa mix? You're never going to want to do that again. Trust me!
Here's the details.
Hot cocoa bombs became all the rage near the end of 2020.
The hot cocoa is from white chocolate, milk chocolate, or dark chocolate.
They are sometimes filled completely with chocolate but can also have other fun surprises inside such as marshmallows, flavorings, and mix-ins.
Strawberry hot cocoa bombs are made from white chocolate and you guessed it- strawberry flavoring!
Think of it like a cup of creamy hot cocoa and a cup of sweet strawberry milk combined into one delicious mug.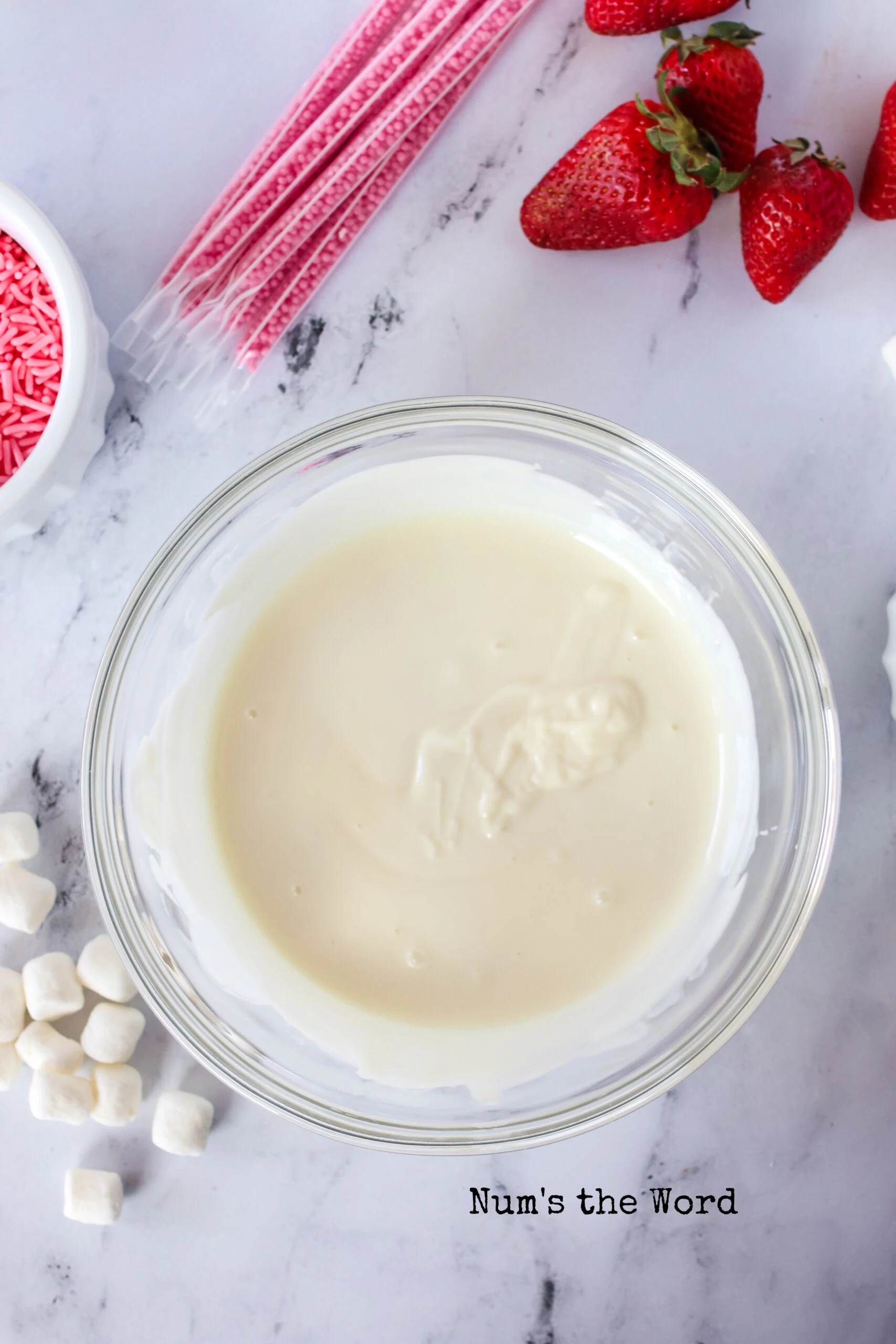 What is the Best Chocolate for Strawberry Hot Cocoa Bombs?
While you can technically use any type of chocolate for strawberry hot cocoa bombs you'll want to use white chocolate.
In experimenting with different flavors I found that both milk and dark chocolate are much too overpowering for the strawberry flavor.
I still had fun watching it explode. I still got a cup of delicious cocoa.
But it was missing the characteristic strawberry flavor you would expect from a strawberry hot cocoa bomb.
In addition, don't try to use white chocolate chips because you'll be sorely disappointed!
Chocolate chips are not made for melting and therefore they don't melt evenly.
You want to use melting wafers. They are packaged and created for the sole purpose of melting.
You'll get a much more even melt and your bombs will be that much better.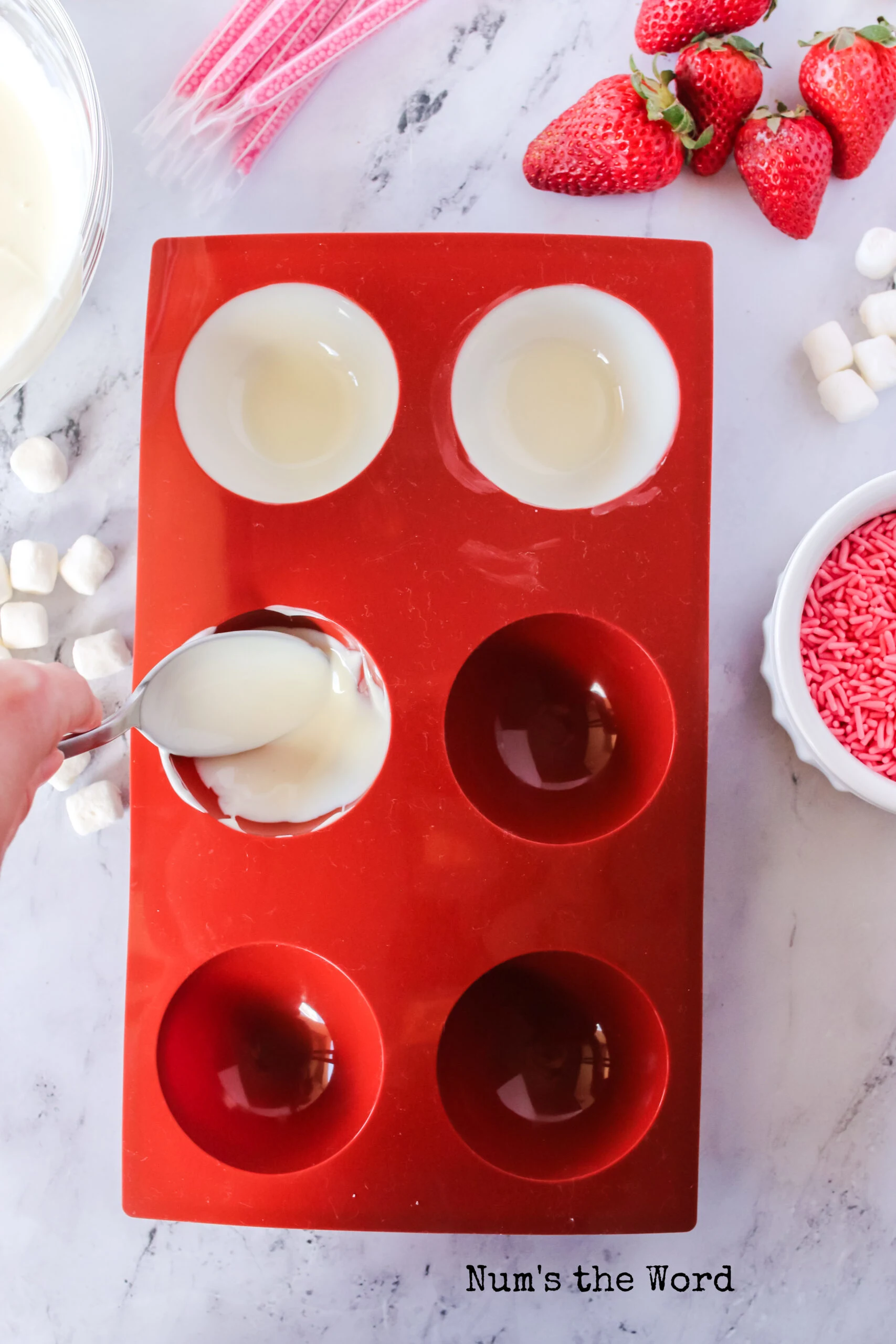 Ingredients for Strawberry Hot Cocoa Bombs
Molds:

These are vital for making the bombs.

White Chocolate Melting Wafers:

I find Ghirardelli not only melts the best but tastes the best too.

Pink Chocolate Melting Wafers:

Check out the cake decorating section of your grocery store to find these babies!

Nesquik:

You'll need the strawberry flavor.

Strawberry Milk Magic Straws:

Not only good for getting your kids to drink their milk but good for making hot chocolate bombs too!

Marshmallows:

Find mini marshmallows. This will allow you to pack them into the bombs.

Sprinkles:

Pink sprinkles- not pink sugar. Sugar will immediately dissolve. Sprinkles will float to the top.
Pro Tips:
Make sure the molds are clean! Any imperfections in the molds are going to show in the bombs. Air dry to prevent the towel from leaving behind any little fibers.

Go for themed sprinkles to celebrate different holidays and events!

Buy extra molds if you are making strawberry hot chocolate bombs in big batches. Then you can be working on more while the first ones dry.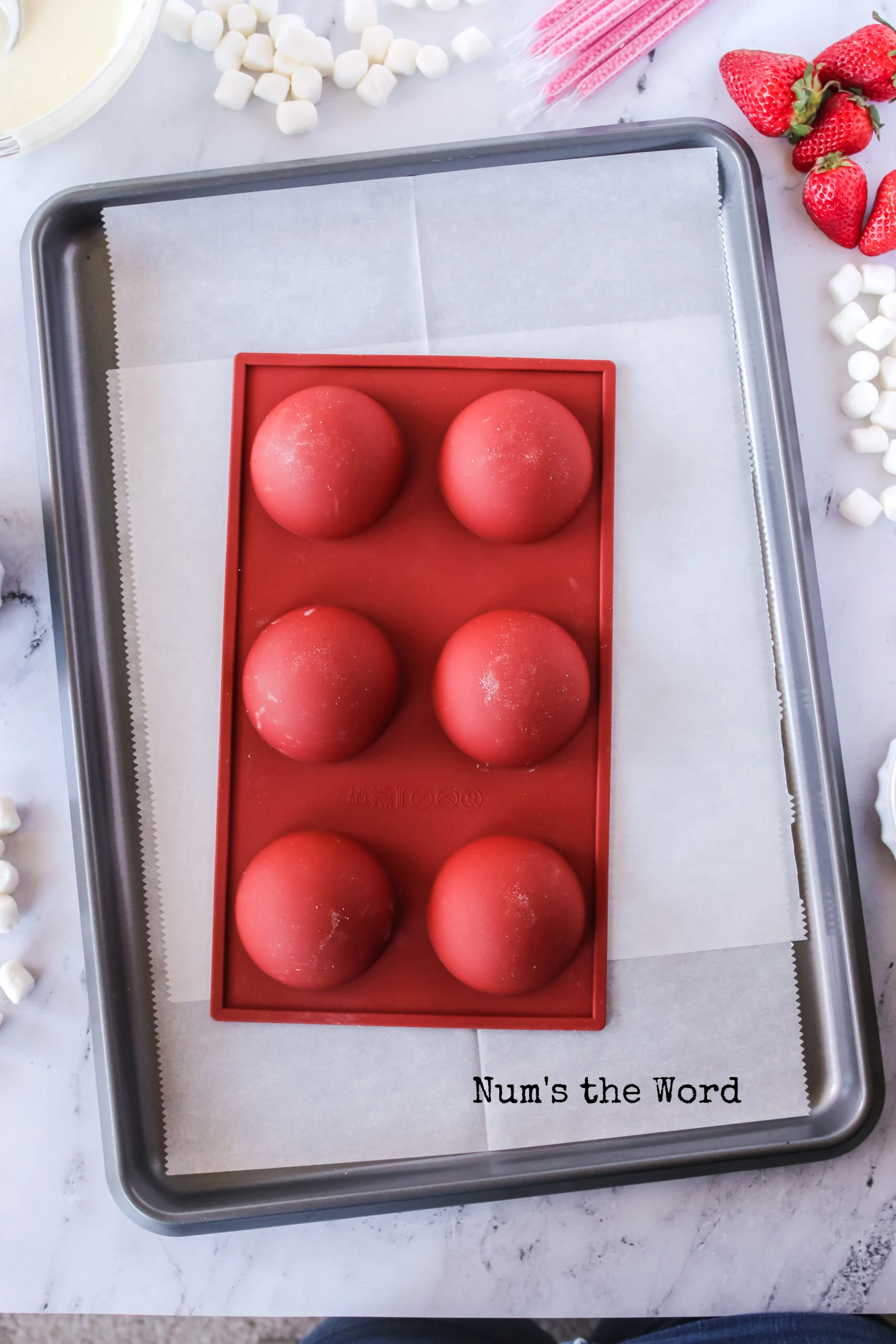 How to Make Strawberry Hot Cocoa Bombs
Melt the Chocolate:

You could use a double boiler but I find heating the chocolate in 30 second intervals works well and is much faster.

Make the Shell:

You want the shell to be thick enough to work with but not so thick that the bombs don't explode when used. I find two layers of chocolate to be the perfect amount.

Fill the Bombs:

Put it all in there but make sure it's not overflowing so much that you can't add the top!

Seal:

Using a microwave heated plate, gently melt a small amount of the edge on the open shells. Quickly put over the filled sides before the chocolate cools.

Decorate:

A drizzle of pink chocolate, a drizzle of white chocolate, or maybe some sprinkles!

Enjoy!:

You just create a tiny bomb of creamy yumminess. Enjoy it! Relish it! Have fun with it!
Pro Tip: To avoid leaving your fingerprints on the bombs, use food grade gloves.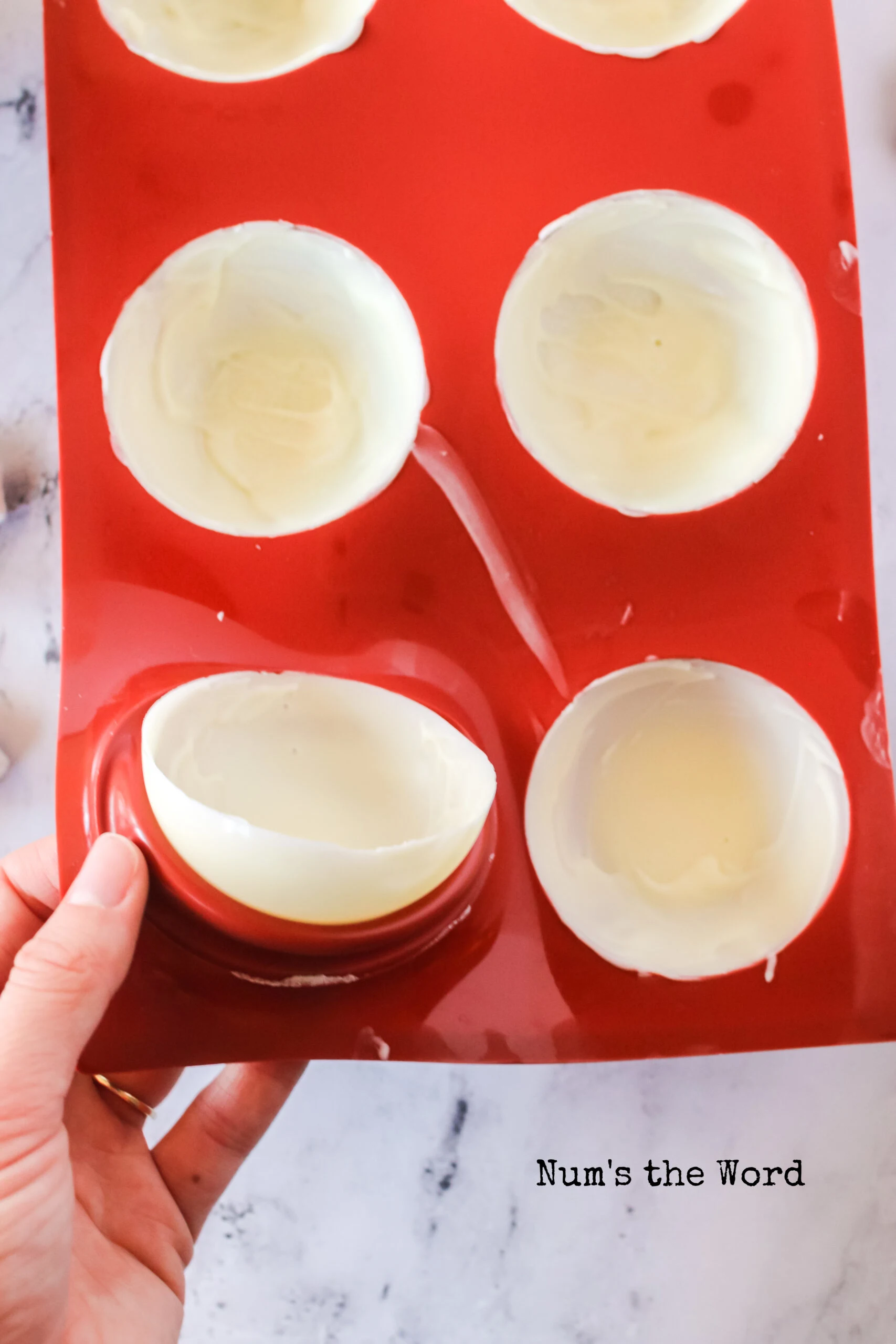 How to Use Strawberry Hot Cocoa Bombs
Using a microwave safe mug, heat up milk for about one or two minutes.
Once the milk is nice and hot, drop in the strawberry hot cocoa bomb and voila! Watch the magic unfold!
If you don't have milk you could also use water, though I find the hot cocoa is much creamier with the milk.
Allow the bomb to melt completely before you begin sipping.
That will make sure you get the full flavor of the chocolate and the strawberry!
Pro Tips:
Use a clear mug! Then you'll get to see the exploding, beautiful action from all sides!

The bombs don't really "explode" but they do crack open revealing all the yummy goodies stashed inside.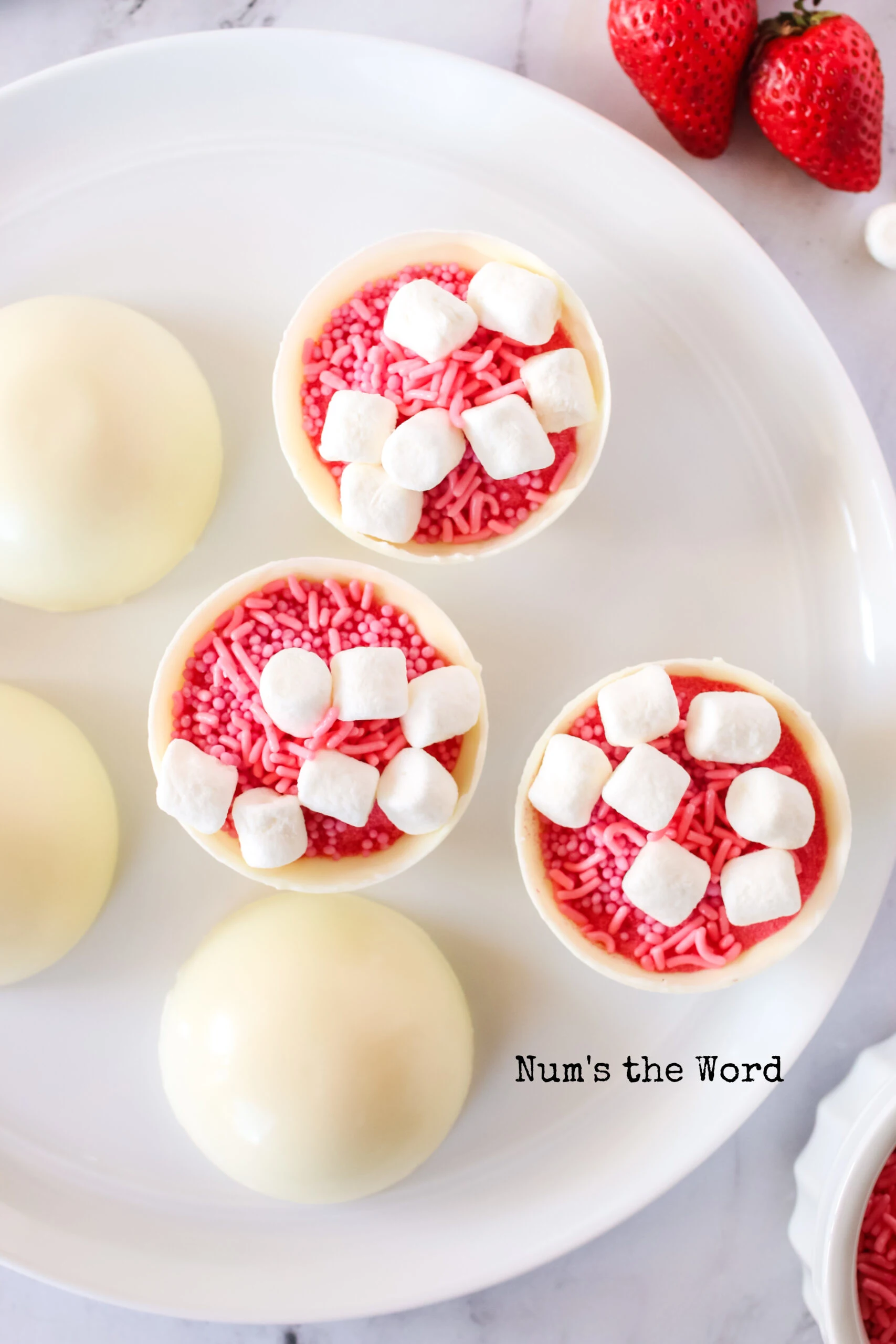 How to Store Strawberry Hot Cocoa Bombs
No special treatment needed!
Seal the chocolate bombs in an airtight container and leave on the counter until you're ready to use them.
Do not, however, leave them anywhere above the oven where they will melt into piles of gooey chocolate.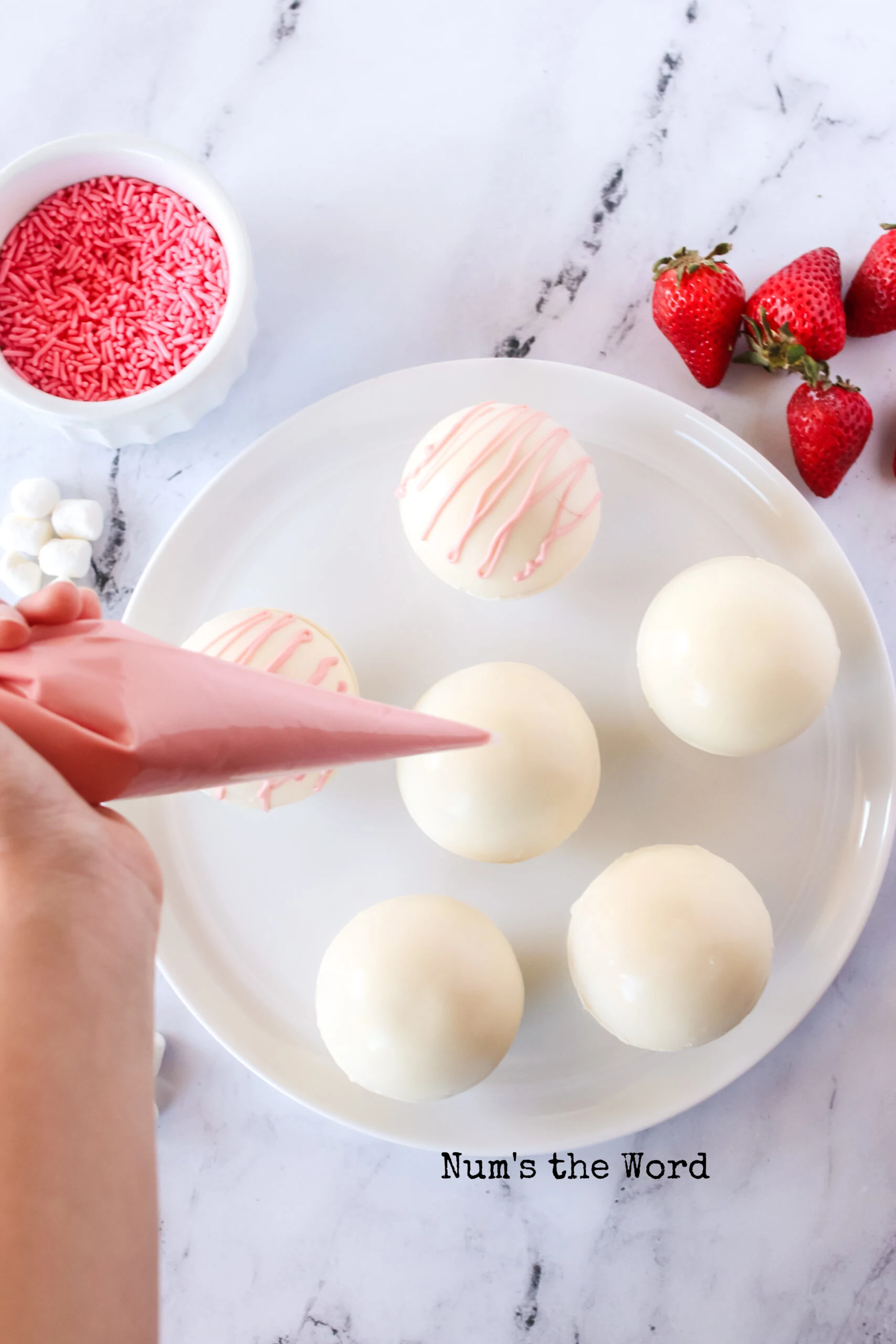 How Long Do Strawberry Hot Cocoa Bombs Last?
As everything in the hot cocoa bomb is fairly shelf stable, the bombs will stay good for up to 2 months.
That is, if they last longer than a week. They don't normally last that long at my house.
Strawberry Hot Cocoa Bombs are the perfect gift for every holiday. They taste delicious, look beautiful, and are super simple to make!
Let me know if you try them below!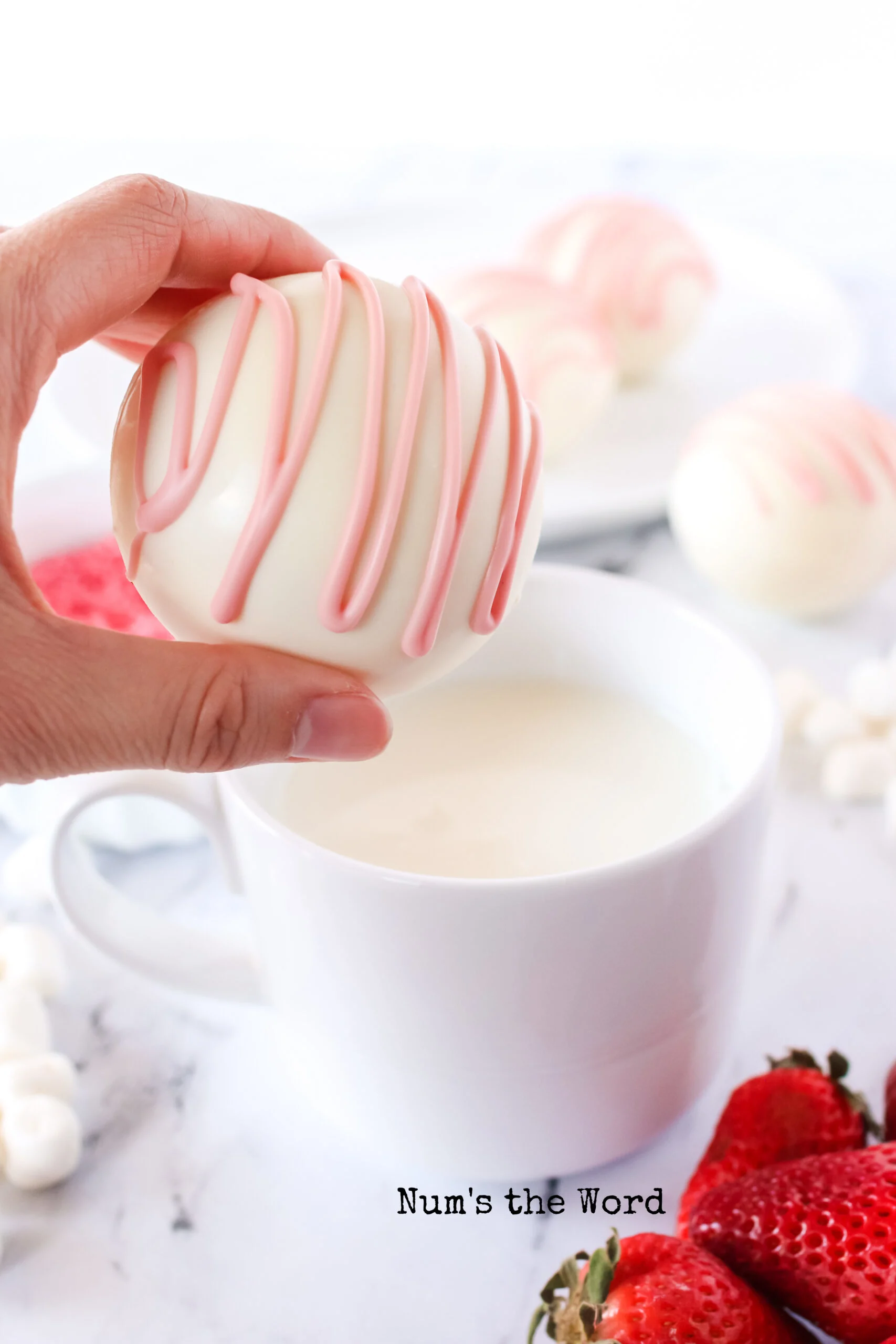 More Drink Recipes You'll Love…
Yield: 6 Hot Cocoa Bombs
Strawberry Hot Cocoa Bombs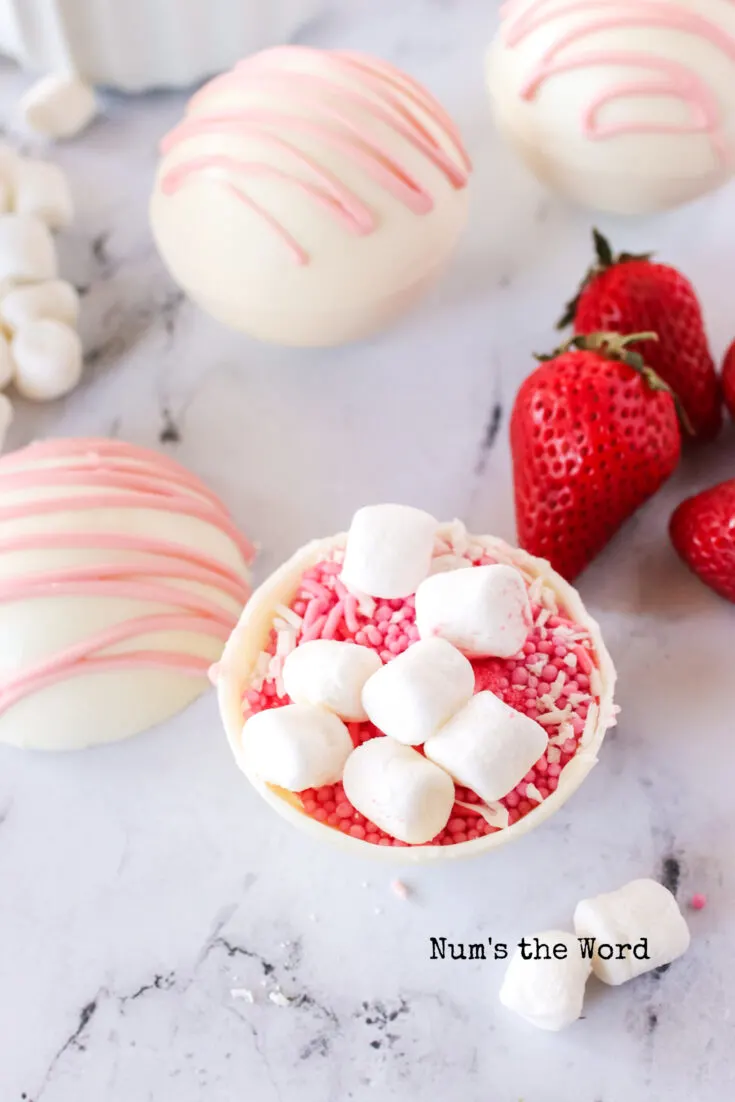 Fun, delicious, and absolutely adorable, these Strawberry Hot Cocoa Bombs are perfect! You can now play with your food again and taste great!
Additional Time
30 minutes
Total Time
1 hour
15 minutes
Ingredients
1 (10 ounce) bag of white chocolate melting wafers or almond bark (I prefer Ghiradelli)
2 (6 cavity) Large Semi Sphere Silicone Molds. 1.38 Inches wide per semi sphere mold.
3/4 cup strawberry Nesquick
6 Strawberry flavored Milk Magic Straws
1 cup mini marshmallows
Pink sprinkles
1 (10 ounce) bag of pink chocolate melting wafers
Instructions
Line a cookie sheet with parchment paper or a silicone baking mat. Set aside.
Place white chocolate in a microwave safe bowl and cook in the microwave for 30 seconds.
Remove and stir chocolate. It will not be very melted yet.
Cook white chocolate for an additional 30 seconds.
Remove and stir. Repeat this until the mixture is melted and liquid. Do not over cook the chocolate or it will be thick as mud and useless.
Spoon chocolate in each of the 6 molds and working quickly, coat the entire mold with white chocolate. I find a spoon works great for this.
Once each mold has been covered with chocolate, flip mold upside down on top of the lined cookie sheet and let dry. To speed this process up, you can put it in the freezer.
Repeat this for the next 6 half spheres.
Remove chocolate from the freezer (if using freezer method) and spread a new layer of white chocolate along the rims of each sphere and touching up any thin areas along the bottom and sides of spheres. We want to make sure we have a thicker rim so it doesn't break while working with it.
Flip again and let harden. Depending on the thickness this may need to be done a third time. 2 times seem to work well for me.
Once spheres are fully dry, gently peel them out of the molds. If you prefer to not leave fingerprints on your chocolate you'll want to wear food grade gloves for this.
Once you have all 12 half spheres out of the molds, take a dinner plate and put it in the microwave for 30 seconds to heat up.
Working with 1 sphere at a time, gently place the rim of each sphere on the plate and twist around to get a nice clean flat edge, allowing excess or imperfect edges to melt away. Repeat for remaining 11 half spheres.
Fill 6 half spheres with 2 Tablespoons of strawberry Nesquick each.
Snip the top off of one milk magic tube and pour 1 tube into each of the 6 Nesquik spheres.
Top with marshmallows and pink sprinkles.
Reheat the plate for 30 seconds to warm it up again.
Working with one at a time, take an empty sphere and place the rim on the hot plate. Once the edge begins to melt, quickly place this on top of a filled sphere and allow the warm chocolate to seal the edges together. Smooth edges if dripping.
Once all 6 spheres are put together and dry, place ½ cup pink chocolate in a plastic zipper bag, remove air and seal.
Melt chocolate in 30 second increments as before, squishing bag between each time.
Once chocolate is melted, snip a TINY edge off of the tip of the plastic bag and gently drizzle over the top of each cocoa bomb. Let dry.
Package up cute to give to friends and neighbors.
When ready to enjoy, place a hot cocoa bomb in your favorite mug, and add 1 cup of HOT milk over the top. Stir and watch the magic happen!
Nutrition Information:
Yield:
6
Serving Size:
1
Amount Per Serving:
Calories:

202
Total Fat:

8g
Saturated Fat:

4g
Trans Fat:

0g
Unsaturated Fat:

3g
Cholesterol:

7mg
Sodium:

84mg
Carbohydrates:

31g
Fiber:

1g
Sugar:

23g
Protein:

3g