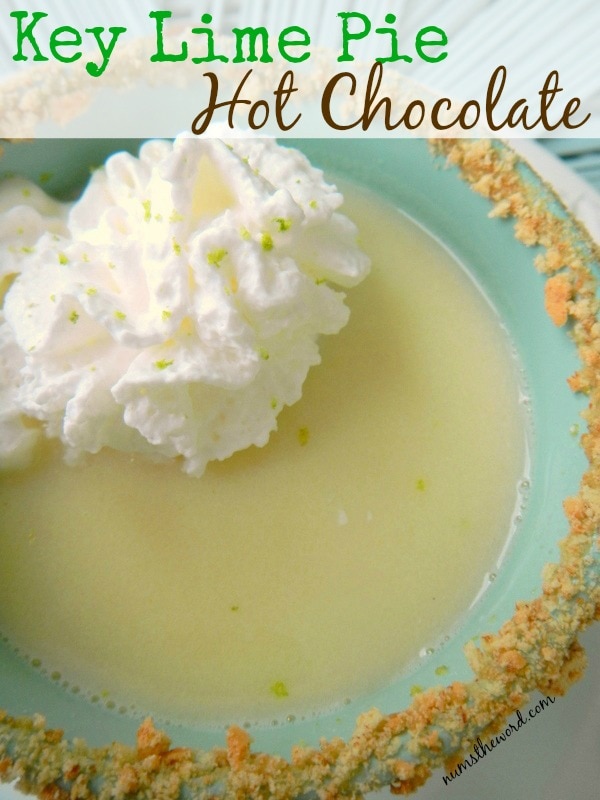 There is nothing that I love more than snuggling up with a warm blanket, a cup of hot chocolate and a good book.
HA! The days of snuggling up with a warm blanket and a book are long gone. They are now replaced by two young children that keep me on my toes ALL day and many nights.
However what hasn't changed, is my love of good hot chocolate.
So what's a girl to do when she LOVES all things key lime but can't find a single recipe for key lime pie hot chocolate? Um…create one!
So this recipe took a bit of trial and error…and ultimately we like what we've created.
It's a simple white hot chocolate with key lime zest.
Now I'm a purist when it comes to key lime anything. I believe that if you make key lime SOMETHING…it should actually USE key limes. Some out there in the universe believe that you can just use regular limes and call it good.
If that's what you want to do, then don't come whining to me when it turns out funky. This recipe is for the real deal.
Those TINY key limes. Zesting them can be a bit of a beast.
TIP: Toss them into the freezer for 30 minutes to an hour and they'll zest MUCH easier. Well….they did for me at least! And use a FINE zester. The skins on key limes are super thin so anything larger will chunk out your limes.
Oh and another tip….Million dollar question…What happens when you add lime juice (or lemon juice) to milk?! It curdles!! So DON'T. All your key lime flavor will come from the zest. Don't use the juice.
HOWEVER…I HIGHLY recommend using the limes in a Key Lime Pie. So quick and easy to make and oh so tasty!
I will also say that this hot chocolate is a sipping chocolate. It's SWEET with a lime kick and certainly not a guzzle kind of hot chocolate. A sip after dinner, while reading a book or even while entertaining guests.
If you love key limes like we do here at Num's then I highly recommend you step outside your Hot Chocolate comfort zone and try this Key Lime Pie Hot Chocolate!
This post contains Amazon affiliate links as a free service to you!

Key Lime Pie Hot Chocolate
Ingredients
15 Key Limes, zested
1 (5 ounce) can of sweetened condensed milk
2 quarts (half-gallon) whole milk
2 cups white chocolate chips
Graham Crackers, Crushed
Whipped Cream (optional)
Marshmallows (optional)
Instructions
In a small sauce pan, combine key lime zest, sweetened condensed milk and 1 cup of milk. Cook over low heat (number 3 on the stove) for 10 minutes. This will allow the zest to fully flavor the drink.
Using a fine mesh strainer or cheese cloth, strain mixture into a larger sauce pan. Discard the zest.
Add remaining milk and white chocolate chips to large sauce pan.
Cook on low heat until chocolate melts and mixture is smooth and creamy.
Take mugs and dip rim into key lime hot chocolate mixture. Then dip wet rim into crushed graham crackers.
Fill mugs with hot chocolate and top with whipping cream or marshmallows and a little key lime zest.
Notes
Not sure what to do with your zested Key Limes? Make a Key Lime Pie of course! If you don't make your pie the same day, then juice limes and refrigerate until ready to make pie.
https://numstheword.com/key-lime-pie-hot-chocolate/
Items Recommended to make this Recipe…
Another Recipe We Think You'll Love…
Coconut Cupcakes with Key Lime White Chocolate Frosting