Few things can bring together so many favorite fall and winter flavors like this delicious and easy butternut squash salad. Roasted squash, cranberries, pecans, and fresh arugula combine with a scrumptious homemade dressing to make this salad an irresistible side dish!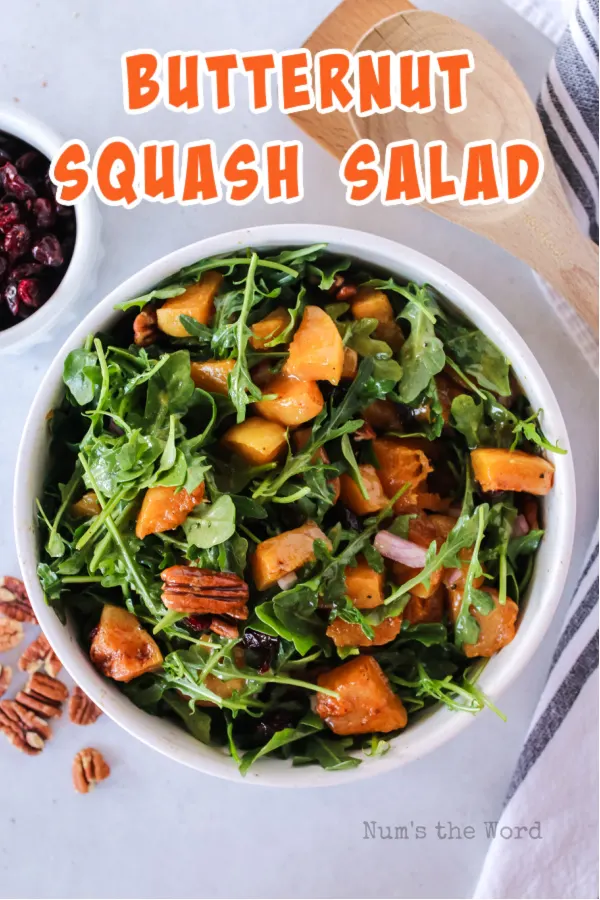 What really makes this salad stand out from the rest is the roasted butternut squash. Roasting the squash really allows the sweet undertones to shine as they caramelize and crisp while cooking. The brown sugar and cinnamon coating make it EXTRA tasty.
This salad is the perfect addition to your Thanksgiving or Christmas holiday feast. You can make it ahead and serve it cold or serve it warm, which makes it ideal for potlucks or meals where you need to free as much oven space as you can. Regardless of your plans for this dish, I'm sure you and your friends and family will LOVE it!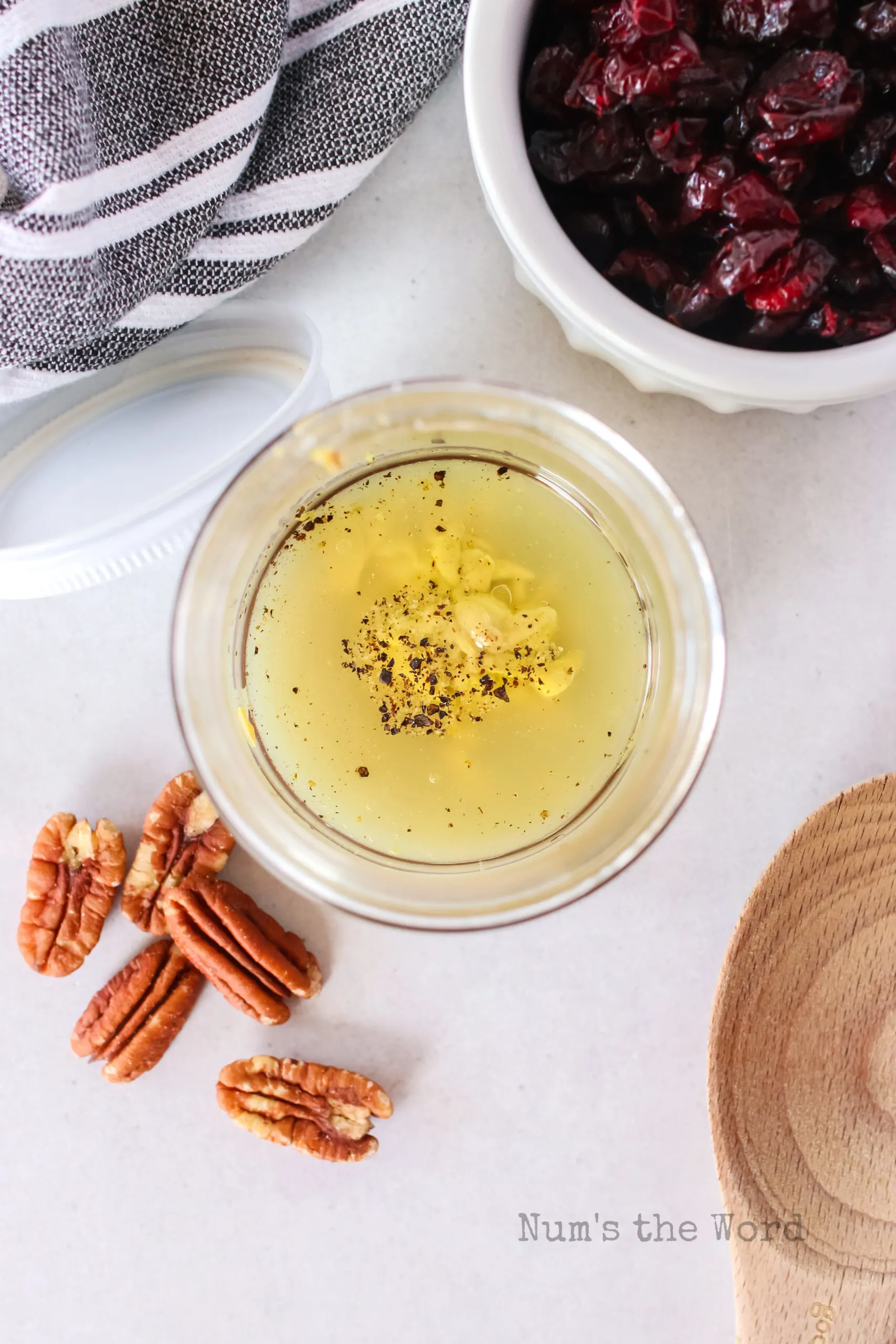 What is in butternut squash salad?
To make this delicious, sweet and savory salad, you'll need the following ingredients:
Salad:
Butternut squash

– you'll be peeling, dicing, and roasting the squash for the perfect caramelized sweet flavor. Check out our recipe for Roasted Butternut Squash!

Olive oil

– olive oil adds its own subtle flavor while providing the fat source for crisping and caramelizing your roasted butternut squash pieces.

Brown sugar

– sugar can be a flavor enhancer, and in this case it helps to showcase the sweeter flavors of the squash.

Cinnamon

– cinnamon has a warm flavor and also helps the natural sugars in the squash shine.

Salt

– salt is a flavor enhancer and helps make the individual flavors of the salad and squash stand out.

Arugula

– arugula has a spicy, somewhat peppery flavor that can really amp up the flavor of any dish!

Craisins

– dried cranberries are great for any time of year and easy to keep on hand, but you can also use fresh or frozen cranberries! For more information, see the recipe card below.

Red onion

– want to know more about onions and their different flavors and uses? Check out our All About Onions page!

Pecans

– I love the extra crunch and heartiness nuts add to salads.
Dressing:
Olive oil

– oil (or another fatty liquid) is a necessary part of salad dressing. It helps the other dressing ingredients stick to the salad ingredients.

Real maple syrup

– you can't beat the warm and sweet flavor of real maple syrup. And it pairs so nicely with the other salad ingredients!

Dijon mustard

– tangy and flavorful, Dijon mustard adds a lot to your salad dressing.

Lemon juice

– lemon juice adds a great, fresh flavor to your dressing and pairs nicely with the rest of the roasted squash salad.

Salt and pepper

– add to your preferences and taste!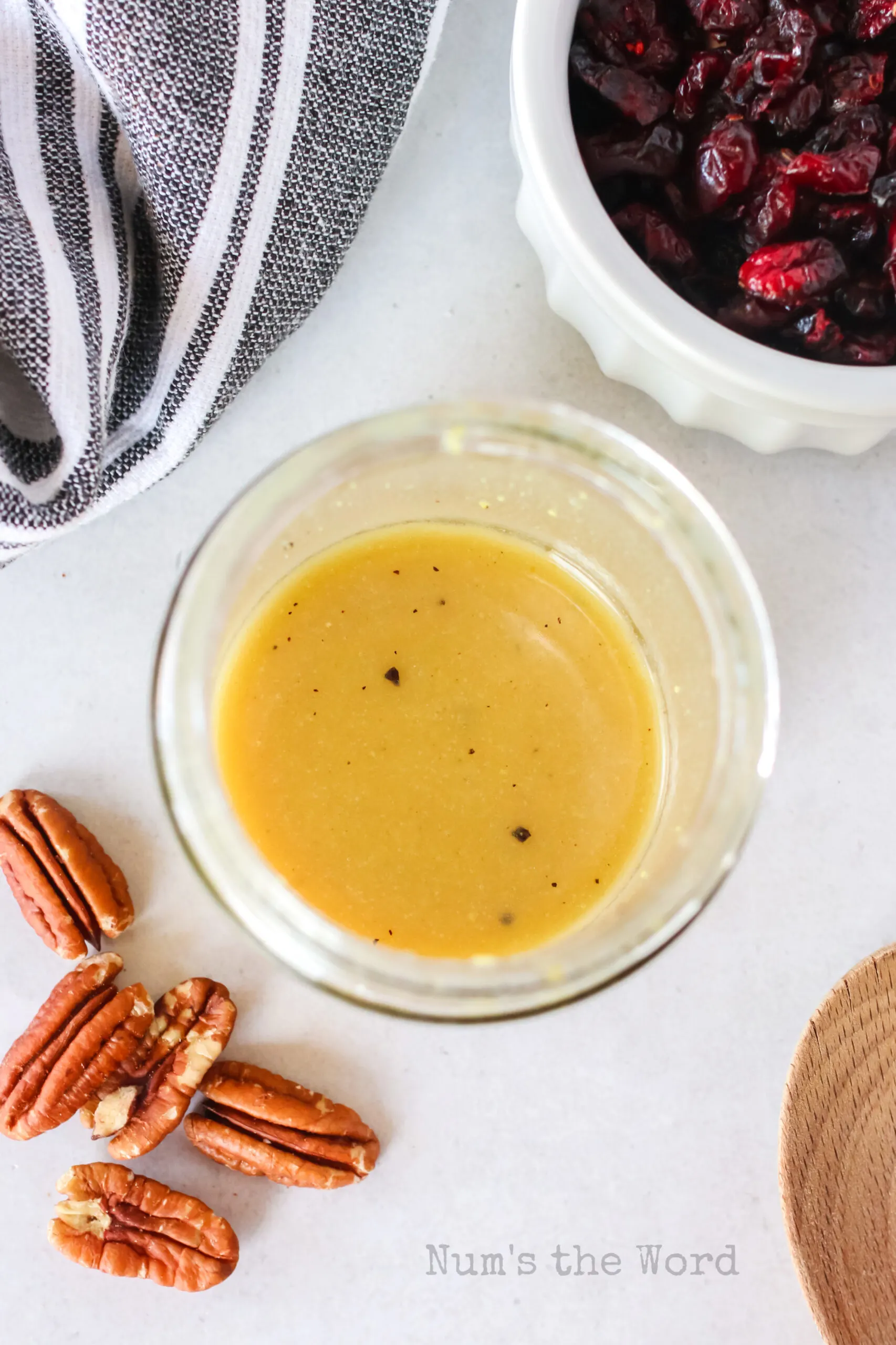 How to make squash salad?
Assembling this tasty roasted butternut squash salad is simple! Other than roasting the squash, all you need to do is throw together a few delicious ingredients. Here's what you'll need to do:
Combine

dressing ingredients and mix well.

Toss

diced squash with other roasting ingredients.

Roast

squash until fork-tender.

Layer

arugula, squash, craisins, red onion, and pecans.

Serve

with dressing!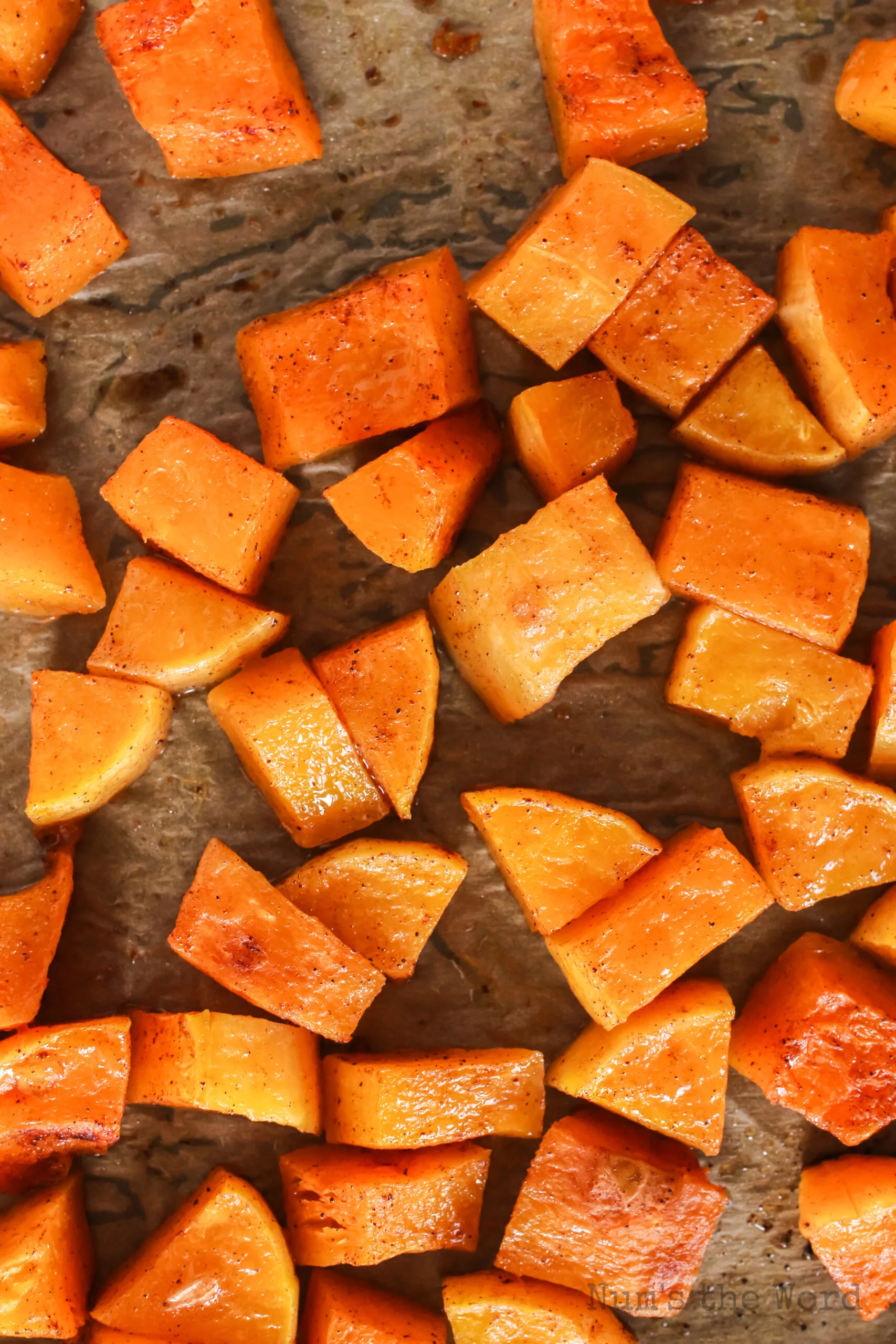 Can I caramelize squash the night before for a salad?
This salad can be served warm or cold and is tasty either way! You can decide which way you want to serve it depending on your personal preferences. Served warm, the squash will be a bit more crisp. Cold butternut squash salad will have softer-textured squash pieces.
If you decide you'd rather serve the salad cold, or you need to prepare it ahead of time, you can certainly cook the squash the night before!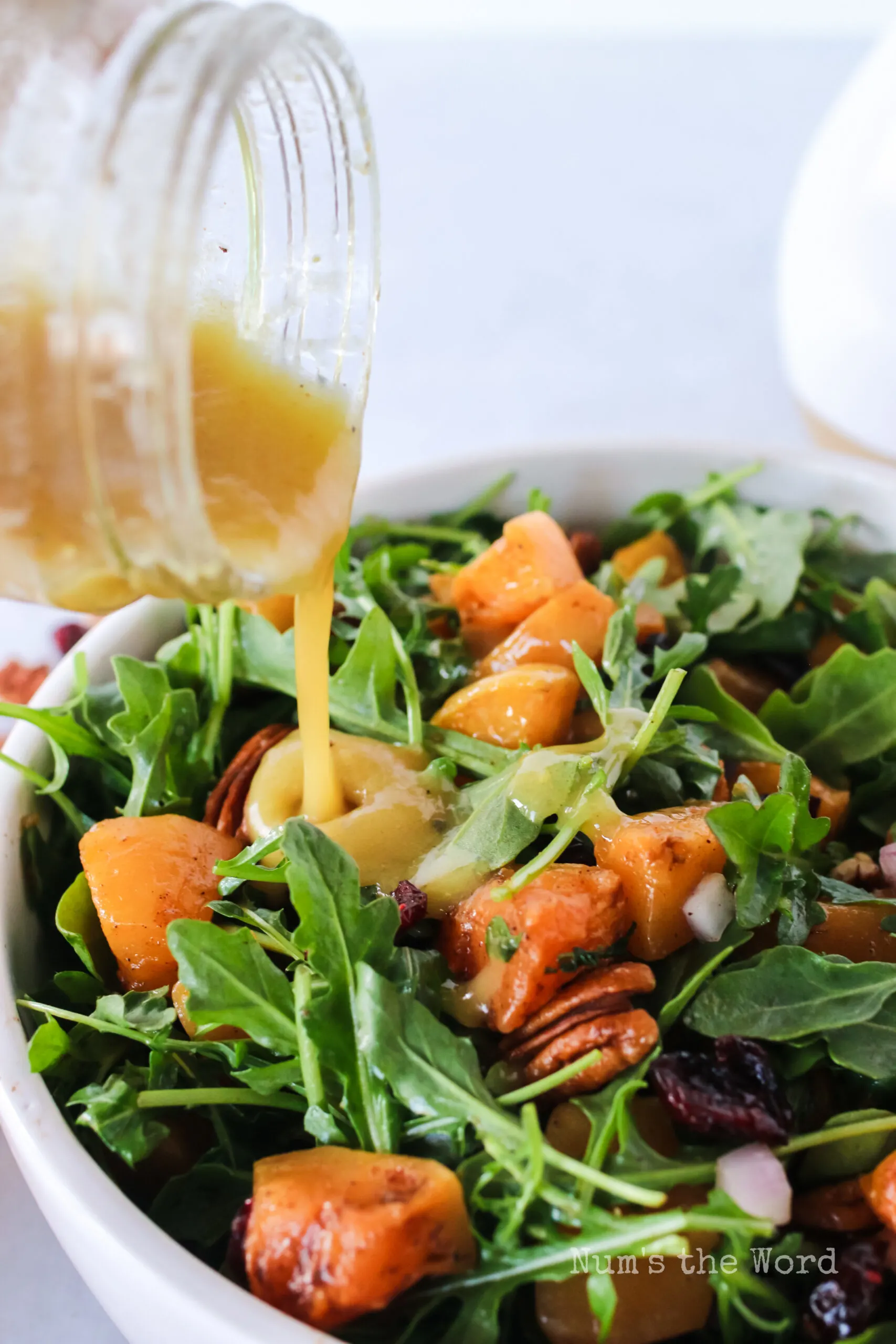 Should butternut squash salad be served warm or cold?
As mentioned above, whether you serve your butternut squash salad cold or warm is a matter of personal preference. It tastes great either way!
Preparing the salad the day before is a great way to save time and oven space when you're entertaining or planning a large meal.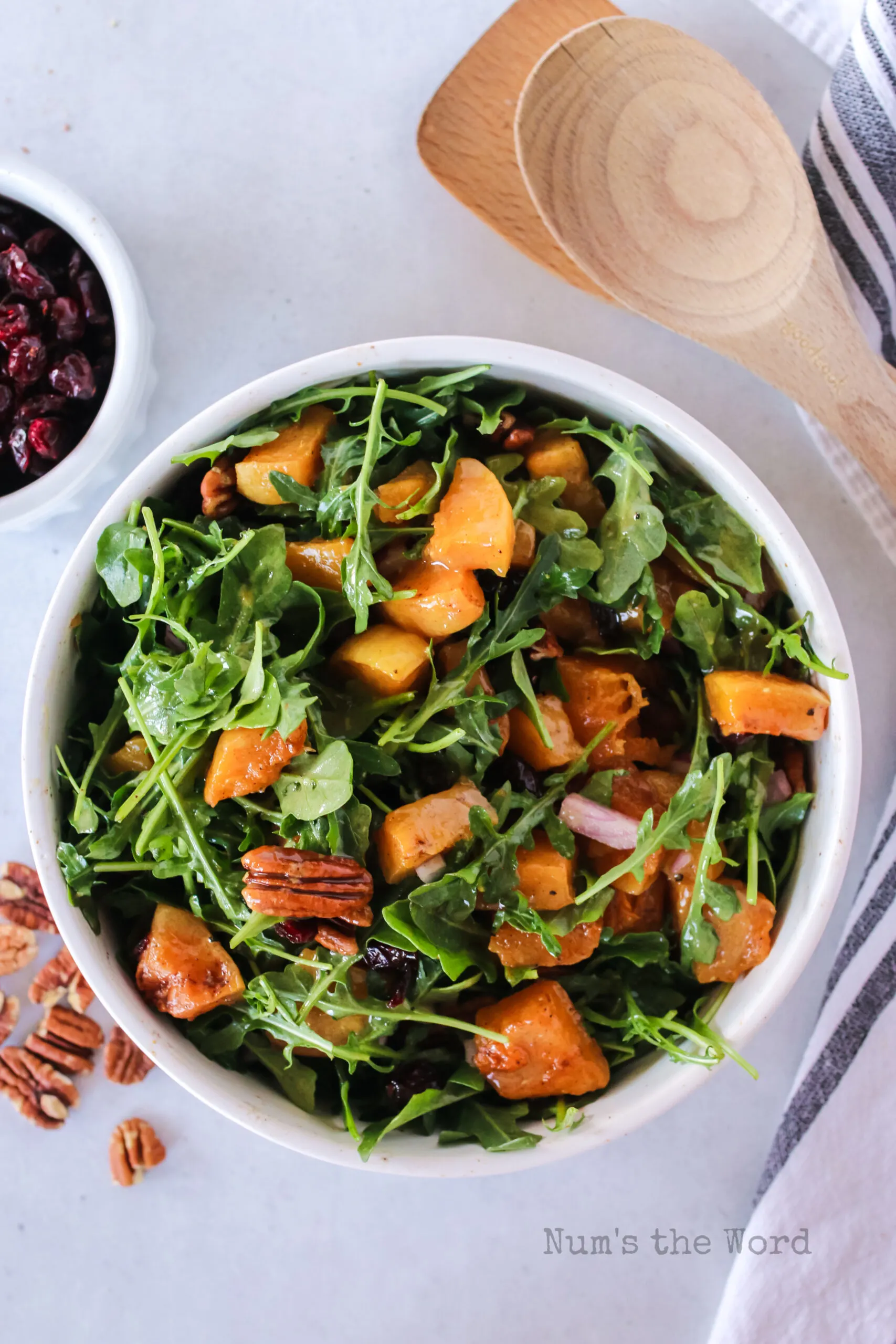 Is butternut squash salad a winter salad?
All of the fresh ingredients in this recipe are typically harvested in the fall and winter, though you can buy them year-round. Fall and winter harvest times makes this an ideal winter salad, as all the ingredients are at their peak freshness!
Butternut squash, arugula, and cranberries are all fall and winter crops (which is part of why they're so popular around the holidays!).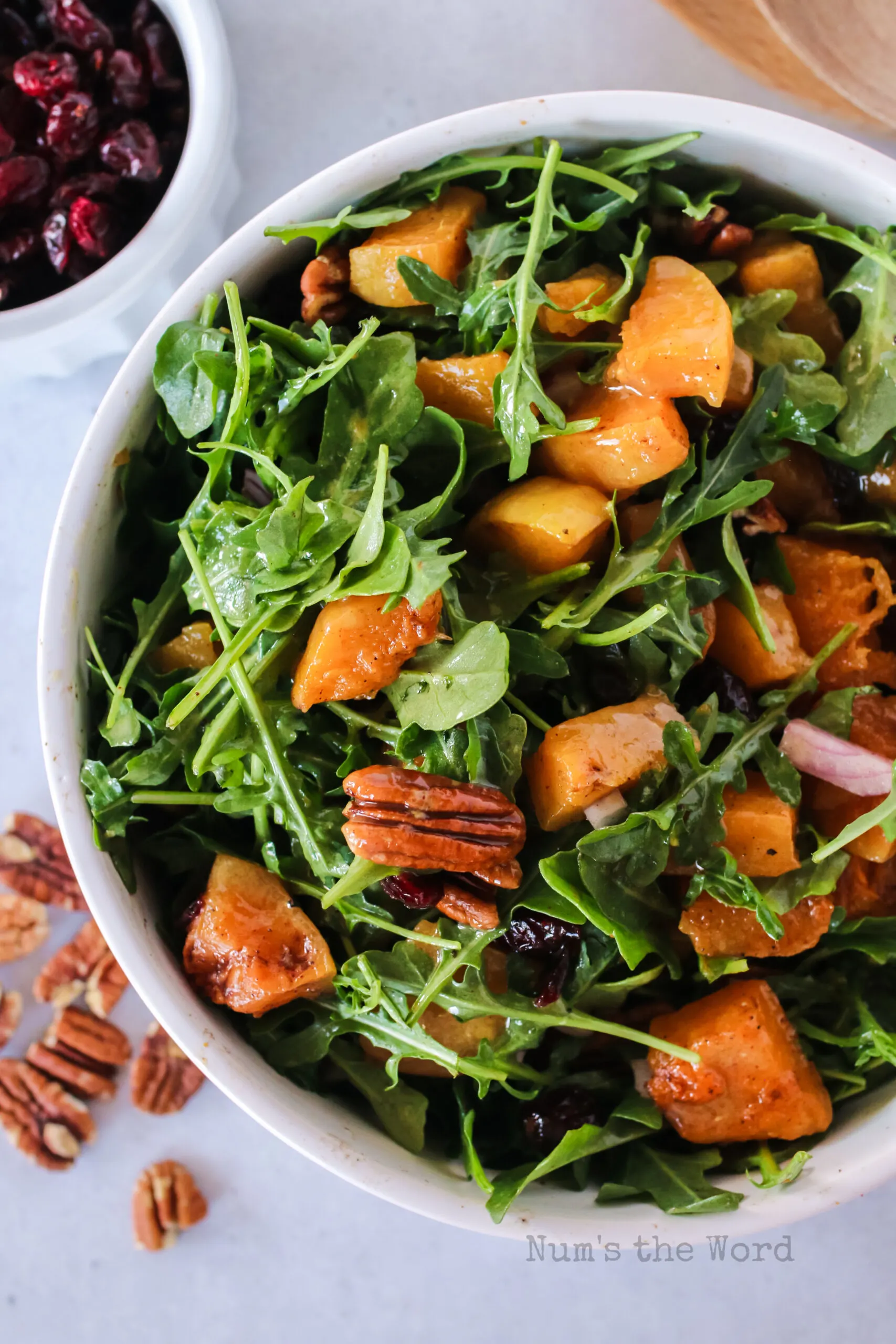 What goes with butternut squash salad?
With its blend of sweet and savory flavors, this salad is a fantastic complement to a variety of dishes. Whether you're serving it at Thanksgiving or Christmas dinner, at a potluck or party, or as a side for a regular family dinner, this salad is sure to be a hit.
Check out the following suggestions that we think go GREAT with squash salad: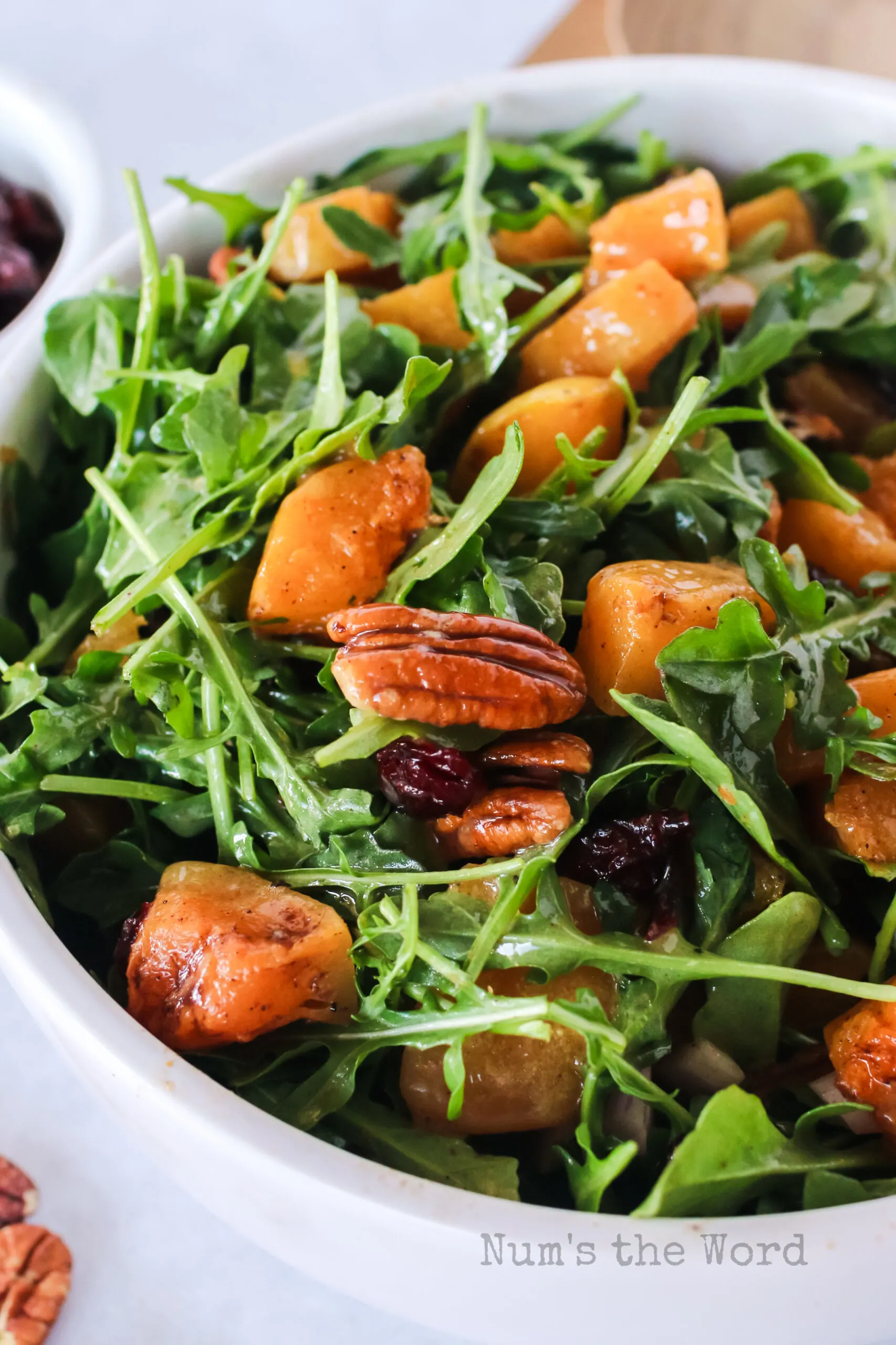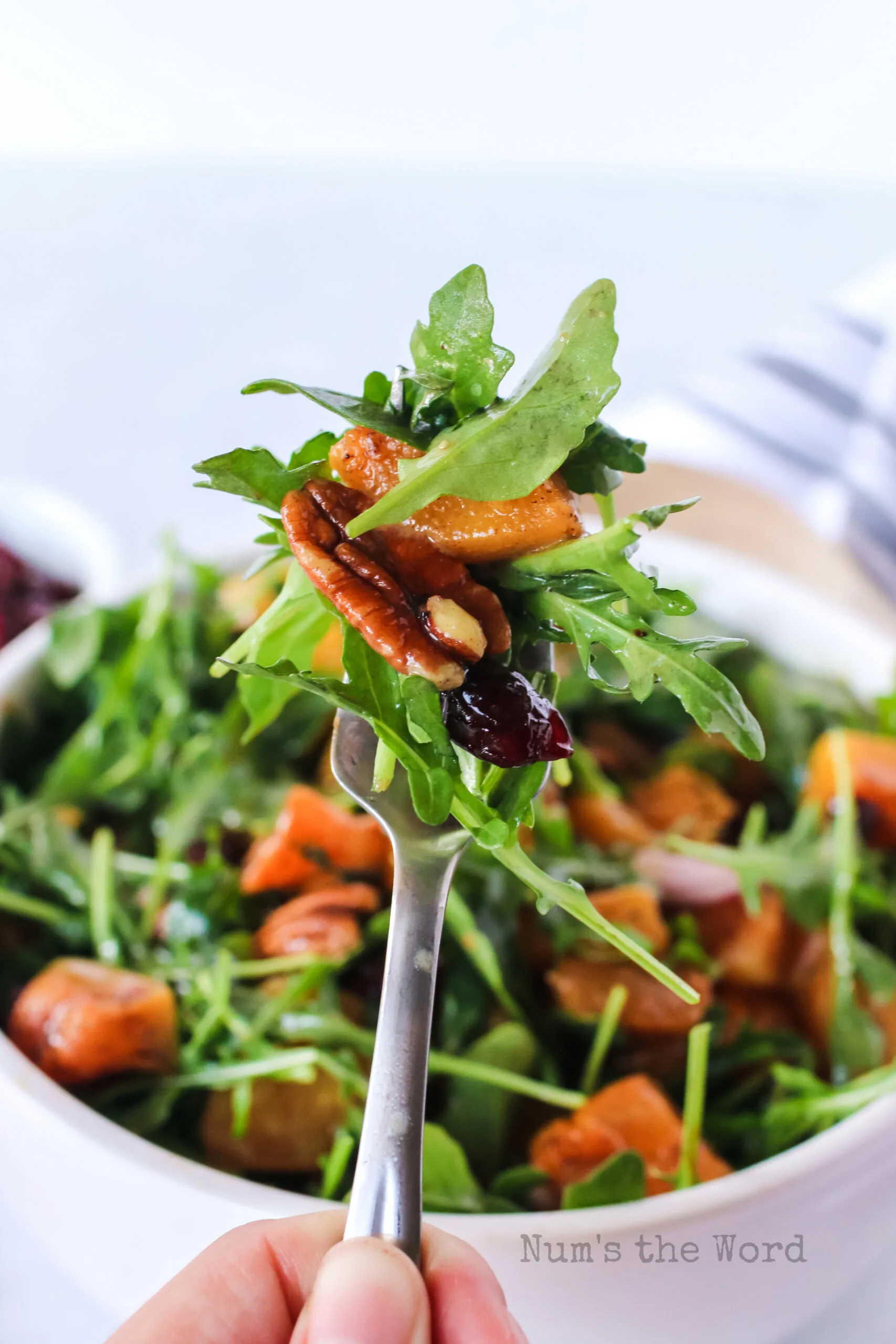 Whether you're hosting a holiday gathering or contributing to a potluck party, this butternut squash salad is sure to be a hit! The perfect blend of sweet and savory flavors, combined with a homemade dressing, cannot be beat. Enjoy!
Yield: 6 Servings
Butternut Squash Salad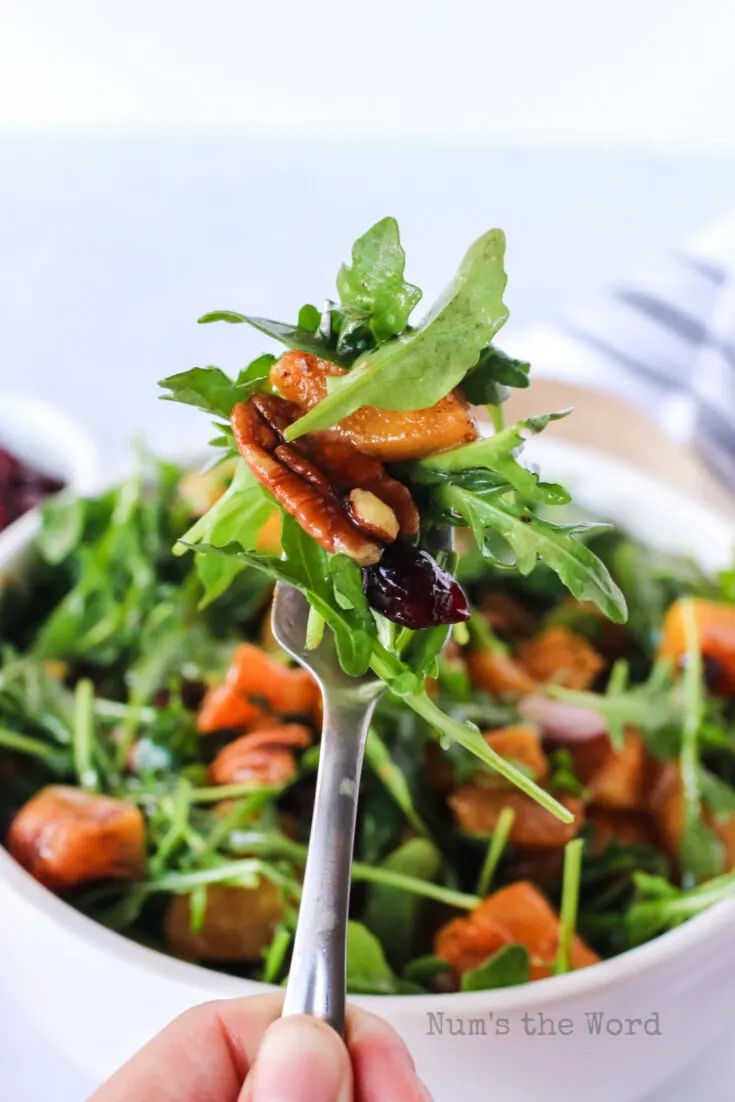 Few things can bring together so many favorite fall and winter flavors like this delicious and easy butternut squash salad. Roasted squash, cranberries, pecans, and fresh arugula combine with a scrumptious homemade dressing to make this salad an irresistible side dish!
Additional Time
15 minutes
Ingredients
1 small butternut squash, peeled, seeded and cut into 1 inch cubes
2 Tablespoons olive oil
2 teaspoons brown sugar
1/2 teaspoon cinnamon
1 teaspoon salt
8 cups arugula lettuce
1/2 cup craisins, or fresh or frozen if in stock.
1/4 cup red onion, chopped
1/2 cup pecans
Salad Dressing
2 Tablespoons olive oil
2 Tablespoons real maple syrup
2 teaspoons Dijon mustard
2 Tablespoons lemon juice
1/8 teaspoon salt
1/8 teaspoon black pepper
Instructions
Preheat oven to 400*F
In a bowl, toss cubed squash with olive oil, brown sugar, cinnamon and salt.
Place on a lined cookie sheet and cover with foil.
Bake for 20 minutes.
Remove foil and if adding fresh or frozen cranberries, add them now to the pan. If using craisins, leave squash alone.
Bake uncovered for 15 minutes, squash should be fork tender. Set aside.
In a jar, add all dressing ingredients - olive oil, maple syrup, Dijon mustard, lemon juice, salt and pepper. Secure lid and shake well. Set aside.
Layer in a bowl arugula, squash, cranberries (if using) or craisins, red onion and pecans.
Serve with prepared dressing.
Notes
Squash can be made ahead of time and used warm or cold. Leftover squash works great!
Nutrition Information:
Yield:
6
Serving Size:
1
Amount Per Serving:
Calories:

246
Total Fat:

16g
Saturated Fat:

2g
Trans Fat:

0g
Unsaturated Fat:

14g
Cholesterol:

1mg
Sodium:

510mg
Carbohydrates:

26g
Fiber:

4g
Sugar:

18g
Protein:

3g