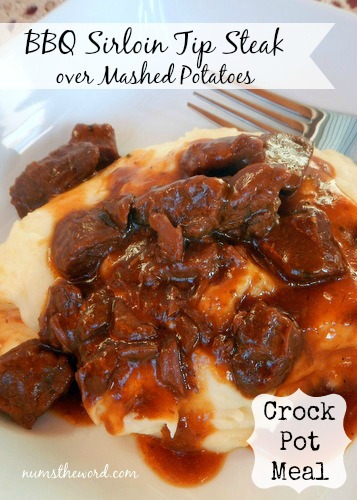 Steak and potatoes are a must combination and these BBQ Sirloin Tips over mashed potatoes have quickly become a favorite of mine. A repeat meal in our house!
Sunday's in our house generally means crock pot meals.
I like quick toss together, easy to prep, crock pot meals that taste great!
I had some sirloin tip steaks in my fridge that needed to get used. I quickly decided on whipping up some BBQ Sirloin Tips over Mashed Potatoes and made it easy on myself by using my Crock Pot!
These Crock Pot BBQ Sirloin Tips over Mashed Potatoes was phenomenal. I had two helpings and thought it was perfect. The steaks were tender and the sauce was a perfect compliment to the steak and a perfect gravy for my potatoes. Plus it was SOOO EASY!
This dish has quickly become a favorite of ours and one of my go to recipes when I'm in the mood for steak but can't grill.
I also love this recipe as it would make a GREAT freezer meal! So easy and tasty! All you'd have to do is whip up some mashed potatoes to go with it! Easy Peasy!
Overall this meal was a winner and one that has been added to our regular rotation! The leftovers reheat well and it would make a GREAT leftover lunch meal! Yum Yum!
If you like no prep, toss it and forget it meals, this is one you'll have to try!
BBQ Steak Tips Over Mashed Potatoes
Ingredients
2 pounds Beef Sirloin Tip Steak, cut into 1 inch pieces
1/2 cup Worcestershire Sauce
1 cup Italian Style Dressing
2 teaspoons Garlic Pepper Seasoning
1 cup Barbecue Sauce (your favorite kind)
3 teaspoons water
3 teaspoons corn starch
Instructions
In a crock pot on low, place steak pieces on the bottom.
Add Worcestershire Sauce, Italian Dressing, Garlic Pepper Seasoning & Barbecue Sauce. Stir to mix.
Cook on low for 4 hours.
After 3 1/2 hours, in a small bowl, mix together the water & corn starch. Add to steak mixture.
Cook for 30 minutes.
Serve over mashed potatoes
https://numstheword.com/bbq-sirloin-tips-mashed-potatoes/
Items recommended for this recipe include…
Another Recipe We Think You'll Love…