Crockpot Yellow Chicken Curry is a mouth-watering and aromatic dish that is perfect for warming up on a chilly evening. The slow cooking process results in a rich and comforting meal.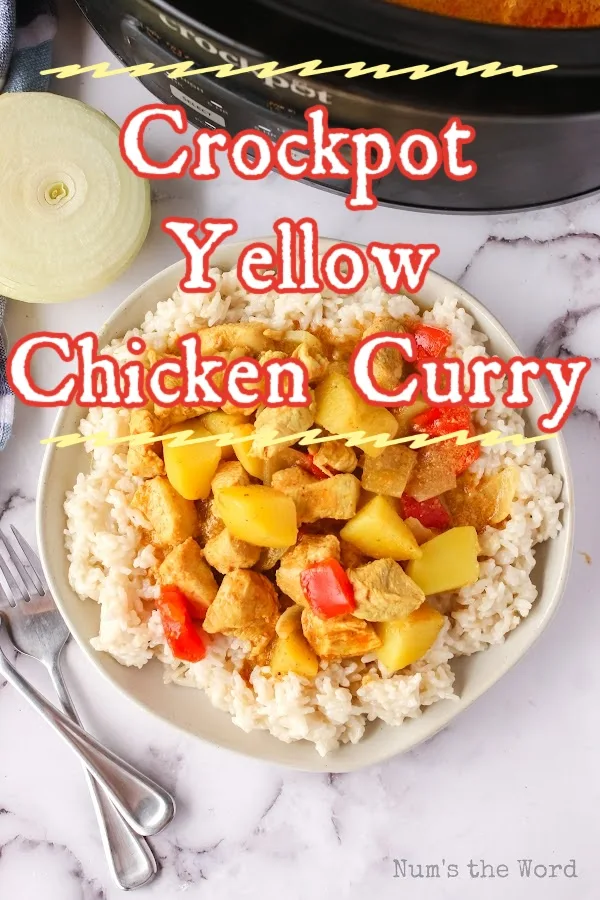 With its blend of spices and coconut milk, yellow chicken curry has a complex and flavorful taste that will delight your taste buds.
The slow cooking process helps to infuse the chicken with the flavors of the curry, making every bite bursting with flavor.
The beauty of making crock pot yellow curry is that it is so easy and convenient. The perfect set it and go meal for easy weeknight meals!
This creamy curry recipe is also a versatile dish with a savory flavor that can be adapted to suit your tastes. Add more curry for more spice or use less to pull it back!
This curry is not only delicious but also healthy and nutritious. Protein, carbs, and veggies! Yum!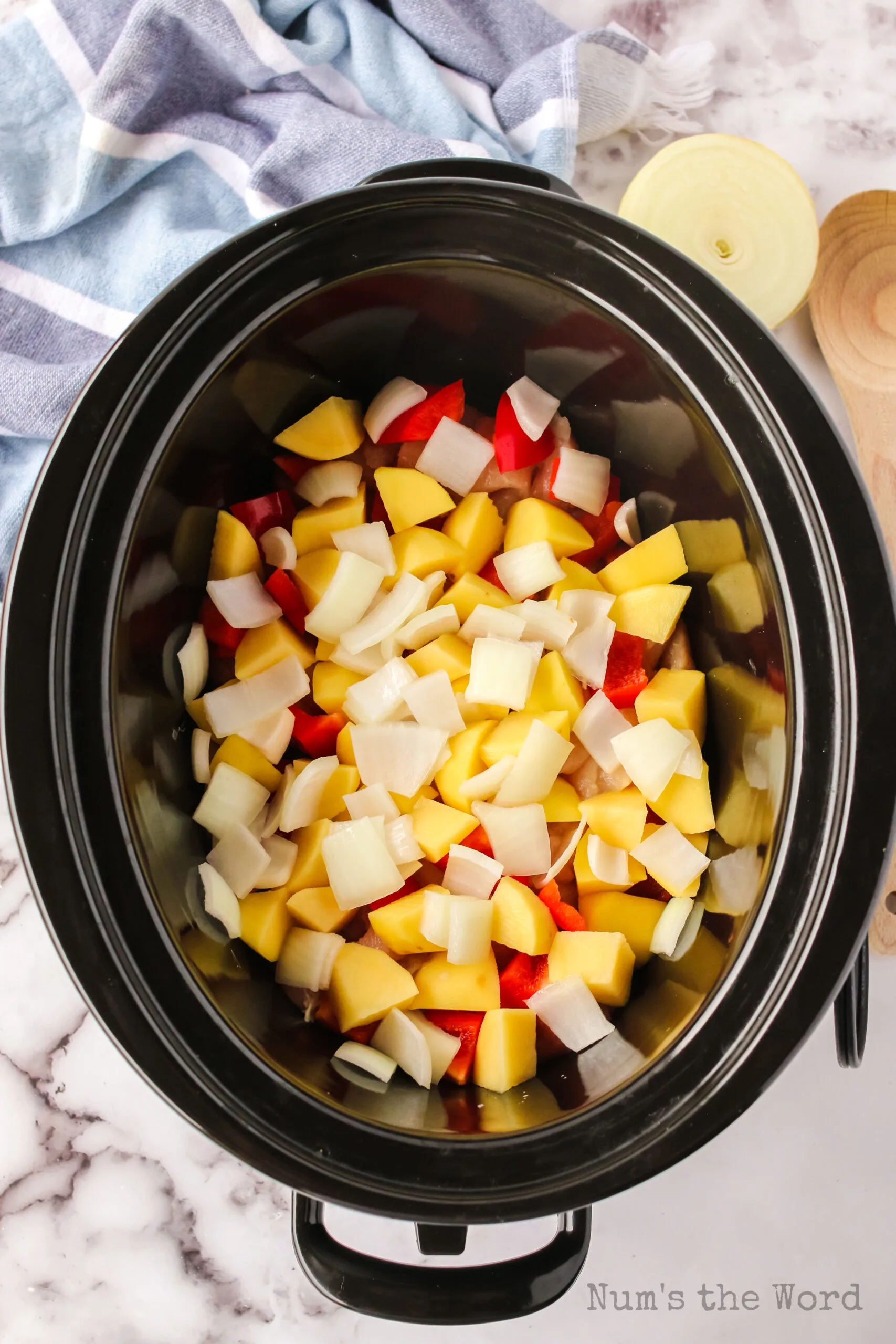 What Ingredients are in Crockpot Yellow Chicken Curry?
This chicken curry recipe is a delicious recipe and flavorful dish that is easy to make in a slow cooker.
To make this Indian recipe, you will need the following ingredients:
Chicken Breasts: Use boneless, skinless chicken diced into bite sized pieces.
Red Bell Pepper: Chop into small bite sizes.
White Potatoes: Peel the potatoes before cutting them.
Yellow Onion: I prefer the onion to be a little larger in curry, you can dice smaller if desired.
Chicken Broth: This helps create the curry sauce.
Coconut Milk: Don't forget that you need both the liquid part and the cream part.
Thai Yellow Curry Paste: A little milder than other curry powders, you'll enjoy this one!
Sea Salt: For seasoning.
Pro Tip: Boneless skinless chicken thighs would also work in a pinch.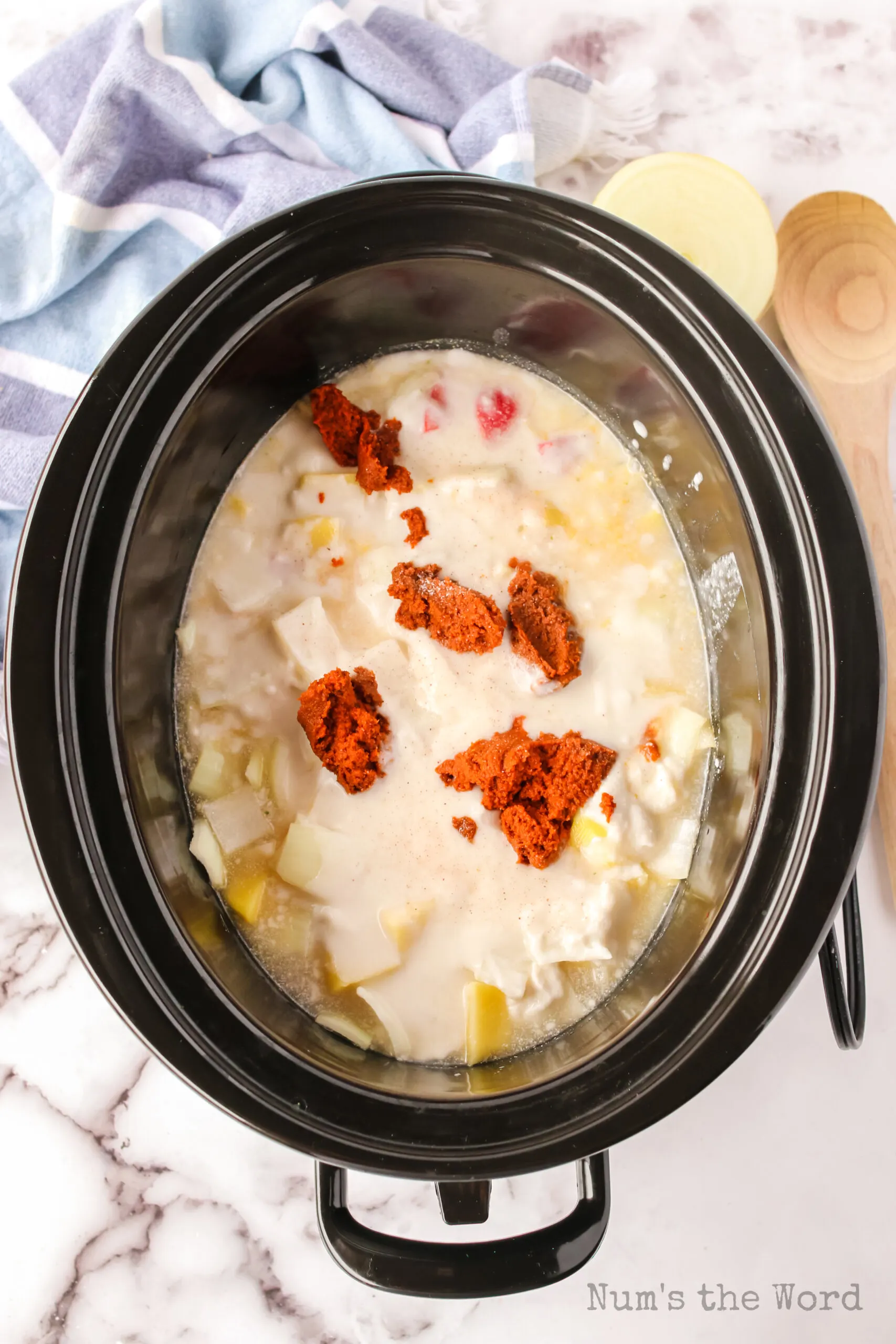 How to Make Crockpot Yellow Chicken Curry
This is one of those perfect go-to recipes about it curry chicken that can live up to any Thai chicken curry that you would find in a Thai restaurant.
Once you've got the simple ingredients cut up and to size, mix them in the crockpot and let it cook!
You've got a quick and delicious meal that you'll love on busy weeks!
Pro Tip:
Mix the chicken curry about once every hour to keep everything from burning and meld the flavors.
If you cook on low, your cooking times will be longer.
Is Yellow Curry Spicy?
Thai yellow curry paste is typically milder than other curry pastes, such as red curry sauce or green curry paste.
However, it still contains some spices, including turmeric, cumin, and coriander, which can add some heat to the dish along with a lot of flavor!
The level of spiciness can vary depending on the brand of curry paste and your personal taste preferences.
If you are sensitive to spicy foods, you can start with a small amount of curry paste and adjust the curry flavors to taste.
For additional spiciness, try adding in cayenne pepper. It's a very simple way to get a lot of heat!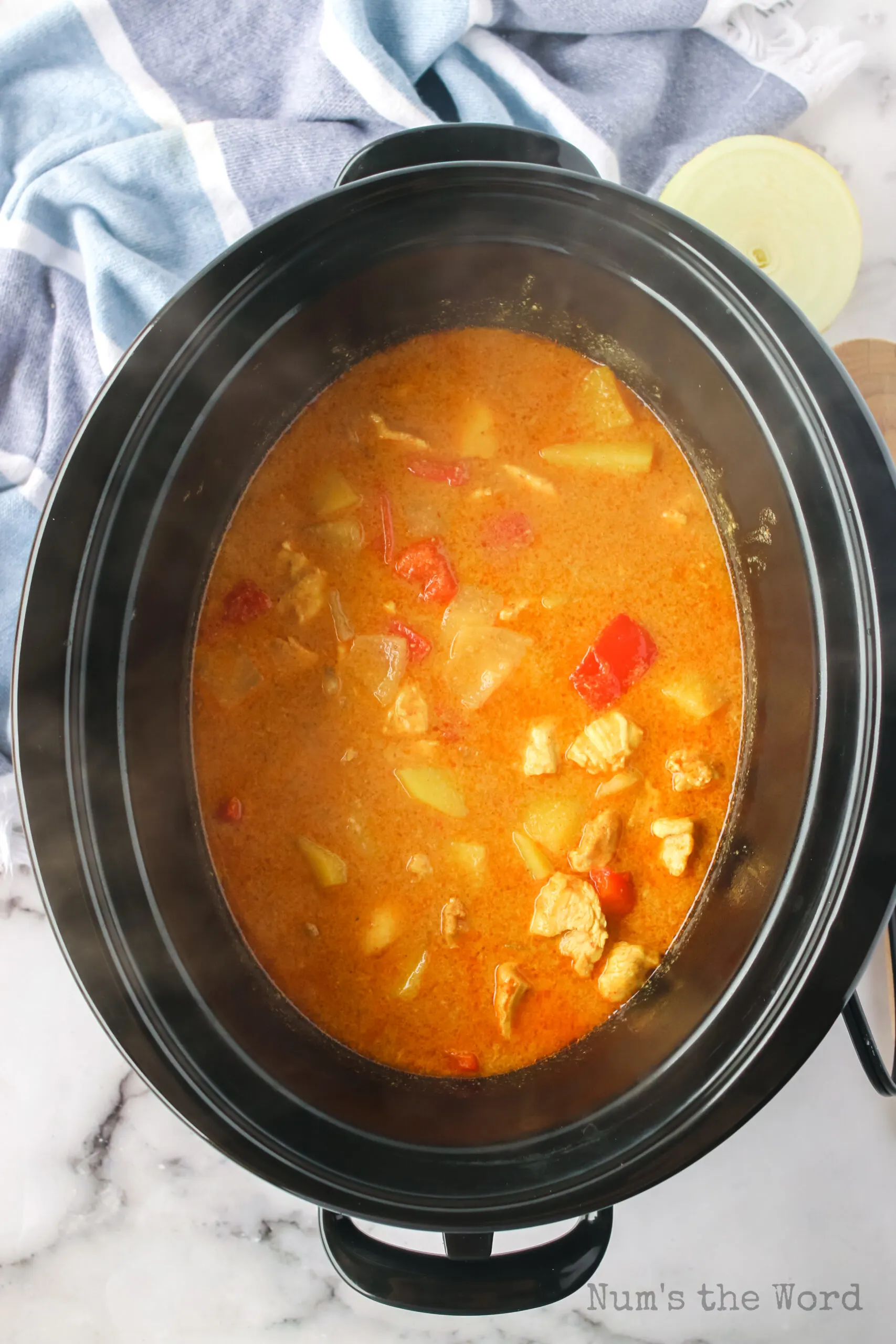 What is in Yellow Curry?
Yellow curry is a type of Thai curry that gets its yellow color from the use of turmeric.
The ingredients in yellow curry can vary, but typically include a mix of spices, such as cumin, coriander, and turmeric, as well as lemongrass, ginger, garlic, and chili peppers.
Coconut milk is also commonly used in yellow curry to add creaminess and balance the spiciness.
Is Yellow Curry Healthy?
Yellow curry can be a healthy and nutritious dish, especially when made with lean protein and lots of vegetables.
Chicken is a good source of protein, while the vegetables in this recipe, such as red bell pepper, potatoes, and onion, provide a variety of vitamins and minerals.
This is a delicious healthy slow cooker meal that the whole family can enjoy!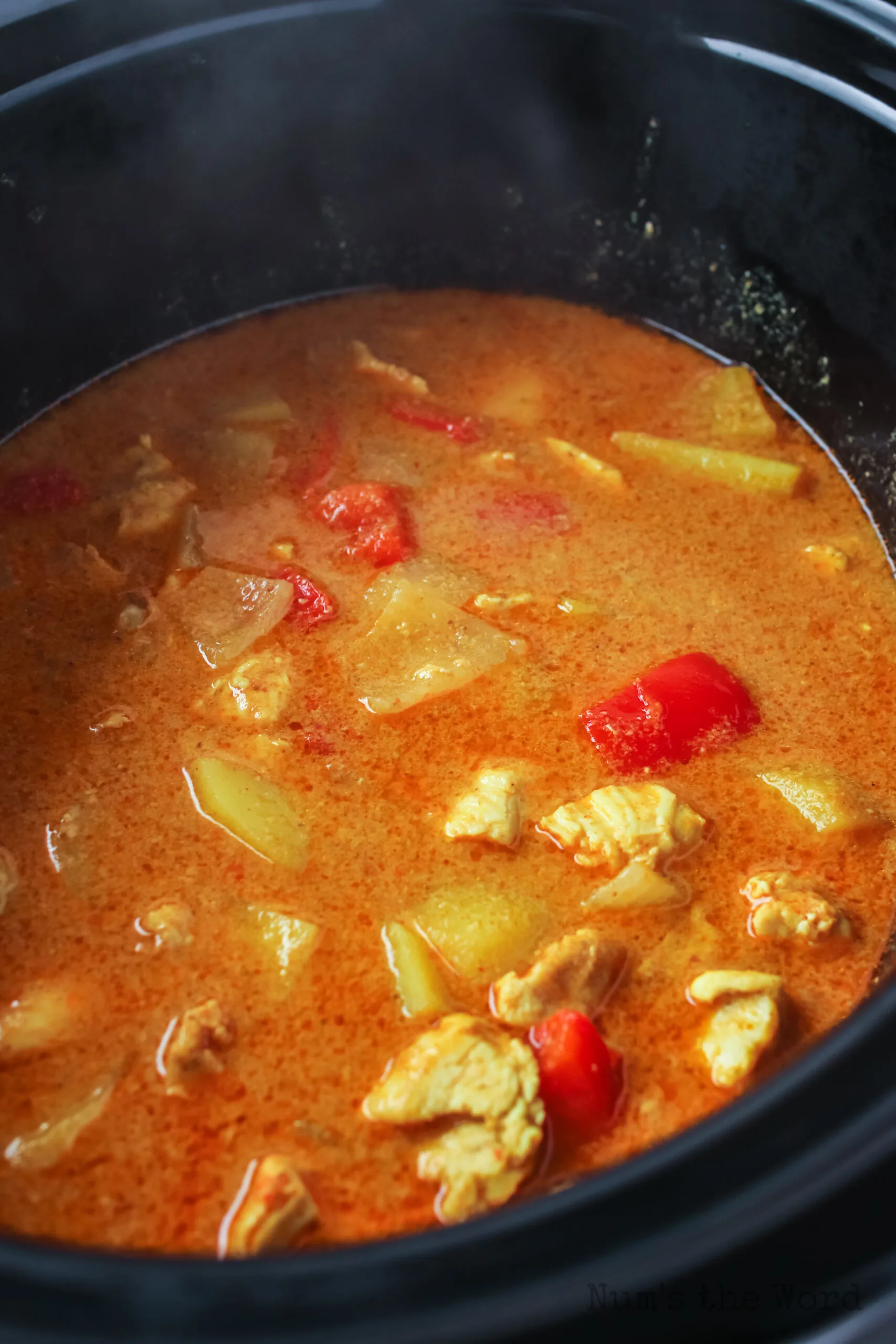 Is Yellow Curry Gluten Free?
The ingredients in crockpot chicken curry, such as chicken, vegetables, and warming spices, are naturally gluten-free.
However, some brands of curry paste may contain gluten, so it is important to read the labels carefully.
If you have celiac disease or a gluten intolerance, you can look for a gluten-free curry paste, or make your own by grinding together spices, lemongrass, and other ingredients.
Always be sure to read labels for your specific dietary restrictions.
What Goes with Yellow Curry?
I always serve slow cooker chicken curry with coconut rice! It's easy, yummy, and pairs well with the coconut milk in the curry.
For coconut rice, you'll need:
Jasmine Rice
Coconut Milk
Water
Sugar
Salt
You can find the complete recipe instructions below!
However, yellow curry is a versatile dish that can be served with a variety of sides. Here are some ideas for what to serve with yellow curry:
Coconut Jasmine Rice: The creaminess of the coconut rice pairs well with the spiciness of the yellow curry. You can make the coconut rice using the recipe provided below.
Garlic Naan: Soft and chewy naan bread is perfect for soaking up the flavorful sauce in the yellow curry.
Jasmine Rice with Butter: If you prefer a simpler rice option, buttered rice is a good choice. Its light and fluffy texture helps balance the richness of the curry.
Roasted Vegetables in the Oven: A side of roasted vegetables can add some crunch and freshness to the meal.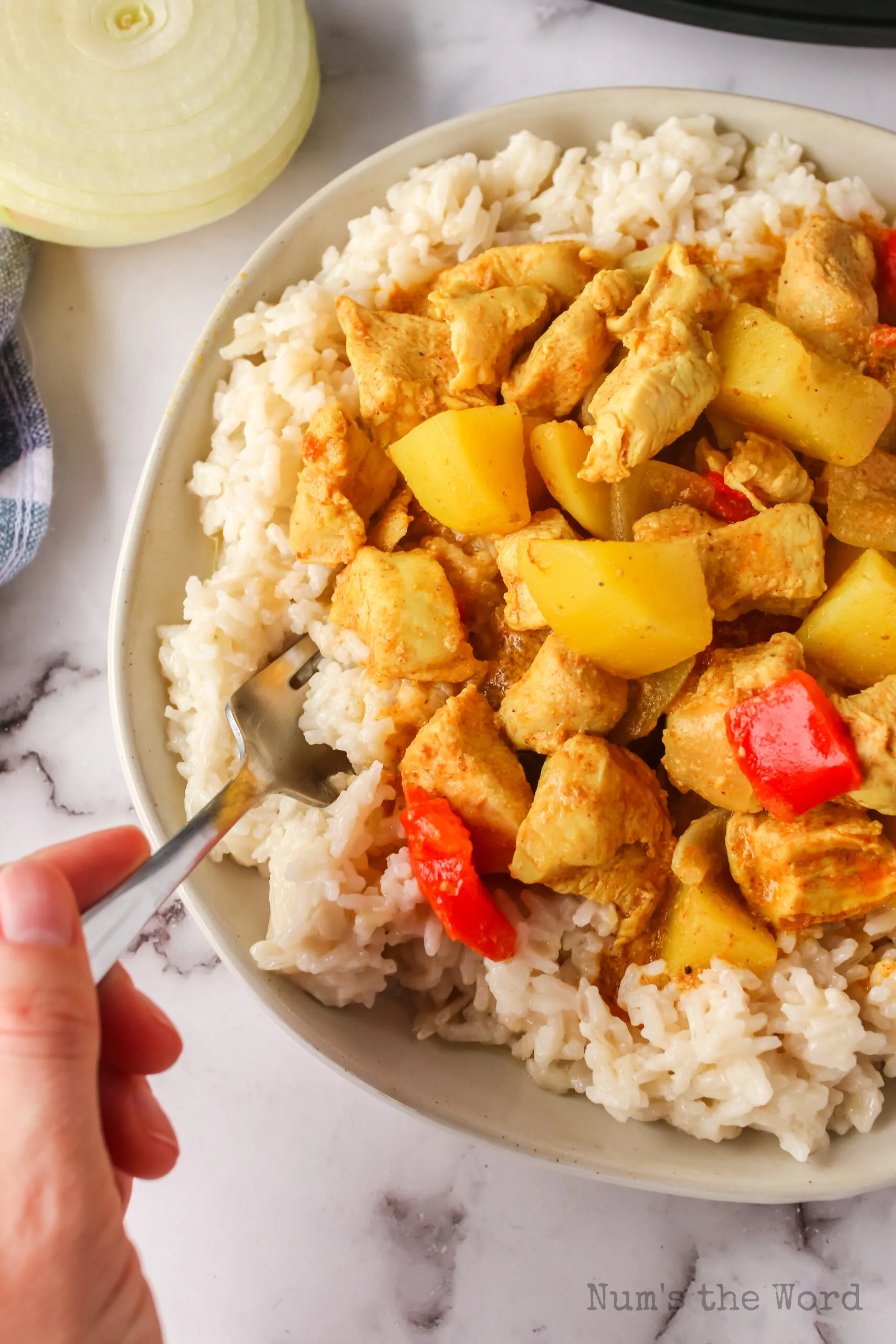 Can Dogs Have Yellow Curry?
While a small amount of yellow curry may not be harmful to dogs, it is generally not recommended to feed your dog spicy or heavily seasoned foods.
Some of the spices used in yellow curry, such as garlic and onions, can be toxic to dogs in large amounts.
Additionally, the high fat content in coconut milk may not be well tolerated by some dogs.
It is best to stick to a diet that is specifically formulated for dogs, and avoid feeding them human food, including yellow curry.
How to Store Yellow Curry
Slow cooker recipes often make great leftovers or an easy meal prep and this perfect weeknight dinner is no exception!
Any leftover Thai yellow curry chicken crock pot should be stored in an airtight container.
Allow the curry to cool to room temperature before transferring.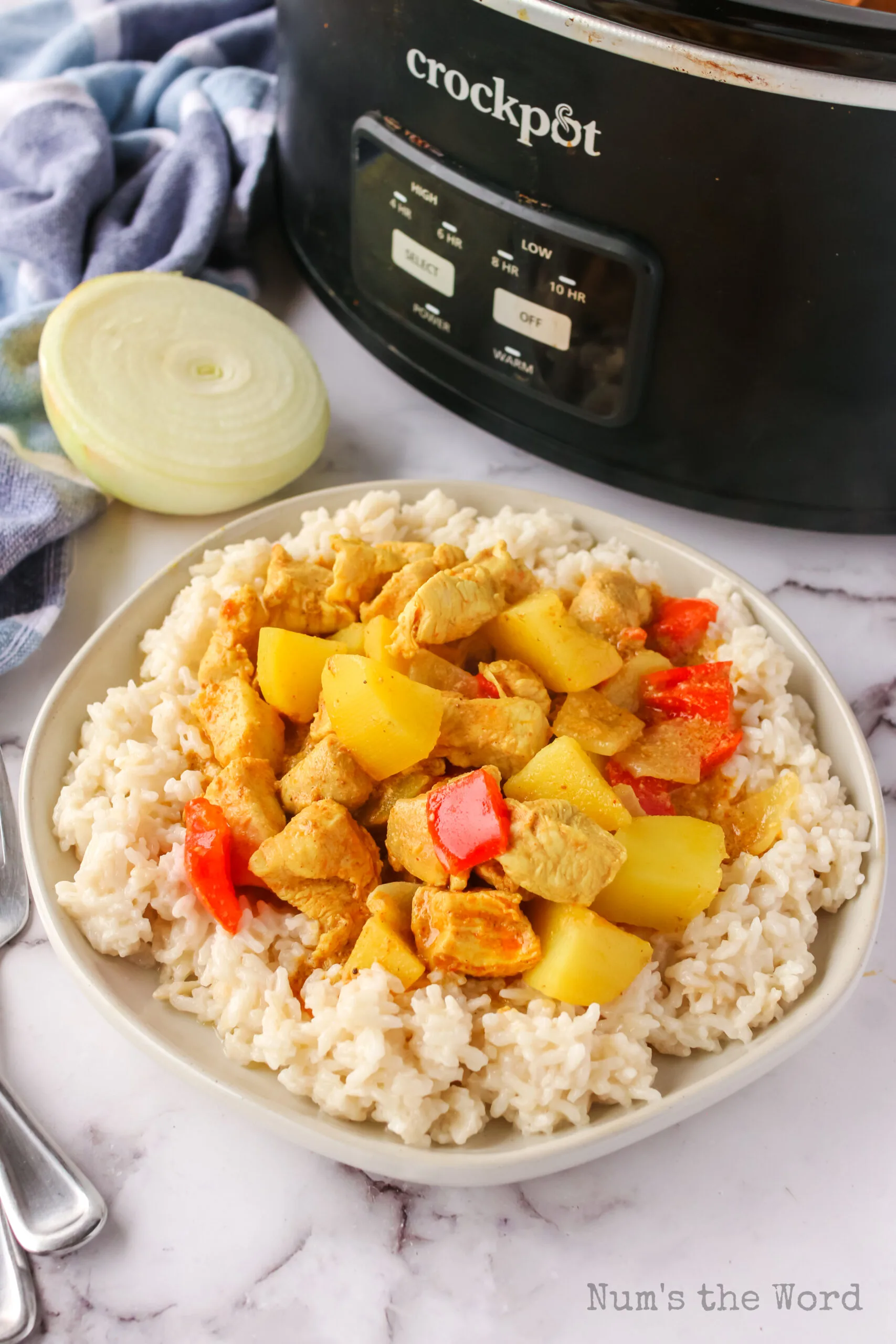 Crockpot Yellow Chicken Curry is a dish that is sure to please your taste buds and provide you with a healthy and satisfying meal.
With its bold flavor, tender chicken, and convenient cooking method, it's a recipe that is sure to become a family favorite.
Yield: 8 Servings
Crockpot Yellow Chicken Curry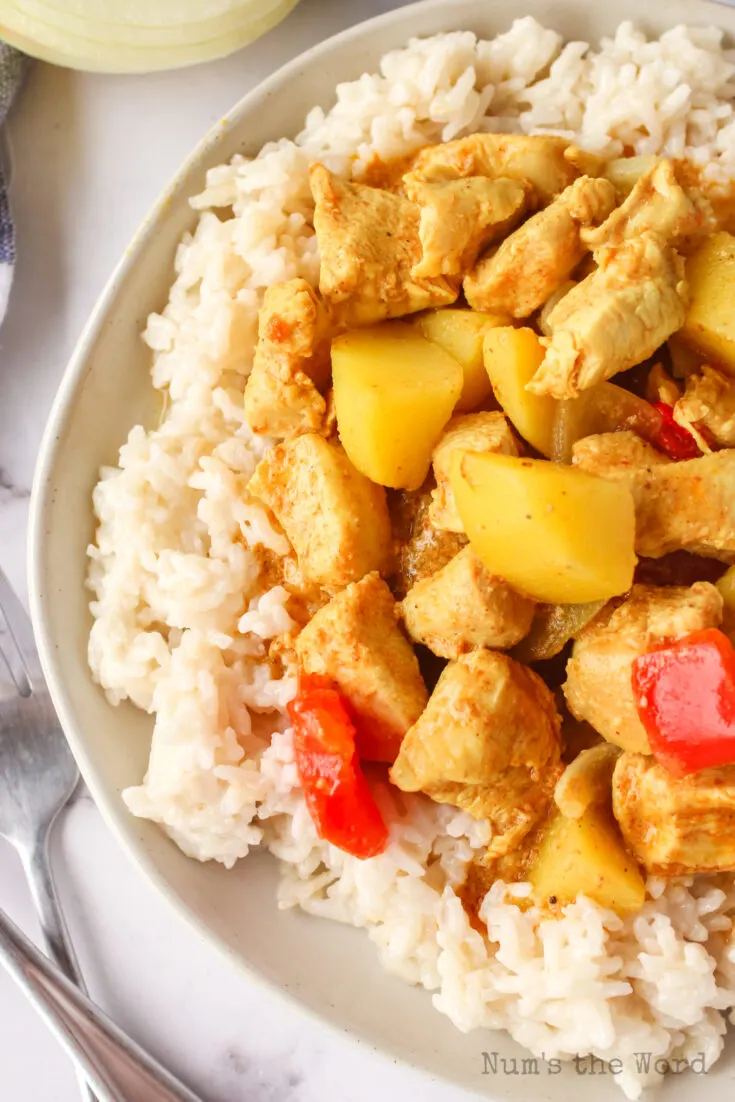 Crockpot Yellow Chicken Curry is a mouth-watering and aromatic dish that is perfect for warming up on a chilly evening.
Total Time
3 hours
20 minutes
Instructions
Toss chicken, red pepper, potatoes and onion into a crock pot
Add chicken broth, coconut milk and yellow curry.
Cook on high for 3 hours, mixing well every hour or so.
Once cooked through, make rice.
In a pot combine rice, coconut milk, water, sugar and salt.
Bring to a boil.
Reduce heat to low and simmer for 15 minutes.
Remove lid, stir well and let sit an additional 3 minutes.
Serve coconut curry over rice
Nutrition Information:
Yield:
8
Serving Size:
1
Amount Per Serving:
Calories:

606
Total Fat:

46g
Saturated Fat:

40g
Trans Fat:

0g
Unsaturated Fat:

3g
Cholesterol:

3mg
Sodium:

881mg
Carbohydrates:

48g
Fiber:

4g
Sugar:

8g
Protein:

10g
Originally Posted: June 1, 2015
Photos and Text Updated: July 20, 2023