This Coconut Jasmine Rice is so delicious and easy to make. It is the perfect side dish for all your Asian dishes, tropical dishes, or Indian dishes!
It's not just regular fluffy rice. It's coconut milk rice!
Super easy to make, this is a sweet rice that tastes like it came from the islands.
I love that making this coconut milk rice is quick. You can make it in the same amount of time as plain rice.
Coconut jasmine rice is also very flavorful. The coconut and sugar give this rice a sweet and rich flavor.
And since Thai coconut rice is made with only 4 ingredients, you'll be sure it won't break the bank.
Jasmine rice with coconut milk is going to become an absolute family favorite for you! I guarantee it!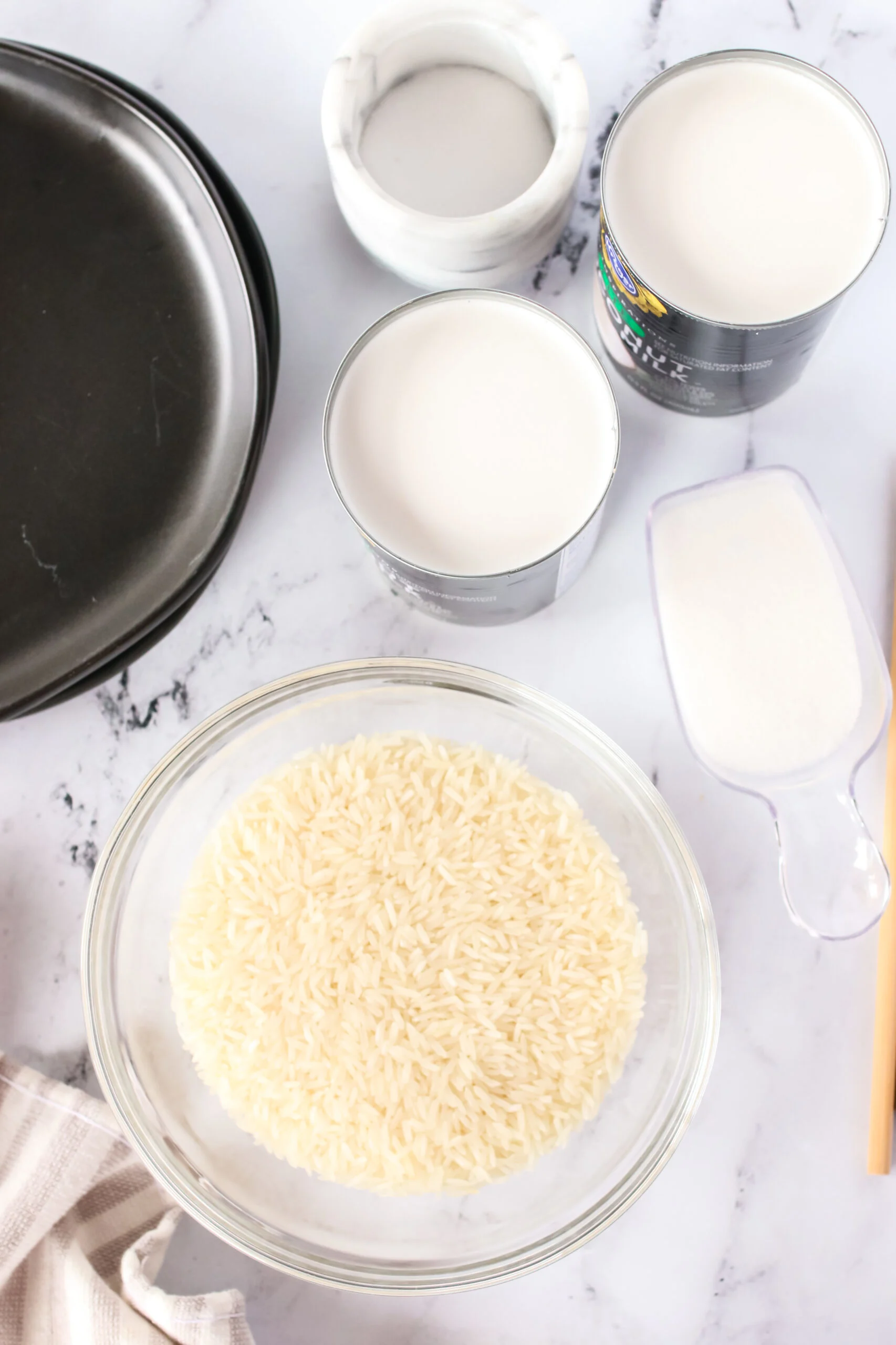 What is Coconut Jasmine Rice
If you've ever eaten in a South Asian, Caribbean, or Hawaiian restaurant, you've probably come into contact with jasmine rice with coconut milk.
It's a white rice recipe that is made by cooking or soaking the rice in coconut milk.
It occasionally also uses coconut water, coconut flakes, or even coconut milk.
It can have a subtle coconut flavor or a strong coconut flavor.
Easy coconut tropical rice is popular around the globe.
Anywhere that coconuts grow, you can be sure they know how to make delicious coconut rice.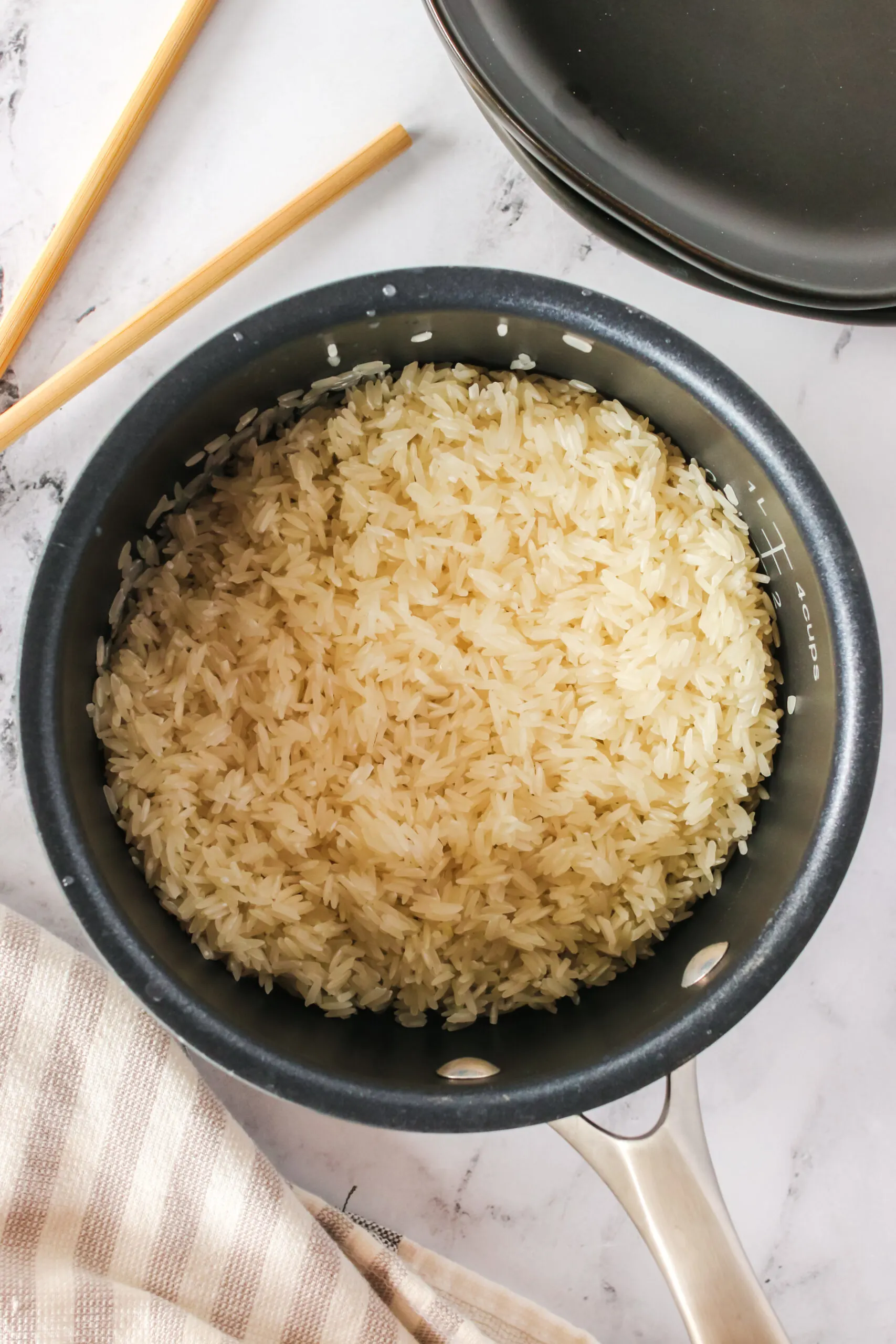 What Ingredients are in Coconut Jasmine Rice
Here are the simple ingredients you'll need to make yummy sweet rice.
Rice: Long Grain Jasmine rice pairs well with coconut and has a nice flavor and consistency.
Coconut Milk: Full-fat coconut milk will give you heavier rice. Light coconut milk will give you fluffy rice. You choose.
Water: This helps make sure the rice isn't too thick!
Sugar: This helps to sweeten the rice.
Salt: Your rice will fall flat without the salt so don't leave it out.
Pro Tips:
Use a can of coconut milk. Not the drinking kind of coconut milk.
This will give a natural coconut flavor. For a more intense flavor, pair with coconut flakes or mix in coconut oil.
Use unsweetened coconut milk since you'll add sugar to this easy coconut rice recipe.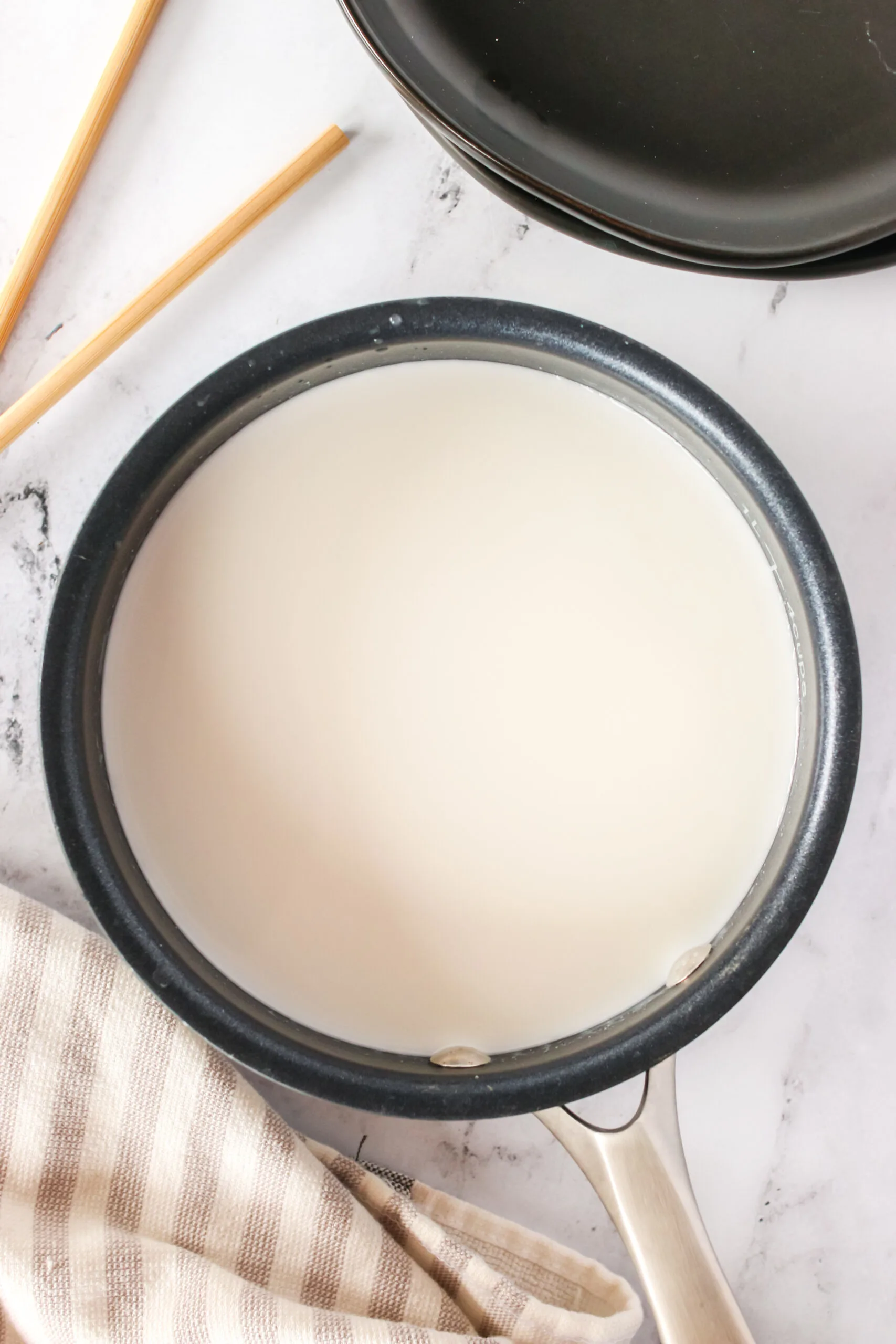 How to Make Coconut Jasmine Rice
Rinse! This step cannot be over repeated. You need to rinse to remove any excess starches.
Cook: You'll combine rice with everything in a large pot on the stove top until it's a rolling boil. Then reduce and simmer until fully cooked.
Pro Tips:
When the rice water starts to run clear, you know you've rinsed it enough.
Stir to prevent the rice from sticking to the bottom of the pot.
No need to wait for room temperature! Coconut Rice is best served warm or hot.
How to Store Coconut Jasmine Rice?
When it comes to storing leftover coconut rice, it's easy. Simply place your rice in an airtight container and pop it into the fridge.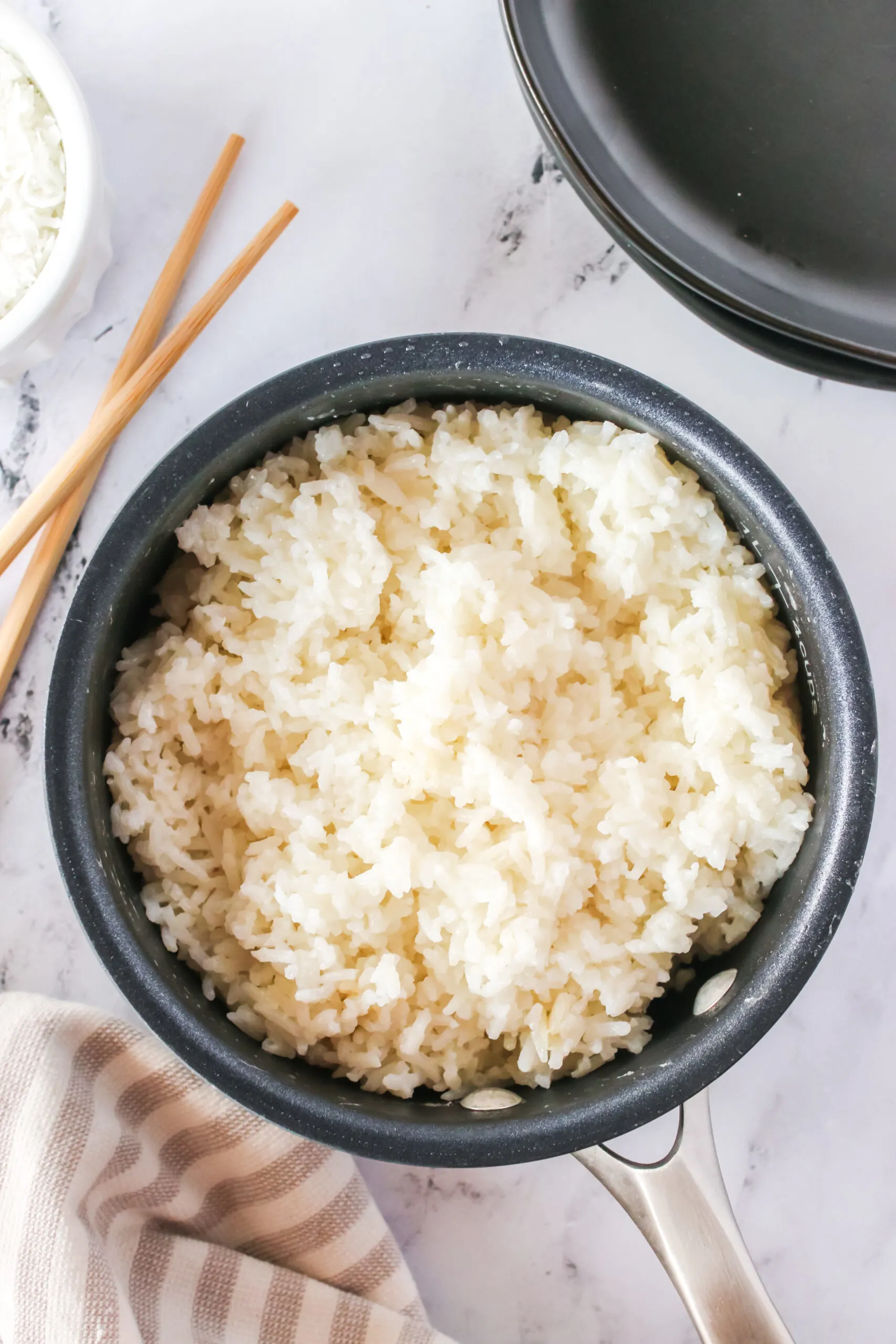 What to Eat with Coconut Jasmine Rice
Savory coconut Rice can be served as a side dish, or you can add in mix-ins to make it the main dish.
Here are some mix-in ideas.
Sliced Almonds
Toasted Coconut
Grilled Pineapple or Fresh Pineapple
Cut Mangos (This one will make the rice more of a dessert rice.)
Avocado
Bell Peppers
Chopped Cilantro
Lime Juice
Broccoli
Diced Chicken
Green Onions
And if you want to serve the coconut rice as a side dish, here are some ideas for that too.
Coconut rice can be served with stir fries too so serve however you like!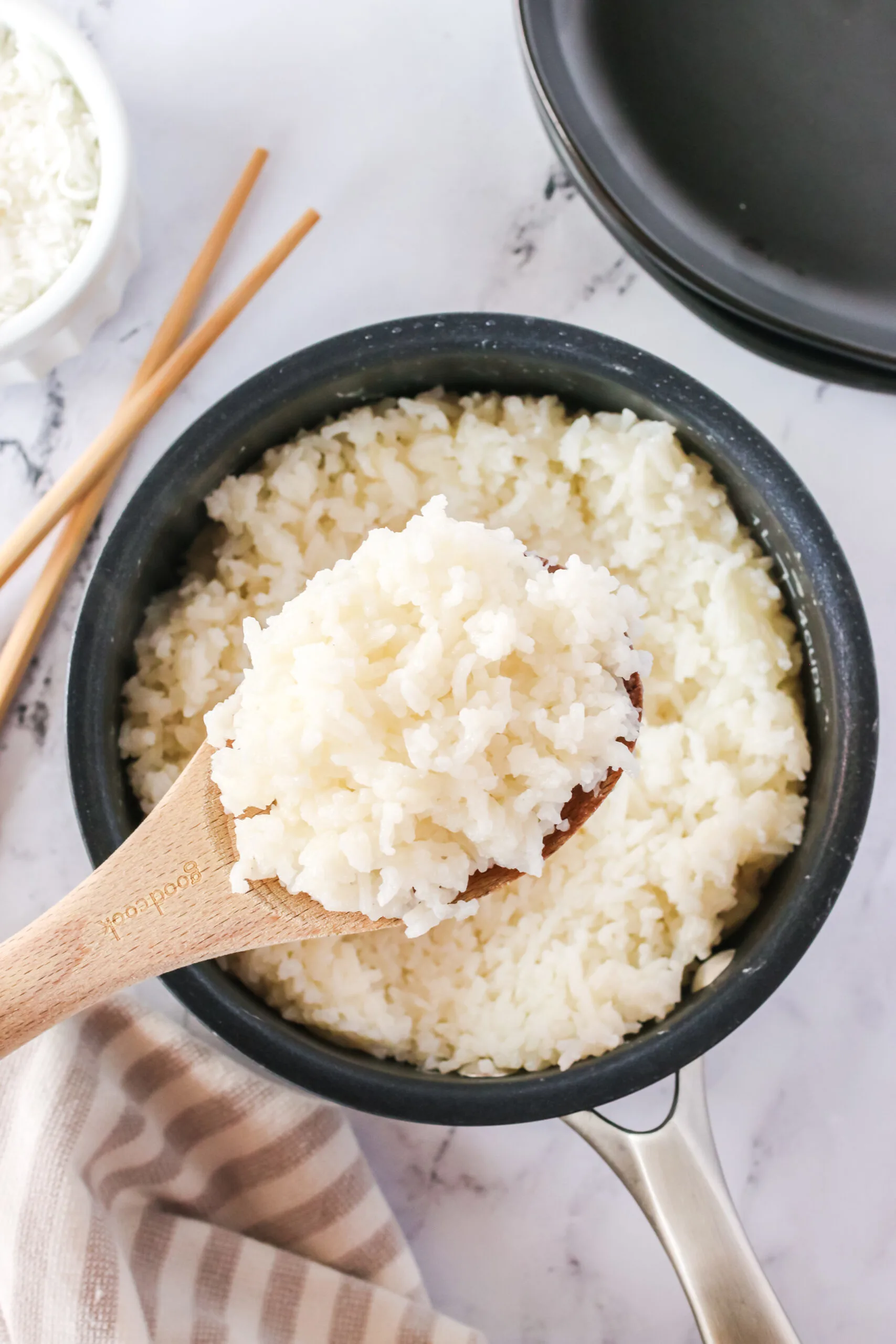 Is Coconut Jasmine Rice Healthy?
Oh my goodness! Coconut milk is packed with all sorts of nutrients your body needs.
First of all, fat is needed for our bodies to work right and the fat in coconut milk is more easily processed than other fats.
It also contains copper and manganese. Nutrients we really need.
So instead of making boring white regular rice, mix in some coconut milk.
Feel good knowing it's a little better for you than before.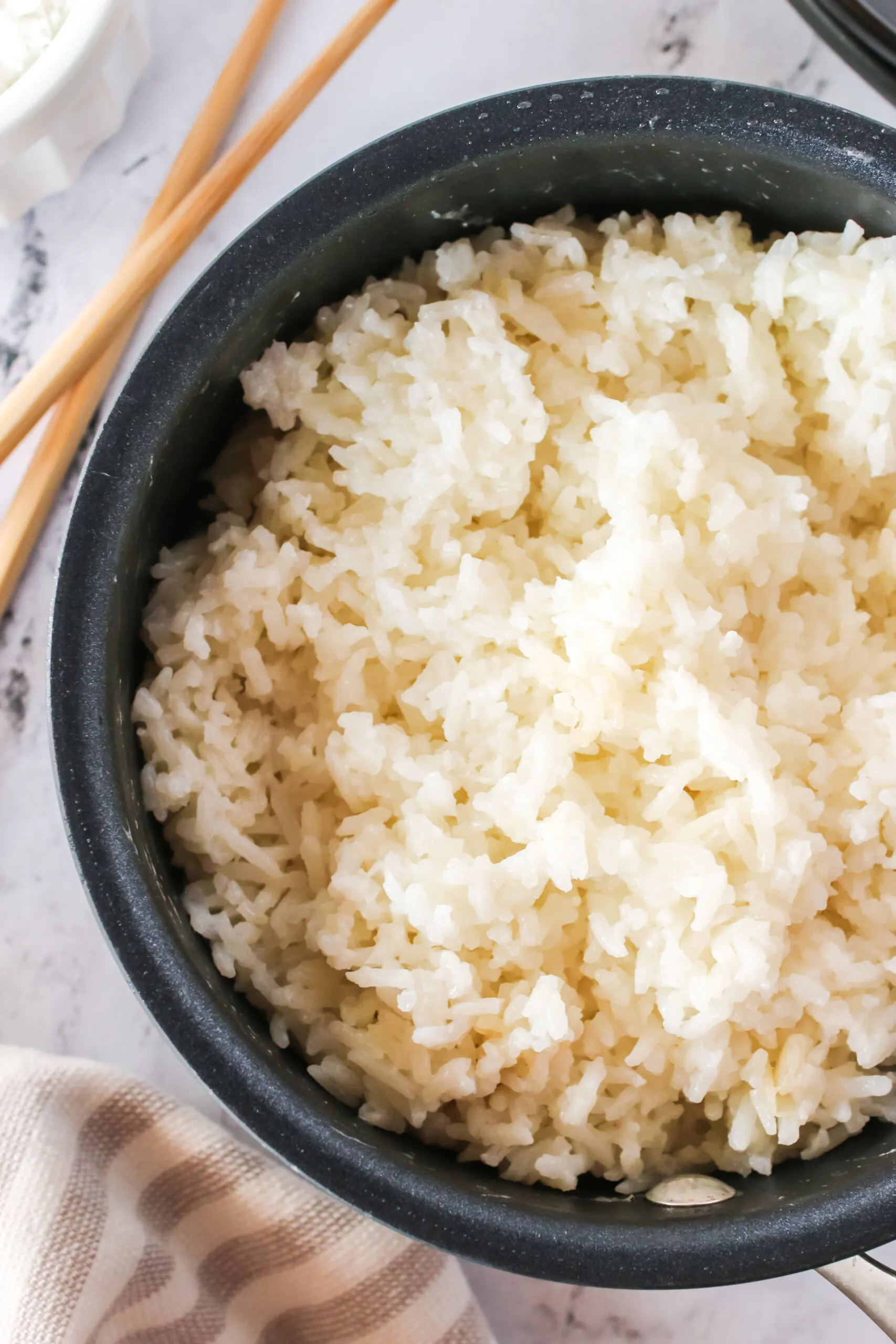 Can You Cook Rice in Coconut Jasmine Milk?
Absolutely!
I have tested making rice in coconut water, water mixed with coconut milk, and plain coconut milk.
I find that there are no drawbacks to cooking rice in coconut milk.
And actually it makes the rice super flavorful and delicious.
So go right ahead and make that rice in coconut milk.
Is Coconut Jasmine Rice Gluten Free?
Yes! Coconut rice is naturally gluten free.
Rice itself is gluten free as is coconut milk.
The white sugar and pinch of salt are also gluten free.
This can be a good side dish to make for those with celiac as other rice often contains soy sauce, which is not gluten free.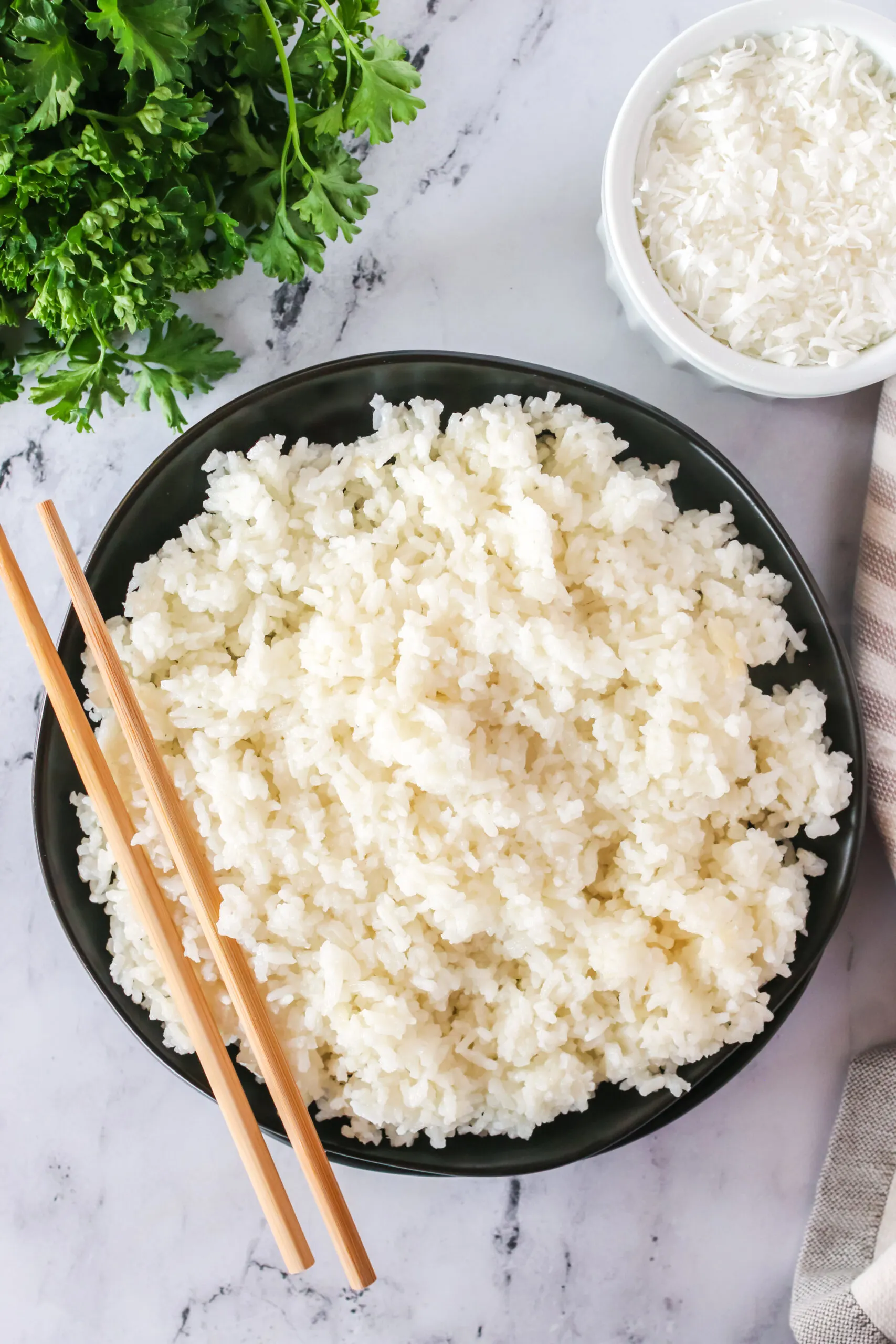 Can Dogs Eat Coconut Jasmine Rice?
Plain white rice can help to settle the stomach of dogs if they are experiencing stomach upset.
Coconut milk can also be nutritious for dogs, though it can cause stomach upset in certain dogs.
And they should be eating sugar in moderation as it's hard for their bodies to process.
So if you choose to feed your dog coconut rice, be sure it's a small amount.
And then watch to make sure it doesn't cause any problems.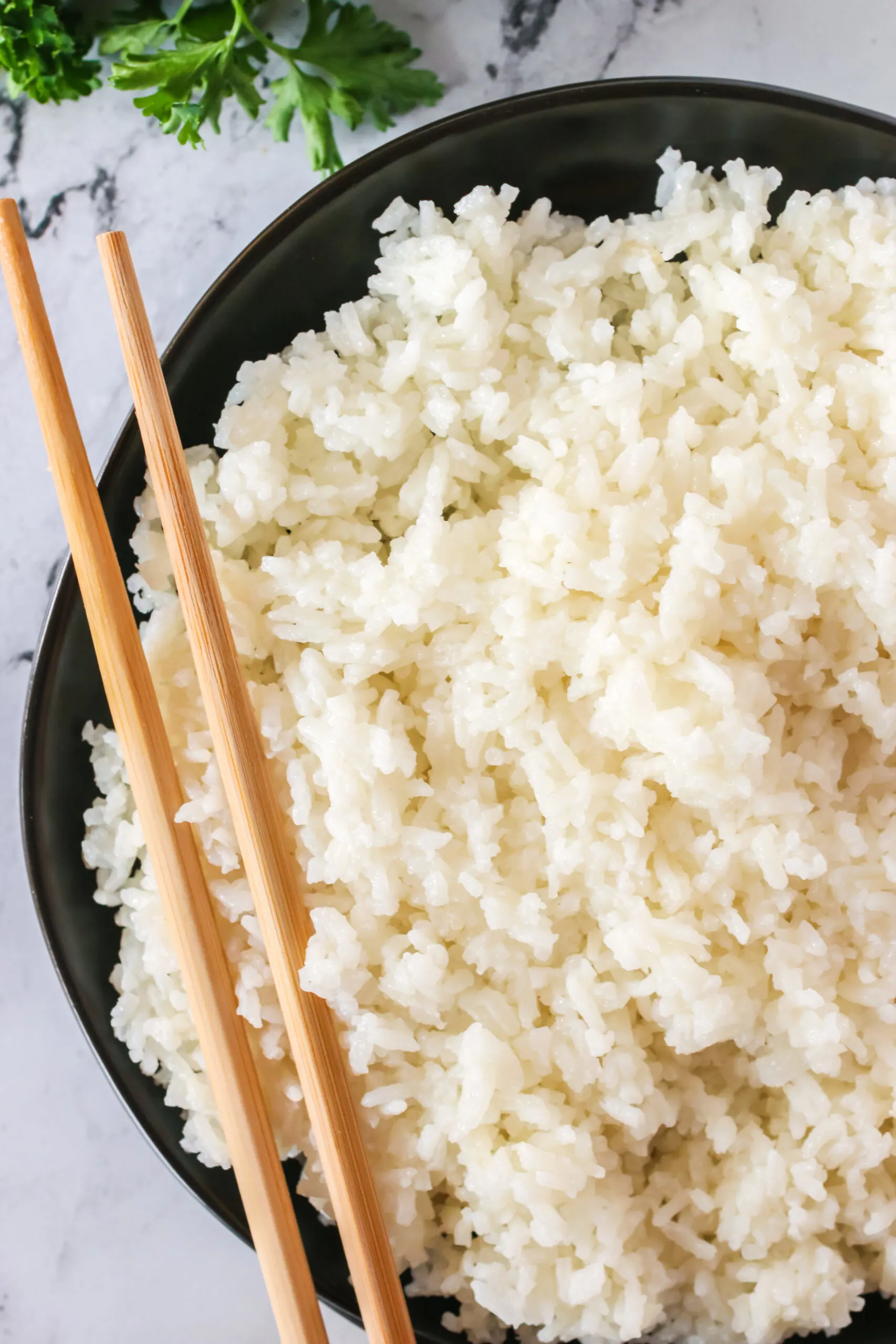 Is Coconut Jasmine Rice Keto?
Coconut milk is low in carbs and high in fat, making it a good option for the keto diet.
But white rice is high in carbs, and therefore not keto friendly.
I'm no expert on the keto diet, but I'd not recommend eating white coconut rice on the keto diet.
You could try experimenting with a different type of rice.
Brown rice has about the same amount of carbs so might also not be a good fit.
Cooked wild rice has less carbs but would require a different cooking time.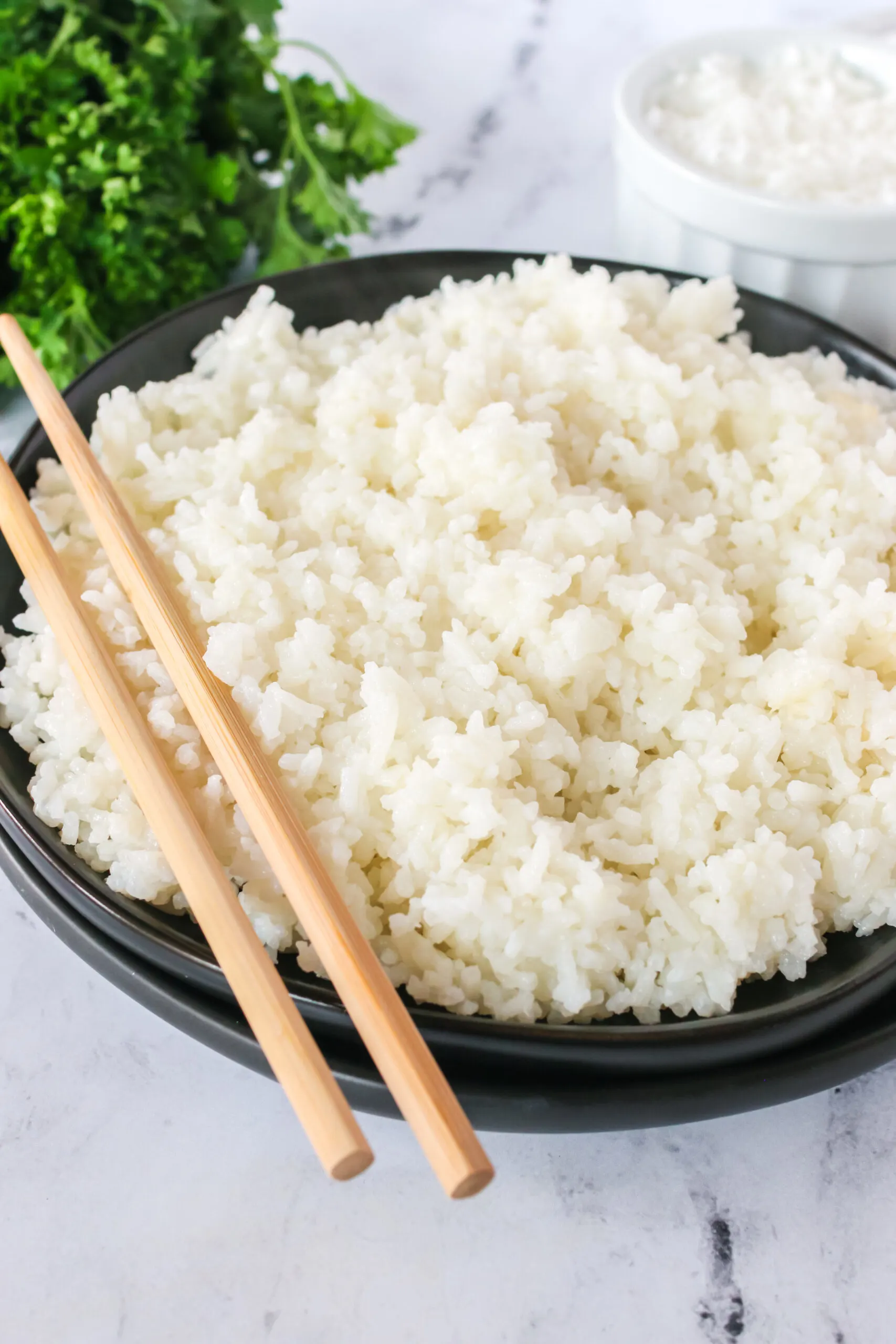 More Rice Recipes You'll Love…
Coconut Jasmine Rice is a delicious and easy side dish. A great food to eat any night of the week, it's fast and perfect for your family! Enjoy!
Yield: 6 Servings
Coconut Rice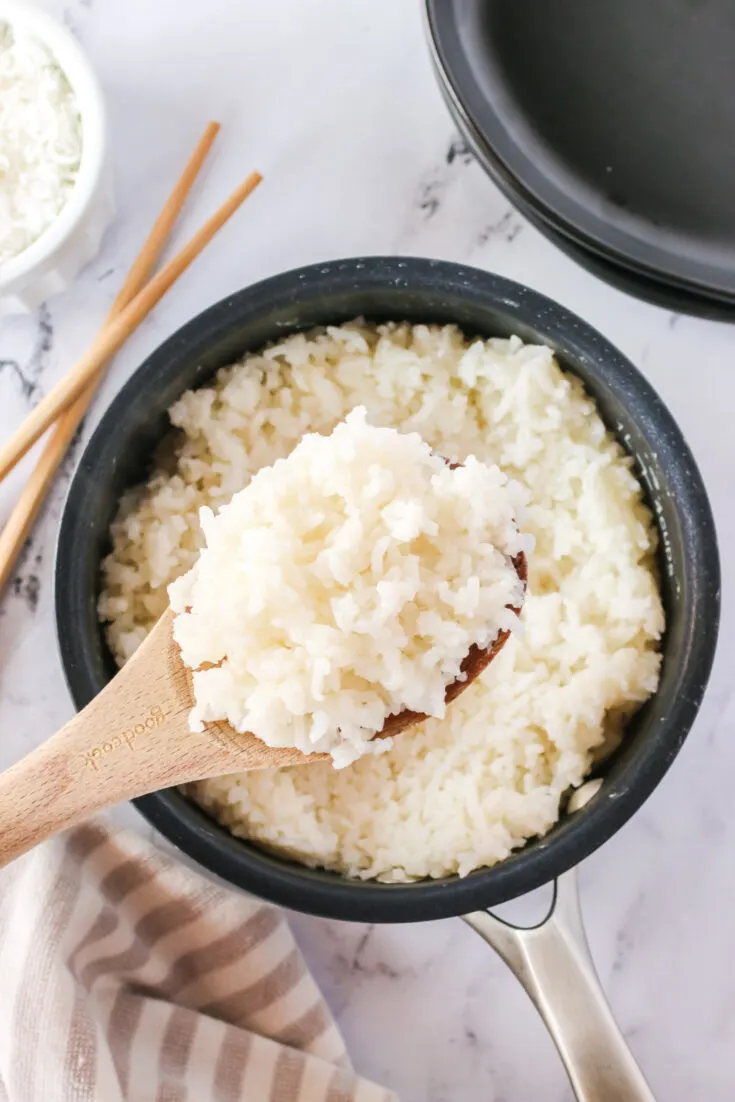 This Coconut Jasmine Rice is so delicious and easy to make. It is the perfect side dish for all your Asian dishes, tropical dishes, or Indian dishes!
Ingredients
Instructions
Rinse rice 3 times to remove extra starch, then place in a pot.
Add coconut milk, water, sugar and salt.
Mix well and bring to a boil, stirring regularly so rice doesn't stick to bottom of pan.
Once mixture comes to a boil, place lid on pot and reduce heat to a simmer.
Cook for 20 minutes.
After 20 minutes, remove the lid and fluff the rice.
Serve immediately.
Nutrition Information:
Yield:
6
Serving Size:
1
Amount Per Serving:
Calories:

122
Total Fat:

8g
Saturated Fat:

7g
Trans Fat:

0g
Unsaturated Fat:

0g
Cholesterol:

0mg
Sodium:

50mg
Carbohydrates:

12g
Fiber:

0g
Sugar:

1g
Protein:

2g