Flavorful and tender, this Chicken Satay with Peanut Sauce is better than any I've had at a restaurant (and I'm a fan, so I've tried quite a few). The meat is perfectly seasoned without the marinade being overpowering. It's tender and delicious and the peanut sauce is the perfect finishing touch!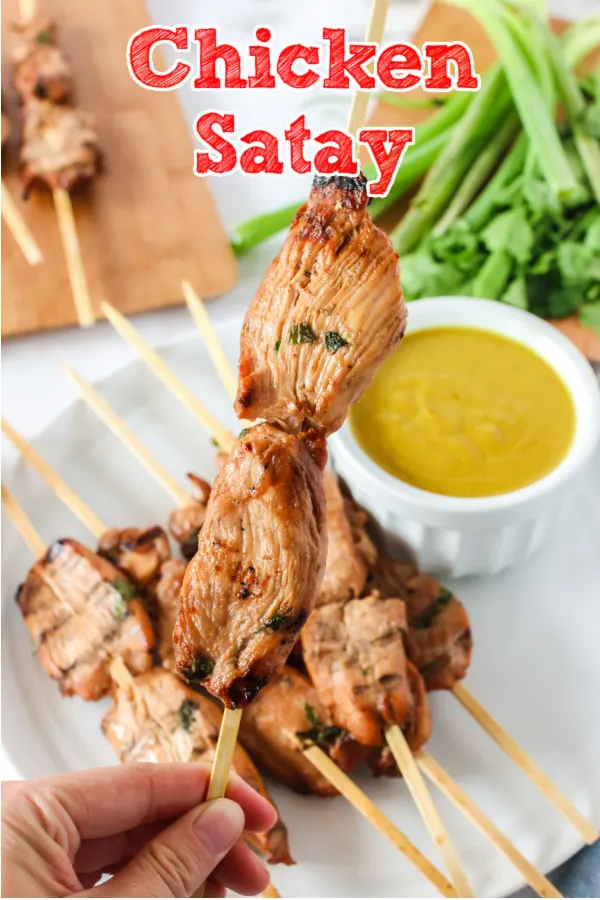 If you've never tried chicken satay, you're totally missing out. This Southeast Asian staple can be found at a lot of Asian restaurants, though I've heard the best is found among the street vendors. Someday I'll have to let you know!
Whether you have a hankering for some chicken satay or are wanting to try it for the first time, this recipe is for you. It's simple and straightforward, with all the delicious flavor you could hope for!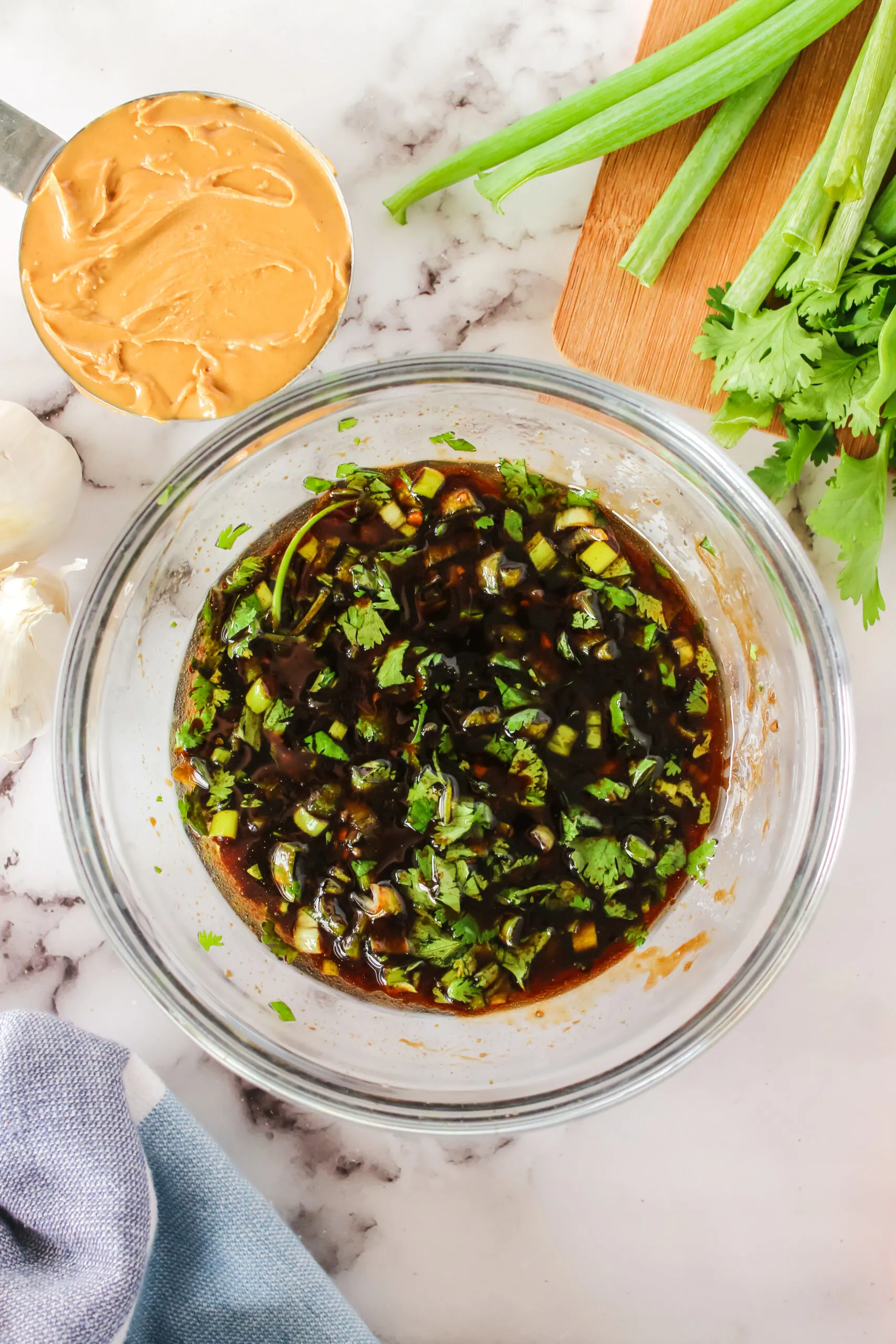 What is chicken satay?
Chicken satay is a delicious and flavorful dish that originated in Southeast Asia and is popular throughout Asian Cuisine. It's typically thinly sliced chicken marinated and then grilled on skewers and served with a dipping sauce of some kind.
Satay (or sate in Indonesian and Malay), is the national dish of Indonesia. While this recipe is made with chicken, satay can be made using other meats as well.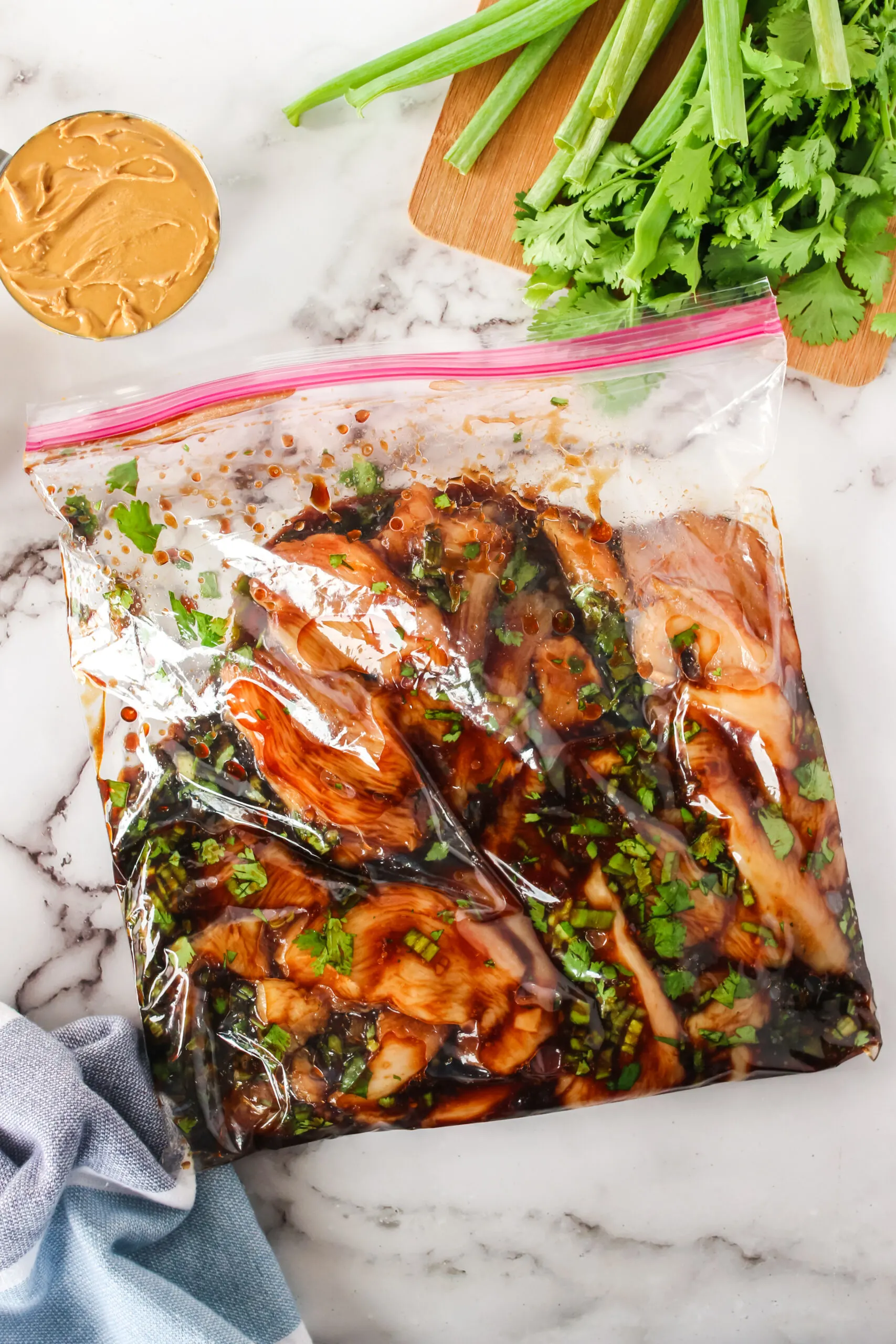 What is in chicken satay?
For this chicken satay with peanut sauce, you'll need the following ingredients and supplies:
For the marinade:
Soy sauce

– soy sauce adds great flavor and seasoning to the meat, while also being a key marinade ingredient.

Vegetable oil

– the purpose of oils in dressings and marinades is to help distribute the other ingredients evenly and adhere to the ingredients.

Brown sugar

– sugars are also great in marinades! They enhance flavors and aid in browning the outside of the meat when cooked.

Cilantro

– cilantro has a bright flavor with citrusy undertones. It's a great addition to marinades.

Ketchup

– ketchup is also a fairly common marinade ingredient. It adds flavor as well as acidity from the tomatoes and vinegar content.

Garlic

– garlic is the a wonderful seasoning ingredient that adds a lot of flavor to savory dishes.

Green onions

– green onions have a milder onion flavor, and they also add beautiful, bright green color to dishes.
For the sauce:
Coconut milk

– anything with coconut milk is bound to be delicious, right? This chicken satay sauce is no exception!

Curry powder

– curry powder pairs nicely with the coconut milk and peanut flavors of this sauce.

Creamy peanut butter

– peanut butter is the dominating flavor in this peanut sauce. The creamy texture, combined with the coconut, makes for a delicious and smooth sauce perfect for dipping!

Chicken broth

– the chicken broth thins the sauce to the right consistency without sacrificing flavor.

Brown sugar

– sugar is a flavor enhancer, though usually less recognized as salt.

Wooden Skewers

– satay is traditionally grilled and served on a skewer, so don't forget to have some on hand for this recipe!

Chicken breasts

– you'll want the boneless, skinless variety for easy slicing and prepping.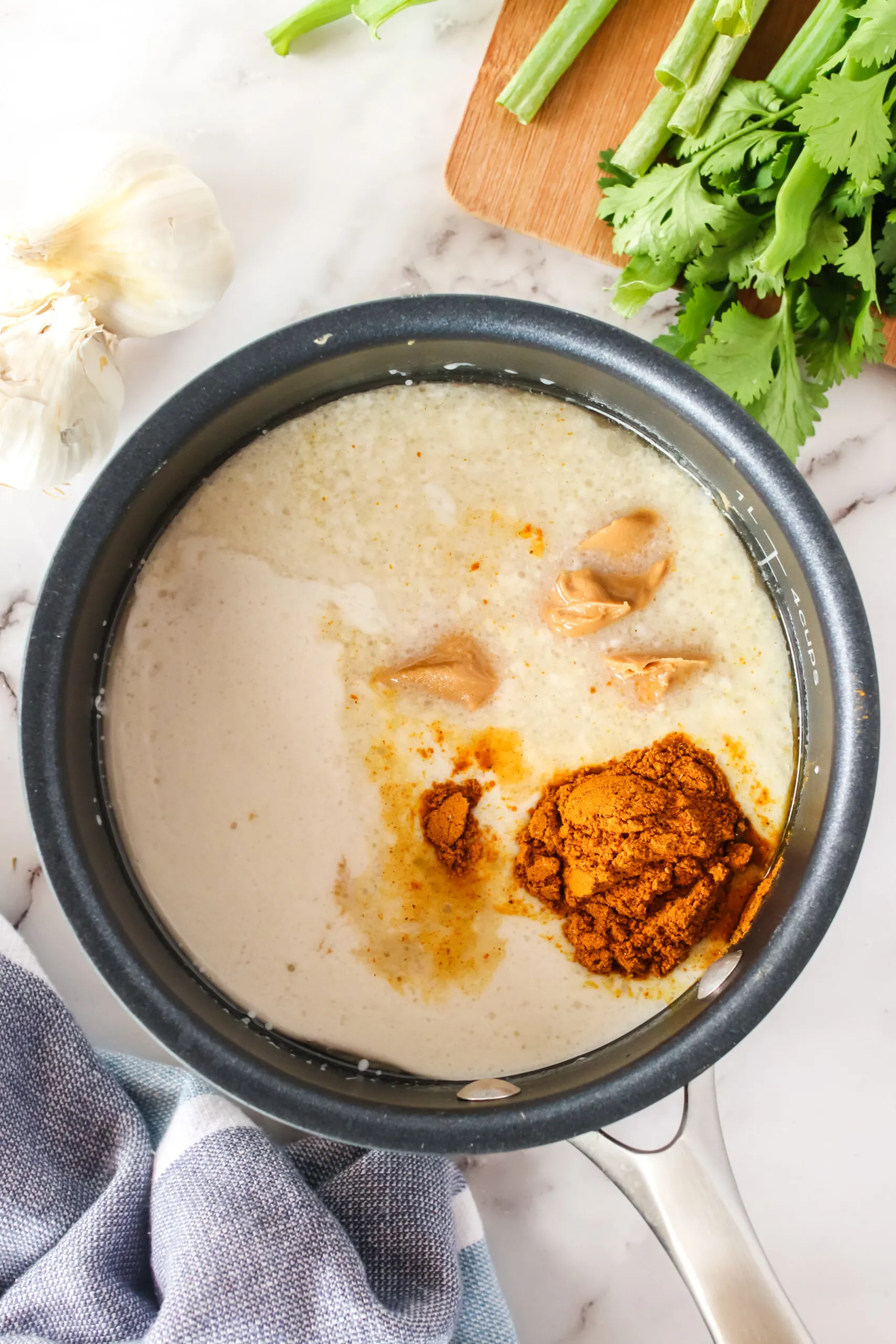 How to make chicken satay?
Once you have your ingredients, preparing and cooking this chicken satay recipe is easier than you might think! Below is a basic outline of the steps:
Slice

chicken.

Combine

chicken satay marinade ingredients.

Cover

chicken with marinade.

Soak

the chicken satay skewers in water.

Prepare

sauce.

Assemble

skewers.

Grill

chicken on skewers.

Serve

with sauce!
Pretty simple, right? And oh-so tasty. My mouth is watering just thinking about it!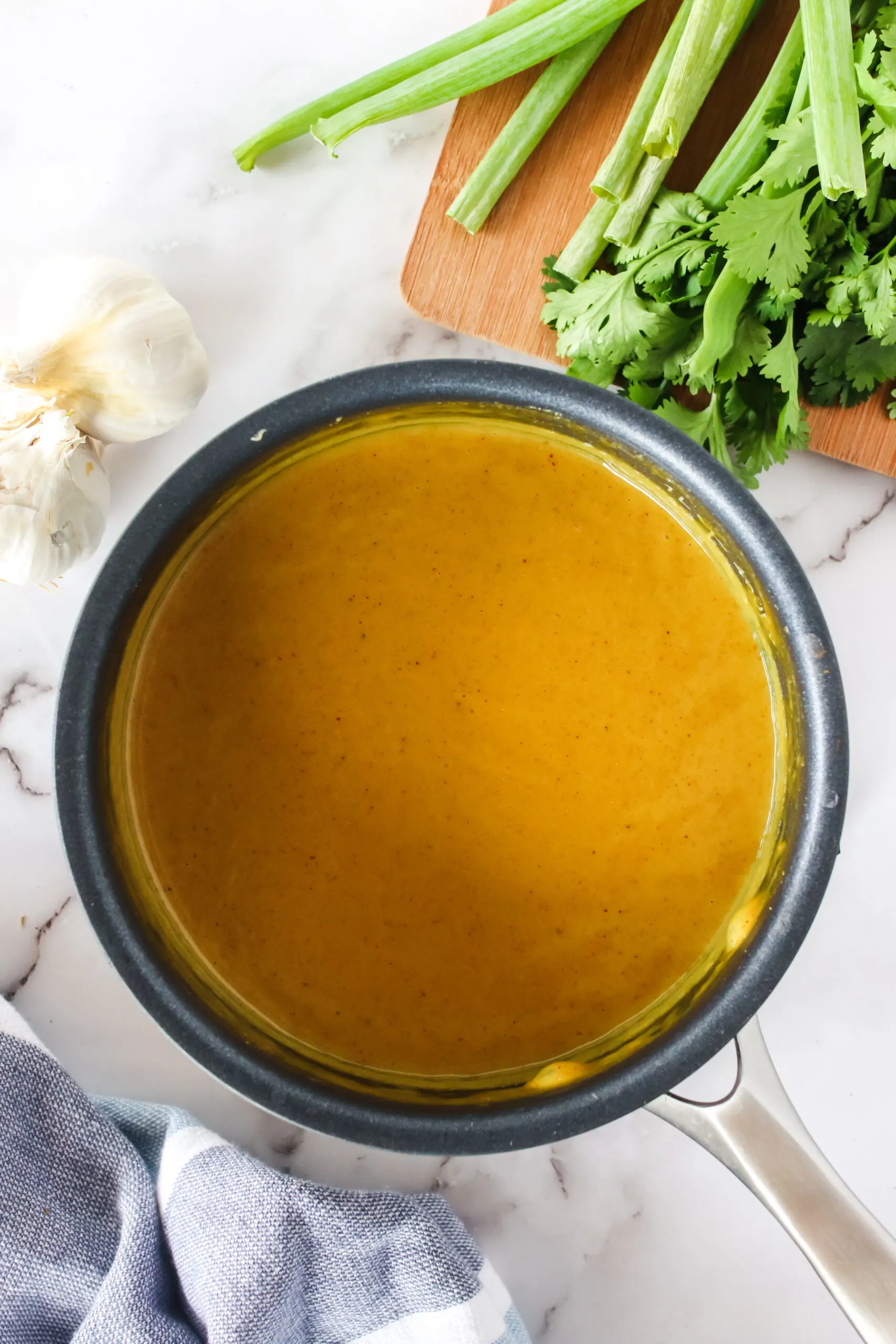 What to serve with chicken satay?
Obviously, the most important thing to serve with your chicken satay is the perfectly suited peanut sauce in this recipe. But here are some additional side dish ideas for the rest of your meal:
Asian Ramen Noodle Salad

Indonesian Fried Rice

Instant Pot Cilantro Lime Rice

Creamy Coleslaw Recipe

Summer Fruit Salad

Crock Pot Lentils with Curry

Thai Taco Salad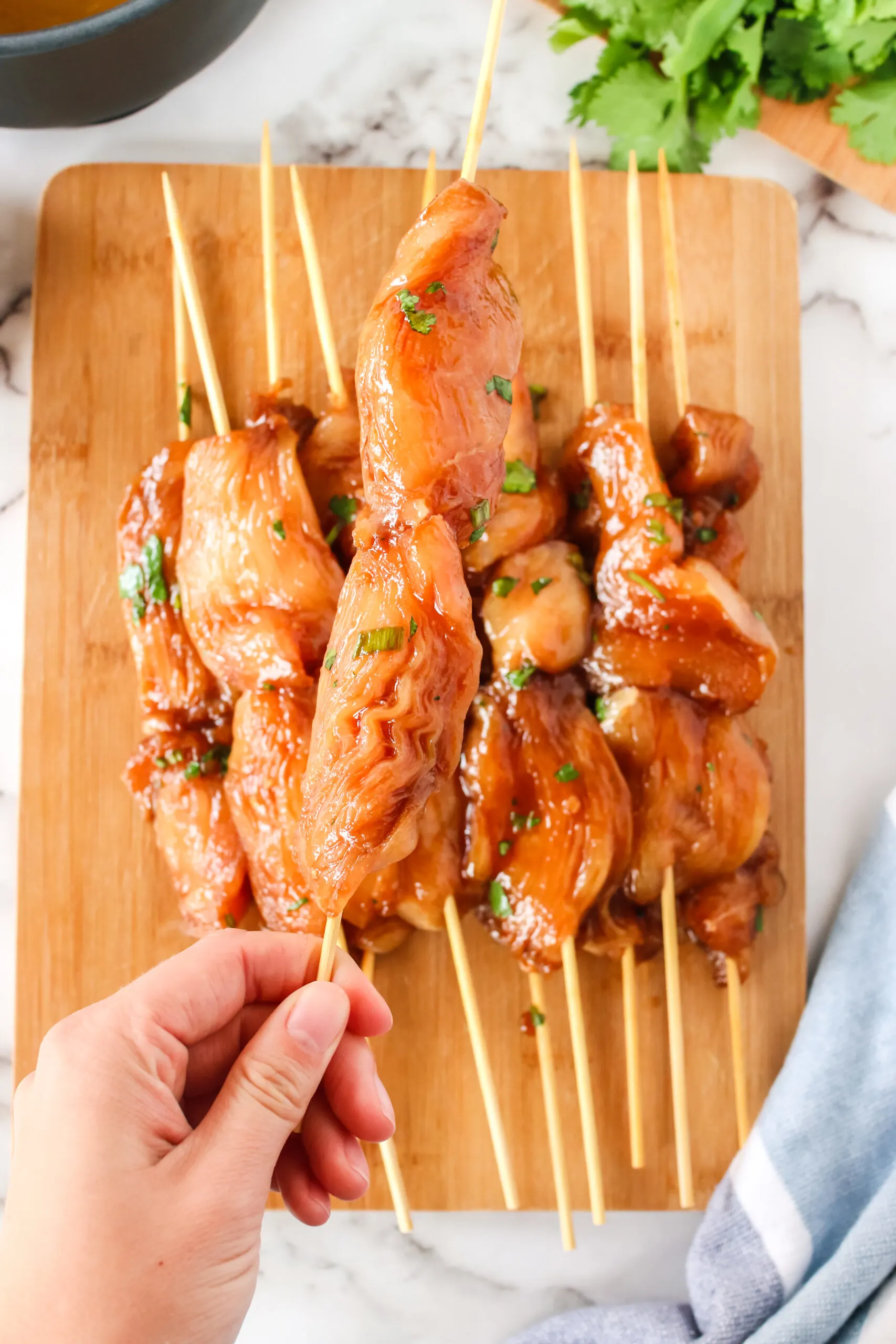 Is chicken satay gluten free?
You'll need to check the labels of the individual ingredients to confirm. Most soy sauces contain gluten, but there are gluten free varieties as well.
As far as I'm aware, the rest of the ingredients should be naturally gluten free, but it's always best to check the labels and choose brands that you know are safe or within your dietary guidelines!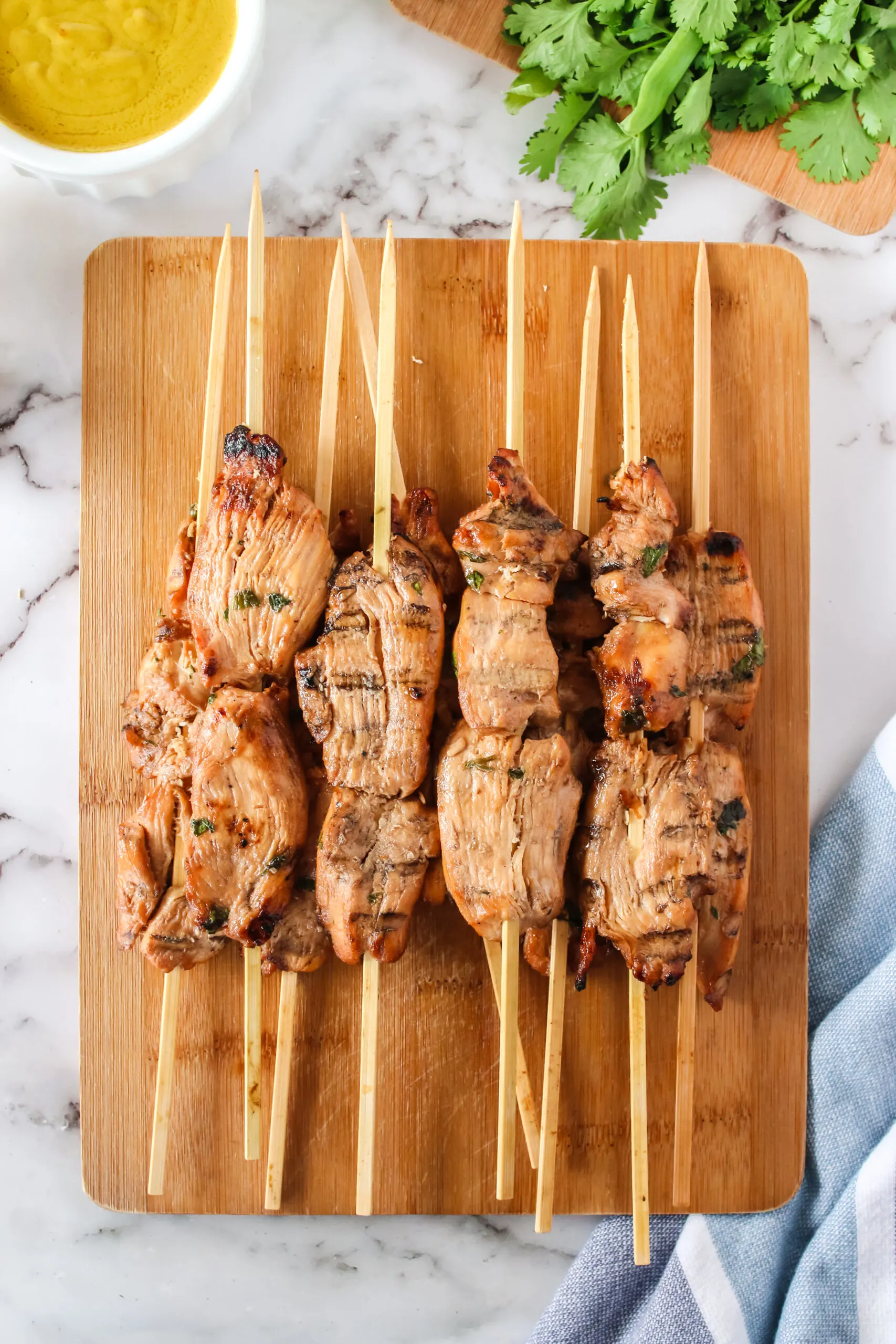 Can you eat chicken satay when pregnant?
The short answer is YES! Unless you're allergic to peanuts or another ingredient in this recipe.
When I first read this question, I was totally confused! I couldn't think of a reason why a pregnant woman couldn't eat chicken satay, other than avoiding undercooked meats (which all people should do!).
After a quick Google search, I saw that the concern is more to do with the peanut sauce than the chicken (though – PLEASE – cook your meats to a safe temperature, mamas). It appears there is some outdated advice still circulating that expectant moms should avoid peanuts.
Again, I was super confused. I just had a baby! And I literally ate peanut butter and apples almost every day. Further Google searching revealed this is an outdated recommendation, and only women with an actual peanut allergy need to avoid peanut satay chicken during pregnancy. Makes sense!
That being said, if you have concerns or questions, it's always best to seek the advice of your healthcare provider. Not me or the internet.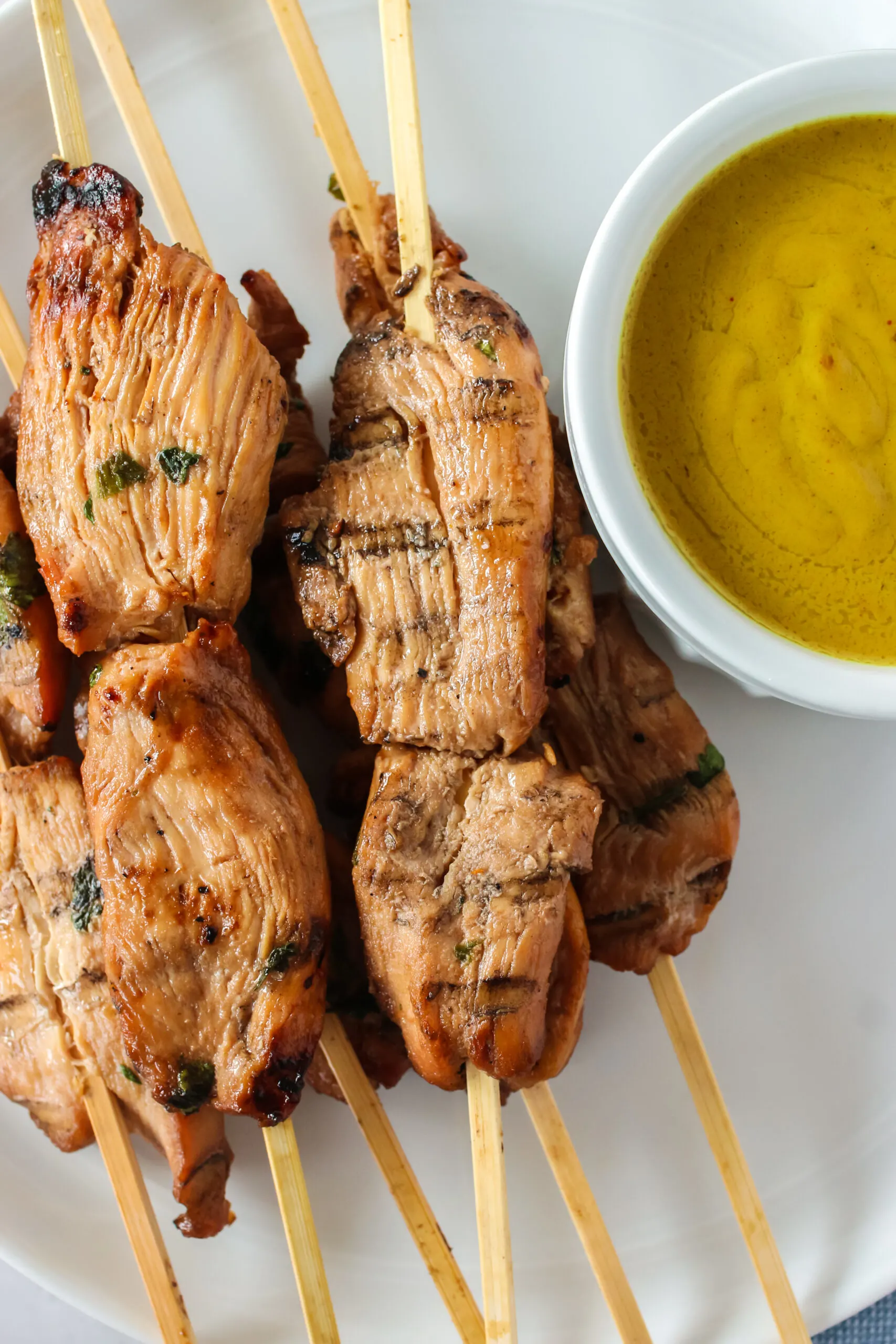 I'm sure your whole family will love this chicken satay with peanut sauce recipe. I know my kids love eating anything off a skewer, so it's certain to win over even your pickiest of eaters!
With a short marinade time and a quick turn on the grill, this recipe is full of flavor and short on time commitment – now that's a win-win!
Yield: 8 Servings
Chicken Satay
Flavorful and tender, this Chicken Satay with Peanut Sauce is better than any I've had at a restaurant. Juicy, delicious and easy to make!
Ingredients
4 boneless, skinless chicken breasts
Marinade
1/4 cup soy sauce
1/4 cup vegetable oil
1/4 cup brown sugar
1/4 cup cilantro, minced
3 Tablespoons ketchup
2 cloves garlic, minced
4 green onions, sliced thin
Sauce
1 cup coconut milk
1 Tablespoon curry powder
1/2 cup creamy peanut butter
3/4 cup chicken broth
1/4 cup brown sugar
Instructions
Remove extra fat from chicken breasts and slice into ½ inch slices.
Place chicken breast slices into a gallon Ziploc bag.
In a bowl combine soy sauce, vegetable oil, ¼ cup brown sugar, cilantro, ketchup, garlic and green onions. Mix well. Mixture should be thick.
Pour marinade over chicken. Seal bag and toss to coat.
Marinade for 30 minutes. Do not go longer than 30 minutes or the flavors will overpower the chicken.
While waiting on marinade, if using wooden skewers, soak them in a pan of water for 30 minutes. While waiting on marinade and skewers, make the sauce.
In a small saucepan, combine coconut milk, curry powder, peanut butter, chicken broth and ¼ cup of brown sugar.
Bring to a simmer and cook for 5 minutes, allowing the mixture to thicken slightly.
After 30 minutes, remove chicken from marinade and skewer 1 - 2 strips on each stick.
Preheat the grill to medium heat.
Oil grates to prevent chicken from sticking.
Grill each skewer for 4-5 minutes per side or until internal temperature with a digital thermometer reaches 165*F.
Remove from the grill and let rest for 5 minutes.
Serve with peanut sauce.
Nutrition Information:
Yield:
8
Serving Size:
1
Amount Per Serving:
Calories:

371
Total Fat:

23g
Saturated Fat:

8g
Trans Fat:

0g
Unsaturated Fat:

13g
Cholesterol:

51mg
Sodium:

709mg
Carbohydrates:

19g
Fiber:

2g
Sugar:

14g
Protein:

24g