Few things say "comfort food" quite like chicken pot pie, and this recipe is simple, delicious, and the perfect weeknight meal!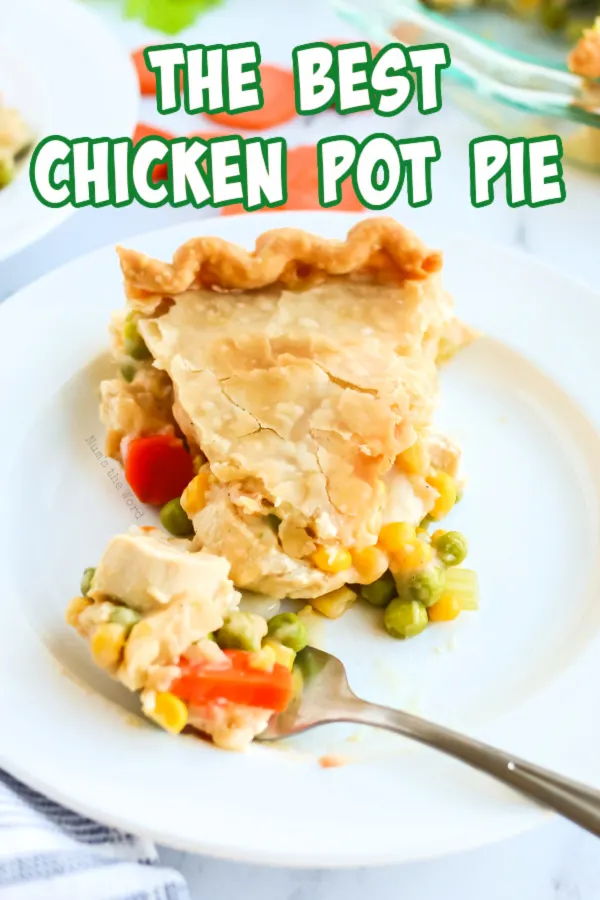 One of the things that makes this the best chicken pot pie recipe is that the filling is easy to adapt to your favorite vegetables. You can truly make this recipe your own by subbing in your favorite vegetables; or follow our tried and true recipe for a delicious dinner you can make ahead or whip up in about an hour.
This classic filling recipe is completely from scratch! And you can taste the love in every delectable bite. With a flaky, golden crust and tasty, gravy coated chicken and vegetables, you can't go wrong with this homemade chicken pot pie!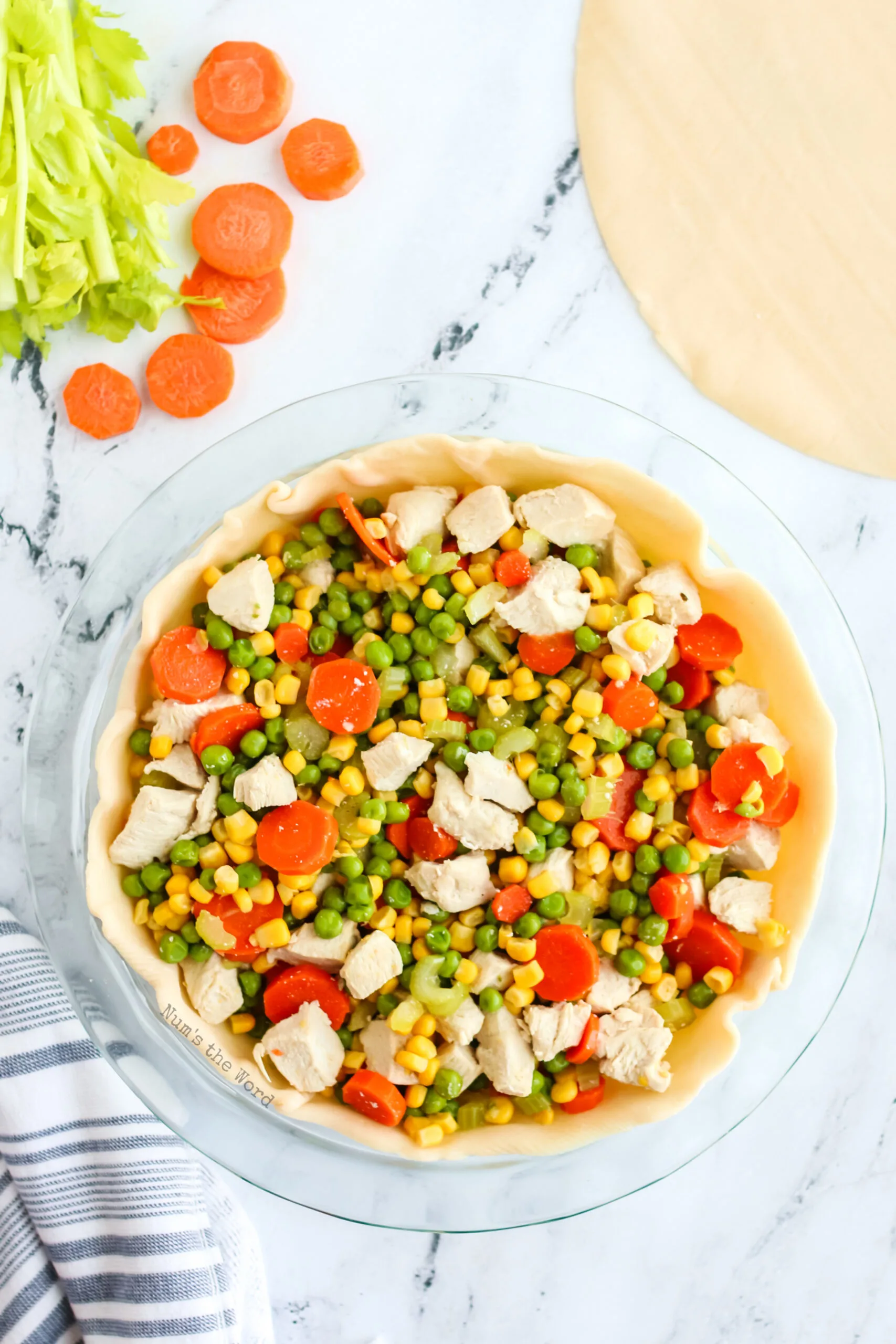 What is homemade chicken pot pie?
A chicken pot pie is a pie with a meat, vegetable, and gravy filling. Traditionally a pot pie is made with chicken or turkey.
Add in your favorite vegetables and top it with a savory gravy. Bake it in a pie crust and if you're anything like me, you'll fall in love with this recipe. Chicken or Turkey Pot pie is in my top 5 favorite main dishes!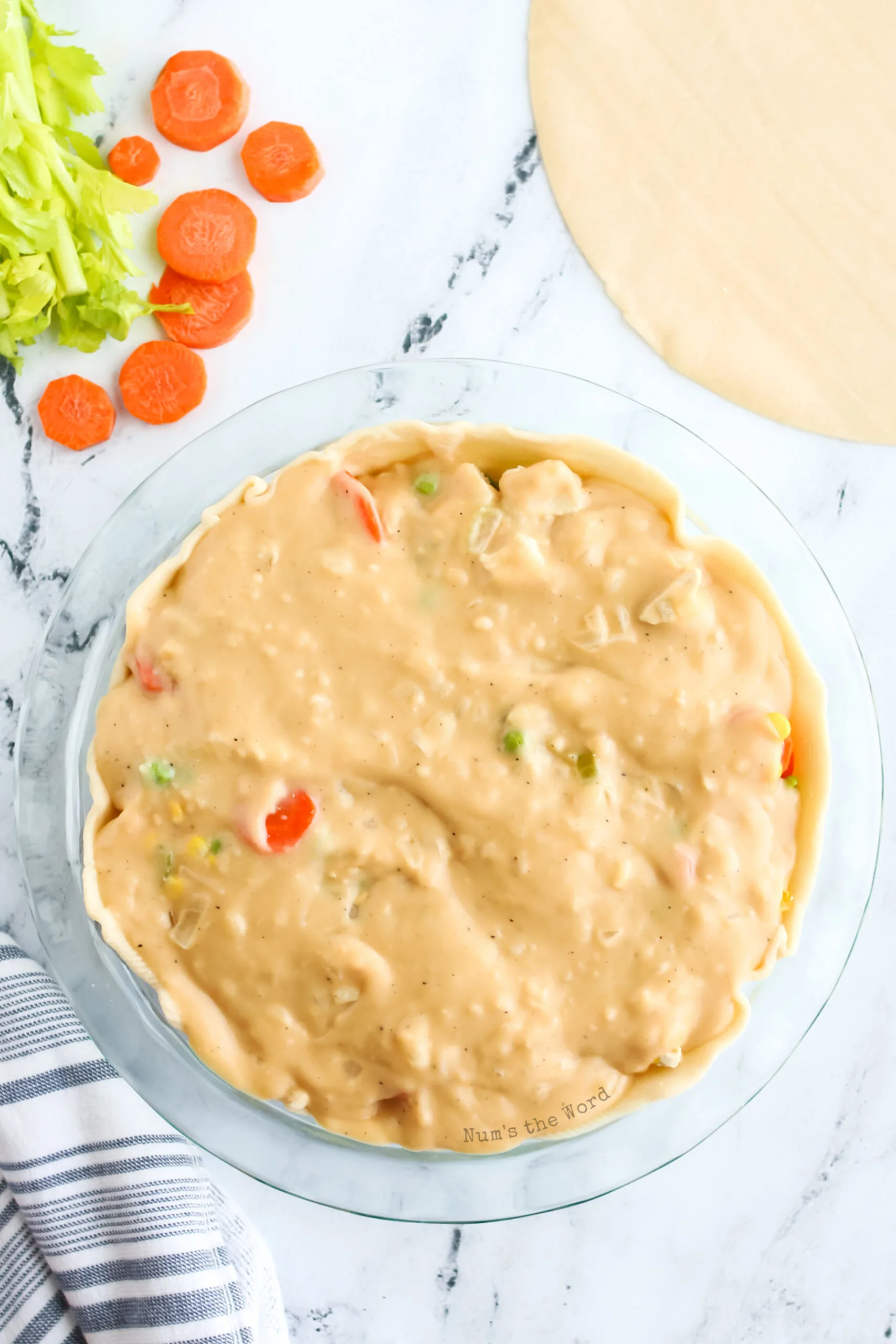 What's in homemade chicken pot pie?
To make this easy chicken pot pie with a pie crust (and the filling from scratch, no less!) you'll need the following ingredients:
Chicken breasts

– Rotisserie chicken or leftover Turkey work great for this.

Carrots

– sliced carrots are a delicious addition to your pot pie and add a vibrant splash of color.

Celery

– a little celery packs a lot of flavor and will greatly enhance the taste of your pot pie.

Peas

– I like to use frozen peas as they're quick, easy to use, and taste more fresh than their canned counterparts. However, canned also works!

Corn

– in this recipe I use canned corn, but I've also subbed for frozen with equally great results.

Butter

– to make the delicious homemade gravy for your pot pie, we'll be using a butter and flour mixture to create a roux. It's quick, easy, and delicious! Cooking from scratch has never been easier.

Onion

– diced onion cooked in butter makes one of the greatest scents of all time. We'll sauté the onion in butter before adding the flour to make a roux for the gravy.

Flour

– for the gravy base in this recipe, we use equal parts butter and flour to make a nice, thick, delicious gravy.

Salt and pepper

– for seasoning to your tastes.

Chicken broth

– I like to reserve the liquid from cooking the chicken and vegetables and add a little bouillon base for extra tasty chicken broth!

Milk

– milk makes the gravy nice and creamy.

Pie crusts

– pot pie with pie crusts is the best way to go!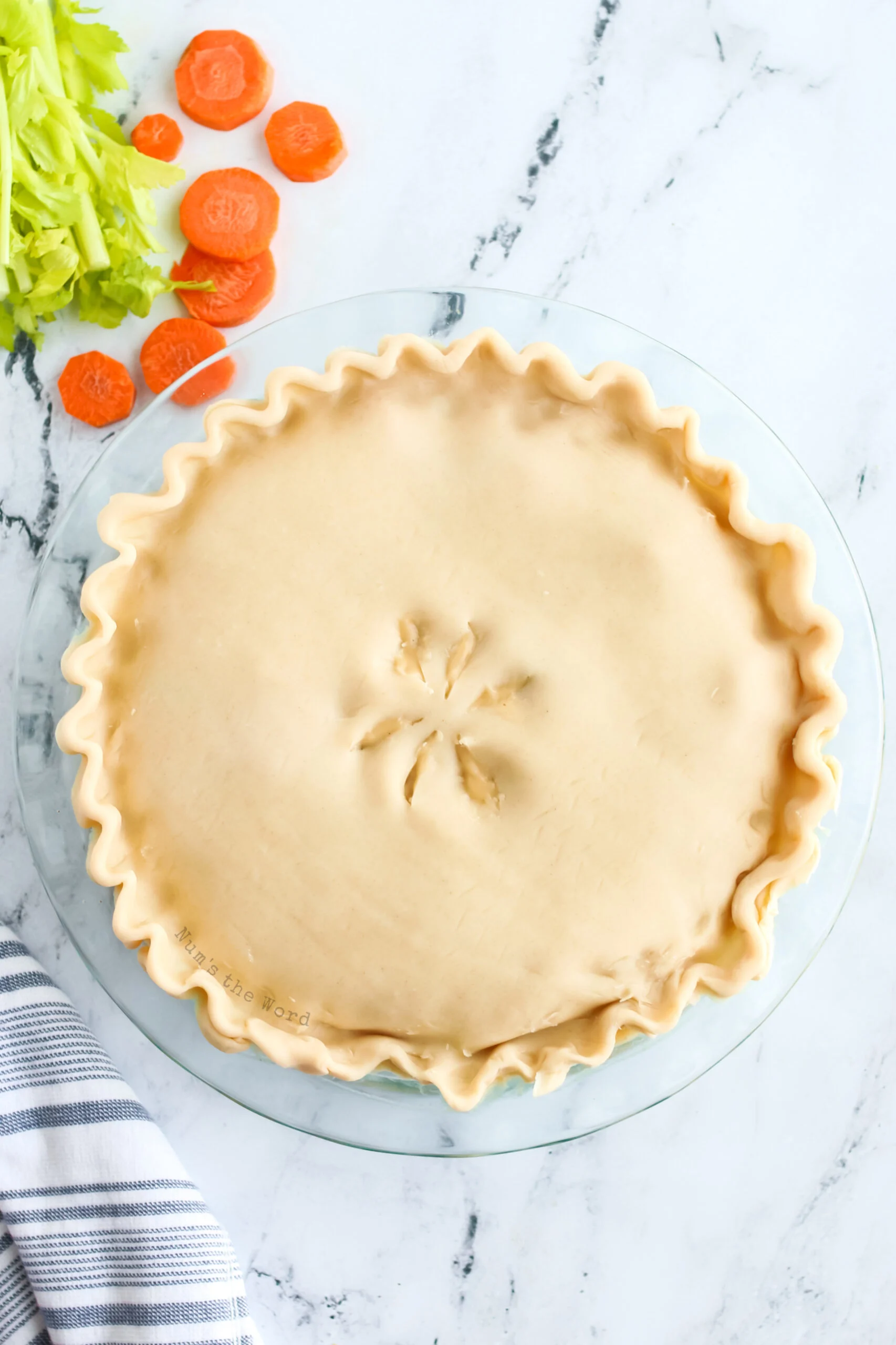 How to make homemade chicken pot pie?

Now we get to the fun part: How to make a homemade chicken pot pie.
Make your pie crust. You can use our favorite Butter Pie Crust or use a store bought one.
Fill Your pie with meat and veggies.
Cover in gravy.
Top with a second crust, crimp edges and cut slits in the top.
Bake & Serve.
Pro tip: reserve 1 ¾ cups of the liquid from cooking the chicken and vegetables to use as a chicken broth. Add a tsp of bouillon or chicken base to reserved liquid.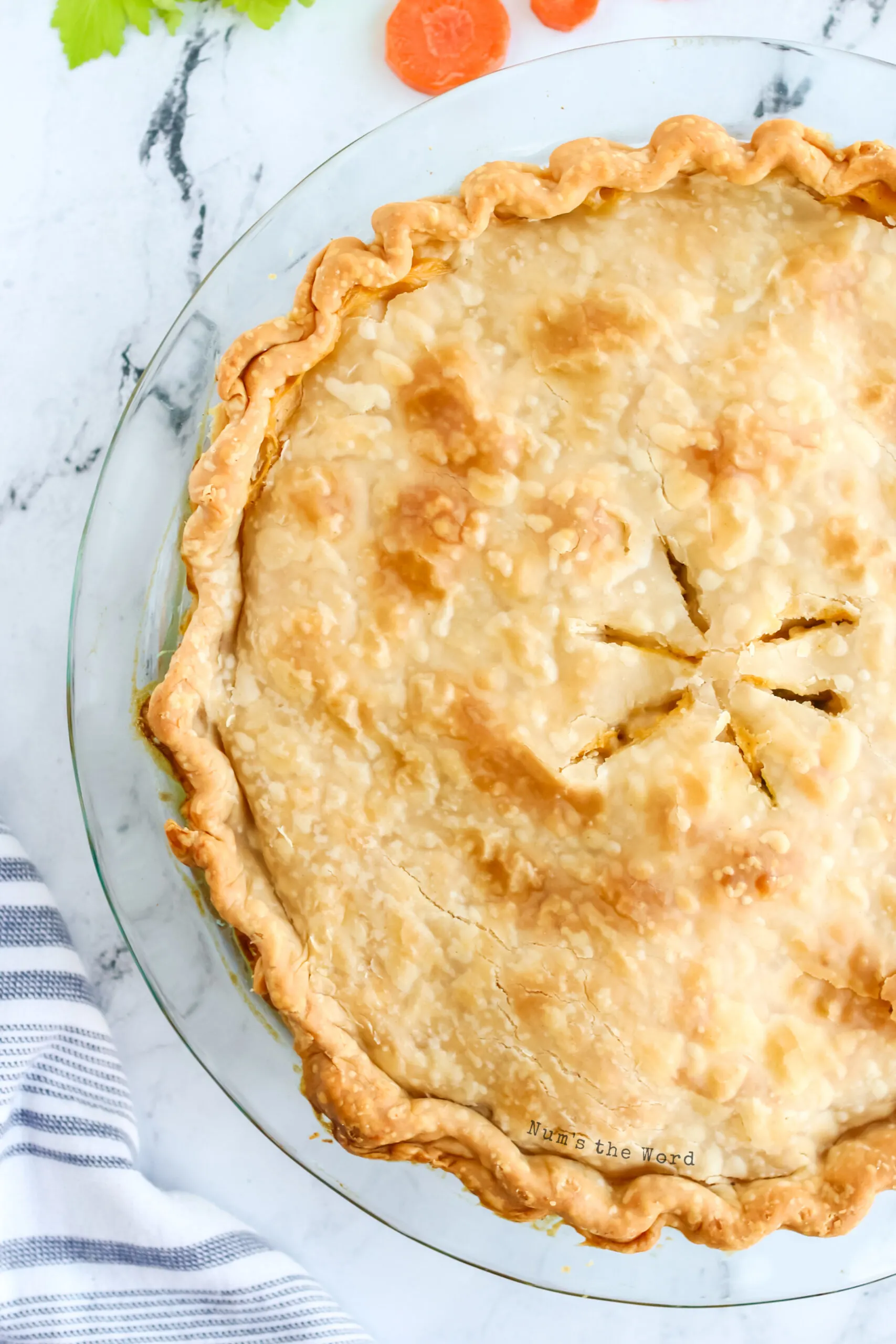 What to serve with homemade chicken pot pie?
One of the beautiful things about this easy pot pie recipe is that it's a meal all on it's own. But if you're looking for additional sides to serve with this tasty entree, consider some of the following: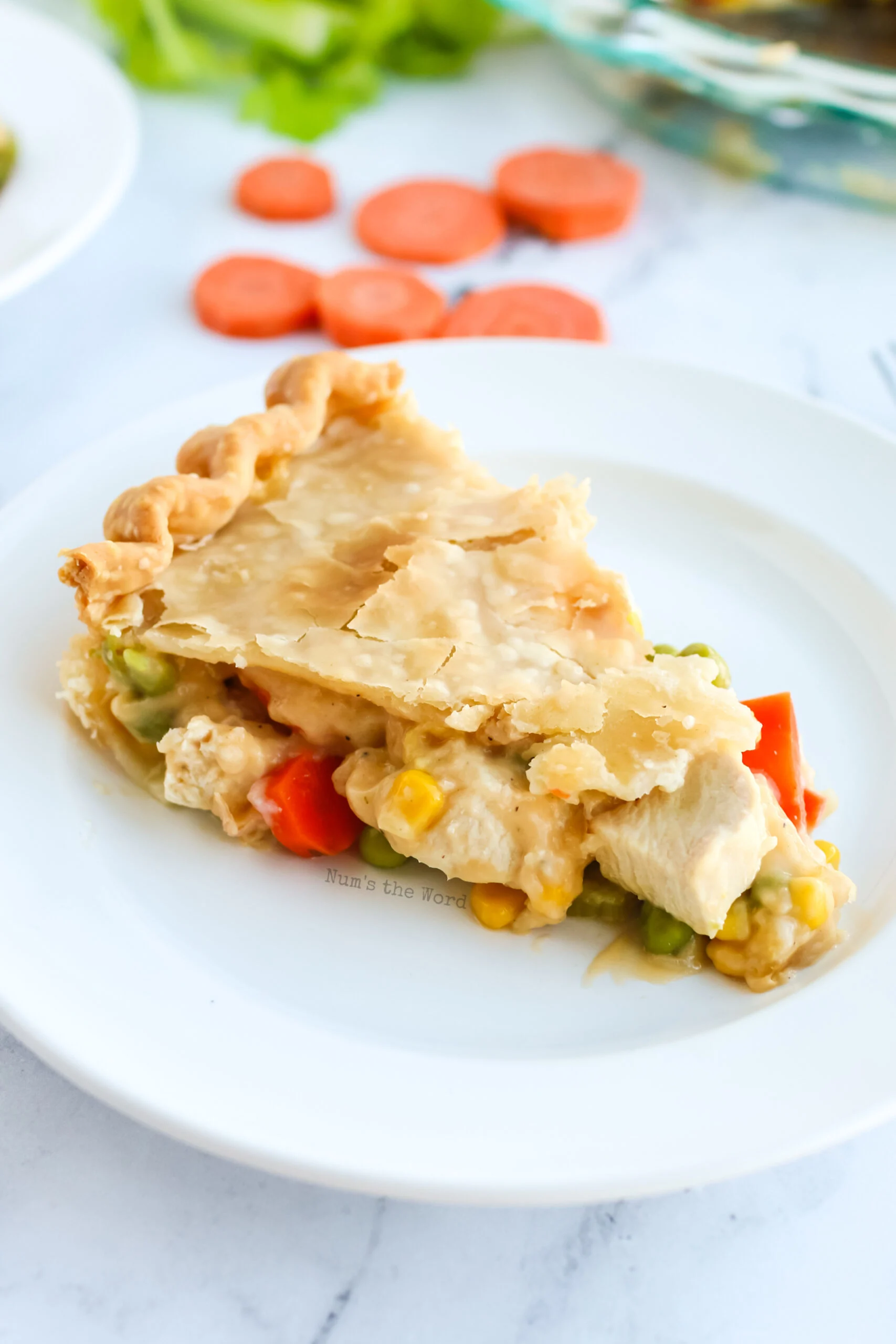 Can you freeze homemade chicken pot pie?
Yes, you can freeze chicken pot pie! All you need to do is place the entire unbaked pot pie in the freezer. Once it is frozen, remove the pot pie from the plate and place in an airtight container or freezer bag. Or, if you know you're going to be freezing it, consider using a disposable pie tin.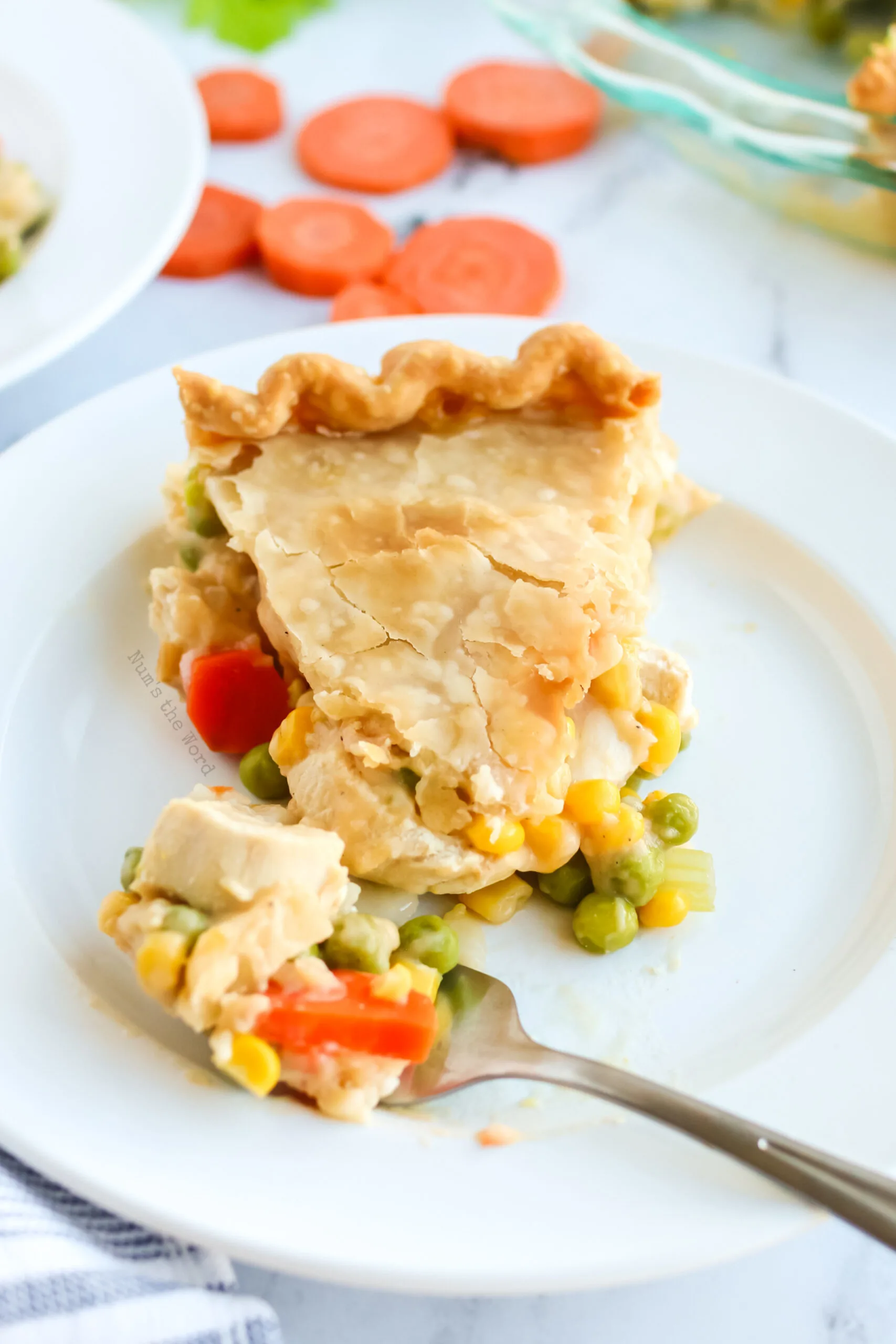 How to reheat homemade chicken pot pie?
To cook a frozen pot pie, remove pie from the freezer, place in a pie plate, and bake at 375 degrees for about 50 minutes.
Pro tip: To prevent the edges from browning too quickly, cover them with strips of foil.
To reheat individual slices of an already baked pot pie, heat in the microwave at medium power in short bursts until thoroughly heated.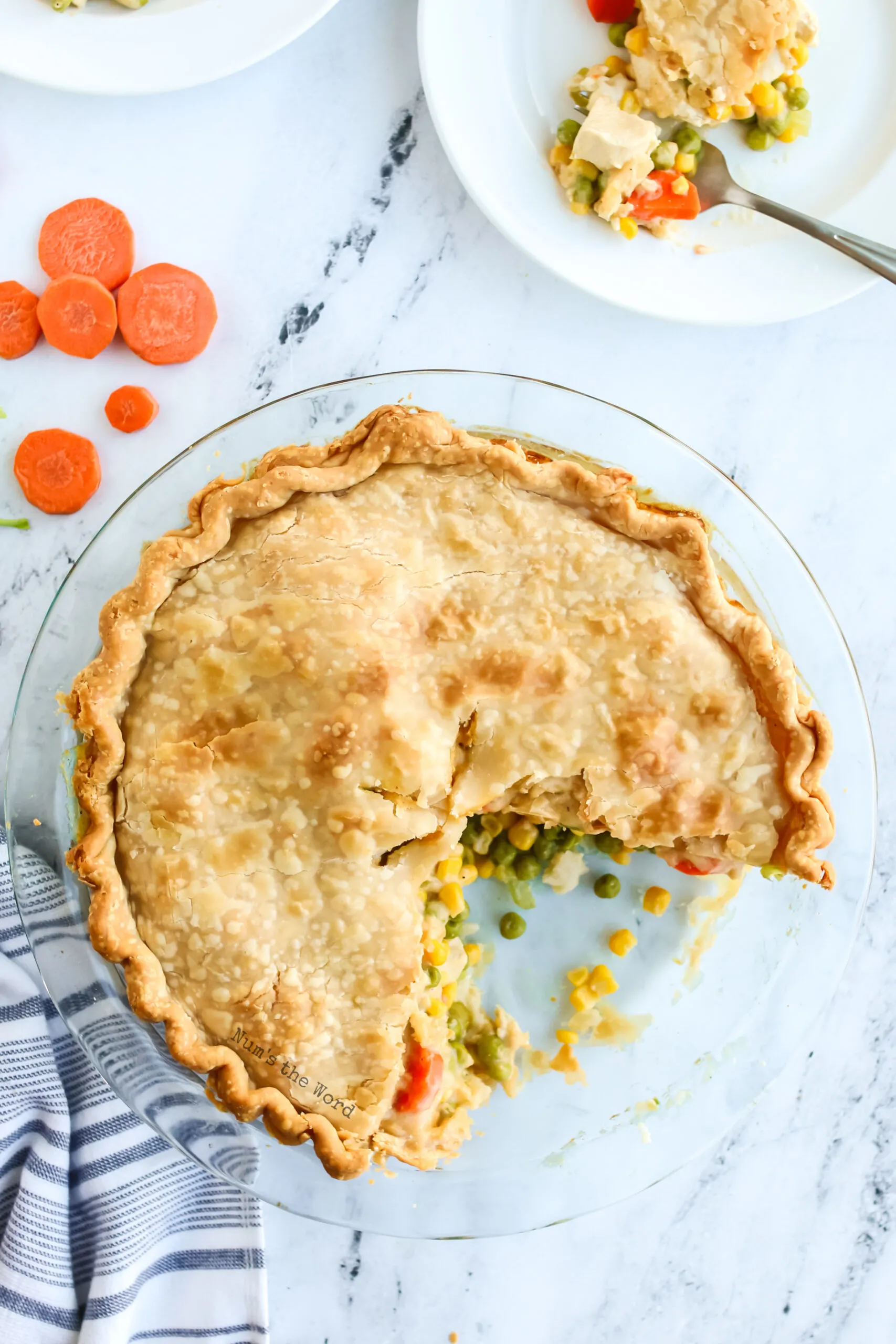 This easy homemade chicken pot pie is so delicious and so simple to make! This is another go-to meal I make when delivering meals to others because it is easy to make ahead and store in the fridge (or freezer) until you're ready to bake.
Yield: 2 8-inch pot pies
Chicken Pot Pie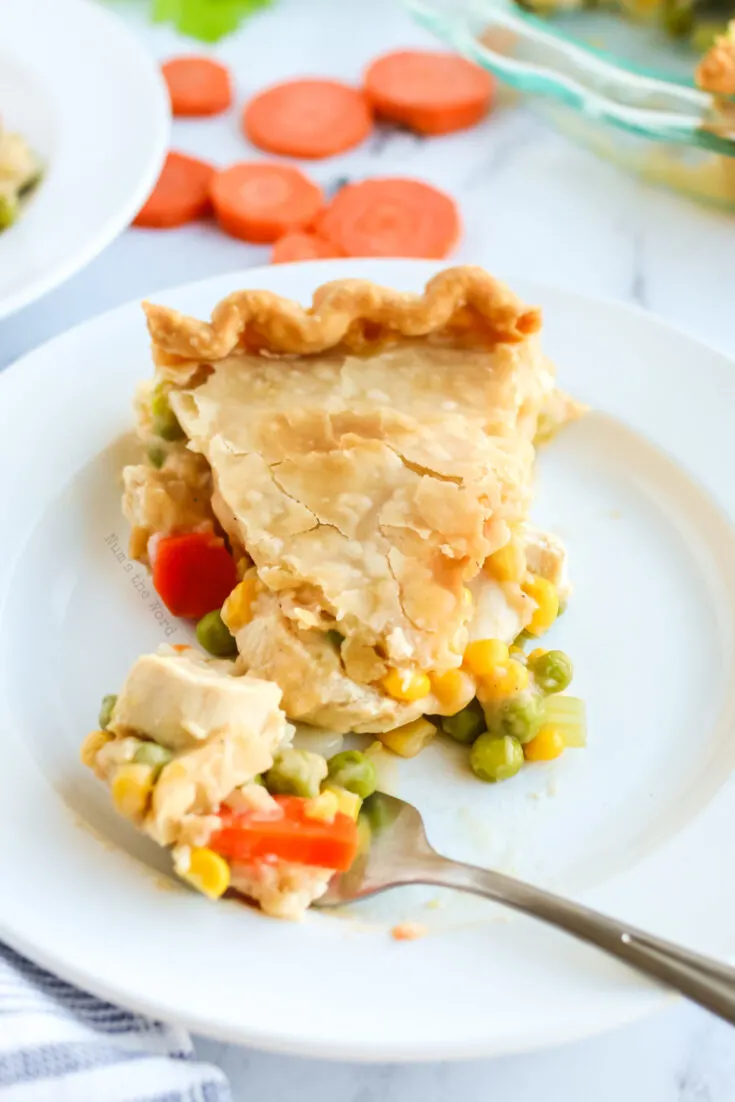 Few things say "comfort food" quite like chicken pot pie, and this homemade chicken pot pie recipe is the simple, delicious, and the perfect weeknight meal!
Total Time
1 hour
10 minutes
Ingredients
1 pound of chicken, cut into 1 inch cubes
1 cup sliced carrots
1/2 cup sliced celery
1 cup frozen peas
1 can corn , drained
1/3 cup butter
1/3 cup diced yellow onion
1/3 cup flour
1/2 teaspoon salt
1/4 teaspoon black pepper
1 3/4 cup chicken broth
2/3 cup milk
2 (9 inch) pie crusts
Instructions
Preheat oven to 375 degrees F
In a saucepan combine chicken, carrots, peas, and celery.
Add water to cover and boil for 15 minutes.
Remove from heat and drain
Add corn and mix together and set aside.
In the saucepan over medium heat, cook the onions in butter until soft and translucent.
Stir in the flour, salt and pepper.
Slowly stir in chicken broth and milk while whisking continuously. Mixture will get thick and then thin out.
Simmer over medium-low heat until thick.
Remove from heat and set aside.
Place chicken mixture in the bottom pie crust.
Pour hot liquid mixture over chicken mixture.
Cover with top pie crust and seal edges.
Cut away excess crust and cut several slits onto top of pie.
Bake in preheated oven for 30 - 35 minutes or until crust is golden brown.
Cool for 10 minutes before serving.
Nutrition Information:
Yield:
8
Serving Size:
1
Amount Per Serving:
Calories:

274
Total Fat:

16g
Saturated Fat:

7g
Trans Fat:

0g
Unsaturated Fat:

7g
Cholesterol:

76mg
Sodium:

544mg
Carbohydrates:

16g
Fiber:

3g
Sugar:

4g
Protein:

17g
Originally Posted: November 30, 2013