These homemade Salsa Verde Chicken Enchiladas are creamy, cheesy, and delicious! Stuffed with shredded chicken, cheese, and peppers, then smothered in a creamy salsa verde sauce, you won't be able to get enough of these enchiladas!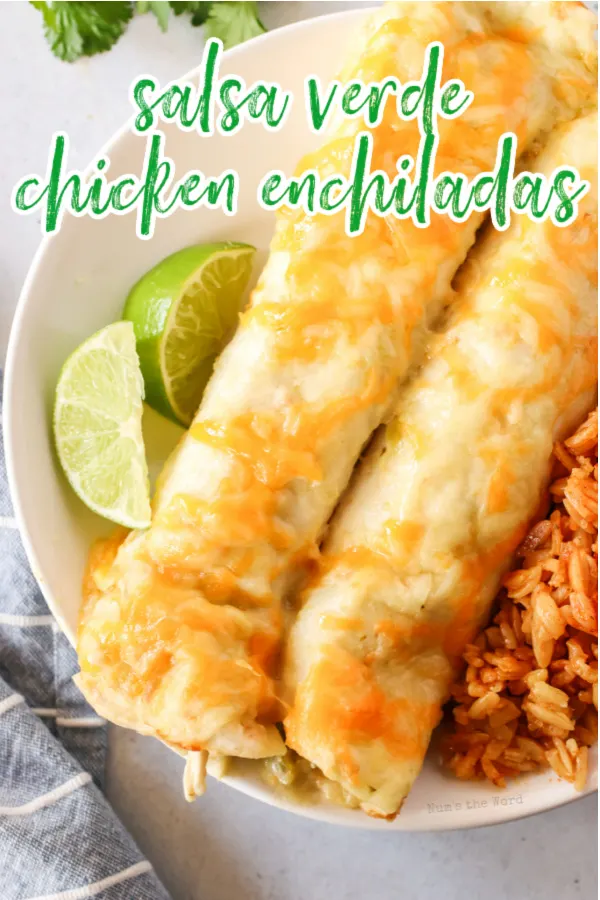 I love that this salsa verde chicken enchilada recipe is easy to customize. It can be either spicy or mild — even within the same pan! Personally, I like a bit of heat in my enchiladas, however my kids do not. Adding diced jalapenos aren't always a hit, so I usually only add them to half the pan so everyone wins!
What makes this the BEST salsa verde chicken enchilada recipe is that there's no canned cream soups! The only jarred ingredient is the salsa verde, but this enchilada casserole is still quick and easy to prepare and has fantastic, can't-be-beat flavor!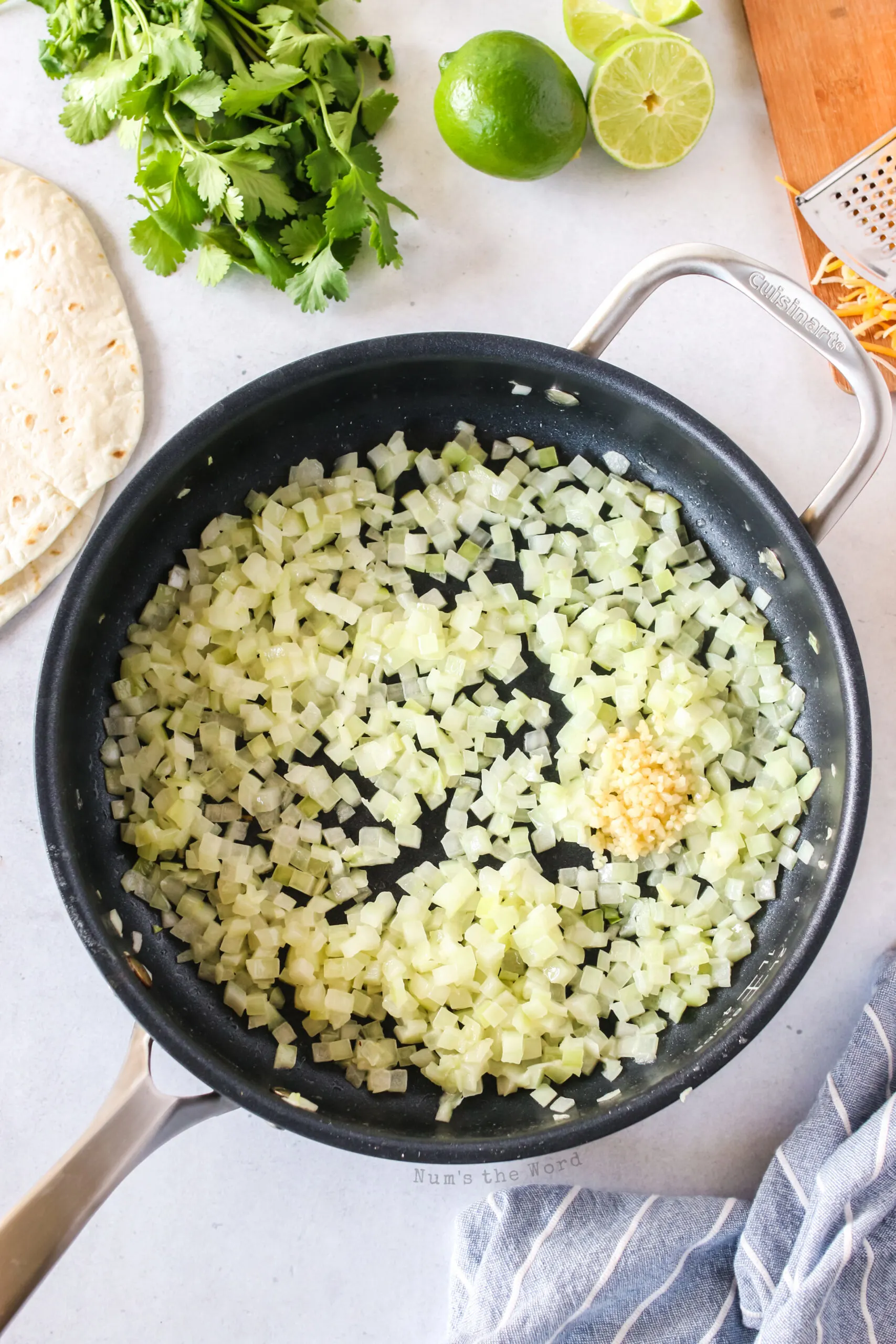 How to make salsa verde chicken enchiladas?
This salsa verde chicken enchilada casserole is quick and easy to make, and has so much flavor! It's great for making ahead and/or delivering to a family in need. To get started, you'll need the following ingredients:
Butter

– you'll use butter to saute the diced onion in this recipe, as well as to make the

roux

, or cream sauce thickening base.

Onion

– I love how onion adds so much seasoning and flavor to any savory dish!

Garlic

– garlic is another seasoning vegetable that packs a lot of flavor in a tiny package.

Cream cheese

– cream cheese goes in the chicken mixture and keeps things creamy and tasty!

Salsa verde

– choose your favorite jar of salsa verde, or make your own!

Shredded chicken

– I love to use rotisserie chicken in this recipe, but any shredded chicken — from the slow cooker, Instant Pot, wherever! — will work!

Mexican cheese blend

– there are so many great cheeses in a Mexican cheese blends, and they all lend great creaminess and flavor to your enchilada casserole!

Cilantro

– bright and fresh, this fresh herb is a great addition to any Mexican inspired recipe!

Jalapeno peppers

– this recipe calls for jarred, but you can also use fresh or substitute a hotter pepper for more spice!

Flour

– combined with melted butter over heat, you'll make a fantastic

roux

, or thickening base for your creamy sauce.

Chicken or turkey broth

– this recipe is also a great way to use up leftover turkey! And just as either meat will work, either broth will as well.

Sour cream

– sour cream adds wonderful, tangy flavor to your cream sauce.

Corn or flour tortillas

– use your favorite!

Lime

– a bit of lime juice on top before serving helps enhance all the creamy and delicious flavors of your enchiladas.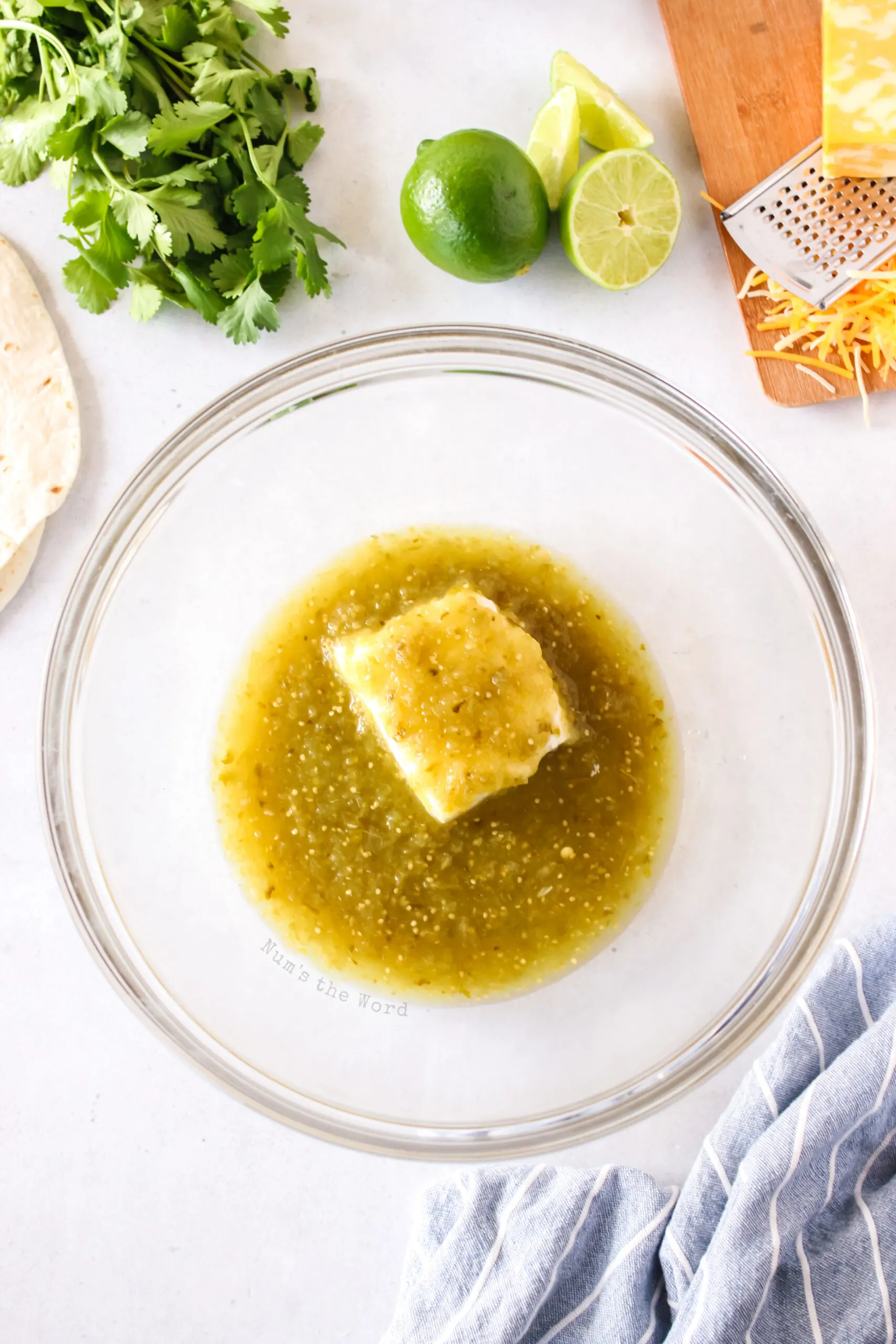 How to cook salsa verde enchiladas?
Now that you have all the ingredients you'll need to make these easy salsa verde chicken enchiladas, let's cover the preparation steps:
Saute

onion and garlic.

Blend

cream cheese and salsa verde and combine with chicken mixture.

Heat

butter and mix in flour to create a roux.

Stir

in chicken or turkey broth slowly and allow to thicken.

Mix

in sour cream and salsa verde.

Layer

sauce and stuffed and rolled tortillas.

Cover

with remaining sauce and cheese.

Bake

until bubbly.

Serve

with lime wedges and Mexican rice!
Just a few simple steps and you're on your way to enjoying a tasty pan of salsa verde enchiladas! Mmm, my mouth is watering just thinking about it.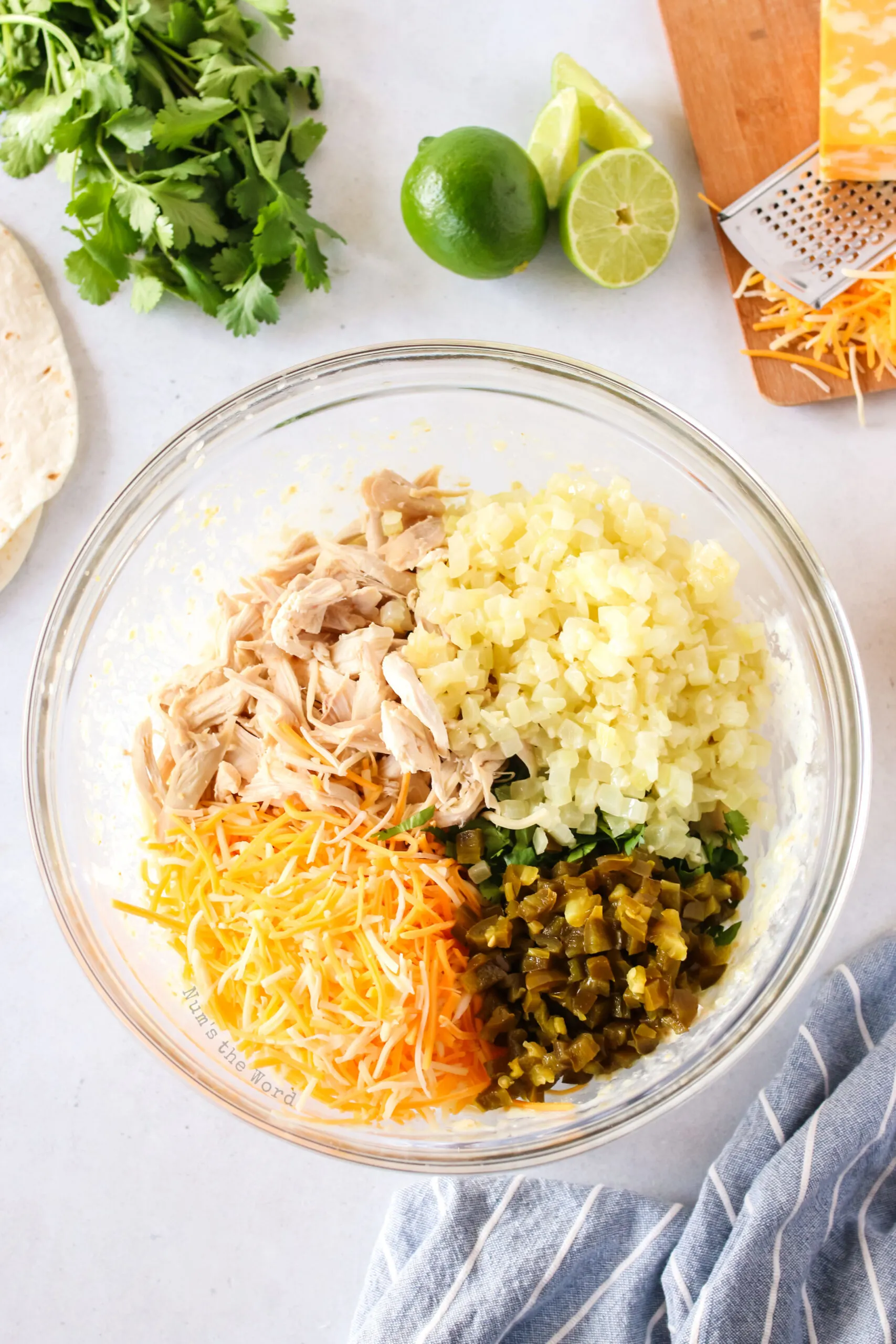 How to cook chicken for salsa verde enchiladas?
My favorite, and the easiest way, is to use the meat from a rotisserie chicken. They're so inexpensive at your local bulk goods stores and full of great flavor!
But if that's not an option, you can cook great chicken for shredding in your slow cooker or Instant Pot or even boiled on the stovetop. Season with a bit of extra salsa verde or chicken stock and salt and pepper.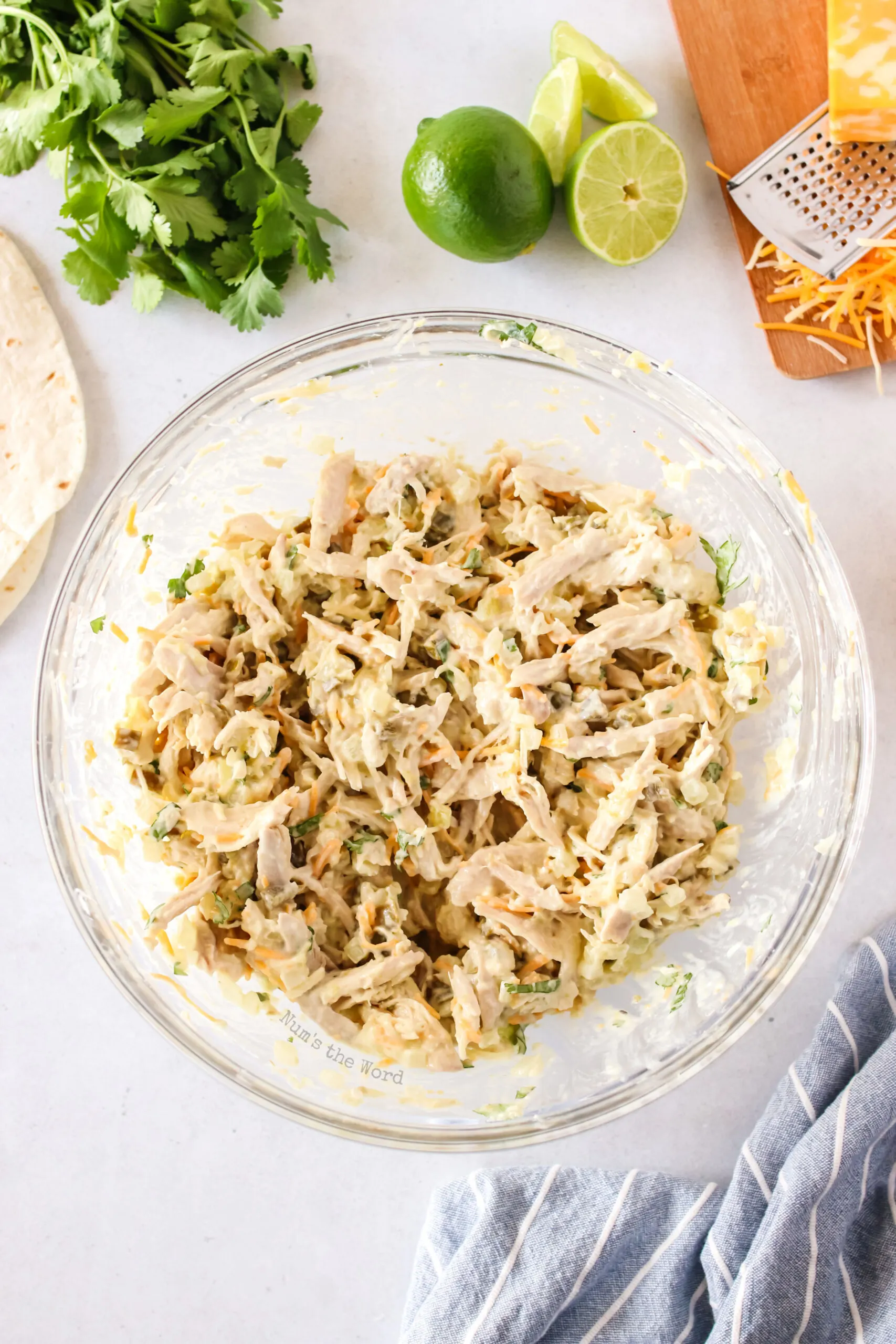 Is green enchilada sauce and salsa verde the same thing?
Nope! Green enchilada sauce is found in a can and is completely blended smooth. Salsa verde is found in a jar in the salsa aisle and typically has more chunkiness to it. Their ingredients are also a bit different as well.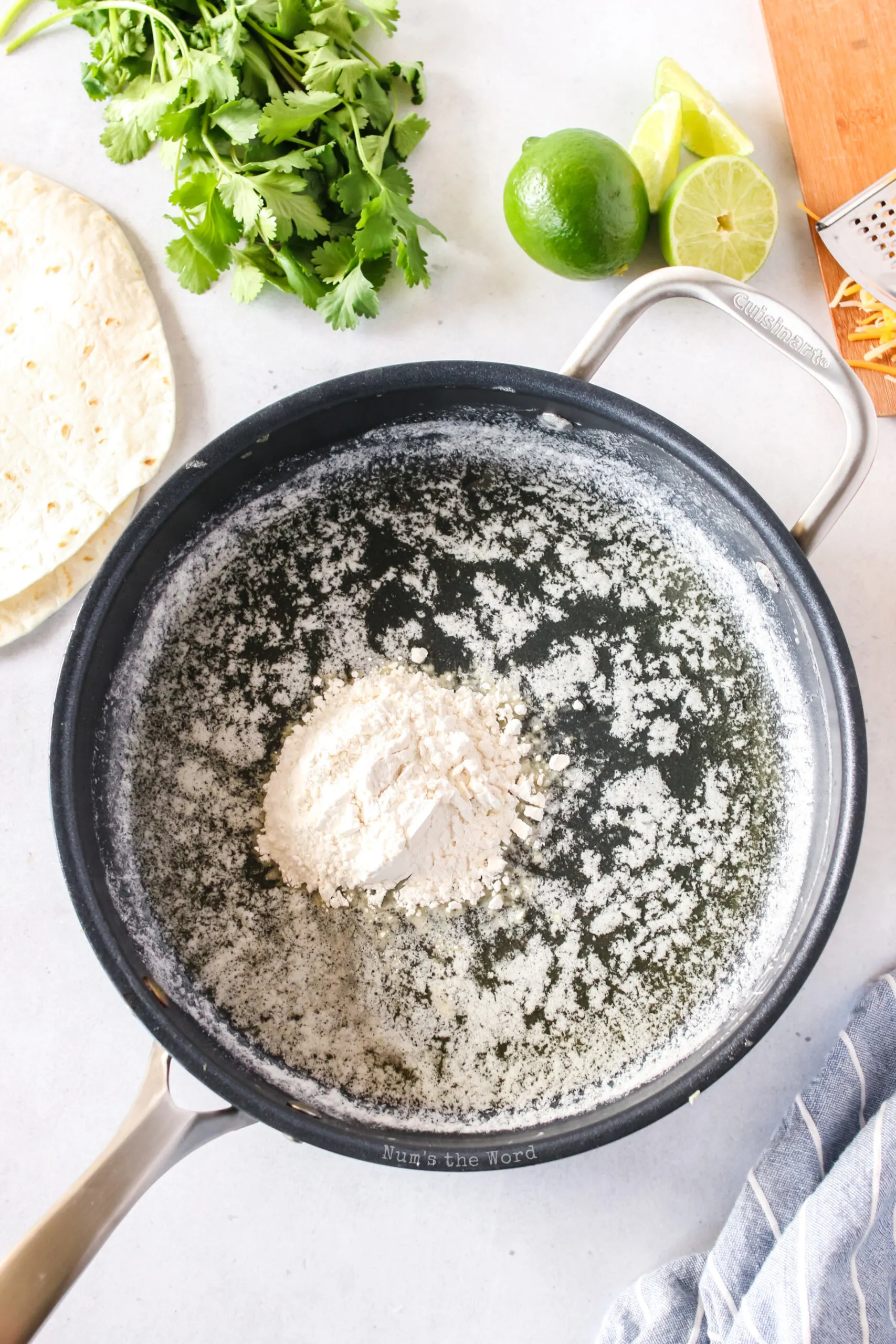 Can you use salsa instead of enchilada sauce?
This recipe calls for salsa verde, which is a salsa, not an enchilada sauce! I recommend using salsa verde over enchilada sauce, as the enchilada sauce is more liquidy and will affect the texture and flavor of your enchiladas.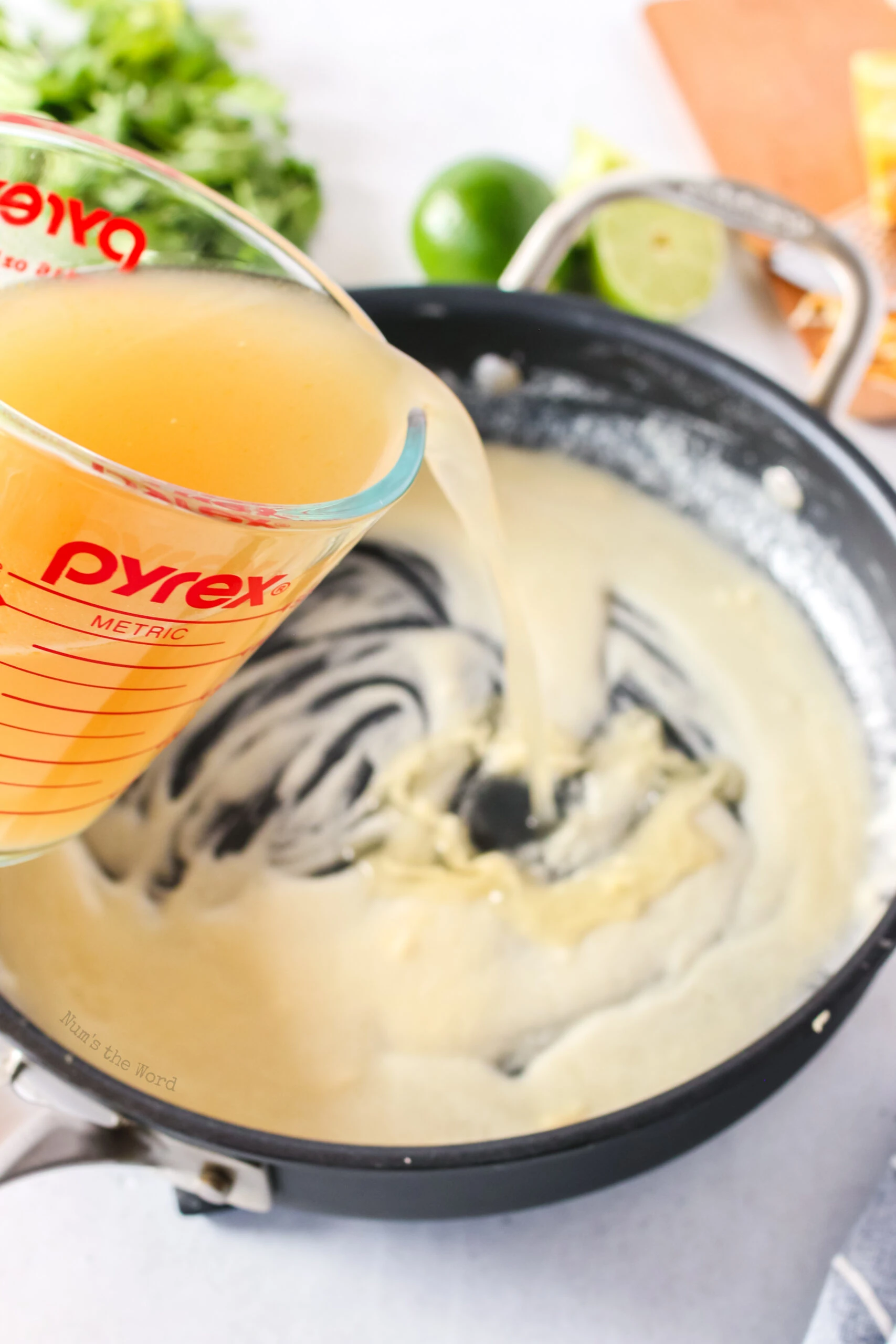 What is a good substitute for salsa verde?
If you don't have salsa verde on hand but still want to give this recipe a go, you can use red salsa. It will have a significantly different but still delicious flavor. Or you could use a jar of roasted green chiles.
Salsa verde is typically made with tomatillos and diced green chiles, as well as onion, garlic, and lime.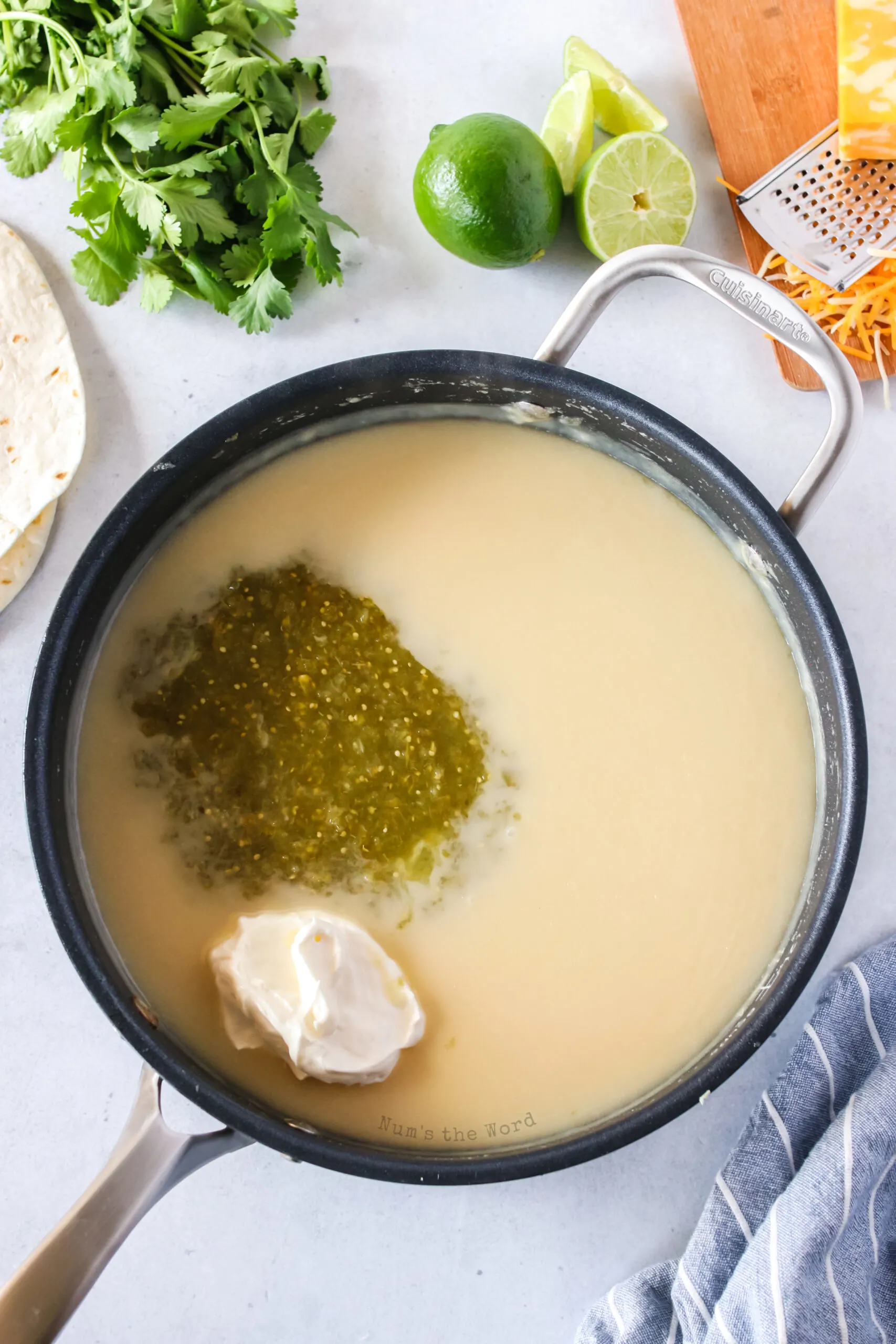 What to serve with salsa verde chicken enchiladas?
Extra cilantro and lime wedges for garnish are a great go-to for serving with salsa verde chicken enchiladas. I also highly recommend you serve your enchiladas with our Easy Mexican Rice recipe!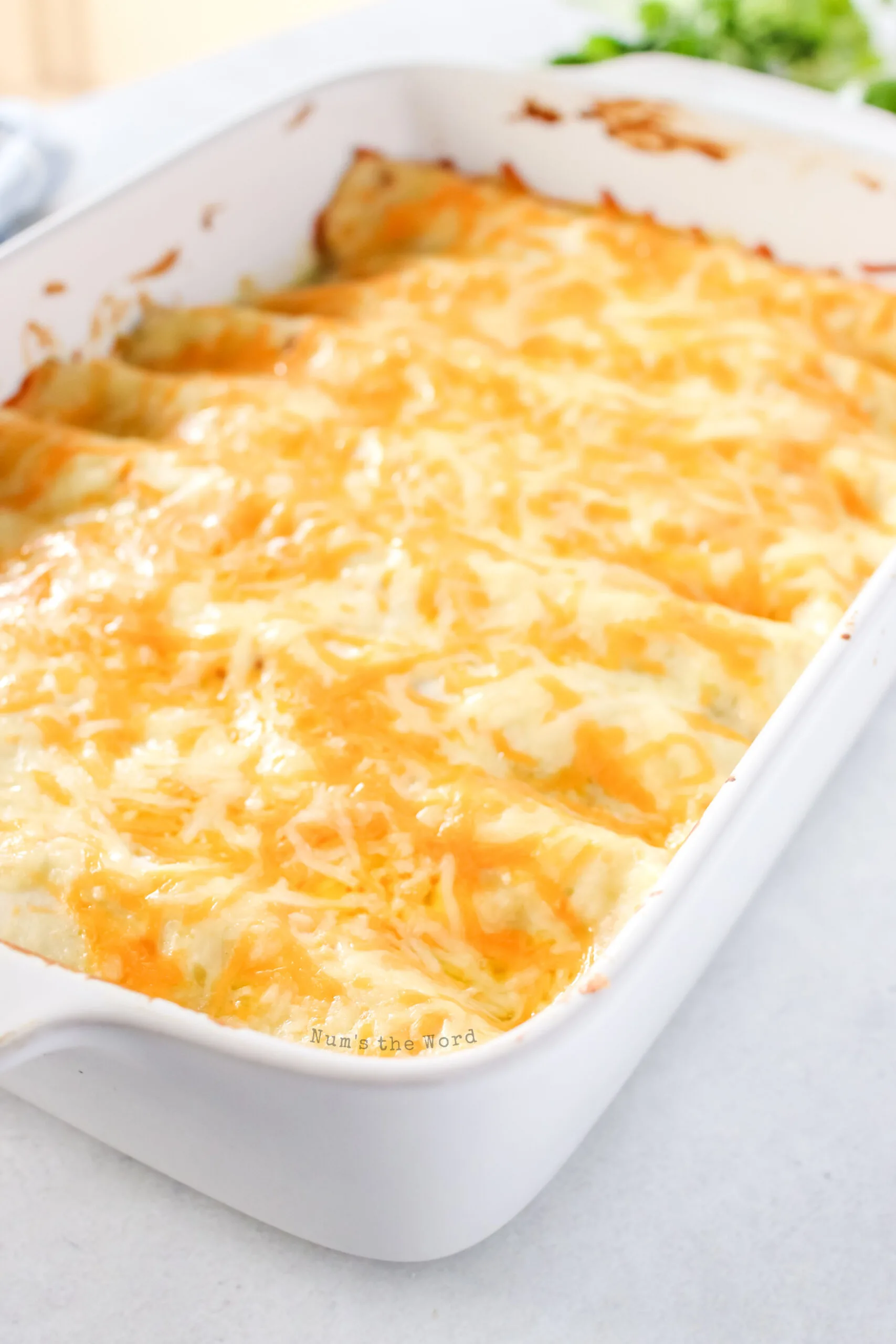 Can you freeze salsa verde chicken enchiladas?
Yes, you can freeze salsa verde chicken enchiladas! These make a great make-ahead or freezer meal.
To freeze, prepare and place enchiladas in a disposable baking tray. Before cooking, cover tightly with foil and freeze for up to 3 months. You can thaw the enchiladas in the fridge for 24 hours and then bake as usual, or you can bake straight from frozen.
Keep in mind that cooking times will be longer for frozen enchiladas. I recommend placing the still-foil-wrapped enchiladas in the oven before preheating. Cook for the usual recommended time while covered to help trap the heat, then remove the covering at the end to allow the cheese to brown.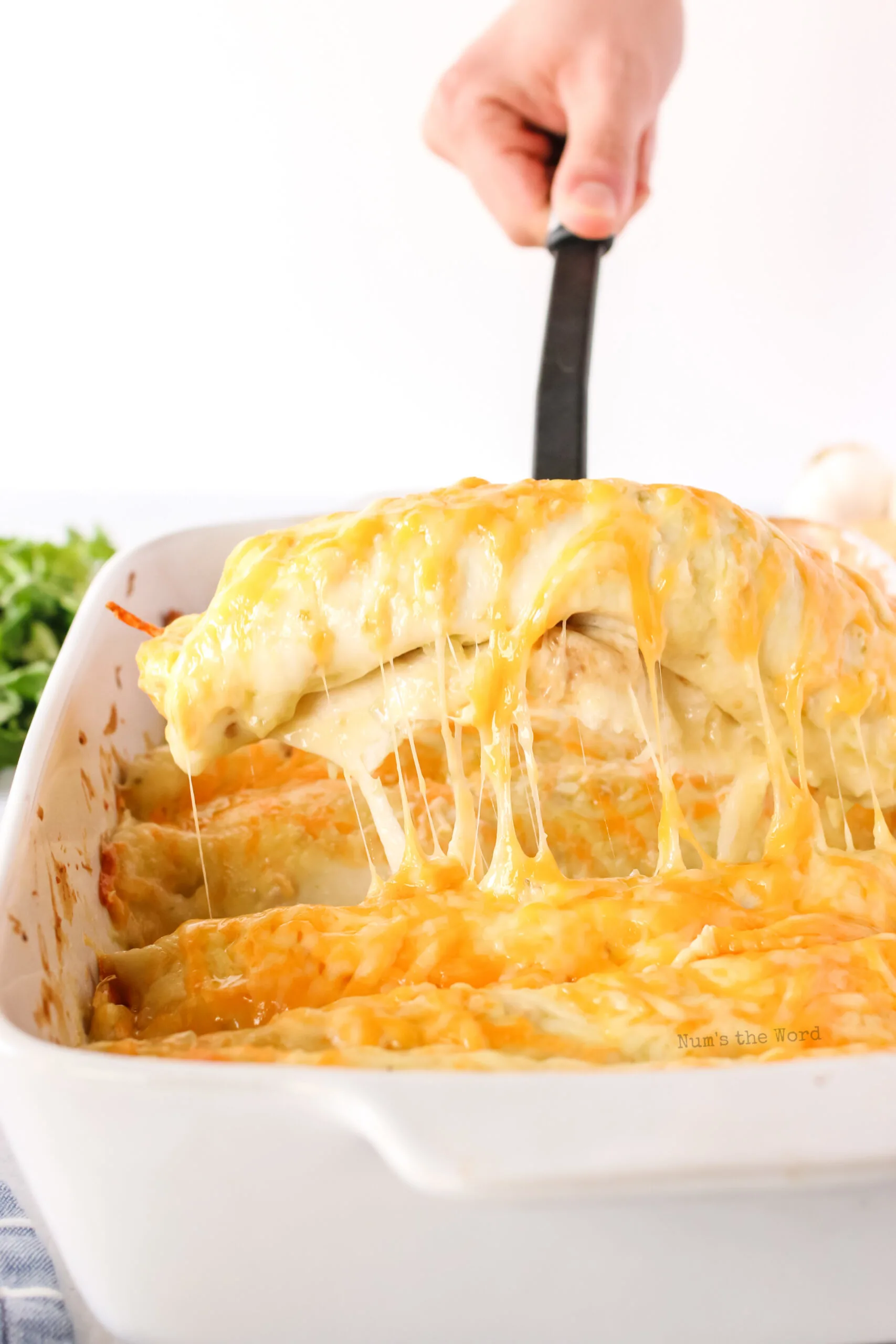 I'm sure you and your family will love these mouthwatering salsa verde chicken enchiladas! They're creamy and delicious and packed with flavor. You can make them ahead, freeze them, or whip them up quickly for a tasty and filling weeknight meal!
Yield: 8 servings
Salsa Verde Chicken Enchiladas
These homemade Salsa Verde Chicken Enchiladas are creamy, cheesy, and delicious! The perfect weeknight meal for busy families!
Ingredients
2 Tablespoons butter
1 medium yellow onion, diced
4 cloves garlic, minced
4 ounces cream cheese, room temperature
1 cup salsa verde
3 cups chicken, shredded - rotisserie chicken or leftover turkey work great!
1 cup Mexican cheese blend
1/4 cup cilantro
1 (4 ounce) can diced jalapeno peppers
1/4 cup butter
1/4 cup flour
1/3 cup sour cream
3/4 cup salsa verde
16 corn or flour tortillas
1 cup shredded Mexican cheese
3 Limes, quartered
Instructions
Preheat oven to 375*F
Heat 2 Tablespoons butter in a skillet.
Add onion and cook for 5 minutes until onion is translucent.
Add garlic and cook for 1 more minute. Remove from heat and let cool.
In a bowl blend cream cheese and 1 cup salsa verde until smooth and creamy.
Add chicken, Mexican cheese, cilantro and diced jalapeno peppers (if using) and cooked onions. Mix well. Set aside.
In the same skillet used for onions, heat ¼ cup of butter until melted.
Add ¼ cup of flour and stir well. Mixture will be thick.
Slowly add chicken or turkey broth to the mixture, whisking well until you get a smooth creamy sauce. DO NOT ADD BROTH ALL AT ONCE. You'll get a chunky mess.
Cook until the sauce has thickened, about 5 minutes.
Add sour cream and 3/4 cup of salsa verde to sauce. Mix well.
Spread 1 cup of this sauce on the bottom of a 9x13 casserole dish. Set aside.
If using corn tortillas, wrap tortillas in a damp paper towel and microwave for 20 seconds to soften so they don't crack when rolling.
Fill each tortilla with the chicken mixture, then roll up and place in a casserole dish on top of creamy mixture.
Repeat until the casserole dish is full.
Pour remaining sauce over the top of enchiladas and top with cheese.
Bake for 20 minutes or until the cheese is melted and mixture is bubbling.
Serve immediately with lime wedge and Mexican rice.
Notes
If you're looking for the original recipe it can be located on our sister site Delectablilities.
Nutrition Information:
Yield:
8
Serving Size:
1
Amount Per Serving:
Calories:

795
Total Fat:

43g
Saturated Fat:

19g
Trans Fat:

0g
Unsaturated Fat:

19g
Cholesterol:

201mg
Sodium:

878mg
Carbohydrates:

59g
Fiber:

7g
Sugar:

14g
Protein:

52g
Originally Posted: March 26, 2015
Photos & Text Updated: June 3, 2021