Ever wondered how to make turkey bone broth? Well this is the page for you! We've got answers to all your bone-broth related questions, from the making of it to the consuming of it.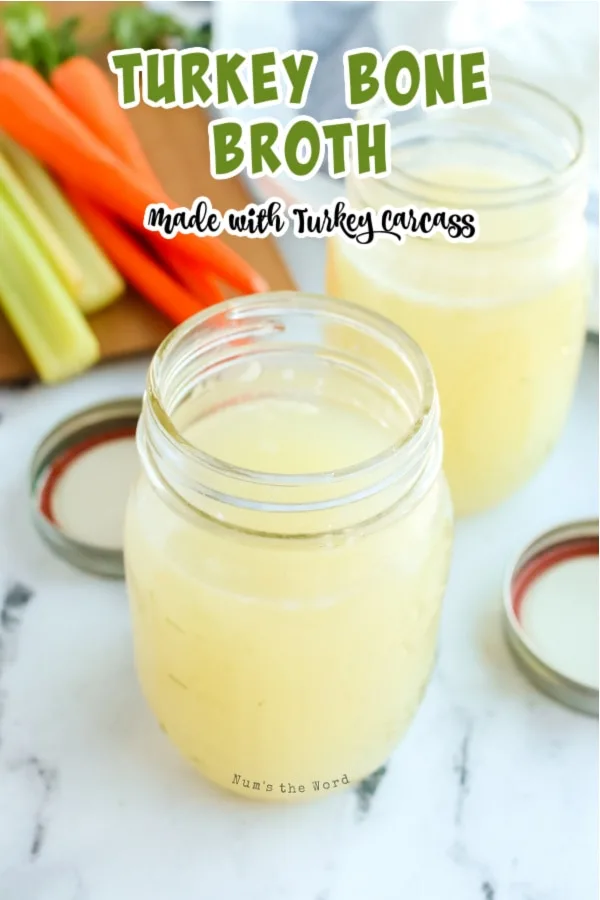 This is the best bone broth recipe to help you use up every part of your turkey this holiday season! In case you missed it, check out parts 1-3 of this 4-part series for turkey, start to finish!
And now we're helping you finish off your bird with this fantastic turkey bone broth recipe!
Making bone broth is incredibly easy to do. With a few added ingredients and a place at the back of your stove to simmer for a few hours, you'll have a delicious, rich, and thick bone broth with very little active effort!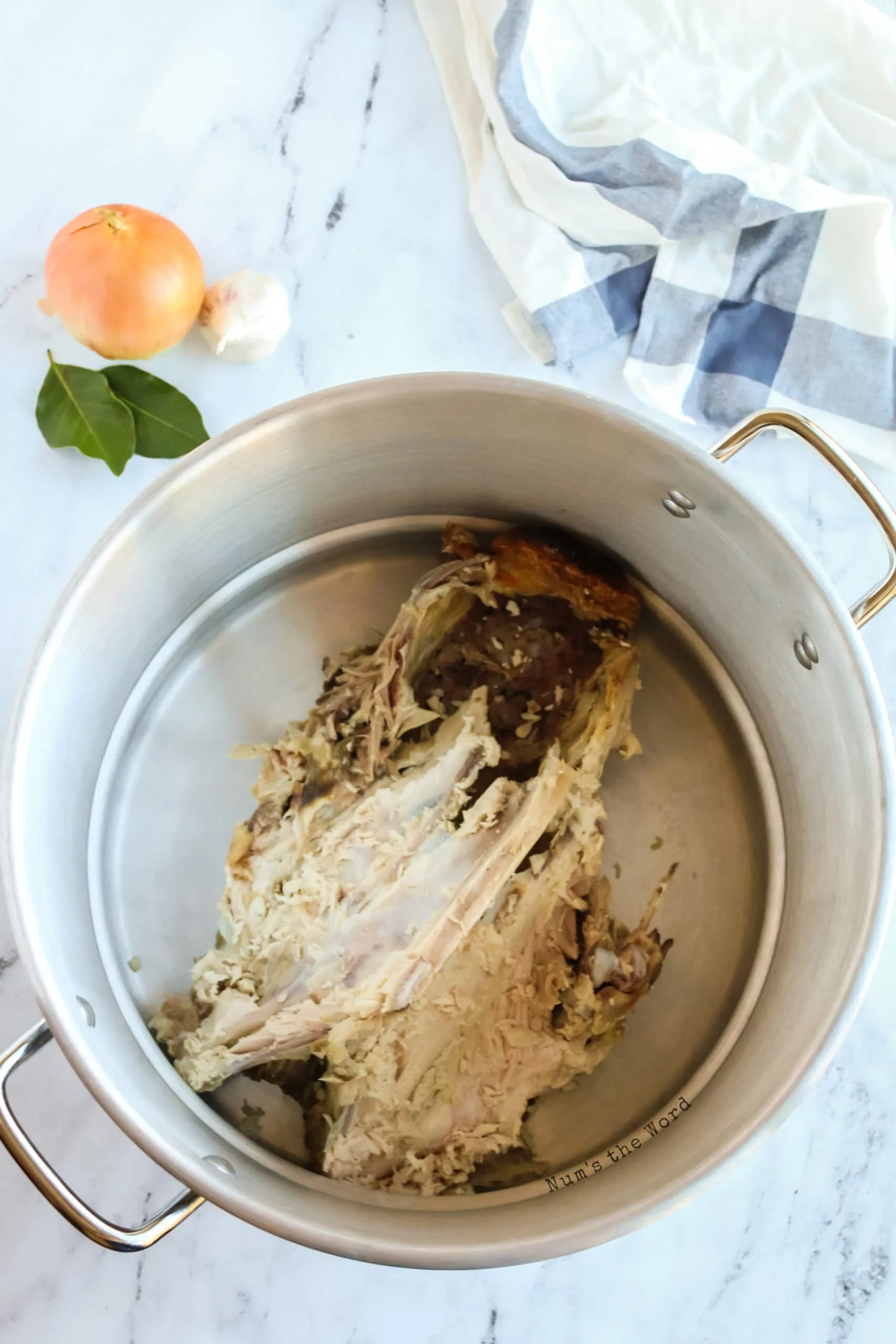 What is bone broth?
Bone broth is made by simmering the bones and connective tissues of any animal, though typically from poultry, beef, pork, or fish. It is packed with flavor, collagen, and nutrition. Turkey bone broth is simmering the bones of a turkey after eating the meat.
Is bone broth good for you?
There are many bone broth benefits.
Bone broth nutrition is amplified by this recipes' use of vegetables in addition to the turkey carcass itself.

Animal bones contain calcium, magnesium, phosphorus, and potassium.
The marrow in the bones provide vitamins A and K2, as well as several minerals, omega fatty acids, and collagen.
Does bone broth have collagen?
Bone broth contains collagen, which is within the bones and other parts of the turkey and is the protein that gelatinizes when it is cooked. Collagen provides several amino acids as well. Bone broth collagen is purportedly good for hair, skin, and nails.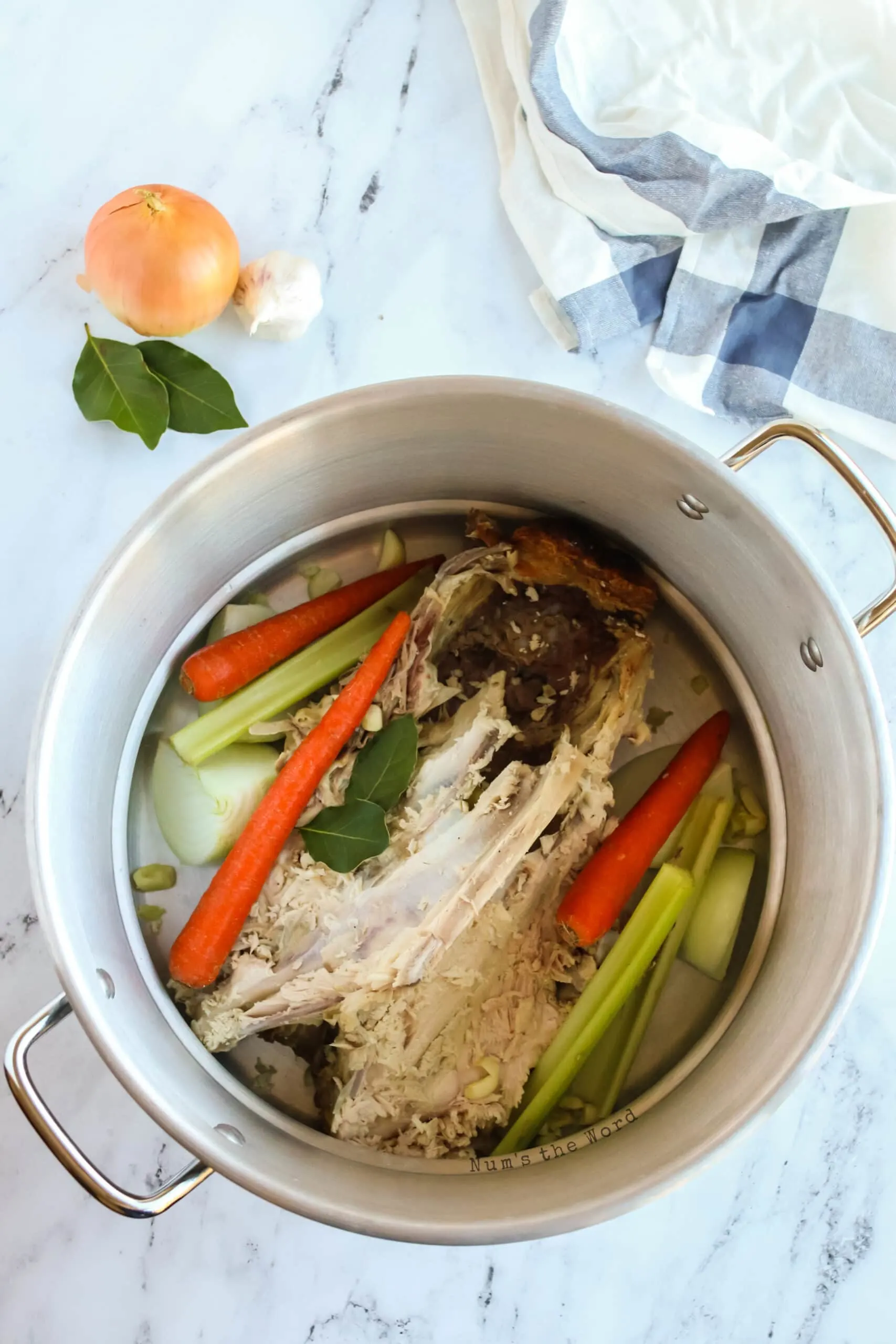 What is bone broth good for?
From a health perspective, bone broth is supposedly (I say supposedly because there are many claims, but not as much evidence to support them) good for gut and skin health, your immune system, teeth and bone strength and health, weight loss and muscle building, and hydration; some even claim purported benefits to pregnancy, mood, and sleep!
Turkey bone broth vs. turkey stock:
From a usefulness perspective, enter the bone broth vs. stock debate: Is bone broth a broth or a stock? Technically, it's a stock. It's thick, gelatinous texture is more on the stock side of things; a broth is typically thinner and made with more meat in addition to the bones. Regardless of nomenclature, this bone broth can also be used interchangeably in recipes that call for chicken stock or broth.
Pro tip: Keto bone broth — this bone broth is Keto-friendly and many proponents of the Ketogenic Diet recommend making and incorporating bone broths into your diet.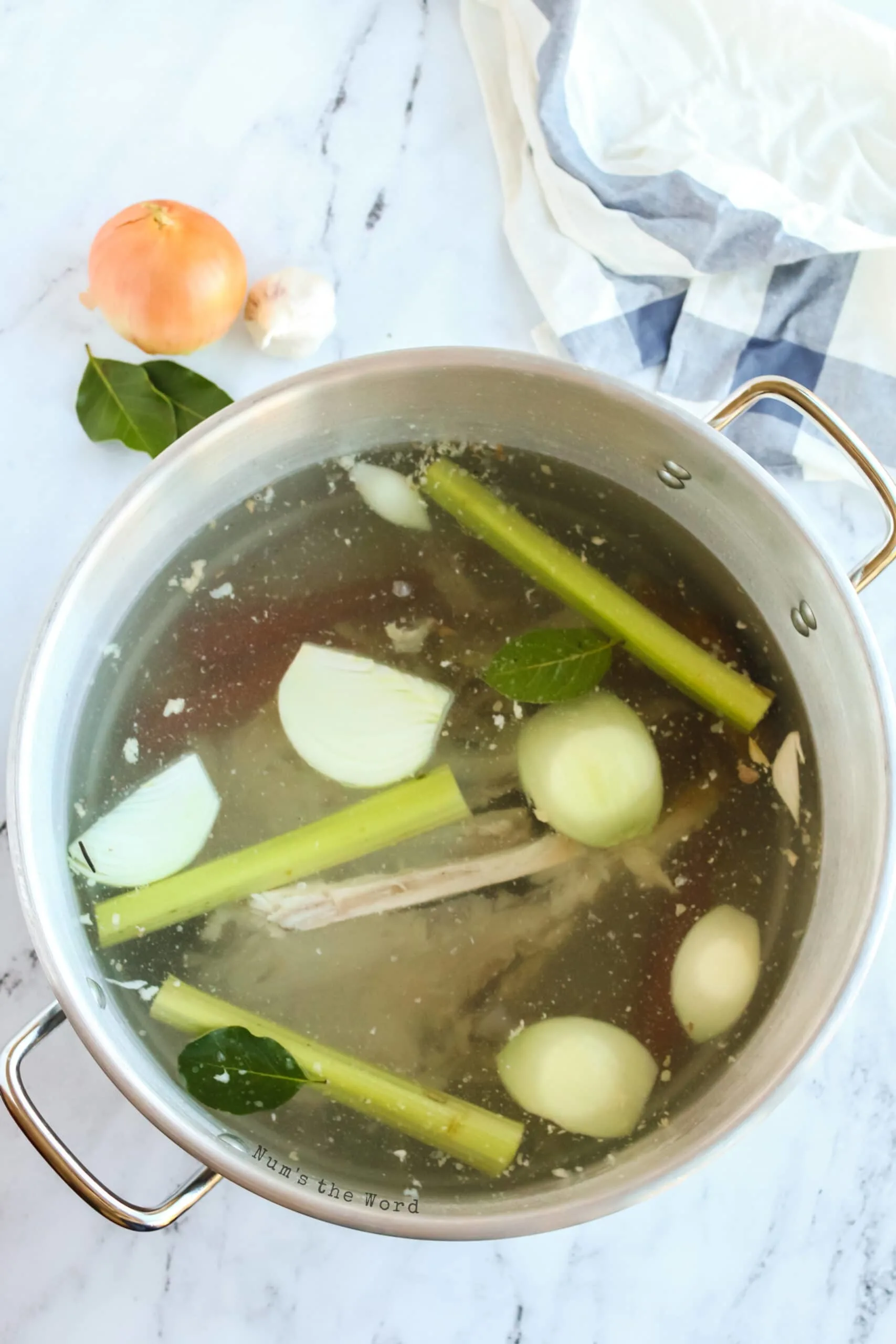 How to make turkey bone broth?
This bone broth recipe will also work well for those who want to know how to make chicken bone broth. For this recipe, you'll need:
Turkey carcass

– a bit of meat on the bones is fine. You don't need perfectly-picked-clean bones.

Vegetable scraps

– ideally you can save scraps while preparing your Thanksgiving meal!

Onion

– by simmering the onion with the turkey carcass, you'll add additional flavor to your bone broth.

Garlic

– another seasoning that packs a lot of added flavor!

Bay leaves

– something about bay leaves and poultry is just so — mmm, delicious.

Carrots and Celery

– vegetables will not only add flavor, but also additional nutrients and color.

Water

– enough to cover the carcass, about a gallon.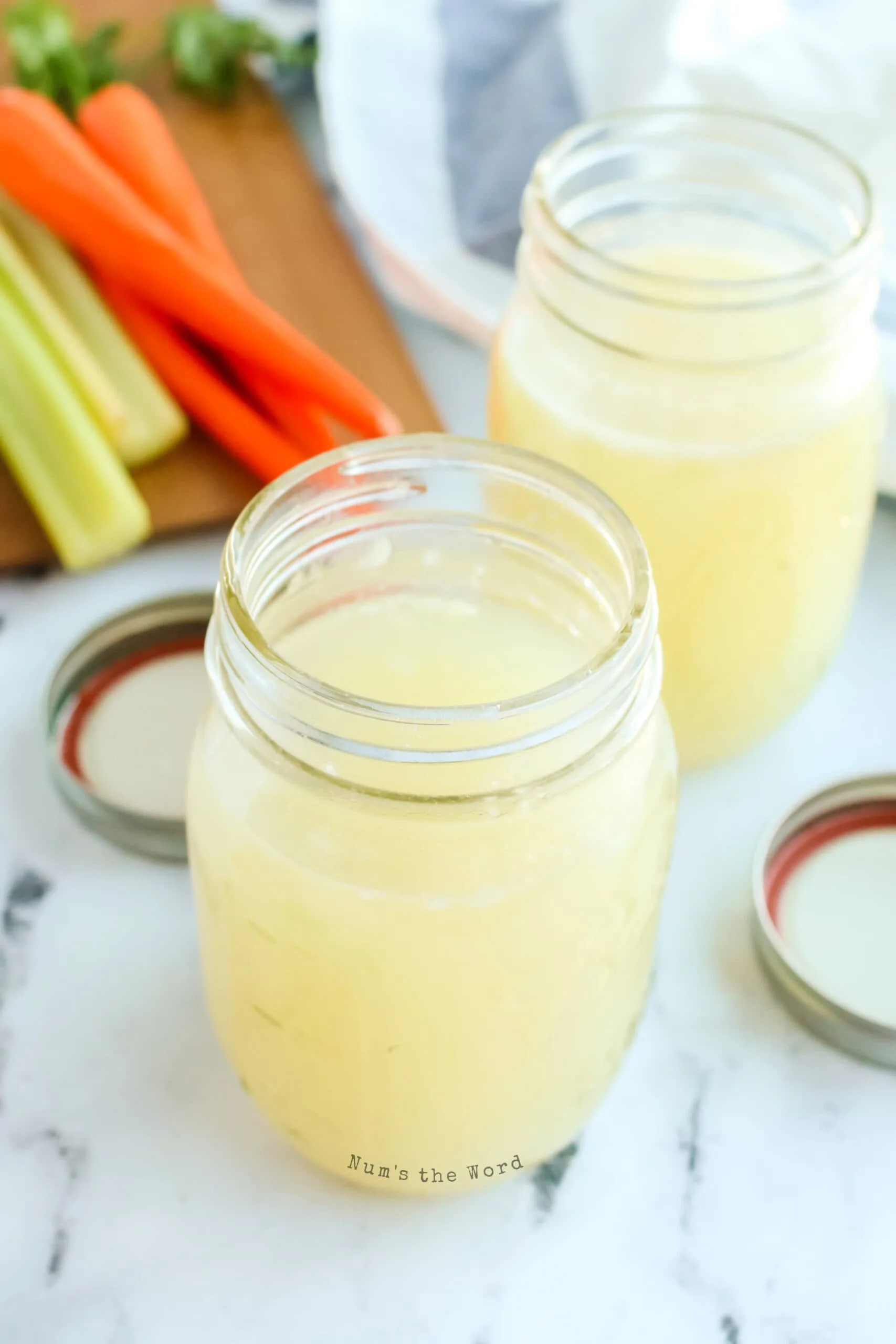 How long to cook bone broth?
If you want a liquid broth, boil your bones for 1 – 1 1/2 hours in the vegetable liquid. If you want a richer, more flavorful bone broth that also gels, you'll want to simmer your bone broth for approximately 3-4 hours. The liquid should be reduced by about ½ and the broth will be richer in color.
How to use bone broth?
Use this bone broth in any recipe in place of chicken broth or stock. You can also drink bone broth!
If you want to stretch your homemade broth further, you can add 1 Tablespoon of gelled broth to every 1 cup of liquid broth. This will add the health benefits but also help it stretch further.
How to drink bone broth?
Many people recommend drinking bone broth. If you're interested in drinking bone broth for its many purported health and nutritional benefits, make sure it is hot! Drink it as you would a tea. You can even add additional herbs or seasonings!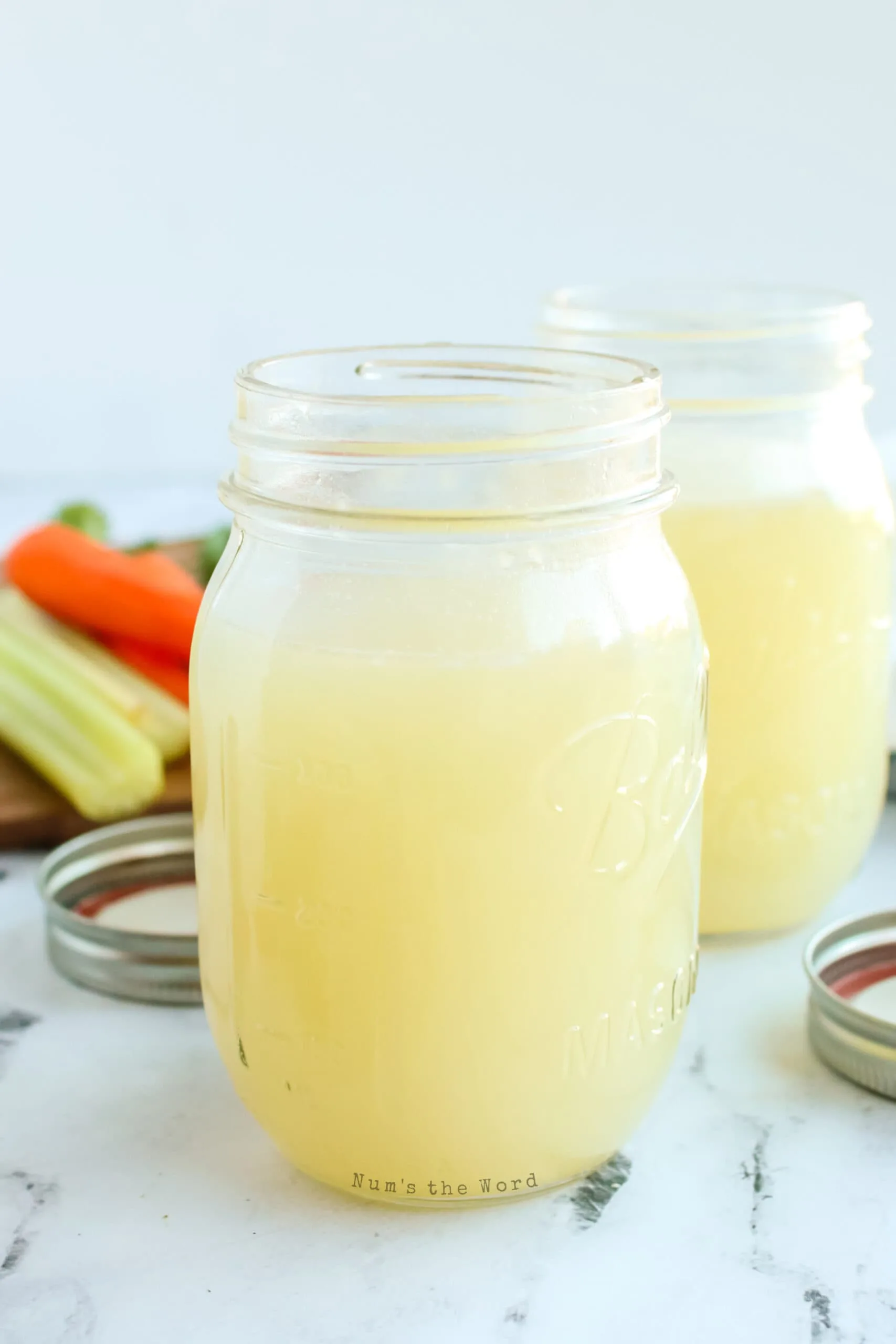 How to eat bone broth?
While the finished bone broth will be gelatinous, we don't recommend digging into it with a spoon like a tub of jello. If drinking it straight up does not seem appealing to you, consider using it in place of water when cooking grains such as rice or quinoa. This will provide your grains with extra flavor and nutrition! You can also use your bone broth in soups!
What does bone broth taste like?
Bone broth tastes like … broth. Think of the leftover broth in a chicken or turkey soup — it's going to taste a lot like that, but blander unless you add additional seasonings.
How long does turkey stock last in the freezer?
If you've ever wondered how long does bone broth last in the freezer, the answer is up to 3 months. You can freeze your homemade bone broth for up to 3 months. Be sure to store it in an airtight container or jar with enough room to allow for expansion as it freezes.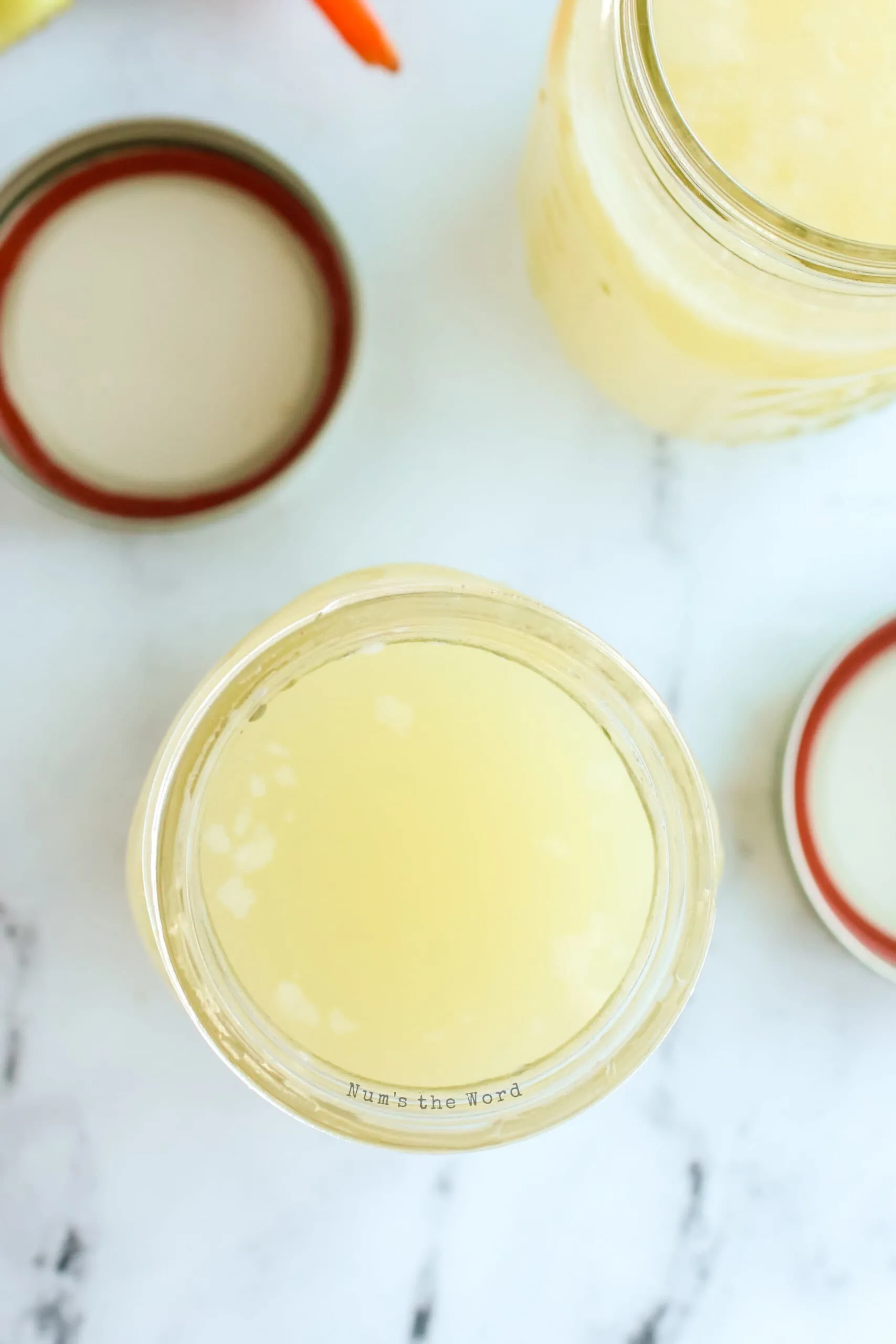 How long does bone broth last in the fridge?
Your bone broth will last about 1 week in the fridge. Once refrigerated, a properly cooked bone broth will gel.
Can dogs have bone broth?
Yes, bone broth for dogs is a great addition to your dog's regular feeding schedule. Just bear in mind that bone broth is not a meal replacement option for your pup … more like a bonus treat or snack.
How to make bone broth for dogs?
You can use this same recipe for you or your dogs! You won't need to heat the bone broth before serving it to your pups. Simply give them a couple spoonful's in addition to their regular meals.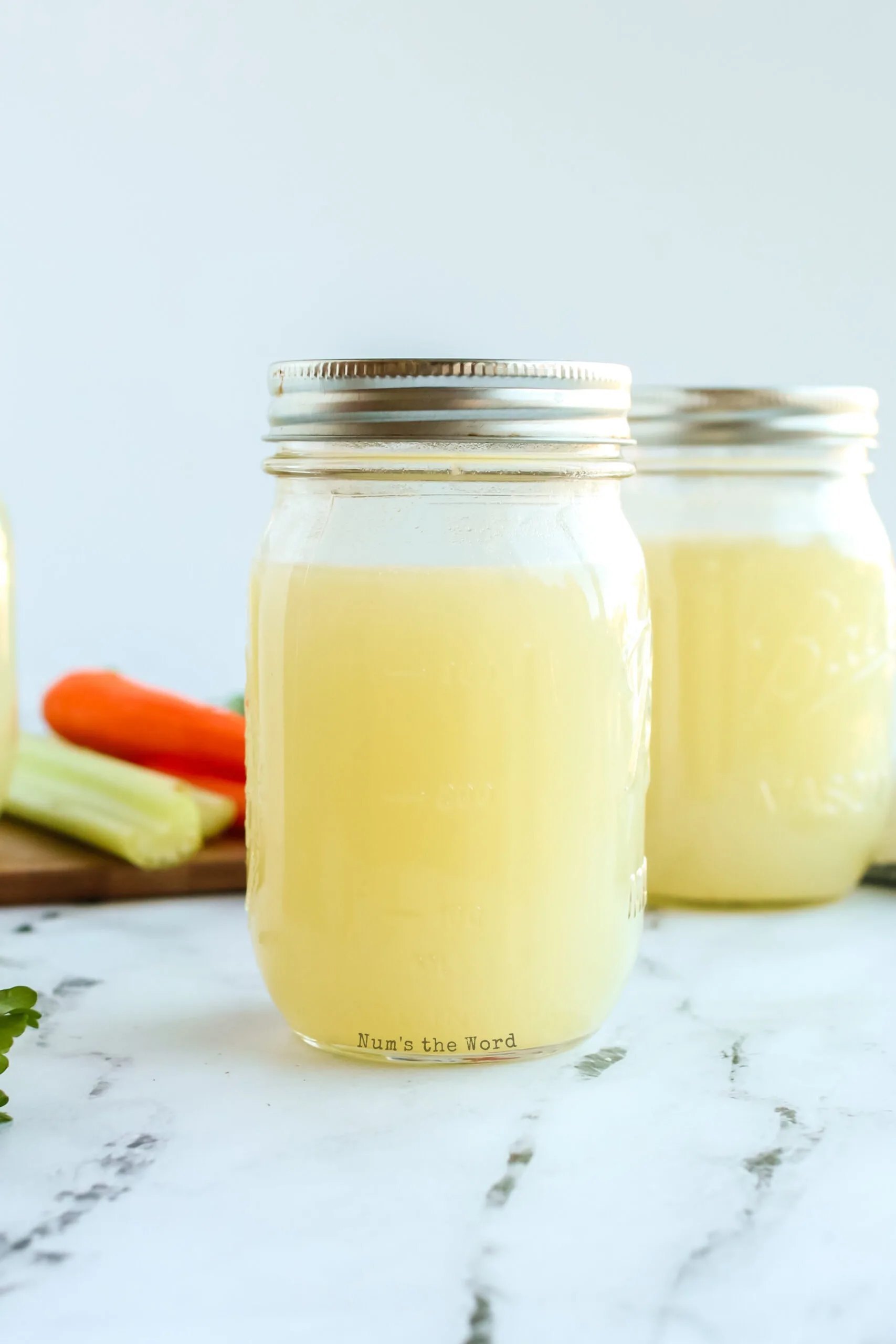 Is bone broth vegan?
While this is an epic bone broth recipe, it's not epic enough to be vegan. Bone broth recipe will ever be vegan, because bone broth is made by simmering the bones of animals.
Recipes that you can use this Turkey Bone Broth in (instead of chicken broth!)
Whether you're interested in using up all the parts of your turkey or in seeing if some of the purported health benefits of incorporating bone broth into your diet are for you, this bone broth recipe is the perfect finale for your Thanksgiving turkey.
Simple to make and packed with nutrition and flavor, this bone broth will make an excellent addition to your soups, grains, or even your morning routine. Or your dog's diet! So versatile!
Yield: 8 cups
How to make Turkey Bone Broth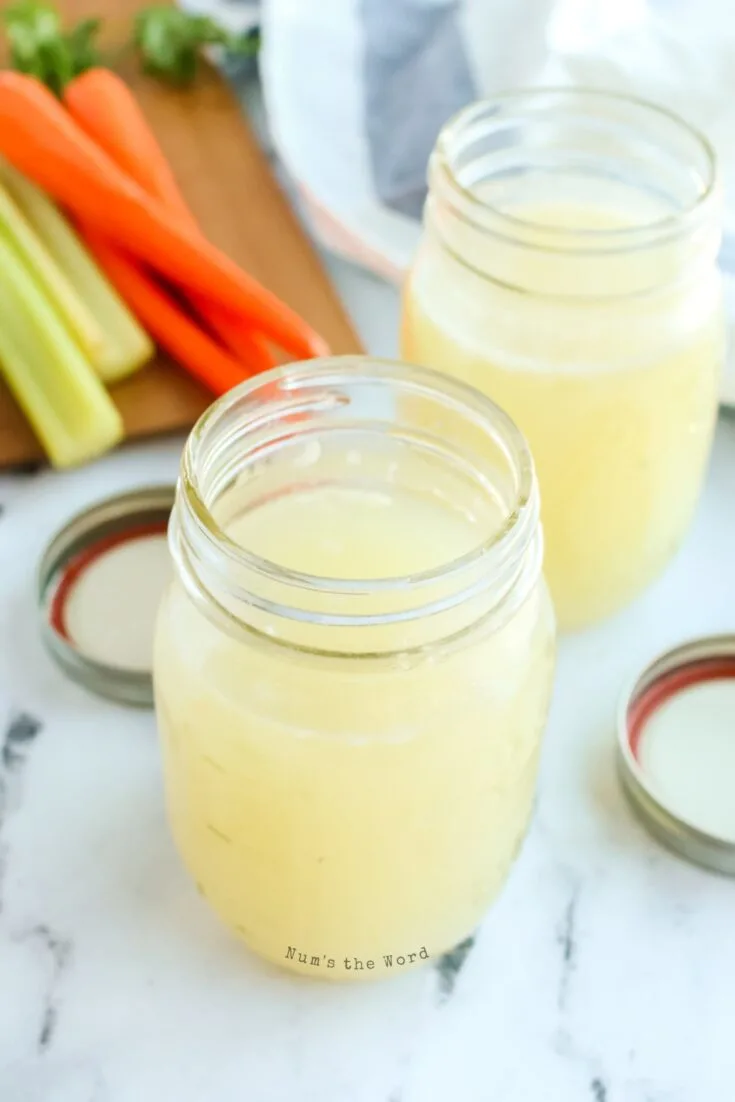 This homemade Turkey Bone Broth is packed with flavor and is a great way to use up your entire turkey! Use as you would any chicken broth!
Total Time
4 hours
10 minutes
Ingredients
1 Turkey Carcass (bones) - having a little meat on the bones is ok.
Vegetable scraps from prepping your Thanksgiving meal if you have saved them. If not, then use the following:
1 large yellow onion, quartered
6 cloves garlic, smashed
2 bay leaves
2 - 3 carrots
2 - 3 stalks of celery
1 gallon of water - enough to cover carcass
Instructions
Fill a large pot with the turkey carcass (bones), vegetables and seasonings.
Add water to cover the carcass.
Bring to boil.
Place the lid on the pot and lower temperature so that the mixture is at a simmer, not a rapid boil.
Cook for 3 - 4 hours, or until liquid has reduced to about half and is a nice rich color.
Remove carcass and vegetables. Strain broth through a fine mesh strainer.
Bottle broth and keep in the fridge for up to 1 week or freeze for up to 3 months.
A well done broth will gel overnight in the fridge.
Use 1:1 ratio for recipes calling for chicken broth OR use it as a flavor booster with 1 Tablespoon gelled broth for every cup of liquid broth (if you want to stretch it's use).
Notes
If you do not want to make a gelled bone broth, then cook your above ingredients for 1 hour. This will be more of a broth like you purchase at the store.
Gelled bone broth (like this recipe) offers a lot more health benefits and a bolder flavor than simple liquid broth.
Nutrition Information:
Yield:
8
Serving Size:
1
Amount Per Serving:
Calories:

284
Total Fat:

12g
Saturated Fat:

3g
Trans Fat:

0g
Unsaturated Fat:

7g
Cholesterol:

57mg
Sodium:

423mg
Carbohydrates:

30g
Fiber:

3g
Sugar:

13g
Protein:

15g