When I think of turkey, I always include turkey gravy from drippings. It's practically an essential part of any turkey dinner!
It is the perfect topping for your mashed potatoes, tastes amazing slathered over your carved turkey, and best of all, will help your leftovers retain moisture and flavor when reheating!
If you've never had homemade turkey gravy from drippings before, then choose this year to try it!
It really is so simple; most of what you need is right there in the pan with your roasting turkey.
Plus if your turkey was brined, then prepare your taste buds for some of the most divine gravy ever tasted. Seriously, it is incredible.
Truly, the canned or jarred gravy varieties DO NOT hold a candle to fresh turkey gravy.
This is literally the most easy turkey gravy recipe EVER!
We're talking under 20 minutes, using 3 ingredients — all of which I'm certain you already have on hand.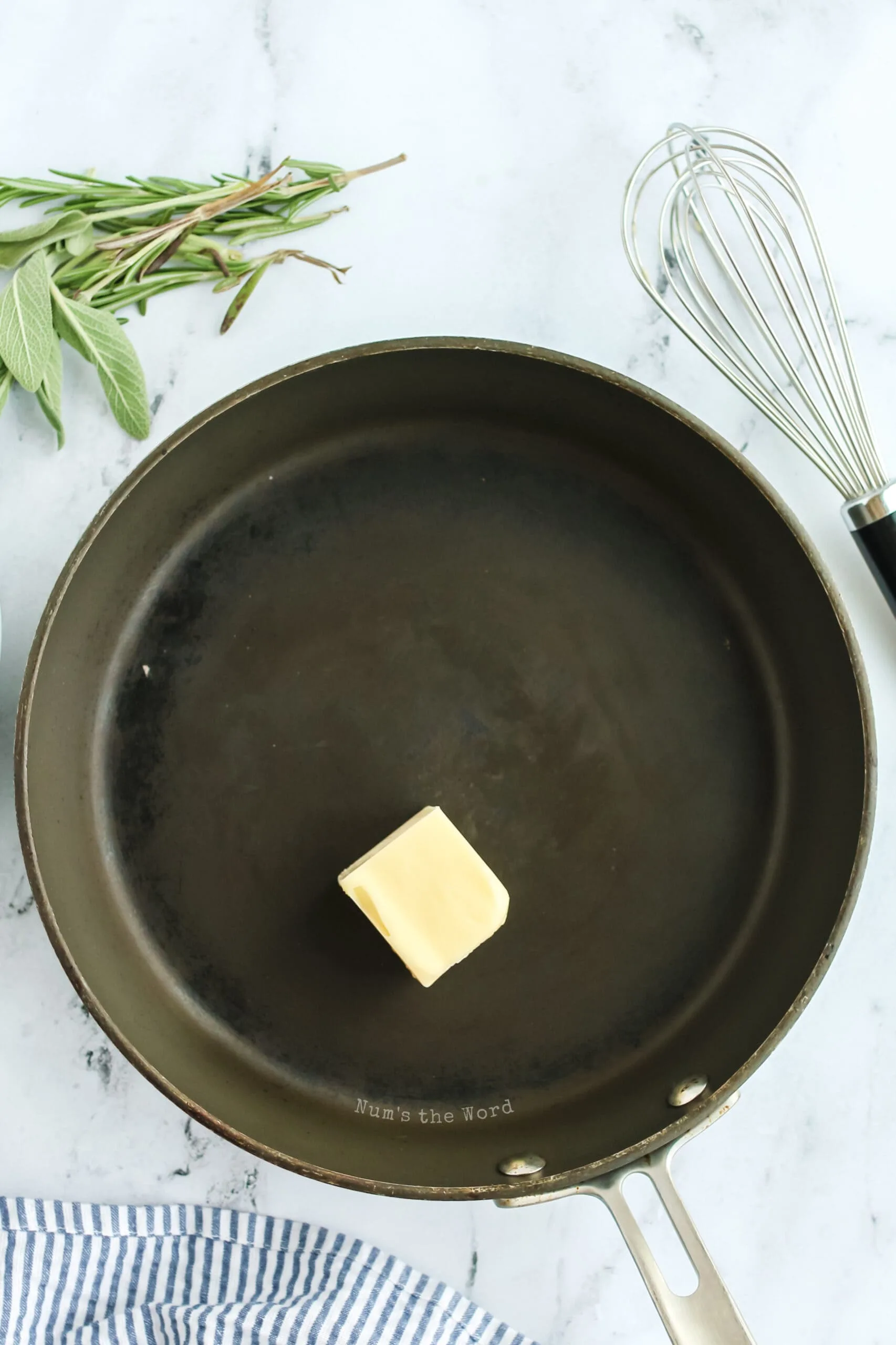 How to make turkey gravy:
If you're wondering how to make gravy from turkey drippings, this is the post for you!
If you've been following along with the other installments of this 4-part series, you'll know that this turkey gravy recipe is part 3 of 4.
Check out parts 1 and 2: "How to Brine a Turkey" and "How to Roast a Turkey in an Electric Roaster" for all the info you'll need to make the PERFECT turkey this holiday season!
Learning how to make homemade turkey gravy is SO simple! For this recipe, you'll only need a few common ingredients in addition to your turkey drippings.
Turkey drippings

– be sure to strain these to avoid chunks in your gravy. We want blissfully smooth and rich gravy here!

Butter

– butter is going to make your gravy extra rich and flavorful. This recipe doesn't call for cornstarch; instead we combine butter and flour to create a white roux, which will thicken your gravy without added cornstarch.

Flour

– when equal parts flour and fat (in this case melted butter) are combined over medium heat, you create what is called a "roux," which is an excellent thickening agent for sauces and gravies.

Chicken stock

– if you are not able to collect enough pan drippings to reach 2 ½ cups, you can add in chicken stock until you have enough.

Celery salt

– if you brined your turkey,

you will not need

any additional seasonings (meaning this celery salt!). Your drippings will already be packed with fantastic flavor from the brine.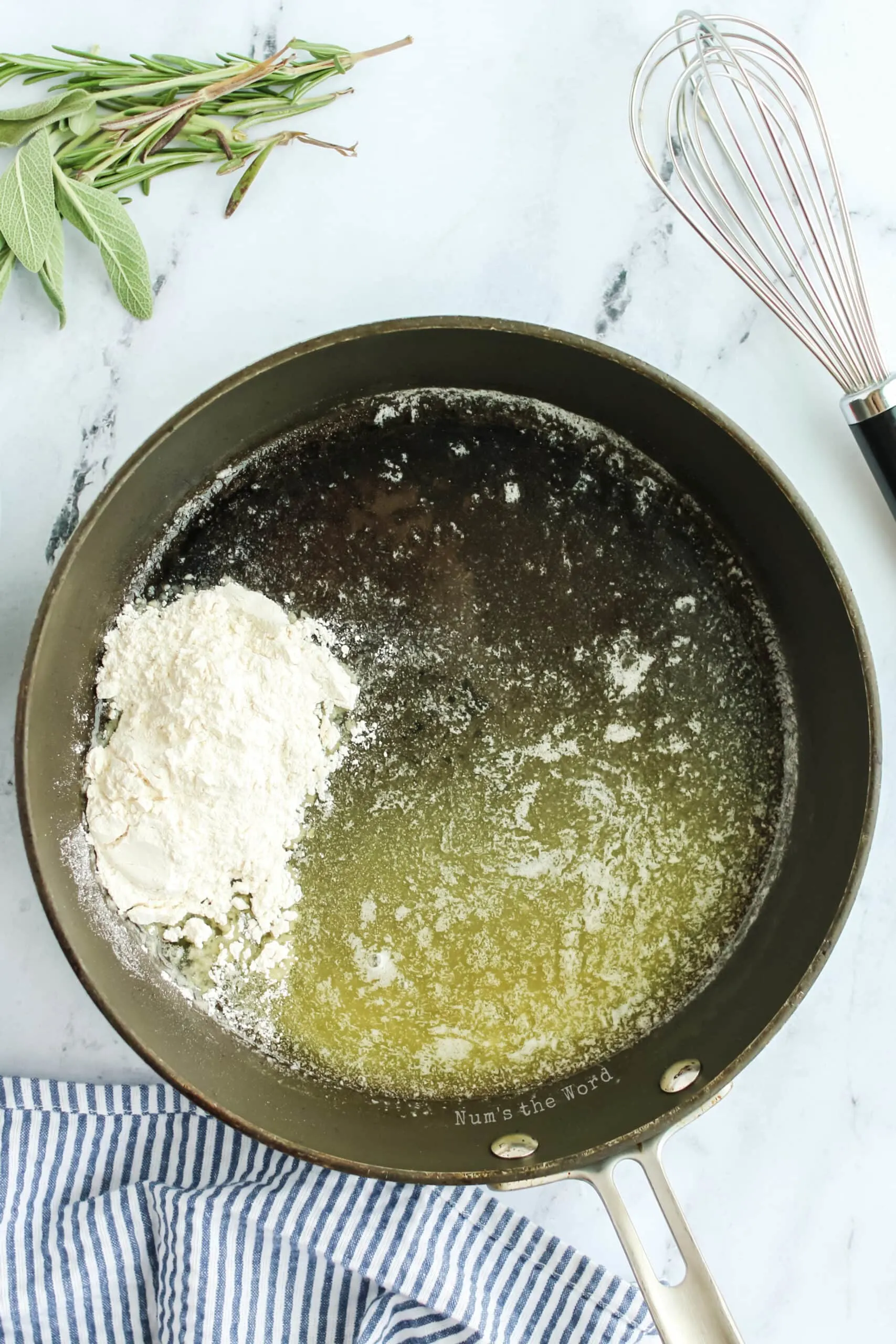 How do you make turkey gravy?
Making turkey gravy from turkey drippings is incredibly easy to do!
You'll begin by carefully collecting and straining your turkey drippings.
I recommend straining them into a 4-cup glass measuring container so you can see exactly how much you have and whether you'll need to add chicken stock to reach 2 ½ cups.
Allow the turkey drippings to sit for about 5 minutes so some of the fat will separate and rise to the top.
Skim off the fat. If you're short the 2 ½ cups needed for this recipe, add the appropriate amount of chicken stock to hit that mark.
Now melt the butter in a large pot or saucepan over medium heat. Once melted, add flour, stirring quickly to incorporate with the butter, and continue stirring for 1 minute.
You don't want to overdo this part, or your butter will over-brown and you'll lose some of the thickening properties of the roux.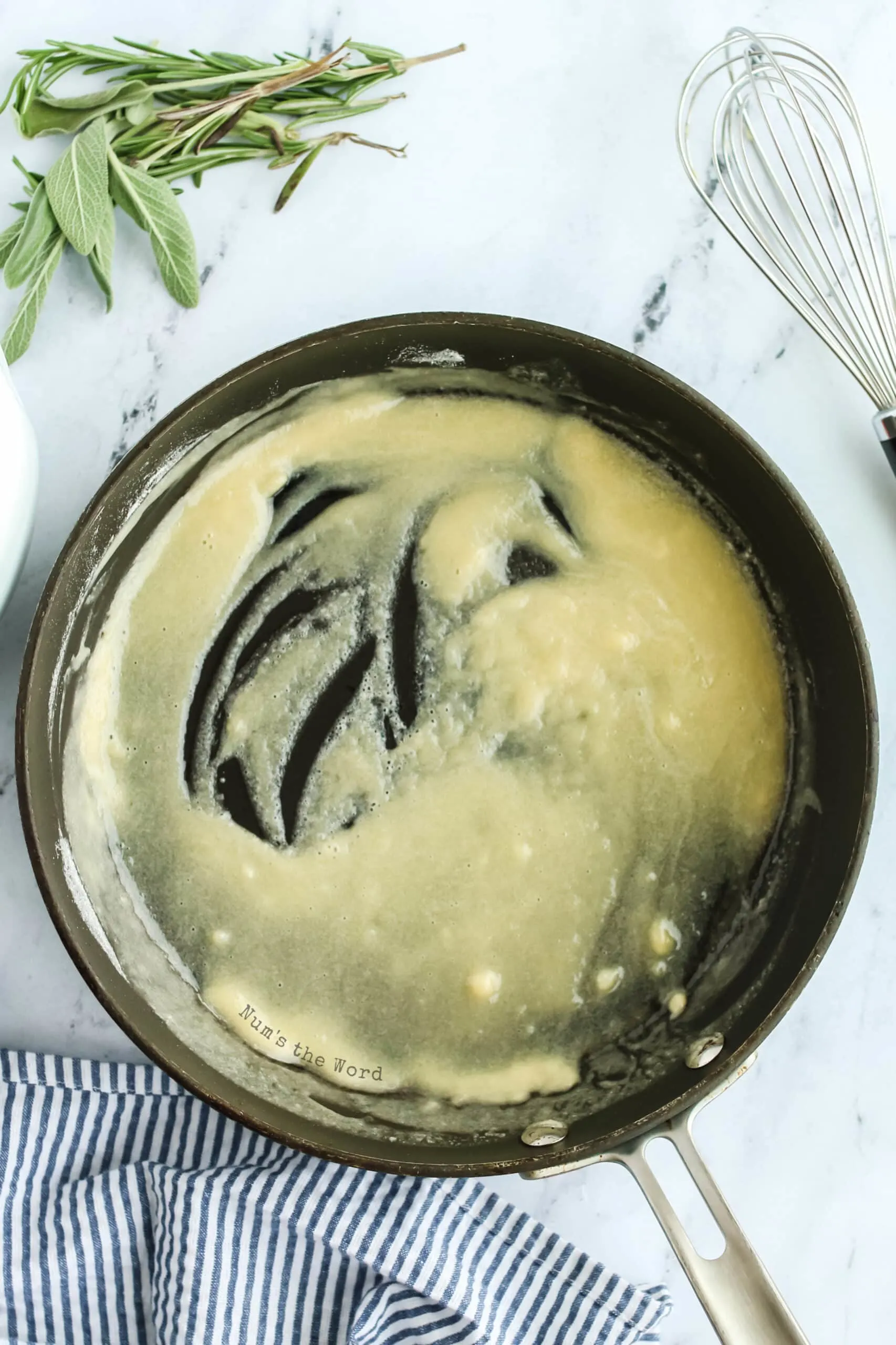 Pro tip: There are three types of roux: white, blonde, and brown. A white roux works best for thickening. Darker roux adds a nuttier, browned butter flavor.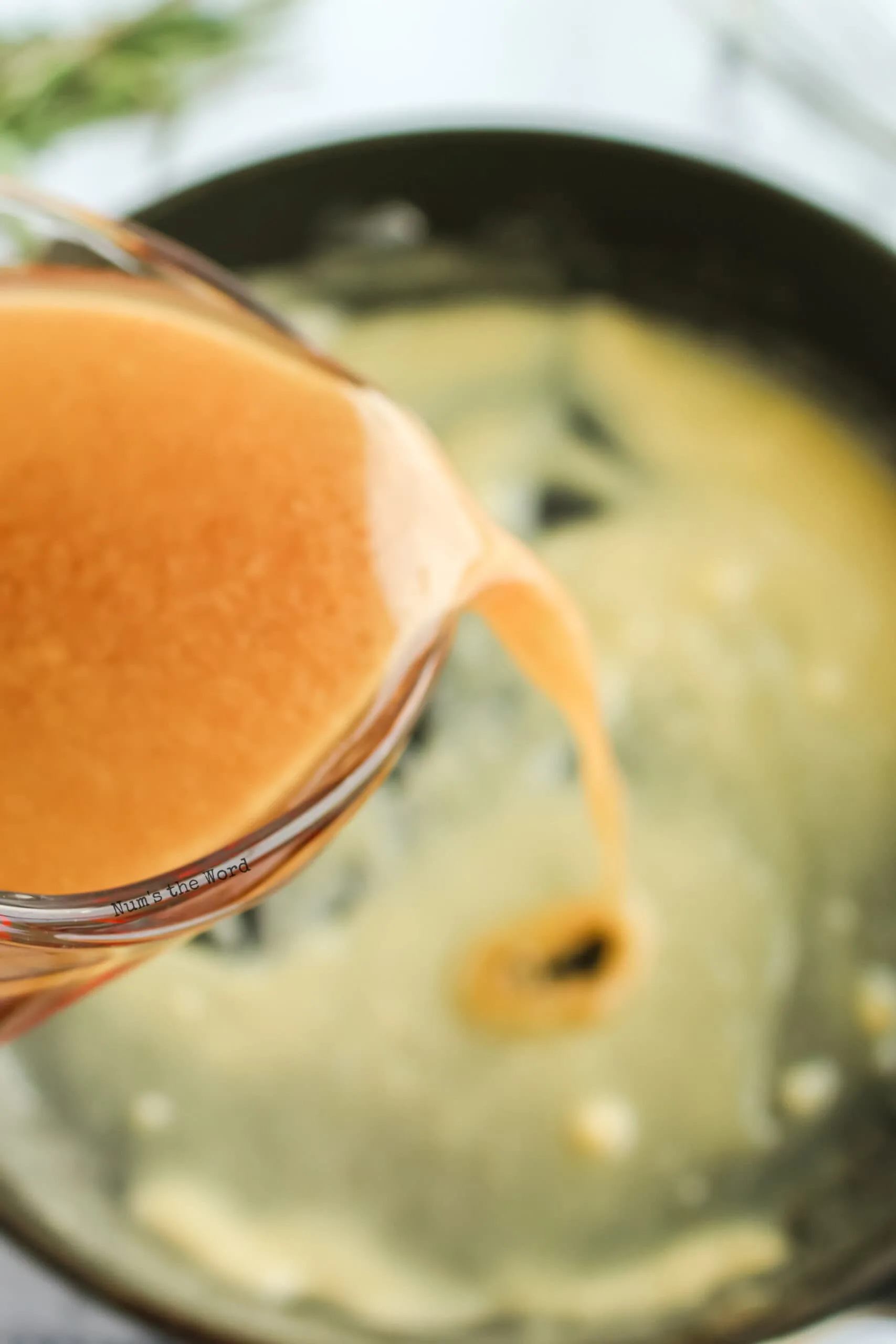 Now add the turkey drippings/broth ¼ cup at a time, whisking continuously.
At first, the mixture will be SUPER thick. That's good.
You want the beginnings of your gravy to maintain thickness so that as you continue adding the drippings your gravy won't be too thin.
Once you've added all the liquid, bring the gravy to a simmer for 15 minutes.
This allows the gravy to continue thickening and for all those tasty flavors from the pan drippings to really blend together.
The gravy will continue to thicken as it cools as well.
How to make gravy without turkey drippings:
If you don't have any pan drippings, there are other ways — just as easy — to get your homemade turkey gravy fix.
All you need to do is substitute the pan drippings with chicken or turkey stock, and then add additional seasonings.
Knowing how to make gravy from turkey stock/broth is great for those times when you don't have access to turkey drippings for whatever reason, or if you need MORE GRAVY.
I don't know about you, but my kids pour so much gravy on everything, sometimes it feels like we need a gallon of the stuff.
Now if you don't have chicken broth on hand, then try your hand at Vegetarian Gravy. It tastes amazing and is just as easy to whip up!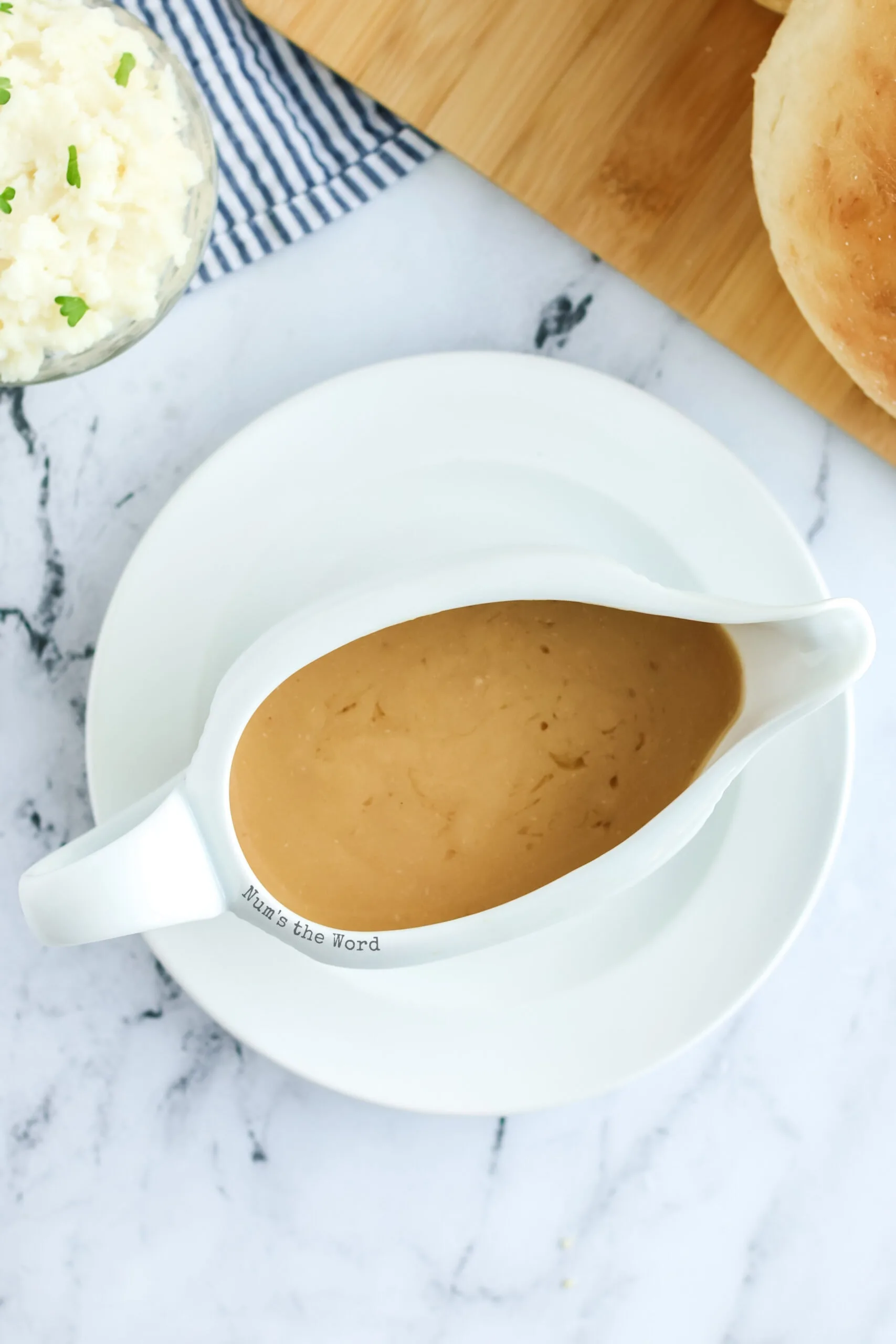 Can you freeze turkey gravy?
You can absolutely freeze this turkey gravy recipe! That's because this is a flour-based gravy instead of a milk or cream based one. This gravy will thaw and reheat, so you can save the gravy for later — 3 months in the freezer, or 3 days in the fridge.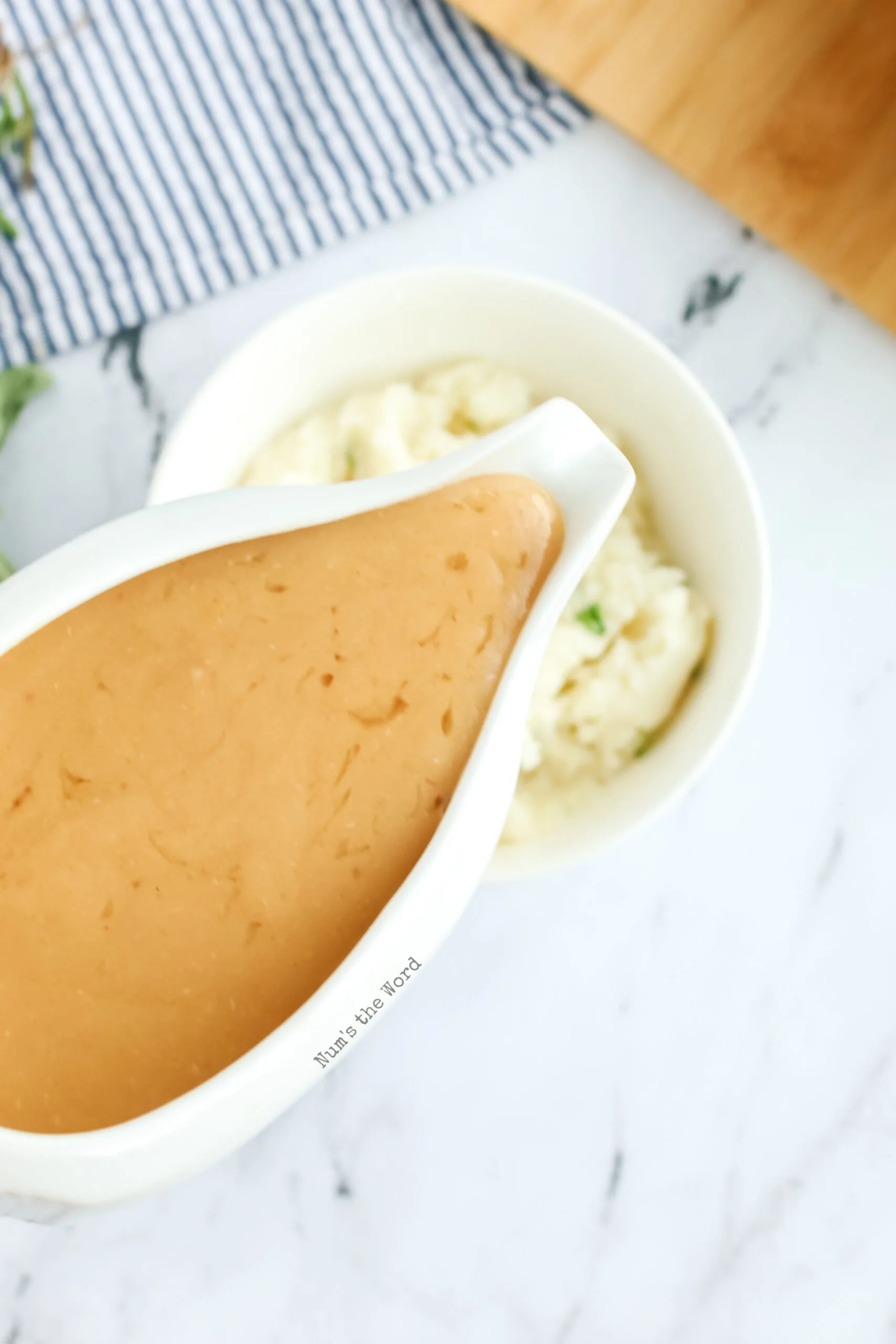 Pro tip: when reheating leftover turkey, oftentimes it feels like we end up sacrificing a lot of flavor and texture in the process.
For moist, delicious leftovers, be sure to cut your turkey into bite-size pieces and cover in leftover gravy and/or extra butter.
When reheating in the microwave, do so at low power in short bursts of time, stirring in between, for the best leftover turkey!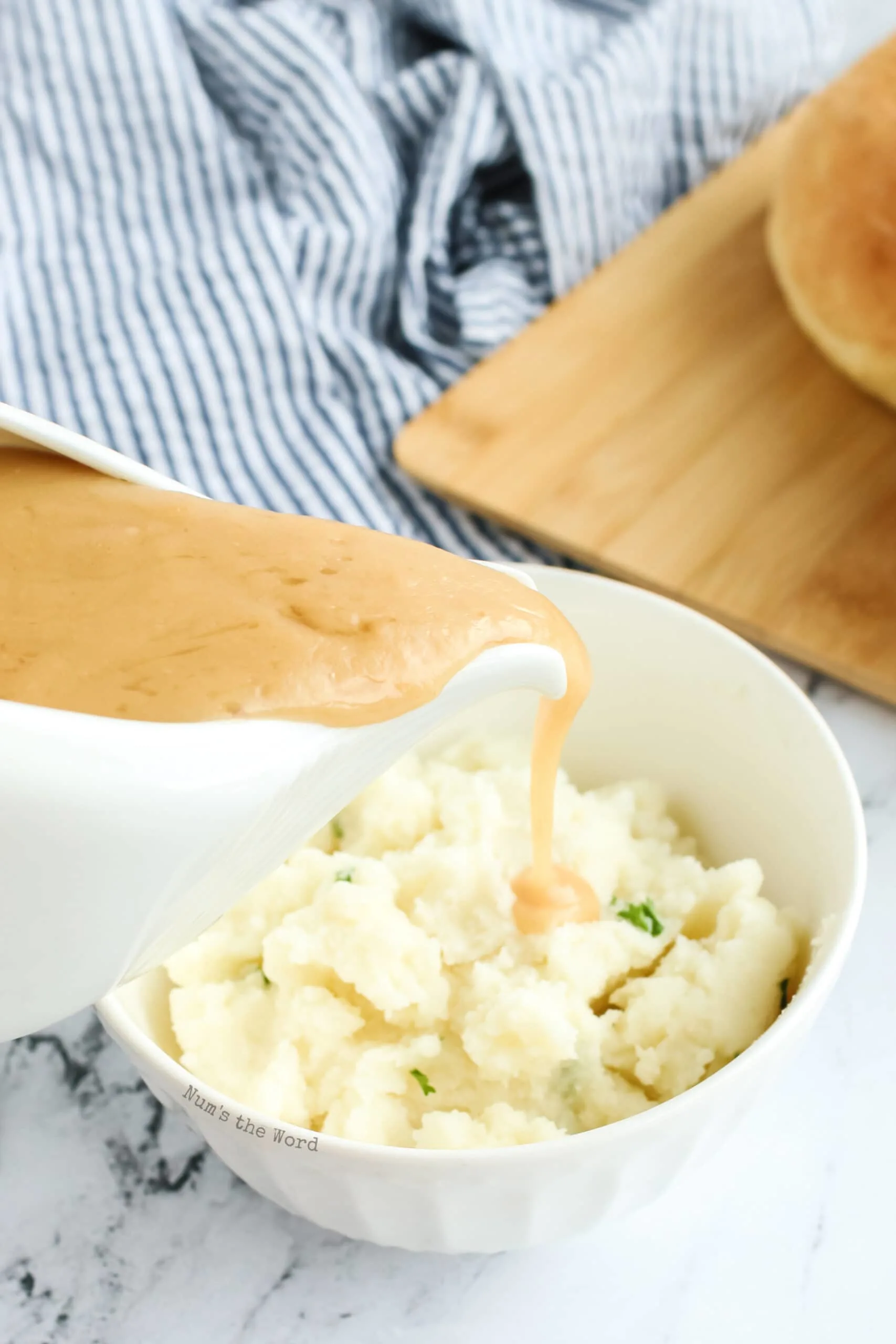 My Favorite Pies for Thanksgiving: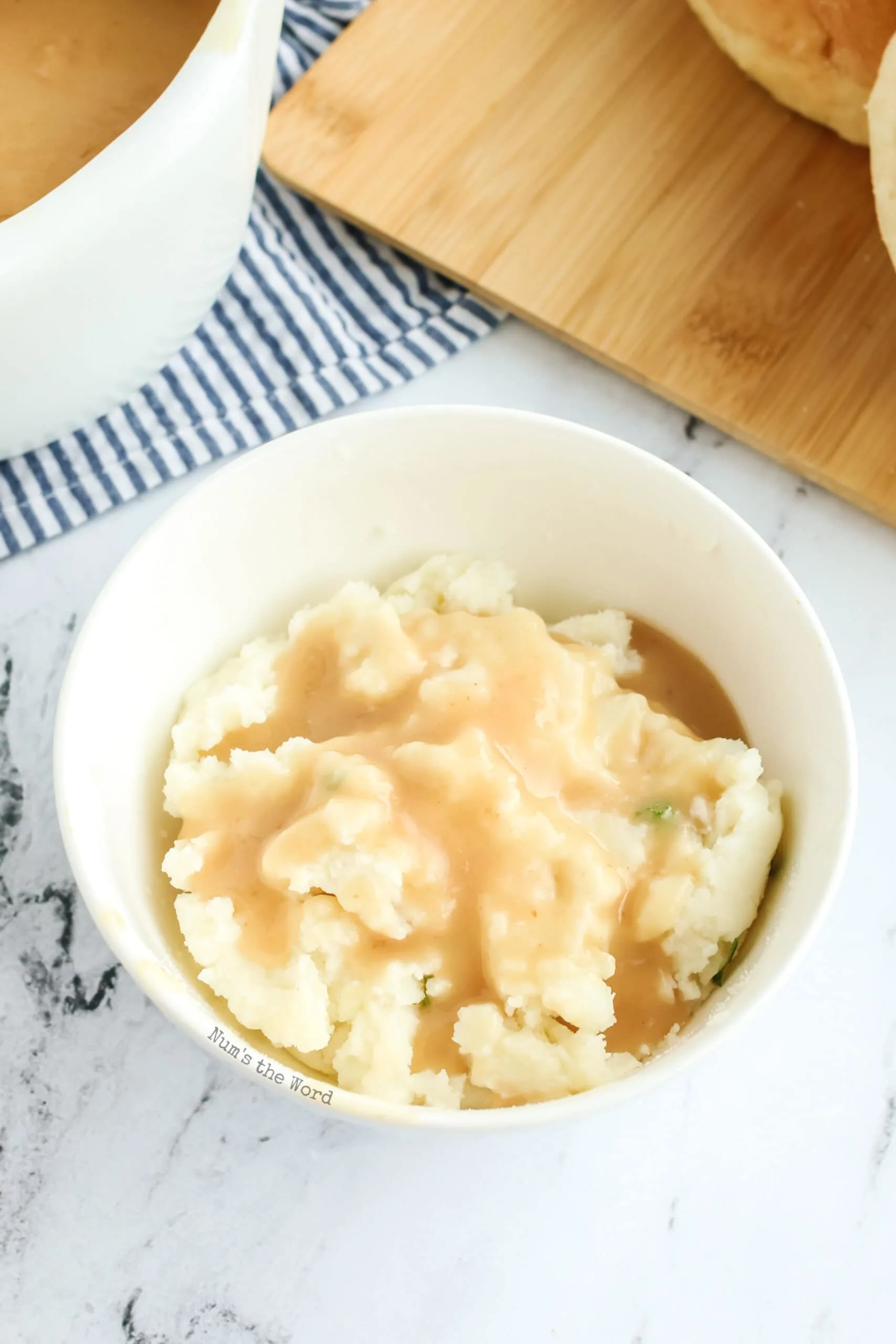 If you're looking for the best turkey gravy recipe ever, then you've found it, my friends!
Not only is this recipe packed full of turkey dripping goodness, but it's quick and easy to make.
So gather those drippings and let's pour some homemade turkey gravy on everything! Especially those leftovers!
Turkey Gravy from Drippings
Turkey Gravy from Drippings tastes like love. Love poured into a juicy turkey and then whipped into a delicious gravy. It's easy to whip up and better than anything you can buy!
Ingredients
2 1/2 cups strained pan drippings
1/4 cup butter
1/4 cup flour
If you brined your turkey, no additional seasonings are needed.
If you did not brine your turkey, add 1 teaspoon celery salt.
Instructions
Strain turkey drippings into a 4 cup measuring cup.
Let sit and cool for 5 minutes allowing fat to rise to the top and remove fat.
If you do not have enough drippings to make 2 1/2 cups, then add chicken stock or broth.
In a pot, melt butter.
Add flour and stir. Cook for 1 minute.
Add broth 1/4 cup at a time, whisking continually. Mixture will thicken immediately but thin out as you continually whisk and add liquid.
Once all liquid is added add celery salt.
Simmer for 15 minutes to thicken gravy and let flavors meld.
Gravy will thicken more as it cools.
Serve immediately.
Nutrition Information:
Yield:
10
Serving Size:
1
Amount Per Serving:
Calories:

105
Total Fat:

7g
Saturated Fat:

3g
Trans Fat:

0g
Unsaturated Fat:

3g
Cholesterol:

38mg
Sodium:

309mg
Carbohydrates:

3g
Fiber:

0g
Sugar:

1g
Protein:

8g