Nothing beats this easy and delicious Turkey Noodle Soup on a chilly day! It's incredibly simple yet filling and packed with nutrition! The days after Thanksgiving, nothing in the world will beat this soup.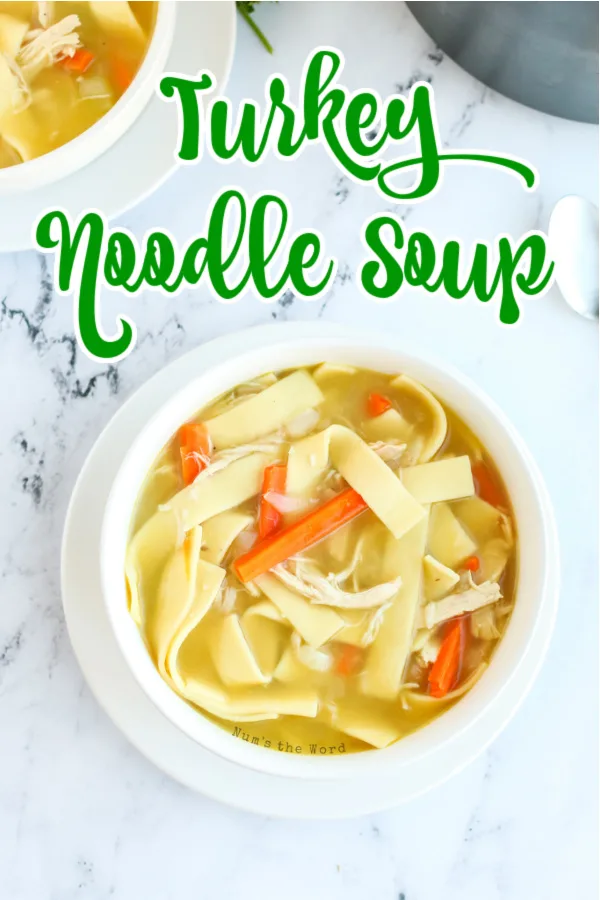 This turkey noodle soup recipe is an old fashioned, heavenly recipe that packs in all the same flavor you know and love from chicken noodle soup but with a holiday twist. I believe leftovers and meals made from leftovers are heaven sent, and easy turkey noodle soup fills that bill perfectly.
I love that this homemade turkey noodle soup is so simple! It is also super fast– you'll have a mouthwatering meal in 30 minutes! This soup is flexible– swap the veggies and protein for what you have in your fridge!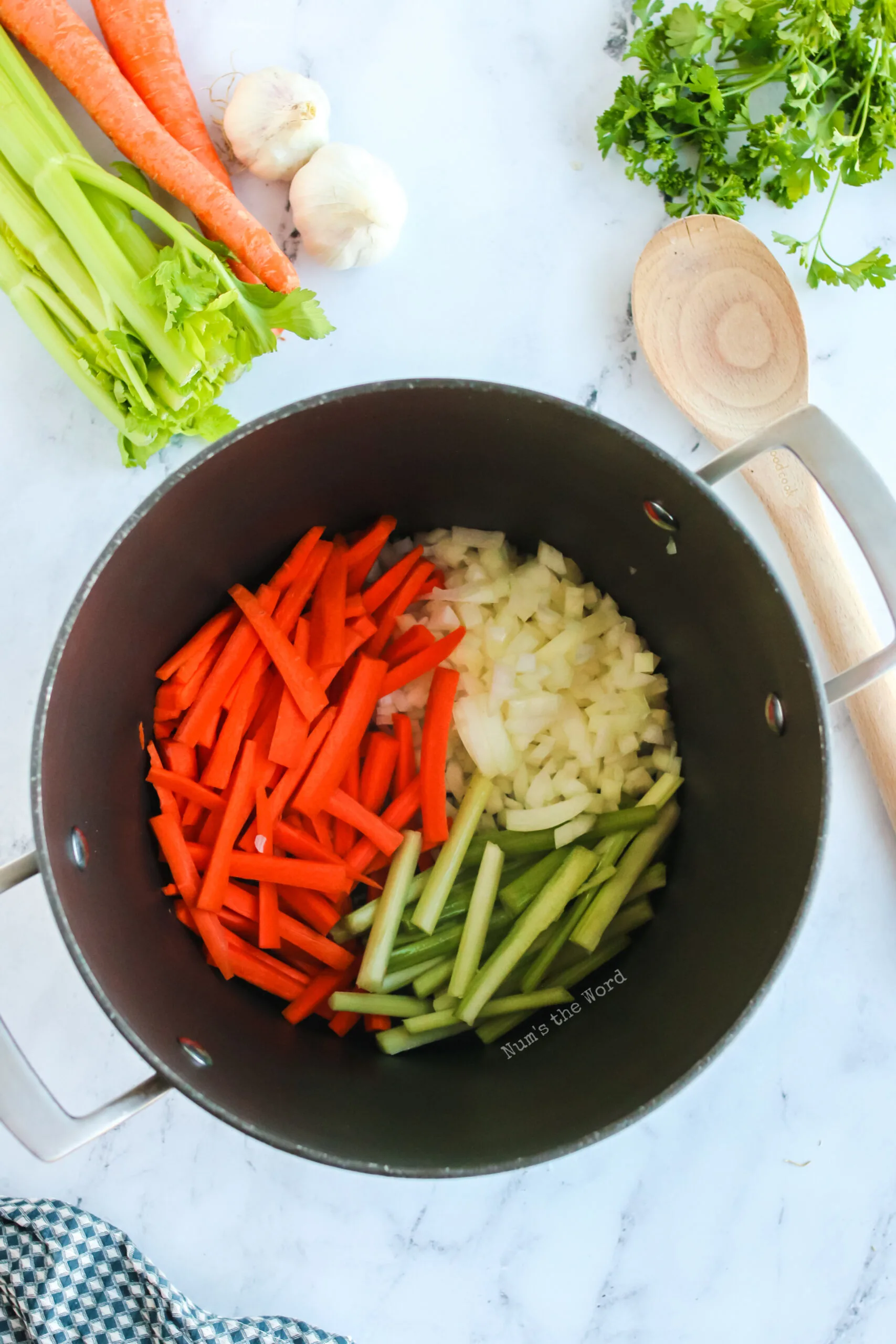 Ingredients Needed for Turkey Noodle Soup
Olive Oil:

Use this for sautéing your veggies. You can swap for another type of oil or fat if you want and it won't make much difference in your flavor.

Onion, Celery, and Carrots:

When I think of noodle soup, these are the three veggies that always come to mind. Yet, not everyone is a fan of those and sometimes they aren't in your fridge. Feel free to exchange these for other veggies you love and have on hand.

Garlic:

I'm all for convenience and did you know they sell garlic pre minced at the store? If you can't find it, my other tip is to use the flat side of your knife to crack the garlic slightly. It makes the skin peel off so much more easily.

Chicken Broth: Chicken broth or turkey broth. Either one is fine but chicken broth is typically easier to find. You ca

n

make this

turkey bone broth recipe yourself from your leftover turkey carcass.
Herbs:

Although this recipe calls for dried herbs you can use fresh herbs as well if you already have them on hand. Don't forget to adjust the amount though as dried herbs require less and fresh will require more.

Salt and Pepper:

Table salt, sea salt, Himalayan salt. There are so many more salt options now than when I was a kid! Use whatever you want, it won't make any difference. If you are working with a brined turkey omit the salt or there will be way too much.

Turkey:

I always over prepare the amount of turkey I'm going to need for Thanksgiving. Better to have more than less right? If you are the same then this leftover turkey noodle soup will be the easiest soup ever. Chopped or shredded is best.

Egg Noodles:

I think wide egg noodles work best in this recipe but feel free to substitute whatever noodles you have and use what you love. I love the flexibility of this recipe. You could even choose to swap the noodles for rice if you want to make this gluten free.
Pro Tips:
This soup also works with chicken if you have leftover chicken instead of turkey.

Some people prefer more or less liquid in their soups. Add the amount of broth according to your personal preference of liquid but make sure you add enough to cook your noodles as they will absorb a lot of liquid.

If you are working with a high sodium broth make sure you taste before adding any salt.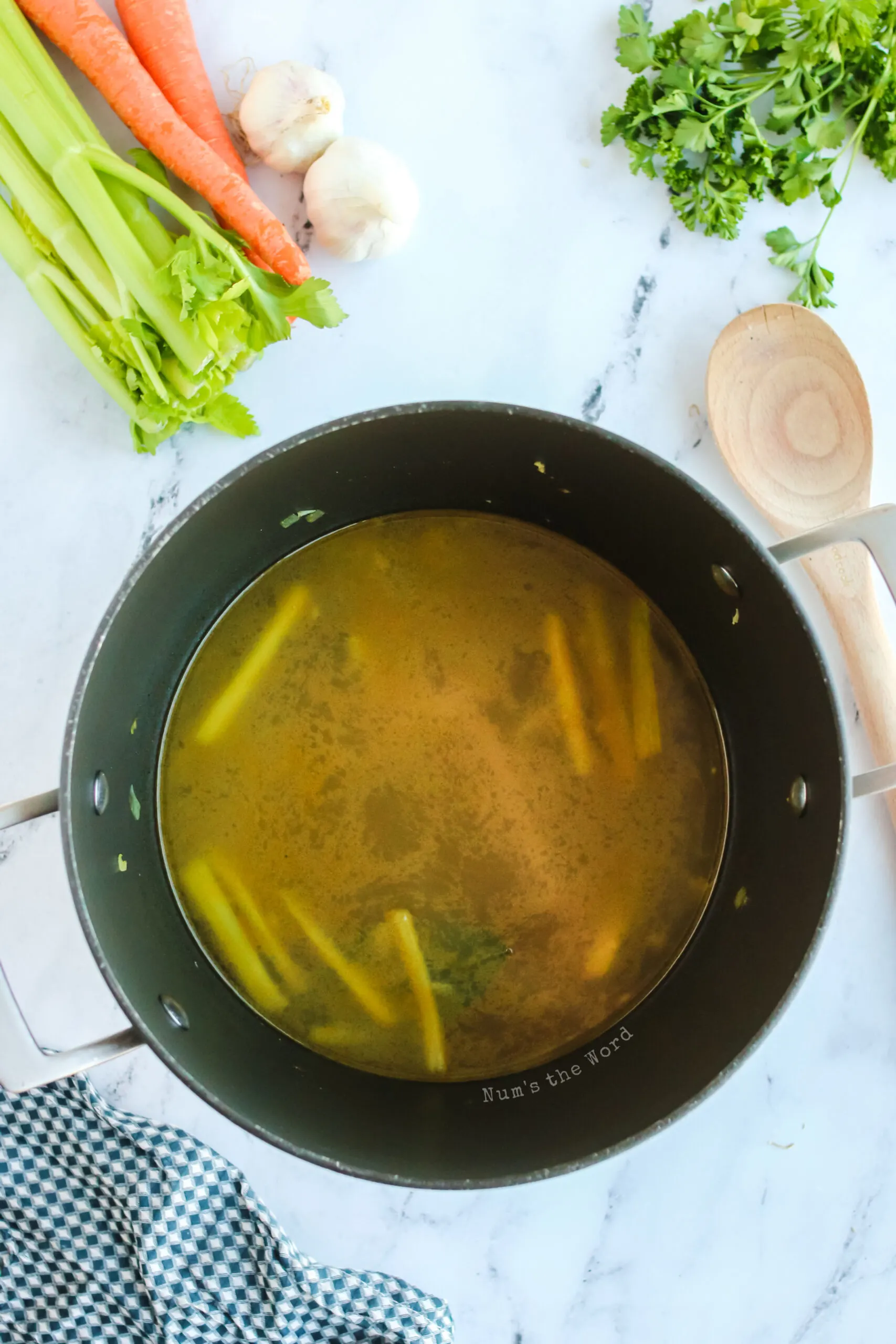 How to Make Turkey Noodle Soup
Cook your veggies so they are tender.

Add everything else but the noodles and simmer.

Add Noodles.

Enjoy!
Pro Tips:
If you are working with pre cooked veggies, add them in at the end to avoid mushy vegetables.
How Long Does Turkey Noodle Soup Keep?
If you keep your turkey noodle soup in an airtight container in the fridge, it should last for up to 5 days.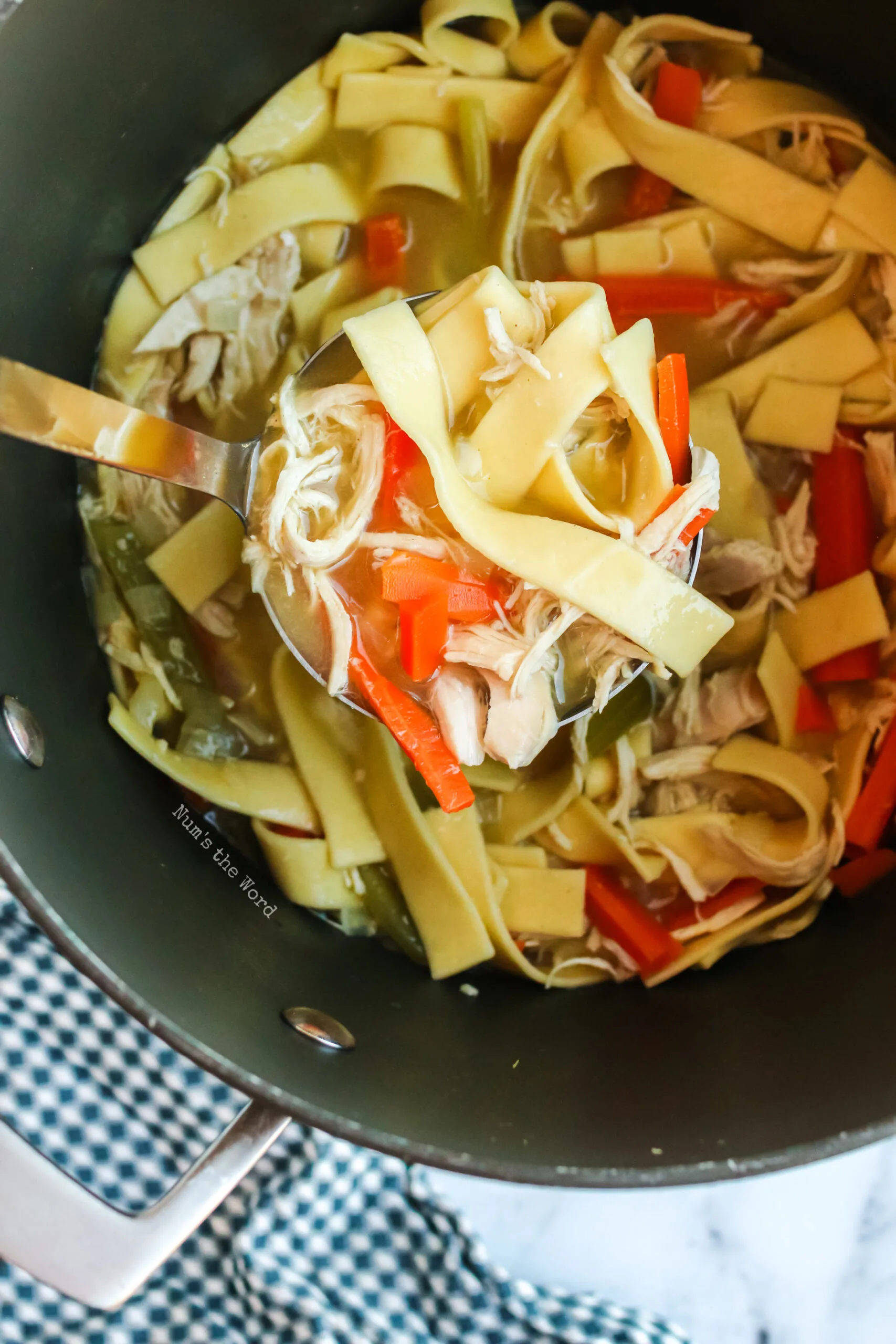 Can You Freeze Turkey Noodle Soup?
Yes you can! If the soup is all cooked together, you may keep it in an airtight container in the freezer for up to 3 months.
Sometimes noodles can become mushy though once frozen and thawed. I recommend cooking the entire soup as normal, omitting the noodles, and then freezing. When you are ready to eat your delicious turkey noodle soup, heat it, add the noodles, and then cook until your noodles are cooked through.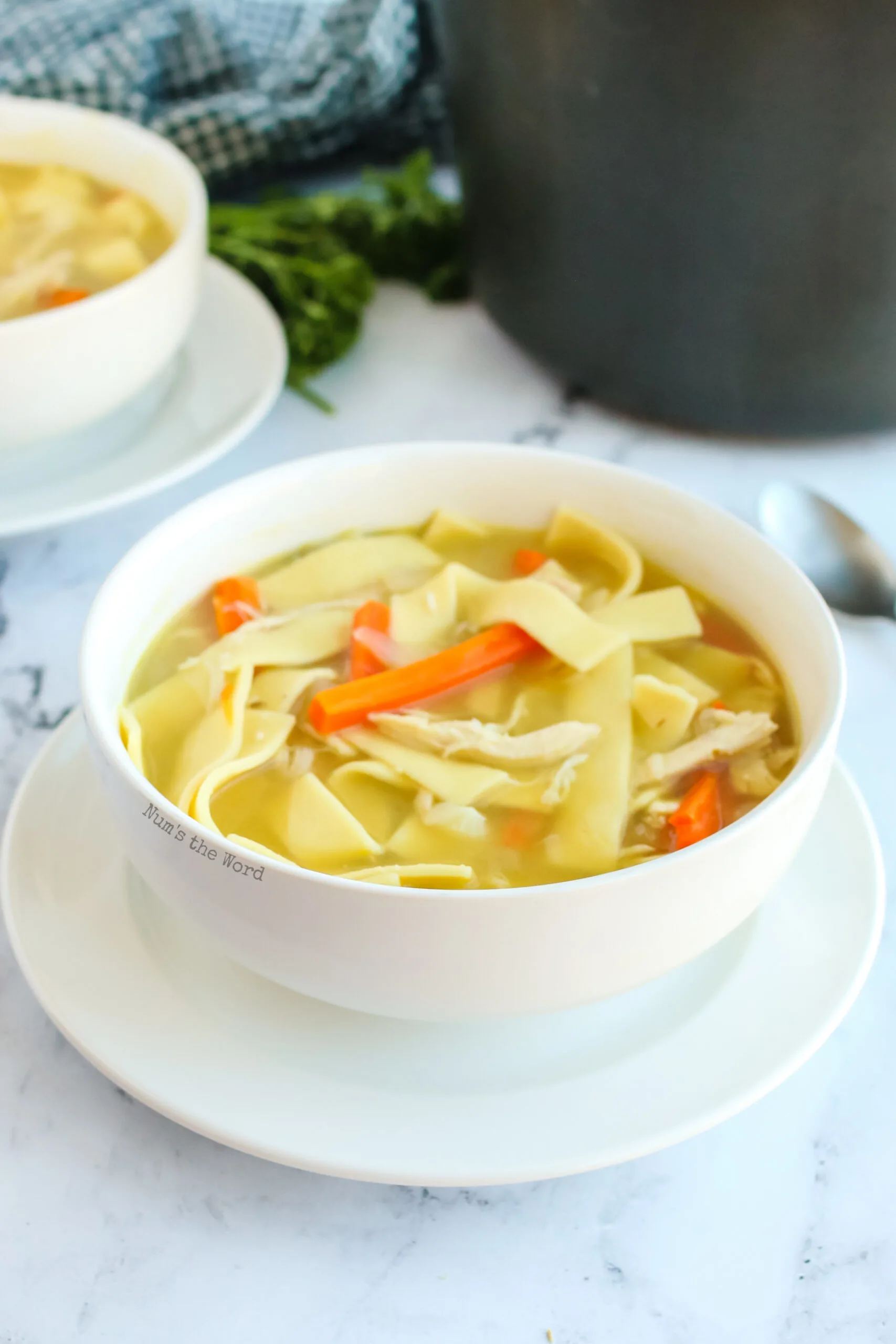 Can You Cook Turkey Noodle Soup in a Crockpot?
Sometimes you just want something to toss in and leave by itself. Particularly if you just got done cooking and serving a gigantic Thanksgiving meal!
This turkey noodle soup can be cooked in the crockpot on high for 3 hours or low for 6 hours. Add the noodles in for the final 15 minutes of cooking time to avoid them becoming a mushy mess.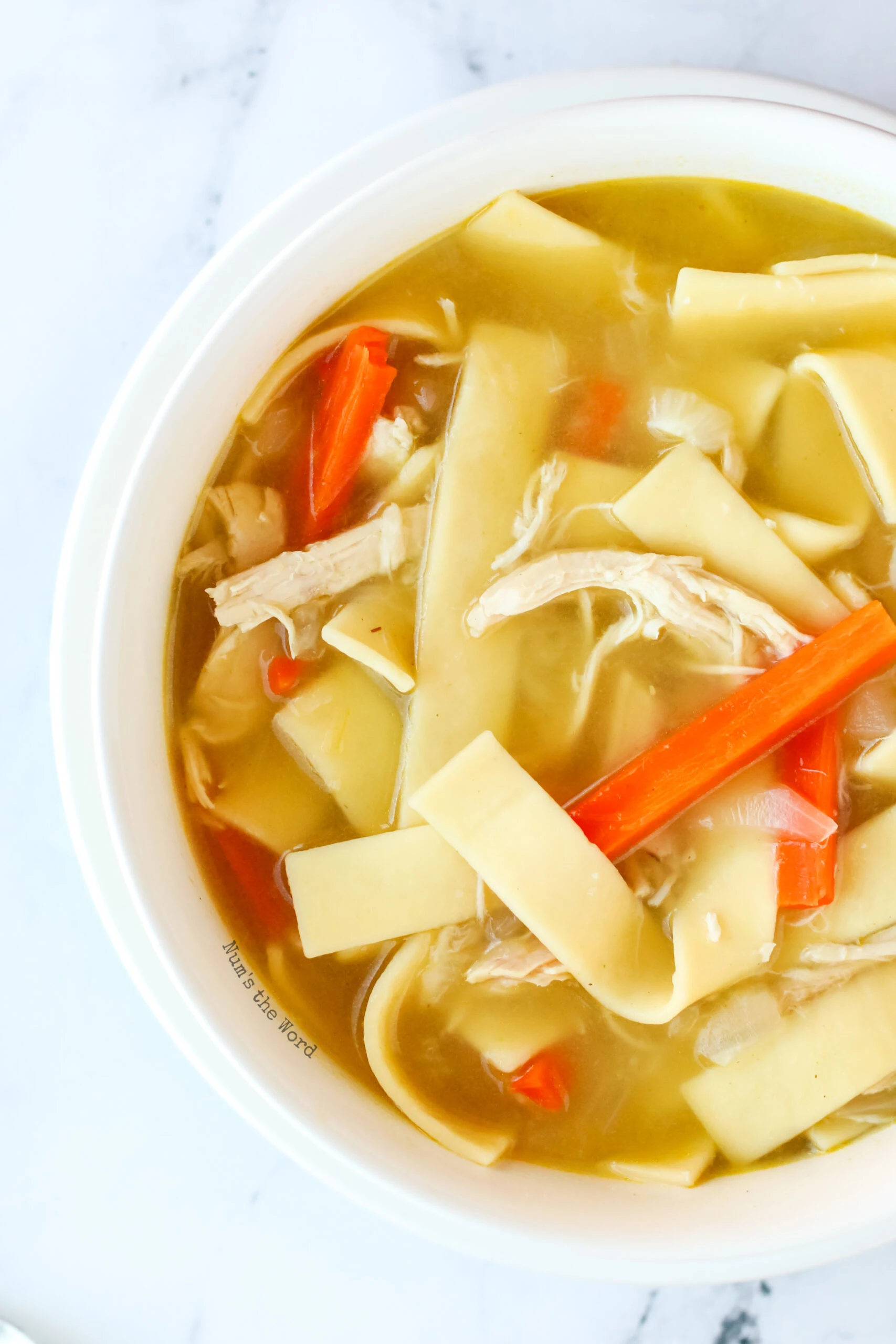 What Else Can I Do with Leftover Turkey?
Any other recipe that calls for chicken can also be substituted with turkey so don't be afraid to get creative!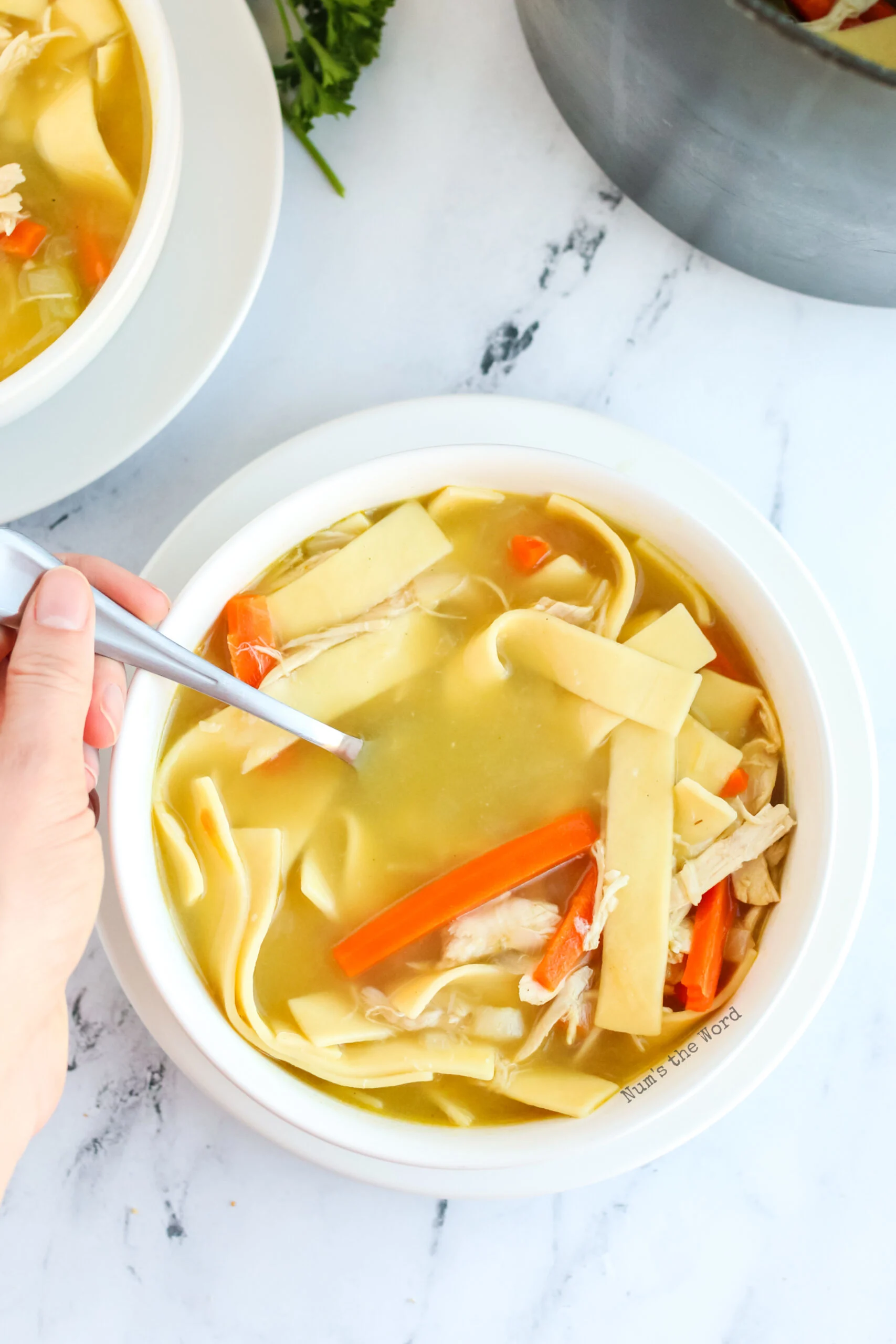 More Soup Recipes You'll Love…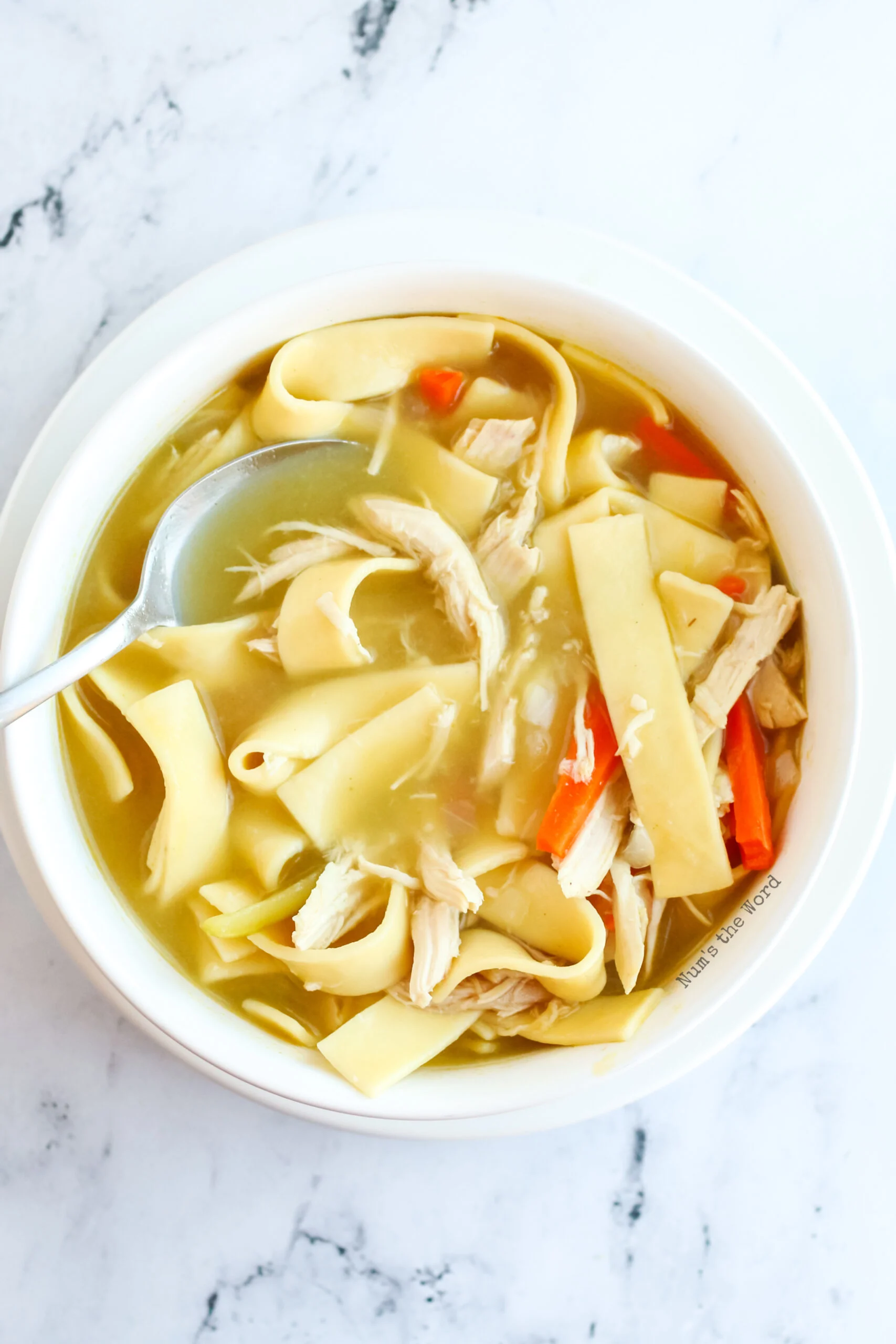 For an easy and tasty soup, this old fashioned turkey noodle soup cannot be beaten. You'll love the flexibility of this recipe not to mention how quickly it can go from fridge to the table. Enjoy!
Yield: 6 Servings
Turkey Noodle Soup
One of the best ways to use up your leftover Thanksgiving turkey is to whip up a batch of Turkey Noodle Soup. Quick, delicious and healthy, this comfort food is loved by everyone!
Ingredients
2 Tablespoons olive oil
1 onion, diced (yellow or white)
1 cup diced celery
3 carrots, washed and sliced thin
3 cloves garlic, minced or 2 teaspoons garlic paste
8 cups chicken or turkey broth or combination of the two
1/2 teaspoon dried thyme
1 bay leaf
salt to taste (do not add if turkey was brined
1/4 teaspoon ground black pepper
2 1/2 cups turkey chopped or shredded
12 ounces egg noodles
Instructions
In a large pot, heat olive oil over medium heat.
Add onion, celery and carrots. Cook, stirring regularly for 5-6 minutes or until onions are soft and translucent and carrots are slightly tender.
Add garlic and cook for 1 minute.
Add chicken broth, bone broth, thyme, bay leaf, salt and pepper.
Bring soup to a boil and cook for 5 minutes, allowing flavors to meld.
Add turkey, and egg noodles to soup. Bring to a boil and cook for 10 minutes or until noodles are cooked through.
Serve immediately and garnish with fresh minced parsley.
Nutrition Information:
Yield:
10
Serving Size:
1
Amount Per Serving:
Calories:

366
Total Fat:

21g
Saturated Fat:

5g
Trans Fat:

0g
Unsaturated Fat:

14g
Cholesterol:

151mg
Sodium:

324mg
Carbohydrates:

3g
Fiber:

1g
Sugar:

1g
Protein:

39g