This Smoked Turkey Recipe is one of the most delicious and flavorful ways to prepare your Thanksgiving main course. And the best part about smoking a turkey is it doesn't take up any of your super-valuable oven space!
This easy, step by step guide on how to smoke a turkey is your key to an easy and flavorful Thanksgiving this year!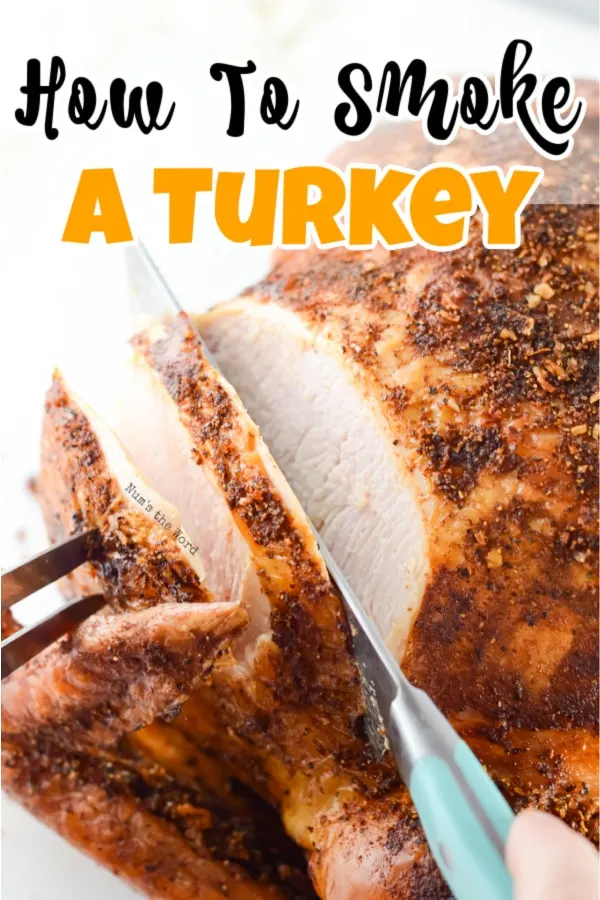 Not to mention, it's packed with incredible smoky flavor that will perfectly compliment your other Thanksgiving dinner courses.
With this simple, step-by-step smoked turkey recipe, you can enjoy a moist, savory turkey in about the same amount of time it takes to do a traditional roasted turkey.
Juicy and tender, your smoked turkey will definitely be the main course show-stopper, and with its mouth watering flavor, your family and guests will keep coming back for more!
But why limit yourself to turkey only on Thanksgiving Day? In reality, preparing a smoked turkey can be done any time of year, especially once you have the necessary equipment.
Instead of a Sunday roast, consider this smoked turkey recipe! Too hot to heat the house with the oven or stove? Found a great deal on a whole, off-season turkey? Let's get smoking!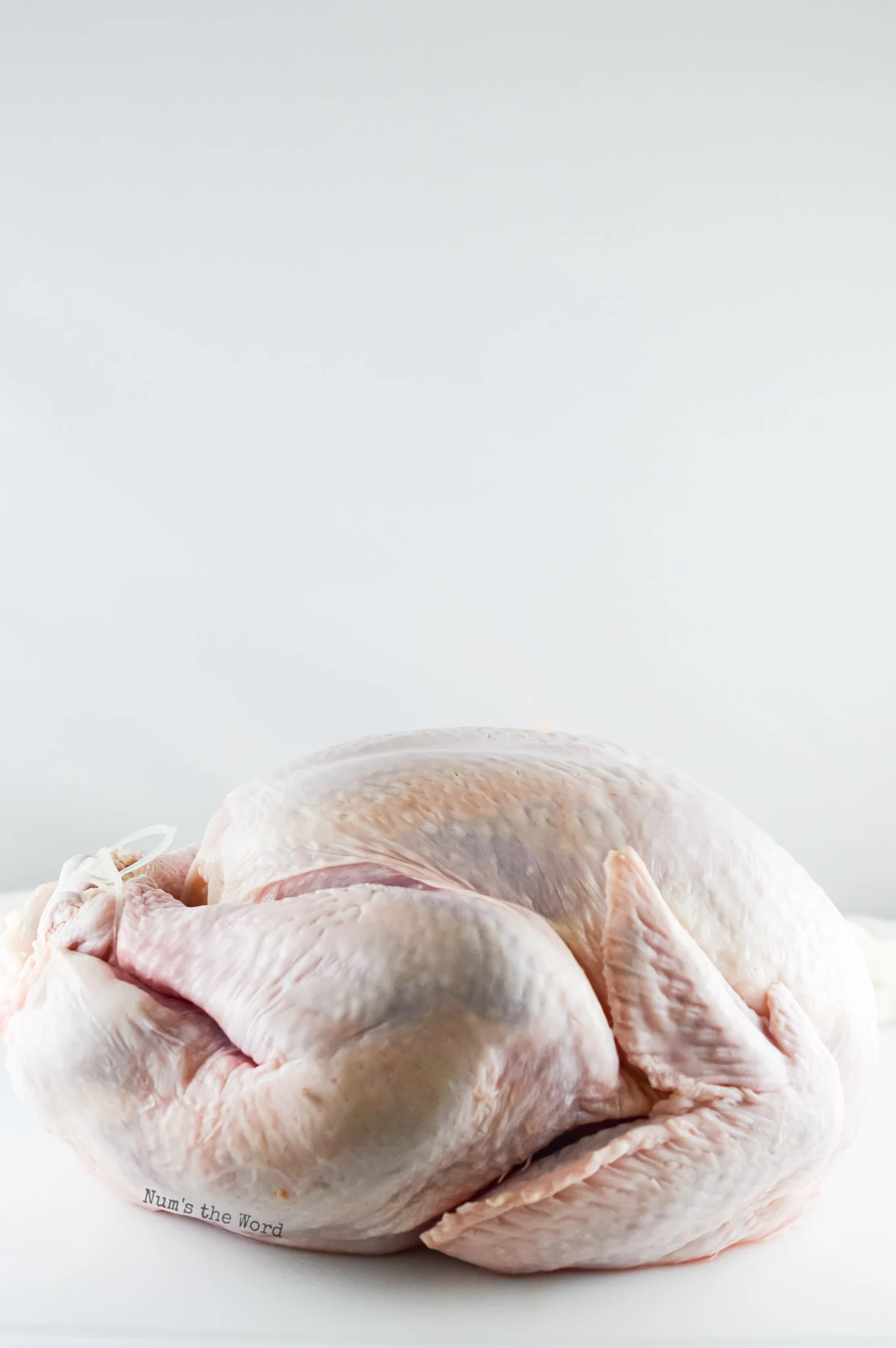 Before you get started…
There are a few pieces of equipment you'll want to make sure you have before you dive into this recipe:
Pellet smoker
Fruit blend pellets

(a mix of cherry, apple, and maple)

Injector

– to keep the turkey extra moist and add extra richness to the meat

Meat thermometer

– to confirm your turkey has reached a safe internal temperature

Grill or smoker thermometer

–

Pro tip:

most pellet smokers have a thermometer built in, but if yours doesn't, you'll want to get one so you can be sure to maintain a consistent internal cooking temperature

Grilling gloves

– to give you extra protection and grip while handling your whole smoked turkey

Aluminum foil
Shaker bottle

– for even distribution of all the delicious seasonings in the turkey rub. If you do not have one, then you can use a simple bowl to mix ingredients in and shake with your fingers.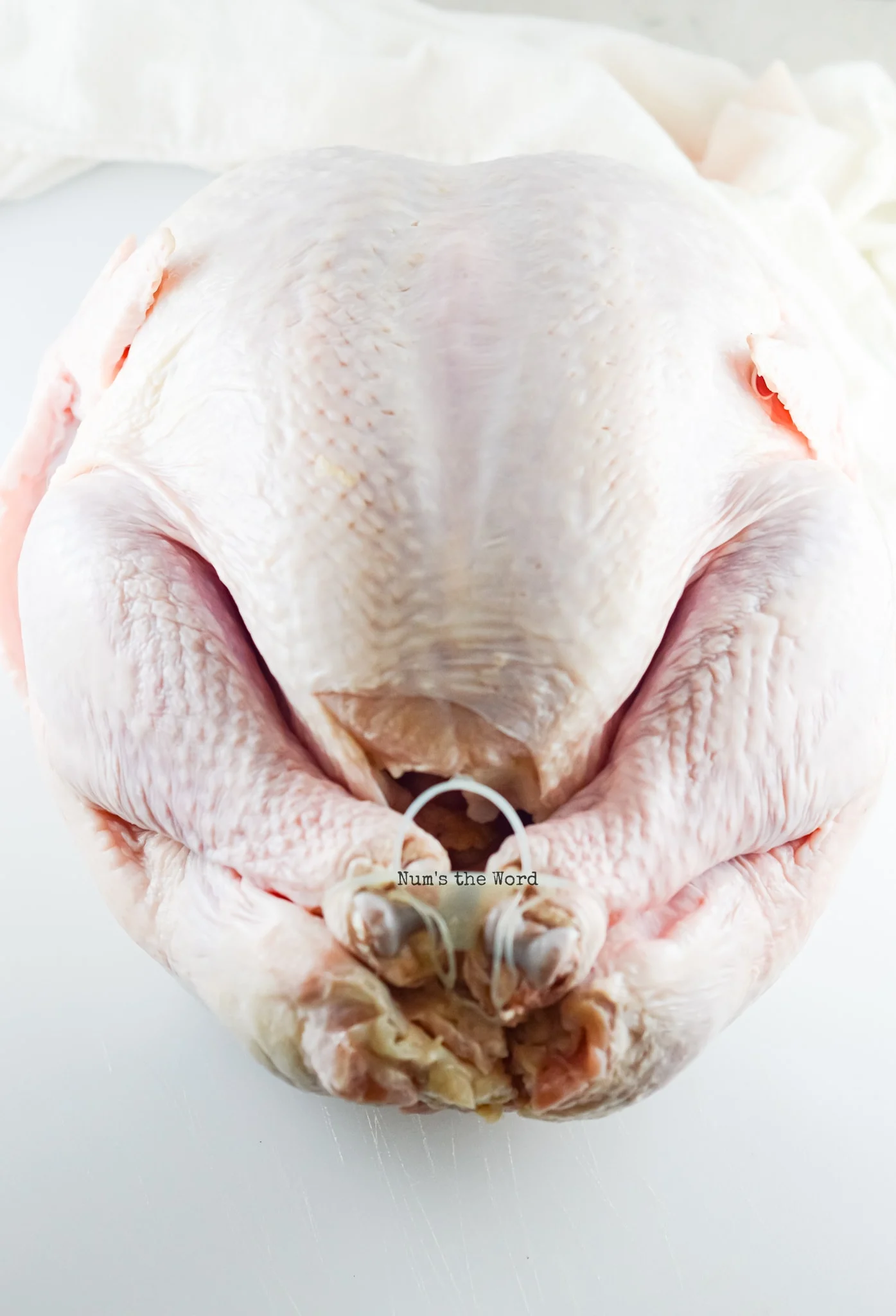 Smoked Turkey Recipe Ingredients:
10-12 pound turkey, thawed – be sure to begin thawing the turkey at least two days in advance! It's not advisable to smoke a frozen turkey.
Butter – a necessary injectable for moist and rich meat
Chicken stock – use one with no added sugar to keep your smoked turkey Keto!
Celery and onion – important ingredients for the aromatics, these will go inside your turkey and add flavor as it smokes.
Granulated garlic
Salt and pepper
Paprika
Dried onion or onion powder
Non-stick butter spray – coating your turkey with a good layer non-stick spray prior to smoking will give it a nice, crispy skin.
Pro tip: this recipe is naturally gluten free. It is also a keto recipe, provided your chicken stock has no added sugar!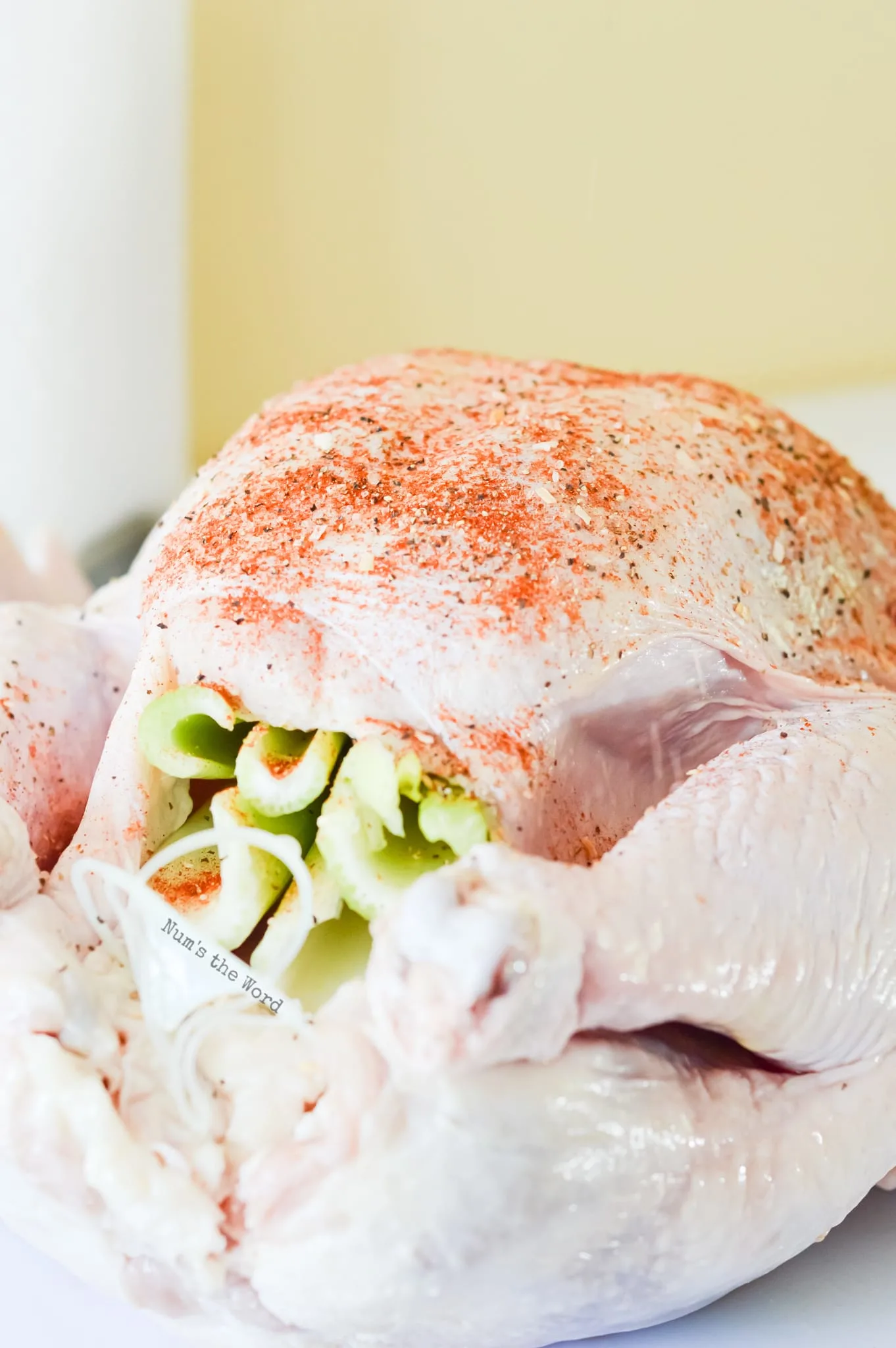 Does a turkey need to be thawed before it can be smoked?
Yes, your turkey needs to be thawed prior to smoking. It is not advisable to smoke, grill, or fry a frozen turkey, and attempting to do so increases your risk of foodborne illnesses.
Nothing ruins a holiday gathering like a community bout of salmonella. If it's Thanksgiving Day and your bird is still in the freezer, unfortunately this recipe isn't for you.
Should I brine my turkey prior to smoking?
If your turkey isn't pre-brined, don't worry! You don't need to brine your turkey prior to smoking it.
If you would LIKE to brine your turkey, consider using our brine recipe from our Honey Brined Turkey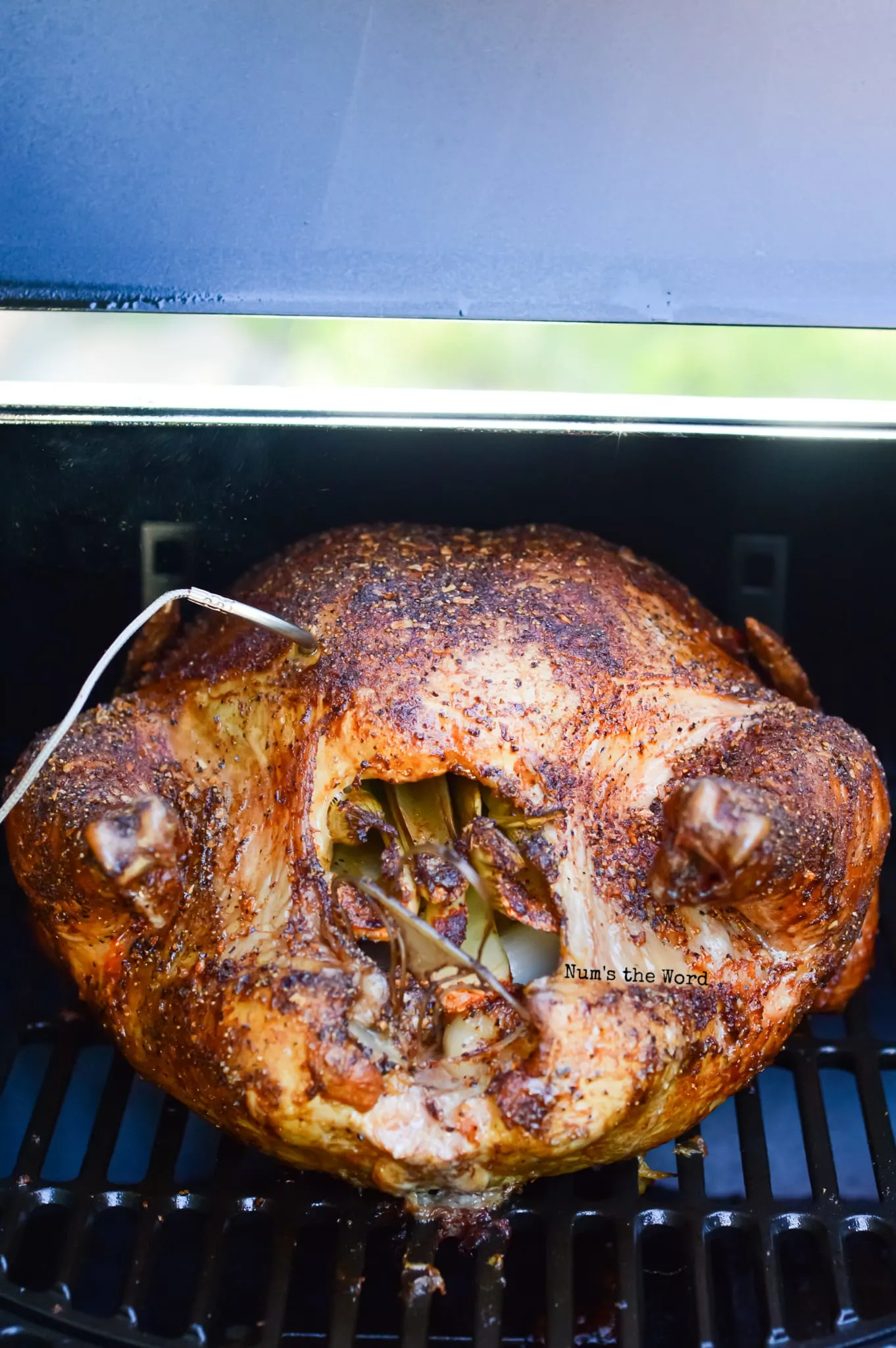 How to smoke a whole turkey:
Once you have the necessary ingredients and equipment, you're nearly ready to smoke your turkey! From here on out, it will be smooth sailing. Or rather, smooth smoking!
You'll want to begin by preparing the turkey; removing the neck and gizzards if necessary and replacing them with the aromatics, shaking and rubbing the seasonings onto the outside of the turkey, and injecting the meat to keep it moist while cooking.
Now that the turkey is prepared, you need to prepare your smoker. Fill the smoker with pellets, prime your auger, and preheat the smoker to 275-300 degrees Fahrenheit.
Smoke the whole turkey for three hours, or until the breast reaches an internal temperature of at least 165 degrees and the thighs reach 175 degrees.
Pro tip: The auger is the thing that slowly spins and drops the pellets. Your smoker setup guide will have the information on how to make sure this auger is primed. This allows the auger to spin smoothly and keep "feeding the fire."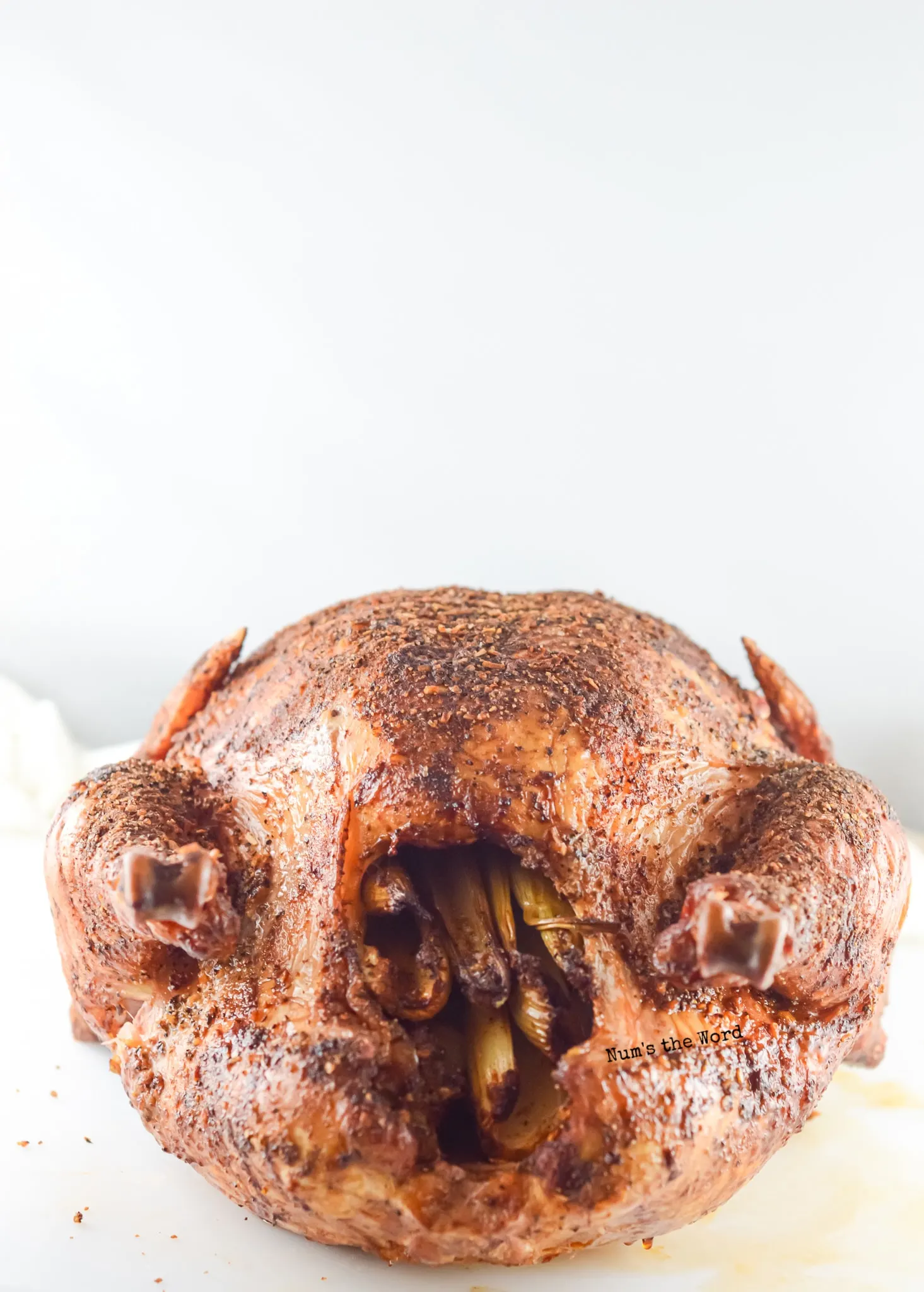 How long to smoke a turkey?
For a 10-12 pound whole turkey, we estimate 3 hours of smoking time. Cooking times will vary depending on how consistent the smoker's internal temperature is and variations in bird size.
The best way to avoid overcooking your smoked turkey is to check or monitor the bird's temperature.
What temperature to smoke a turkey?
For this smoked turkey recipe, you'll want to preheat and maintain the smoker's temperature at 275-300 degrees Fahrenheit.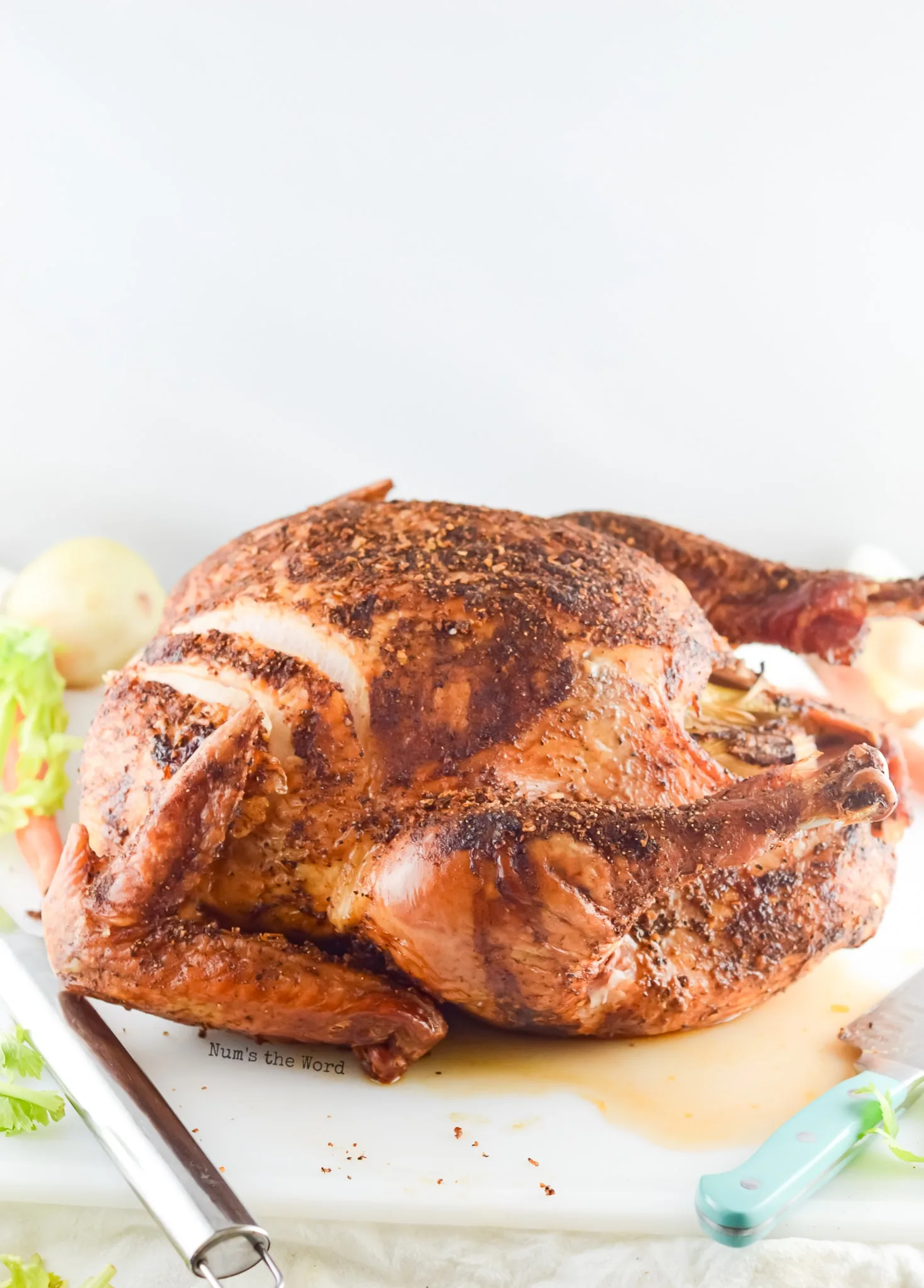 What is a safe internal temperature for my smoked turkey?
The entire turkey — all the way to the very middle — needs to reach a minimum temperature of at least 165 degrees Fahrenheit. Warmer is fine, but any lower and you're at serious risk of foodborne illnesses.
Just keep in mind that one of the reasons your turkey gets dry is due to over cooking. So watching your bird with a digital thermometer is key!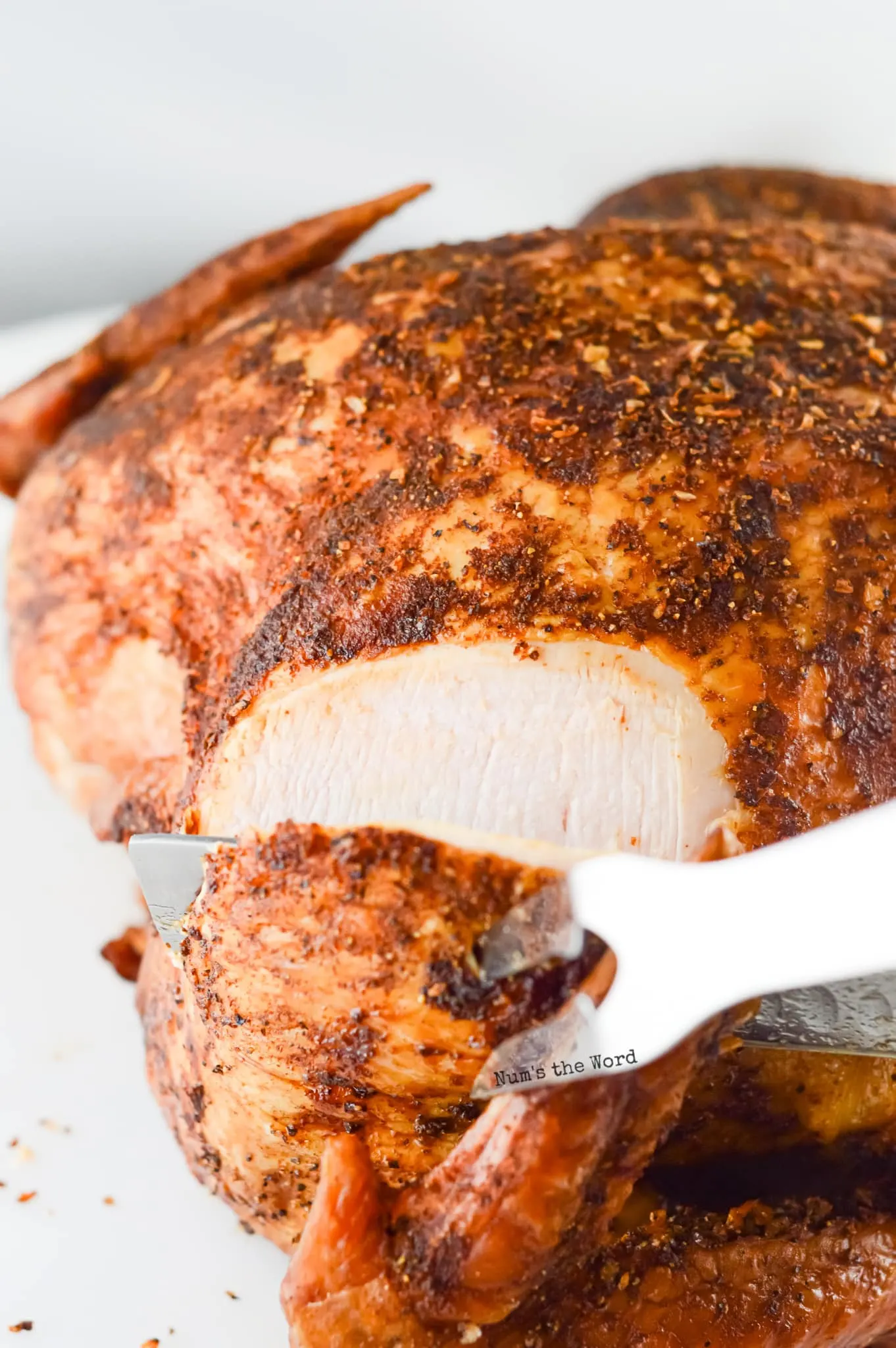 What to serve with smoked turkey?
Are you looking for other ideas to spice up your Thanksgiving feast? Allow us to recommend a few other dishes to complement your smoked turkey: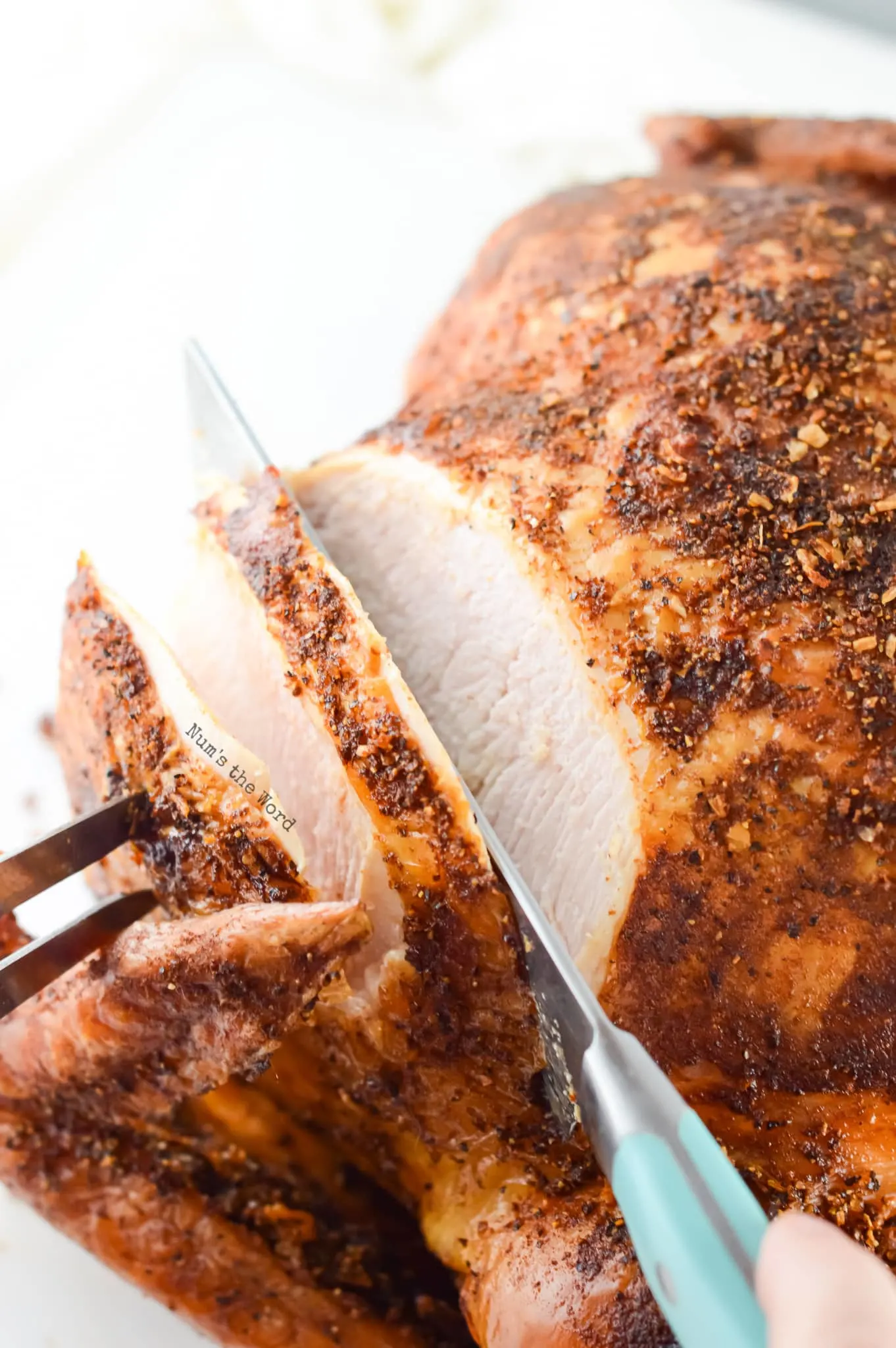 How should I reheat a smoked turkey?
Reheating a smoked turkey without drying it out or losing some of the smoky flavor can be a challenge! Here are some suggestions for reheating your leftover meat without sacrificing flavor or texture:
The Oven Method:

wrap the leftover meat (or entire bird) tightly in heavy-duty aluminum foil and warm in the oven at 275 degrees.

The Microwave Method:

cut meat into bite-size portions and drizzle with some extra butter, gravy, or chicken stock (or a combination!). Loosely cover with a plastic lid or microwave dome and reheat at low power, in short bursts, and avoid overheating.

Instant Pot Method:

place uniform slices of turkey in a covered container appropriate for pot-in-pot cooking. Place 1 cup of water inside the Instant Pot and place the pot-in-pot container inside. Use steam setting at 5 minutes and allow natural pressure release for 10 minutes.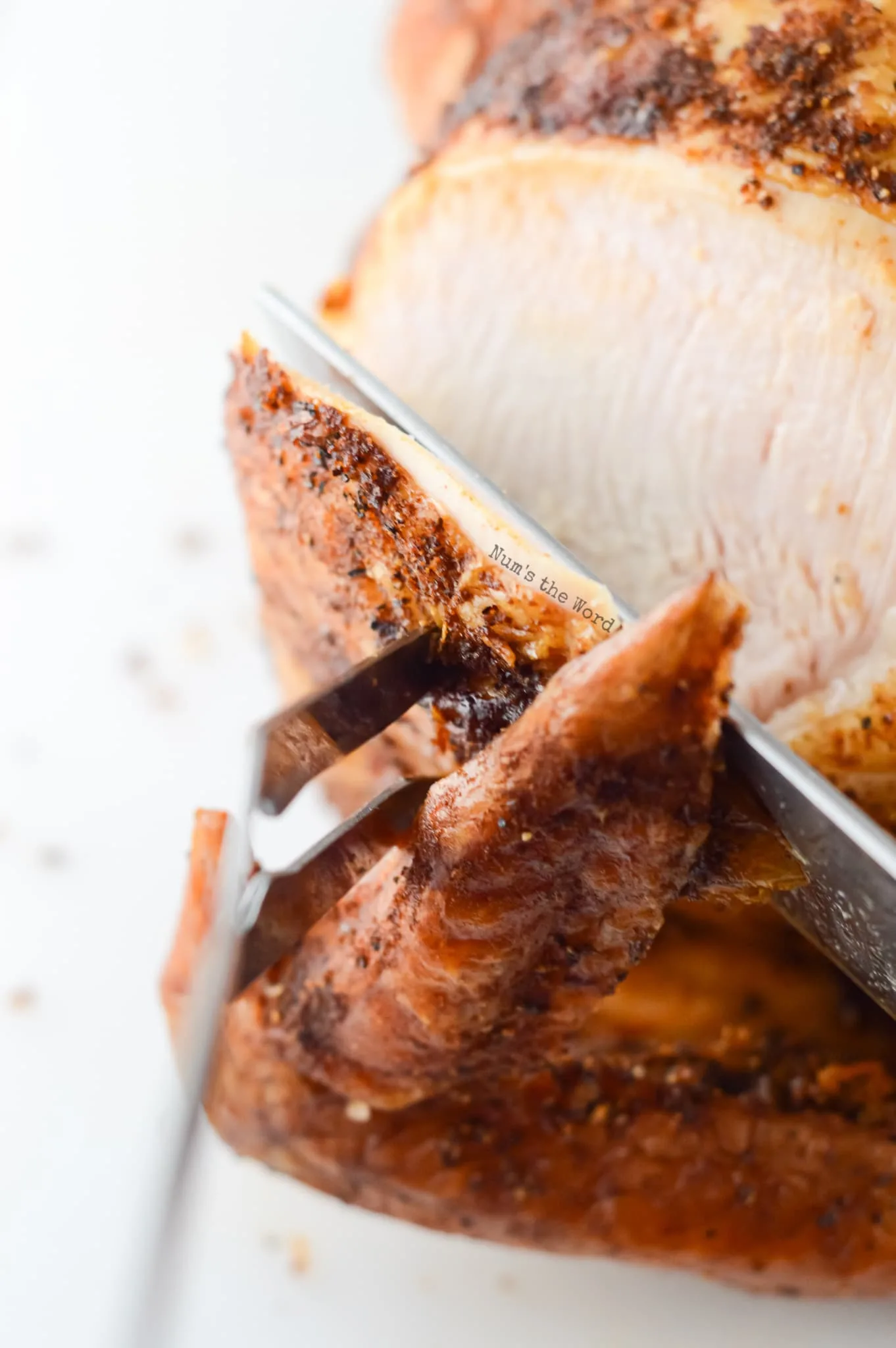 Leftover Smoked Turkey Recipes:
Simplify your year's cooking schedule while simultaneously upping the flavor of your main course this Thanksgiving by choosing this smoked turkey recipe.
Not only will you save yourself some of the headache in planning the dreaded oven rotation, but everyone's taste buds will thank you!
Moist, smoky, and just as easy as oven-roasting, this smoked turkey recipe is a sure-fire crowd pleaser you should add to your Thanksgiving feast, as well as your smoked-meat repertoire. Happy smoking!
Yield: 10 Servings
How To Smoke A Turkey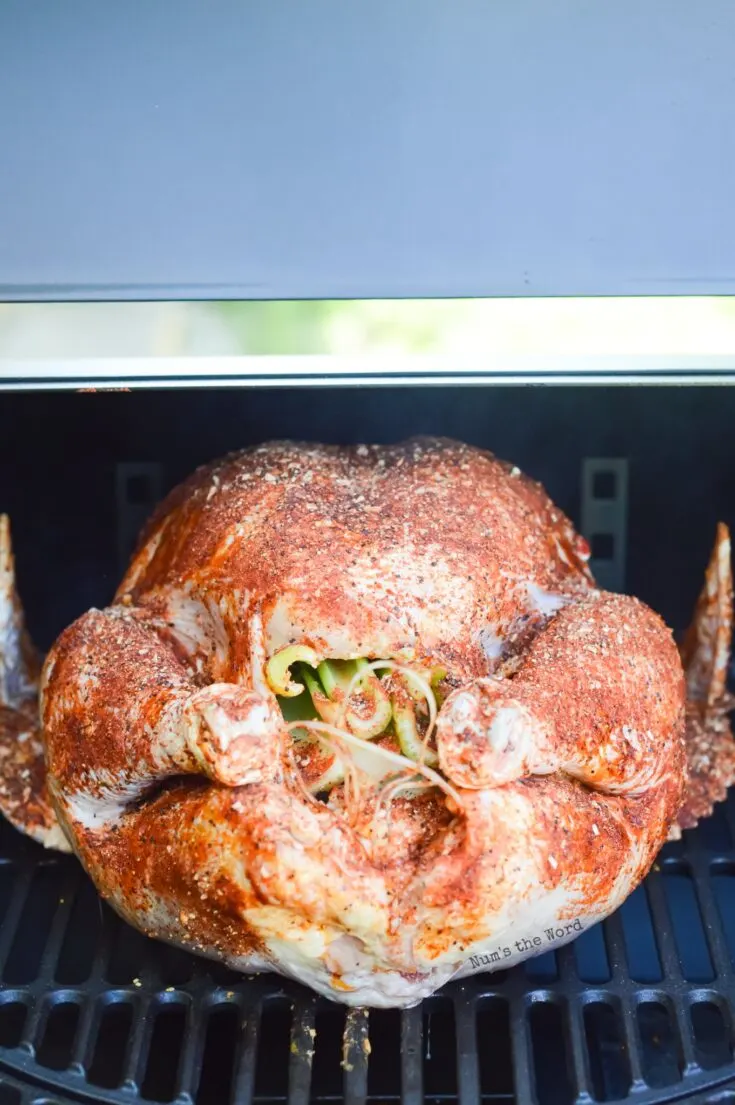 This Smoked Turkey Recipe is one of the most delicious and flavorful ways to prepare your Thanksgiving main course. And the best part about smoking a turkey is it doesn't take up any of your super-valuable oven space!
Total Time
3 hours
15 minutes
Ingredients
1 (10 - 12 pound) turkey, thawed
Nonstick Cooking Spray
1/2 cup salted butter (1 stick)
8 ounces chicken broth
3 celery stalks, cut in half
1 white onion, peeled and quartered
1 Tablespoon + 1 Tablespoon granulated garlic
2 Tablespoons black pepper
2 Tablespoons paprika
1 Tablespoon dried onion
Instructions
Remove the neck and gizzards of the turkey if necessary, and take off all the wrappings. Pat dry with a paper towel.
Spray with the non stick spray. Cover the entire turkey with a good layer. This will give a nice crispy skin.
Slice the celery stalks in half and quarter the onion after peeling. Stuff them inside the turkey.
Combine the salt, pepper, paprika, 1 Tablespoon granulated garlic, and the dried onion. Sprinkle this all over the turkey. Try not to rub it in as we don't want to move the cooking spray.
Combine the melted butter, 1 Tablespoon granulated garlic, and the stock in a bowl and mix. Using a turkey injector, inject this liquid into various portions around the turkey.
Fill the pellet smoker to the fill line with pellets. Be sure your auger is primed.
Turn on the smoker to preheat it. You want to reach 275-300 degrees Fahrenheit and keep it at that temperature for the entirety of the smoking process. This is easy to do with a pellet smoker as opposed to a wood smoker as you don't have to babysit it.
Smoke for 3 hours or until the breast reaches an internal temperature of 165 degrees and thighs 175 degrees.
Remove, carve, and enjoy!
Notes
Pro Tip: An old seasoning jar works great for sprinkling the seasoning on the turkey. Otherwise use your fingers.
Nutrition Information:
Yield:
10
Serving Size:
1
Amount Per Serving:
Calories:

101
Total Fat:

10g
Saturated Fat:

6g
Trans Fat:

0g
Unsaturated Fat:

3g
Cholesterol:

25mg
Sodium:

177mg
Carbohydrates:

4g
Fiber:

1g
Sugar:

1g
Protein:

1g
Originally Posted: September 28, 2020
Photos & Text Updated: November 15, 2022