This Toffee Doodle Cookie Recipe is the perfect holiday cookie! A fun twist on the classic Snickerdoodle cookie, they are sure to be gobbled down as quickly as you make them!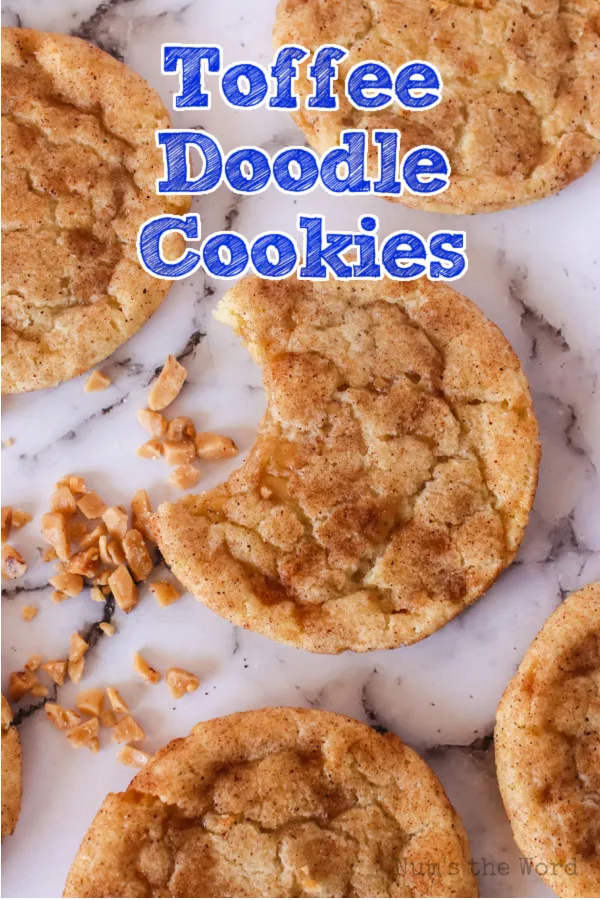 Soft, chewy, and delicious, these toffee doodle cookies will literally melt in your mouth. And covered in cinnamon sugar? Forget about it!
This toffee doodle cookie recipe is perfect for new bakers. Super easy to make and throw together. Nothing fancy.
There's also no refrigeration of the dough. So you can make toffee doodle cookies quickly!
And toffee doodle cookies are such a fun conversation piece!
Most people love snickerdoodles and with the toffee added in there, it's a flavorful surprise!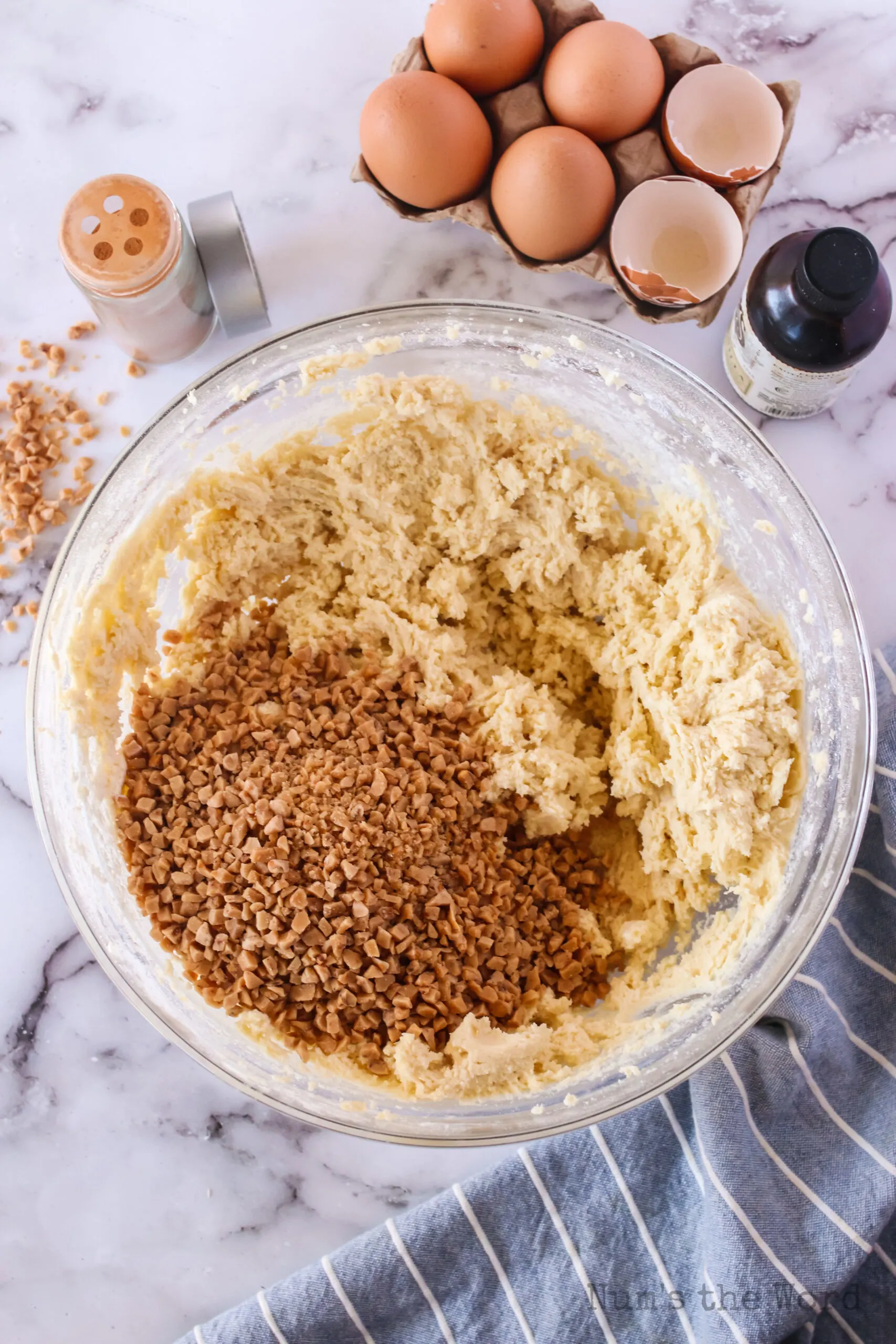 What is a Toffee Doodle Cookie?
Never heard of a toffee doodle cookie? Well you probably missed it in Starbucks before it was discontinued years ago.
Starbucks first made this yummy cookie by taking a regular snickerdoodle cookie and mixing it with bits of toffee.
Snickerdoodles are those soft and chewy cookies that are rolled in cinnamon sugar you've probably had at more holiday parties than you can count.
So this recipe is a copycat Starbucks toffee doodle cookie recipe, complete with all those little delicious bits of toffee.
Actually toffee can be used in all sorts of recipes! From Chocolate Toffee Bundt Cake to Brown Butter Toffee Chocolate Chip Cookies!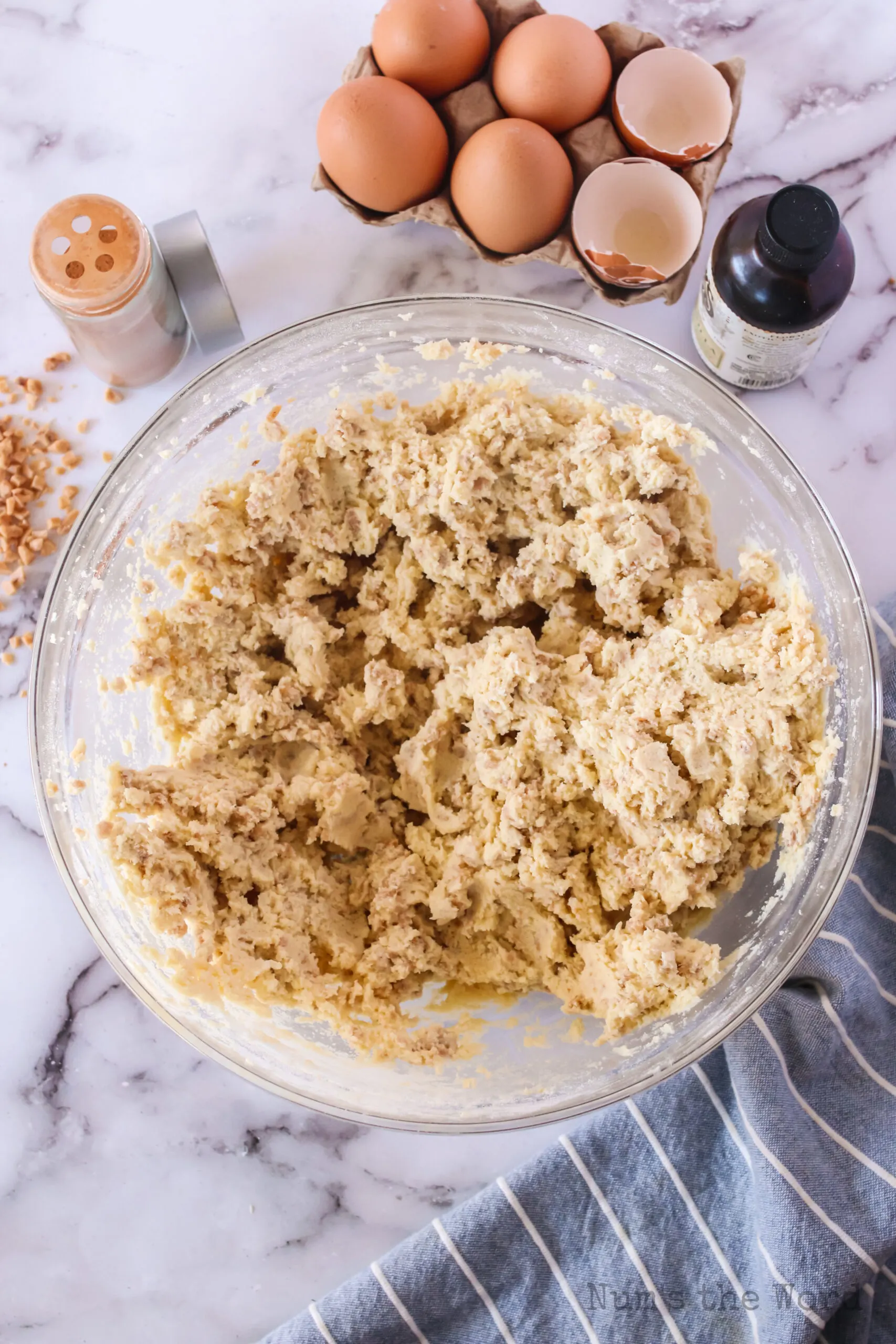 What Ingredients are in Toffee Doodle Cookies?
Toffee snickerdoodle cookies are an easy recipe with simple ingredients and make the perfect cookie!
Butter: I use salted, softened butter to room temperature.
Sugar: White sugar or cane sugar. Other sugars like brown sugar will change your flavor or texture. Or both!
Eggs: Eggs will bind the cookies together.
Vanilla: Use pure vanilla extract whenever possible! Its flavor is much better!
Flour: All-purpose flour is what you'll want to put in these cookies.
Cream of Tartar: A classic snickerdoodle ingredient. This makes the cookies super soft and chewy.
Baking Soda: Baking soda will help the cookies rise. Don't substitute with baking powder.
Salt: Just a little bit of salt will bring the other flavors of the cookie out.
Toffee: You can find toffee bits in the baking aisle next to the chocolate chips.
Cinnamon: For rolling the cookies in a cinnamon sugar mixture! Don't skip this because…YUM!
Pro Tips:
Make sure your toffee bits don't have chocolate with them! Plain toffee only.
Don't use heath bars but you can use heath toffee bits as long as it's just the toffee pieces.
Use pure or fresh ingredients whenever possible as they'll give you the best results.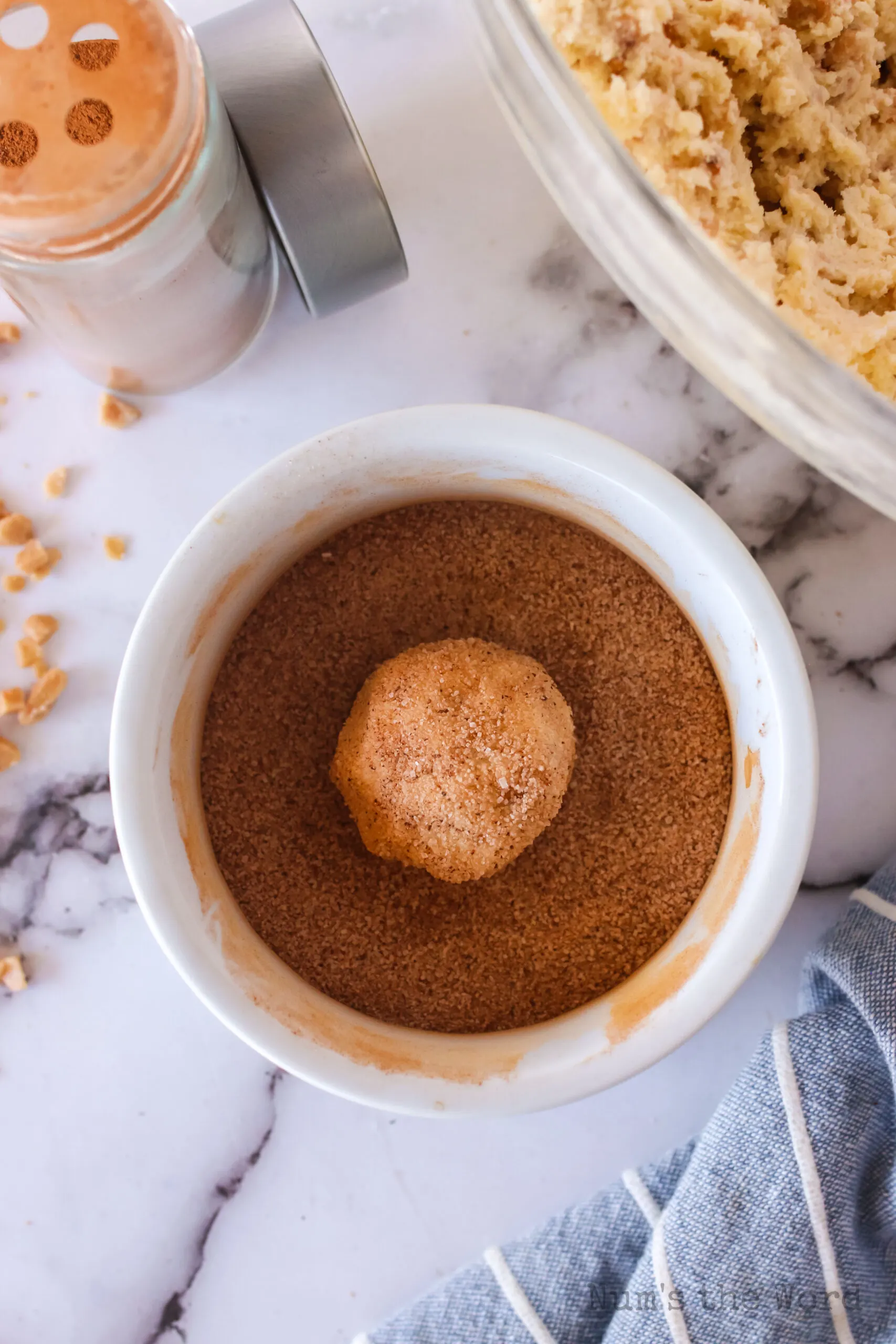 How To Make this Toffee Doodle Cookie Recipe?
Here's how to get the perfect snickerdoodle cookie with a fun twist this holiday season!
Cream: Mix together the wet ingredients first, being sure to cream butter and sugar well.
Add Dry Ingredients: Slowly add dry ingredients on low speed so you don't have to clean up the mess! Then add the toffee bits.
Roll: Roll each dough ball in sugar-cinnamon mixture before baking.
Bake: When the edges begin to turn golden brown, your cookies are done!
Pro Tips:
Shape dough balls to be about 1 inch. A cookie scoop can help you get the right size.
Don't overcook the cookies! They'll turn hard.
Use parchment paper, a baking mat, or non-stick foil on your cookie sheet for easier clean up.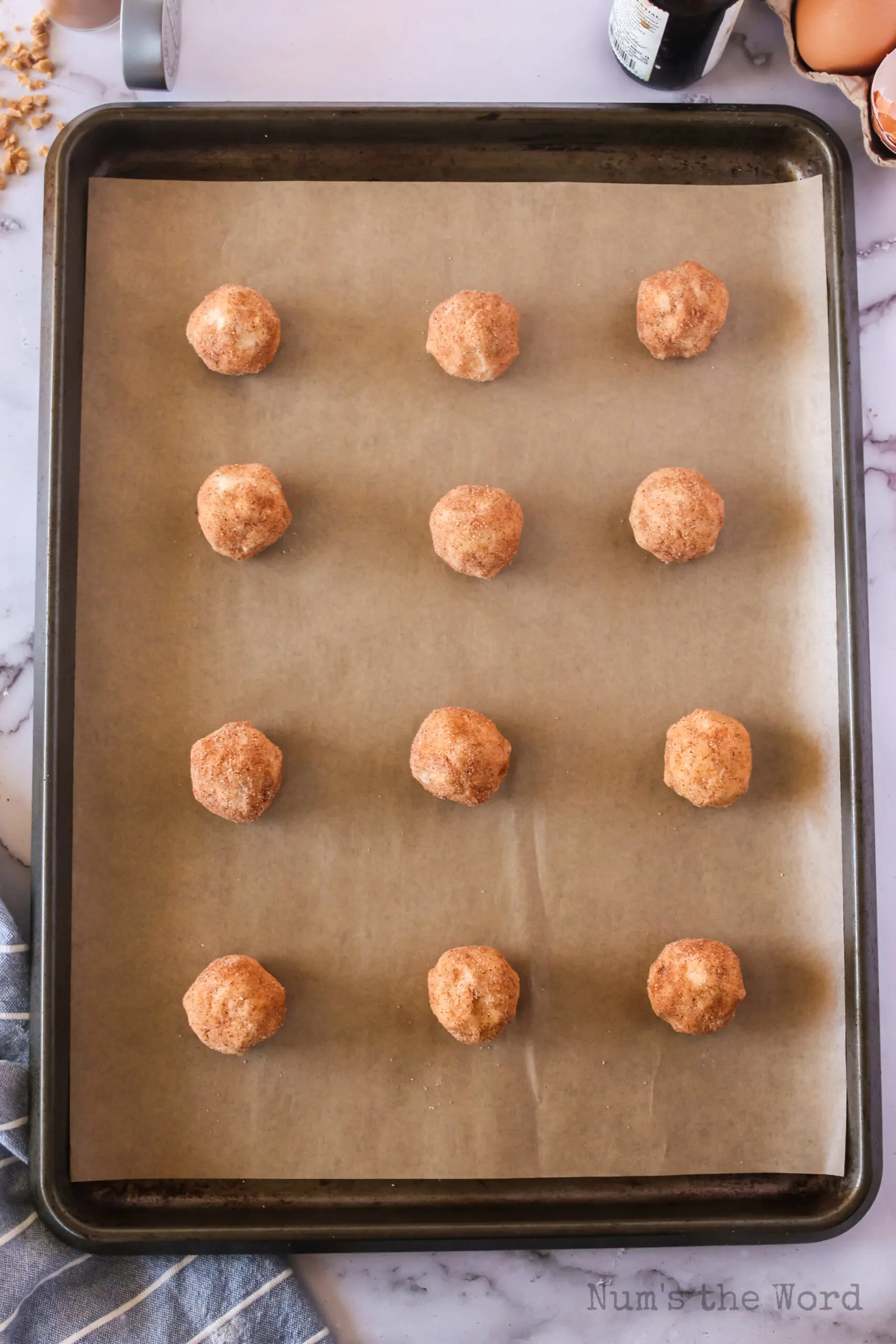 Can I Make Toffee Doodle Cookies Ahead of Time?
Yes! However, toffee cookies, just like the traditional snickerdoodle cookie, will dry out.
I recommend only making them 24 hours in advance if you're taking them to a party or serving on a cookie tray.
They stay pretty soft during that time. After that I notice they begin to harden.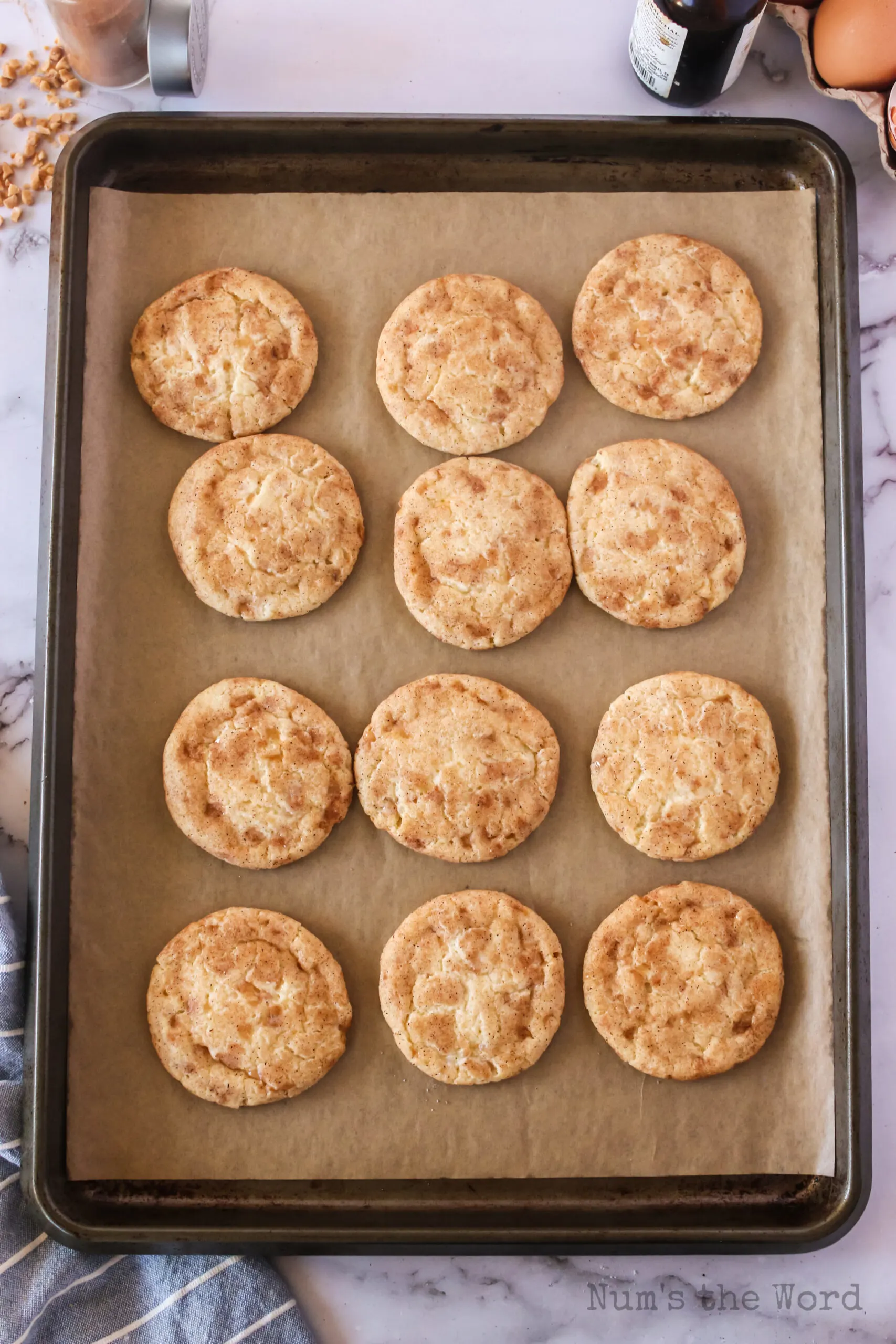 How to Store Toffee Doodle Cookies
Any Starbucks toffeedoodle cookies should be stored in an airtight container or bag.
They can be left on the counter, though the fridge will keep them fresher longer.
However, they'll be harder coming from the fridge than when left on the counter.
I like to put a small piece of bread in with the cookies.
It helps absorb some of the extra air and the cookies will stay softer.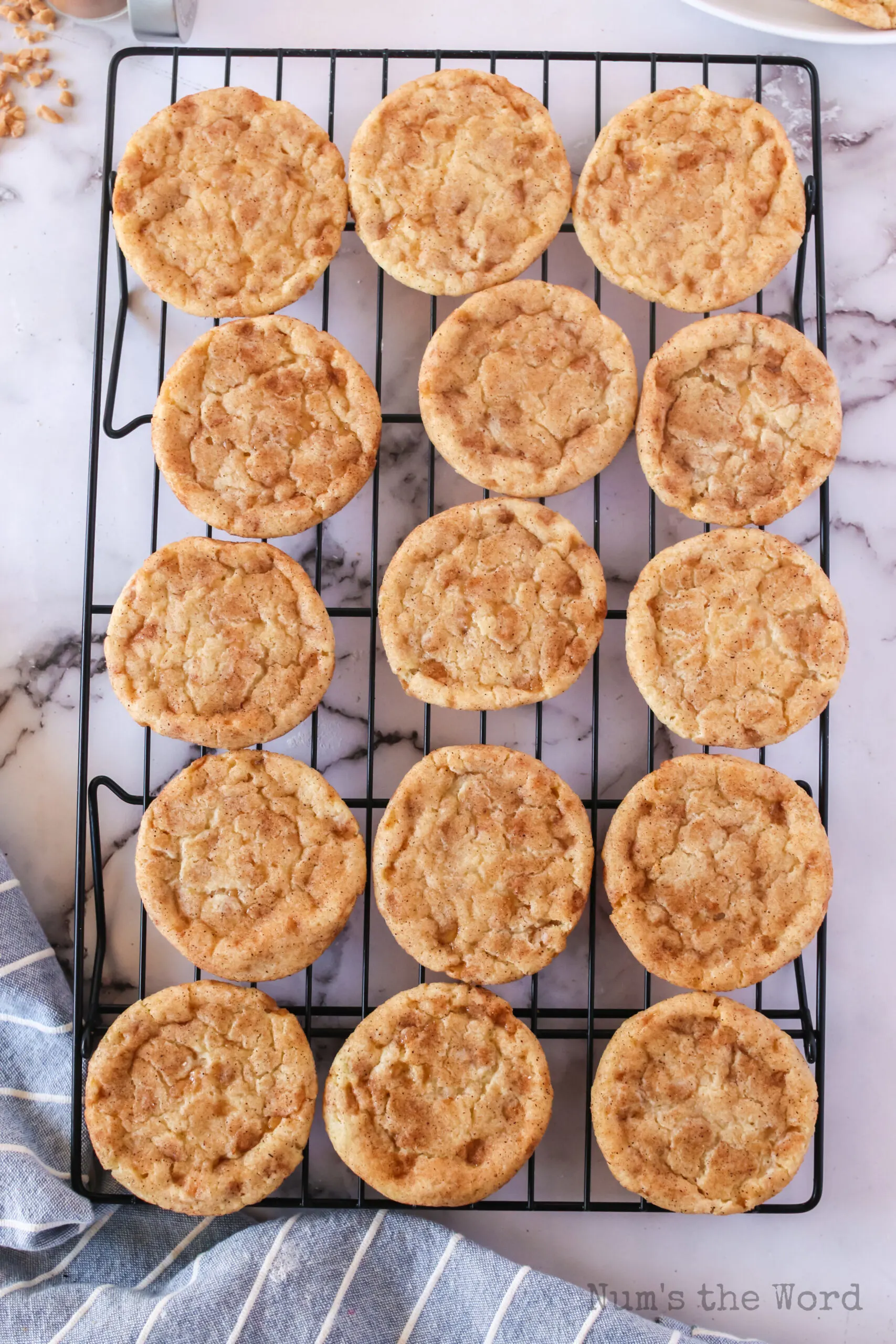 Can You Freeze Toffee Doodle Cookies
Yes! You can freeze these homemade cookies in both the baked cookie and the cookie dough form.
To freeze cookies: Simply wait for them to come to room temperature and then transfer to a freezer safe bag and freeze.
To freeze cookie dough: Roll each dough ball in cinnamon sugar. Then flash freeze on baking sheet for 1 hour. Move frozen dough balls to bag and freeze.
There is no need to thaw the frozen cookie dough before baking. Simply take it straight from the freezer to the oven.
Be sure to allow the copycat Starbucks toffeedoodles a few extra minutes in the oven so they bake completely.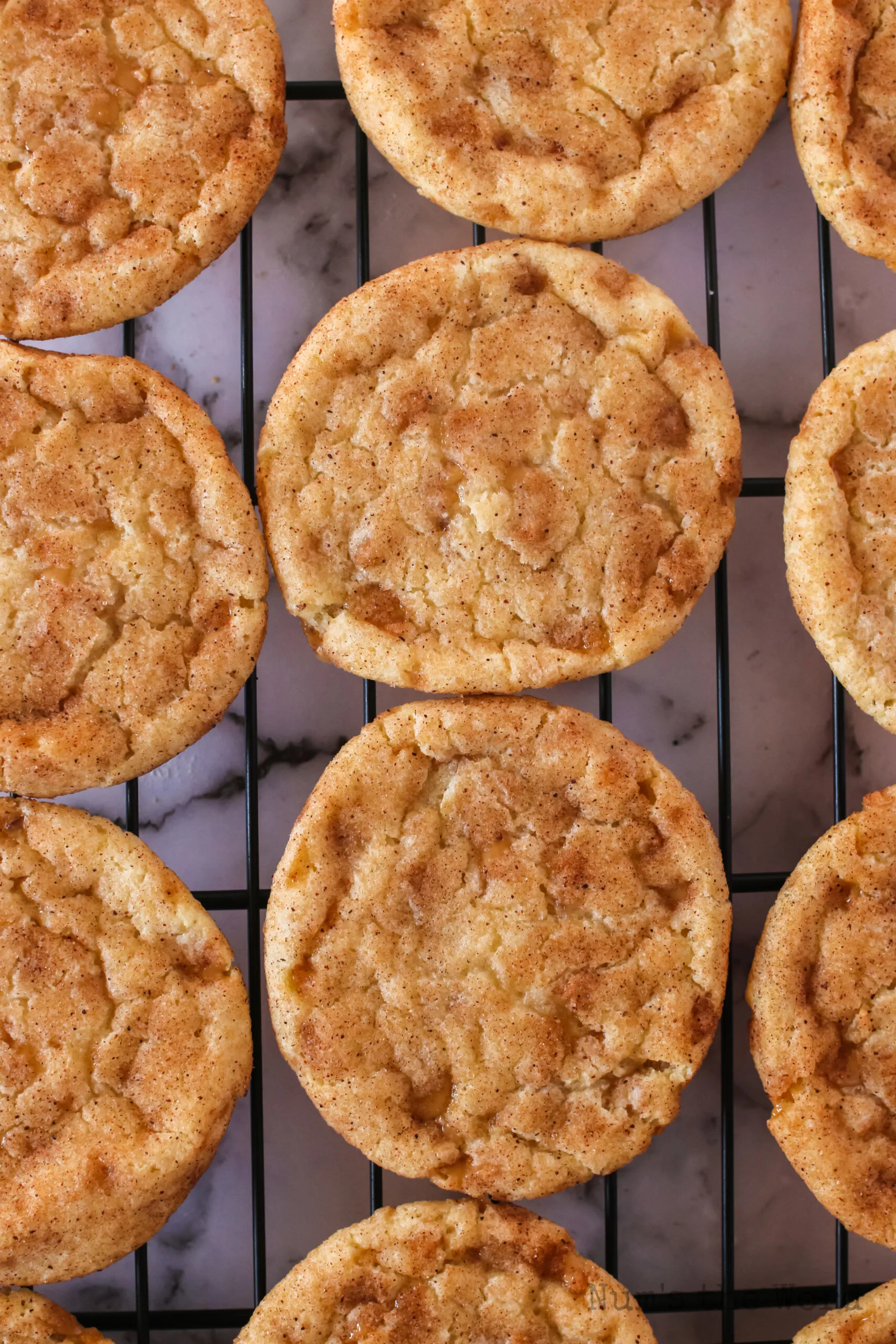 How Long Do Toffee Doodle Cookies Last?
Chewy toffee snickerdoodles will stay fresh longer or shorter depending on how they're stored.
On the Counter: Cookies will keep up to 4 days on the counter. Though after the first 24 hours they'll become harder.
In the Fridge: Cookies stay fresh in the fridge for up to a week.
In the Freezer: Cooked or uncooked, keep this toffee doodle cookie recipe in the freezer for up to three months.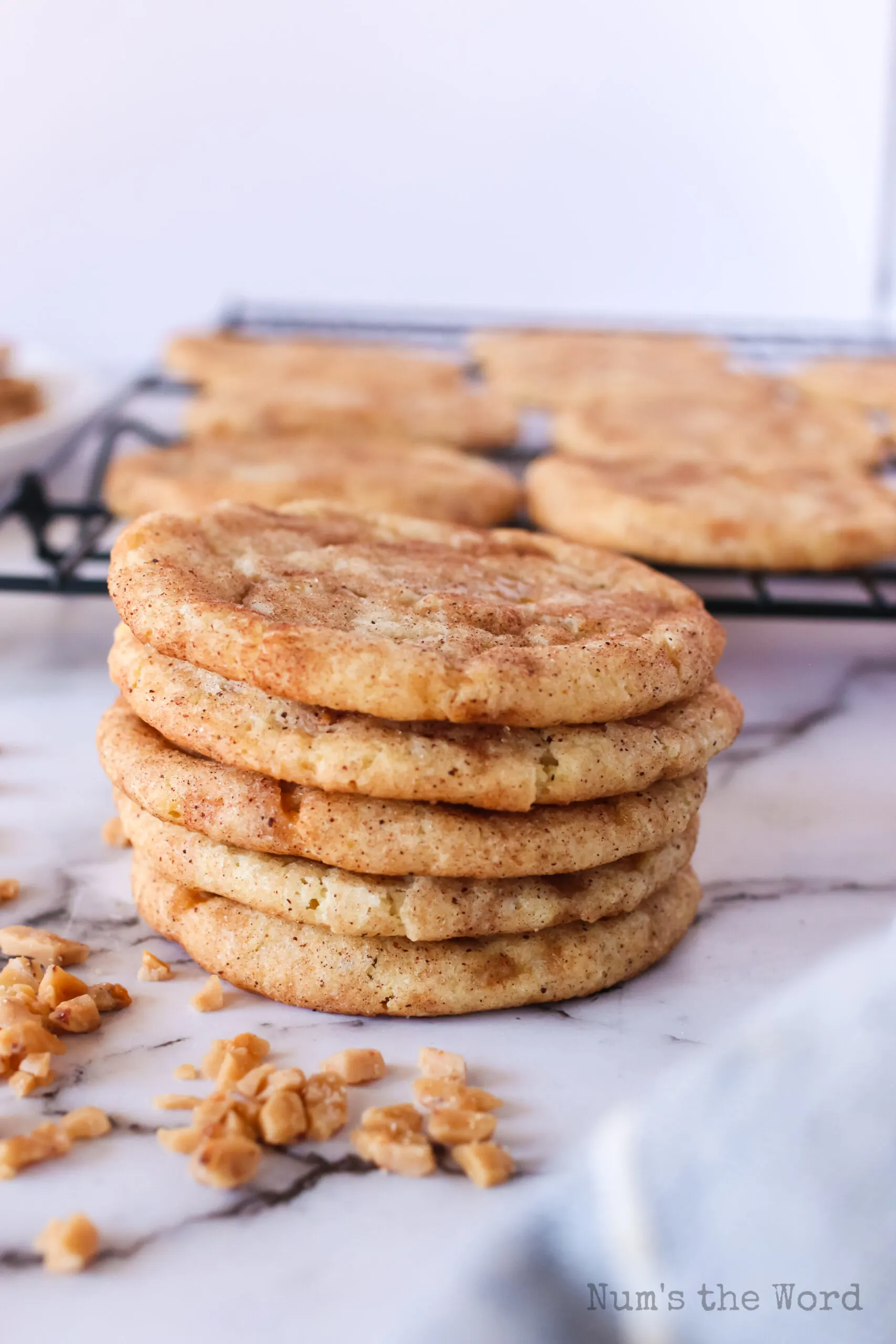 Are Toffee Doodle Cookies Soft or Crunchy Cookies?
Soft cookies! Definitely soft cookies!
The cream of tarter keeps these cookies extra soft and chewy!
If your baked cookies come out hard, there are a few things you'll want to look at:
Don't over flour. Too much flour will make the cookies dense and hard.
Don't over mix. Overmixing can cause the gluten to over activate and harden the cookies.
Don't over bake. Golden brown on the edges only, not the whole cookie.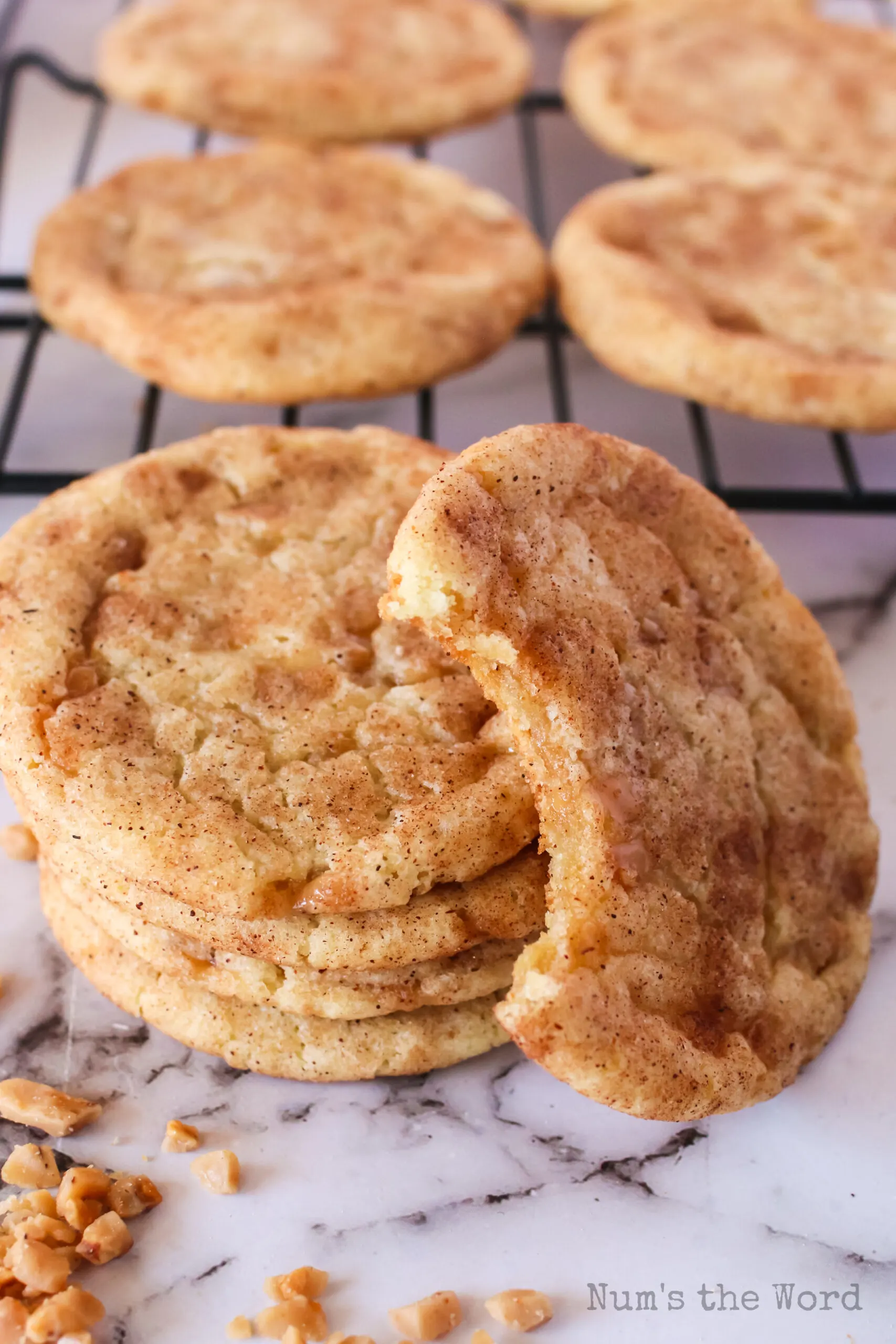 Can Dogs Eat Toffee Doodle Cookies?
No, dogs cannot eat toffee doodle cookies. Actually, they shouldn't eat most of the ingredients in toffee doodle cookies at all.
Sugar, flour, toffee, and butter are all really hard for a dog to process.
If your dog eats toffee doodle cookies, reach out to your vet if you find your dog needs help.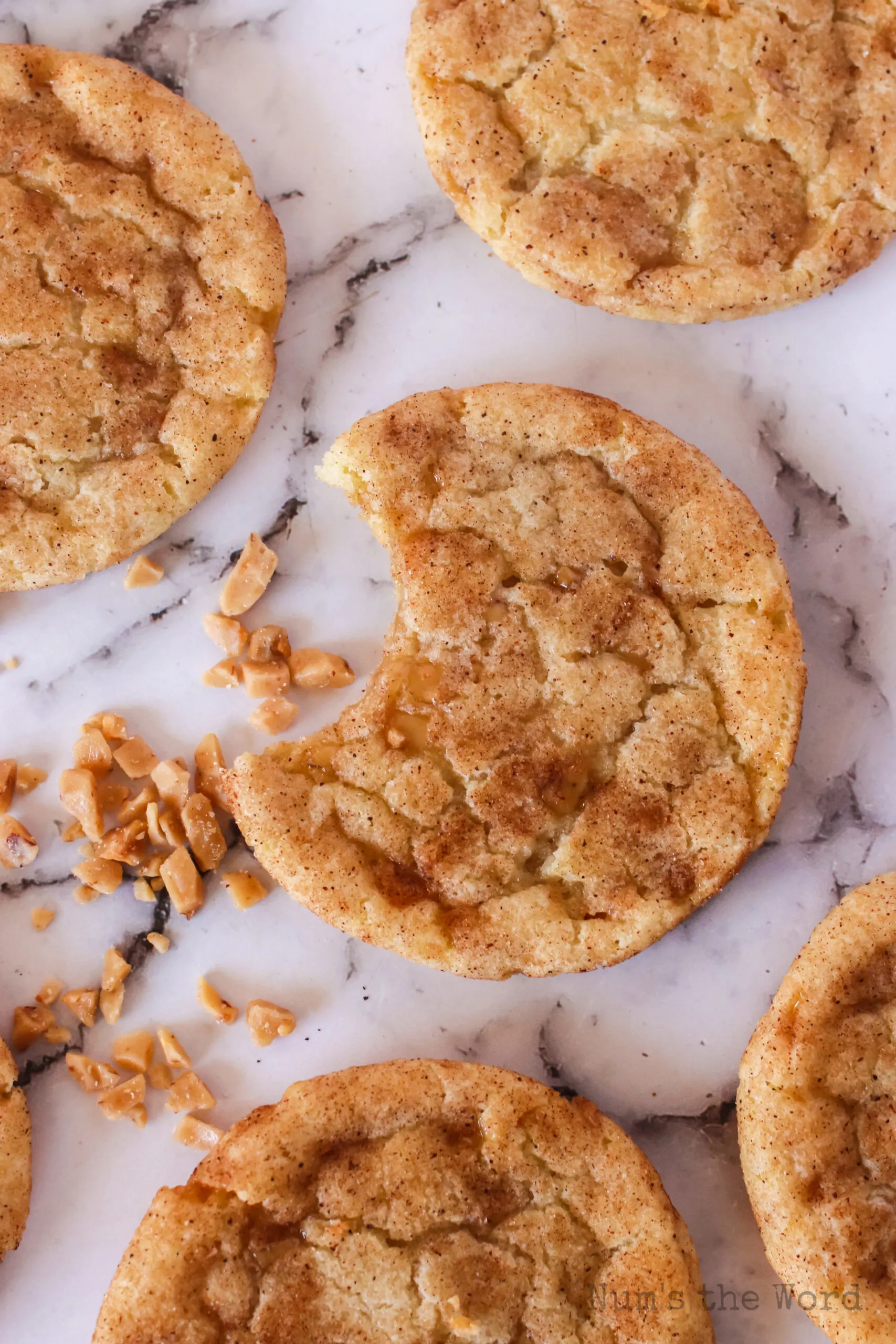 More Cookie Recipes You'll Love…
Toffee Doodle Cookies are a simple and easy cookie that's perfect for the holidays! You're going to love this twist on a classic cookie!
Yield: 48 Cookies
Toffee Doodle Cookie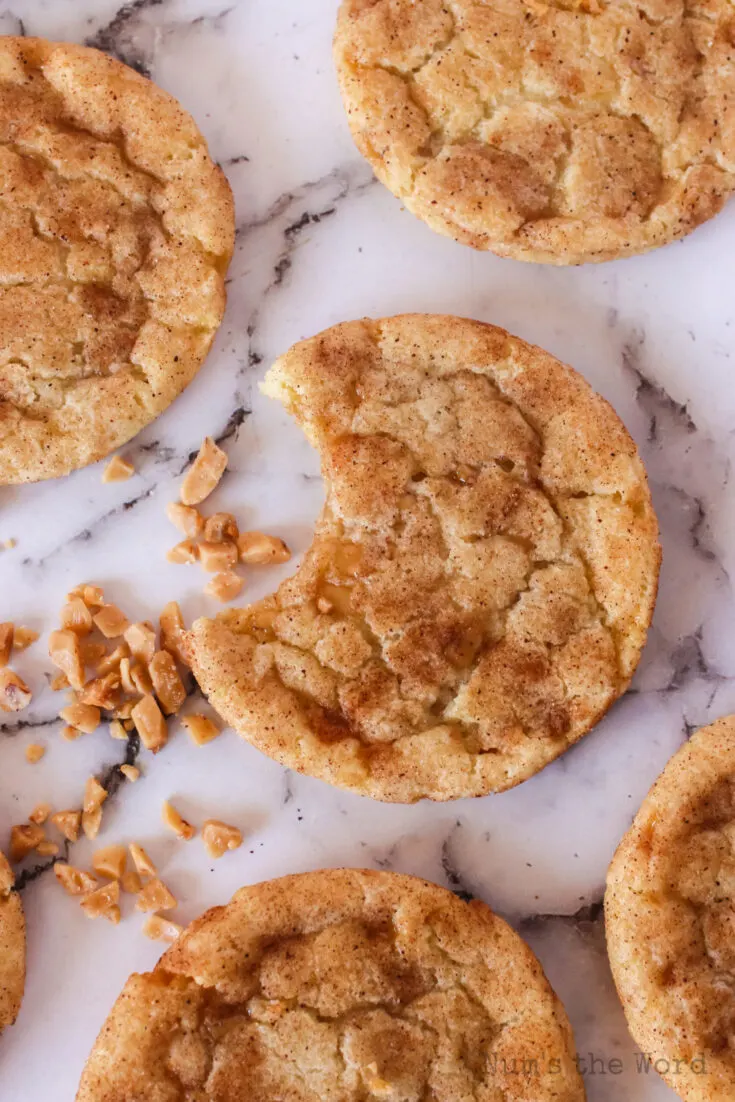 This Toffee Doodle Cookie Recipe is the perfect holiday cookie! A fun twist on the classic Snickerdoodle cookie that is better than Starbucks!
Ingredients
1 cup salted butter, room temperature
1 1/2 cups white sugar
2 eggs
1 teaspoon vanilla extract
2 teaspoons cream of tartar
1 teaspoon baking soda
1/2 teaspoon salt
2 3/4 cups all-purpose flour
1 cup (8 ounces) toffee bits
2 Tablespoons white sugar (topping)
1 teaspoon cinnamon (topping)
Instructions
Preheat oven to 350*F
Prepare 2 cookies sheets with parchment paper, non-stick foil or cooking spray.
Cream butter and sugar together
Add eggs and vanilla.
Add cream of tartar, baking soda and salt. Mix well.
Add flour to cookies, 1 cup at at time, mixing well after each addition.
Add toffee bits and mix well.
In a small bowl combine 2 Tablespoons white sugar and 1 teaspoon cinnamon.
Scoop out 1 1/2 Tablespoons of dough and roll into a ball.
Roll this ball of dough in the cinnamon mixture and place on prepared cookie sheet.
Bake in oven for 8-10 minutes or until edges begin to turn a hint of golden.
Nutrition Information:
Yield:
48
Serving Size:
1
Amount Per Serving:
Calories:

90
Total Fat:

4g
Saturated Fat:

3g
Trans Fat:

0g
Unsaturated Fat:

1g
Cholesterol:

18mg
Sodium:

82mg
Carbohydrates:

12g
Fiber:

0g
Sugar:

7g
Protein:

1g