Soft and chewy Peanut Butter Cookies are so easy to make! They are a classic cookie that you can't go wrong with!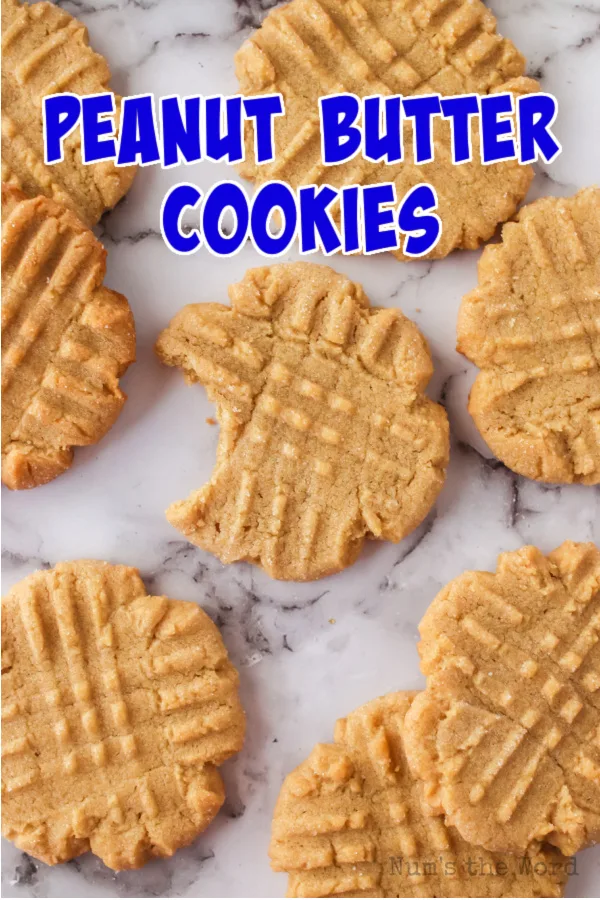 Made with peanut butter, butter, vanilla, and sugar, these peanut butter cookies are literally "melt in your mouth" good!
You'll love that making these cookies requires no extra trips to the store. All pantry ingredients!
And you'll also love how ultra soft this peanut butter cookie recipe is. No crunching allowed in these beauties!
The peanut butter cookie is a super easy cookie to make. Which means even the kids can help!
In the time you could run to the store and back, you can whip up some homemade peanut butter cookies.
They'll not only be faster but they'll taste better than the store bought cookies too!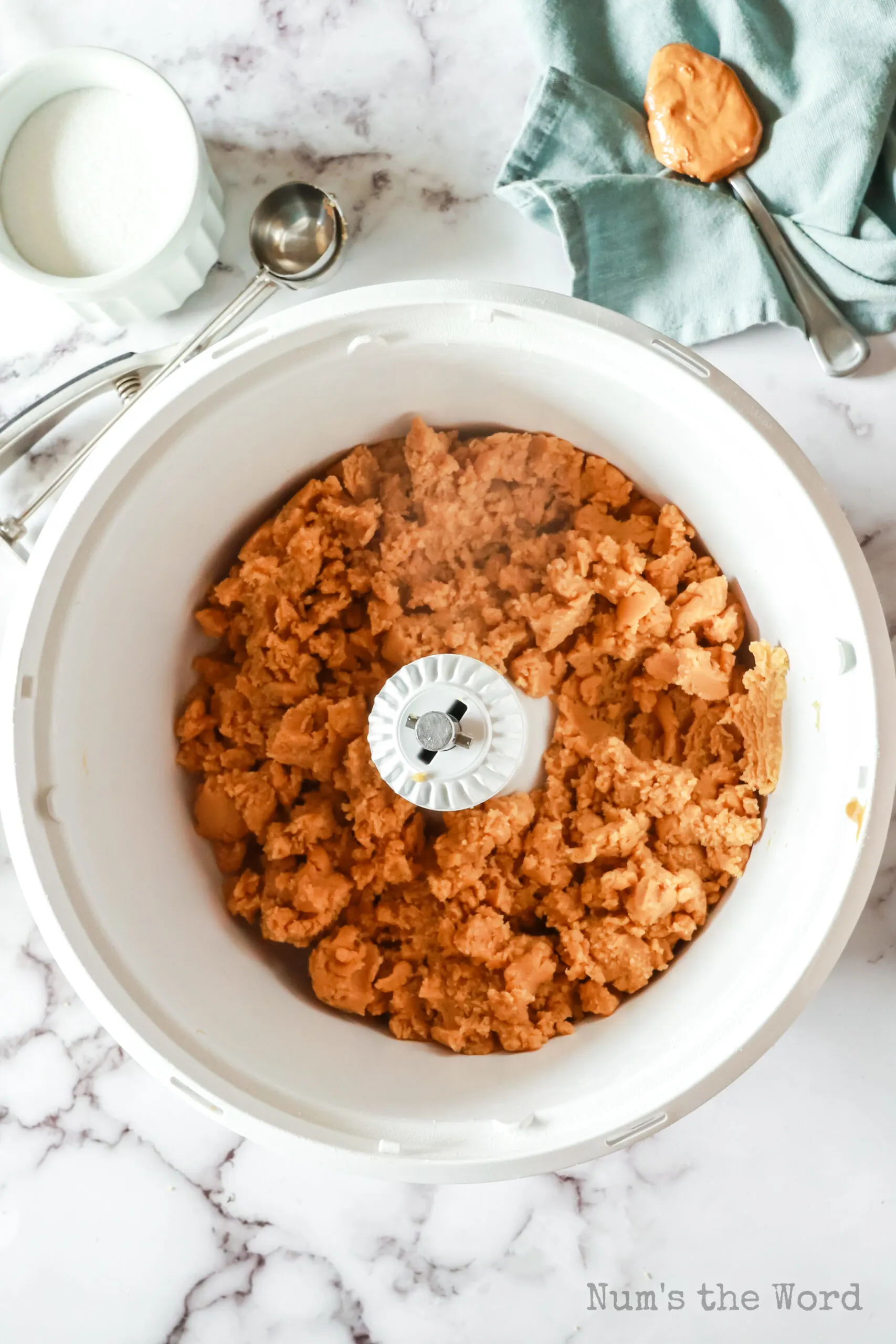 What Ingredients Are In Peanut Butter Cookies?
As promised, all simple ingredients for the best peanut butter cookie recipe.
Butter: Using room temperature butter is easiest for mixing.
Brown Sugar: The brown sugar helps produce a softer cookie.
Granulated Sugar: You'll need white sugar both for flavor and for rolling the cookies in too.
Eggs: Eggs act as the binder and riser. It'll help the cookies spread and keep them together.
Peanut Butter: Creamy peanut butter will give you a better texture than crunchy peanut butter.
Flour: All purpose flour gives the cookies the structure they need.
Baking Soda: This is crucial as it helps the cookies to rise.
Salt: You don't need too much salt as the peanut butter already has some, but you do need a little.
Pro Tips:
Use real butter, not shortening, imitation butters, or margarine for the best cookies.
Natural peanut butter that separates tends to produce a grittier cookie so use name brand peanut butter for best results.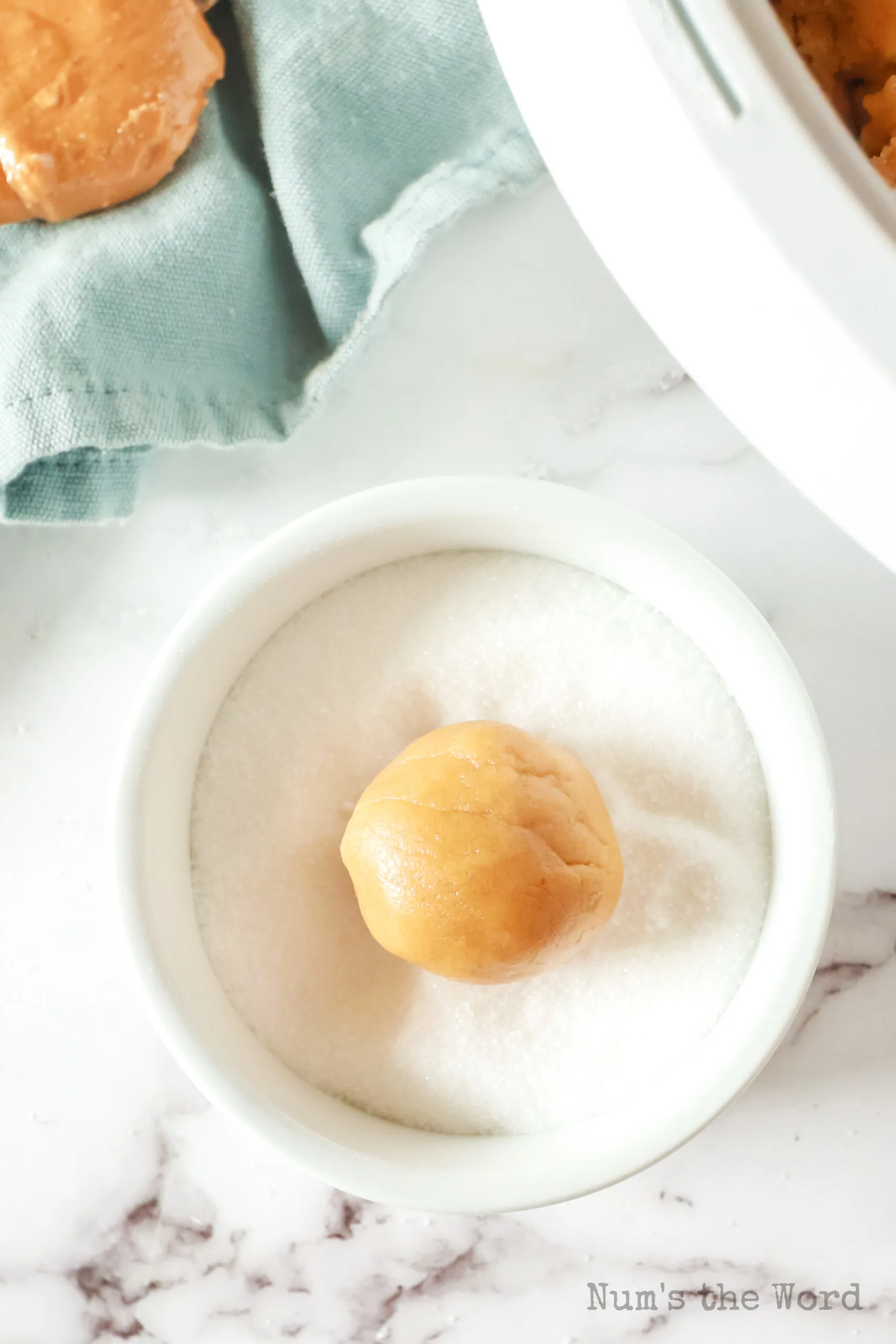 How to Make Peanut Butter Cookies
Classic peanut butter cookies are one of my favorite cookie recipes!
Mix: Combine dry ingredients and wet ingredients, one at a time, allowing them to fully incorporate before adding the next.
Roll: Rolling in sugar produces a beautiful effect and also tastes great!
Bake: Bake cookies but don't over do it. The edges should have just a hint of golden.
Pro Tips:
Use a paddle attachment with an electric mixer to combine the pb cookies.
Be sure to leave enough space between the cookie dough balls so they can expand.
Don't dig in right away but let them cool on a wire rack or cooling rack or they'll fall apart and burn your tongue.
Use parchment paper on prepared baking sheets to keep them from sticking.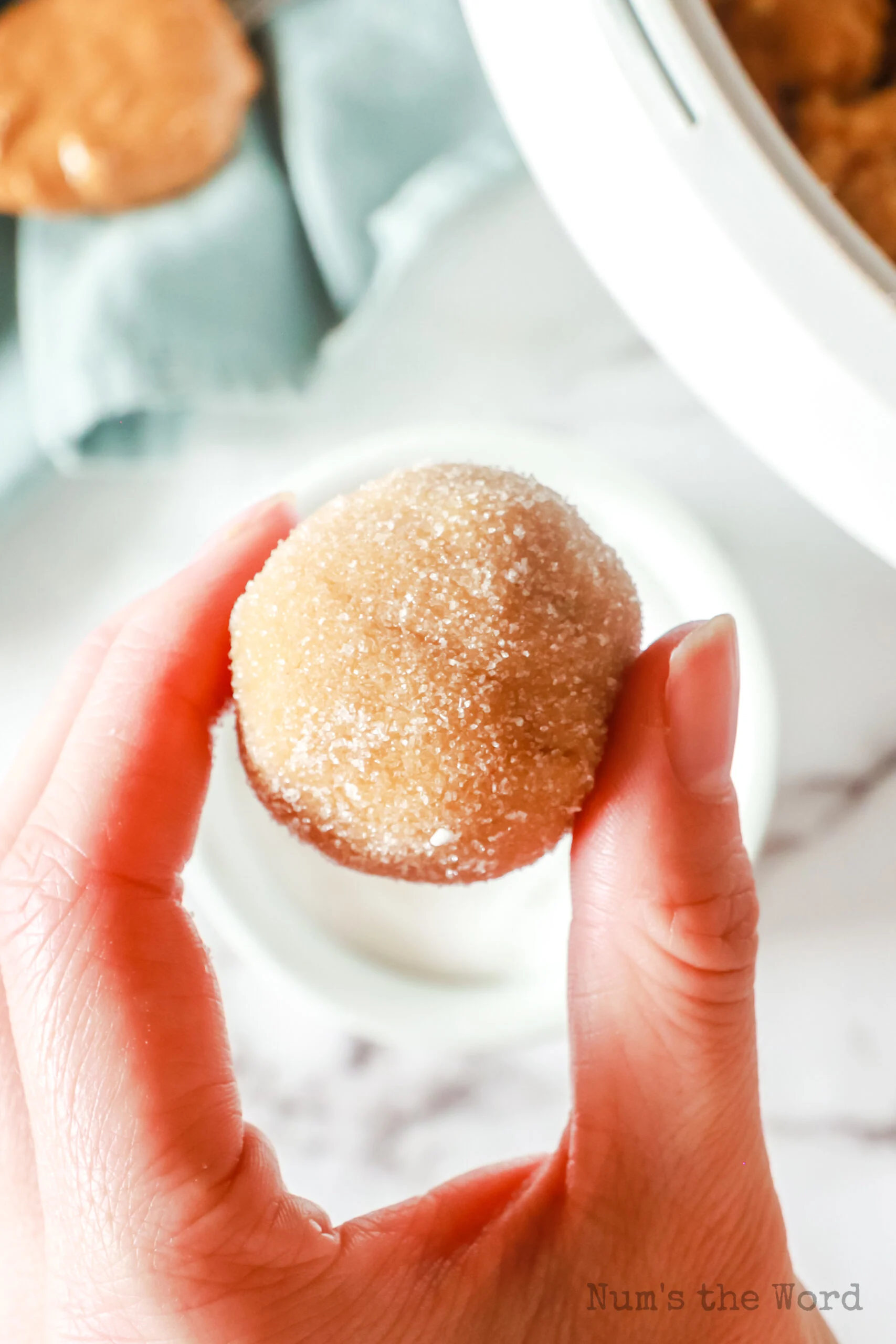 Can Dogs Eat Peanut Butter Cookies?
In moderation, peanut butter can be a great healthy food source for your dogs.
They can eat chunky peanut butter or smooth peanut butter.
However, soft peanut butter cookies are a different story.
The sugar and high fat content of these cookies with peanut butter can be extremely difficult for dogs to digest.
There are peanut butter cookie recipes for dogs that you can search for. Those are a much better option.
In addition, you'll want to be sure that any peanut butter you do give your dogs doesn't contain xylitol.
While most mainstream peanut butters do not, some do. And that can be very harmful for dogs.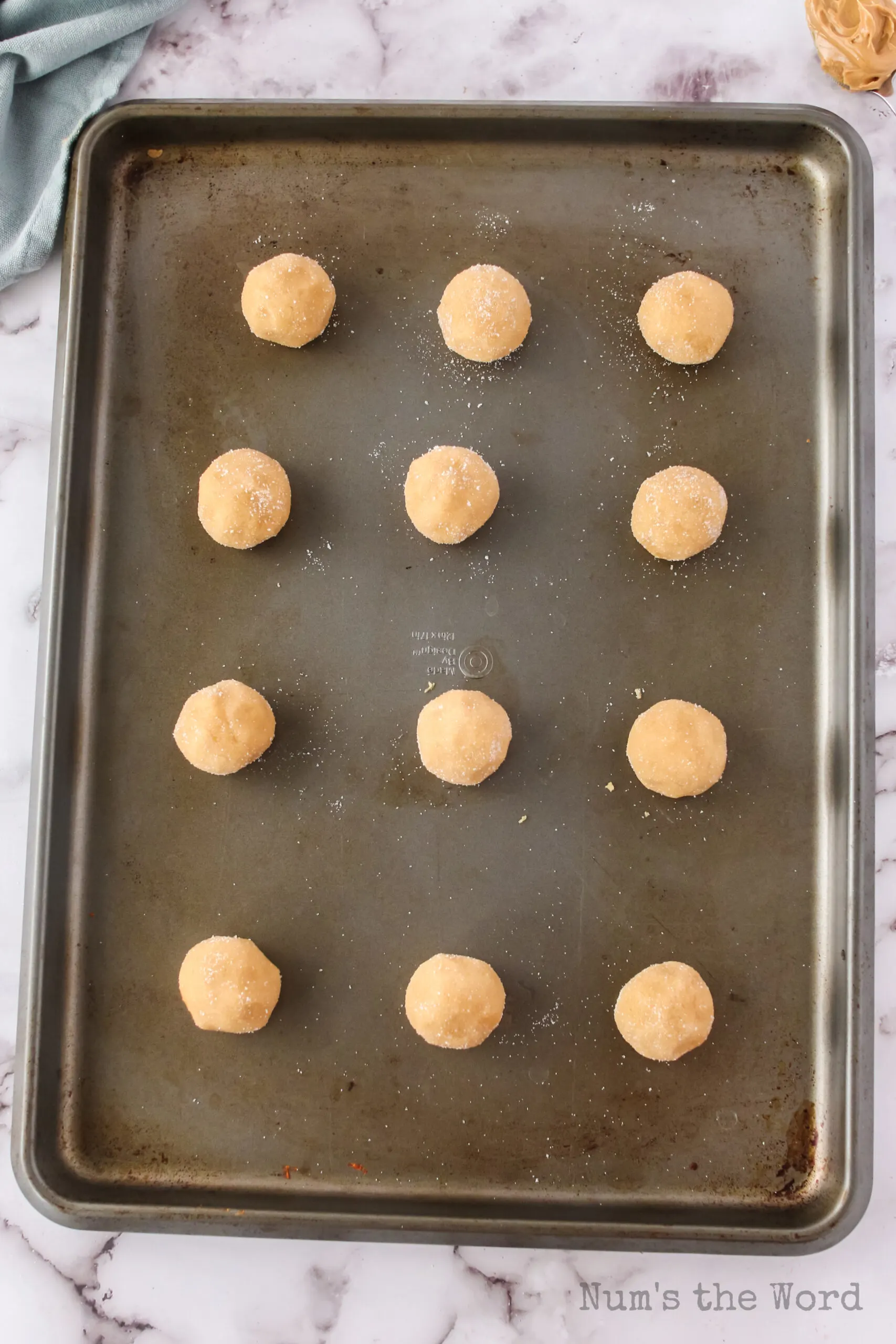 Do You Chill Peanut Butter Cookie Dough?
No, this classic recipe for peanut butter cookies does not need to be chilled.
While some recipes do, in order for the cookie to bake right, this one doesn't.
That means one less step and a quicker cookie too! Yay!
Just another reason this peanut butter cookie recipe is the perfect recipe.
Are Peanut Butter Cookies Healthy?
Peanut butter is high in protein. And protein is essential for every person to survive.
However, these are still cookies. They have sugar. And fat.
And while you need a bit of sugar and fat in order to survive, cookies are not one of those essentials.
So enjoy peanut butter cookies as you would any other type of cookie.
It's a treat that you can enjoy, but don't eat them for a meal!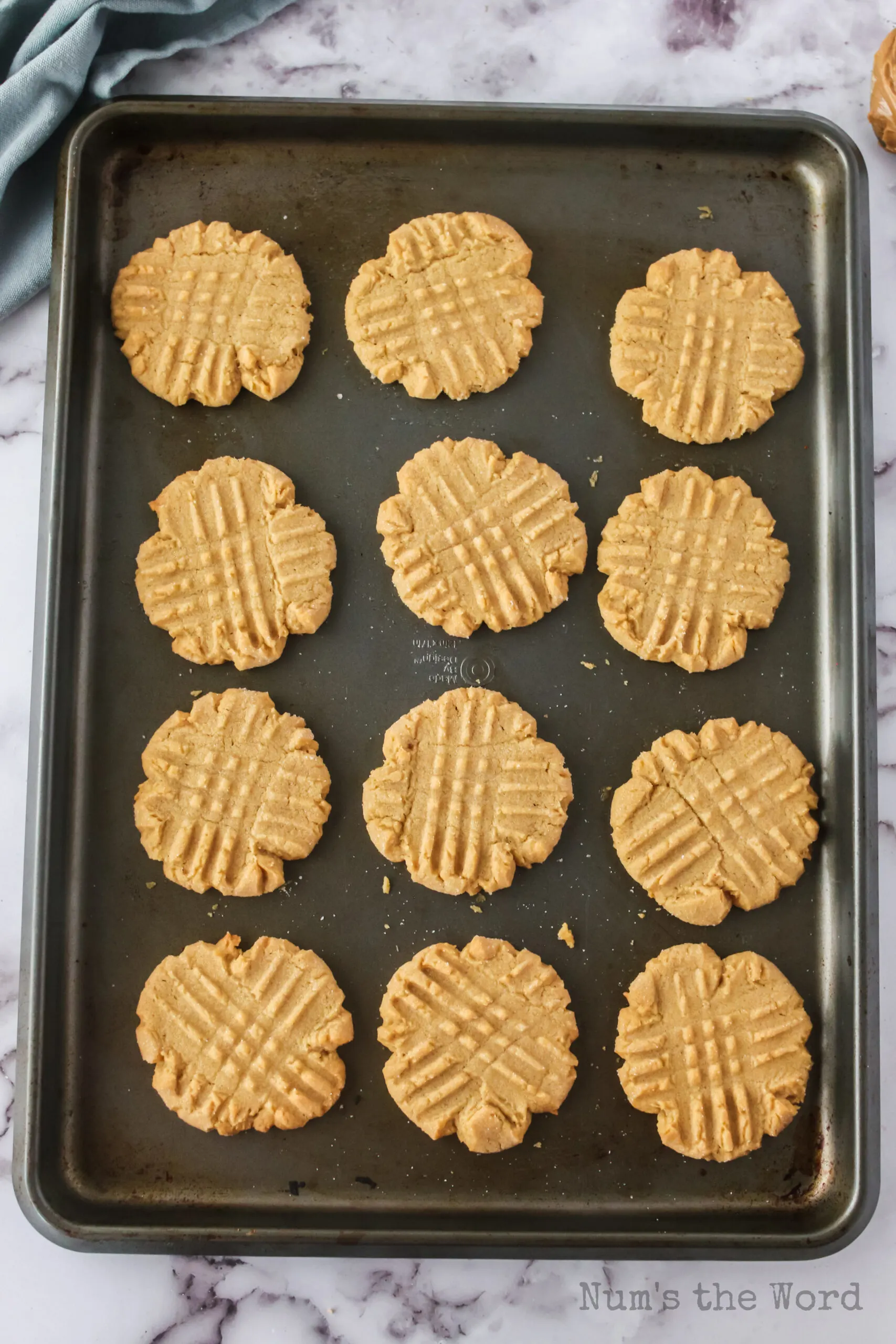 Can You Freeze Peanut Butter Cookie Dough?
You sure can! Frozen cookies are one of the best ways to preserve traditional peanut butter cookies.
I love pre-making cookie dough, freezing it, and then baking it when I'm ready for that sweet cookie treat!
Peanut butter cookie dough can be frozen for up to three months. After that, it'll begin to lose its texture and flavor.
Here's my favorite way to freeze them.
Roll each cookie dough ball and coat in sugar.
Place on a cookie sheet and flash freeze for 20 minutes.
Remove from the freezer and transfer to a freezer safe bag.
This way you can pull out as many servings as you want at a time.
Make extra cookie dough so you'll always have some on hand!
Pro Tip:
Write the name, date, and baking directions on the bag so you won't have to hunt for it later.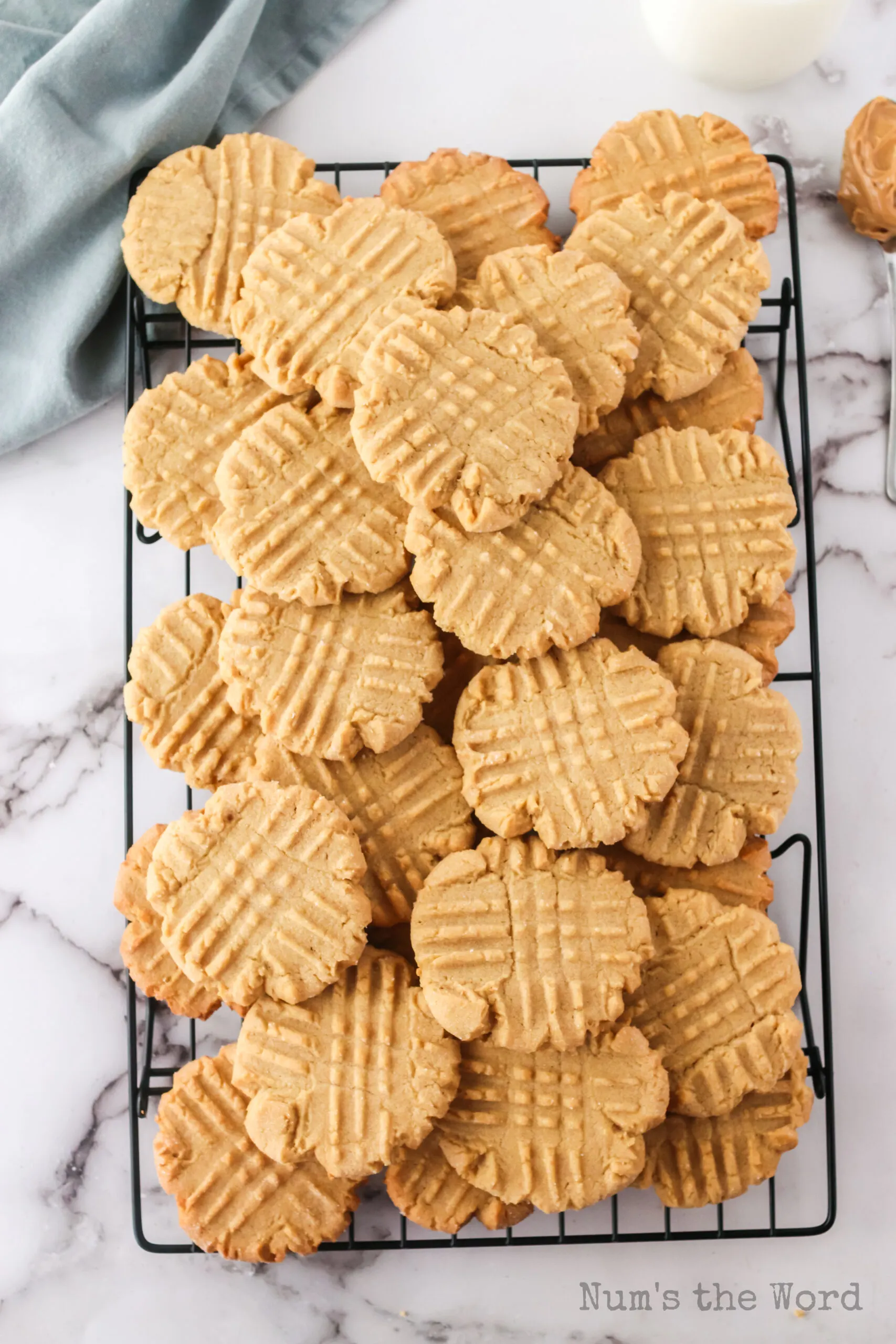 Can You Make Peanut Butter Cookies Without Eggs?
While I'm sure there are peanut butter cookies without eggs, this recipe isn't one of them.
This is one of my favorite cookies but without eggs it would be a pretty crumbly cookie.
If you want a peanut butter treat without eggs, try these Peanut Butter Truffles.
They are super yummy, easy to eat like a cookie, and the perfect way to satisfy those peanut butter cravings.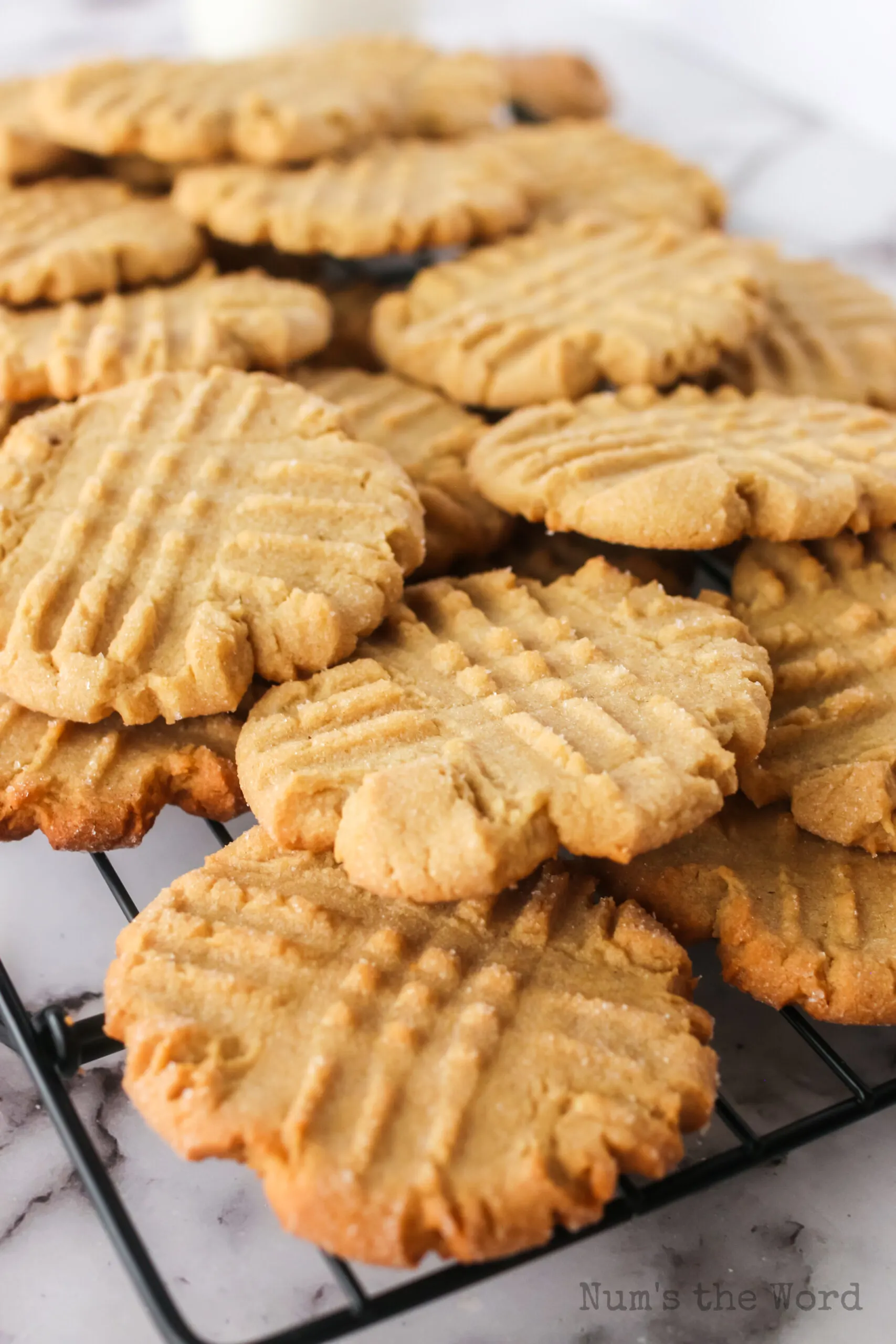 Why Do Peanut Butter Cookies Have Fork Marks?
Many peanut butter cookies have fork marks because they do not spread.
So in order to not just have a cookie ball, they need to be flattened before baking.
Over time, that iconic fork mark has come to be associated with and expected with these cookies.
What Goes with Peanut Butter Cookies?
Want to mix up that classic peanut butter cookie with some fun variations?
Here's some great ideas to mix things up!
Mix some chocolate chips into the dough.
Add in some chocolate m&m's for extra delicious flavor.
Add some chopped peanuts for an extra crunch.
Use this batter to make peanut butter kiss cookies!
Use this batter to make Halloween Peanut Butter Spider Cookies!
Drizzled the baked cookies with melted white, milk, or dark chocolate.
More Peanut Butter Recipes You'll Love…
If you love peanut butter cookies the way your grandmother made them, then this recipe is for you! Simple, delicious and packed with flavor!
Yield: 24 Cookies
Peanut Butter Cookies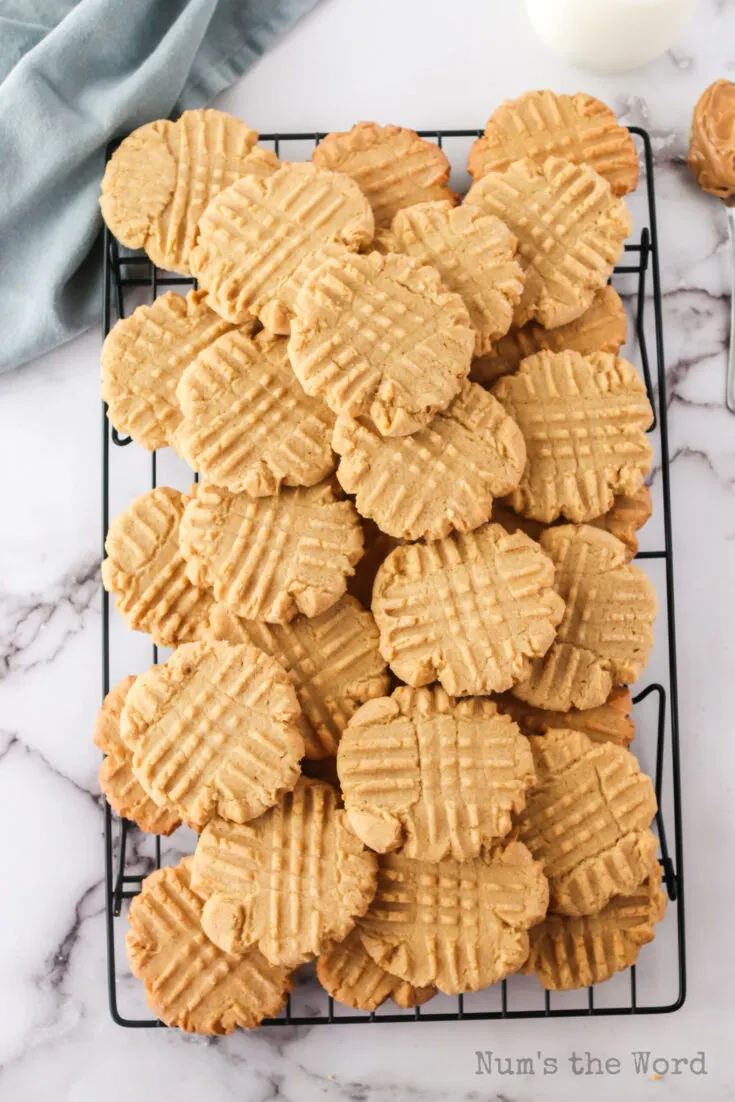 Soft and chewy Peanut Butter Cookies are so easy to make! They are a classic cookie that you can't go wrong with!
Ingredients
1 cup butter, room temperature
1 cup brown sugar, packed
1 cup white sugar
2 eggs
1 cup creamy peanut butter
3 cups all-purpose flour
2 teaspoons baking soda
1/4 teaspoon salt
1/4 cup white sugar
Instructions
Preheat oven to 350*F
Prepare a cookie sheet with parchment paper, non-stick foil, baking mat or spray with cooking spray.
Cream butter, brown sugar and 1 cup white sugar together.
Add eggs and blend well, scraping sides of bowl as needed.
Add peanut butter and blend again. Scrape sides.
Add flour 1 cup at a time, mixing between each addition.
Add baking soda and salt - blend.
In a small bowl add 1/4 cup of sugar.
Scoop out 1 Tablespoon portions of dough and roll into a ball.
Place cookie dough in sugar and roll around, coating the entire ball.
Place the sugared ball onto the prepared cookie sheet.
Fill the entire sheet, leaving enough space between so cookies can expand.
Take a standard fork and press it into the cookie balls giving each of them the classic criss cross pattern you expect from a peanut butter cookie.
Bake for 8-10 minutes, remove when edges have a hint of golden.
Let cool on the pan for 5 minutes, then transfer to a cooling rack.

Nutrition Information:
Yield:
24
Serving Size:
1
Amount Per Serving:
Calories:

263
Total Fat:

14g
Saturated Fat:

6g
Trans Fat:

0g
Unsaturated Fat:

6g
Cholesterol:

36mg
Sodium:

247mg
Carbohydrates:

32g
Fiber:

1g
Sugar:

19g
Protein:

5g