No Bake Monster Cookies are the perfect cookies for making all year long! Perfectly sweet and easy to throw together, make some tonight for the ultimate delicious cookie!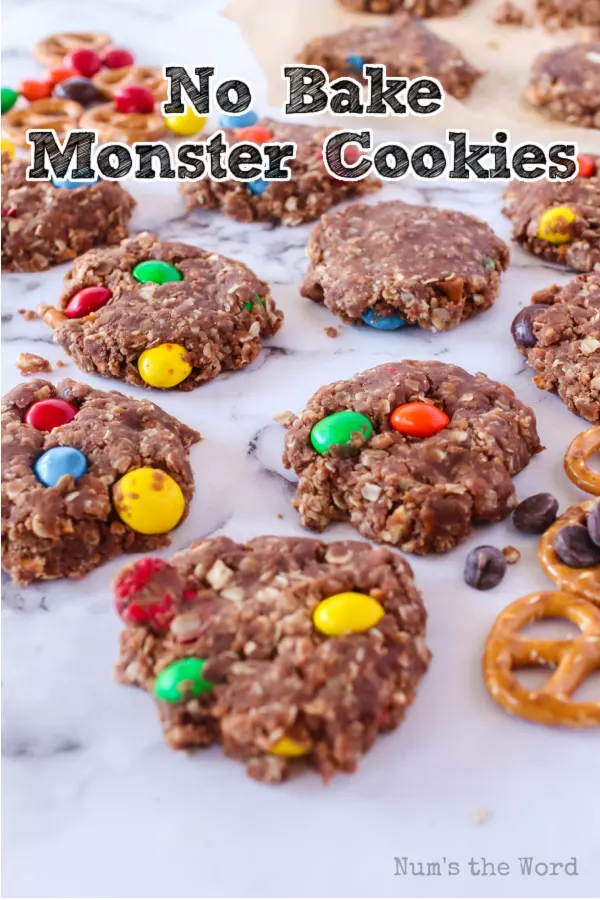 Monster cookies are aptly named as they are cookies that are mashed together like Frankenstein's monster.
You'll find creamy peanut butter, soft oatmeal, crunchy pretzels, sugary M&Ms, sweet chocolate chips, and yummy cocoa powder all in one delicious monster cookie.
While I've got regular No Bake Cookies and No Bake Pumpkin Spice Cookies, I knew it was time for a No Bake Monster Cookies Recipe.
I love the combo of flavors you get with no bake monster cookie balls. They're sweet, salty, chewy, and crunchy all at once.
My kids love that we don't have to cook them. They can safely eat the dough or wait for it to cool! And when we don't have to heat up the oven is a big win. I almost always forget to preheat and then have to wait!
These no bake monster cookie bites will last a long time in the fridge too. Which is perfect for keeping them ready to eat at any time you get a craving!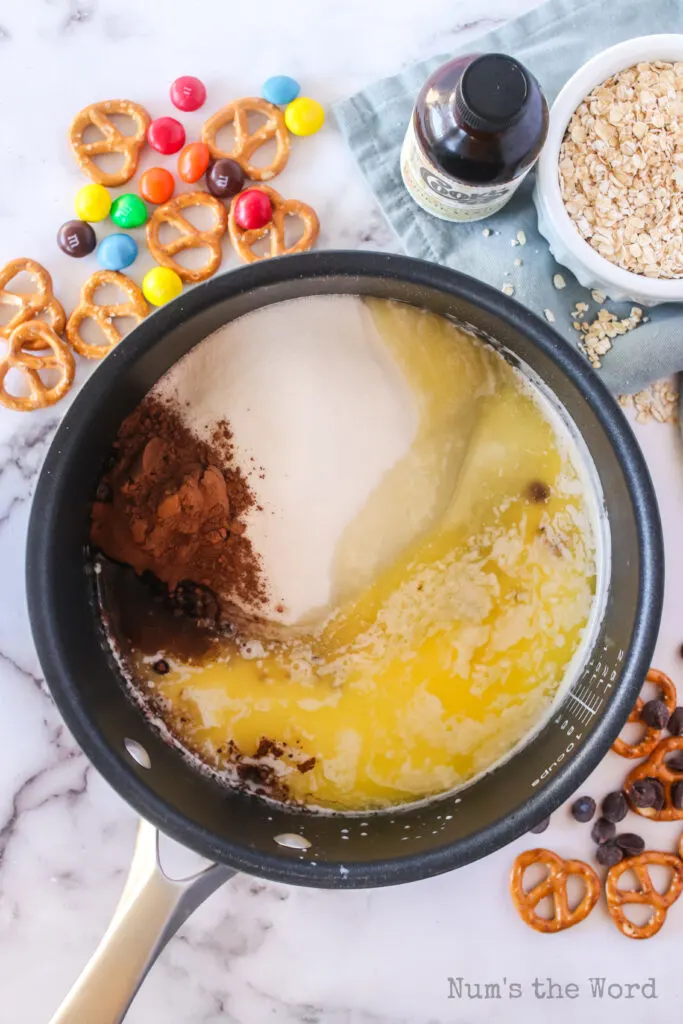 What Are No Bake Cookies?
As the name would imply, no bake cookies are cookies that require no time in the oven. Typically, no bake cookies do require some cooking, just no baking.
The cooking is done before forming them into balls and allows the dough to become hot. Then the cookie dough balls are placed onto parchment paper where they cool and solidify.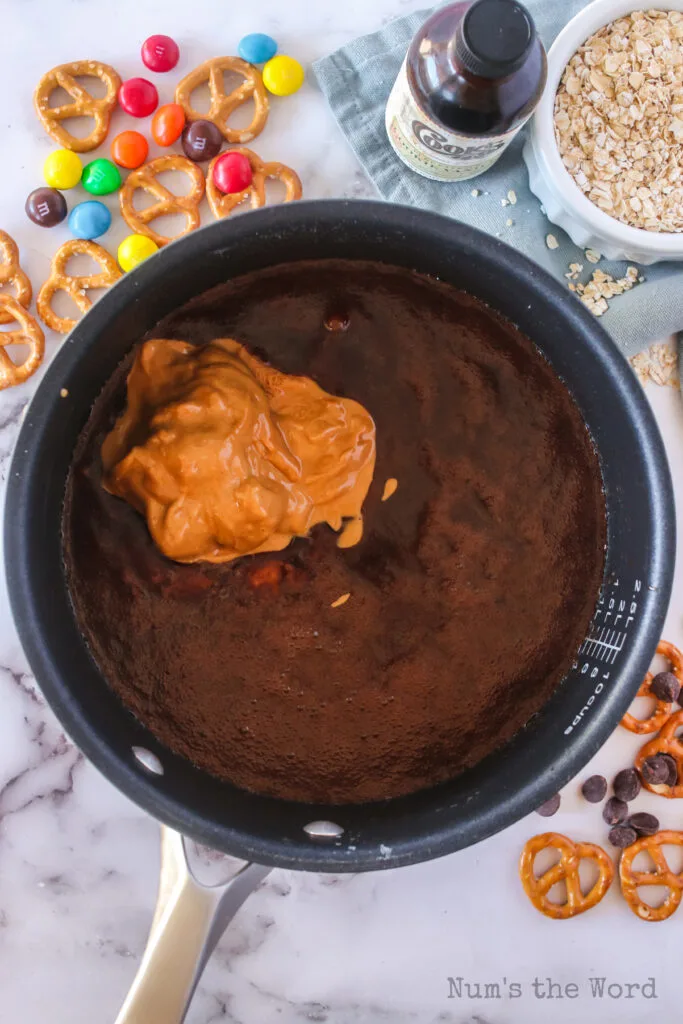 Ingredients in No Bake Monster Cookies
Butter: If you let the butter come to room temperature, it'll melt easier in the pot.
Sugar: I use regular white sugar though you could try brown sugar for a molasses-y flavor.
Cocoa Powder: This will give the no bake monster cookies a chocolaty flavor.
Milk: Use any fat of milk that you have on hand and enjoy.
Peanut Butter: Creamy peanut butter will give your no bake cookies the best texture.
Oatmeal: Use quick oats for a soft and chewy texture.
Vanilla: Real vanilla is much better for flavor than imitation vanilla.
Pretzels: Break these up into small bite sized pieces to go in the monster cookies.
M&Ms: I find peanut butter M&Ms compliment the other peanut butter and chocolate flavors.
Chocolate Chips: I use milk chocolate chips though you could use semi sweet as well.
Pro Tips:
Opt for real whenever you can. Real butter. Real Vanilla. These things make a big difference in flavor.
Lay all the ingredients out on the counter before beginning the recipe. It'll go fast once you start.
You can substitute the peanut butter with cashew or almond butter if desired.
It's very easy to add your favorite mix-ins or leave out what you don't like. Try chia seeds, coconut, or flax seeds.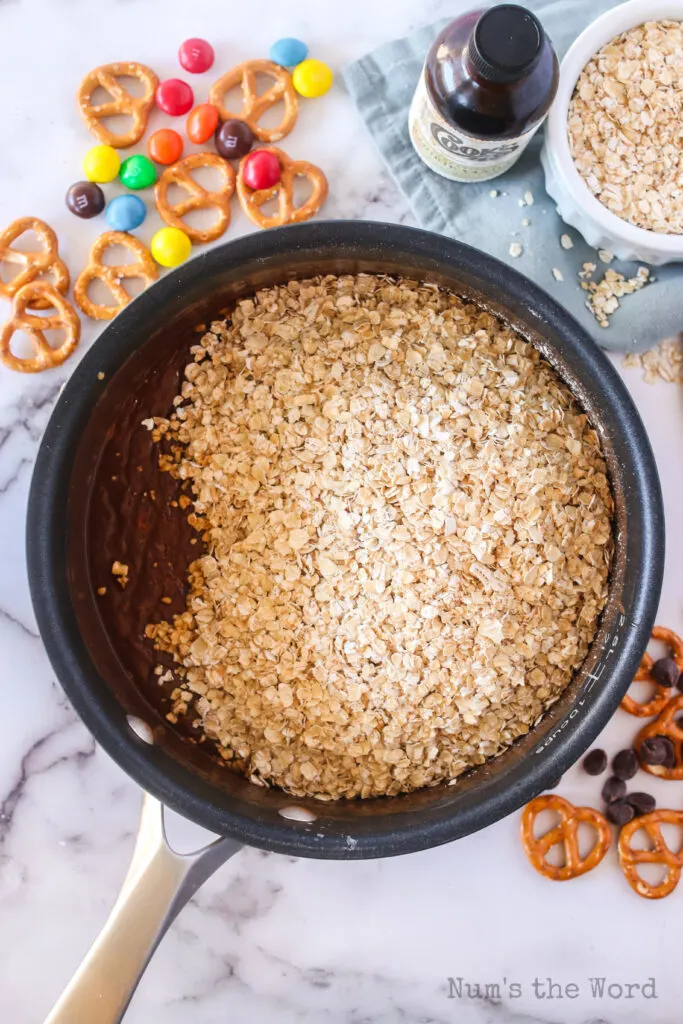 How to Make No Bake Monster Cookies
Boil: The butter, sugar, cocoa powder, and milk will all need to be boiled together.
Mix: Then you'll remove the pot from the heat and add the peanut butter and oatmeal.
Add: Once the cookie dough has cooled slightly you can add the pretzels, M&Ms, and chocolate chips.
Cool: Shape them into balls and leave them on the parchment paper until you're ready to eat!
Pro Tips:
If you start adding the M&Ms and chocolate chips and find they are melting, wait another minute. You don't want them to melt.
Keep an eye on the boiling time. All you need is one minute. Too long or too short can cause problems with the setup of the cookies.
If you don't have parchment paper you can use your counter but it might be hard to get them off!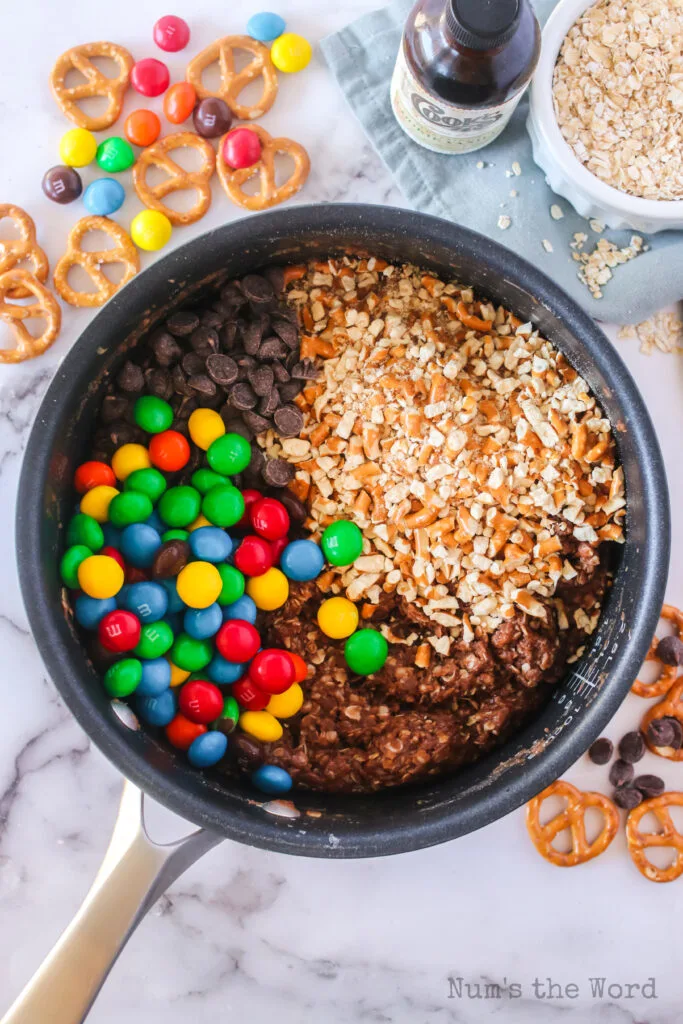 Can You Use Old Fashioned Oats for No Bake Monster Cookies?
You can substitute the quick cooking oatmeal for old fashioned oatmeal if needed. I don't recommend substituting because the cookies won't be as soft with old fashioned oats. But in a pinch, yes, you can substitute.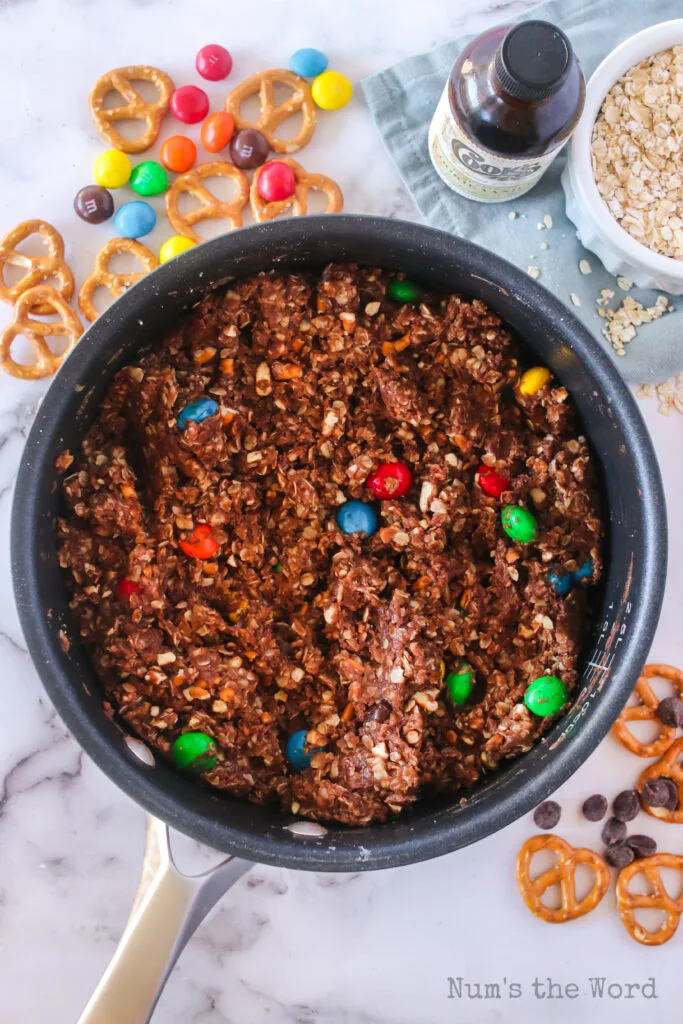 Are No Bake Monster Cookies Gluten Free?
Yes! Since no bake monster cookies are made with no flour, they are naturally gluten free. You'll want to substitute the regular pretzels with gluten free pretzels or leave them out.
Pro Tip: Pick oats that say they are gluten free. Though oats contain no gluten, they are often processed in the same facilities as flour.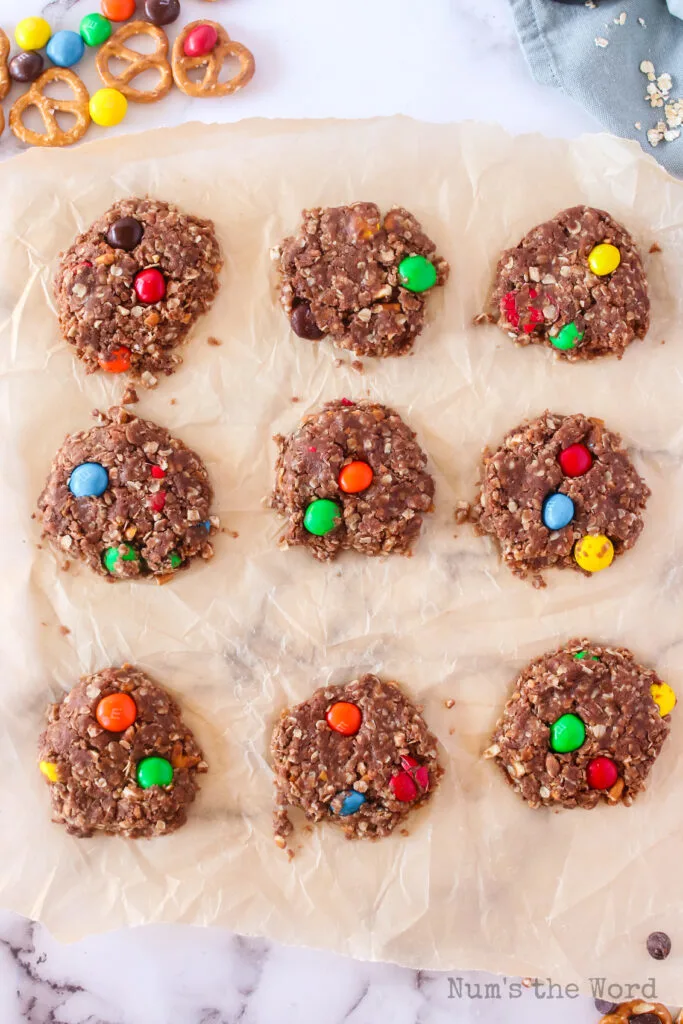 Can You Freeze No Bake Monster Cookies?
Yes! No bake monster cookie balls freeze beautifully! Wait for them to cool completely and then pop them into a freezer safe bag or container. Thaw in the fridge overnight before eating.
Pro Tip: Write the name and date on the container so you eat them up before they go bad!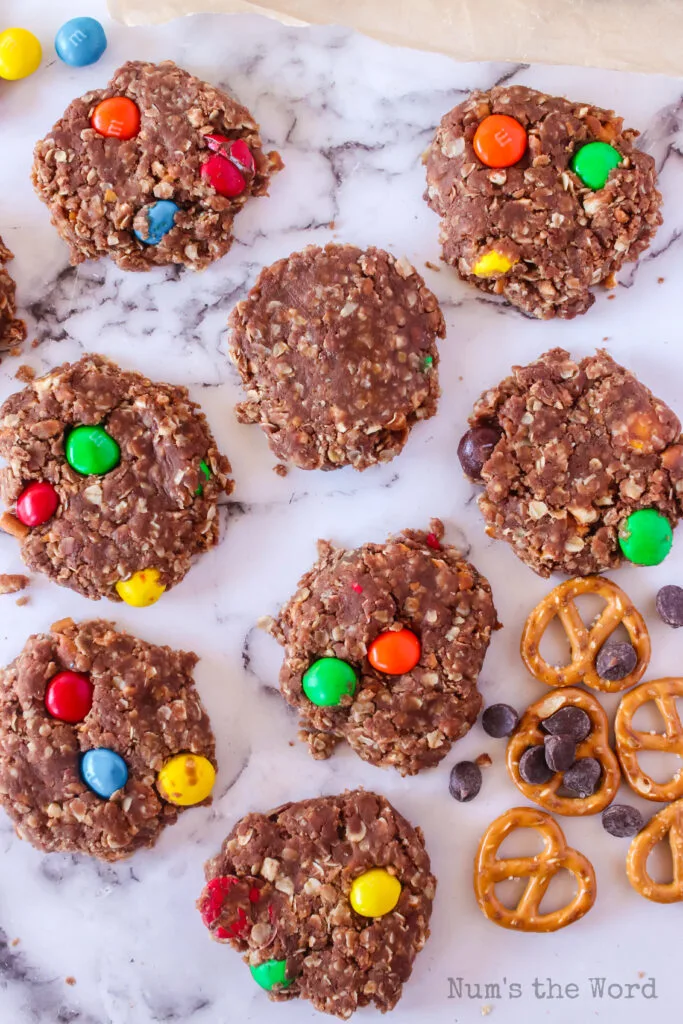 Do You Store No Bake Monster Cookies in The Fridge?
I recommend storing no-bake monster cookies in the fridge to help prolong their life. Not only will it help them last longer but they are really yummy to eat straight from the fridge too!
If you don't like eating them cool just pop them onto the counter for about a half hour and they'll become warm and soft.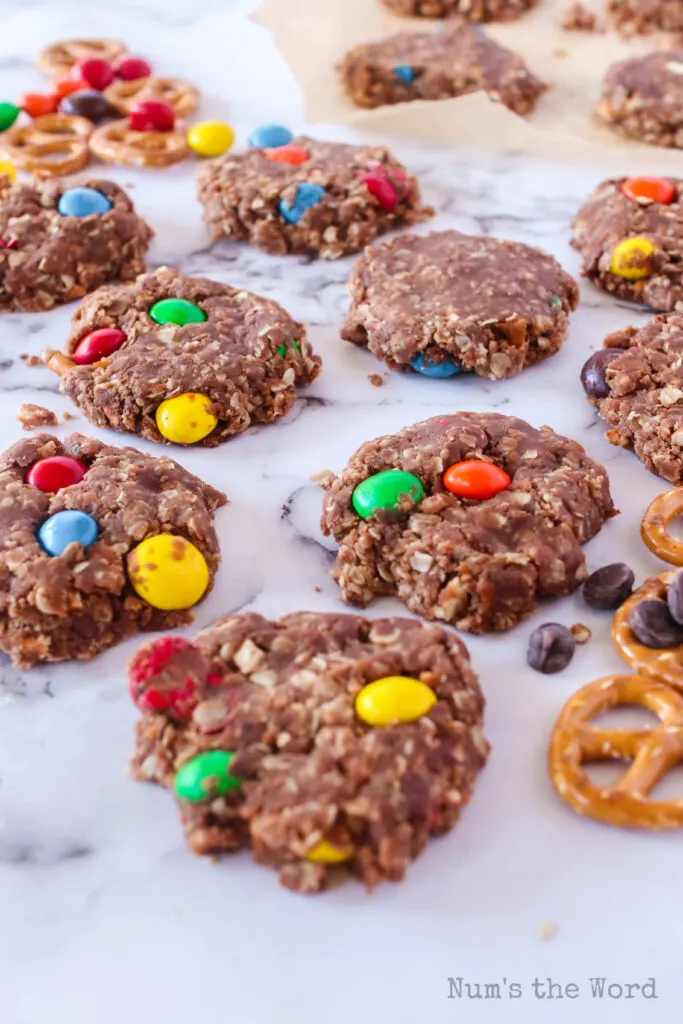 How Long Are No Bake Monster Cookies Good For?
No Bake Monster cookies have a different shelf life depending on how you store them.
Counter: Stored on the counter the no bake cookies will stay good for up to three days.
Fridge: Kept in the fridge, the no bake cookies will last for up to a week.
Freezer: Once in the freezer, the cookies can be safely kept for up to three months.
Pro Tip: Keep out only the amount you know you can eat. Freeze the rest and pull them out whenever you need a little pick me up!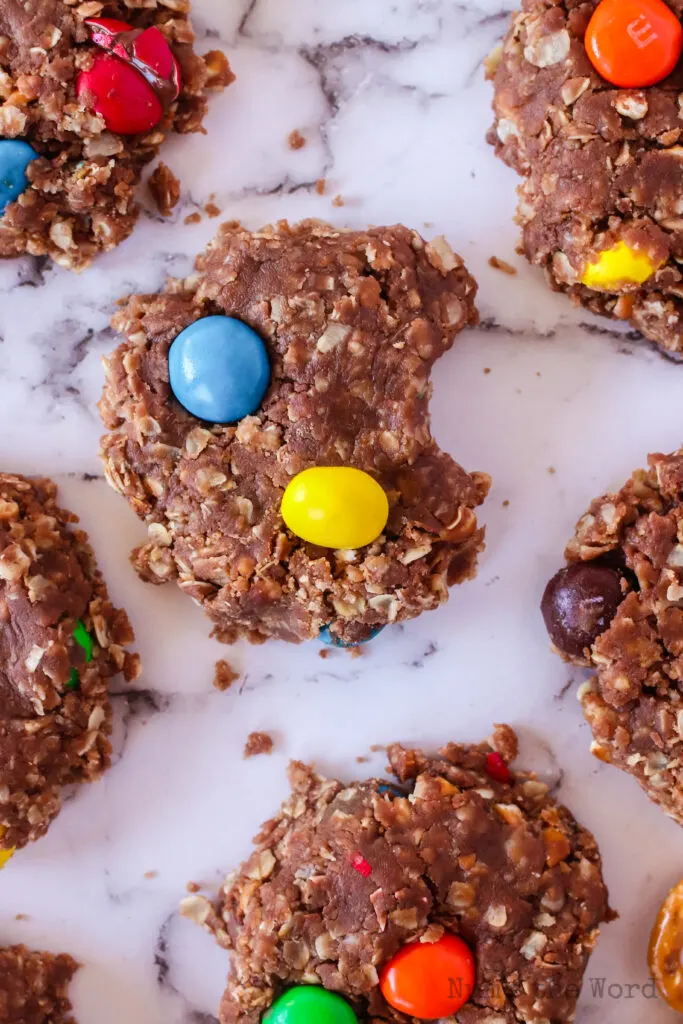 No Bake Monster Cookies are delicious and easy to make! Perfect for keeping in the fridge all year round, they require no cooking time and can easily be frozen.
Make a batch of no bake cookies and let me know what you think in the comments!
Yield: 2 dozen cookies
No Bake Monster Cookies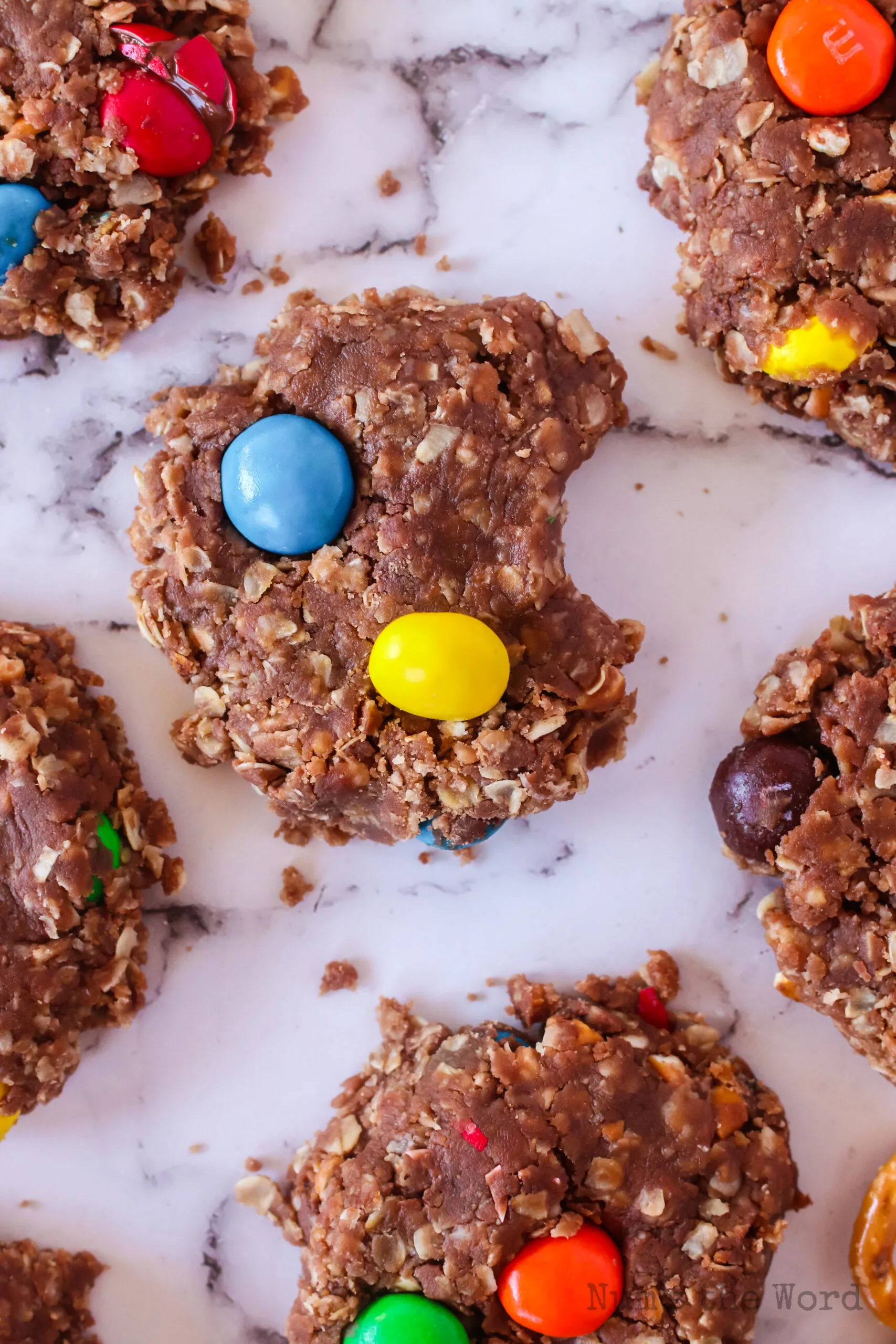 No Bake Monster Cookies are the perfect cookies for making all year long! Perfectly sweet and easy to throw together, make some tonight for the ultimate delicious cookie!
Ingredients
1/2 cup butter, room temperature
2 cups white sugar
2 Tablespoons cocoa powder
1/2 cup milk
1 cup creamy peanut butter
2 1/2 cups quick cooking oatmeal
1 teaspoon vanilla extract
1 cup broken pretzels, no bigger than 1/2 inch pieces
3/4 cup peanut butter M&M's
1/4 cup milk chocolate chips
Instructions
In a pot add butter and melt over medium heat.
Once butter is melted, add sugar, cocoa powder and milk. Mix well and bring to a boil.
Boil for 1 minute.
Remove from the stove and add peanut butter. Mix until peanut butter is melted.
Add oatmeal and stir.
Let sit for approximately 5 minutes, stirring every minute to help the mixture cool.
Add pretzels, M&M's and chocolate chips. Mix well.
Using a small cookie scoop, scoop out cookie balls onto wax paper.
Let it dry and enjoy.
Nutrition Information:
Yield:
24
Serving Size:
1
Amount Per Serving:
Calories:

235
Total Fat:

12g
Saturated Fat:

5g
Trans Fat:

0g
Unsaturated Fat:

5g
Cholesterol:

11mg
Sodium:

126mg
Carbohydrates:

29g
Fiber:

1g
Sugar:

22g
Protein:

4g