These Leftover Cranberry Sauce Bars are the perfect post holiday treat everyone will love. Don't toss your leftover cranberry sauce, re-purpose it as the filling for these oat bars! Simple, delicious and kid friendly!
This post contains affiliate links.  If you click on an affiliate link and make a purchase, I will make a small percentage on your purchase. This helps keep this website running! Thank you!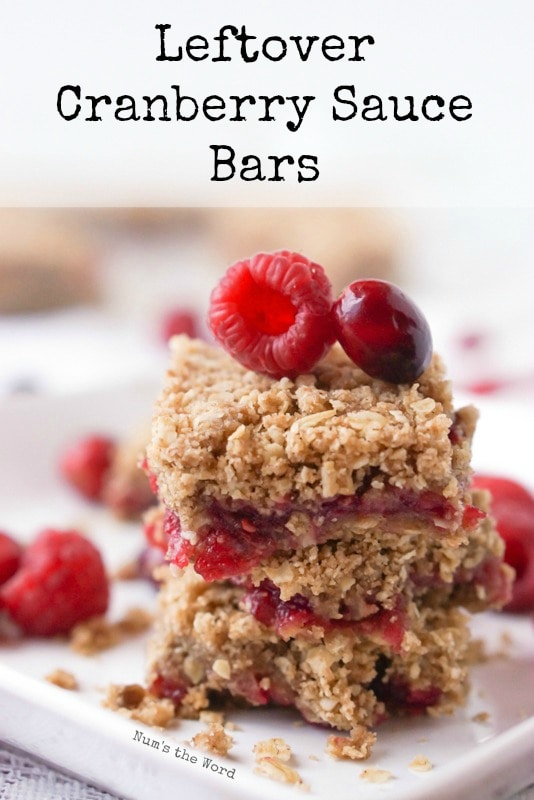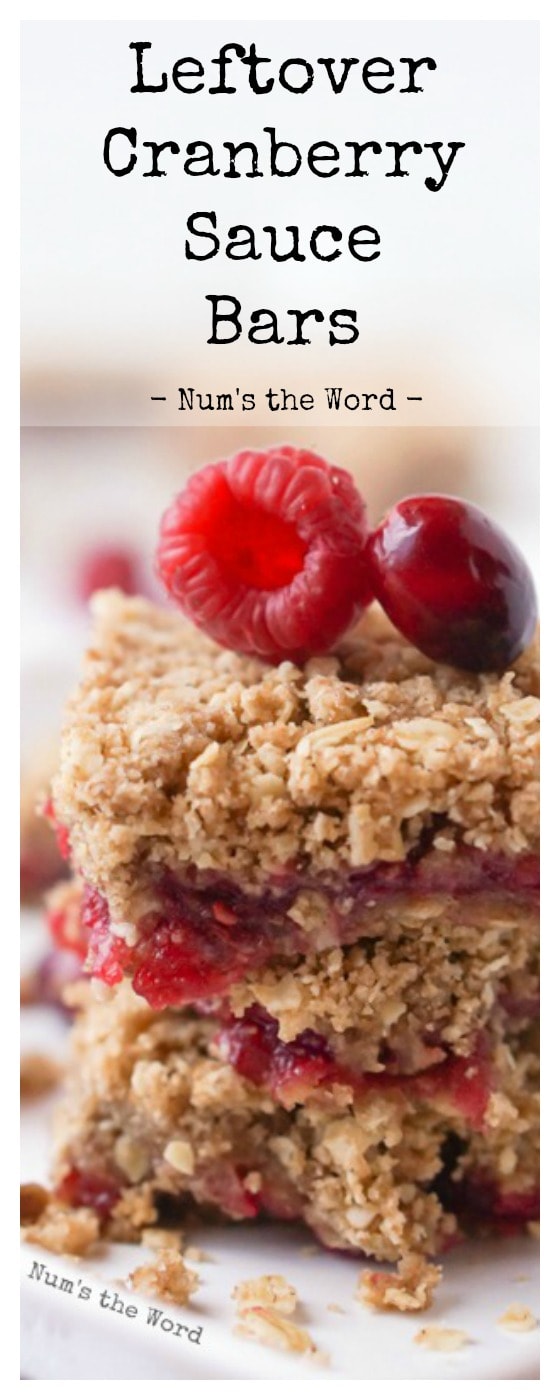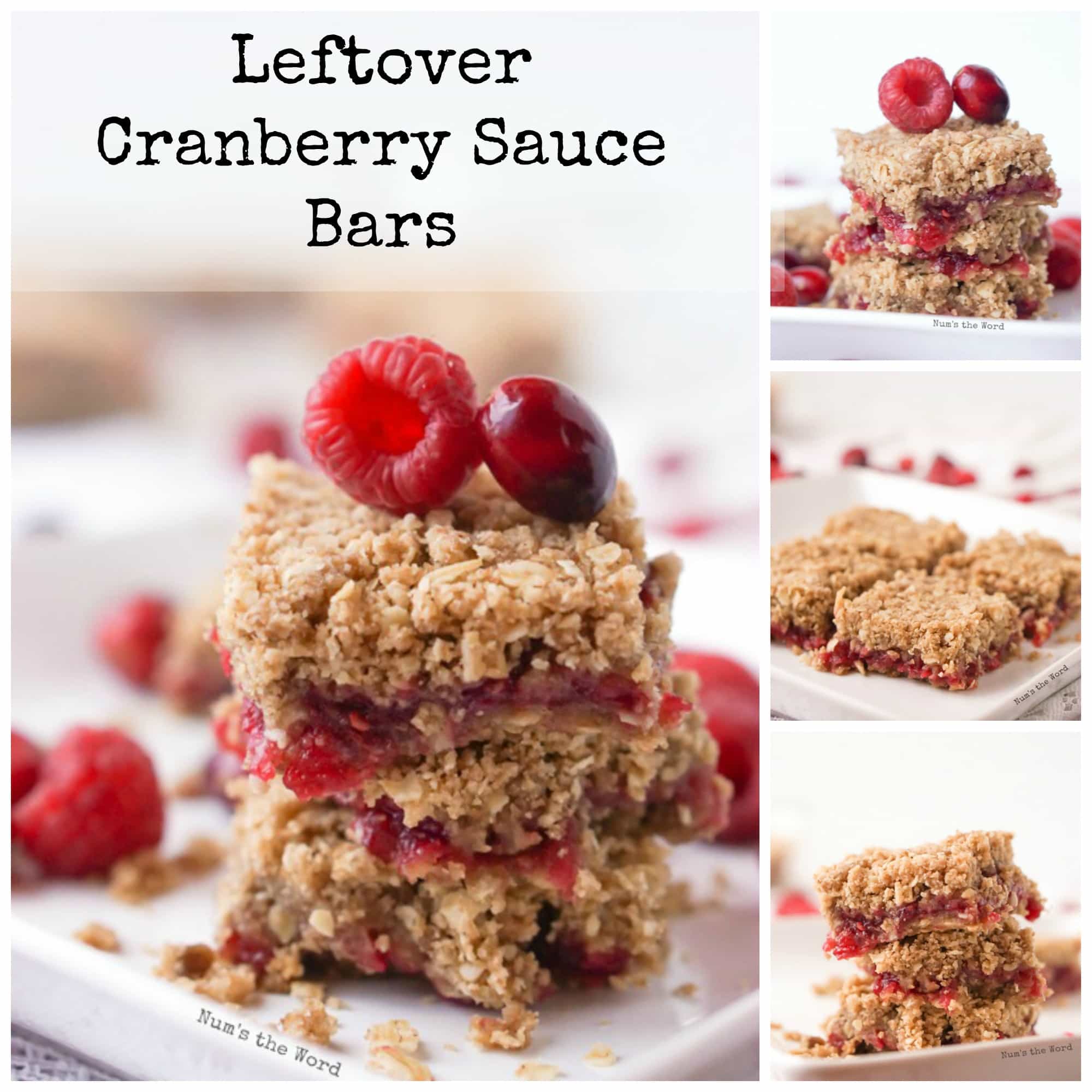 This year my big kick is how to use up leftover Holiday food.
Every year we celebrate these big fancy meals with our entire families.
There is a giant bird, possibly a ham as well, plus no less than 8 side dishes.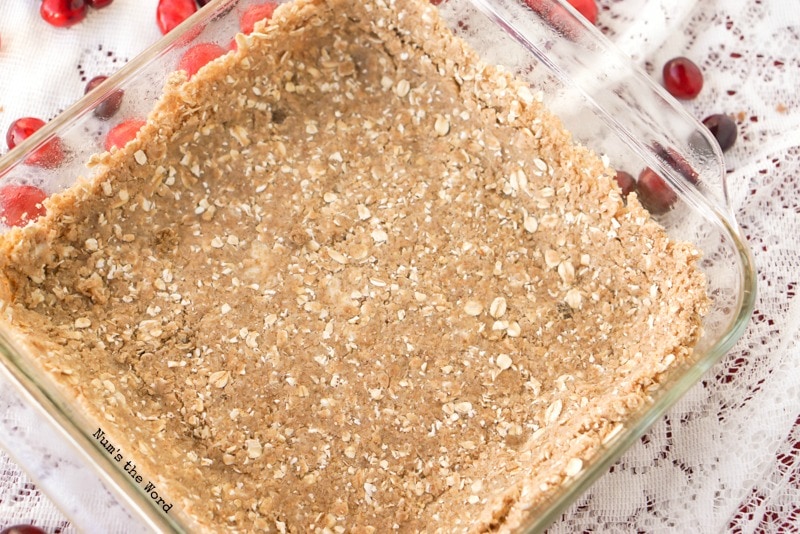 We each scoop a small portion of each side and the bird as well as the ham and then declare ourselves full.
Having done this, there tends to be a LOT of leftovers.
The average person LOVES leftovers.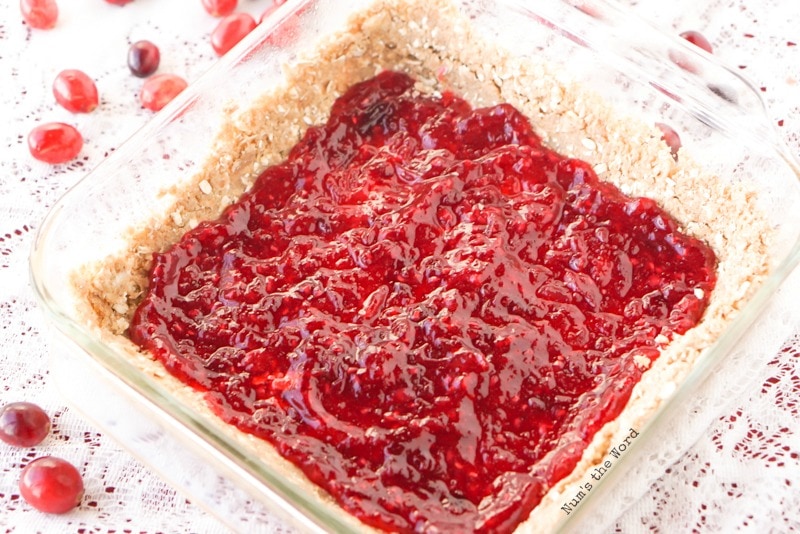 They will eat their big meal one or two more times, however there are STILL more leftovers.
Leftovers that are looking less and less appealing as the days go by.
Instead of "intending to eat them" and never actually eating them, I've done my best to recreate those leftovers into new delicious recipes.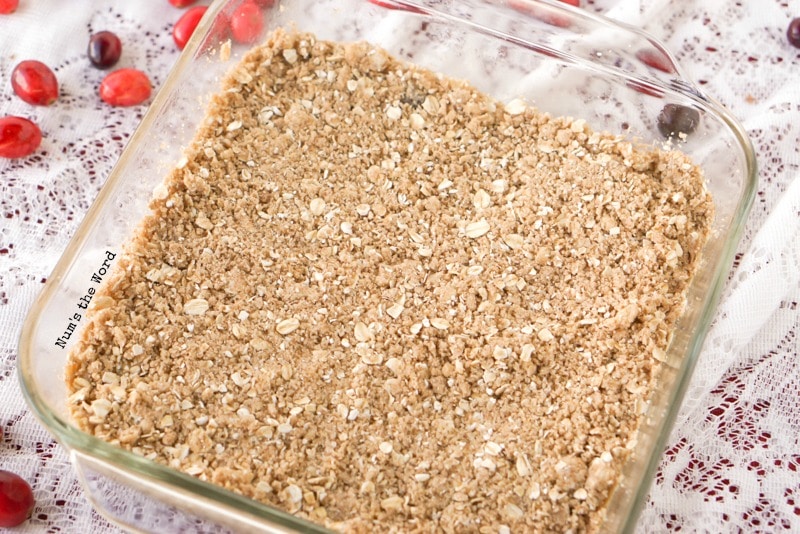 One of the hardest to use up and the least enjoyed it seems, is Cranberry Sauce.
Some people love it straight out of the can.
Others like to make a fancy cranberry sauce because it pairs well with that giant bird on the table.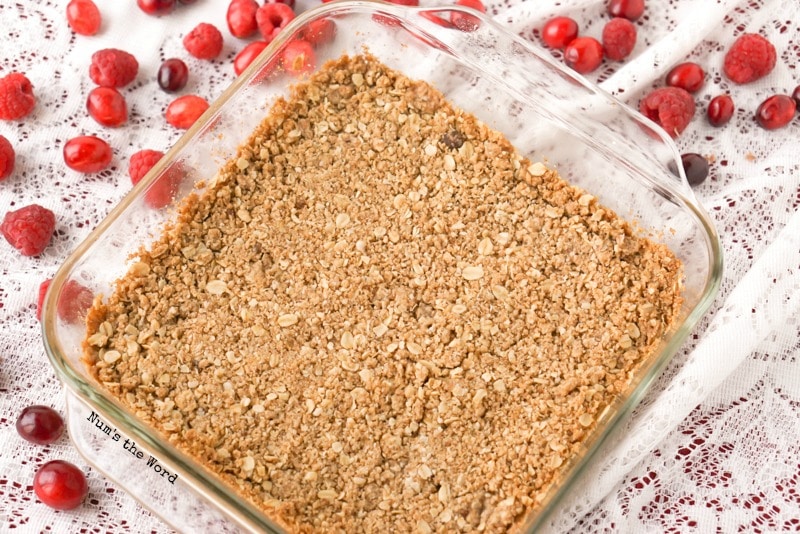 However what do you do with leftover cranberry sauce?
In past years we've enjoyed it with our leftovers but still end up tossing at least half of it because it's just not eaten.
This year, don't toss it.
Re-purpose it into these Leftover Cranberry Sauce Bars.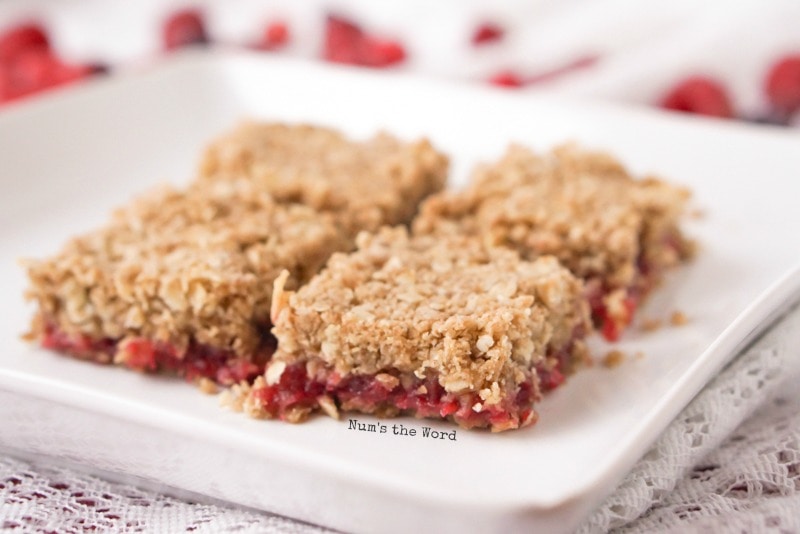 This recipe doesn't care if your cranberry sauce came from a can or a jar or was homemade.
It also doesn't care if there are oranges or raspberries in your sauce as well.
Our goal is to take that tasty cranberry sauce that you love, and create a dessert out of it that will convert non cranberry sauce lovers into believers.
Our goal is to keep the cranberry sauce from being tossed.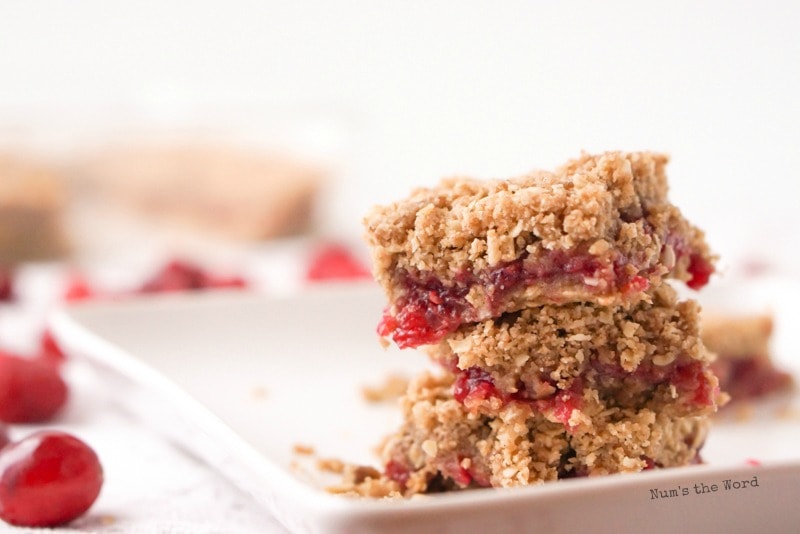 These Leftover Cranberry Sauce Bars are a twist on my favorite Raspberry Bars.
Instead of using raspberry jam, we're using cranberry sauce and I have to tell you, I really enjoyed these.
My favorite cranberry sauce is my Raspberry Cranberry Sauce.
The tartness of the raspberries and cranberries blend so well together that when converted into these Leftover Cranberry Sauce Bars, they had me eating half the pan by myself.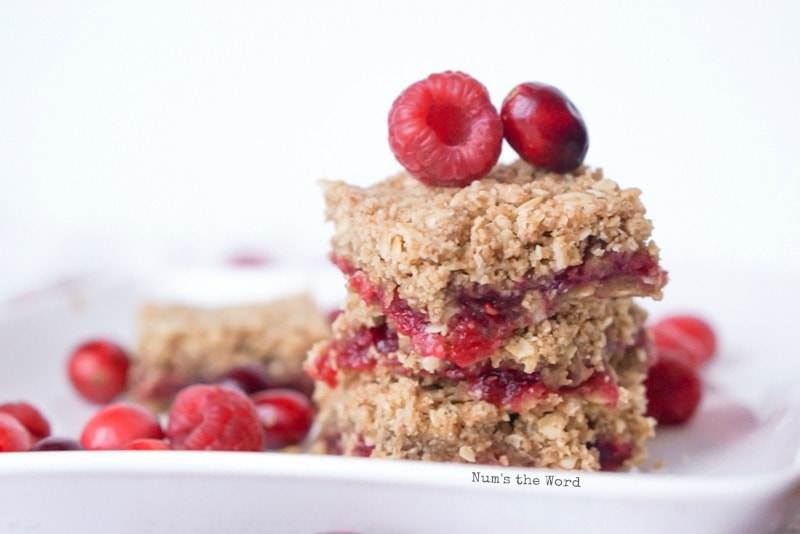 I've never been a huge fan of cranberry sauce until I made my Cranberry Raspberry Sauce.
And now that I know how to re-purpose any cranberry sauce into a treat, I'm a new cranberry sauce junkie.
If you plan on having cranberry sauce on your table this year, then whip these up after!  You'll be glad you did!
Yield: 12 Bars
Leftover Cranberry Sauce Bars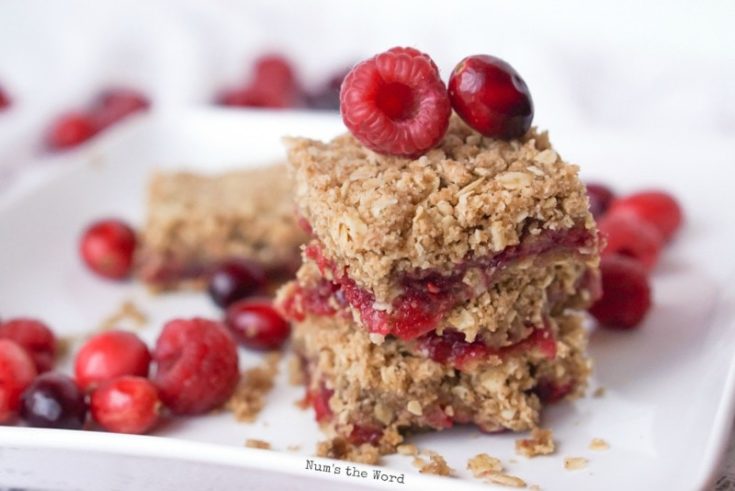 Total Time
1 hour
10 minutes
Ingredients
1 3/4 cups all-purpose flour
1 1/2 cups old-fashioned rolled oats
1 cup firmly packed brown sugar
1 1/2 teaspoons ground cinnamon
1 cup cold butter, cut into 3/4 inch pieces
1 cup leftover cranberry sauce, room temperature - any flavor
Instructions
Preheat oven to 325* F
Grease a 9-inch square baking pan.
Combine flour, rolled oats, brown sugar, and cinnamon in a food processor and pulse 2 or 3 times until blended. (if you do not have a food processor, use a hand pastry blender)
Add the butter and pulse 8-10 times until the mixture forms large, coarse crumbs the size of small peas. (Or use your hand pastry blender.)
Remove 1 1/2 cups of the crumb mixture and set aside.
Press remaining crumb mixture into the bottom and 1 inch up the sides of the prepared pan.
Drop teaspoons of the cranberry sauce evenly over the crust, then spread it gently with the back of the spoon to cover the crust.
Sprinkle reserved crumbs evenly over the jam layer.
Bake until the top is lightly browned, 50 - 55 minutes.
Transfer to a rack and let cool until firm, about 2 hours (or chill until firm).
Using a sharp knife, cut into 12 squares.
Store in an airtight container at room temperature for up to 3 days.
Other Cranberry Recipes You'll Love...