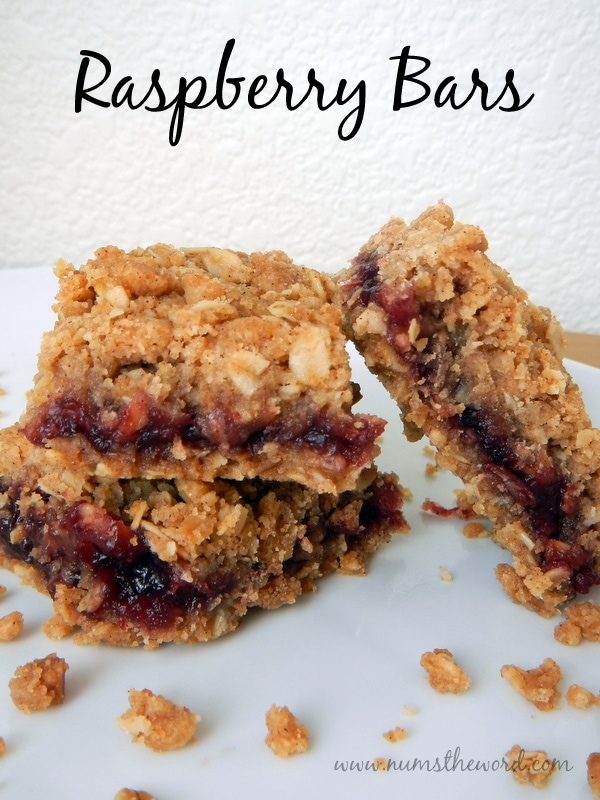 These Raspberry Bars are another one of my top 5 all time favorite treats.
Why?
Because I LOVE all things raspberry.
This is evident from some of my other posts like Raspberry Mousse Pie and Raspberry Key Lime Cheesecake Bites and Raspberry Ice Cream and Raspberry Chocolate Chip Muffins and Raspberry Puree.
Ok, you get the idea.
And if you think I'm done with the world of raspberries after this post, I'm not.
There will always be new and wonderful ways to use my favorite fruit just like these tasty Raspberry Bars.
The tartness of the raspberries mixed with the brown sugar oatmeal crumble is pure heaven to my taste buds.
I first discovered these several years ago and fell in love.
They instantly became one of those go to recipes when I needed a sweets fix on a stressful or PMS kind of day.
And then just last year I discovered that Whole Foods sells these same bars.
I was excited because it meant that I could buy ONE bar instead of whipping up an entire pan.
It also meant that I didn't have to wait for them to bake to get my instant fix.
Yes they were over priced and yes they were out of the way, but the thought of raspberry bars at my finger tips any day of the week was exciting.
However, as I was eating it, all I could think of was-where is the raspberry?
I taste the oatmeal goodness, but I can hardly taste any raspberry.
It was a HUGE let down.
HUGE.
I had even bought a bunch of them for a gathering and everyone was confused as to why these would be my favorite treat since they just tasted like Oatmeal bars.
Not Raspberry Bars. And since then, I've been making my same old trusty recipe that never fails me.
It offers the perfect amount of Raspberry to Oatmeal blend.
It's amazing hot or cold with or without ice cream and is perfect for any gathering.
Really, what isn't there to love about these?
Ingredients
1 3/4 cups all-purpose flour
1 1/2 cups old-fashioned rolled oats
1 cup firmly packed brown sugar
1 1/2 teaspoons ground cinnamon
1 cup cold butter, cut into 3/4 inch pieces
1 cup seedless raspberry jam, room temperature
Instructions
Preheat oven to 325* F
Grease a 9-inch square baking pan.
Combine flour, rolled oats, and brown sugar in a food processor and pulse 2 or 3 times until blended. (if you do not have a food processor, use a hand pastry blender)
Add the butter and pulse 8-10 times until the mixture forms large, coarse crumbs the size of small peas. (Or use your hand pastry blender.)
Remove 2 cups of the crumb mixture and set aside.
Press remaining crumb mixture into the bottom and 1 inch up the sides of the prepared pan.
Drop teaspoons of the jam evenly over the crust, then spread it gently with the back of the spoon to cover the crust.
Sprinkle reserved crumbs evenly over the jam layer.
Bake until the top is lightly browned, 50 - 55 minutes.
Transfer to a rack and let cool until firm, about 2 hours (or chill until firm).
Using a sharp knife, cut into 25 small squares.
Store in an airtight container at room temperature for up to 3 days.
https://numstheword.com/raspberry-bars/
Recipe adapted from: Williams Sonoma Essentials of Baking Cookbook, Black Cherry-Oatmeal Crunch Squares